Visited on: 11th February, 2017.
Location
Thiru Kadaimudi is situated at a distance of about 18 kms from Mayliaduthurai on the Mayiladuthurai to Poompuhar route. Take the diversion road from Sathiram bus stand and proceed further for about 2 kms to reach this temple. Kadaimudi is located at a distance of about 2 kms from Sembanar Koil.
Other Devara Paadal Petra Shiva Sthalams near this temple are –
Thirunintriyur, Thiru Nani Palli, Thiruppallavaneecharam (Poompuhar), Thiruchaikkadu, Thiruvenkadu, Kezhai Thirukkattuppalli, Thirukkalikkamur (Annappan Pettai), Pariyal Veerattam, Thiruchempon Palli, Thiru Valampuram, Thalaichangadu, Aakkur, Thirukkadaiyur and Thirukkadaiyur Mayanam.
General Information
| | |
| --- | --- |
| Moolavar | Sri Kadaimudi Eswarar, Sri Kadaimudinadhar, Sri Antha Samrakshaneswarar |
| Ambal | Sri Abhiramavalli |
| Theertham (Holy water) | Brahma Theertham, Kavery, Karuna Theertham |
| Sthala Vriksham (Sacred Tree) | Kiluvai tree |
| Pathigam (Hymn) rendered by | Saint Thirugnanasambanthar |
This is one of the 276 Devara Paadal Petra Shiva Sthalams and 18th Shiva Sthalam on the northern bank of the river Cauvery in Chozha Nadu (Vadakarai).
Lord Shiva in this temple is a Swayambumurthi (self-manifested).
River Cauveri changes its direction from north to west here.
This west facing temple has a single corridor and it has no main tower (Rajagopuram). In its place, there is a beautiful arch.
There is no flag post (Dwajasthambam) here.
The last consecration ceremony (Maha Kumbabishekam) took place on 15.09.2000.
History of the Temple
The Sthala Vruksham of this temple is Kiluvai tree, hence this place gets the name Kiluvai Oor. This was later changed to Keezhayur / Keezhur. Since this place was made up of seven hamlets earlier, it is also called Ezhur ("Ezhu" means seven in Tamil).
This is the place where river Cauvery finally merges with the Bay of Bengal. Hence it is also called "Kadai Mudi" ("Kadai" means end in Tamil).
There are stone inscriptions in this temple dating back to the periods of Vikrama Chola, Parantaka Chola-I and Pallava king Nandivarman-III. Lord Shiva here is referred in these inscriptions as Sri Thiruchadaimudi Udaiya Mahadevar.
This temple is under the administrative control of the Hindu Religious and Charitable Endowments Department of Government of Tamil Nadu (HR&CE).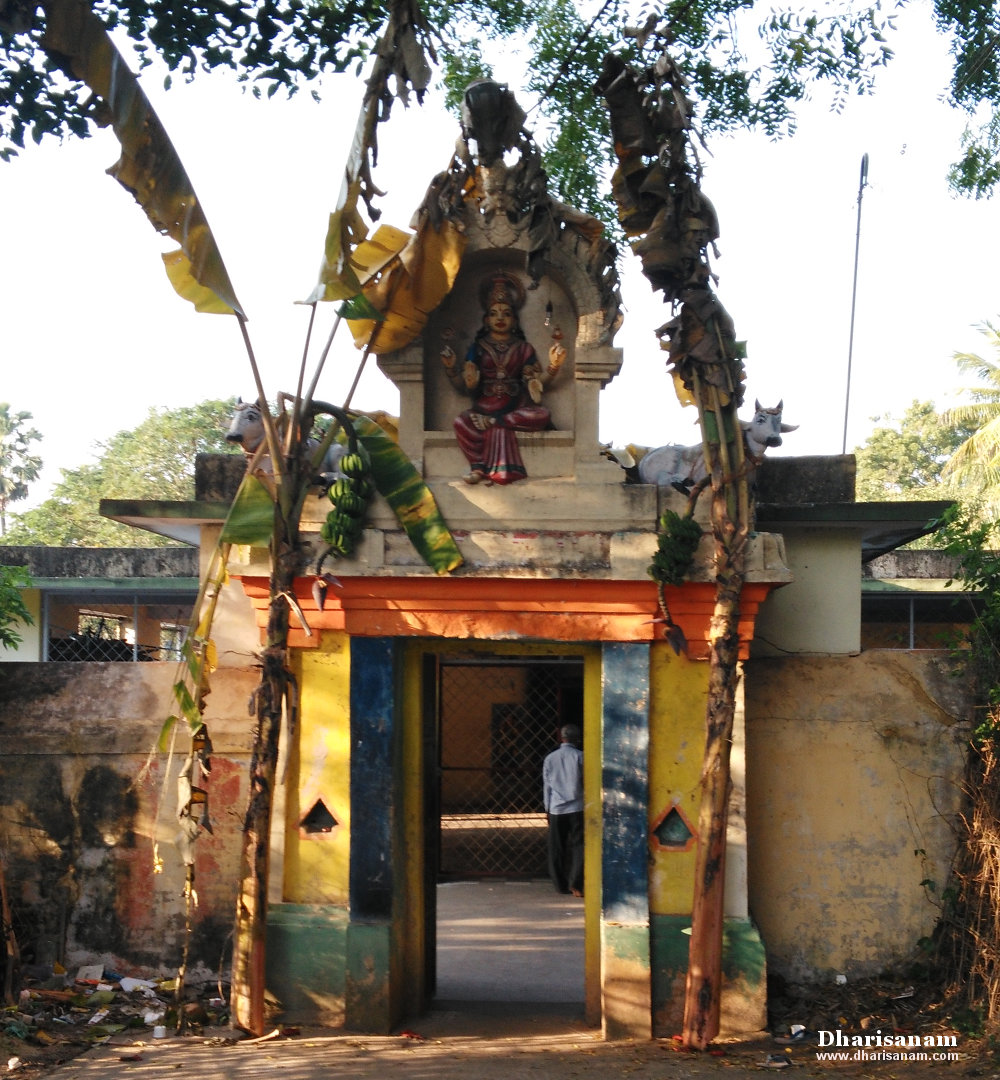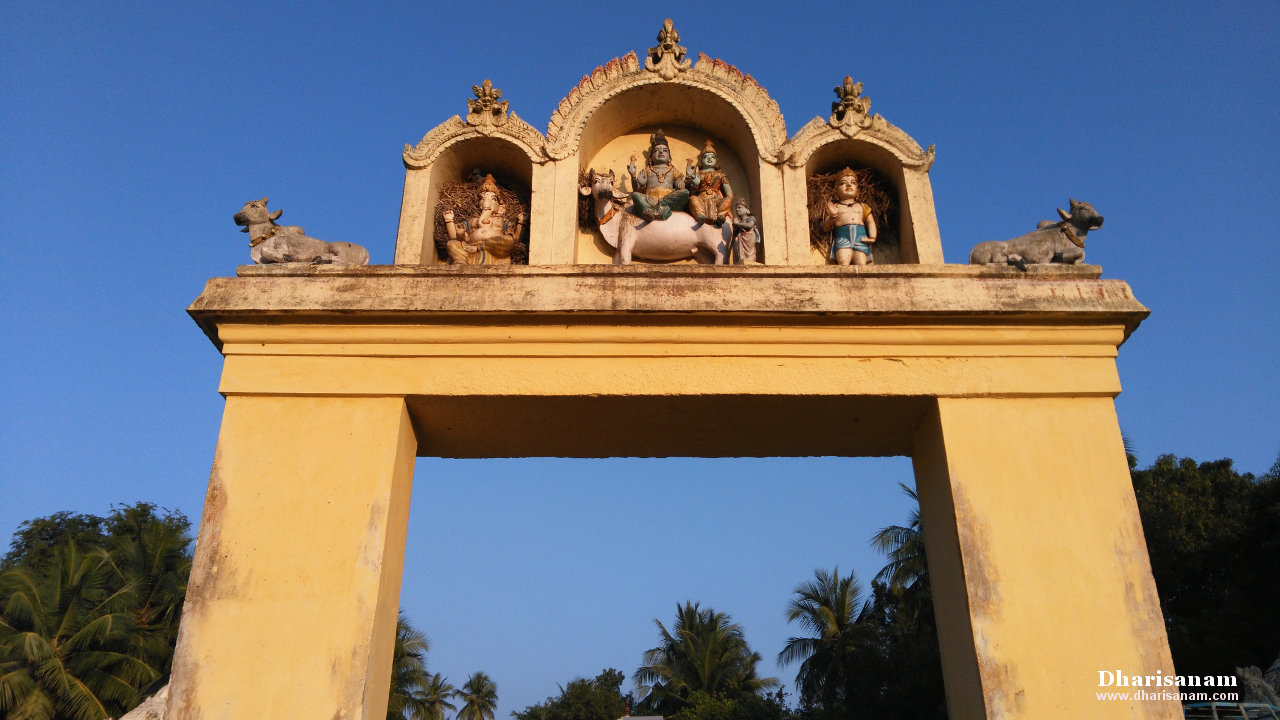 Legend
According to the Sthala Puranam, Lord Shiva here is praised as Sri Kadai Mudi Nathar which can literally be translated as "the lord who protects till the end of time".
The legend associated with this temple involves Lord Brahma. It is believed that Lord Brahma had incurred a curse from Lord Shiva due to his excessive pride and arrogance. To seek relief, he worshiped Lord Shiva in many places including this temple. Brahma created a tank here, performed abhishekam to Lord Shiva from this water and worshiped him. Pleased with his worship, it is believed that Lord Shiva granted darshan to Brahma under this temple's Sthala Viruksham (Kiluvai Tree). Lord Brahma was also finally relieved from his curse. The theertham created by him is known as Brahma Theertham and Lord Shiva here is also praised as Sri Kiluvai Nathar and Sri Aadhi Nathar.
It is also believed that Sage Kanva Maharishi had worshiped Lord Shiva in this place after taking holy dip in the river Cauvery. He later attained salvation. The "ghat" (a set of steps leading down to a river) where he used to take bath is known as "Kanva Mahaan Thurai".
Deities in the temple
Other than the shrines of Lord Shiva and Goddess Parvathy, shrines and idols of Idols of Lord Vinayakar (Kadaimudi Vinayakar), Murugan with his consorts, Natarajar, Suryan, Bairavar, Devara Moovar and Navagraham can be seen in the hall and corridors.
In the "koshtam" (place surrounding the sanctum sanctorum), idols Dakshinamurthy, Ardhanareeswarar, Durgai and Chandikeswarar can be seen.
The ancient idol (Adhi Murthy) of Lord Shiva is called Sri Kiluvai Nathar and it can be seen under the Sthala Viruksham (Kiluvai tree).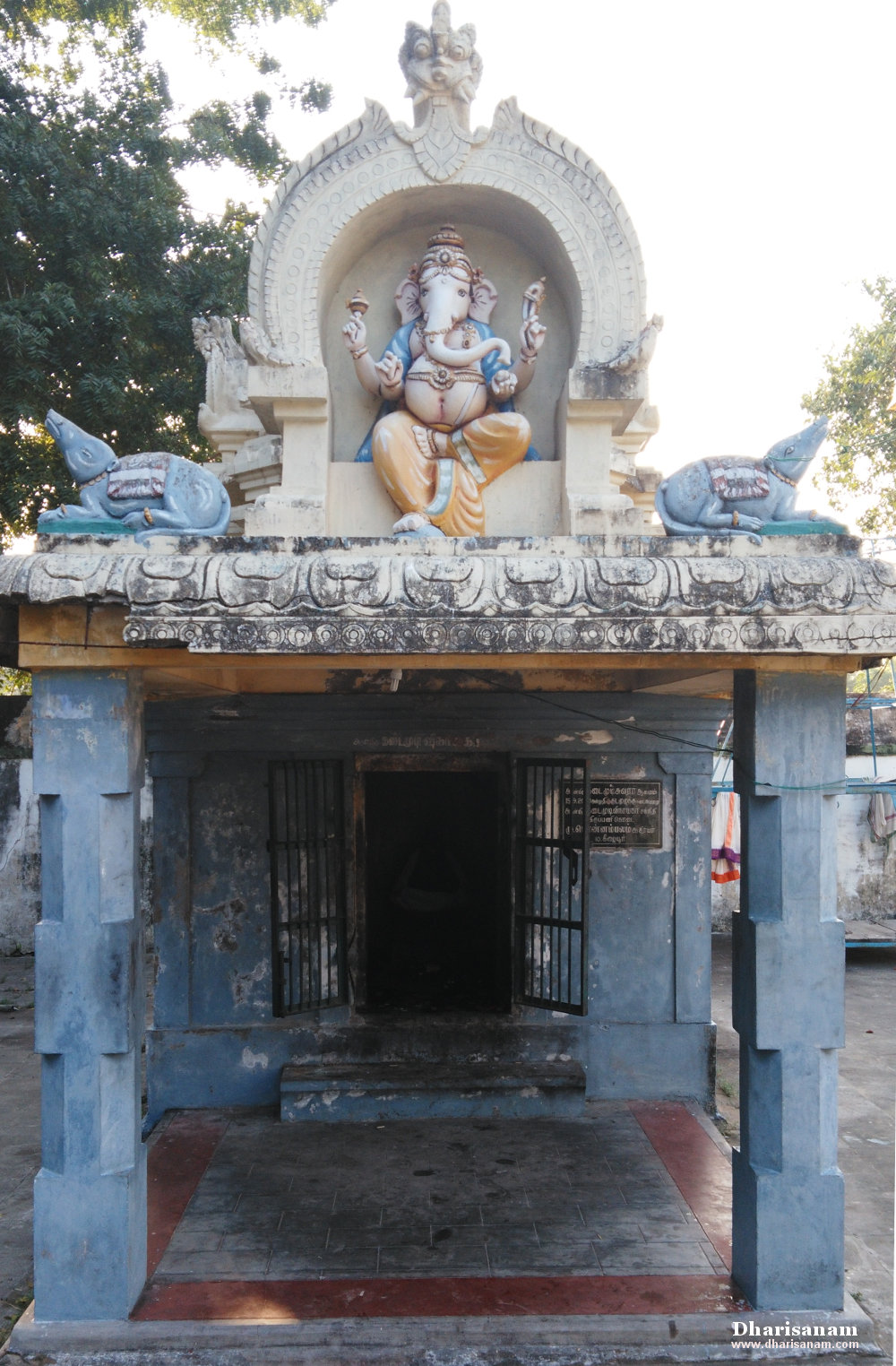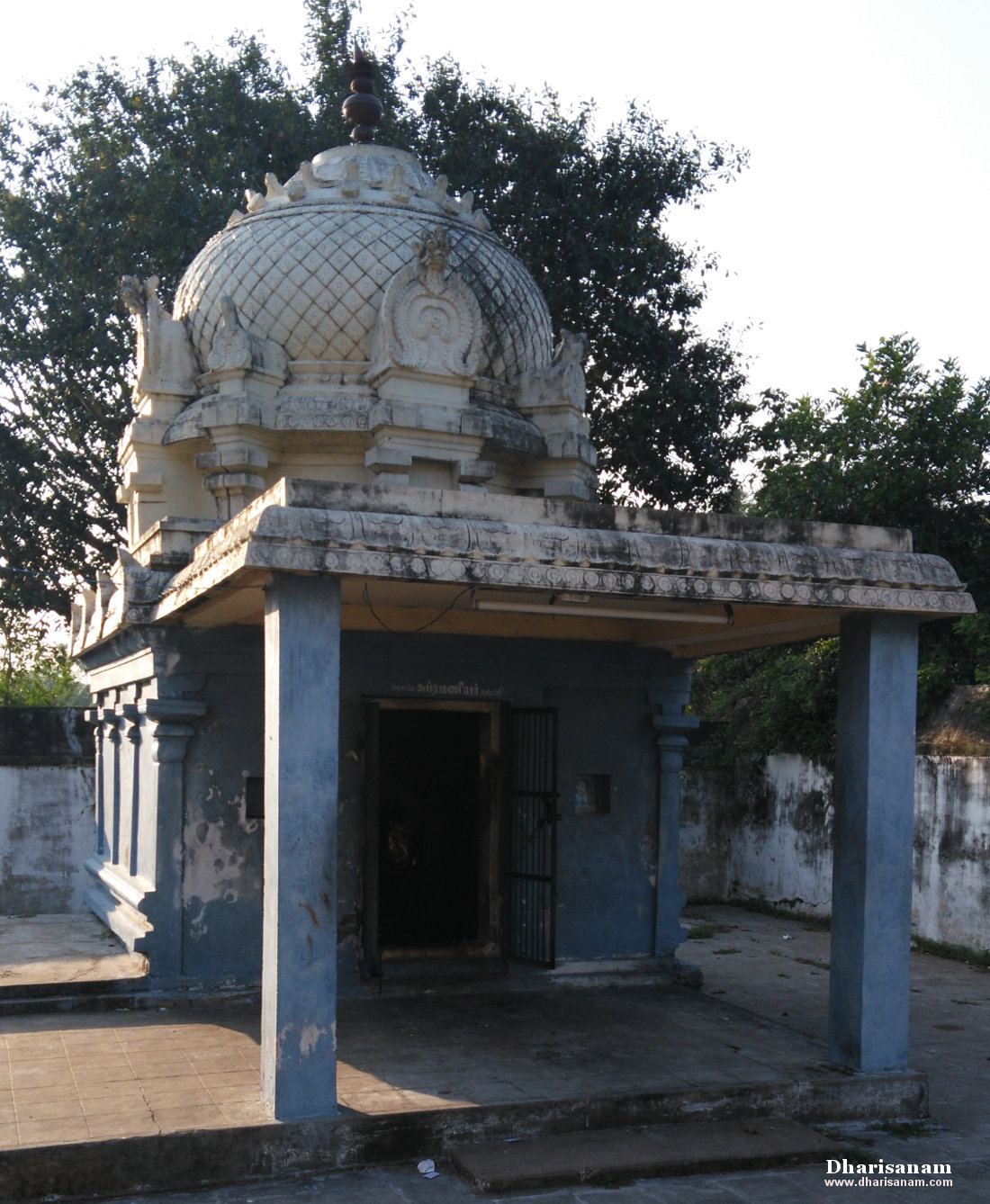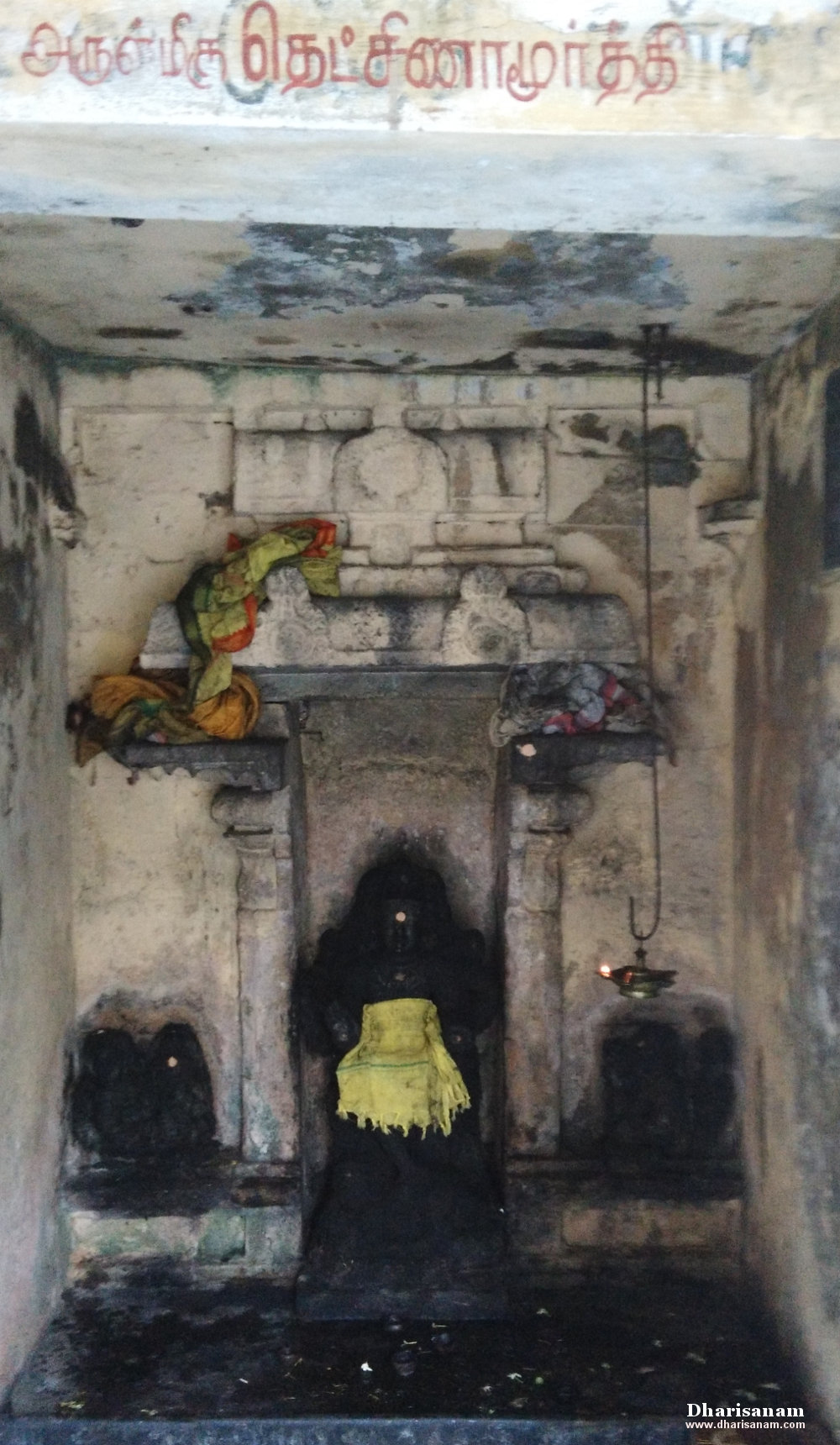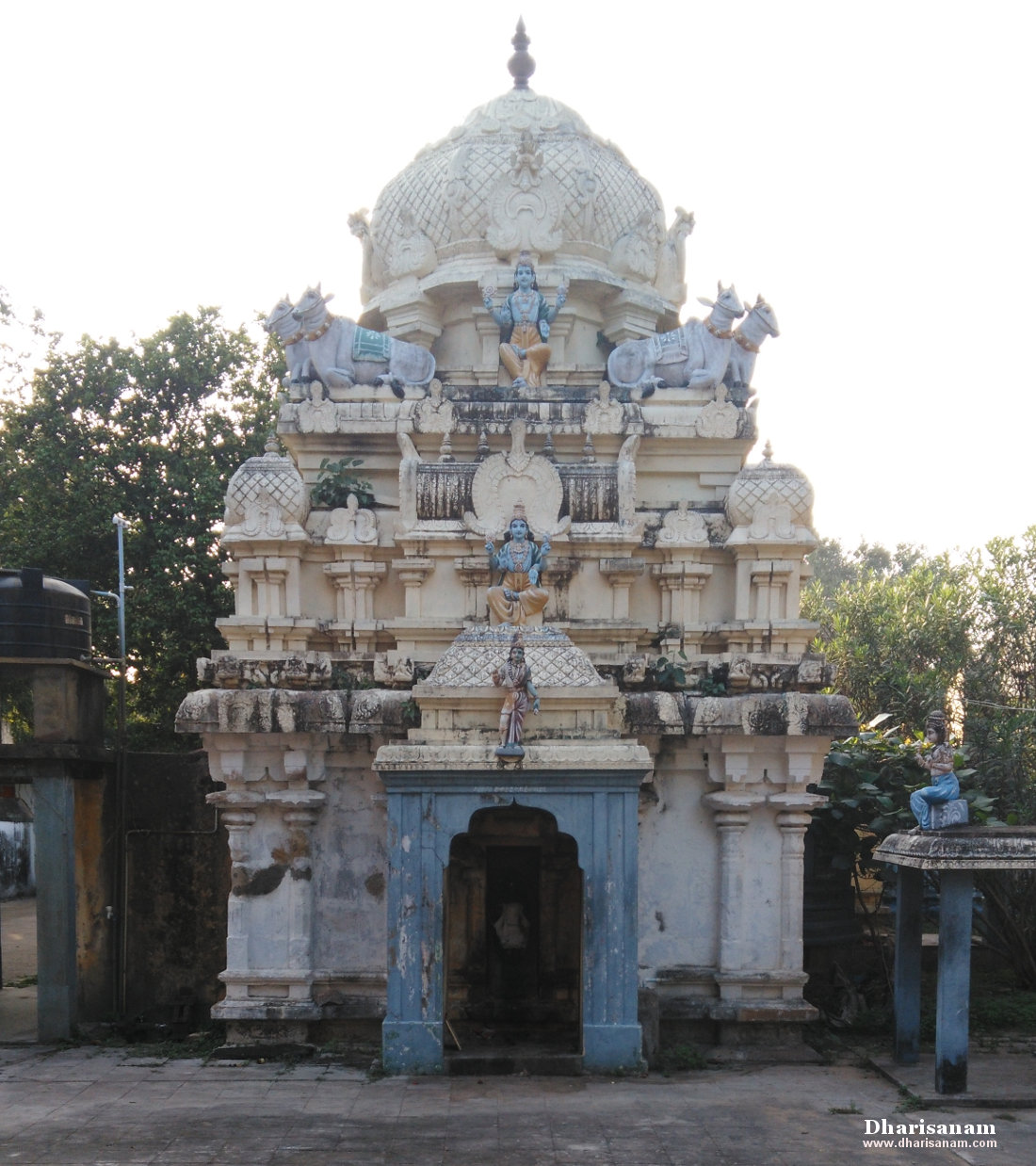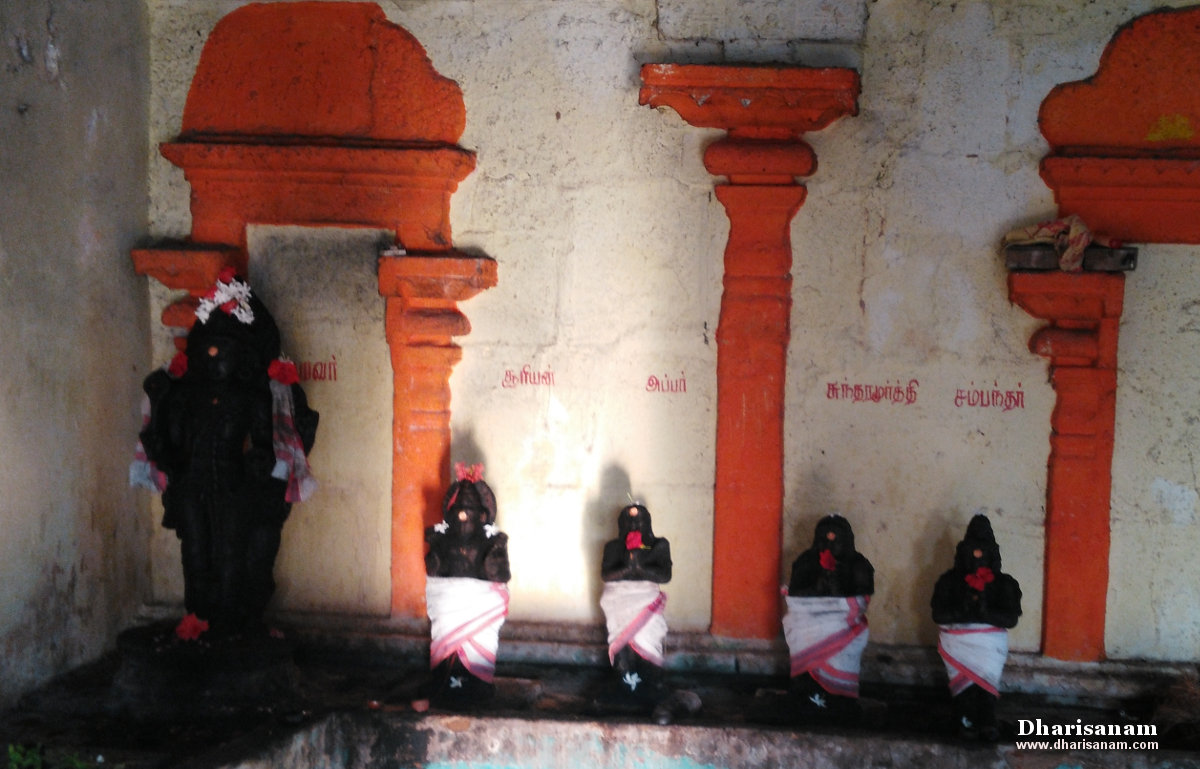 Salient Features
The main Shivalingam is made up of 16 plate faces ("Pattai" in Tamil). It is known as "Sodasa lingam". In Hindu mythology, wealth is classified under 16 heads. Hence it is believed that those worshiping this lingam will be blessed with wealth and prosperity.
In this place, river Cauvery changes its direction from north to west. Taking a dip in the river here is considered to be very auspicious.
In this temple, Navagraham is placed on a hexagonal platform and the idols are not in their normal positions.
The idols of both lord Dakshinamurthy and Bairavar have an earring in only one of their ears.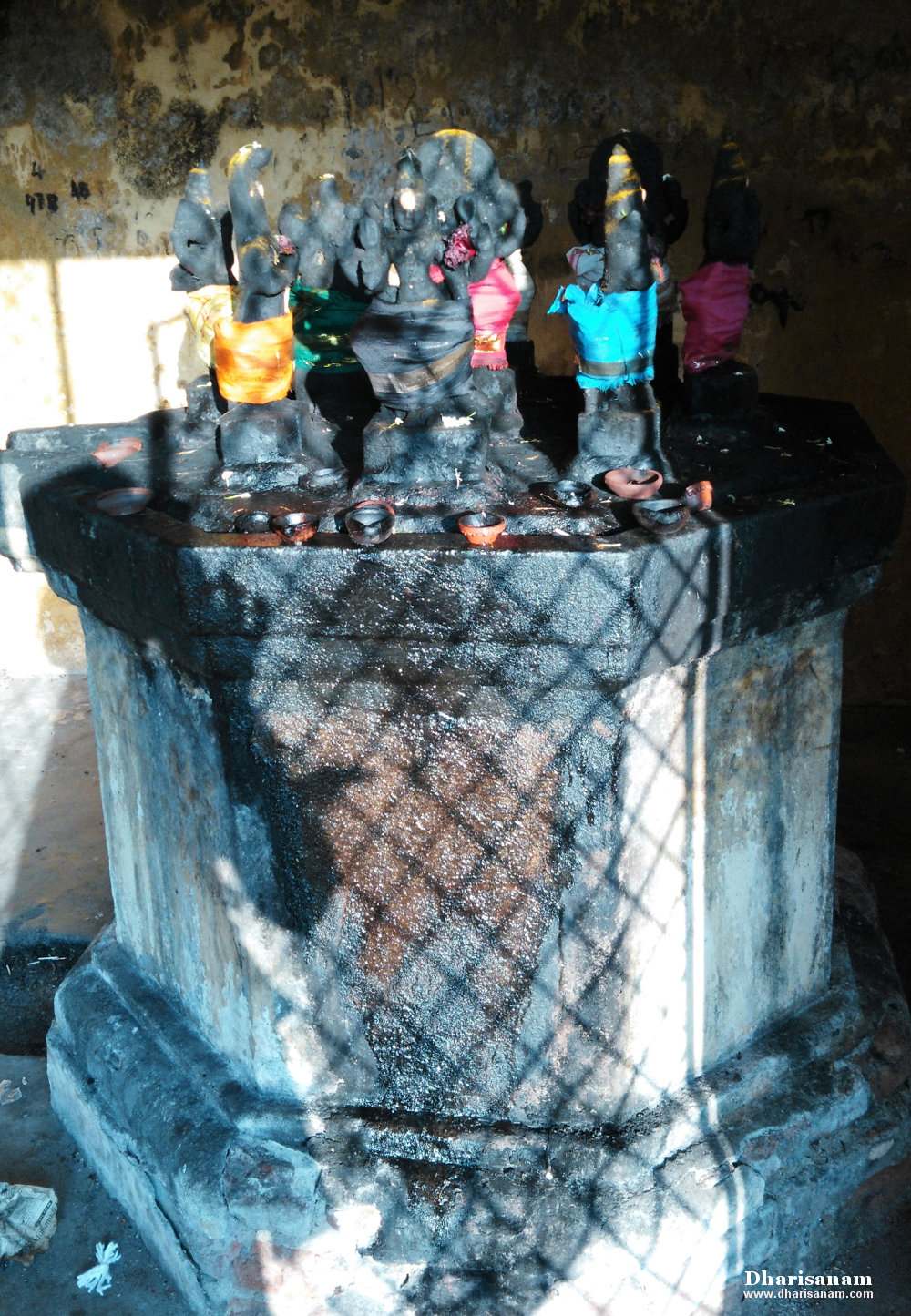 Greatness of this temple
Devotees believe that by worshiping the lord here, obstacles from their marriage proposals will be removed. Married women can worship the lord here to seek marital prosperity ("Dheerga Sumangali Bagyam").
Important Festivals
Some of the festivals celebrated in this temple are -
Vinayakar Chaturthi in the Tamil month of Aavani (Aug-Sept),
Annabishekam in the Tamil month of Aippasi (Oct–Nov),
Thiru Karthikai in the Tamil month of Karthikai (Nov-Dec),
Thiruvadhirai in the Tamil month of Markazhi (Dec-Jan),
Makara Sankranthi in the Tamil month of Thai (Jan-Feb), and
Shivrathri in the Tamil month of Masi (Feb-Mar).
Temple Timings
From 06.00 AM to 12.00 Noon and 04.00 PM to 08.00 PM.
Temple Address
Sri Kadaimudi Eswarar Temple,
Thiru Kadaimudi
Keezhayur Post,
Sembanar Koil Via
Dharangambadi Taluk,
Nagapattinam District,
Tamil Nadu -6 09 304.
Tele: +91- 4364 - 283 261, 283 360.

The temple priest Sri Raju can be contacted at 088709 88810.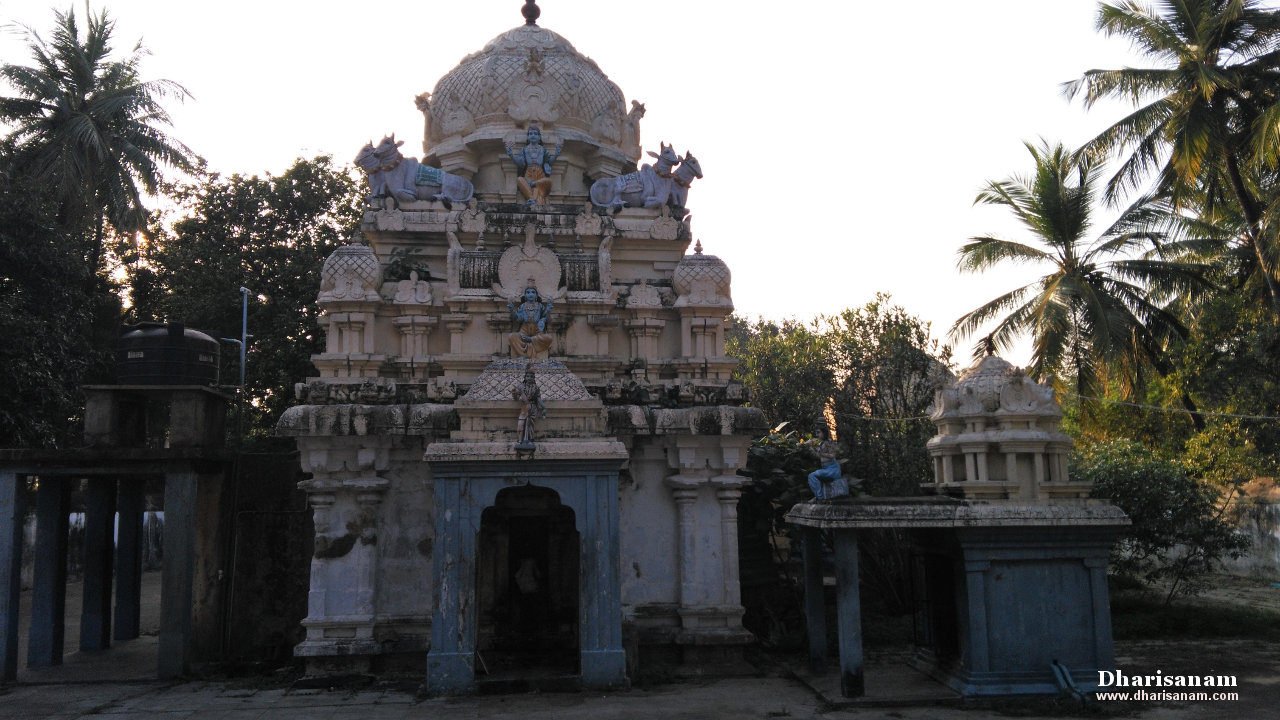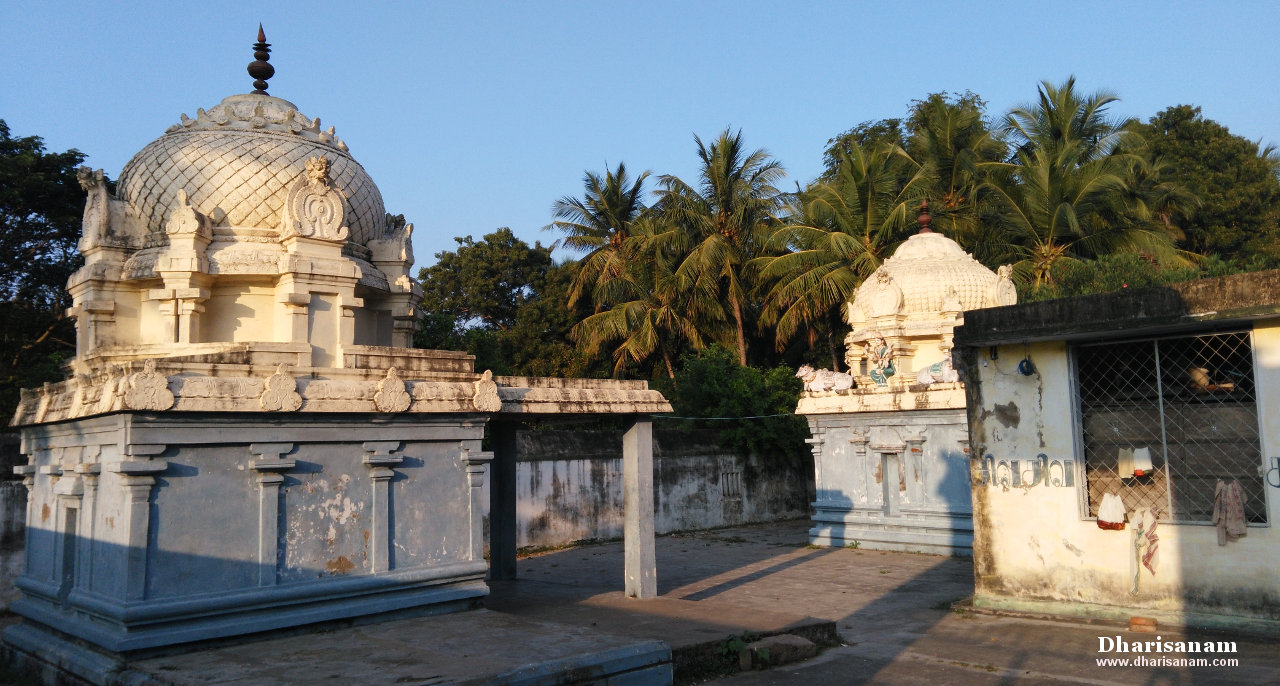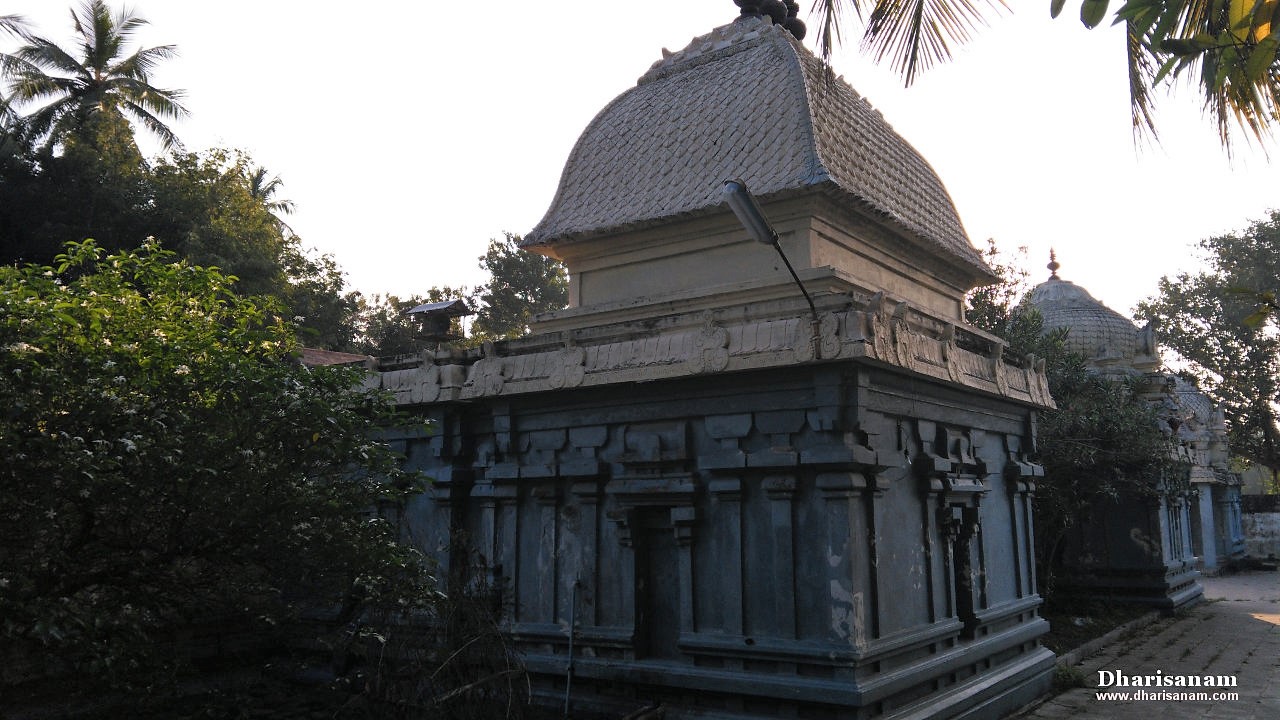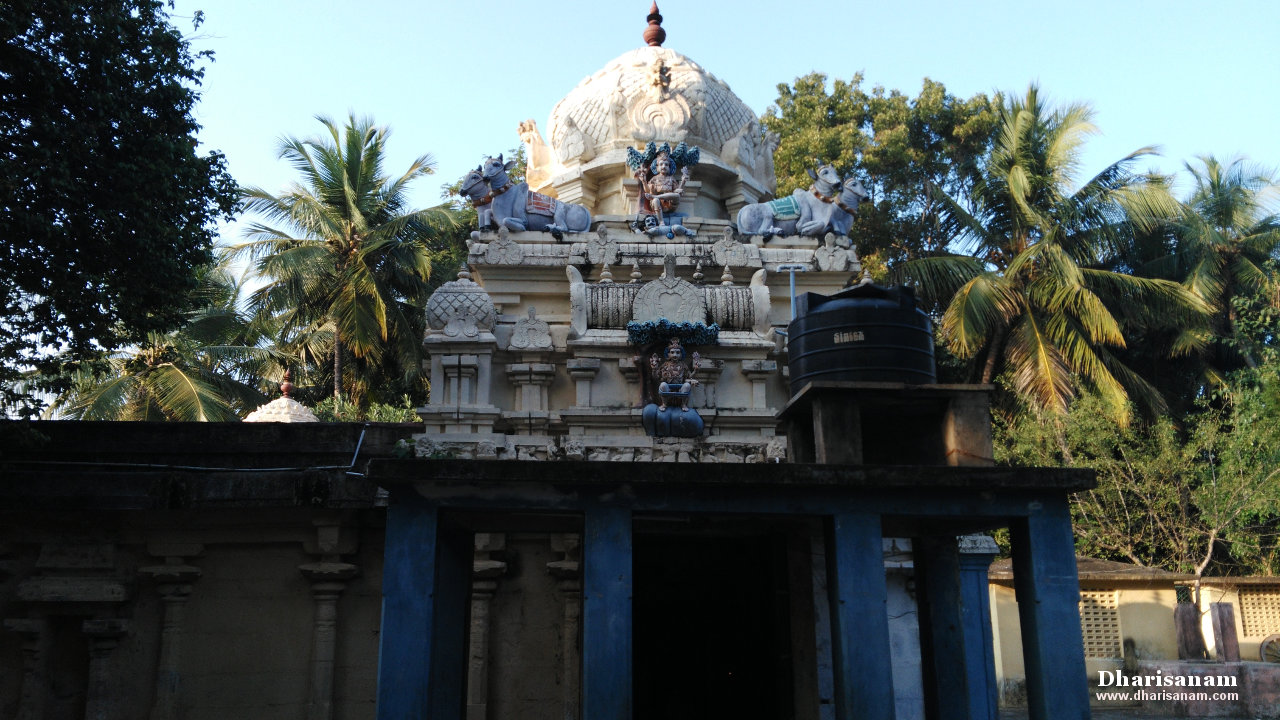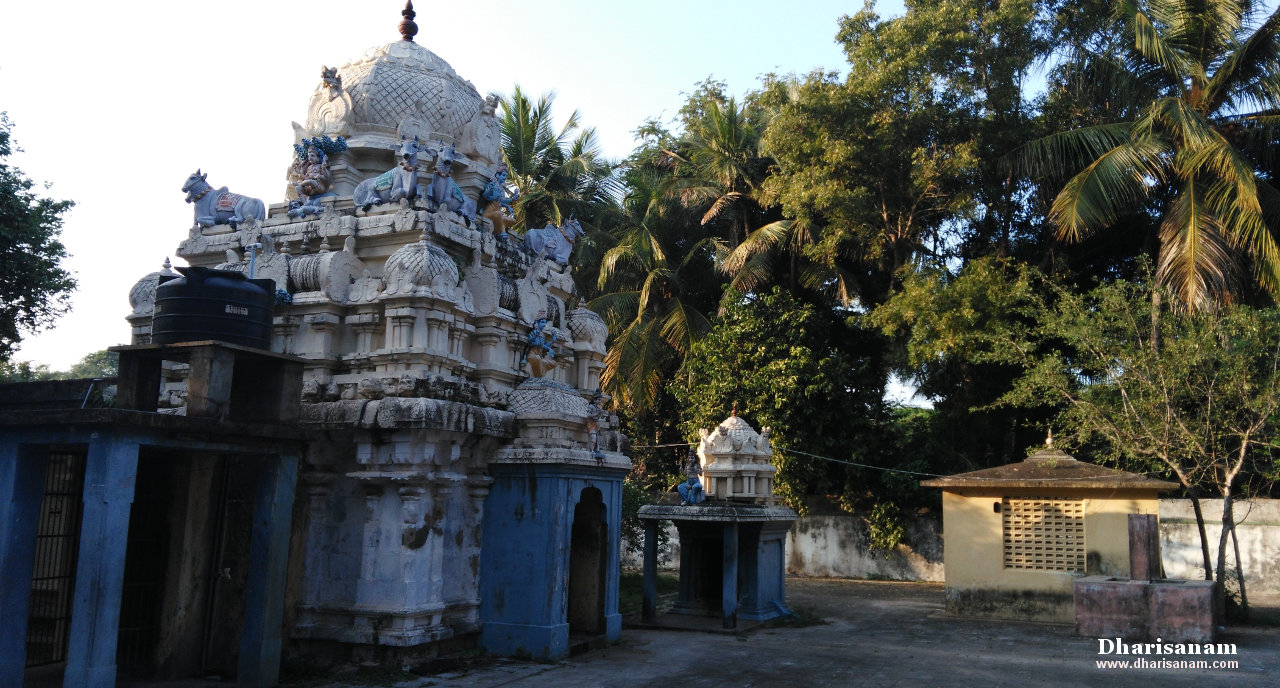 ---
Pathigam (Hymn) with English transliteration
Saint Thirugnanasambanthar visited this temple and sang this Pathigam.
Devotees visiting this temple should make it a practice to recite this Pathigam.
அருத்தனை அறவனை அமுதனைநீர்
விருத்தனைப் பாலனை வினவுதிரேல்
ஒருத்தனை யல்லதிங் குலகமேத்துங்
கருத்தவன் வளநகர் கடைமுடியே.
"Aruththaṉai aṟavaṉai amuthaṉainīr
viruththaṉaip pālaṉai viṉavuthirēl
oruththaṉai yallathiṅ kulakamēththuṅ
karuththavaṉ vaḷanakar kaṭaimuṭiyē".
"திரைபொரு திருமுடி திங்கள்விம்மும்
அரைபொரு புலியதள் அடிகளிடந்
திரையொடு நுரைபொரு தெண்சுனைநீர்
கரைபொரு வளநகர் கடைமுடியே".
"Thiraiporu thirumuṭi thiṅkaḷvim'mum
araiporu puliyathaḷ aṭikaḷiṭan
thiraiyoṭu nuraiporu theṇsuṉainīr
karaiporu vaḷanakar kaṭaimuṭiyē".
ஆலிள மதியினொ டரவுகங்கை
கோலவெண் ணீற்றனைத் தொழுதிறைஞ்சி
ஏலநன் மலரொடு விரைகமழுங்
காலன வளநகர் கடைமுடியே.
"Āliḷa mathiyiṉo ṭaravugaṅgai
kōlaveṇ ṇītṟaṉaith thozhuthiṟaiñchi
ēlanaṉ malaroṭu viraikamazhuṅ
kālaṉa vaḷanakar kaṭaimuṭiyē".
கொய்யணி நறுமலர்க் கொன்றையந்தார்
மையணி மிடறுடை மறையவனூர்
பையணி யரவொடு மான்மழுவாள்
கையணி பவனிடங் கடைமுடியே.
"Koyyaṇi naṟumalark koṉtṟaiyanthār
maiyaṇi miṭaṟuṭai maṟaiyavaṉūr
paiyaṇi yaravoṭu māṉmazhuvāḷ
kaiyaṇi pavaṉiṭaṅ kaṭaimuṭiyē".
மறையவன் உலகவன் மாயமவன்
பிறையவன் புனலவன் அனலுமவன்
இறையவன் எனவுல கேத்துங்கண்டங்
கறையவன் வளநகர் கடைமுடியே.
"Maṟaiyavaṉ ulakavaṉ māyamavaṉ
piṟaiyavaṉ puṉalavaṉ aṉalumavaṉ
iṟaiyavaṉ eṉavula kēththuṅkaṇṭaṅ
kaṟaiyavaṉ vaḷanakar kaṭaimuṭiyē".
படவர வேரல்குற் பல்வளைக்கை
மடவர லாளையொர் பாகம்வைத்துக்
குடதிசை மதியது சூடுசென்னிக்
கடவுள்தன் வளநகர் கடைமுடியே.
"Paṭavara vēralkuṟ palvaḷaikkai
maṭavara lāḷaiyor pākamvaiththuk
kuṭathisai mathiyathu chūṭuseṉṉik
kaṭavuḷthaṉ vaḷanakar kaṭaimuṭiyē".
பொடிபுல்கு மார்பினிற் புரிபுல்குநூல்
அடிபுல்கு பைங்கழல் அடிகளிடங்
கொடிபுல்கு மலரொடு குளிர்சுனைநீர்
கடிபுல்கு வளநகர் கடைமுடியே.
"Poṭipulku mārpiṉiṟ puripulkunūl
aṭipulku paiṅkazhal aṭikaḷiṭaṅ
koṭipulku malaroṭu kuḷirsuṉainīr
kaṭipulku vaḷanakar kaṭaimuṭiyē".
நோதல்செய் தரக்கனை நோக்கழியச்
சாதல்செய் தவனடி சரணெனலும்
ஆதர வருள்செய்த அடிகளவர்
காதல்செய் வளநகர் கடைமுடியே.
"Nōthalsey tharakkaṉai nōkkazhiyach
chāthalsey thavaṉaṭi saraṇeṉalum
āthara varuḷseytha aṭikaḷavar
kāthalsey vaḷanakar kaṭaimuṭiyē".
அடிமுடி காண்கிலர் ஓரிருவர்
புடைபுல்கி யருளென்று போற்றிசைப்பச்
சடையிடைப் புனல்வைத்த சதுரனிடங்
கடைமுடி யதனயல் காவிரியே.
"Aṭimuṭi kāṇkilar ōriruvar
puṭaipulki yaruḷeṉtṟu pōtṟisaippach
chaṭaiyiṭaip puṉalvaiththa sathuraṉiṭaṅ
kaṭaimuṭi yathaṉayal kāviriyē".
மண்ணுதல் பறித்தலு மாயமிவை
எண்ணிய காலவை யின்பமல்ல
ஒண்ணுத லுமையையொர் பாகம்வைத்த
கண்ணுதல் வளநகர் கடைமுடியே.
"Maṇṇuthal paṟiththalu māyamivai
eṇṇiya kālavai yiṉpamalla
oṇṇutha lumaiyaiyor pākamvaiththa
kaṇṇuthal vaḷanakar kaṭaimuṭiyē".
பொன்றிகழ் காவிரிப் பொருபுனல்சீர்
சென்றடை கடைமுடிச் சிவனடியை
நன்றுணர் ஞானசம் பந்தன்சொன்ன
இன்றமி ழிவைசொல இன்பமாமே.
"Poṉtṟikazh kāvirip porupuṉalsīr
seṉtṟaṭai kaṭaimuṭich sivaṉaṭiyai
naṉtṟuṇar gñāṉasam banthaṉsoṉṉa
iṉtṟami zhivaisola iṉpamāmē".