Visited on: 27th August, 2016
Location
Thirkachur is at a distance of about 6 kms from Maraimalai Nagar and 2 kms from Singaperumal koil en-route Sriperumputhur. Both Maraimalai Nagar and Singaperumal Koil are on the Chennai to Chengalpattu route. Nearest Railway Station is Singaperumal Koil.
General Information
| | |
| --- | --- |
| Moolavar | Sri Kachabeswarar, Sri Virunthitteeswarar |
| Ambal | Sri Anjanakshi Amman, Sri Kanniumai Ammai |
| Theertham (Holy water) | Koorma Theertham |
| Sthala Vriksham (Sacred Tree) | Banyan Tree |
| Pathigam (Hymn) rendered by | Saint Sundaramurthy Nyanar (Sundarar) |
This is one of the 276 Devara Paadal Petra Shiva Sthalams and 26th Shiva Sthalam in Thondai Nadu.
Lord Shiva in this temple is a Swayambumurthy (self-manifested).
There is no main tower (Rajagopuram) in this temple. It has two corridors (praharam) and is an east facing temple.
The sanctum tower (Vimanam) of Lord Shiva here is of Gajabrushta form (looks like the back of an elephant).
Thirukachur is mentioned as "Aadhi Kanchi" in Kanchi Puranam.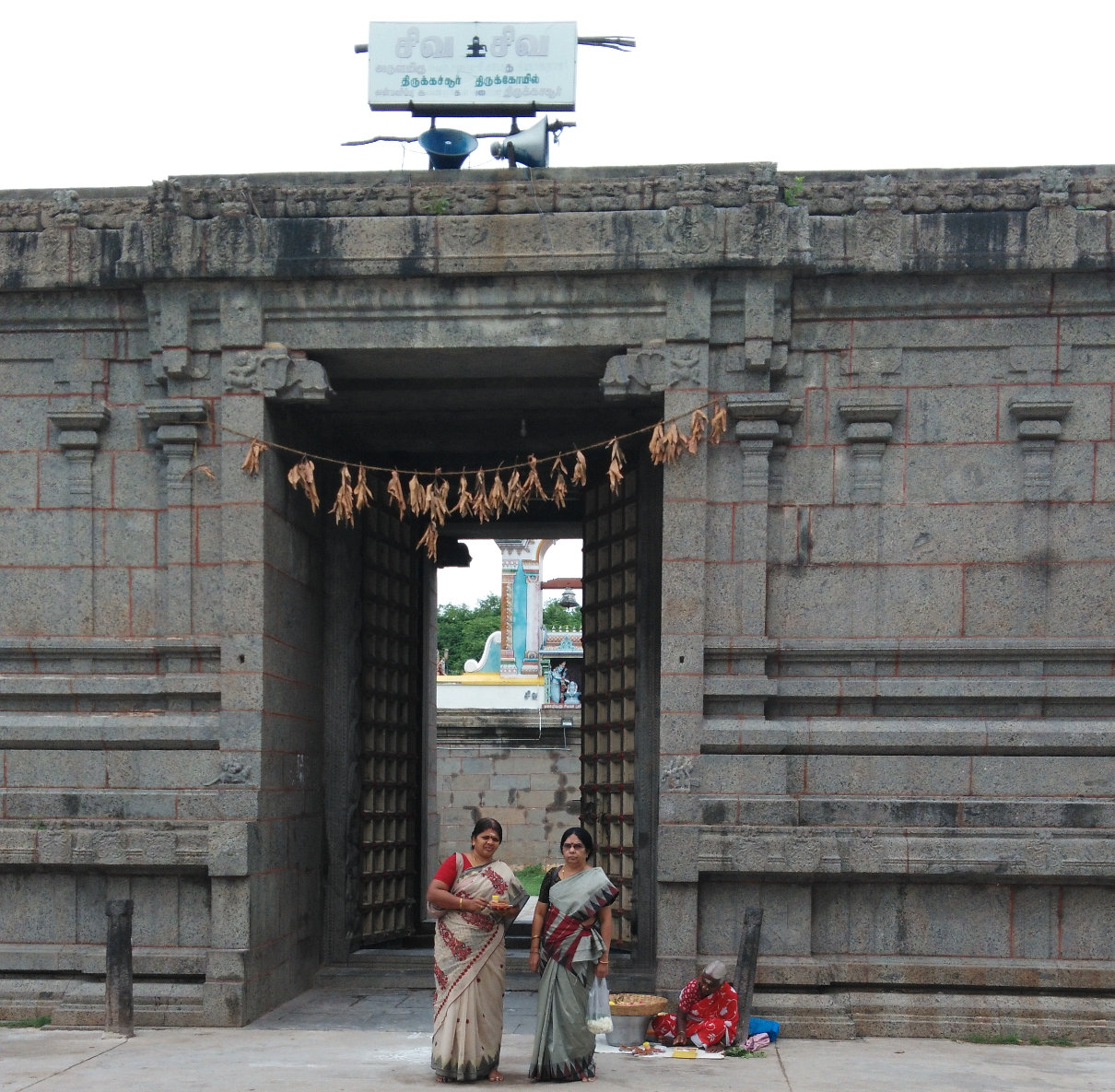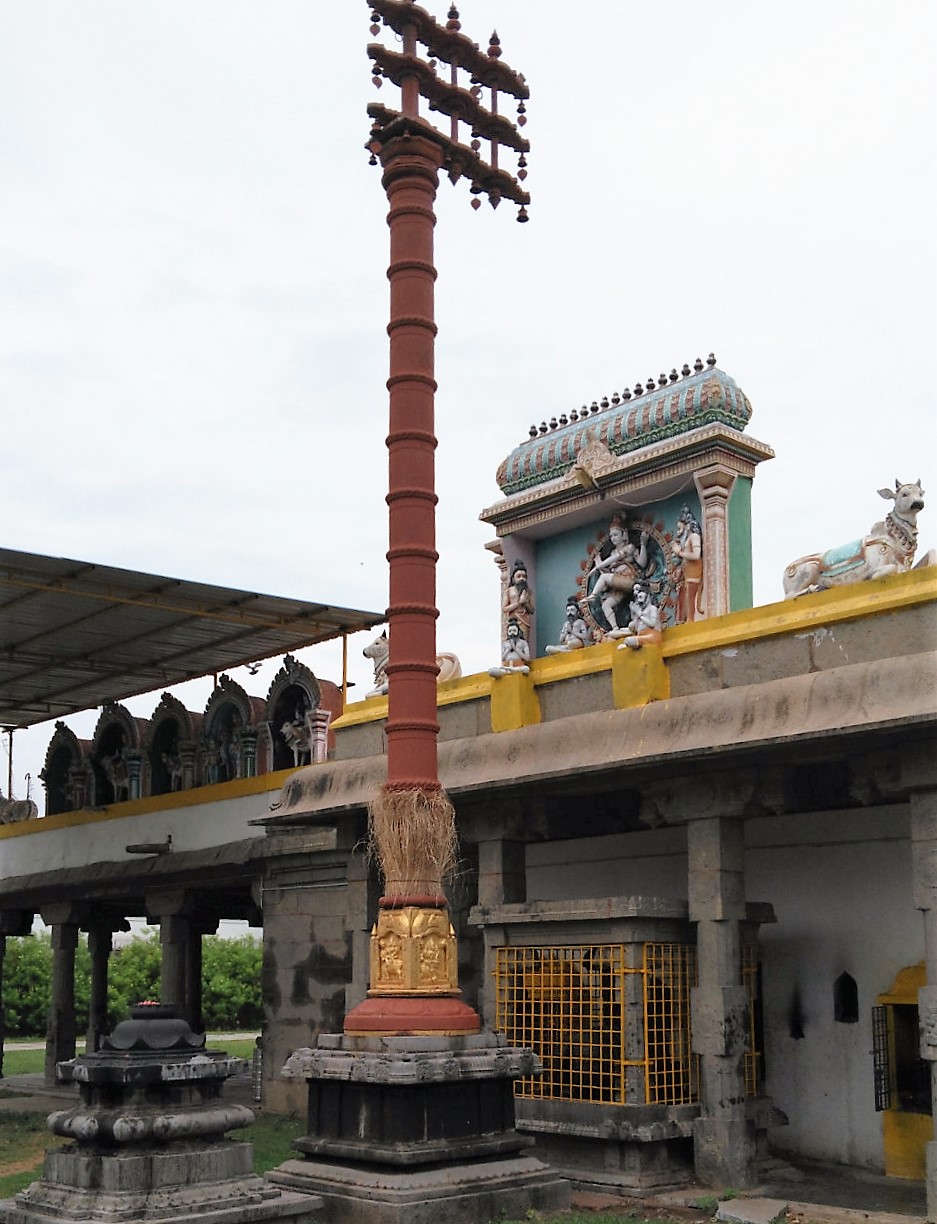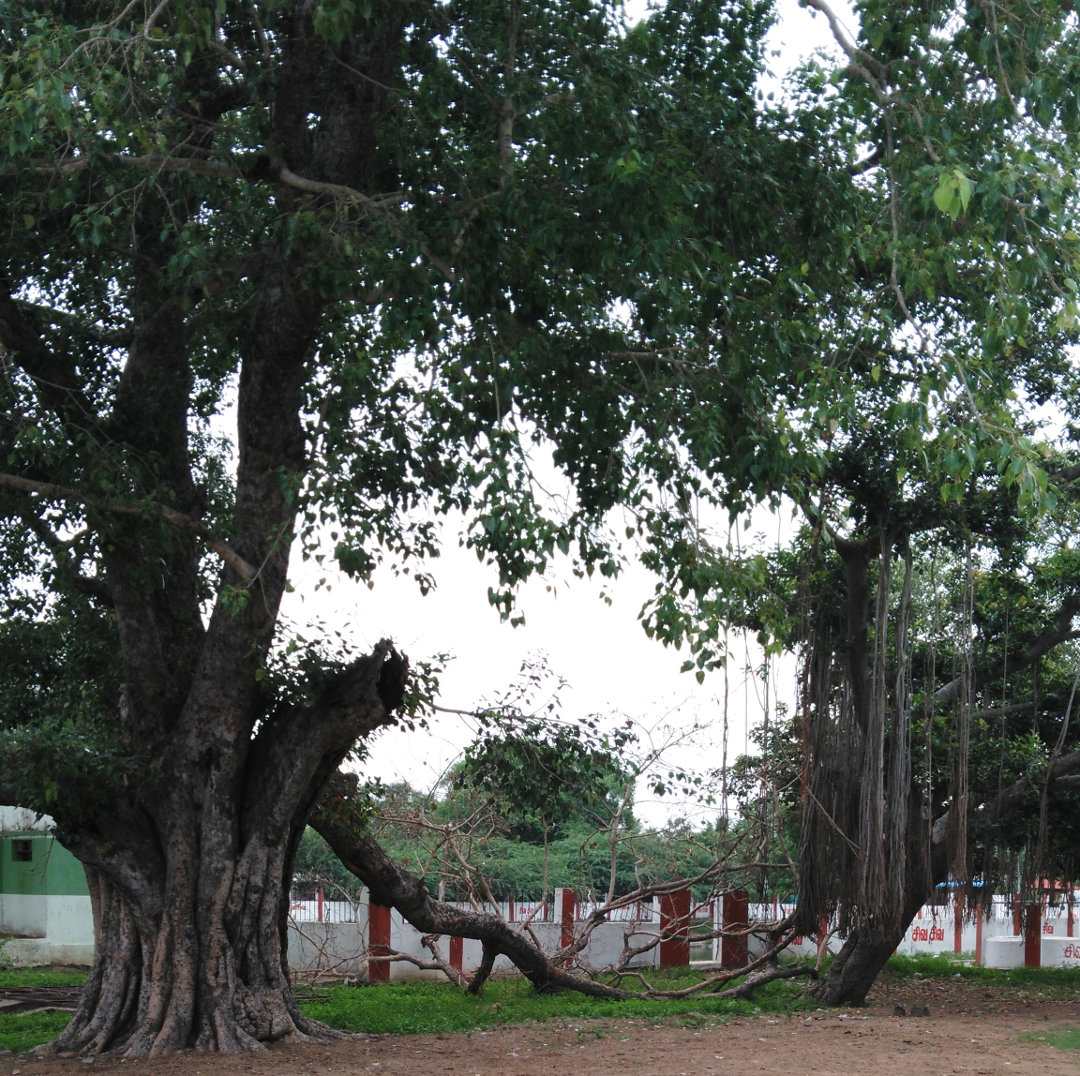 History of the Temple
The temple was believed to have been constructed in the Chola period by the Chola King Kulothungan-I. This a typical Chola period temple with beautifully engraved pillars, sculptures and halls (mandapams). Lots of engraved reliefs depicting the history of the temple can also be seen on the pillars.
This is a twin temple - Sri Kachabeswarar temple is at the foothill and in the midst of the village and the other one is Sri Maruntheeswar temple, which at the top of a small hill at a distance of about one kilometre.
As the sacred tree of this temple is the banyan tree (Kal-ala Maram in Tamil), this temple is also known as Alakkoil.
Legend
The legend of this temple finds a reference in the "Samudra Manthan" episode in the Hindu mythology. The Samudra Manthan (literally translated as churning of the ocean) explains the origin of "amrit" – the nectar of immortality. It is believed that when the celestial gods (Devas) tried to churn the ocean using the "Mandhara hill" as the churning rod (mathu), the hill began to sink. To hold the hill in its place, Lord Mahavishnu incarnated as a tortoise (Kachaba) and supported the hill on his back. However, in order to accomplish this task, it is believed that Lord Mahavishnu came to Thirukachur, created a spring, bathed in it and prayed to Lord Shiva. Lord Shiva gave Lord Mahavishnu his blessings to complete his endeavour. Hence Lord Shiva here is named "Kachabeswarar" and this place is known as Thirukachur.
Another legend associated with this place is that Saint Sundarar, after visiting Thirukkazhukkundram, came to Thirukachur. Due to long arduous journey, Sundarar and his followers were tired and hungry. They decided to rest for a while in the 16 pillar Mandapam near this temple's tank. It is believed that Lord Shiva came there in the form of an old man and advised them to wait for a while so he could bring them some food. It was believed that the old man went out with his bowl (Thiru Odu) for begging, collected food and came back to offer it to them. While Sundarar and his followers were eating the food, the old man suddenly disappeared. Sundarar realized that the old man was none other than Lord Shiva himself and rendered a hymn (Pathigam) exclaiming his shock and grief that the lord took the form of a beggar in order to feed them.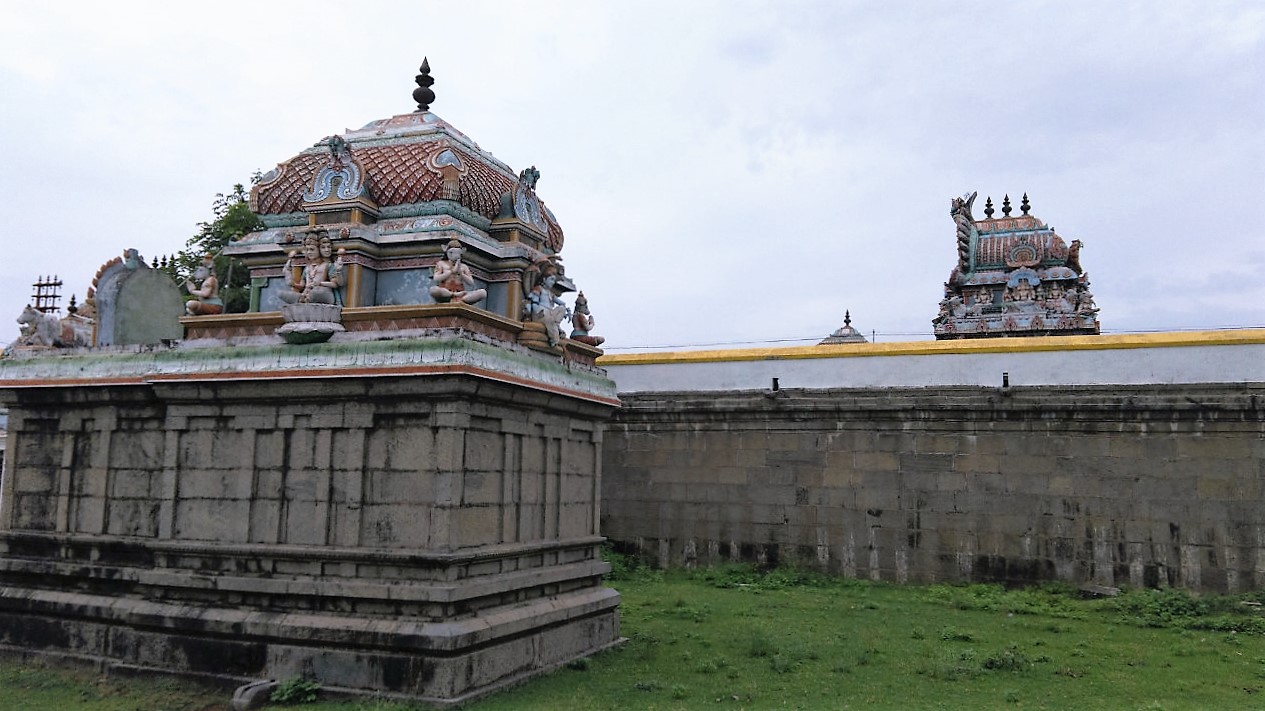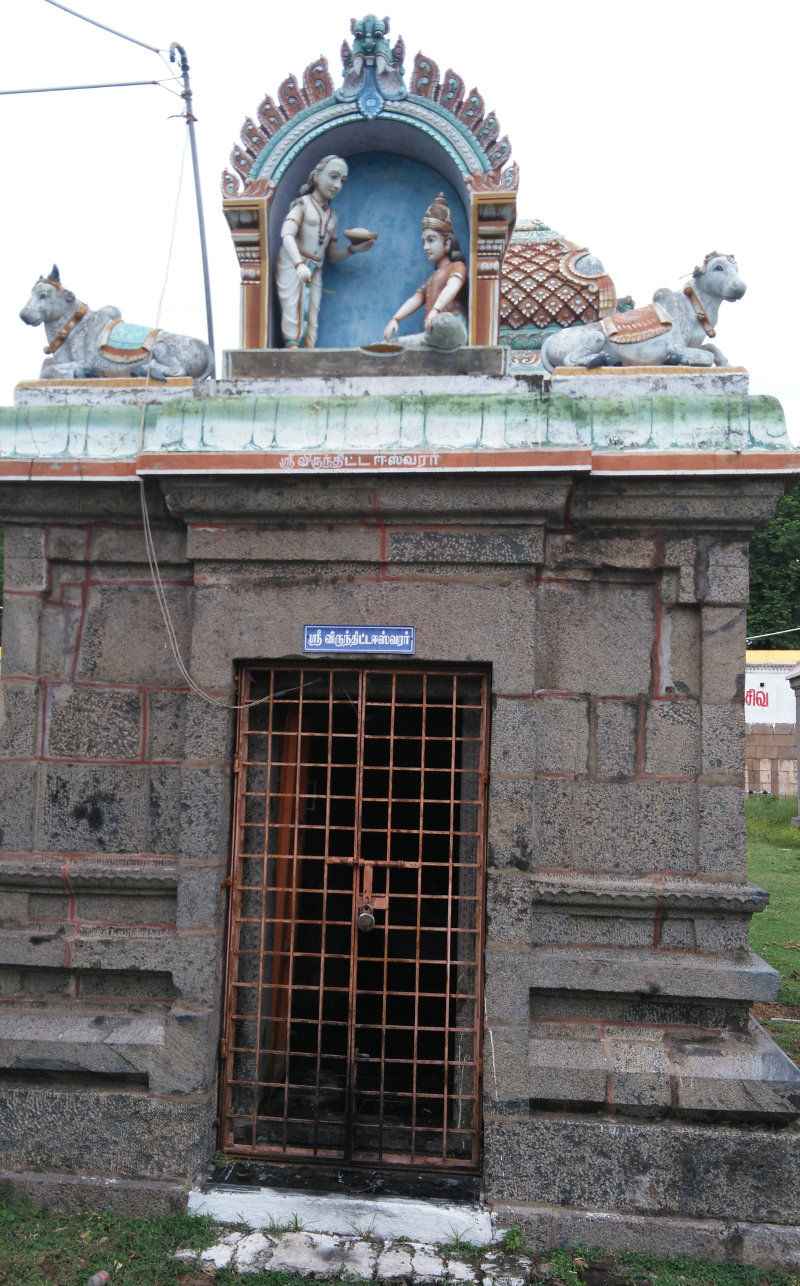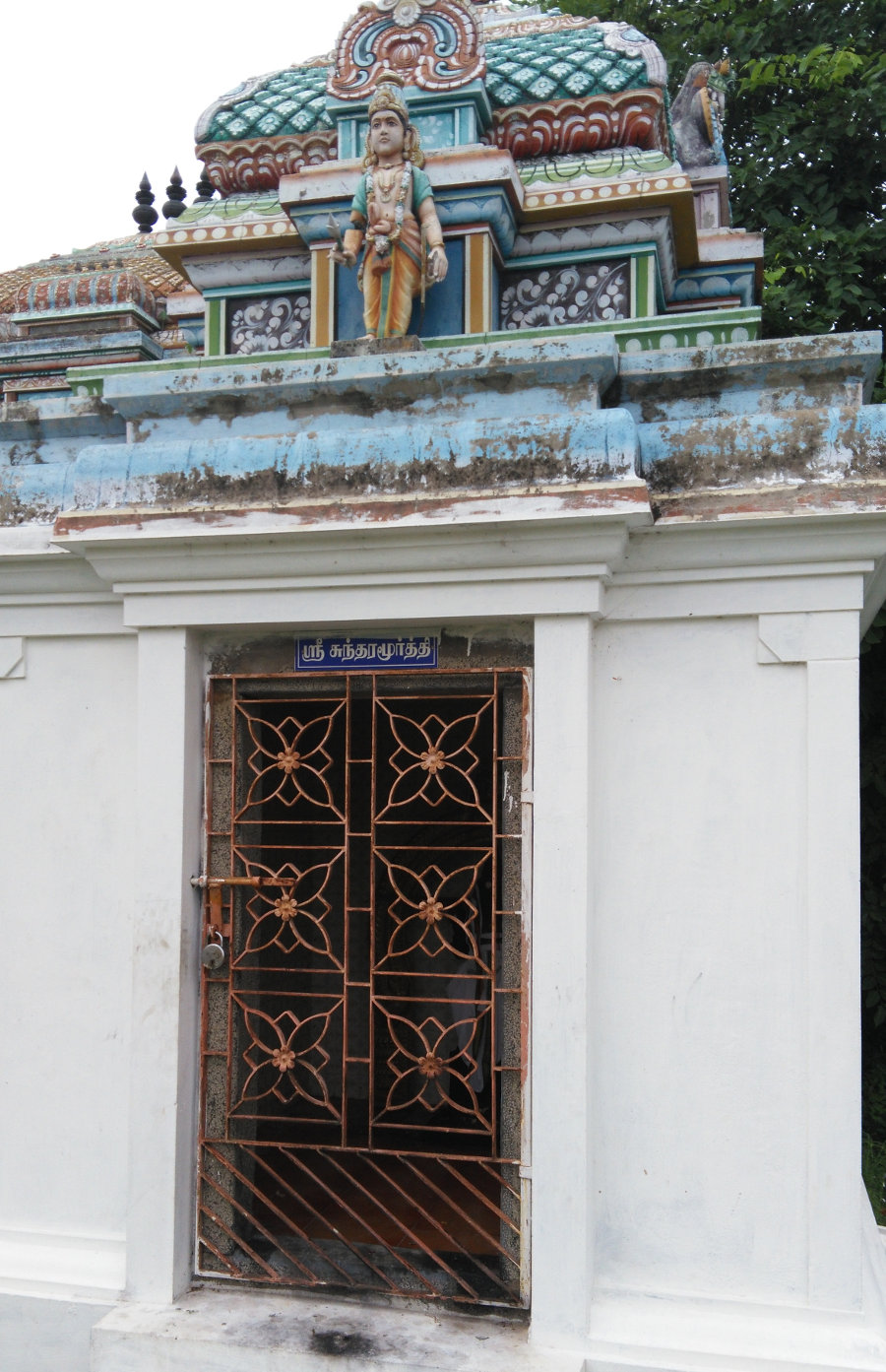 Saint Sundarar while rendering his pathigam about Lord Kachabeswarar, also mentioned about Lord Marundheeswarar (the lord in the temple at the top of the hill). While praising Lord Marundheeswarar, Sundarar said that both the lord and hill itself are a form of sacred medicine.
The hall (Mandapam) where Sundarar and his follower took rest can still be seen.
Deities in the temple:
Goddess Anjanakshi in Kachabeswarar temple blesses the devotees from a separate shrine. Shrine of Lord Thiyagaraja is behind the 27 pillars Nakshatra Mandapam. Separate shrines for Lord Virunthitteswarar" ("Virundhu" in Tamil means hospitality) and Saint Sundarar are in the outer corridors. Idols of lords Vinayakar, Murugan with his consorts, and Bairaver can be seen in the corridors.
There are five separate lingams in the corridors - Ramanathar, Naganathar, Soleeswarar, Margasakayar and Kasi Visvanathar.
There is also a small Shiva shrine outside this temple called "Irandeeswarar" ("Irandha" in Tamil meaning begging).
There is another shrine outside this temple for Lord Vinayakar called Thalamoola Vinayakar (Karukkadi Vinayakar). Those aspiring for excellence in arts can worship Lord Vinayakar here.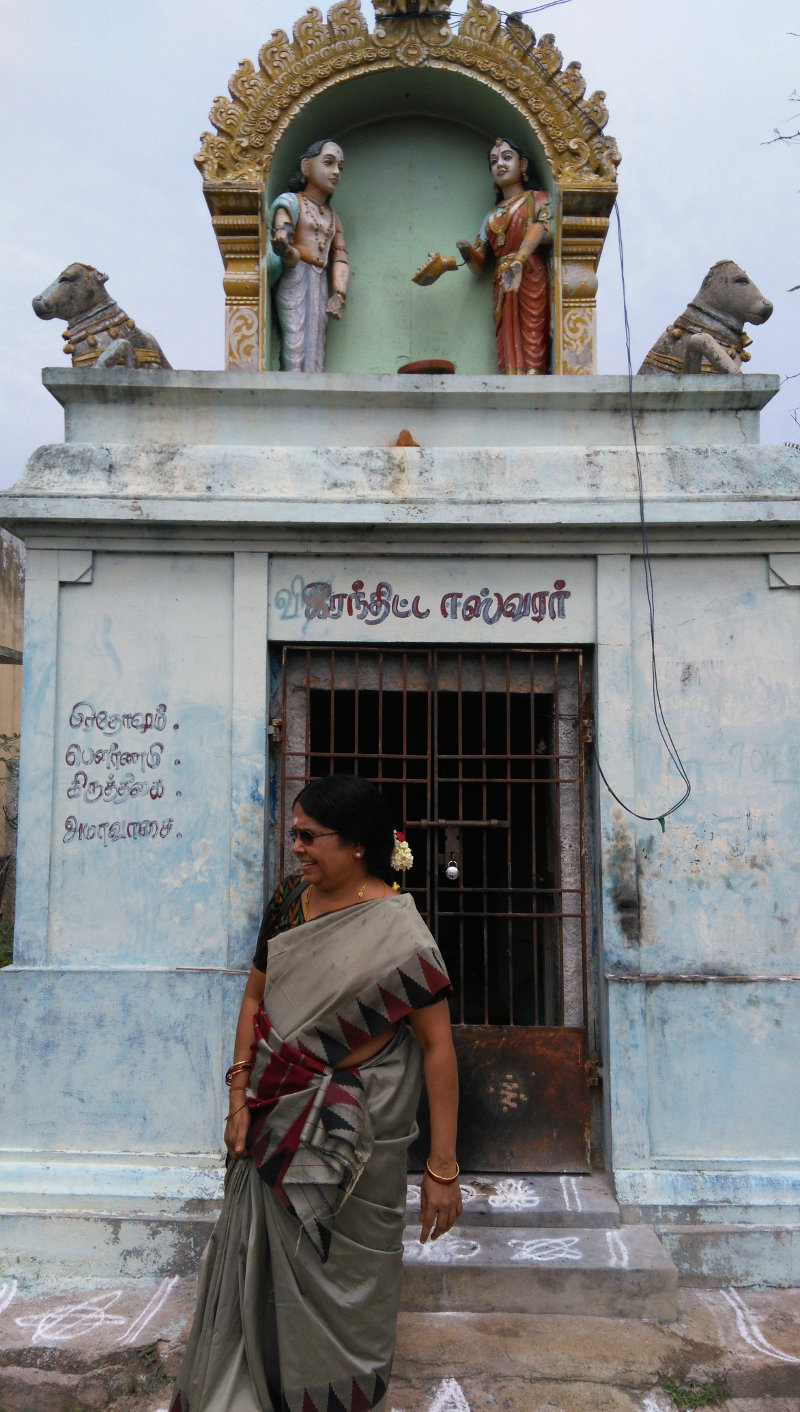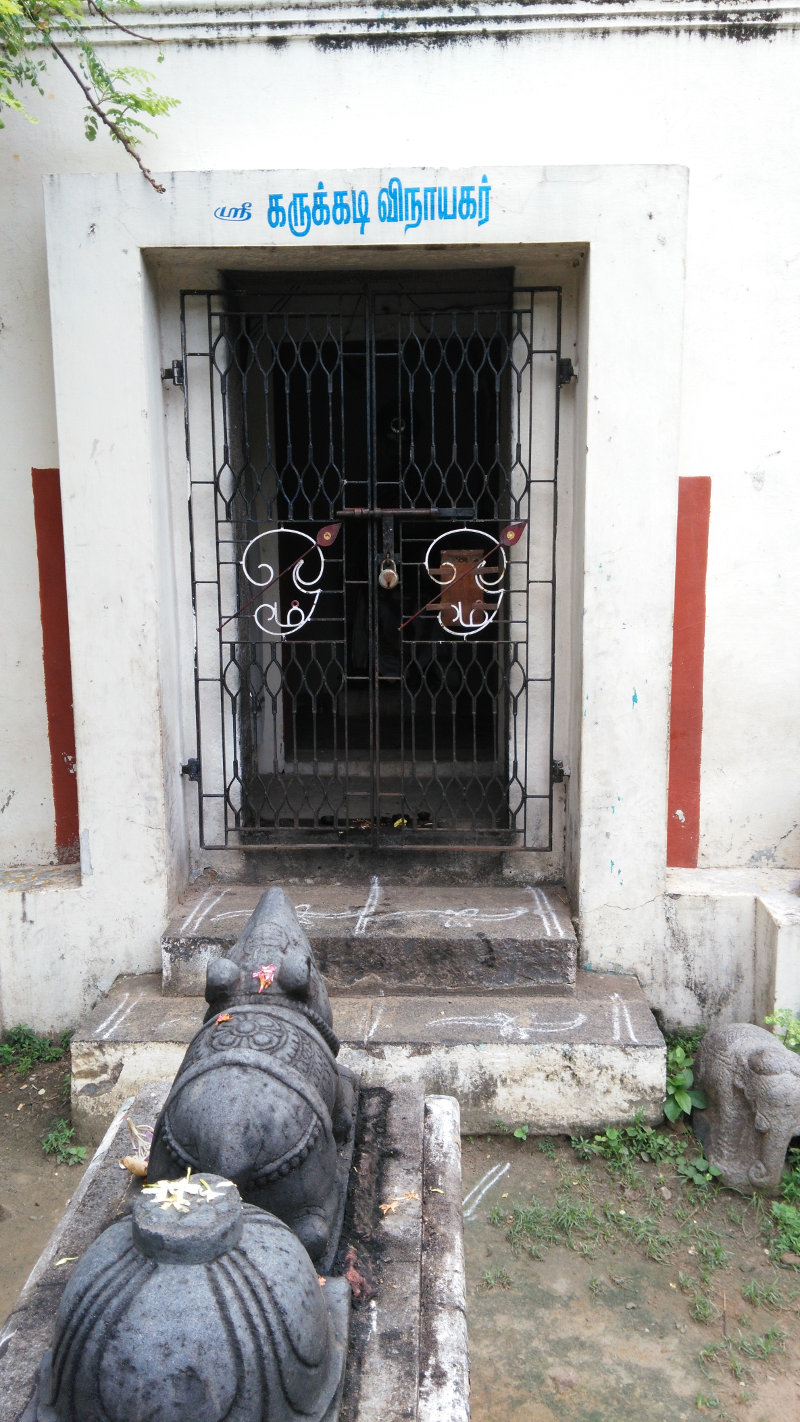 Salient Features
This is one of the important Thyagaraja Swamy temples (the other important ones being -Thiruvotriyur, Thiruvarur and Thiruvanmiyur).
It is believed that Lord Shiva staged his "Ajaba Dance" here for Lord Mahavishnu.
The Sanskrit word "Anjana" can be translated as eyes and the Goddess at this temple is believed to be protecting her devotees as if they were her own eyes. Hence the Goddess gets the name "Anjanakshi". This Ambal is also praised as Sundaravalli.
Saint Arunagirinadhar has also sang songs in praise of Lord Murugan of this temple in his revered Thirupugazh.
Greatness of this temple
The sacred tree of this temple - banyan tree is believed to be representing the "Maka nakshatram" (a constellation). Devotees who are born in the period of this constellation (Maka nakshatram) visit this temple for worship.
Devotees often pray to Goddess Anjanakshi here for good eye sight and to seek cure from eye related illnesses.
Important Festivals
Brahmotsavam and Chithirai Poornima (full moon day) in the Tamil month of Chithirai (April-May) are celebrated at this temple.
Other important festivals celebrated in this temple are –
Vinayakar Chaturthi in the Tamil month of Aavani (Aug-Sept),
Navarathri in the Tamil month of Purattasi (Sept-Oct),
Skanda Shashti and Annabishekam in the Tamil month of Aippasi (Oct–Nov),
Thiru Karthikai in the Tamil month of Karthikai (Nov-Dec),
Thiruvadhirai in the Tamil month of Markazhi (Dec-Jan),
Makara Sankranthi in the Tamil month of Thai (Jan-Feb),
Shivrathri in the Tamil month of Masi (Feb-Mar) and
Panguni Uthiram in the Tamil month of Panguni (Mar-Apr).
Pradosham is also observed regularly.
Temple Timings
From 08.00 AM to 11.30 AM and from 05.00 PM to 07.30 PM.
Temple Address
Sri Kachabeswarar Temple,
Thirukachur, Chengalpattu Taluk
Kancheepuram District, Tamil Nadu-– 603 204.
Tele: +91- 44 - 27463514, 27464325, 09445356399, 9381186389.
---
Sri Oushadheeswarar / Marundheeswarar Temple
| | |
| --- | --- |
| Moolavar | Sri Marundheeswarar, Sri Oushadheeswarar |
| Ambal | Sri Irul Neeki Ammai |
| Theertham (Holy water) | Oushadha Theertham |
| Sthala Vriksham (Sacred Tree) | Jackfruit Tree |
| Pathigam (Hymn) rendered by | Saint Sundaramurthy Nyanar (Sundarar) |
The legend is that Lord Indira (the king of celestial gods) was suffering from the adverse effects of some curse he had incurred. Even the reputed physicians from the celestial world failed to cure him. They came to earth in search of a cure. Maharshi Narada advised them to pray to Lord Shiva in the "Oushada Giri" at Thirukachur. Their prayers were answered and Lord Shiva directed them to a medicinal herb that would cure Indira.
However, when the physicians try to procure the herb they found that the place was engulfed by darkness. Goddess Parvathi came to their rescue and lit up the place to enable them to find the herbs. They found the herbs - Bala and Athibala, took it to the celestial world and successfully cured Lord Indira. The Goddess here is praised as "Irul Neekkia Ambal" – the one who drove darkness away.
This temple has the idols of lords Vinayakar and Murugan in front of the sanctum. Idols of lords Dakshinamurthy, Suryan, Navagraham, and Bhairavar can be seen in the corridors.
It is said that Lord Brahma worshiped Lord Shiva of this temple. The unique aspect of this temple is that the idol of Chandikeswarar in this temple has four faces similar to Lord Brahma. Hence Chandikeswarar here is also referred to as Brahma- Chandikeswarar.
There is also a 60-feet deep well here called "Oushada Theertham".
There is a small pit near the flag post (Kodimaram) and the sand in that pit is considered as sacred ash (Viputhi). Devotees believe that swallowing a lit bit of this sand can cure all kinds of illnesses. Farmers from nearby villages take this sand and sprinkle it in their fields to obtain a better yield.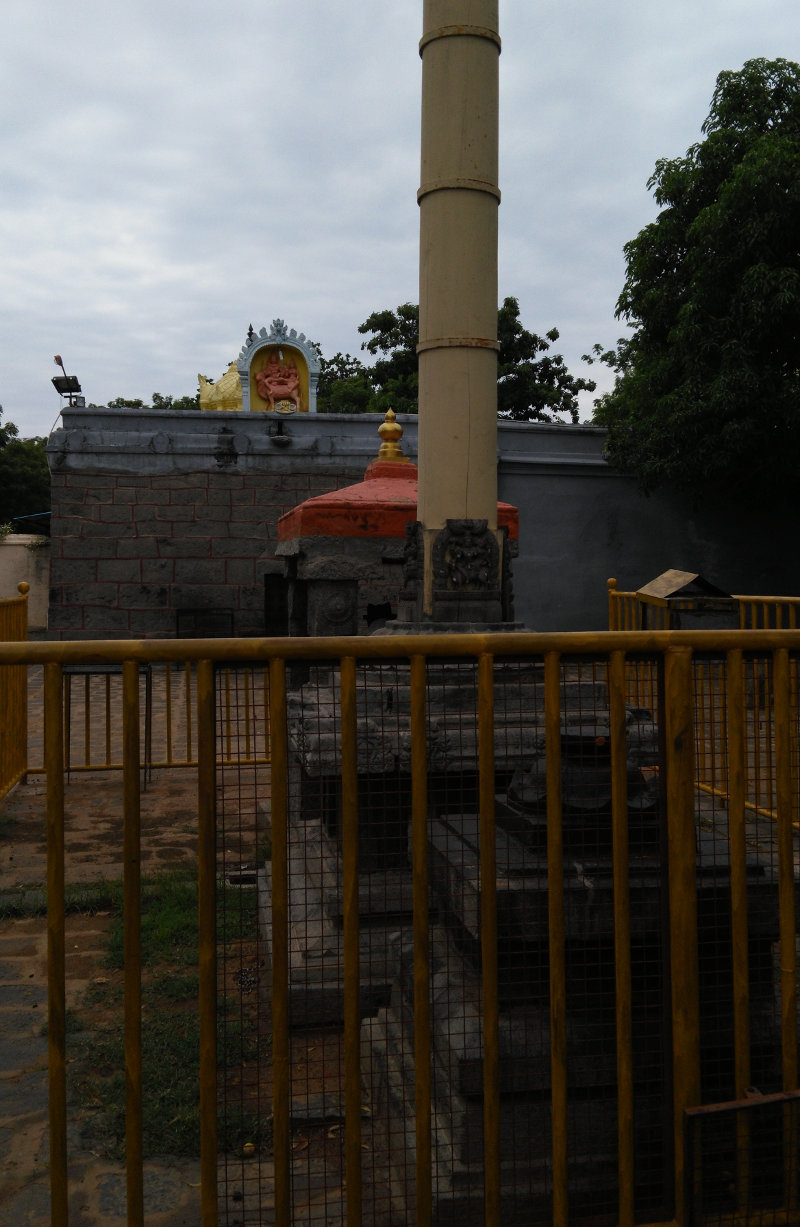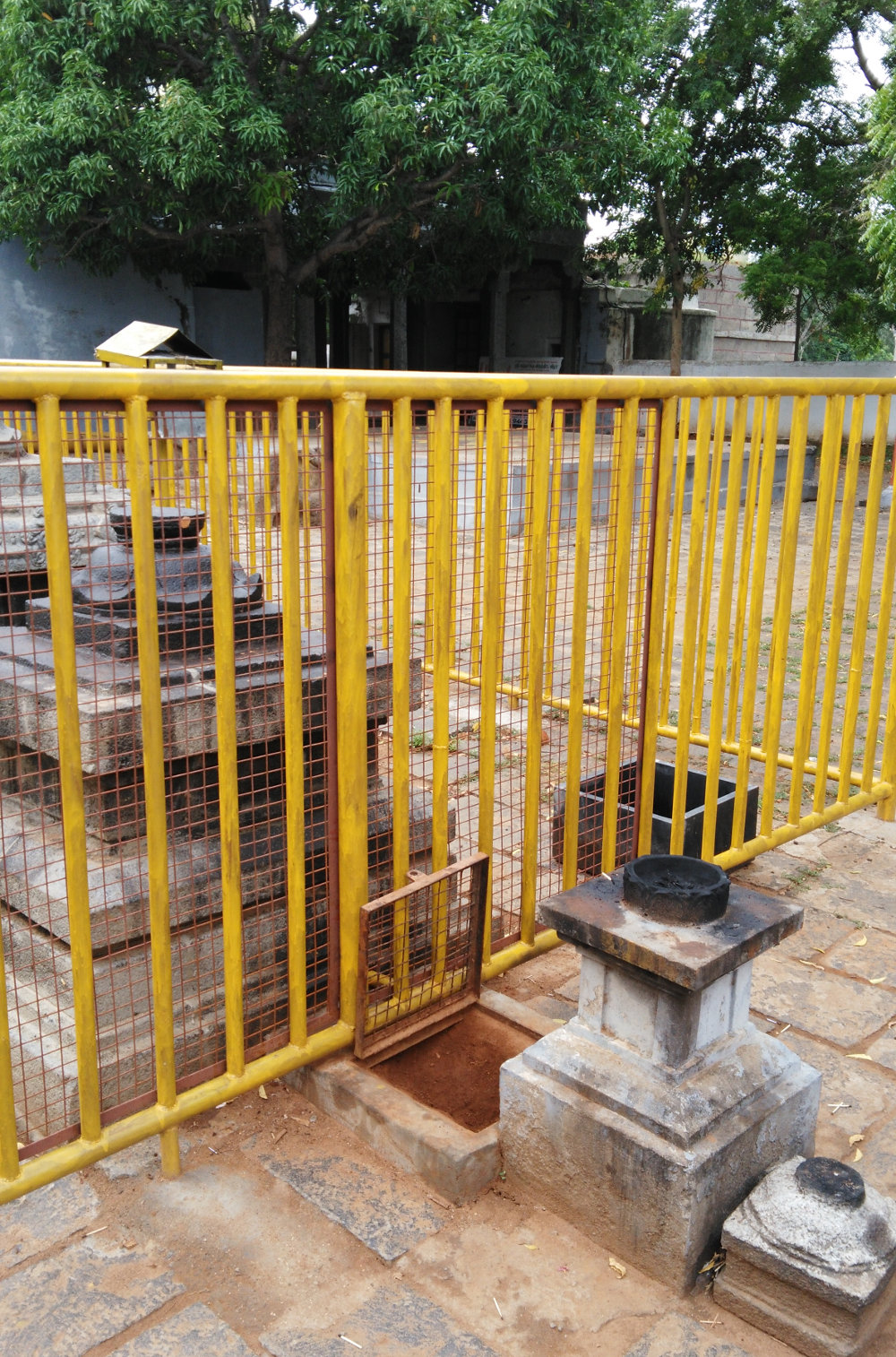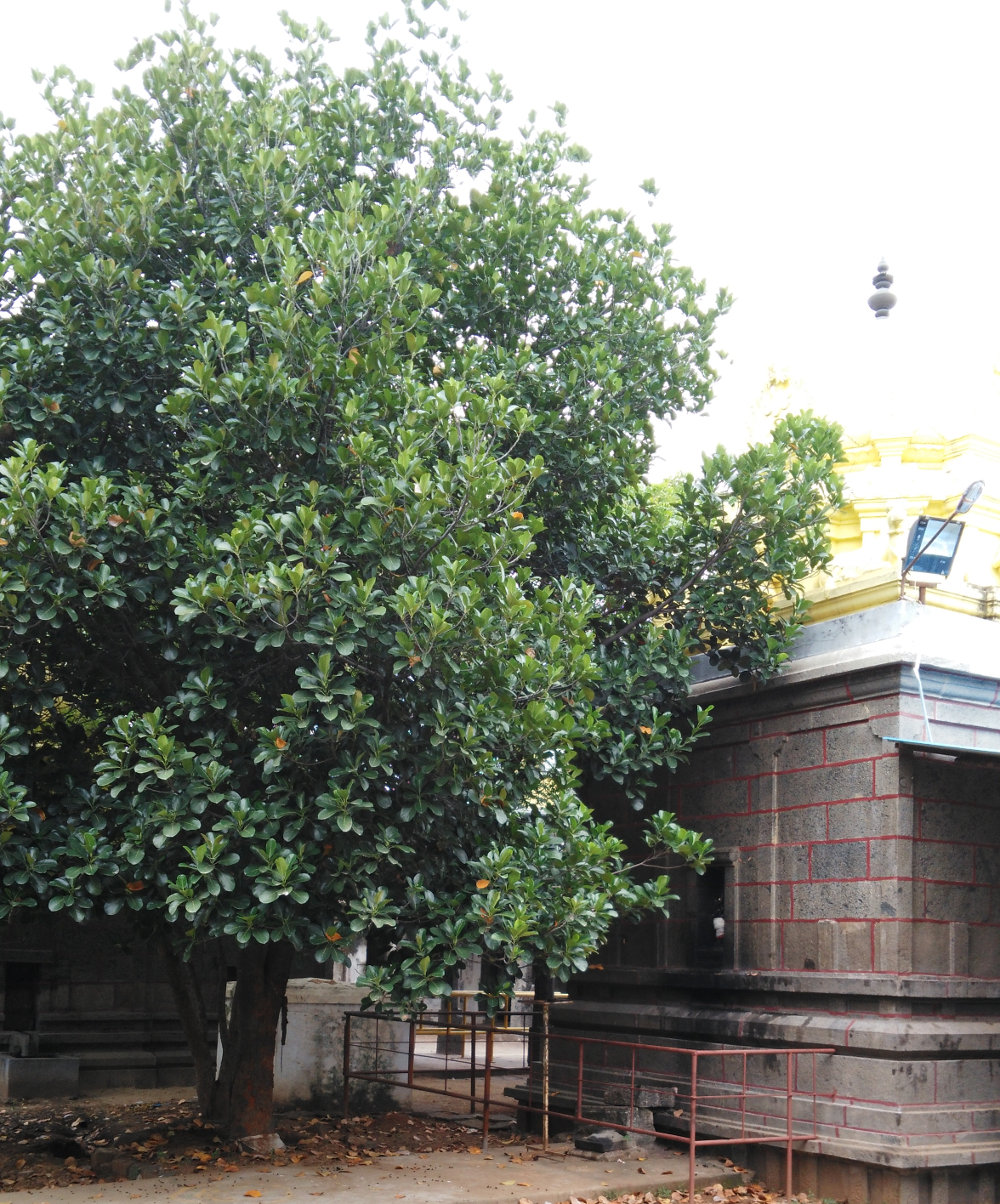 Important Festivals
Brahmotsavam in the Tamil month of Masi (February-March), Thirukarthikai in the Tamil month of Karthikai (November-December), Girivalam (circumambulation of the hill) on Poornima days and Padi pooja (pooja on the steps) on all Mondays are the important festivals celebrated in Lord Marundeeswarar temple.
---
Pathigam (Hymn) with English transliteration
Saint Sundarar visited this temple and sang this Pathigam.
Devotees visiting this temple should make it a practice to recite this Pathigam.
முதுவாய் ஓரி கதற முதுகாட் டெரிகொண் டாடல் முயல்வானே
மதுவார் கொன்றைப் புதுவீ சூடும் மலையான் மகள்தன் மணவாளா
கதுவாய்த் தலையிற் பலிநீ கொள்ளக் கண்டால் அடியார் கவலாரே
அதுவே ஆமா றிதுவோ கச்சூர் ஆலக் கோயில் அம்மானே.
"Muthuvāy ōri kathaṟa muthukāṭ ṭerikoṇ ṭāṭal muyalvāṉē
mathuvār koṉtṟaip puthuvī chūṭum malaiyāṉ makaḷthaṉ maṇavāḷā
kathuvāyt thalaiyiṟ palinī koḷḷak kaṇṭāl adiyār kavalārē
athuvē āmā ṟithuvō kachūr ālak kōyil am'māṉē".
கச்சேர் அரவொன் றரையில் அசைத்துக் கழலுஞ்சிலம்புங் கலிக்கப் பலிக்கென்
றுச்சம் போதா ஊரூர் திரியக் கண்டால் அடியார் உருகாரே
இச்சை அறியோம் எங்கள் பெருமான் ஏழேழ் பிறப்பும் எனையாள்வாய்
அச்சம் இல்லாக் கச்சூர் வடபால் ஆலக் கோயில் அம்மானே.
"Kachēr aravoṉ tṟaraiyil asaithuk kzhḻaluñchilampuṅ kalikkap palikkeṉ
tṟucham pōthā ūrūr thiriyak kaṇṭāl adiyār urukārē
ichai aṟiyōm eṅkaḷ perumāṉ ēzhēḻ piṟappum eṉaiyāḷvāy
acham illāk kachūr vadapāl ālak kōyil am'māṉē".
சாலக் கோயில் உளநின் கோயில் அவையென் றலைமேற் கொண்டாடி
மாலைத் தீர்ந்தேன் வினையுந் துரந்தேன் வானோர் அறியா நெறியானே
கோலக் கோயில் குறையாக் கோயில் குளிர்பூங் கச்சூர் வடபாலை
ஆலக் கோயிற் கல்லால் நிழற்கீழ் அறங்கட் டுரைத்த அம்மானே.
"Sālak kōyil uḷaniṉ kōyil avaiyeṉ tṟalaimēṟ koṇṭādi
mālaith thīrnthēṉ viṉaiyun thuranthēṉ vāṉōr aṟiyā neṟiyāṉē
kōlak kōyil kuṟaiyāk kōyil kuḷirpūṅ kachūr vadapālai
ālak kōyiṟ kallāl nizhaṟkīzh aṟaṅkaṭ ṭuraitha am'māṉē".
விடையுங் கொடியுஞ் சடையும் உடையாய் மின்னேர் உருவத் தொளியானே
கடையும் புடைசூழ் மணிமண் டபமுங் கன்னி மாடங் கலந்தெங்கும்
புடையும் பொழிலும் புனலுந் தழுவிப் பூமேல் திருமா மகள்புல்கி
அடையுங் கழனிப் பழனக் கச்சூர் ஆலக் கோயில் அம்மானே.
"Vidaiyuṅ kodiyuñ chaṭaiyum udaiyāy miṉṉēr uruvath thoḷiyāṉē
kadaiyum pudaicūḻ maṇimaṇ ṭapamuṅ kaṉṉi māṭaṅ kalantheṅkum
puṭaiyum pozhilum puṉalun thazhuvip pūmēl thirumā makaḷpulki
adaiyuṅ kazhaṉip pazhaṉak kachūr ālak kōyil am'māṉē."
மேலை விதியே வினையின் பயனே விரவார் புரமூன் றெரிசெய்தாய்
காலை யெழுந்து தொழுவார் தங்கள் கவலை களைவாய் கறைக்கண்டா
மாலை மதியே மலைமேல் மருந்தே மறவேன் அடியேன் வயல் சூழ்ந்த
ஆலைக் கழனிப் பழனக் கச்சூர் ஆலக் கோயில் அம்மானே.
"Mēlai vithiyē viṉaiyiṉ payaṉē viravār puramūṉ tṟericeythāy
kālai yezhunthu thozhuvār thaṅkaḷ kavalai kaḷaivāy kaṟaikkaṇṭā
mālai mathiyē malaimēl marunthē maṟavēṉ adiyēṉ vayal chūzhntha
ālaik kazhaṉip pazhaṉak kachūr ālak kōyil am'māṉē".
பிறவாய் இறவாய் பேணாய் மூவாய் பெற்ற மேறிப் பேய்சூழ்தல்
துறவாய் மறவாய் சுடுகா டென்றும் இடமாக் கொண்டு நடமாடி
ஒறுவாய்த் தலையிற் பலிநீ கொள்ளக் கண்டால் அடியார் உருகாரே
அறவே ஒழியாய் கச்சூர் வடபால் ஆலக் கோயில் அம்மானே.
"Piṟavāy iṟavāy pēṇāy mūvāy petṟa mēṟip pēychūzhthal
thuṟavāy maṟavāy sudukā ṭeṉtṟum iṭamāk koṇdu nadamādi
oṟuvāyth thalaiyiṟ palinī koḷḷak kaṇṭāl adiyār urukārē
aṟavē ozhiyāy kachūr vadapāl ālak kōyil am'māṉē".
பொய்யே உன்னைப் புகழ்வார் புகழ்ந்தால் அதுவும் பொருளாக் கொள்வானே
மெய்யே எங்கள் பெருமான் உன்னை நினைவார் அவரை நினைகண்டாய்
மையார் தடங்கண் மங்கை பங்கா கங்கார் மதியஞ் சடைவைத்த
ஐயா செய்யாய் வெளியாய் கச்சூர் ஆலக் கோயில் அம்மானே.
"Poyyē uṉṉaip pukazhvār pukazhnthāl athuvum poruḷāk koḷvāṉē
meyyē eṅkaḷ perumāṉ uṉṉai niṉaivār avarai niṉaikaṇtāy
maiyār thaṭaṅkaṇ maṅkai paṅkā kaṅkār mathiyañj saṭaivaitha
aiyā seyyāy veḷiyāy kachūr ālak kōyil am'māṉē".
ஊனைப் பெருக்கி உன்னை நினையா தொழிந்தேன் செடியேன் உணர்வில்லேன்
கானக் கொன்றை கமழ மலருங் கடிநா றுடையாய் கச்சூராய்
மானைப் புரையும் மடமென் னோக்கி மடவா ளஞ்ச மறைத்திட்ட
ஆனைத் தோலாய் ஞானக் கண்ணாய் ஆலக் கோயில் அம்மானே.
"Ūṉaip perukki uṉṉai niṉaiyā thozhinthēṉ seṭiyēṉ uṇarvillēṉ
kāṉak koṉtṟai kamazha malaruṅ kaṭinā ṟudaiyāy kachūrāy
māṉaip puraiyum maṭameṉ ṉōkki maṭavā ḷañcha maṟaithiṭṭa
āṉait thōlāy ñāṉak kaṇṇāy ālak kōyil am'māṉē".
காதல் செய்து களித்துப் பிதற்றிக் கடிமா மலரிட் டுனையேத்தி
ஆதல் செய்யும் அடியார் இருக்க ஐயங் கொள்வ தழகிதே
ஓதக் கண்டேன் உன்னை மறவேன் உமையாள் கணவா எனையாள்வாய்
ஆதற் பழனக் கழனிக் கச்சூர் ஆலக் கோயில் அம்மானே.
"Kāthal seytu kaḷithup pithaṟṟik kaṭimā malariṭ ṭuṉaiyēthi
āthal seyyum adiyār irukka aiyaṅ koḷva thazhakithē
ōthak kaṇṭēṉ uṉṉai maṟavēṉ umaiyāḷ kaṇavā eṉaiyāḷvāy
āthaṟ pazhaṉak kaḻaṉik kachūr ālak kōyil am'māṉē".
அன்னம் மன்னும் வயல்சூழ் கச்சூர் ஆலக் கோயில் அம்மானை
உன்ன முன்னும் மனத்தா ரூரன் ஆரூ ரன்பேர் முடிவைத்த
மன்னு புலவன் வயல்நா வலர்கோன் செஞ்சொல் நாவன் வன்றொண்டன்
பன்னு தமிழ்நூல் மாலை வல்லார் அவரெந் தலைமேற் பயில்வாரே.
"Aṉṉam maṉṉum vayalchūzh kachūr ālak kōyil am'māṉai
uṉṉa muṉṉum maṉahā rūraṉ ārū raṉpēr mudivaitha
maṉṉu pulavaṉ vayalnā valarkōṉ ceñchol nāvaṉ vaṉtṟoṇṭaṉ
paṉṉu thamizhnūl mālai vallār avaren thalaimēṟ payilvārē".