Visited on: January 10, 2016 and December 2, 2016.
Location
Thiruvanaikkaval is a part of Trichy (also known as Thiruchirappalli) and is situated at a distance of about 8 kms from the Trichy bus stand. It is 3 kms away from Srirangam and is between the Kollidam and Cauvery rivers.
Other Devara Paadal Petra Sthalam near this place are – Thiruvasi, Thiruchirappalli (Tiruchy Malaikkottai), Anbilanthurai, Thirumanthurai, Thiruppatrurai, Thiruppainjeeli, Thirupparaithurai, Mukkeecharam (Uraiyur) and Thiruverumbur.
General Information
| | |
| --- | --- |
| Moolavar | Sri Jalakandeswarar, Sri Jambukeswarar, Sri Vennaval Eswarar, Sri Appu Lingam |
| Ambal | Sri Akilandeswari |
| Theertham (Holy water) | There are 9 Theerthams – Sreemath Theertham, Brahma, Indra, Chandra, Rama, Agni, Agasthiya, Jambu and Surya. |
| Sthala Vriksham (Sacred Tree) | Jambu (white naaval) tree |
| Pathigam (Hymn) rendered by | Saint Thirugnanasambanthar, Saint Thirunavukarasar (Appar) and Saint Sundaramurthy Nayanar |
This is one of the 276 Devara Paadal Petra Shiva Sthalams and 60th Shiva Sthalam on the northern bank of the river Cauvery in Chozha Nadu (Vadakarai).
Lord Shiva in this temple is a Swayambumurthi (self-manifested).
In this temple, Lord Jambukeswarar is facing west and Goddess Akilandeswari is facing the east.
This is one of the "Pancha Bootha Sthalams" and it represents Water (Appu).
This is also one of the Sakthi Peetams.
This is the first of the 70 Madakkovils built by King Kochengat Cholan.
All the three saints (Moovar) have rendered hymns on Lord Shiva of this temple.
The east facing main tower (Rajagopuram) has 13-tiers and the west facing Rajagopuram has 7-tiers. This temple has 7 main towers and 5 corridors.
History of the Temple
This is an ancient, sprawling and magnificent temple which highlights the architectural splendour of the past. The temple complex is a whopping 18 acres of land. In ancient times, this place was densely populated with white Naaval trees.
The temple was built about 2,500 years ago by the Emperor Kochengat Chola.
It is believed that an elephant and a spider have worshiped the lord here and obtained salvation. The name of this temple is derived from this legend. "Thiru" is a respectful prefix, "Anai" means elephant and "koil" means temple in Tamil. Now it is known as "Thiruvanaikkaval".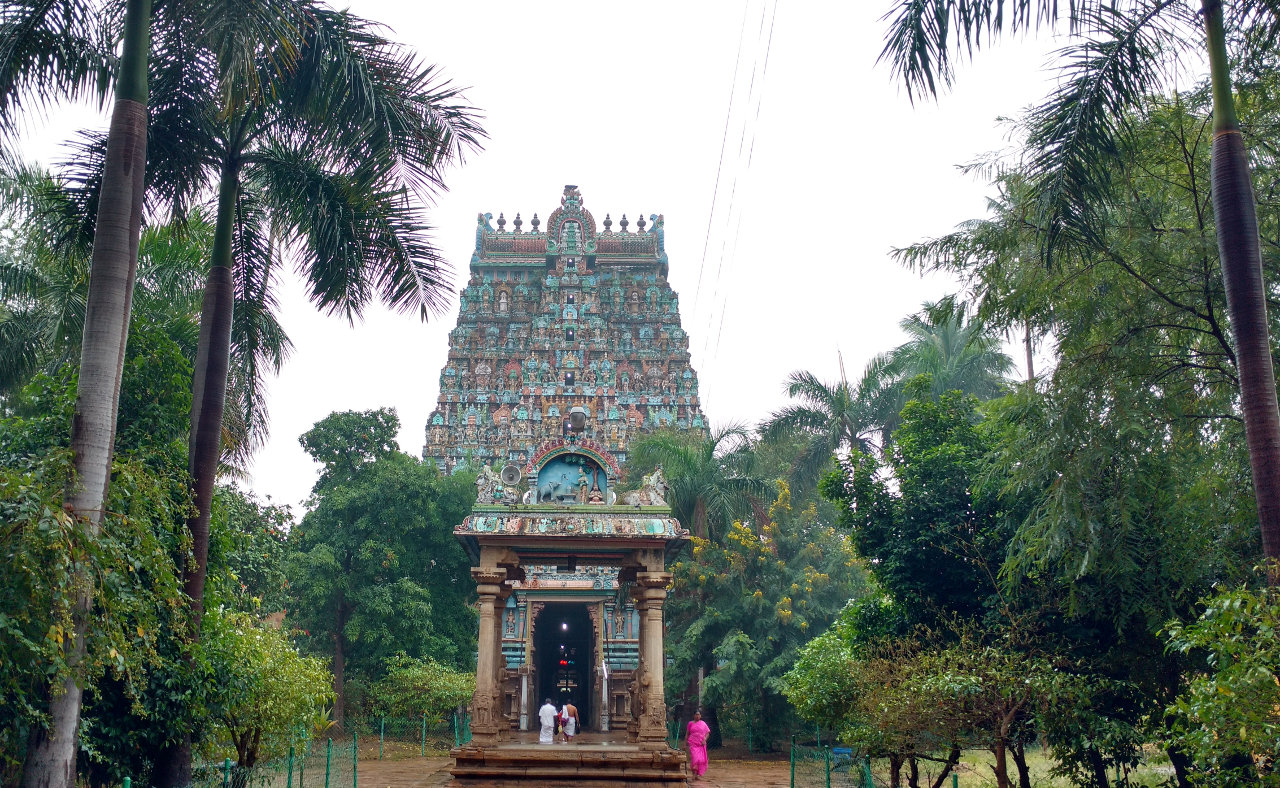 Legend
Because of a curse, two Shivaganams (Lord Shiva's security guards) namely, Pushpathanthan and Gnanatharul Maliyavan were born as an elephant and a spider respectively. In order to seek relief from their curse, it is believed that they worshiped the lord of this temple. There had been a forest of Jambu (naaval) trees near the Chandratheertha tank (filled with the water of the river Cauvery) here and Lord Shiva is said to have appeared under one of the trees as a Swayambu lingam.
The spider is believed to have spun a web to give shelter to the Lord whereas the elephant would bring water in its trunk for performing Abhishekam. The elephant would destroy the web and the spider would promptly spin it again. This continued for a while.
One day, the spider decided to stop the elephant and went inside the trunk of the elephant and bit it. It is believed that the elephant hit its trunk on the floor to shake the spider off but in the process, both of them died. The Lord was pleased with their relentless devotion and both the spider and the elephant attained salvation (moksham). Since Pushpathanthan (born as elephant) fulfilled his penance by performing abhishekam, he was relieved of his curse and returned back to Shivalogam to take his place as a Sivaganam. However, the spider's wish of building a temple around the lingam was not fulfilled and hence it was born again as King Kochengat Chola.
It is believed that King Kochengat Chola built 70 "Madakkoils". The distinguishing feature of a Madakkoil is that it is not easily approachable by an elephant. Sensing the story of his previous birth, he built these temples at an elevation and there are a few steps that need to be climbed before seeing the lord. Also, the sanctum sanctorum's (Karpagragam) entrance is narrow such that no elephant can enter it.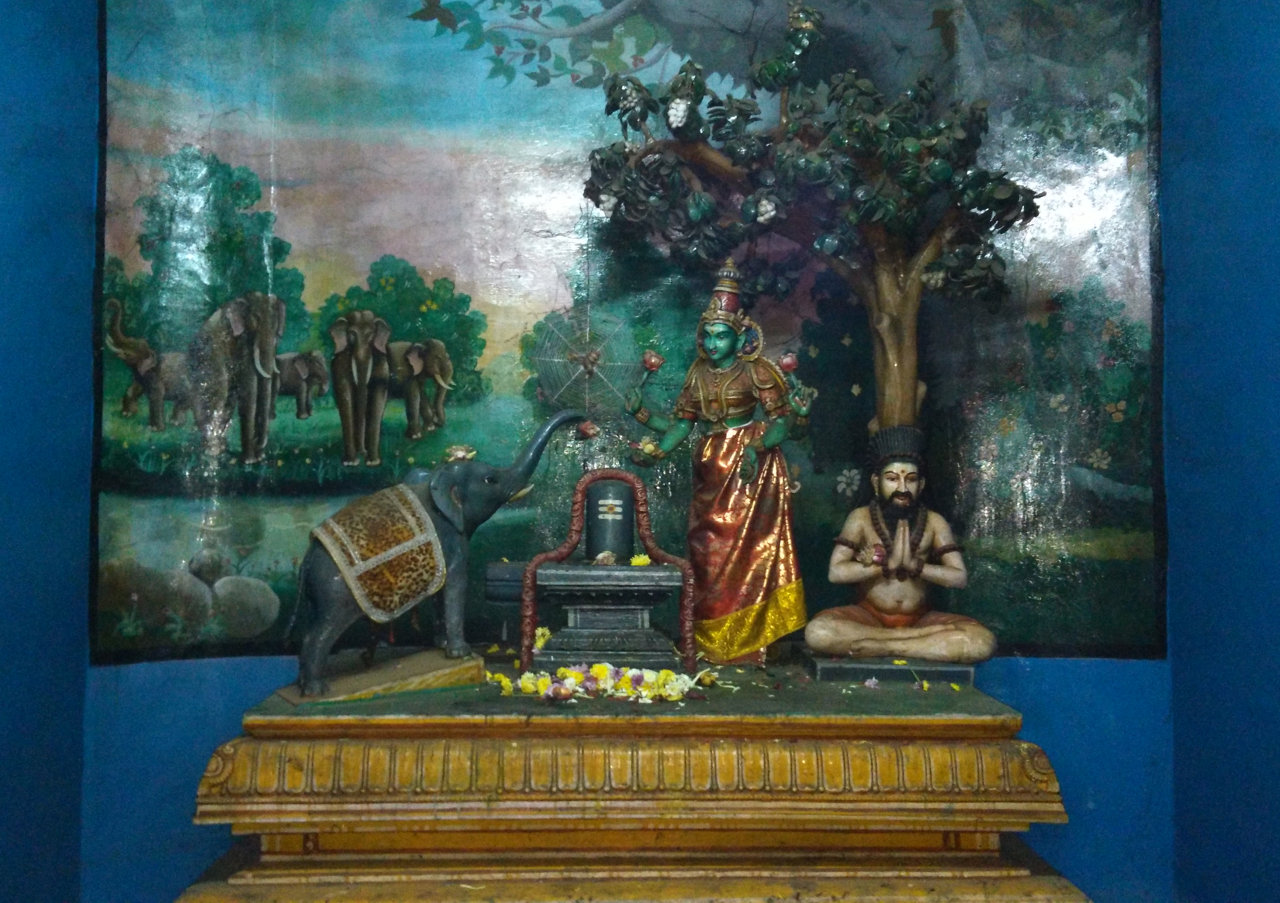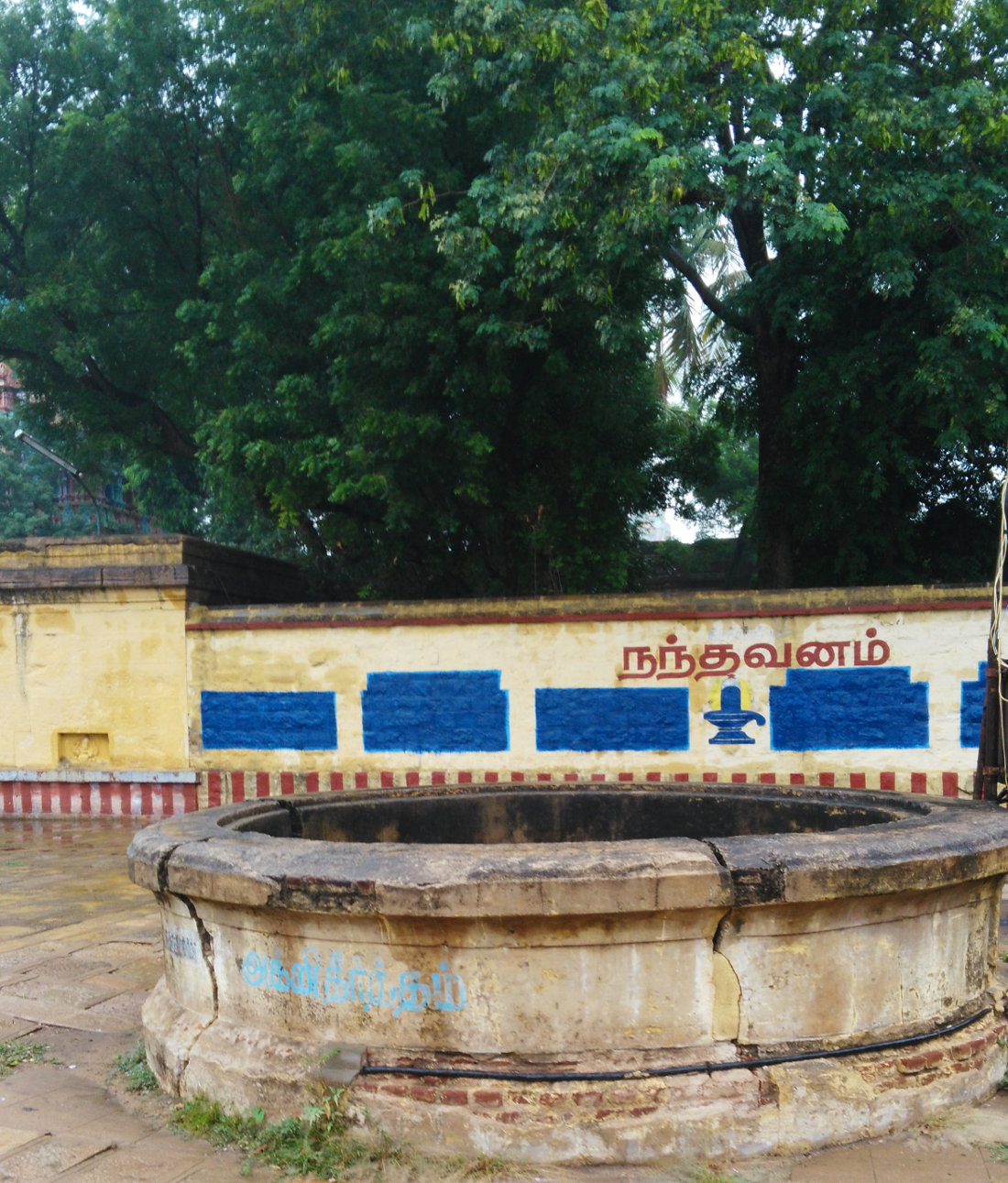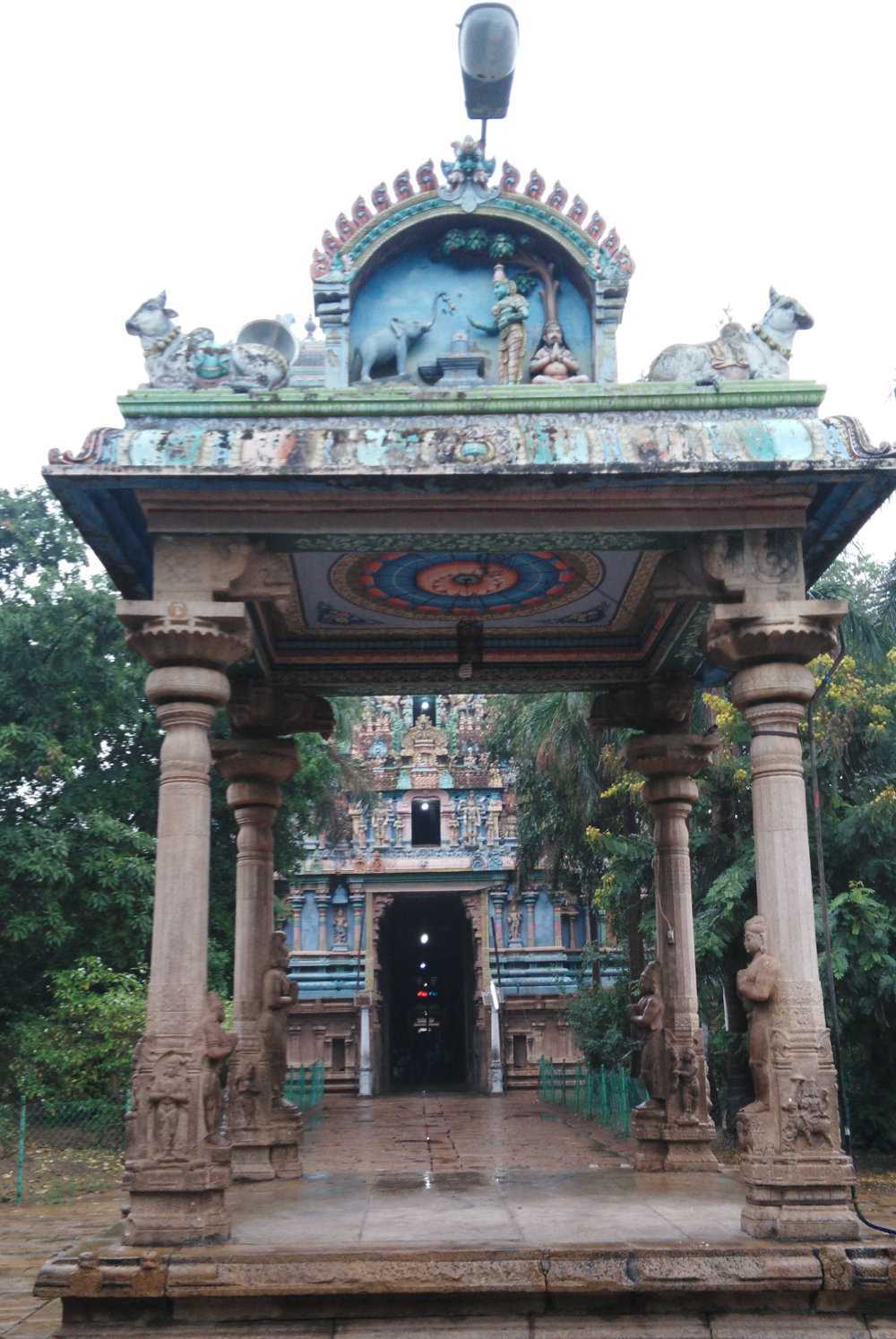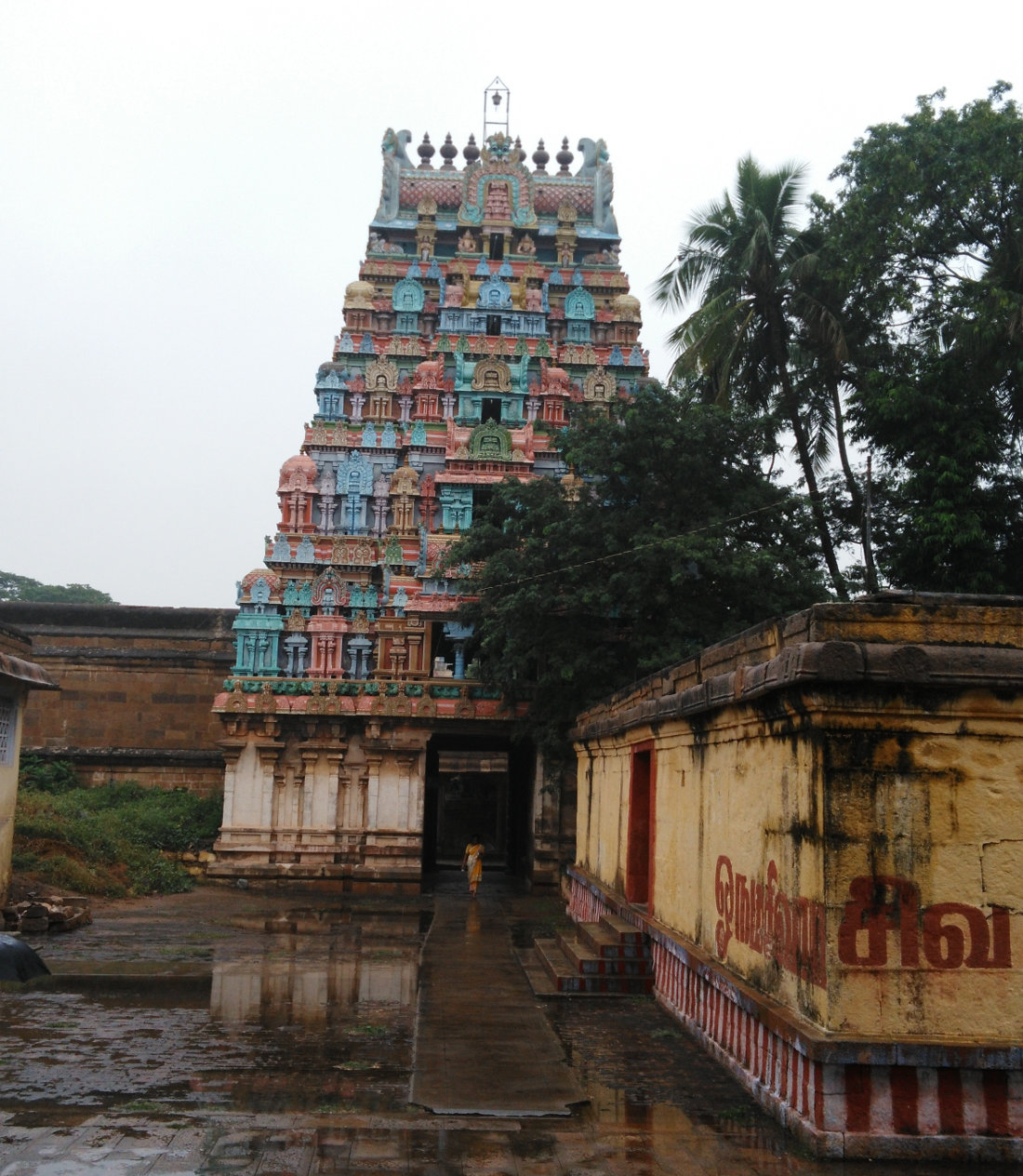 Another legend associated with this place is that of sage Jambu who worshiped Lord Shiva here. Lord Shiva granted darshan to the sage and offered him a Naaval fruit (blackberry) as prasad. While consuming the prasad, the sage swallowed the seeds too as he thought it a sin to spit the seeds. The seeds began to grow into a tree and pierced his head thus leading to his salvation. As Lord Shiva granted salvation to sage Jambu here, he is praised as "Sri Jambukeswarar" and this place is known as "Jambukeswaram".
It is also believed that Goddess Parvathi (as Akilandeswari) performed penance in the Jambu forest here in Thiruvanaikkoil. She created a lingam out of sand and water from the river Cauvery and installed it under the same Jambu (Venn Naaval) tree which is believed to have emerged from Saint Jambu. This lingam is known as "Appu Lingam" (Water Lingam). Pleased with her penance, Lord Shiva gave darshan to Akhilandeswari and taught her the "Shiva Gnana Upadesa". Akhilandeswari took the "Upadesa" (lessons) facing east from Lord Shiva, who stood facing the west. Hence this temple is also revered as a Upadesa Sthalam.
Another interesting aspect related to this temple is that the "Wedding Festival" (Thiru Kalyanam) is not celebrated here. Also, the lord is not taken to the "Palli Arai" (bed chamber) at night. The reason behind this is that Lord Shiva here is seen as a guru (teacher) to Goddess Parvathi.
Another legend is that while constructing one of the temple's wall, Lord Shiva came in the form of a saint (Vibhuthi Siddhar) and distributed sacred ash as the wages for the workers. This sacred ash turned into gold proportionate to the work done by the workers. This particular wall (4th corridor) is called "Thiruneetru Madhil". "Thiruneeru means sacred ash and "Madhil" means wall in Tamil. This wall is well over 8000 feet long (2436+2436+1493+1493 feet), 35 feet high and 6 feet thick. There is a shrine for Vibhuthi Siddhar near the Brahma Theertham.
Another legend associated with this place is that of a Chola king from Uraiyur (near Trichy) who was an ardent devotee of Lord Shiva. Once he was taking a dip in the Cauvery river when his necklace fell in to the river. He prayed to the lord to get his necklace back. At the same time, a priest from this temple was fetching water in a pot for the lord's abishekam. This chain went into the priest's pot and was discovered at the time of the abishekam.
Lord Shiva of this temple is believed to have been worshipped by Goddess Parvathy, Lord Brahma, Lord Mahavishnu, Suryan, Chandran, Ashta Thikbalahars and Sages Agasthiar, Jambu and Gowthamar.
Deities in the temple
Other than the shrines of Lord Shiva and Goddess Parvathy, shrines and idols of lords Vallaba Ganapathy, Murugan, Dakshinamurthy, 108 Shiva lingams, Sankaaranyeswarar and Aadi Jambukeswarar can be seen in the corridors.
There is a separate lingam called Kubera Lingam which is believed to have been worshiped by Lord Kuberan.
There is a separate shrine for Lord Saneeswaran where he can be seen with his mother Chaya Devi and his wife Jyesta Devi.
There is also a shrine for King Kochengat Chola in the corridors.
Goddess Akilandeswari graces from a separate temple in the second inner corridor.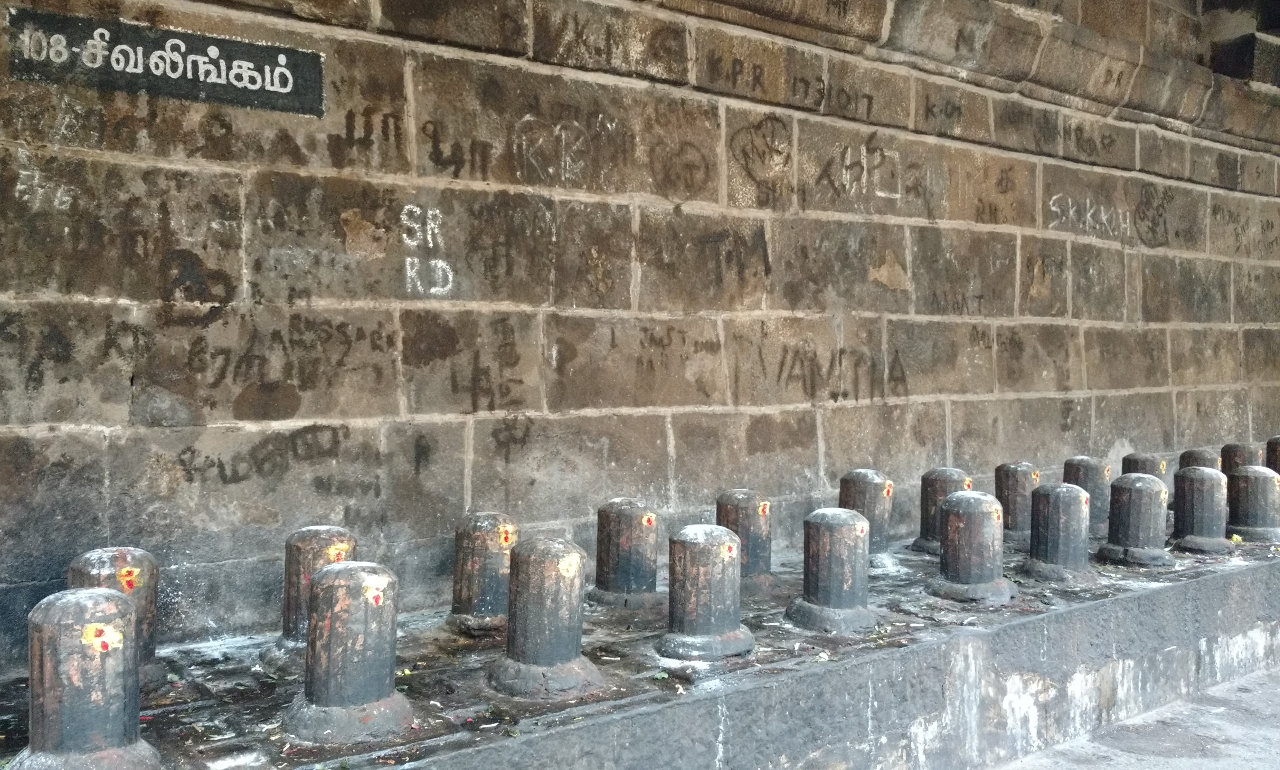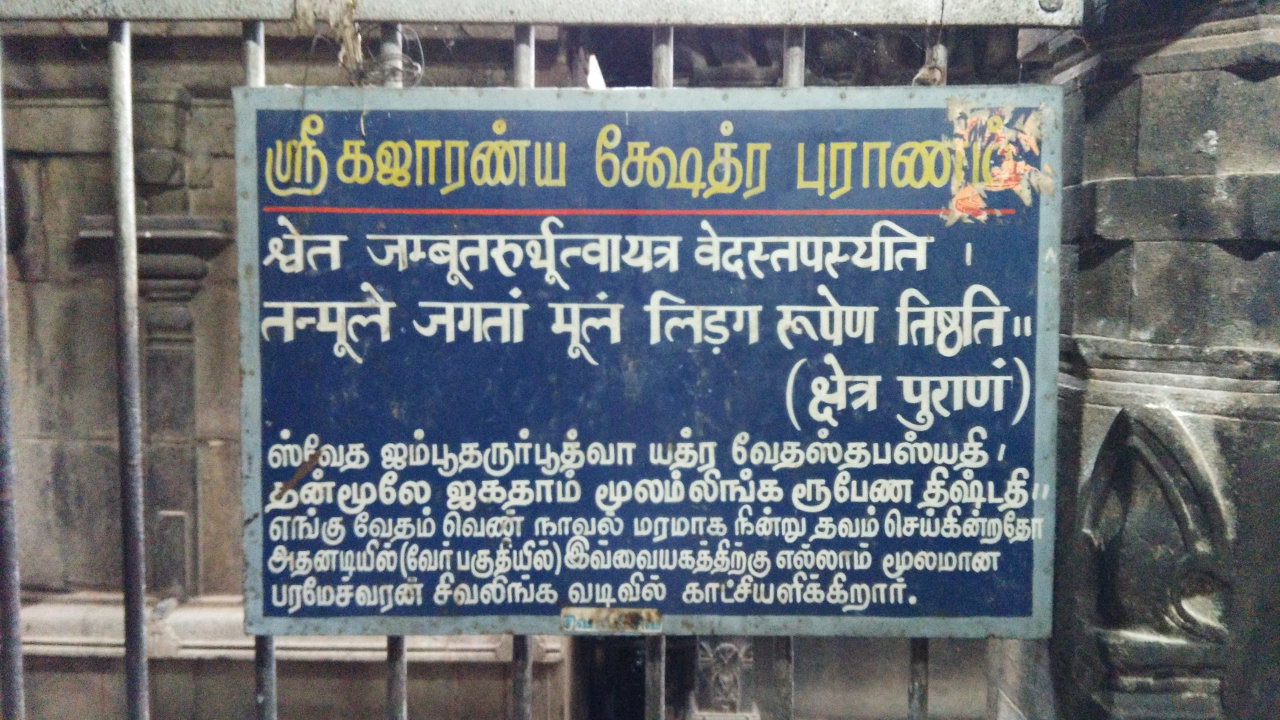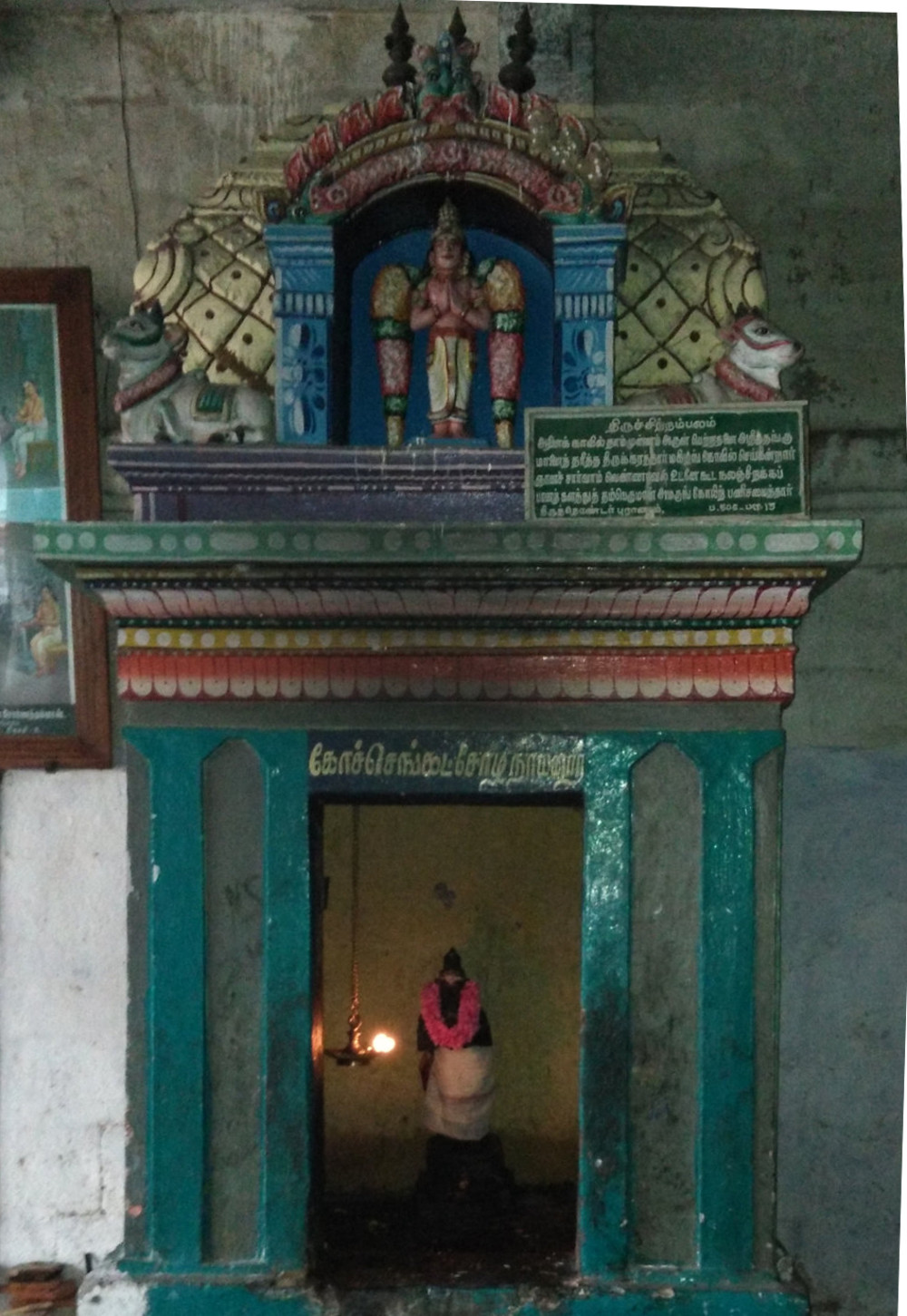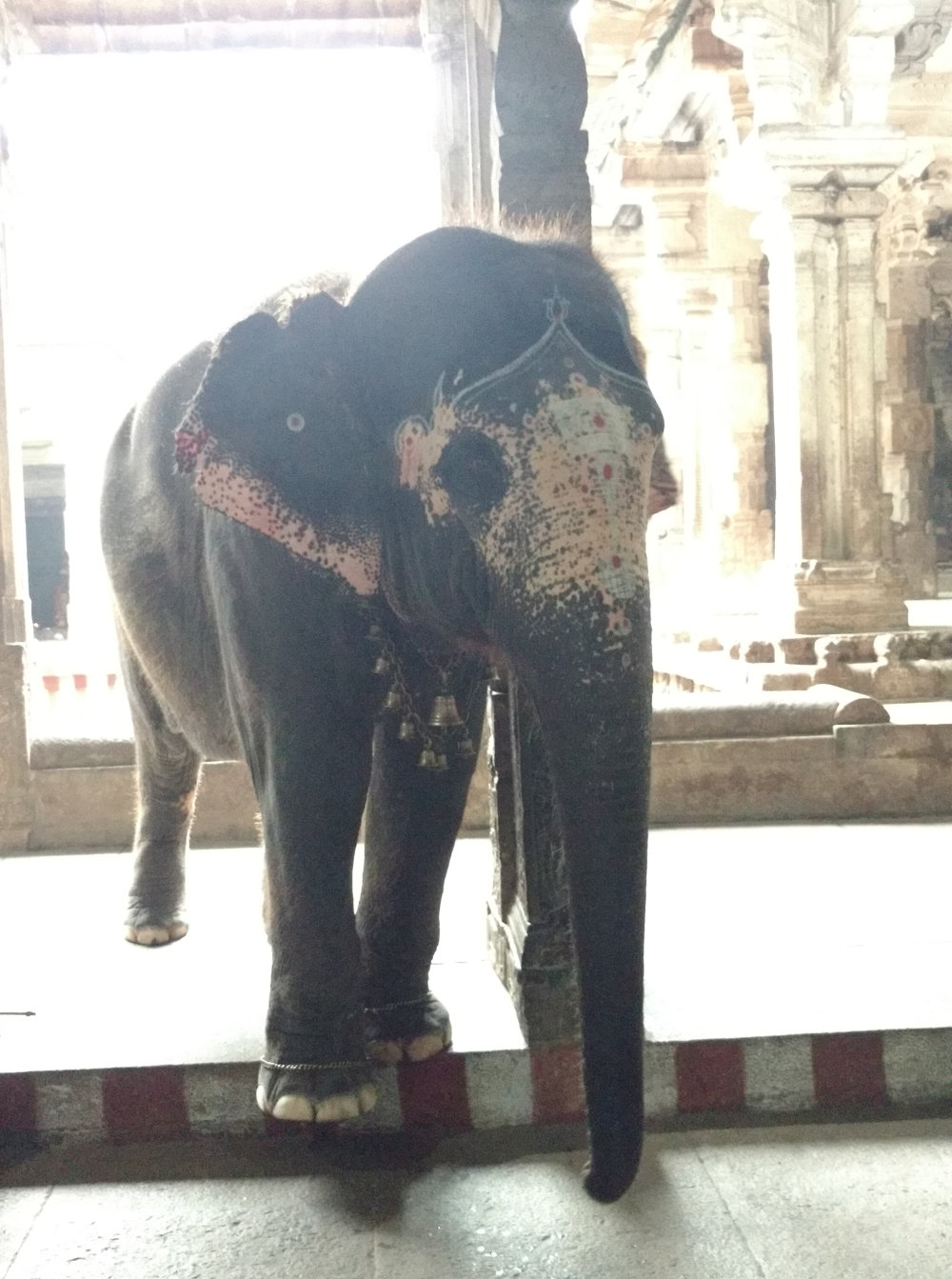 Salient Features
Thiruvanaikkaval Temple is one of the "Pancha Bhootha Sthalams" and it is the Water (Appu) Sthalam.
One of the five elements of nature, "water" is represented by an undying natural spring below the Shiva lingam in the sanctum. This can be seen even today and for this reason, the lord is also praised as "Sri Jalakandeeswarar" ("Jalam" means water in Tamil).
The other four Pancha Bootha Sthalams are -
Tiruvannamalai (Thejo sthalam - Fire)
Kanchipuram / Thiruvarur (Prithvi sthalam - Earth)
Kalahasti (Vayu sthalam - Air) and
Chidambaram (Akasa sthalam - Space).
Goddess Akilandeswari of this temple is very famous and she attracts a large number of devotees. "Akhilandeshwari" means "the ruler of the universe" ("Akilam" means universe, "Aanda" means ruler, and "Eswari" means Goddess in Tamil).
The ear ring of Goddess Akilandeswari is known as "Thadangam". It is quite big and prominent. It is believed that earlier she used to look very aggressive and furious. Sri Adi Sankaracharya controlled her anger and contained it in the earrings as Chakras. One is called the "Shiva Chakra" and the other one is called the "Srichakra". Also, to reduce her anger, Lord Vinayaka's shrine is placed in front of her and Lord Murugan's shrine is behind her.
During the noon pooja, this temple's priest dresses as a woman before performing the pooja. This is done to signify the fact that Goddess Parvathi herself is offering prayers to the Lord.
It is believed that Lord Ranganathar stayed at Srirangam only to worship Lord Jambugeswarar of this temple. To commemorate this event, every year the idol of Lord Ranganadhar is brought here and kept for a day. Next day, the idol is taken back to his temple at Srirangam. During this event, the idol of Lord Ranganathar is beautifully decorated and this procession is witnessed by a large crowd.
It is believed that Saint Arunagirinathar prayed to Lord Murugan here such that he might be protected from thoughts of lust. Lord Murugan acceded to his request and captured a demon that is believed to personify lust. This demon can be seen beneath Lord Murugan's foot. Such a depiction of Lord Murugan cannot be seen anywhere else.
Saint Arunagirinadhar has also sang songs in praise of Lord Murugan of this temple in his revered Thirupugazh.
It is believed that Goddess Akilandeswari blessed poet Kalamega Pulavar here with the talent to write poems.
There are 9 Theerthams (holy water) in this temple. In front of the main deity, there is a grilled window with 9 holes in it. We have to worship the Lord only through these 9 holes. Doing so is considered to be equivalent to taking a dip in each of the 9 Theerthams.
There is a pillar in the "Mahamandapam" of Goddess Akhilandeswari's temple where we can see a magnificent sculpture of Lord Ekapadeswarar. The lord is flanked by Lord Brahma and Lord Mahavishnu on either side mounted on their respective vahanams.
Monolithic stone pillars can be seen in the halls (mandapam) situated at the third entrance of the temple (Aariyavittan tower). Another significant sculpture to be seen here is a huge chain carved out of stone. There are also pillars where the 12 zodiac signs are beautifully engraved. The 1000-pillared hall houses a large number of intricately carved reliefs.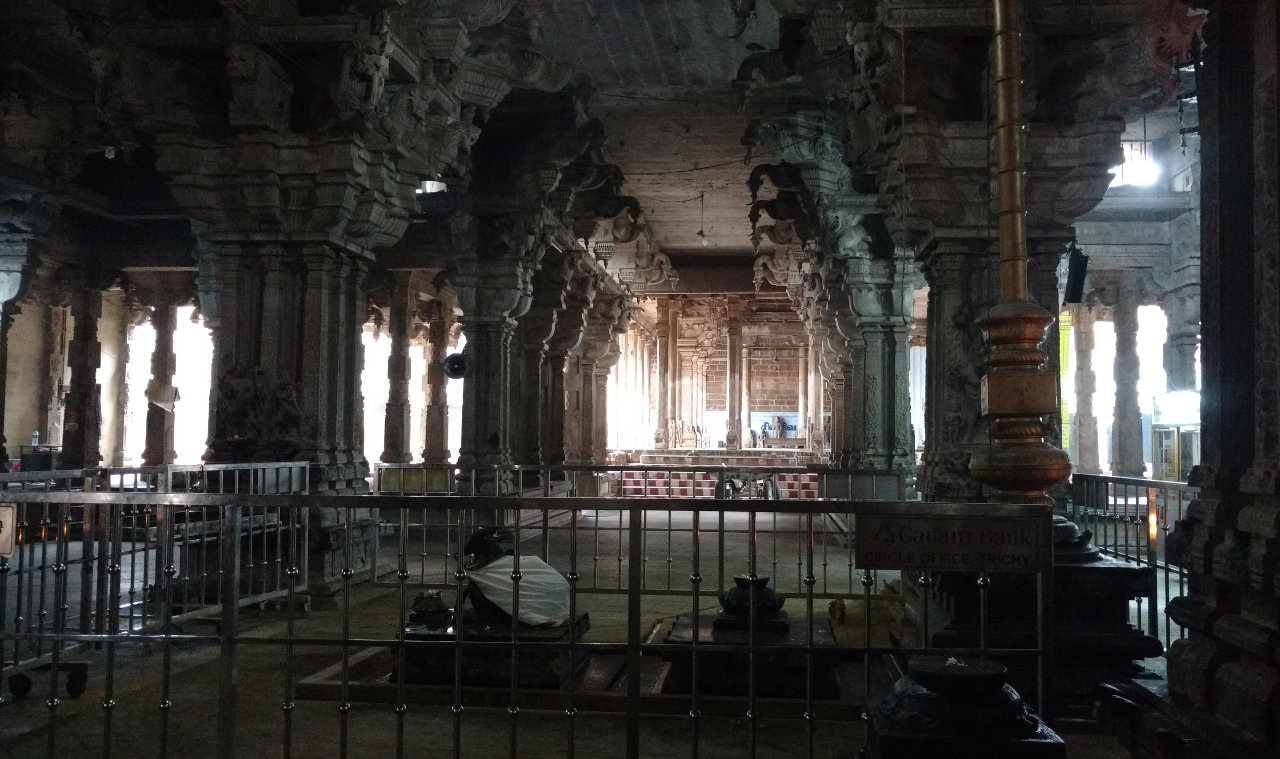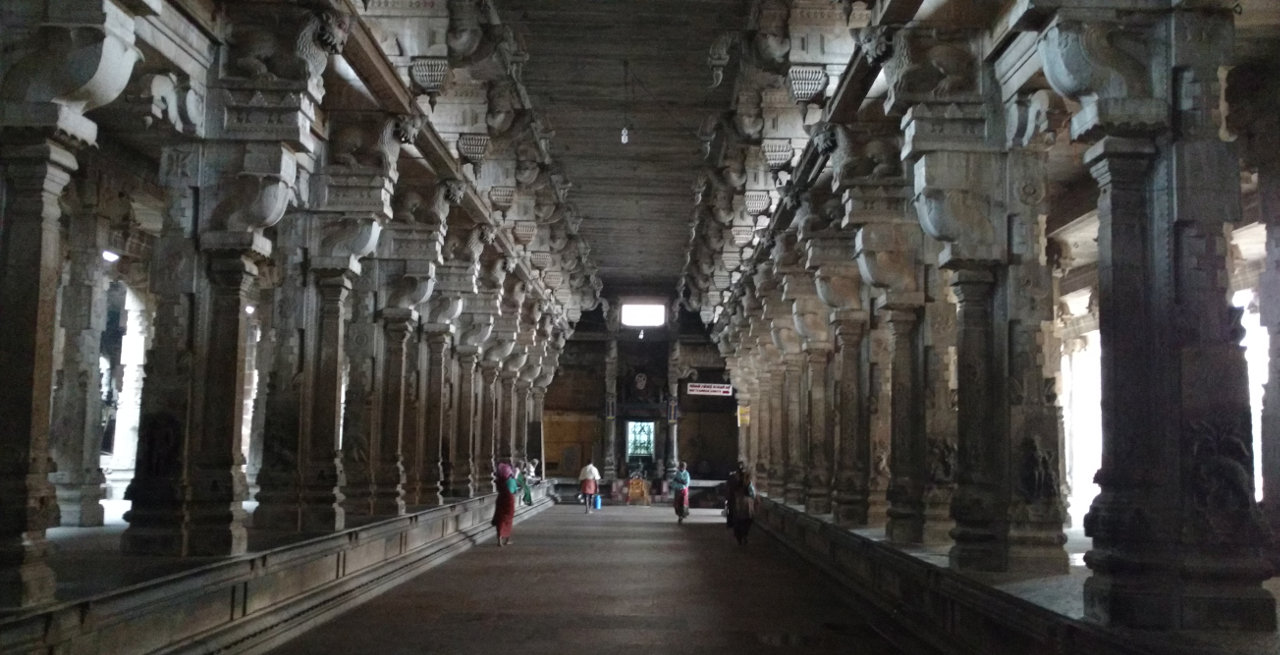 Greatness of this temple
Devotees believe that by worshipping the lord here they would be relieved from their sins and can obtain salvation.
It is believed that those seeking "santhana prapthi" (child boon) can pray to Goddess Akilandeswari here. Also, devotees believe that woshiping Goddess Akilandeswari here will remove obstacles from their marriage proposals.
It is believed that by circumambulating the fifth corridor (known as "Thiruneetran Thirumathil") one's prayers will get fulfilled.
Important Festivals
The important festivals celebrated here are –
10-day Vasantha Urchavam in the Tamil month of Vaikasi (May-June),
Aadipuram festival in the Tamil month of Aadi (July-Aug),
10-day Navrathri festival in the Tamil month of Purattasi (Sept-Oct),
Thai Poosam and Thai Theppam (Float) festivals in the Tamil month of Thai (Jan-Feb),
Brahmotsavam, Car festival and Pancha prakara festivals in the Tamil month of Panguni (Mar-Apr).
Monthly occasions like Pradosham, Pournami (full moon days) are also observed regularly.
Temple Timings
From 07.00 AM to 01.00 PM and 03.00 PM to 08.00 PM.
Temple Address
Sri Jambukeswarar Temple,
Thiruvanaikkaval Post
Trichy Taluk and District
Tamil Nadu 620005.
Tele: +91 0431 223 0257.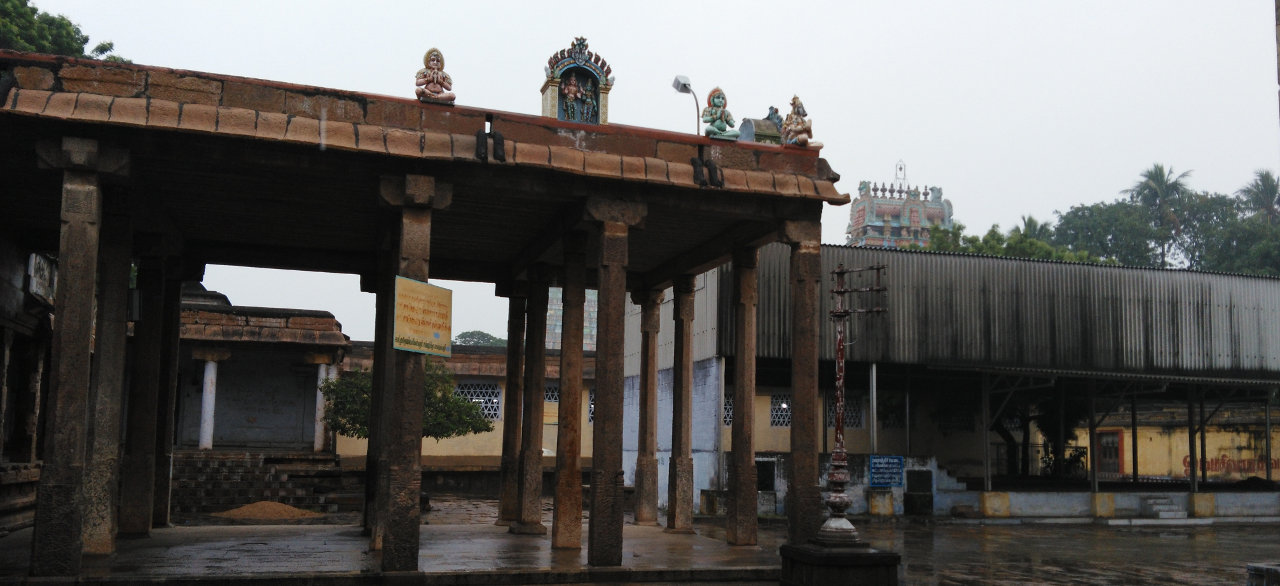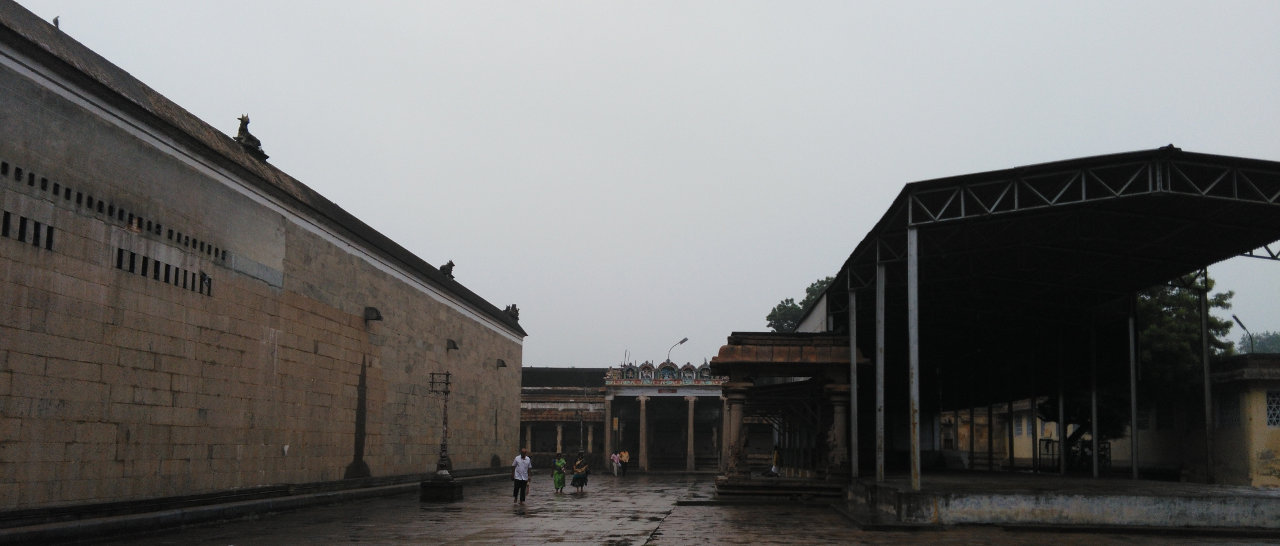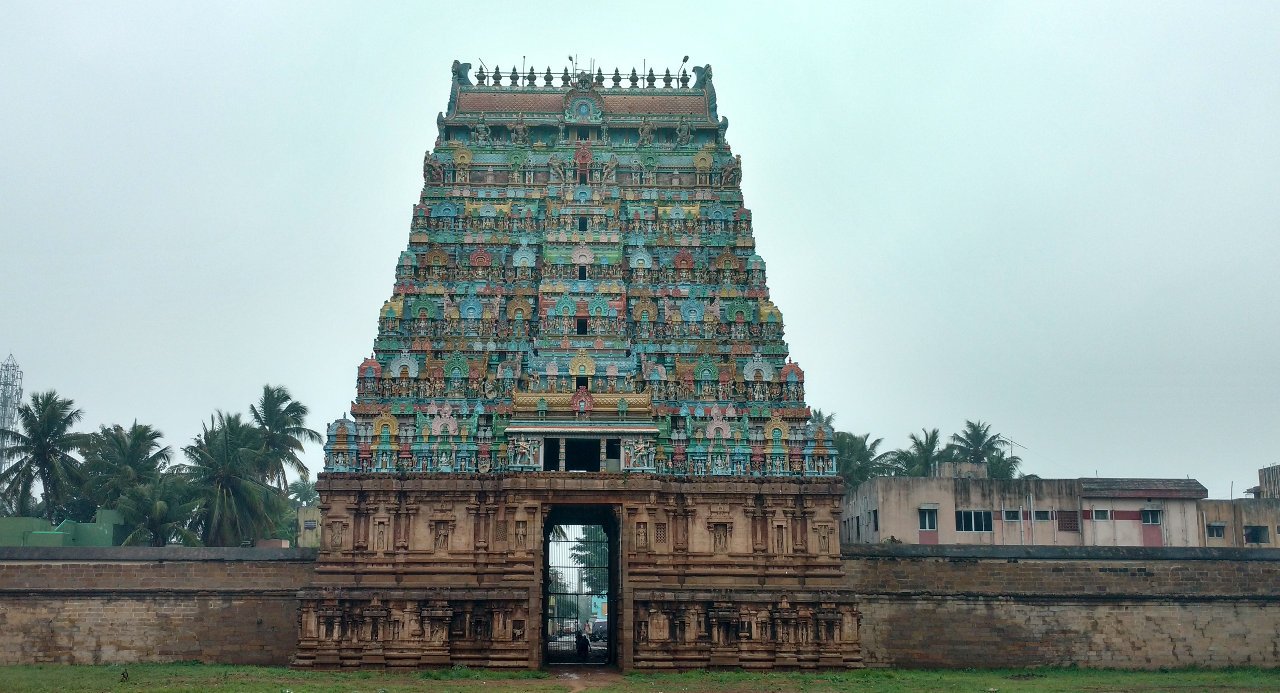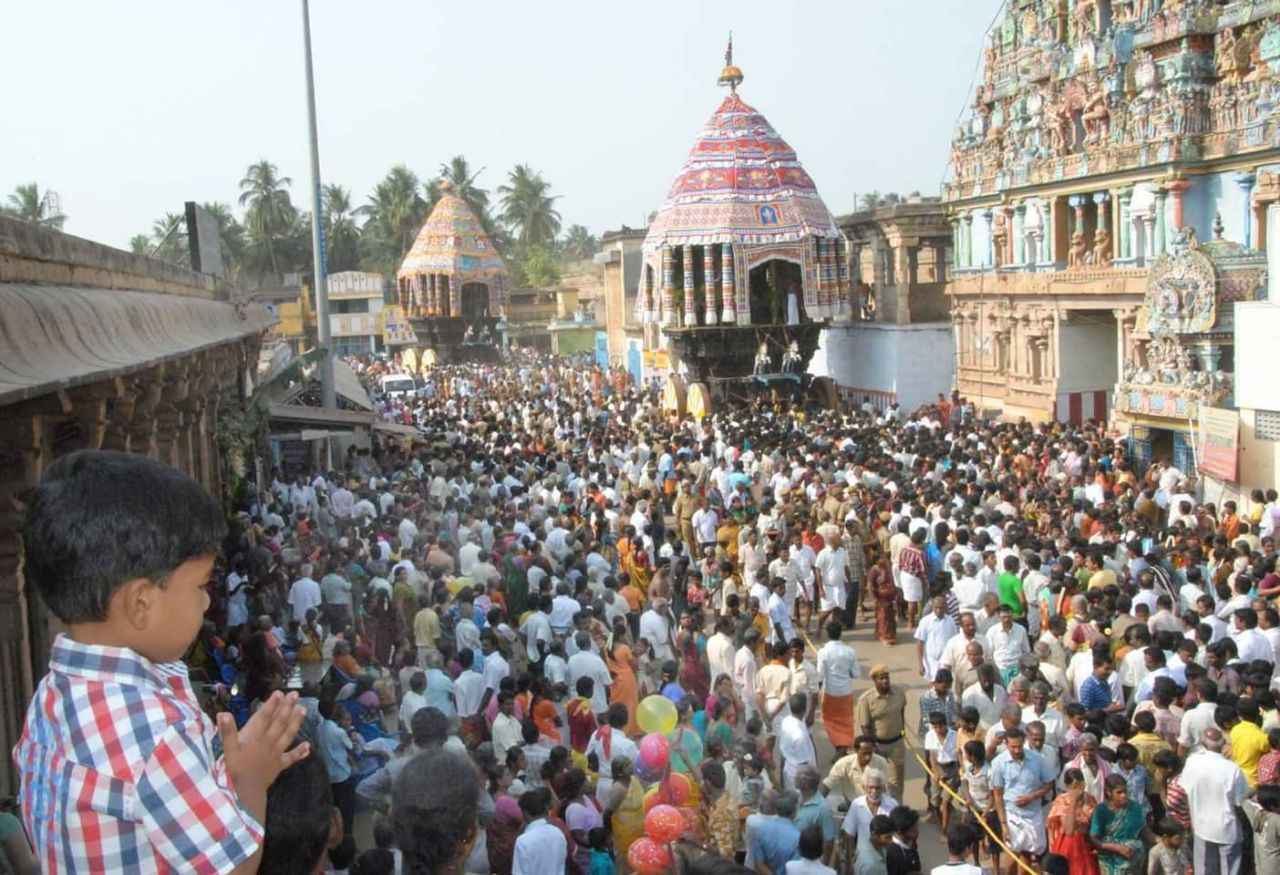 ---
Pathigam (Hymn) with English transliteration

Saint Thirugnanasambanthar visited this temple and sang this Pathigam.
Devotees visiting this temple should make it a practice to recite this Pathigam.
மழையார் மிடறா மழுவா ளுடையாய்
உழையார் கரவா உமையாள் கணவா
விழவா ரும்வெணா வலின்மே வியஎம்
அழகா எனும்ஆ யிழையாள் அவளே.
"Mazhaiyār miṭaṟā mazhuvā ḷuṭaiyāy
uzhaiyār karavā umaiyāḷ kaṇavā
vizhavā rumveṇā valiṉmē viya'em
azhakā eṉumā yizhaiyāḷ avaḷē".
கொலையார் கரியின் னுரிமூ டியனே
மலையார் சிலையா வளைவித் தவனே
விலையா லெனையா ளும்வெண்நா வலுளாய்
நிலையா அருளாய் எனும்நே ரிழையே.
"Kolaiyār kariyiṉ ṉurimū ṭiyaṉē
malaiyār cilaiyā vaḷaivith thavaṉē
vilaiyā leṉaiyā ḷumveṇnā valuḷāy
nilaiyā aruḷāy eṉumnē rizhaiyē".
காலா லுயிர்கா லனைவீ டுசெய்தாய்
பாலோ டுநெய்யா டியபால் வணனே
வேலா டுகையா யெம்வெண்நா வலுளாய்
ஆலார் நிழலாய் எனும்ஆ யிழையே.
"Kālā luyirkā laṉaivī ṭuseythāy
pālō ṭuneyyā ṭiyapāl vaṇaṉē
vēlā ṭukaiyā yemveṇnā valuḷāy
ālār nizhalāy eṉumā yizhaiyē".
சுறவக் கொடிகொண் டவன்நீ றதுவாய்
உறநெற் றிவிழித் தஎம்உத் தமனே
விறல்மிக் ககரிக் கருள்செய் தவனே
அறமிக் கதுவென் னுமென்ஆ யிழையே.
"Chuṟavak koṭikoṇ ṭavaṉnī ṟathuvāy
uṟanet ṟivizhith tha'emuth thamaṉē
viṟalmik kakarik karuḷsey thavaṉē
aṟamik kathuveṉ ṉumeṉā yizhaiyē".
செங்கட் பெயர்கொண் டவன்செம் பியர்கோன்
அங்கட் கருணை பெரிதா யவனே
வெங்கண் விடையா யெம்வெண்நா வலுளாய்
அங்கத் தயர்வா யினள்ஆ யிழையே.
"Cheṅkaṭ peyarkoṇ ṭavaṉchem piyarkōṉ
aṅkaṭ karuṇai perithā yavaṉē
veṅkaṇ viṭaiyā yemveṇnā valuḷāy
aṅkath thayarvā yiṉaḷā yizhaiyē".
குன்றே யமர்வாய் கொலையார் புலியின்
தன்தோ லுடையாய் சடையாய் பிறையாய்
வென்றாய் புரமூன் றைவெண்நா வலுளே
நின்றா யருளாய் எனும்நே ரிழையே.
"Kuṉtṟē yamarvāy kolaiyār puliyiṉ
thaṉthō luṭaiyāy saṭaiyāy piṟaiyāy
veṉtṟāy puramūṉ tṟaiveṇnā valuḷē
niṉtṟā yaruḷāy eṉumnē rizhaiyē".

இப்பதிகத்தில் 7-ம் செய்யுள் சிதைந்து போயிற்று.

Ippathikaththil 7-m cheyyuḷ chithainthu pōyitṟu.
மலையன் றெடுத்த அரக்கன் முடிதோள்
தொலையவ் விரலூன் றியதூ மழுவா
விலையா லெனையா ளும்வெண்நா வலுளாய்
அலசா மல்நல்காய் எனும்ஆ யிழையே.
"Malaiyaṉ tṟeṭuththa arakkaṉ muṭithōḷ
tholaiyav viralūṉ tṟiyathū mazhuvā
vilaiyā leṉaiyā ḷumveṇnā valuḷāy
alasā malnalkāy eṉumā yizhaiyē".
திருவார் தருநா ரணன்நான் முகனும்
மருவா வெருவா அழலாய் நிமிர்ந்தாய்
விரையா ரும்வெண்நா வலுள்மே வியஎம்
அரவா எனும்ஆ யிழையா ளவளே.
"Thiruvār tharunā raṇaṉnāṉ mukaṉum
maruvā veruvā azhalāy nimirnthāy
viraiyā rumveṇnā valuḷmē viya'em
aravā eṉumā yizhaiyā ḷavaḷē".
புத்தர் பலரோ டமண்பொய்த் தவர்கள்
ஒத்தவ் வுரைசொல் லிவையோ ரகிலார்
மெய்த்தே வர்வணங் கும்வெண்நா வலுளாய்
அத்தா அருளாய் எனும்ஆ யிழையே.
"Puthar palarō ṭamaṇpoyth thavarkaḷ
othav vuraisol livaiyō rakilār
meyththē varvaṇaṅ kumveṇnā valuḷāy
aththā aruḷāy eṉumā yizhaiyē".
வெண்நா வலமர்ந் துறைவே தியனைக்
கண்ணார் கமழ்கா ழியர்தந் தலைவன்
பண்ணோ டிவைபா டியபத் தும்வல்லார்
விண்ணோ ரவரேத் தவிரும் புவரே.
"Veṇnā valamarn thuṟaivē thiyaṉaik
kaṇṇār kamazhkā zhiyarthan thalaivaṉ
paṇṇō ṭivaipā ṭiyapath thumvallār
viṇṇō ravarēth thavirum puvarē".