Visited on: 26th August, 2016 and 22nd November, 2016
Location
Thakkolam is situated at a distance of about 26 kms from Kanchipuram on Kanchipuram to Arakkonam route. From Arakkonam, it is about 12 kms.
From Thiruvallur it is about 27 kms.
Thakkolam has a railway station and this temple is 5 kms away from the station.
Other Paadal Petra Shivasthalams near Thakkolam are – Ilambaiyangkottor (10 kms), Thiruvirkolam (16 kms), Thirumalpur (17 kms), Thirupachur (26 kms) and Thiruvenpakkam/Poondi (35 kms).
General Information
There are two adjacent temples situated on the banks of the river Kusasthalai, also called as Kallaru - Sri Jalanatheeswarar Temple and Sri Gangadheeswarar Temple.
During both my visits, the Gangadheeswarar temple was locked. For some reason this temple has been closed for a long time. The renovation works are half done and the consecration ceremony (Kumbabishekam) is also pending for a long time.
It is believed that Saint Thirugnanasambanthar rendered his hymn at Sri Gangadhareswarar temple only.
Sri Jalanatheeswarar Temple
| | |
| --- | --- |
| Moolavar | Sri Jalanatheeswarar, Sri Umapatheeswarar |
| Ambal | Sri Giriraja Kannikambhal, Sri Umaiyammai |
| Theertham (Holy water) | Parvathi Theertham, Sathya Gangai and Kusasthalai river |
| Sthala Vriksham (Sacred Tree) | Pottu tree (Thakkolam tree) |
| Pathigam (Hymn) rendered by | Saint Thirugnanasambanthar |
This is one of the 276 Devara Paadal Petra Shiva Sthalams and 12th Shiva Sthalam in Thondai Nadu.
Lord Shiva in this temple is a Swayambumurthi (self-manifested). This lingam is not touched by human hands, not even by the priests, as it is "Theendathirumeni".
The 3-tiers main tower (Rajagopuram) is facing the west and has two corridors. The Moolavar's shrine is facing east.

History of the Temple
This ancient temple is believed to have been built by king Rajaraja Chola-II.
Periyapuranam refers to this place as "Kalikai Maanagar".
Legend
Sage Udhadhi
Sage Theerkadar was born to Sage Udhadhi the brother of Jupiter (Guru) and Mamathai. Theerkadar was well educated and became a scholar. One day he saw the divine cow Kamadenu near his hermitage. He requested Kamadenu to come with him and assist him in a yajna that he was about to conduct. Kamadenu said that she could not oblige him without the permission of Lord Indira. The sage tried to tie her but she cursed him to become an ordinary, blind man who would spend the rest of his life doing menial jobs ("sandalan" in Tamil). In turn the sage cursed Kamadenu to become an ordinary animal losing her divine powers.
Sage Udhathi was saddened by the plight of his son. He came to this place on the advice of Maharishi Naradha, and worshiped the Lord Jalanatheeswarar. Lord Shiva gave dharisanam to the sage and advised him to pray to Nandhi and requested him to bring water from the holy Ganges to this place. He further advised the sage to perform abishekam with that holy water.
To carry out the lord's wishes, Sage Udhathi installed a separate shiva lingam and a Nandhi near to the Jalanatheeswarar temple and started his penance. This Shivalingam is praised as Sri Gangadhareswarar and this temple is called Sri Gangadhareswarar temple. The Goddess of this temple is named as Sri Mohanavalli. It is believed that Nandhi was pleased with his penance and created a tank near this temple and filled it with water from the Ganges itself. He is believed to have channelled water from the Ganges through his mouth.
Thereafter the sage is believed to have performed abishekam to Lord Jalanatheeswarar with this water to complete his worship. He also named the lord as "Thiruvooral Easwarar". He also advised his son Theerkadar to take a dip in the water tank and pray to Lord Shiva. Thereafter Theerkadar is believed to have been relieved from Kamadenu's curse.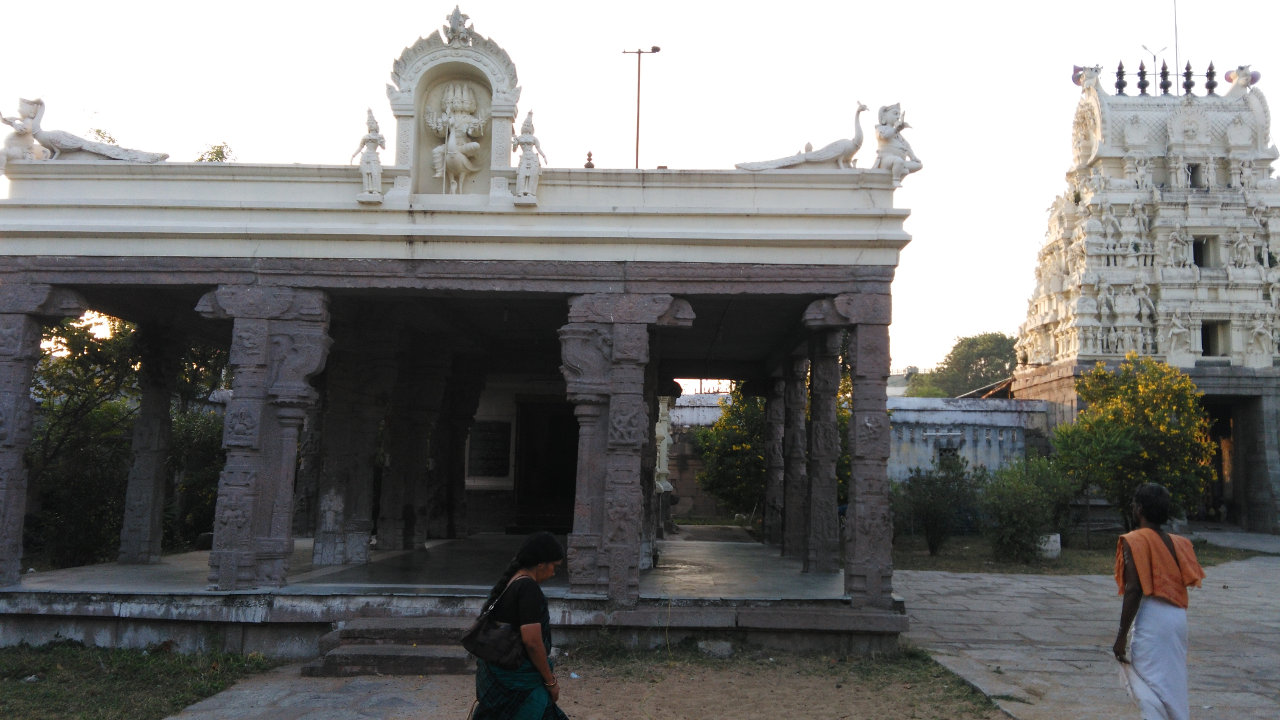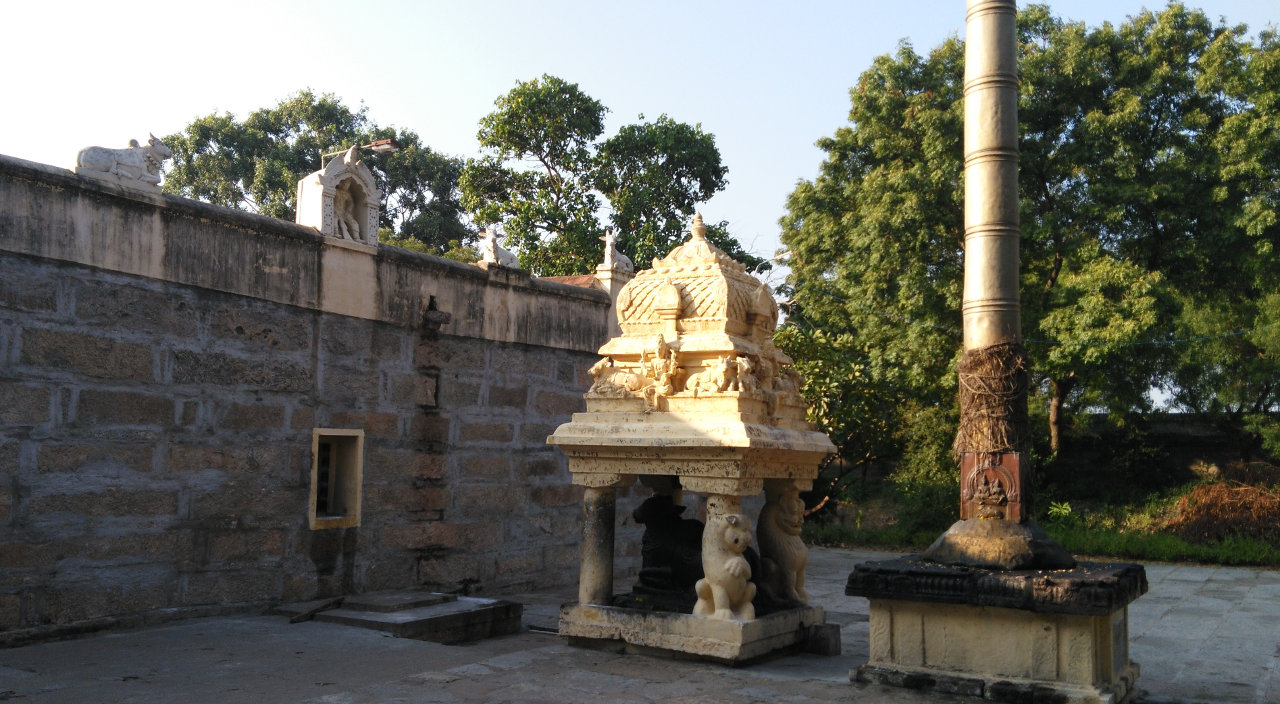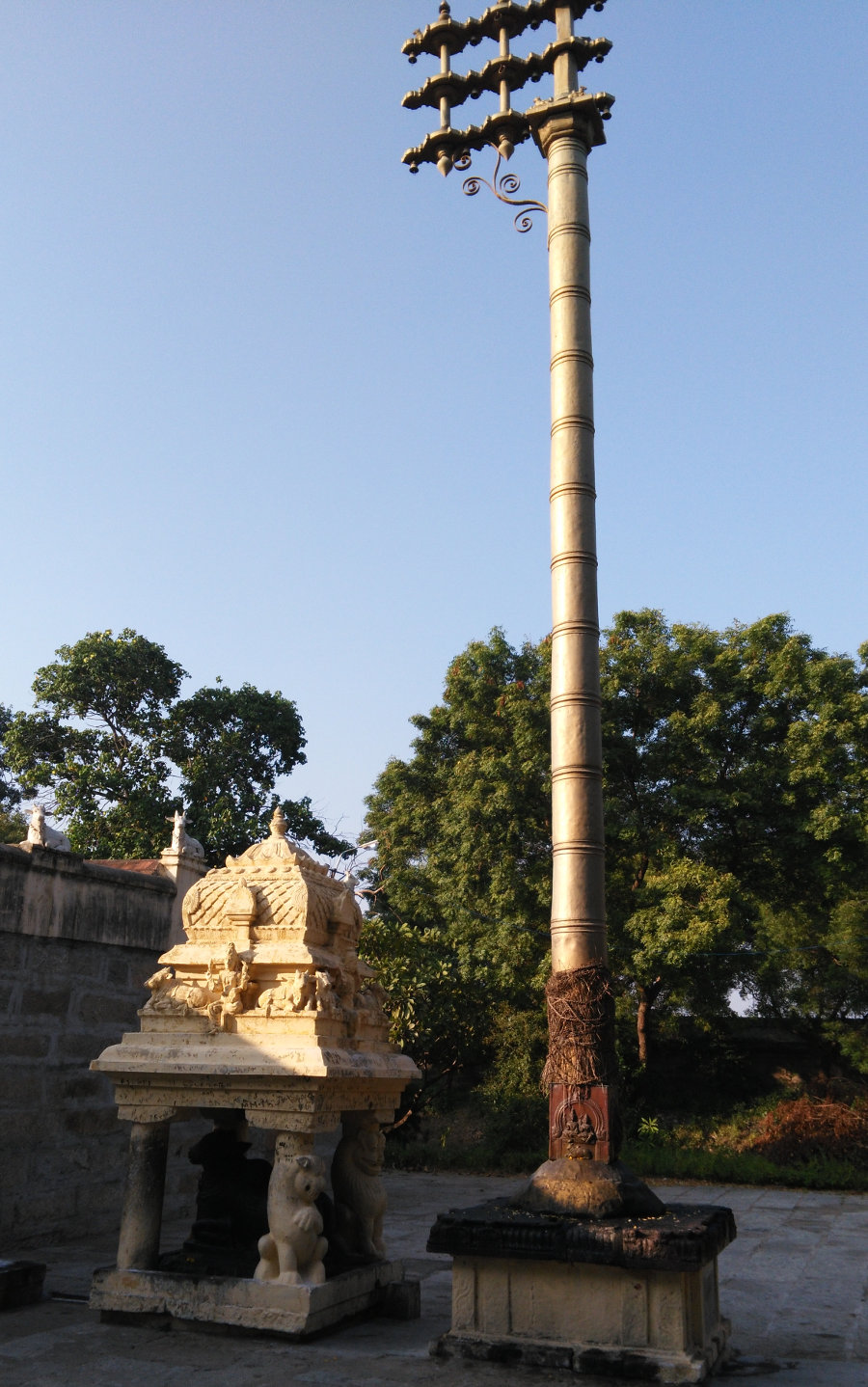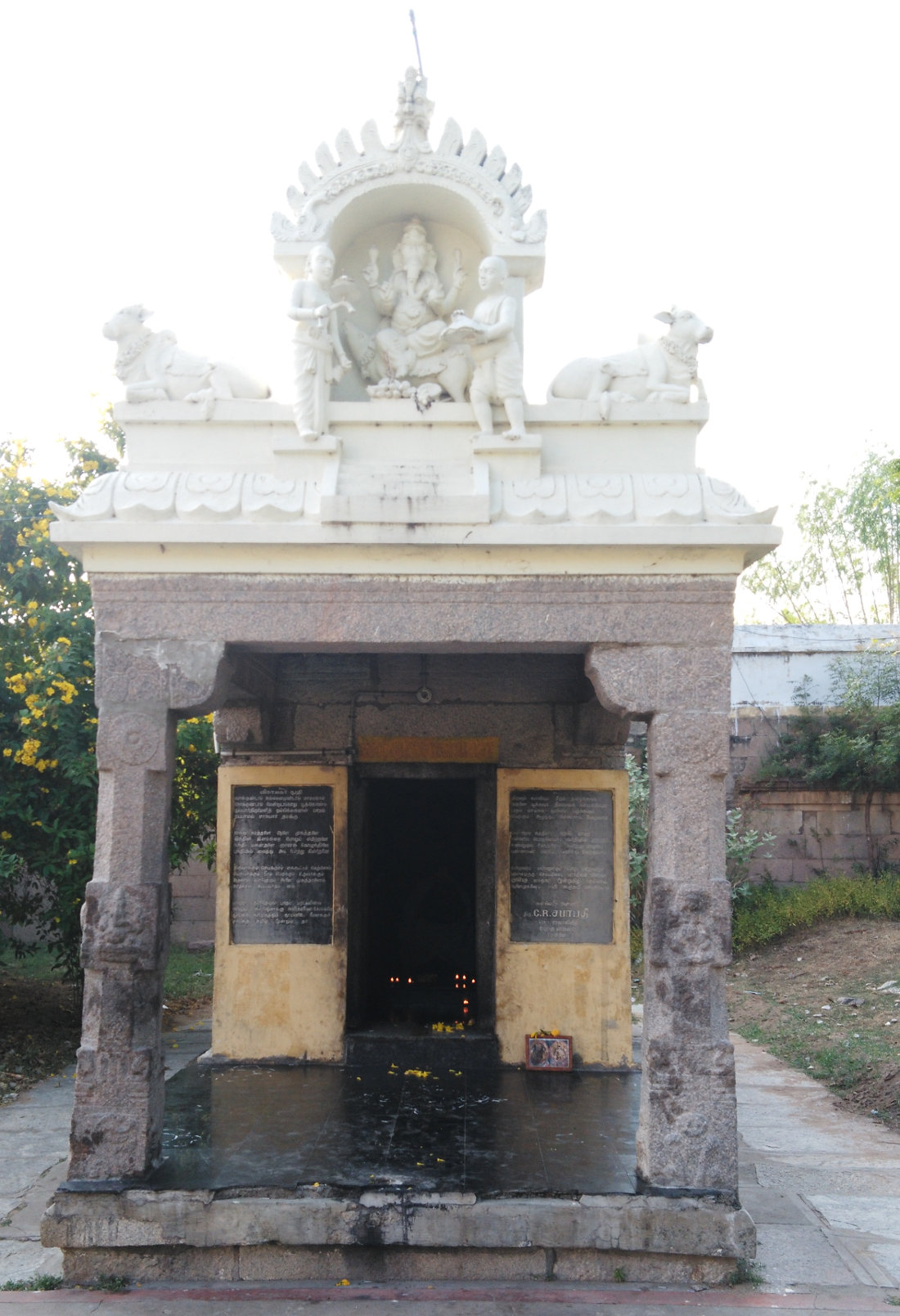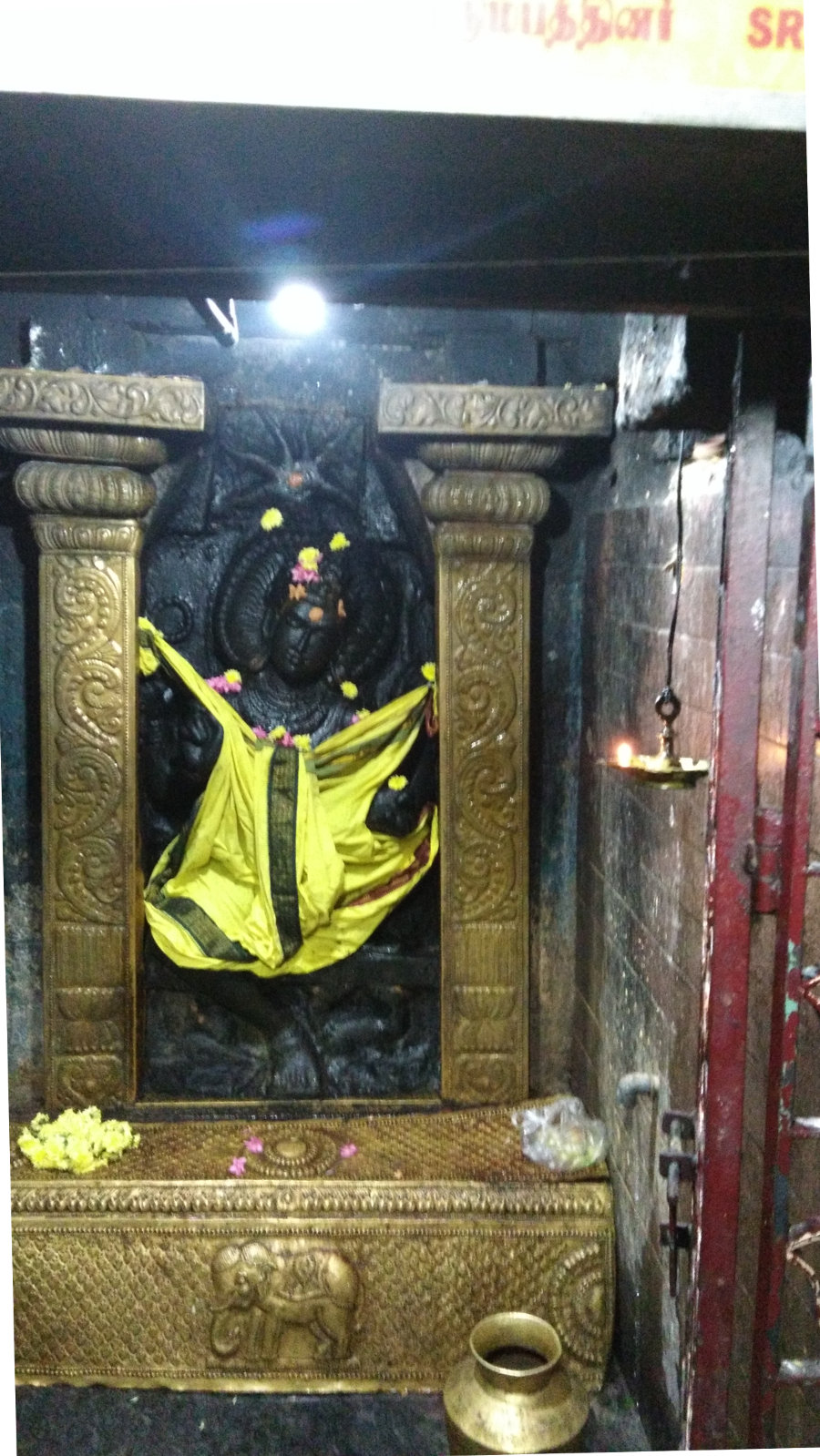 Worshipped by Kamadenu
Kamadenu, the divine cow, is also believed to have worshipped the lord here by pouring milk on the lingam. She was relieved from Theerkadar's curse and got back her original form and power. On knowing this, Lord Indiran is believed to have come to Thiruvooral and taken her back to the celestial world.
Theenda Thirumeni
Another legend is that Goddess Parvathi returned to this place after having been insulted at her father Dakshan's yagna. She is believed to have installed a lingam made of sand here. Once she was performing her penance, this region was inundated by flood water. In order to protect the lingam, Goddess Parvathi embraced it. This is evident from the markings that can still be seen on the idol.
Since this Lingam is believed to have been embraced by Goddess Parvathi, it is not touched by human hands. Poojas are performed by the priests without touching it.
Demon Thakkan
One more legend is that King Sivathithan who ruled Thiruvural was troubled by demon Thakkan. The King prayed to Lord Shiva of this temple who instructed Goddess Kali to destroy the demon. Goddess Kali executed the orders of Lord Shiva. For this reason, there is a separate shrine for Goddess Kali at the border of this place. This shrine attracts a large number of devotees. It is believed that since Thakkan cried loudly before being killed by Goddess Kali, this place got the name Thakkan Olam – Thakkolam ("Olam" meaning crying loudly).
Another reason why this place is named "Thakkolam" is that the sacred tree of this temple is also called "Thakkolam" (Pottu).
An alternate version of the legend associated with demon Thakkan is that when he conducted a huge yagna, he invited all celestial gods except Lord Shiva. Lord Shiva wanted to teach him a lesson and instructed Veerabathrar to disrupt the yagna. Veerabathrar stopped the yagna and punished Thakkan by removing his head and installed a goat's head in its place. Thakkan realised his mistake and prayed to Lord Shiva to pardon him. Lord Shiva advised him to go the river bank and asked him to invite Lords Vinayakar, Mahavishnu and Brahma to witness his prayers. On Thakkan's request, Lords Vinayakar, Mahavishnu and Brahma came to witness his prayers. Since Thakkan's head had been replaced with that of a goat, his prayer sounded like the bleating of a goat. These prayers are called "Chamakam" and each line ends with syllable "may". Pleased with his prayers, Lord Shiva blessed him with salvation (moksham).
Worshipped by Others
It is believed that Sage Samvartha, Lords Mahavishnu, Indiran, Suryan, Chandran, Yama (lord of death), Saptha Kannikas (the seven divine virgins), Pandavas and Savitha Sivachariyar have also worshipped the Lord of this temple to seek absolution for their sins.
Deities in the temple
Idols and shrines of lords Vinayakar, Murugan with his consorts, Saint Sambanthar (named here as Thiruvooral Sambanthar), Iyappan, Natarajar, Dakshinamurthy, Brahma, Mahavishnu, Durgai, Saptha Madhakkals, Bairavar, Chandran, Suryan, Perumal, Mahalakshmi, Nalvars and Navagraham can be seen in the corridors.
The unique feature of this temple is that the idols of lords Vinayakar, Brahma and Mahavishnu can be seen here in a seated posture as they are believed to have sat and witnessed Thakkans prayers.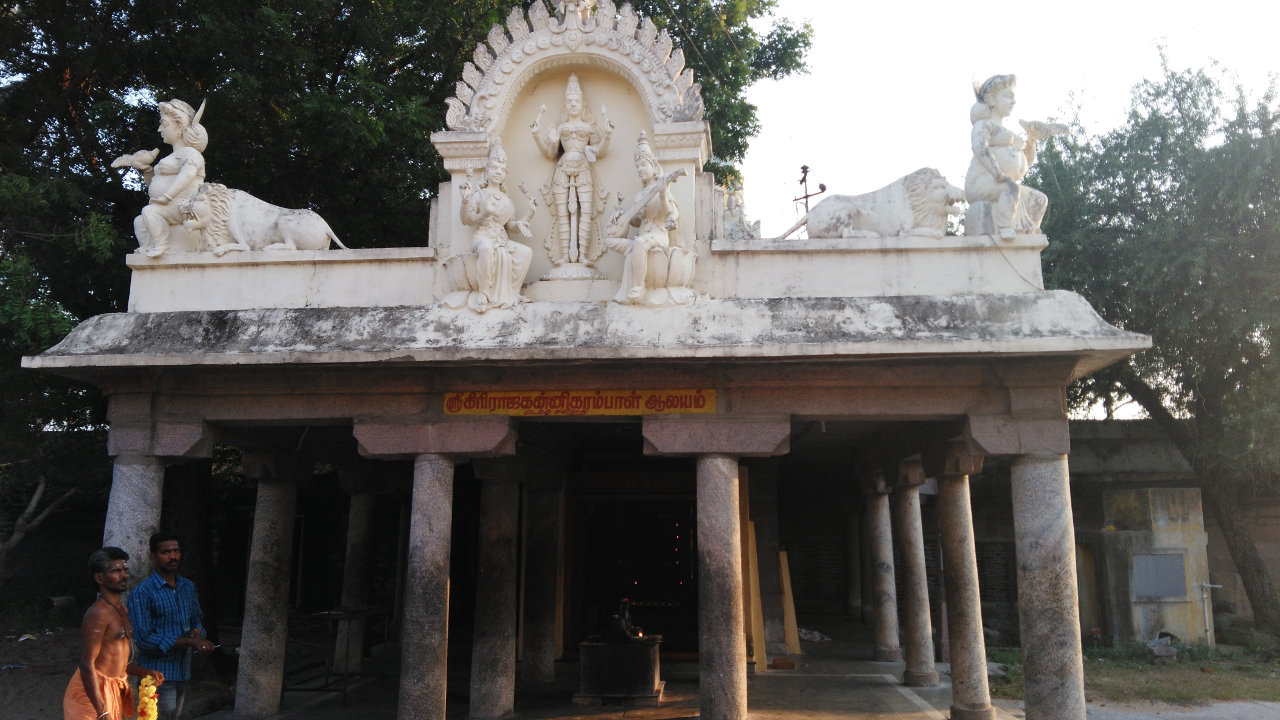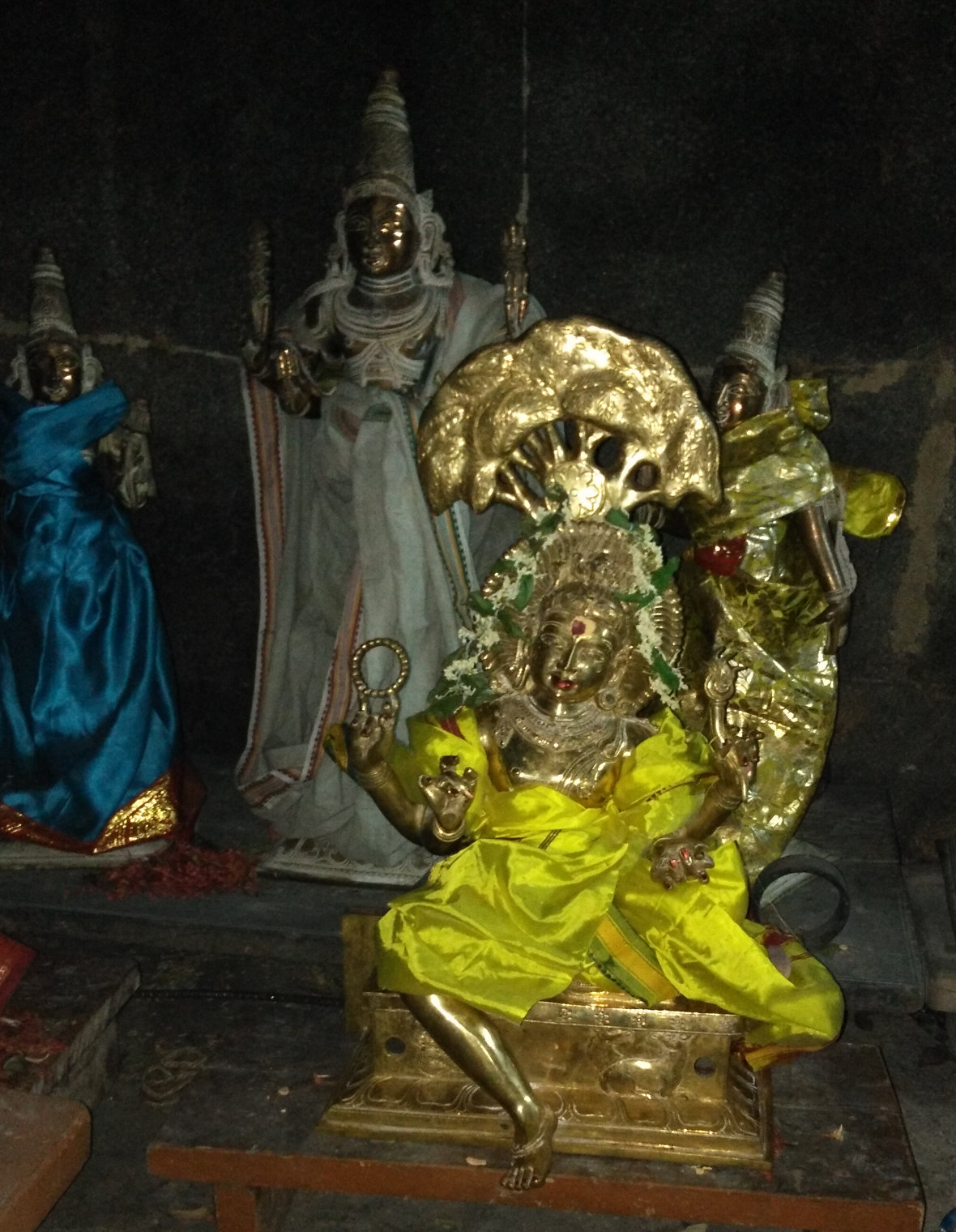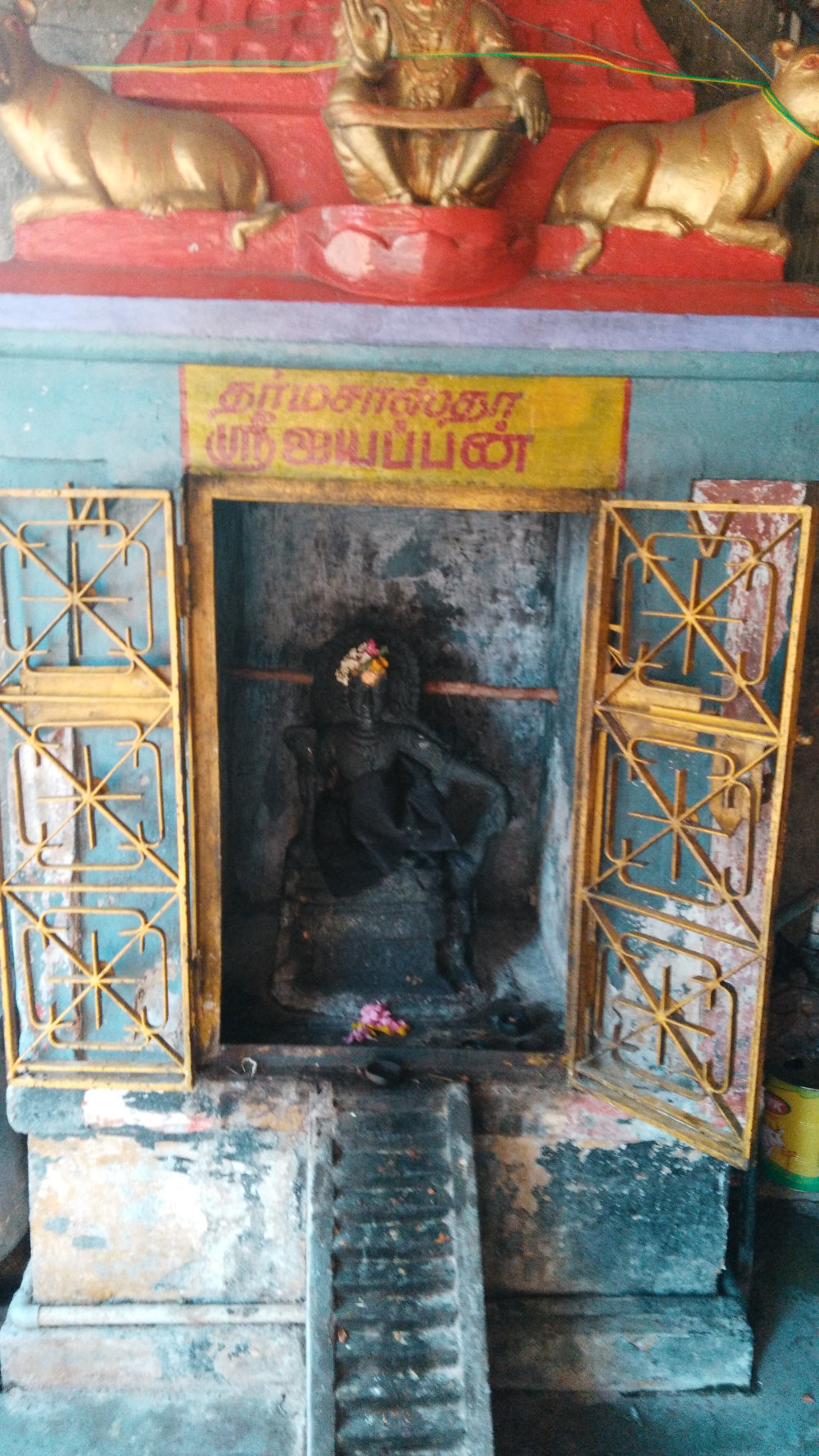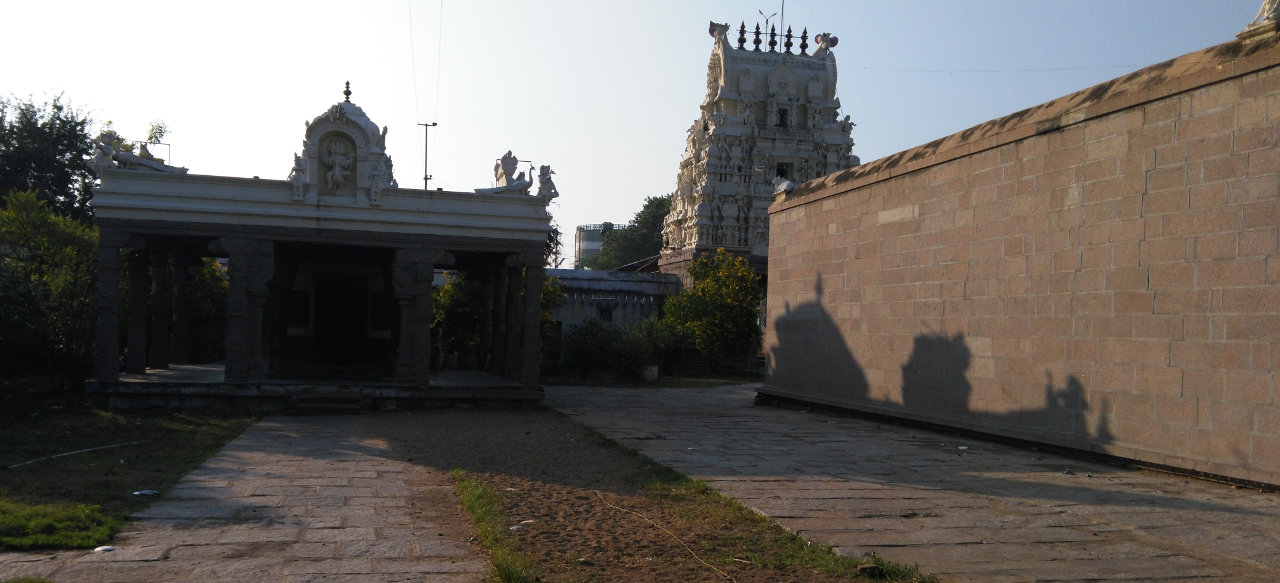 Salient Features
The Shiva Lingam here is significantly different. It is said that during the six months covering Utharayana Punya Kala (from January-February to June-July), the Shivalingam appears red. During the Dakshinayana Punya Kala (from July-August to December-January), the Shivalingam turns white.
This temple is also famous as a parihara sthalam for doshas related to Guru (planet Jupitar). Here Lord Dakshinamurthy' can be seen in a unique posture - in a seated posture. He has his head slightly tilted, legs crossed as if he is hearing all your requests. This is one of the most celebrated Dakshinamurthy temples in Tamil Nadu.
Goddess Parvathi of this temple attracts a large number of devotees. She can be seen in standing posture facing north. Poojas are performed first to her and then only to Lord Shiva.
Goddess Durgai's posture is also different here - it is in a dancing form (Nadana Durgai) and looks very beautiful.
Saint Arunagirinadhar has also sang songs in praise of Lord Murugan of this temple in his revered Thirupugazh.
Every sculpture in this temple highlights the artistic excellene of that era.
Though there is a small tank inside the temple in the second corridor, there is no water in it.
The sacred tree of this temple is said to be Pottu (Thakkolam) but now there is no such tree in the temple.
Greatness of this temple
As per the Sthala puranas, any good deeds that devotees perform in this temple would bring them multifold benefits.
This is one of the most celebrated Dakshinamurthy temples in Tamil Nadu.
Important Festivals
Some of the major festivals celebrated in this temple are -
10-day Brahmotsavam in the Tamil month of Chithirai (April-May),
Skanda Sashti in the Tamil month of Ippasi (October-November),
Vaikasi Visakam in the Tamil month of Vaikasi (May-June),
Aani Tirumanjanam in the Tamil month of Aani (June-July),
Aadi Pooram in the Tamil month of Aadi (July-August),
Navarathri in the Tamil month of Puratasi (September-October),
Thirukarthikai in the Tamil month of Karthikai (November-December),
Thiruvadhirai in the Tamil month of Margazhi (December-January) and
Masi Makam (February-March), Thai Poosam (January-February).
Guru peyarchi and Pradosham are also observed regularly.
Temple Timings
From 08.00 AM to 12.00 Noon and from 04.30 PM to 08.00 PM.
Temple Address
Sri Jalanatheeswarar Temple
Thakkolam Post
Arakkonam Taluk
Vellore District
Tamil Nadu 631 151
Tele: +91- 4177-246 427.
Contact : Sri Babu Gurukkal at 099947 86919.

Sri Gangadhareswarar Temple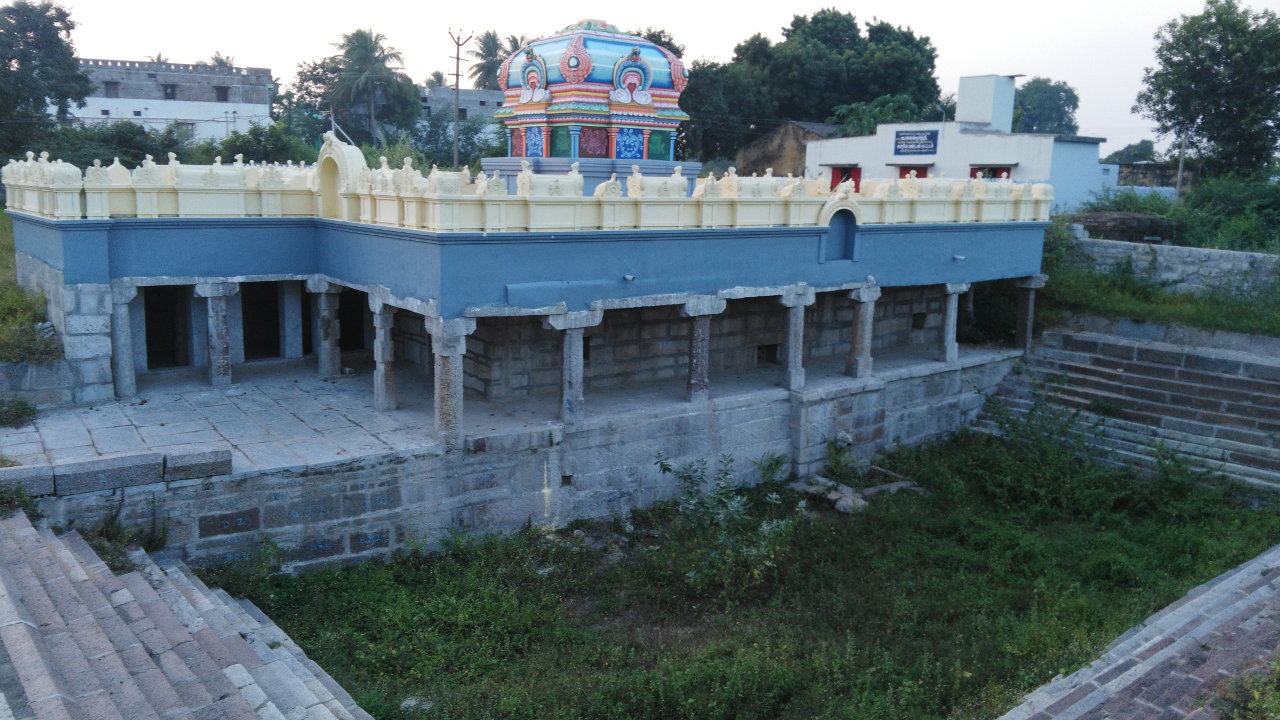 ---
Pathigam (Hymn) with English transliteration
Saint Thirugnanasambanthar visited this temple and sang this Pathigam.
Devotees visiting this temple should make it a practice to recite this Pathigam.
மாறில் அவுணரரணம் மவைமாயவோர் வெங்கணையா லன்று
நீறெழ எய்தவெங்கள் நிமலன் இடம்வினவில்
தேறல் இரும்பொழிலும் திகழ்செங்கயல் பாய்வயலுஞ் சூழ்ந்த
ஊறல் அமர்ந்தபிரான் ஒலியார்கழல் உள்குதுமே.
"Māṟil avuṇararaṇam mavaimāyavōr veṅkaṇaiyā laṉtṟu
nīṟezha eythaveṅkaḷ nimalaṉ idamviṉavil
thēṟal irumpozhilum thikazhseṅkayal pāyvayaluñ chūzhntha
ūṟal amarnthapirāṉ oliyārkazhal uḷkuthume".
மத்த மதக்கரியை மலையான்மகள் அஞ்சவன்று கையால்
மெத்த உரித்தவெங்கள் விமலன் விரும்புமிடம்
தொத்தல ரும்பொழில்சூழ் வயல்சேர்ந்தொளிர் நீலம்நாளுந் நயனம்
ஒத்தல ருங்கழனித் திருவூறலை உள்குதுமே.
"Matha mathakkariyai malaiyāṉmakaḷ añchavaṉtṟu kaiyāl
metha urithaveṅkaḷ vimalaṉ virumpumidam
thothala rumpozhilchūzh vayalsērnthoḷir nīlamnāḷun nayaṉam
othala ruṅkazhaṉith thiruvūṟalai uḷkuthumē".
ஏன மருப்பினொடும் எழிலாமையும் பூண்டழகார் நன்றுங்
கானமர் மான்மறிக் கைக்கடவுள் கருதுமிடம்
வான மதிதடவும் வளர்சோலைகள் சூழ்ந்தழகார் நம்மை
ஊனம் அறுத்தபிரான் திருவூறலை உள்குதுமே.
"Ēṉa maruppiṉodum ezhilāmaiyum pūṇṭazhakār naṉtṟuṅ
kāṉamar māṉmaṟik kaikkadavuḷ karuthumidam
vāṉa mathithadavum vaḷarchōlaikaḷ chūzhnthazhakār nam'mai
ūṉam aṟuthapirāṉ thiruvūṟalai uḷkuthumē".
நெய்யணி மூவிலைவேல் நிறைவெண்மழு வும்மனலும் அன்று
கையணி கொள்கையினான் கடவுள் ளிடம்வினவின்
மையணி கண்மடவார் பலர்வந் திறைஞ்சமன்னி நம்மை
உய்யும் வகைபுரிந்தான் திருவூறலை உள்குதுமே.
"Neyyaṇi mūvilaivēl niṟaiveṇmazhu vum'maṉalum aṉtṟu
kaiyaṇi koḷkaiyiṉāṉ kaṭavuḷ ḷidamviṉaviṉ
maiyaṇi kaṇmadavār palarvan thiṟaiñchamaṉṉi nam'mai
uyyum vakaipurinthāṉ thiruvūṟalai uḷkuthumē".
எண்டிசை யோர்மகிழ எழில்மாலையும் போனகமும் பண்டு
சண்டி தொழவளித்தான் அவன்றாழும் இடம்வினவில்
கொண்டல்கள் தங்குபொழிற் குளிர்பொய்கை கள்சூழ்ந்து நஞ்சை
உண்டபி ரானமருந் திருவூறலை உள்குதுமே.
"Eṇṭisai yōrmakizha ezhilmālaiyum pōṉakamum paṇdu
saṇṭi thozhavaḷithāṉ avaṉtṟāzhum iṭamviṉavil
koṇṭalkaḷ thaṅkupozhiṟ kuḷirpoykai kaḷchūzhnthu nañchai
uṇdapi rāṉamarun thiruvūṟalai uḷkuthumē".

(*) இப்பதிகத்தில் 6,7-ம் செய்யுட்கள் சிதைந்து போயின.

(*) Ippathikathil 6,7-m seyyuṭkaḷ sithainthu pōyiṉa.


கறுத்த மனத்தினொடுங் கடுங்காலன்வந் தெய்துதலுங் கலங்கி
மறுக்குறும் மாணிக்கருள மகிழ்ந்தானிடம் வினவில்
செறுத்தெழு வாளரக்கன் சிரந்தோளும் மெய்யுந்நெரிய அன்று
ஒறுத்தருள் செய்தபிரான் திருவூறலை உள்குதுமே.
"Kaṟutha maṉathiṉoduṅ kaduṅkālaṉvan theythuthaluṅ kalaṅki
maṟukkuṟum māṇikkaruḷa makizhnthāṉidam viṉavil
seṟuthezhu vāḷarakkaṉ siranthōḷum meyyunneriya aṉtṟu
oṟutharuḷ seythapirāṉ thiruvūṟalai uḷkuthumē".
நீரின் மிசைத்துயின்றோன் நிறைநான் முகனும்மறியா தன்று
தேரும் வகைநிமிர்ந்தான் அவன்சேரும் இடம்வினவில்
பாரின் மிசையடியார் பலர்வந் திறைஞ்சமகிழ்ந் தாகம்
ஊரும் அரவசைத்தான் திருவூறலை உள்குதுமே.
"Nīriṉ misaithuyiṉtṟōṉ niṟaināṉ mukaṉum'maṟiyā thaṉtṟu
thērum vakainimirnthāṉ avaṉsērum idamviṉavil
pāriṉ micaiyadiyār palarvan thiṟaiñchamakizhn thākam
ūrum aravasaithāṉ thiruvūṟalai uḷkuthumē'.
பொன்னியல் சீவரத்தார் புளித்தட்டையர் மோட்டமணர் குண்டர்
என்னும் இவர்க்கருளா ஈசன் இடம்வினவில்
தென்னென வண்டினங்கள் செறியார்பொழில் சூழ்ந்தழகார் தன்னை
உன்னவினை கெடுப்பான் திருவூறலை உள்குதுமே.
"Poṉṉiyal sīvarathār puḷithaṭṭaiyar mōṭṭamaṇar kuṇṭar
eṉṉum ivarkkaruḷā īsaṉ idamviṉavil
theṉṉeṉa vaṇṭiṉaṅkaḷ seṟiyārpozhil chūzhnthazhakār thaṉṉai
uṉṉaviṉai keduppāṉ thiruvūṟalai uḷkuthumē".
கோட லிரும்புறவிற் கொடிமாடக் கொச்சையர்மன் மெச்ச
ஓடுபுனல் சடைமேற் கரந்தான் திருவூறல்
நாட லரும்புகழான் மிகுஞானசம் பந்தன்சொன்ன நல்ல
பாடல்கள் பத்தும்வல்லார் பரலோகத்து இருப்பாரே.
"Kōda lirumpuṟaviṟ kodimāṭak kochaiyarmaṉ mecha
ōdupuṉal sadaimēṟ karanthāṉ thiruvūṟal
nāda larumpukazhāṉ miku gñāṉasam banthaṉsoṉṉa nalla
pādalkaḷ pathumvallār paralōkathu iruppārē".