Visited on: 11th February, 2017.
Location
Ethirkolpadi is situated at a distance of about 17 kms from Mayiladuthurai on the Mayiladuthurai to Kumbakonam (via Kuthalam) route. From Kuthalam take the diversion road to Panthanallur route. After crossing the village Anchar Varthalai ask for Melak Koil. Ethirkolpati temple is locally known as Melak Koil. (Mayiladuthurai to Kuthalam is 11 kms and Kuthalam to Ethirkolpadi is 6 kms).
Other Devara Paadal Petra Shiva Sthalams near this temple are – Kuthalam, Therezhunthur, Thirukkozhambam, Thiruvaduthurai, Thiruvelvikudi, Thirumanancheri, Thirumangalakkudi, Thirukkodikkaval and Kanchanur.
General Information
| | |
| --- | --- |
| Moolavar | Sri Iravadheswarar, Sri Madhyaneswarar |
| Ambal | Sri Vasa Malarkkuzhal Nayaki, Sri Sugantha Kunthalaambigai |
| Theertham (Holy water) | Iraavadha Theertham |
| Sthala Vriksham (Sacred Tree) | Vilvam |
| Pathigam (Hymn) rendered by | Saint Sundaramurthy (Sundarar) |
This is one of the 276 Devara Paadal Petra Shiva Sthalams and 24th Shiva Sthalam on the northern bank of the river Cauvery in Chozha Nadu (Vadakarai).
Lord Shiva in this temple is a Swayambumurthi (self-manifested).
This west facing temple has a 3-tiered main tower (Rajagopuram) and it has 2 corridors.
The last consecration ceremony (Kumbabishekam) took place on 03.02.2016 and prior to that on 22.08.2004.
History of the Temple
As per the stone inscriptions available here, this ancient temple is believed to have been built during the period of the Chola King Kulothungan.
The historical name of the lord is "Thiru Ethirkolpadi Udaiyar", that of the goddess is "Perungarunai Pirattiyar" and that of this village is Ethirkolpadi.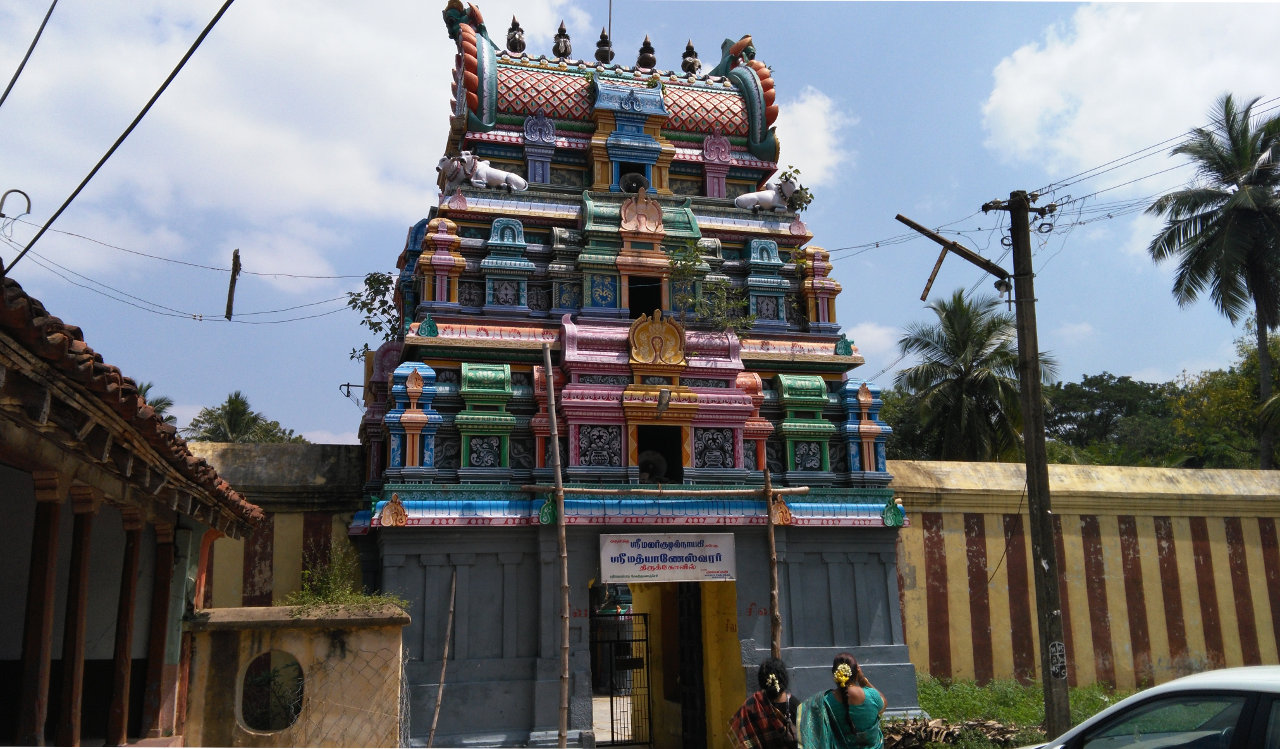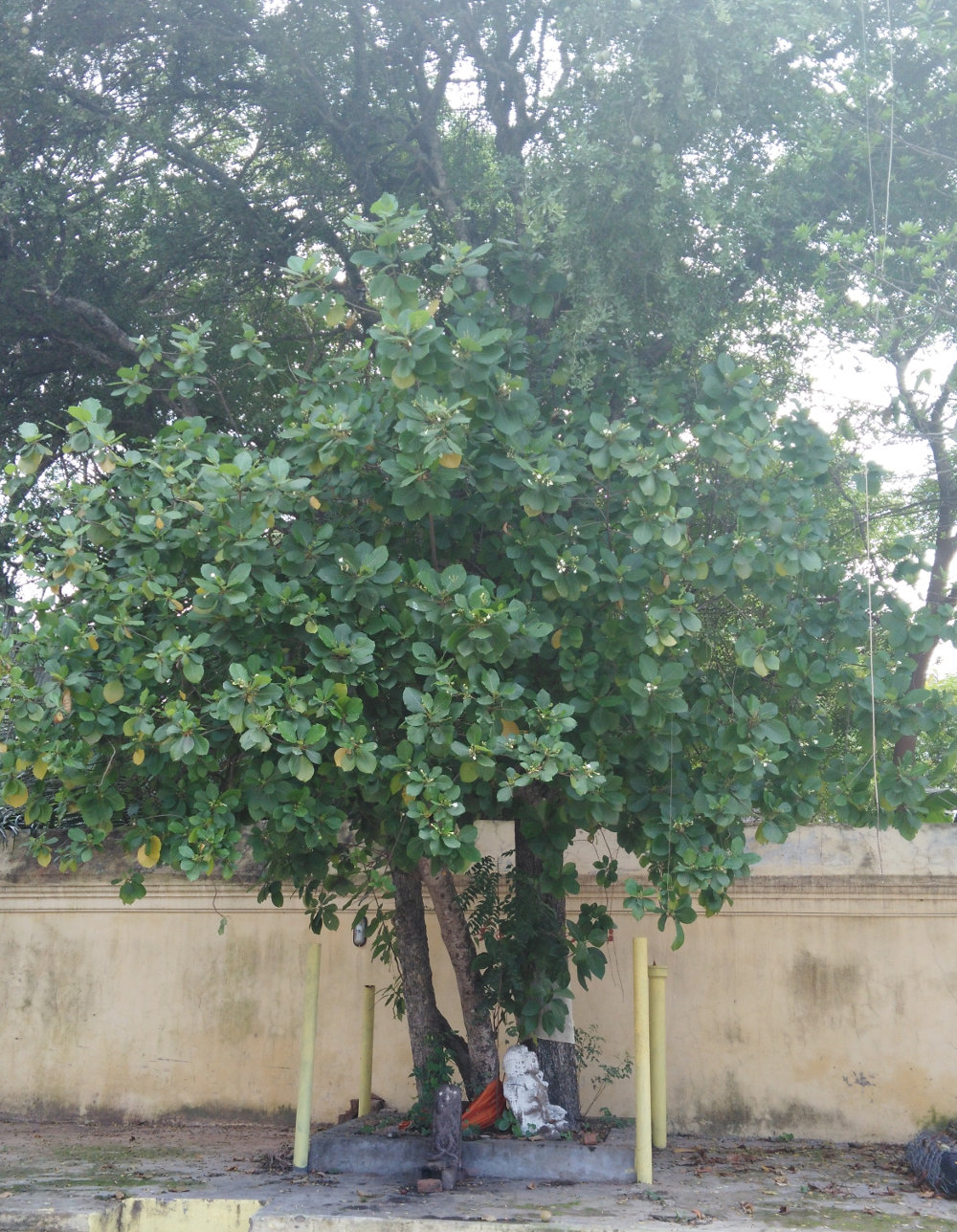 Legend
Ethirkolpadi enjoys a special place in mythology because it is linked to the legends of a few nearby Paadal Petra Shiv Sthalams.
At Therezhunthur, Lord Shiva cursed Goddess Parvathy which made her turn into a cow. Lord Mahavishnu played the role of a shepherd here.
At Thirukkozhambam, Goddess Parvathy, who was in the form of a cow, worshiped Lord Shiva. During the worship, as the cow's leg hit Lord Shiva by mistake, its hoof made a mark on the lord's chest.
At Thiruvaduthurai, again Goddess Parvathy (in the form a cow) worshiped Lord Shiva. It is here that Goddess Parvathy was relieved of her curse and got restored to her original form.
At Thiruthuruthi (Kuthalam), Sage Bharatha performed a yagna and it is believed that Goddess Parvathy came out of the fire in the form of a child.
At Ethirkolpadi, Lord Shiva was received as a groom by his father-in-law, Sage Bharatha.
At Thiruvelvikudi, the wedding ceremony including the yagna ("Velvi") was performed. This is the great place where the earthly wedding of Lord Shiva and Goddess Parvathy took place.
At Thirumanancheri, Lord Shiva and Goddess Parvathy granted their wedding darshan to everyone.
It is believed that once Goddess Parvathi was cursed to be born on earth. She is believed to have appeared from the fire of Sage Bharatha's "Kameshti yagna". Sage Bharatha raised her as his own daughter. When she grew up and attained the marriageable age, the sage prayed to Lord Shiva that he help him find a suitable groom for her. Responding to his prayers, Lord Shiva appeared before him and told him that he would marry his daughter soon. The lord further told the sage that his daughter was none other than Goddess Parvathy herself. He also explained him that the reason for her appearance on earth was to grant her the wish of being married on earth.
Lord Shiva, as the bridegroom, is believed to have been received by his father-in-law Sage Bharatha at this place. Hence this place gets the name "Ethirkolpaadi" ("ethirkol" means "to receive someone" and "paadi" means village in Tamil).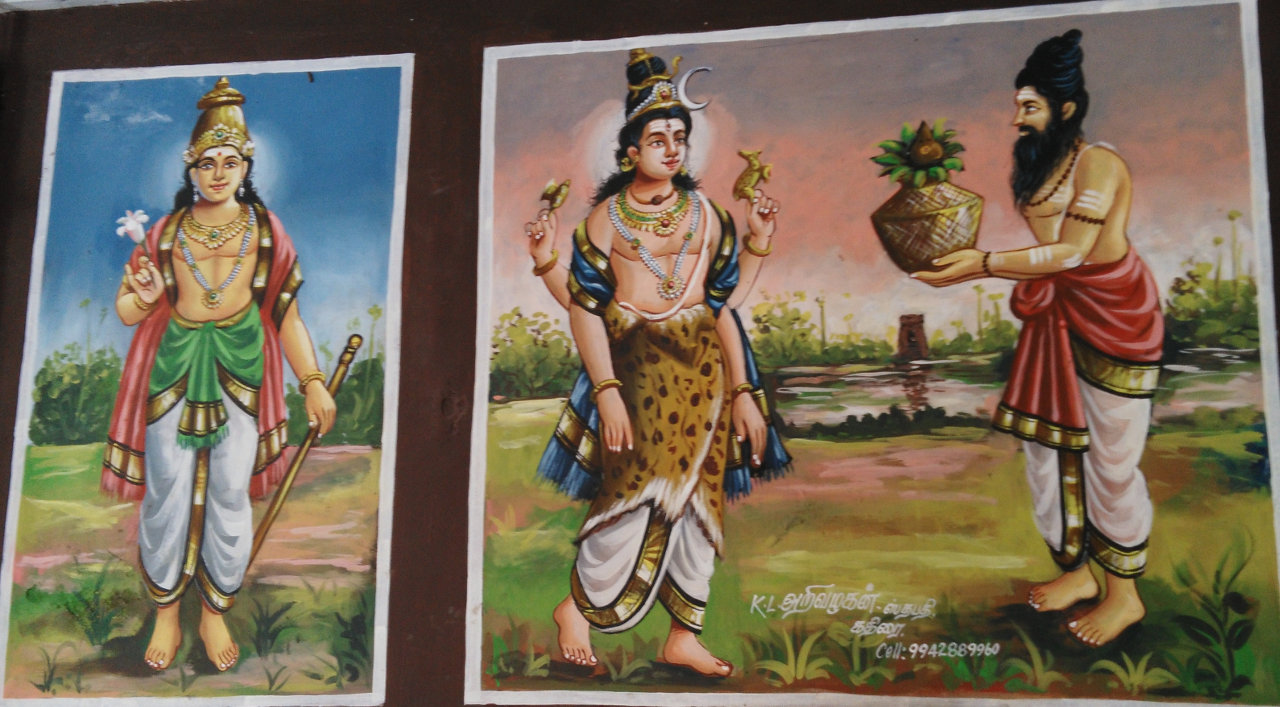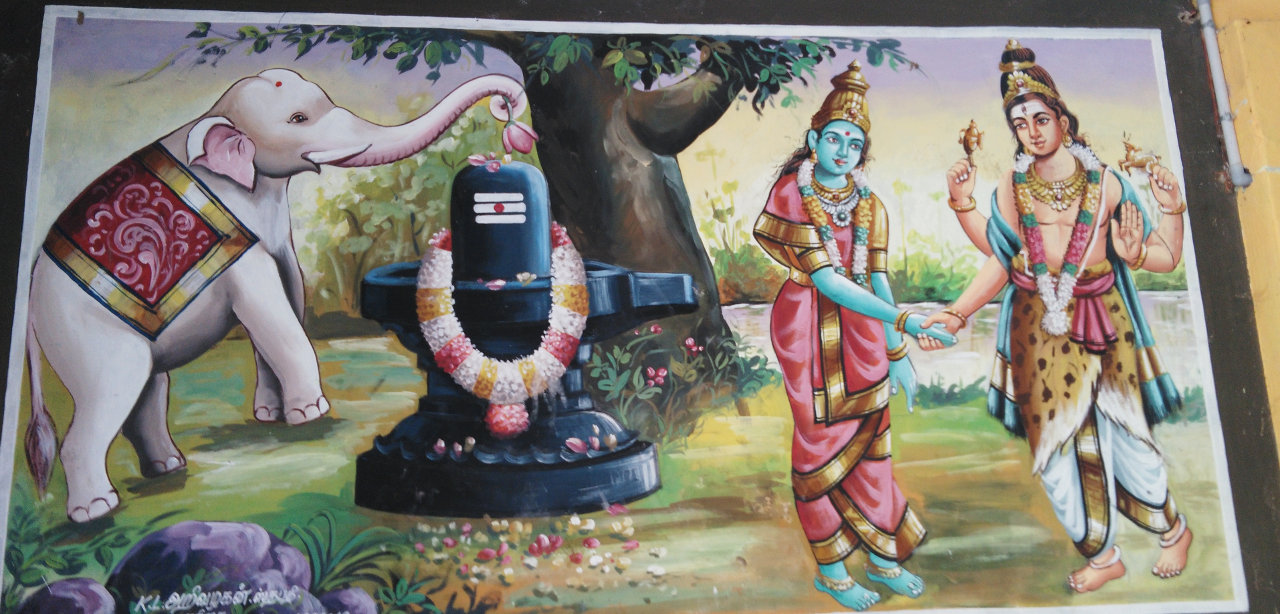 Another legend associated with this temple is that of Iraavadham, the white elephant of Lord Indra. One day, after finishing his daily worship in Kasi, Sage Dhurvasar met Lord Indra who was coming in his ceremonial procession. Sage Dhurvasar offered him a lotus flower which had been adorned on the lord. Without giving any respect, Indra took the flower and placed it on his white elephant which the elephant then removed and threw on the ground. The sage was angered by this and cursed the elephant to became an ordinary wild elephant. To seek relief from this curse, Iraavadham visited many Shiva temples. Ethirkolpadi is one such temple. As the lord of this temple is believed to have been worshiped by Iravadham, he is praised here as "Sri Iravadheswarar". After worshiping Lod Shiva at many places, it is believed that Iraavadham was finally relieved of the curse at the Sri Sundareswarar temple in Madurai.
It is also believed that Lord Indra worshiped Lord Shiva here.
Deities in the temple
Other than the shrines of Lord Shiva and Goddess Parvathy, shrines and idols of lords Vinayakar, Murugan with his consorts, Natarajar, Dakshinamurthy, Jaya Durgai, Gajalakshmi, Bharatha Lingam, Thunaivantha Vinayakar, Nalvar, Suryan, Chandran, Bala Saraswathi, Saneeswarar and Sorna Bairavar can be seen in the corridors.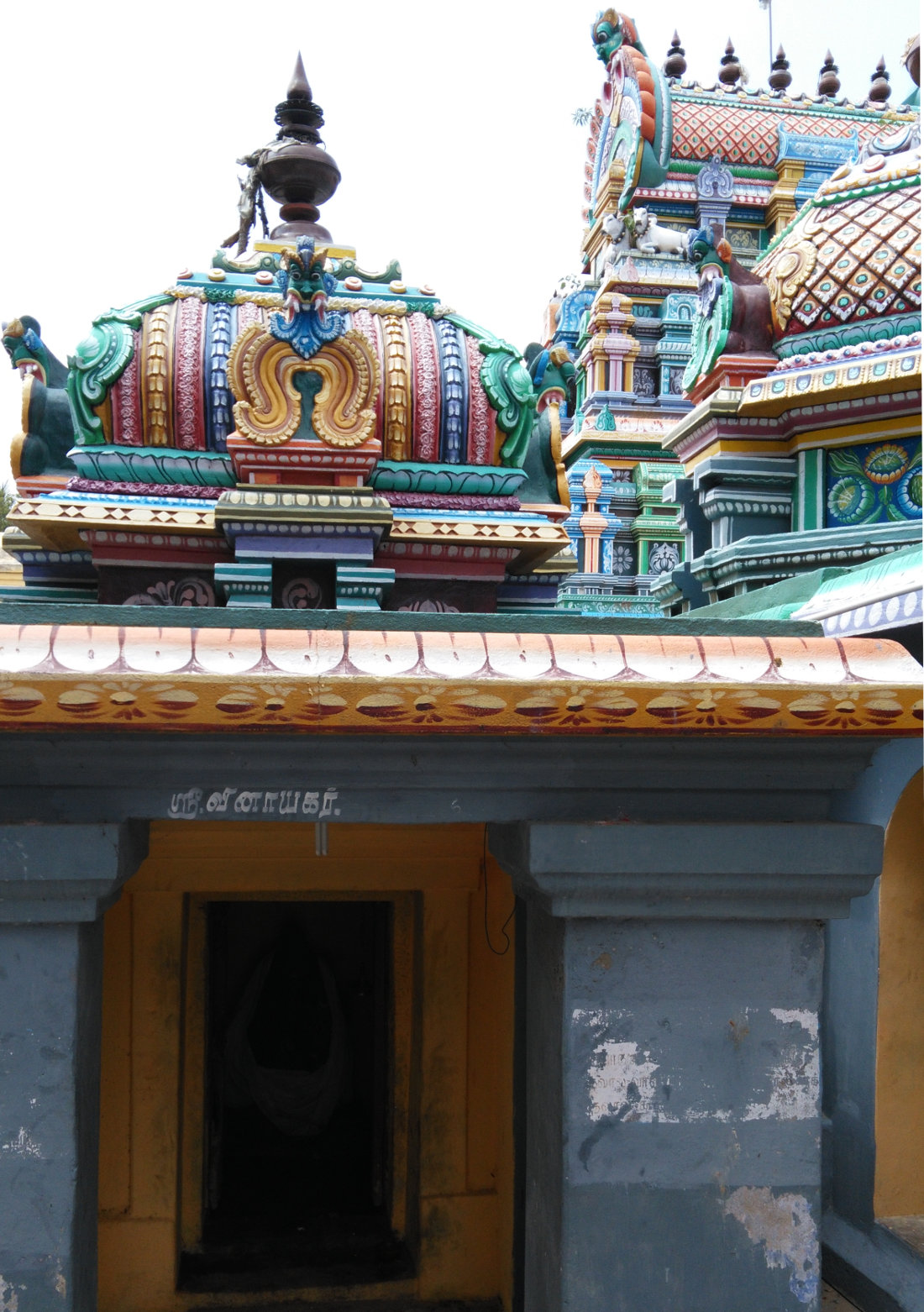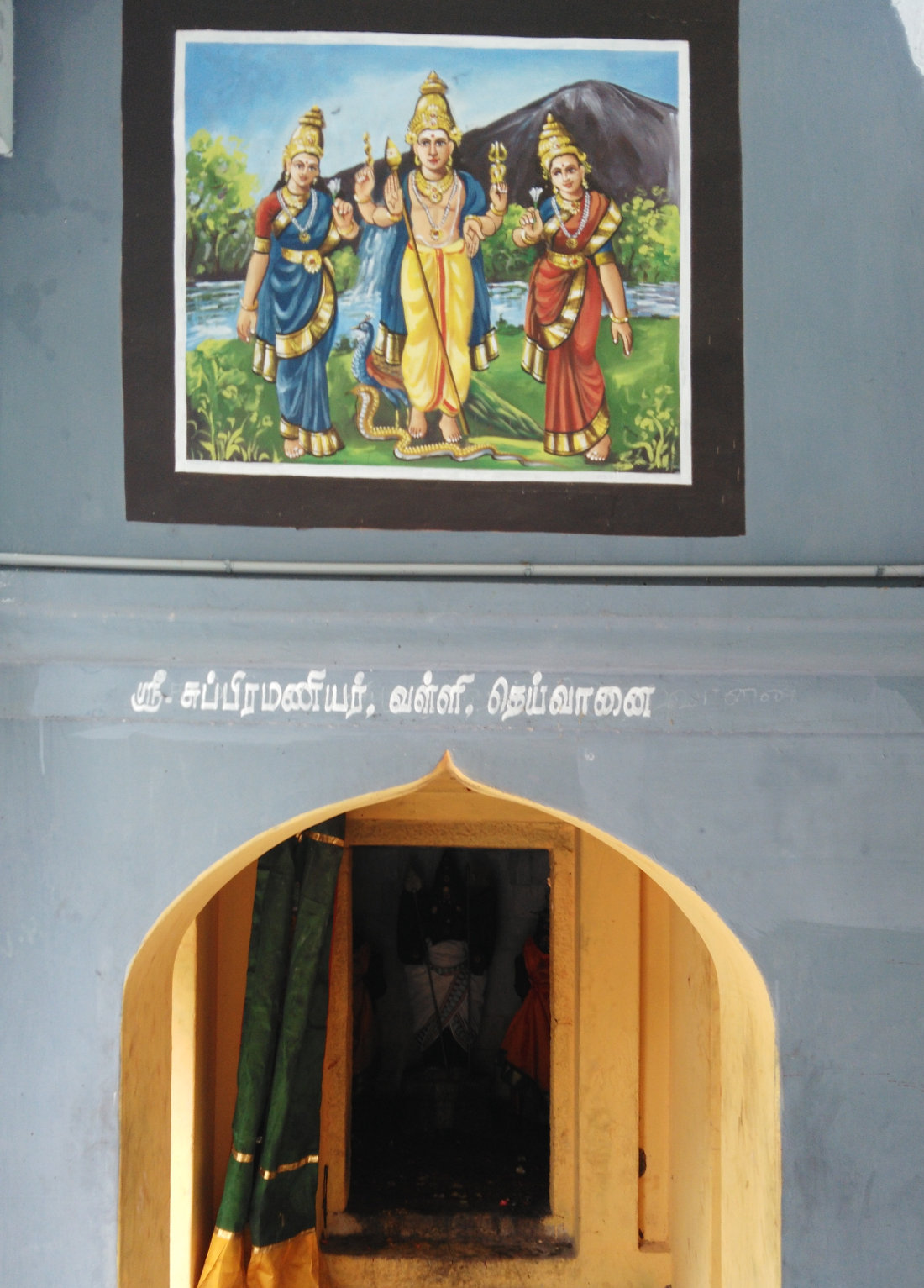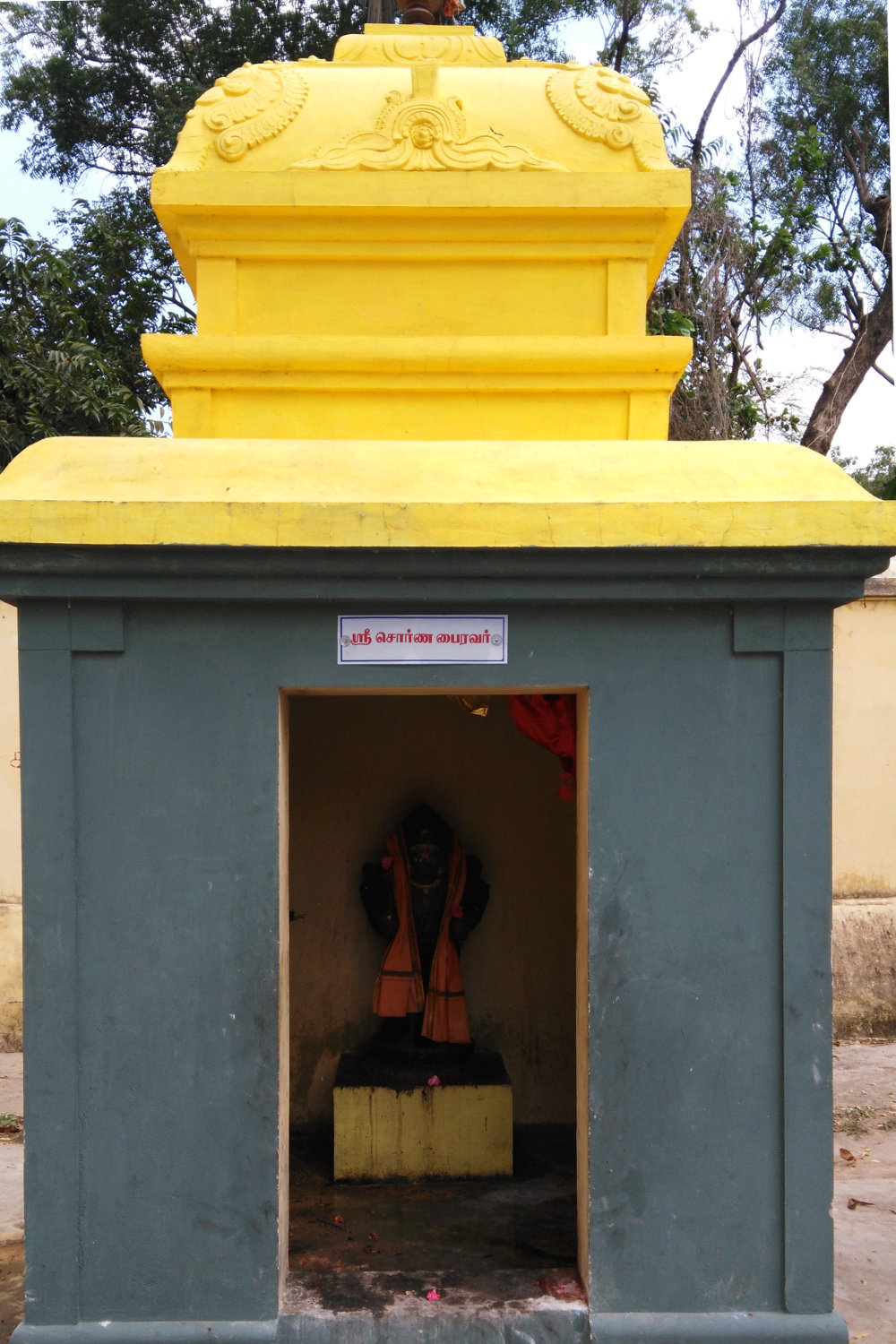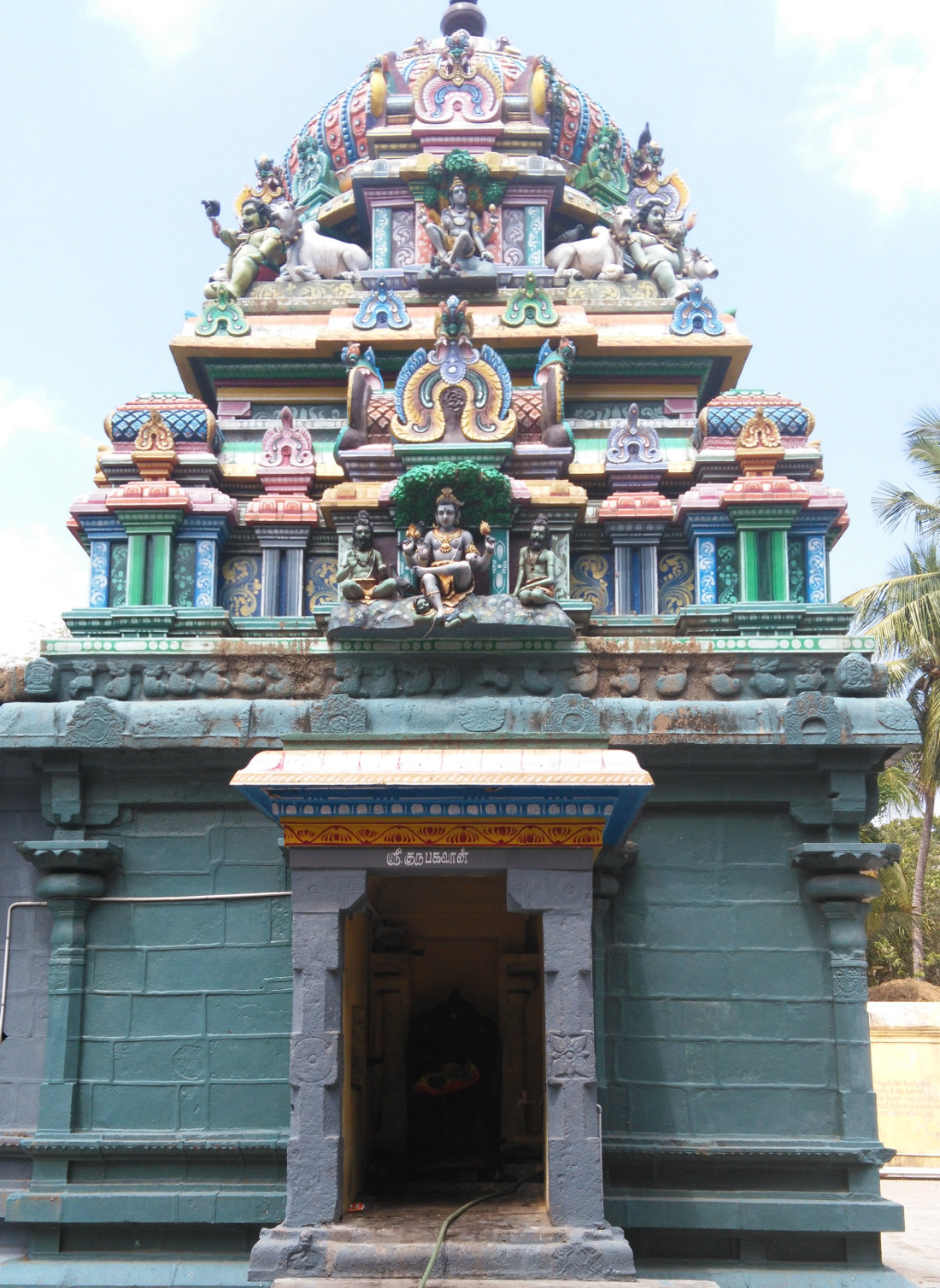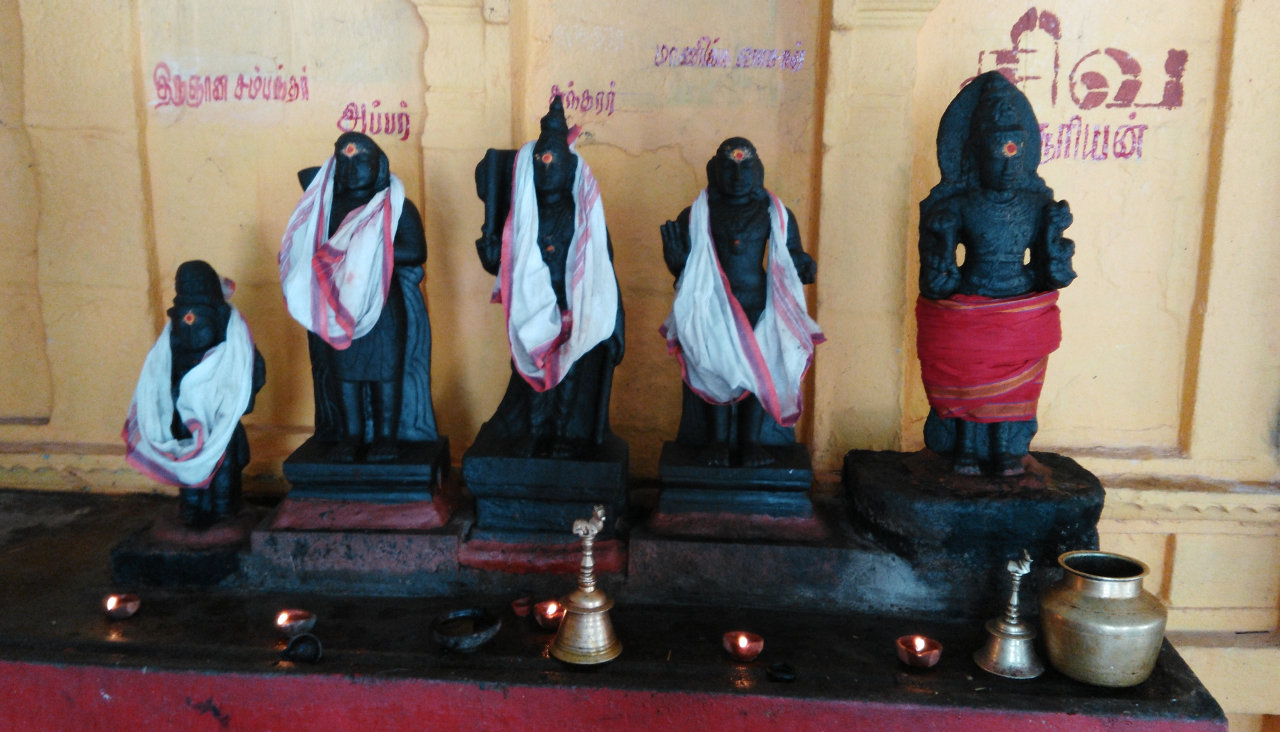 Salient Features
As Iraavadham is believed to have worshiped Lord Shiva here, the sanctum sanctorum is large enough to allow the entry of an elephant.
In his hymn of this temple, Saint Sundarar mentions that nothing except for the lord will come with you when you die.
Newly wedded couples come here and worship the lord in the hope that they remain close to each other like Lord Shiva and Goddess Parvathi.
Greatness of this temple
Parents believe that worshiping the lord here would help them find suitable grooms for their daughters.
Devotees also believe that by worshiping Lord Shiva here, obstacles from their marriage proposals will be removed.
Important Festivals
Some of the important festivals celebrated in this temple are -
Indira Vizha in the Tamil month of Chithirai (April-May),
Somavaram in the Tamil month of Karthikai Mondays (Nov-Dec),
Thiruvadhirai in the Tamil month of Margazhi (Dec-Jan),
Shivaratri in the Tamil month of Masi (Feb-Mar) and
Thirukkalyanam of Goddess Parvathi.
Pradosham is also observed regularly.
Temple Timings
From 07.00 AM to 11.00 AM and 05.00 PM to 08.00 PM.
Temple Address
Sri Iravadeswarar Temple,
Mela Thirumanancheri,
Kuthalam Via,
Mayiladuthurai Taluk,
Nagapattinam District
Tamil Nadu – 609813.
Tele: +91 - 4364 -235 -487.
Contact the temple priest Sri D.Senthil Kumar Gurukkal at 80121 60621 or Mr.Rama Murthy, temple care taker at 96002 08708.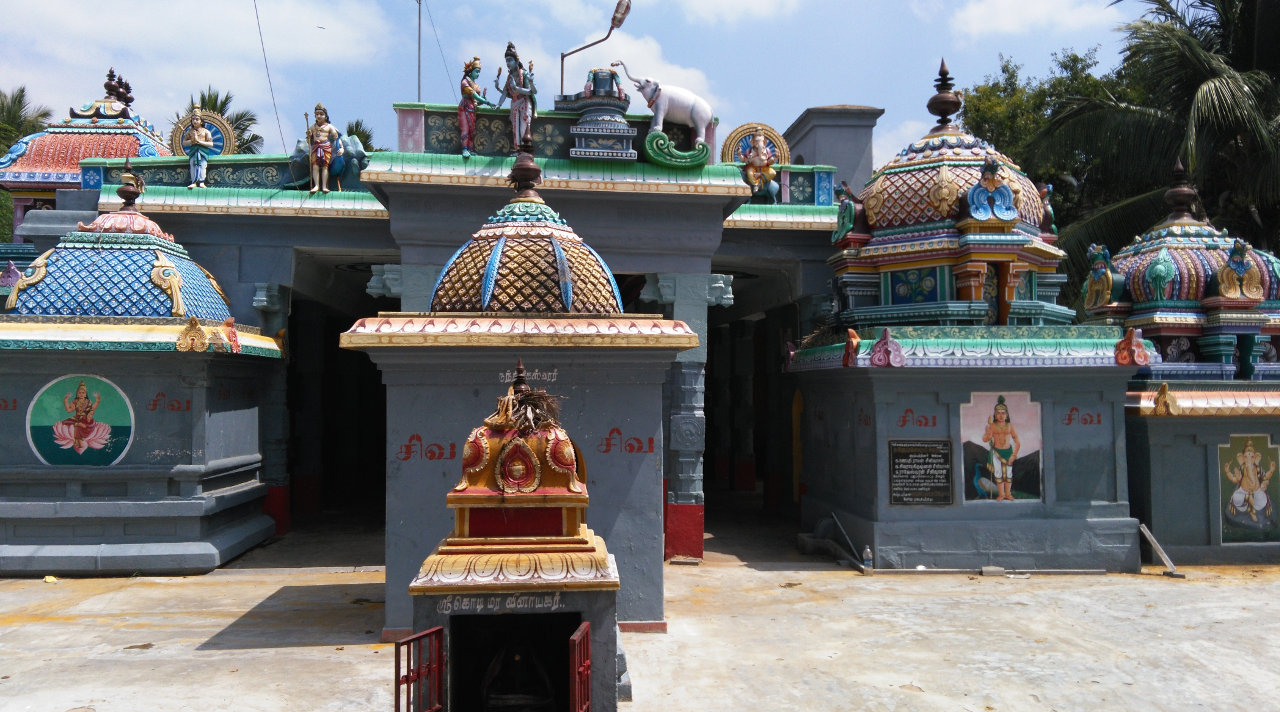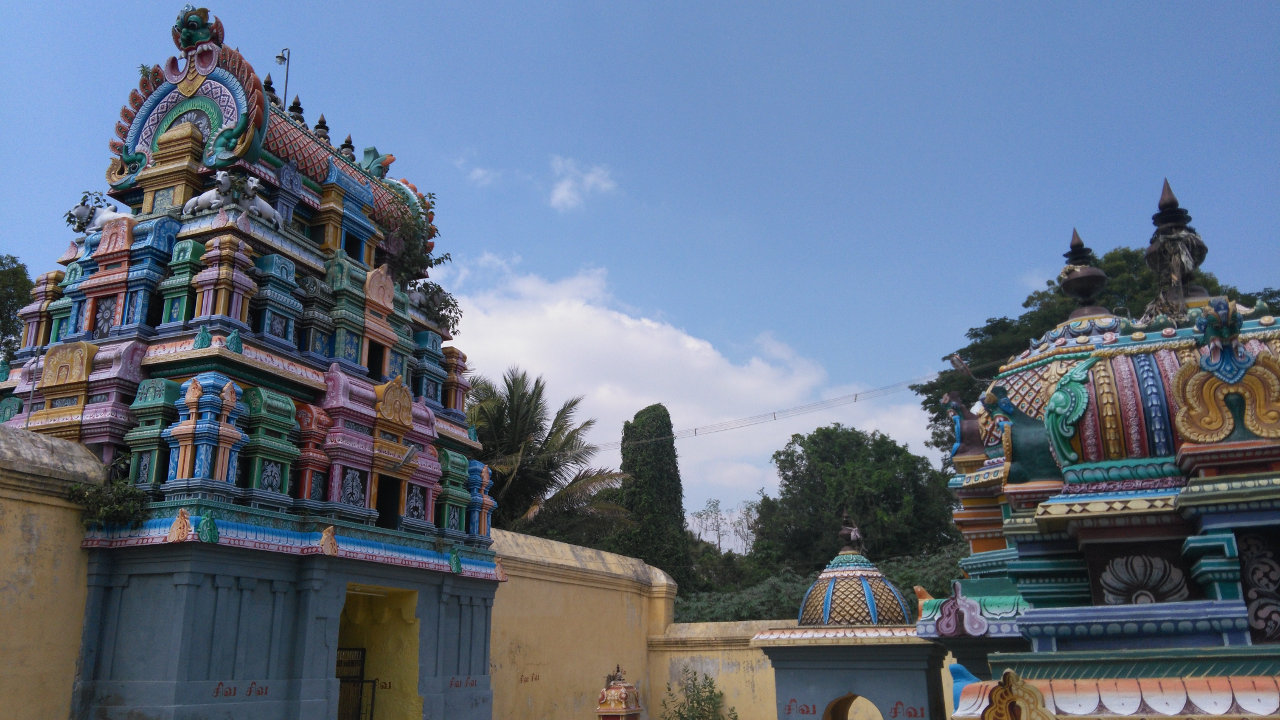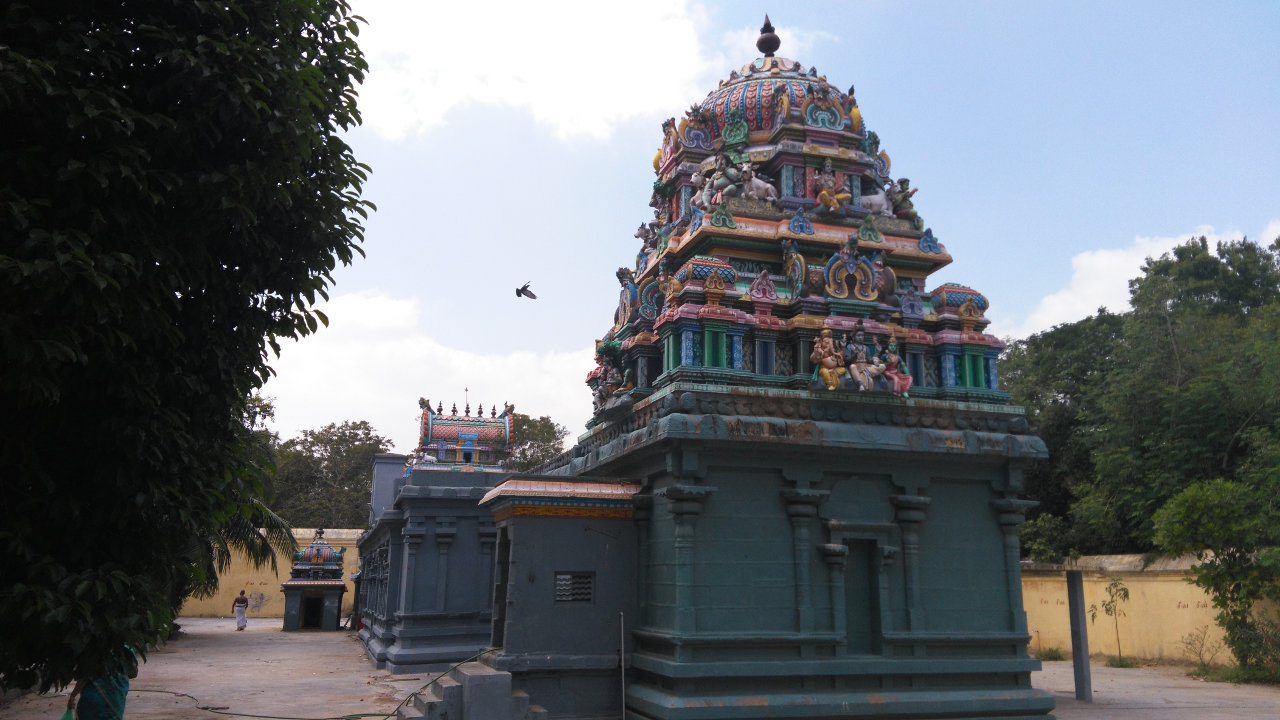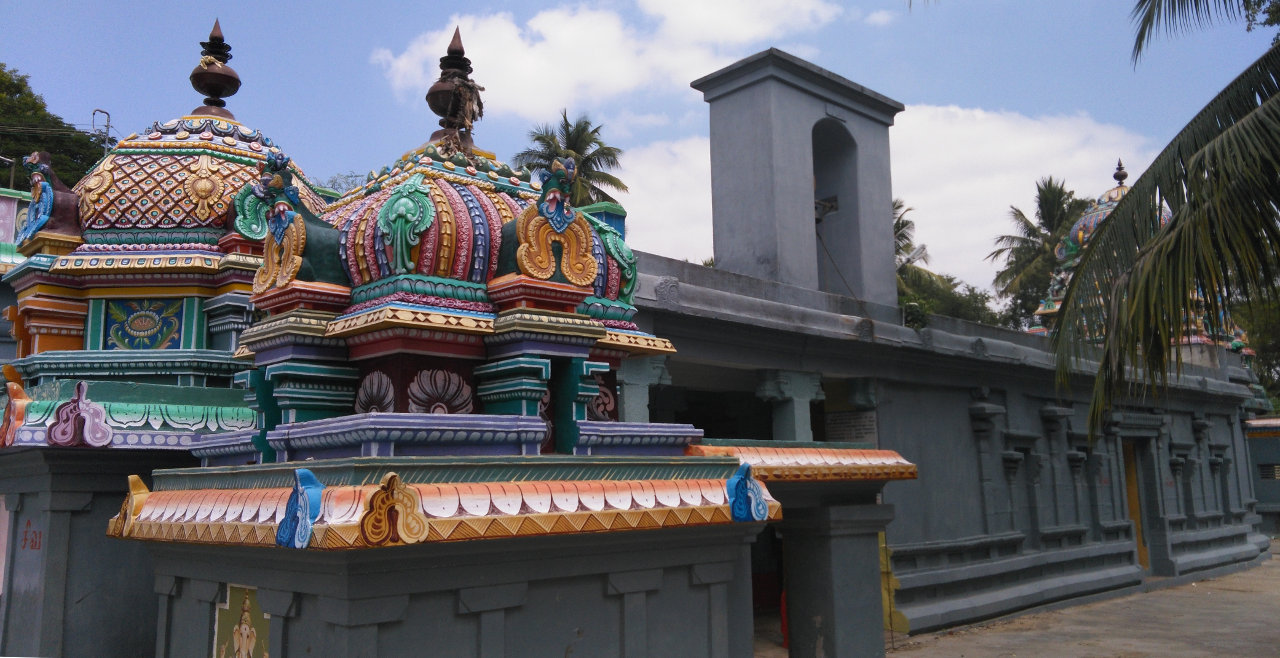 ---
Pathigam (Hymn) with English transliteration
Saint Sundarar visited this temple and sang this Pathigam.
Devotees visiting this temple should make it a practice to recite this Pathigam.
மத்த யானை ஏறி மன்னர் சூழவரு வீர்காள்
செத்த போதில் ஆரும் இல்லை சிந்தையுள் வைம்மின்கள்
வைத்த உள்ளம் மாற்ற வேண்டா வம்மின் மனத்தீரே
அத்தர் கோயில் எதிர்கொள் பாடி என்ப தடைவோமே.
"Maththa yāṉai ēṟi maṉṉar sūzhavaru vīrkāḷ
seththa pōthil ārum illai sinthaiyuḷ vaim'miṉkaḷ
vaiththa uḷḷam mātṟa vēṇṭā vam'miṉ maṉaththīrē
aththar kōyil ethirkoḷ pādi eṉpa thaṭaivōmē".
தோற்றம் உண்டேல் மரணம் உண்டு துயரம் மனைவாழ்க்கை
மாற்றம் உண்டேல் வஞ்சம் உண்டு நெஞ்ச மனத்தீரே
நீற்றர் ஏற்றர் நீல கண்டர் நிறைபுனல் நீள்சடைமேல்
ஏற்றர் கோயில் எதிர்கொள் பாடி என்ப தடைவோமே.
"Thōtṟam uṇṭēl maraṇam uṇdu thuyaram maṉaivāzhkkai
mātṟam uṇṭēl vañcham uṇdu neñcha maṉaththīrē
nītṟar ētṟar nīla kaṇṭar niṟaipuṉal nīḷsaṭaimēl
ētṟar kōyil ethirkoḷ pādi eṉpa thaṭaivōmē".
செடிகொ ளாக்கை சென்று சென்று தேய்ந்தொல் லைவீழாமுன்
வடிகொள் கண்ணார் வஞ்ச னையுள் பட்டு மயங்காதே
கொடிகொள் ஏற்றர் வெள்ளை நீற்றர் கோவண ஆடையுடை
அடிகள் கோயில் எதிர்கொள் பாடி என்ப தடைவோமே.
"seṭiko ḷākkai seṉtṟu setṉṟu thēynthol laivīzhāmuṉ
vaṭikoḷ kaṇṇār vañcha ṉaiyuḷ paṭṭu mayaṅkāthē
koṭikoḷ ētṟar veḷḷai nītṟar kōvaṇa āṭaiyuṭai
aṭikaḷ kōyil ethirkoḷ pādi eṉpa thaṭaivōmē".
வாழ்வர் கண்டீர் நம்முள் ஐவர் வஞ்ச மனத்தீரே
யாவ ராலும் இகழப் பட்டிங் கல்ல லில்வீழாதே
மூவ ராயும் இருவ ராயும் முதல்வன் அவனேயாம்
தேவர் கோயில் எதிர்கொள் பாடி என்ப தடைவோமே.
"Vāzhvar kaṇṭīr nam'muḷ aivar vañcha maṉaththīrē
yāva rālum ikazhap paṭṭiṅg kalla lilvīzhāthē
mūva rāyum iruva rāyum muthalvaṉ avaṉēyām
thēvar kōyil ethirkoḷ pādi eṉpa thaṭaivōmē".
அரித்து நம்மேல் ஐவர் வந்திங் காறலைப் பான்பொருட்டாற்
சிரித்த பல்வாய் வெண்ட லைபோய் ஊர்ப்பு றஞ்சேராமுன்
வரிக்கொ டுத்திவ் வாள ரக்கர் வஞ்ச மதில்மூன்றும்
எரித்த வில்லி எதிர்கொள் பாடி என்ப தடைவோமே.
"Ariththu nam'mēl aivar vantiṅg kāṟalaip pāṉporuṭṭāṟ
siriththa palvāy veṇṭa laipōy ūrppu ṟañchērāmuṉ
varikko ṭuththiv vāḷa rakkar vañcha mathilmūṉtṟum
eriththa villi ethirkoḷ pādi eṉpa thaṭaivōmē".
பொய்யர் கண்டீர் வாழ்க்கை யாளர் பொத்தடைப் பான்பொருட்டால்
மையல் கொண்டீர் எம்மோ டாடி நீரும் மனத்தீரே
நைய வேண்டா இம்மை யேத்த அம்மை நமக்கருளும்
ஐயர் கோயில் எதிர்கொள் பாடி என்ப தடைவோமே.
"Poyyar kaṇṭīr vāzhkkai yāḷar poththaṭaip pāṉporuṭṭāl
maiyal koṇṭīr em'mō ṭāṭi nīrum maṉaththīrē
naiya vēṇṭā im'mai yēththa am'mai namakkaruḷum
aiyar kōyil ethirkoḷ pādi eṉpa thaṭaivōmē".
கூசம் நீக்கிக் குற்றம் நீக்கிச் செற்ற மனம்நீக்கி
வாசம் மல்கு குழலி னார்கள் வஞ்ச மனைவாழ்க்கை
ஆசை நீக்கி அன்பு சேர்த்தி என்பணிந் தேறேறும்
ஈசர் கோயில் எதிர்கொள் பாடி என்ப தடைவோமே.
"Kūsam nīkkik kutṟam nīkkich chetṟa maṉamnīkki
vāsam malku kuzhali ṉārkaḷ vañcha maṉaivāzhkkai
āsai nīkki aṉpu sērththi eṉpaṇin thēṟēṟum
īsar kōyil ethirkoḷ pādi eṉpa thaṭaivōmē".
இன்பம் உண்டேல் துன்பம் உண்டு ஏழை மனைவாழ்க்கை
முன்பு சொன்ன மோழை மையான் முட்டை மனத்தீரே
அன்ப ரல்லால் அணிகொள் கொன்றை அடிக ளடிசேரார்
என்பர் கோயில் எதிர்கொள் பாடி என்ப தடைவோமே.
"Iṉpam uṇṭēl tuṉpam uṇṭu ēzhai maṉaivāzhkkai
muṉpu choṉṉa mōzhai maiyāṉ muṭṭai maṉaththīrē
aṉpa rallāl aṇikoḷ koṉtṟai aṭika ḷaṭisērār
eṉpar kōyil ethirkoḷ pādi eṉpa thaṭaivōmē".
தந்தை யாரும் தவ்வை யாரும் எட்டனைச் சார்வாகார்
வந்து நம்மோ டுள்ள ளாவி வான நெறிகாட்டுஞ்
சிந்தை யீரே நெஞ்சி னீரே திகழ்மதி யஞ்சூடும்
எந்தை கோயில் எதிர்கொள் பாடி என்ப தடைவோமே.
"Thanthai yārum thavvai yārum eṭṭaṉaich chārvākār
vanthu nam'mō ṭuḷḷa ḷāvi vāṉa neṟikāṭṭuñ
chinthai yīrē neñchi ṉīrē thikazhmathi yañchūṭum
enthai kōyil ethirkoḷ pādi eṉpa thaṭaivōmē".
குருதி சோர ஆனையின் றோல் கொண்ட குழற்சடையன்
மருது கீறி ஊடு போன மாலய னும்மறியாச்
சுருதி யார்க்குஞ் சொல்ல வொண்ணாச் சோதியெம் ஆதியான்
கருது கோயில் எதிர்கொள் பாடி என்ப தடைவோமே.
"Kuruthi sōra āṉaiyiṉt ṟōl koṇṭa kuzhaṟsaṭaiyaṉ
maruthu kīṟi ūṭu pōṉa mālaya ṉum'maṟiyāch
churuthi yārkkuñ cholla voṇṇāch chōthiyem āthiyāṉ
karuthu kōyil ethirkoḷ pādi eṉpa thaṭaivōmē".
முத்து நீற்றுப் பவள மேனிச் செஞ்சடை யான்உறையும்
பத்தர் பந்தத் தெதிர்கொள் பாடிப் பரமனை யேபணியச்
சித்தம் வைத்த தொண்டர் தொண்டன் சடைய னவன்சிறுவன்
பத்தன் ஊரன் பாடல் வல்லார் பாதம் பணிவாரே.
"Muththu nītṟup pavaḷa mēṉich cheñchaṭai yāṉuṟaiyum
paththar panthath thethirkoḷ pādip paramaṉai yēpaṇiyach
chiththam vaiththa thoṇṭar thoṇṭaṉ saṭaiya ṉavaṉsiṟuvaṉ
paththaṉ ūraṉ pāṭal vallār pātham paṇivārē".