Visited on: September 4, 2017
Location
Thirukkottaram is situated near village Velangudi on the Kumbakonam to Karaikkal route (via Nedungadu). From Karaikkal, this place is at a distance of about 12 kms.
In Velangudi, there is a cross road with an entrance arch on the main road which leads to the temple. The temple is one kilometre away from this arch.
Other Devara Paadal Petra Shiva Sthalams near this temple are – Thirumiyachur, Thirumiyachur Ilamkoil, Thilathaipathy, Thiru Anniyur, Thiruppampuram, Serukudi, Thiruvizhimizhalai, Ambal Maakalam and Ambar Perunthirukkoil.
General Information
| | |
| --- | --- |
| Moolavar | Sri Iraavadeswarar |
| Ambal | Sri Vandamar Poonguzhali Ammai, Sri Sugantha Kunthalambigai |
| Theertham (Holy water) | Surya Theertham and river Vaanchiyaru |
| Sthala Vriksham (Sacred Tree) | Parijatha tree / Vilwam tree |
| Pathigam (Hymn) rendered by | Saint Thirugnanasambanthar |
This is one of the 276 Devara Paadal Petra Shiva Sthalams and 53rd Shiva Sthalam on the Southern bank of the river Cauveri in Chozha Nadu (Thenkarai).
Lord Shiva in this temple is a Swayambumurthi (self-manifested).
This east facing temple has a 3-tiered main tower (Rajagopuram) and it has a single corridor.
The last consecration ceremony (Kumbabishekam) took place in the year 2009. Prior to that it was held in 1987 and 1937.
History of the Temple
This ancient temple is situated on the banks of river Vaanchiyaru. As per the stone inscriptions available here, this temple was built by the Chola King Kulothungan and the lord's name is mentioned as "Rajendra Chozheeswaramudaiya Mahadevar".
This temple is now under the administrative control of the Hindu Religious and Charitable Endowments (HRCE) Board of Tamil Nadu Government. However, the temple is not being maintained properly and is in a bad state. It is sad to see that the main tower as well as the towers in the sanctum are covered with a lot of weeds and plants. Even the grounds in the corridors are full of shrubs.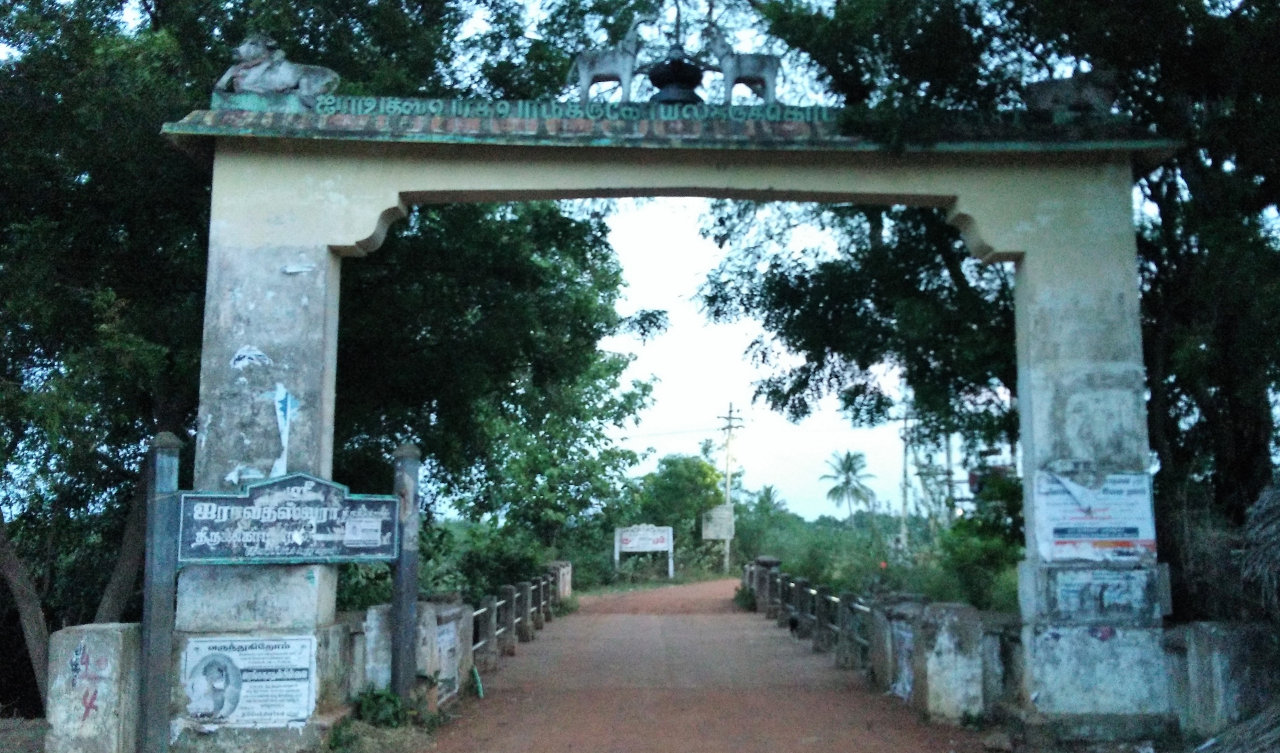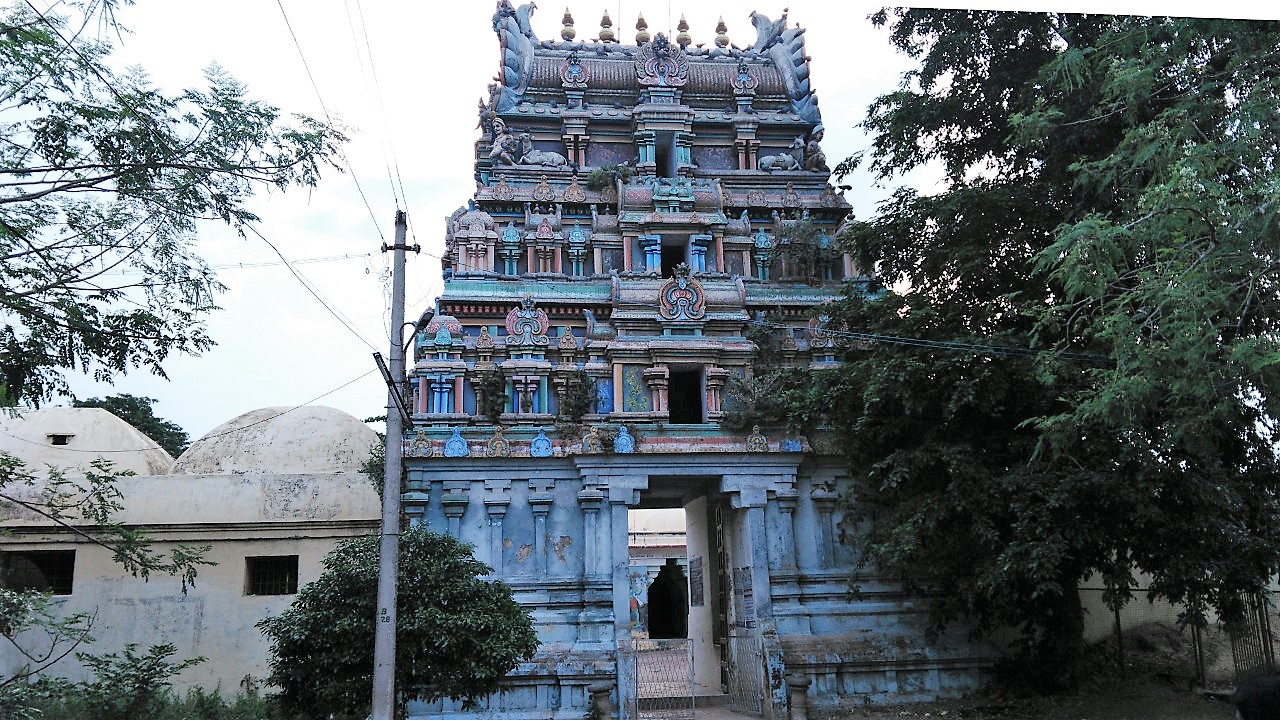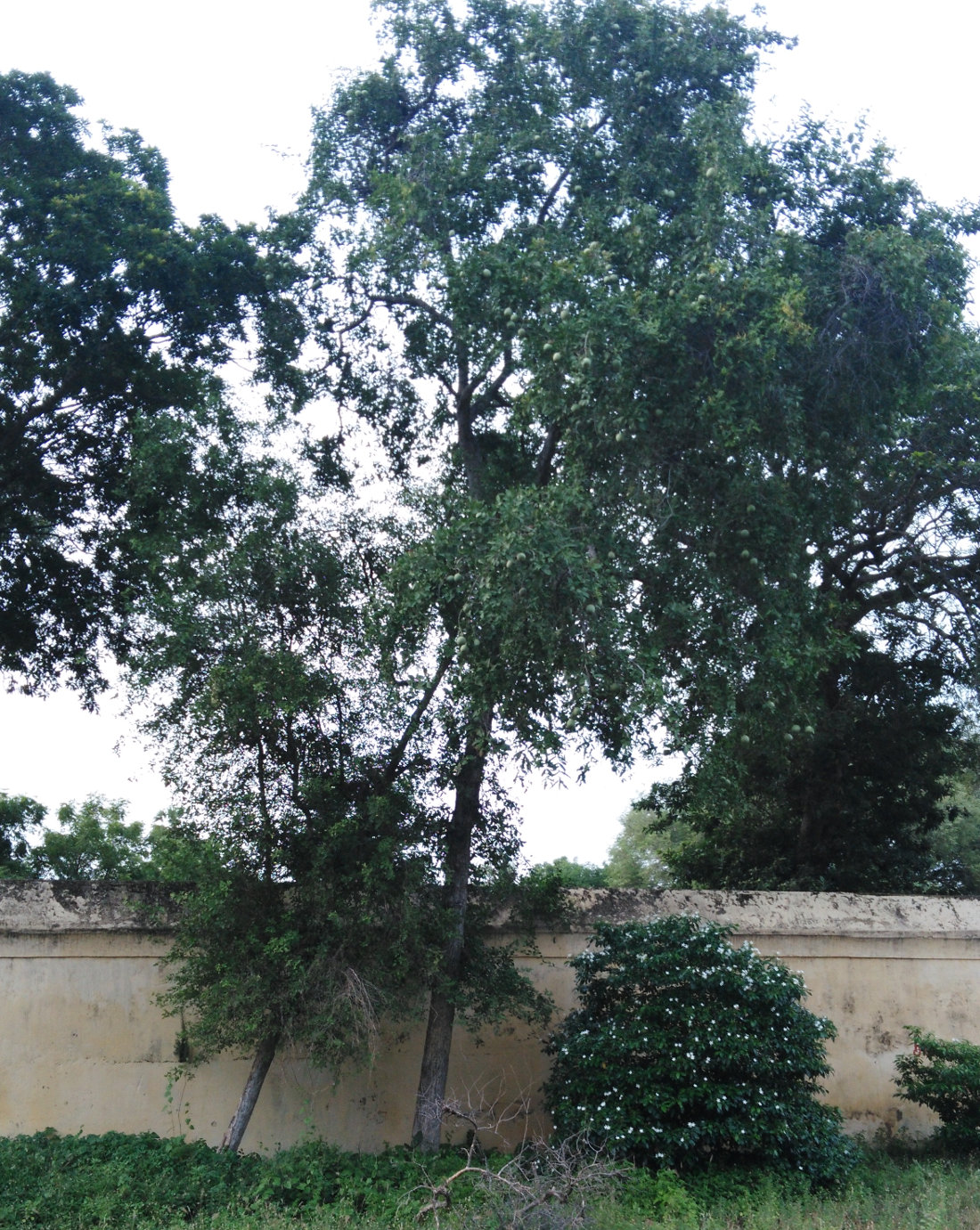 Legend
The legend associated with this temple is that once Iraavadam, the white elephant of Lord Indhra, disrespected Sage Dhurvasar. One day, after finishing his daily worship in Kasi, Sage Dhurvasar met Lord Indra who was coming in his ceremonial procession. Sage Dhurvasar offered him a lotus flower which had been adorned on the lord. Without giving any respect, Indra took the flower and placed it on his white elephant which the elephant then removed and threw on the ground. The sage was angered by this and cursed the elephant to became an ordinary wild elephant. To seek relief from this curse, Iraavadam visited many Shiva temples.
Kottaram is one such place that Iraavadam visited. It is believed that he created the river "Kottaru" by striking the clouds with his tusk and making the rain pour down. It is believed that he worshiped the lord with water from this river. ("Kotu" means tusk and "Aru" means river in Tamil). Hence this place gets the name Kottaru and the lord is praised as "Sri Iraavadeswarar". This river is also known as Vanchiyaru.
After worshiping Lod Shiva at many places, it is believed that Iraavadam was finally relieved of the curse at the Sri Sundareswarar temple in Madurai.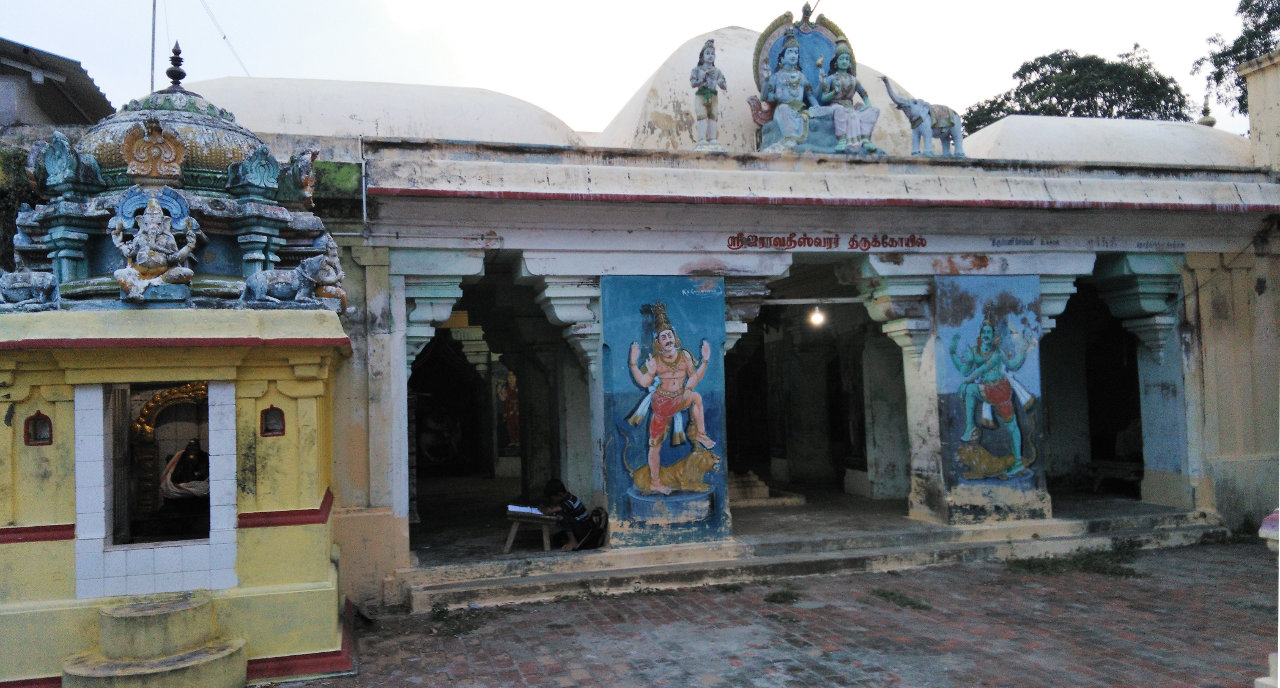 Another legend associated with this temple is that of a sage called Subhaka Maharishi. He used to visit this temple daily to worship Lord Shiva. One day he was late and by the time he reached the temple, the door was closed. It is believed that he took the form of a honey bee and entered into the temple. He worshiped the lord and stayed back there itself. It is believed that since then a beehive remains in this temple's sanctum wall. The idol of Sage Subhaka Maharishi can be seen in the corridor.
It is believed that apart from Iraavadam, the lord of this temple has been worshiped by Lord Indra, Sage Agasthiyar and Sage Subhaka Maharishi.
Deities in the temple
Lords Bala Vinayakar, Murugan with his consorts, Dakshinamurthy, Brahma, Vishnu, Saint Thirugnanasambanthar, Saint Appar, Saint Sundaramurthy Nayanar with Paravai Nachiyar, Sarba Rajan (Nagar), Agasthiyeswarar, Subhaka Maharishi, Kailasanathar, Mahalakshmi, Durgai, Chandikeswarar, Bairavar, Suryan, Chandran and Navagraham can be seen in the corridors. In this temple, there are two "Pali Pedam", one in front of the Nandhi and the other one behind it.
There is a separate shrine for Lord Kumara Bhuvaneswarar. This west facing Shivlingam is believed to have been worshiped by Sage Agasthiyar, Sage Subhaka Maharishi and Kumarabhuvana Thevar.
All the procession idols of this temple are kept in a safe at some other location.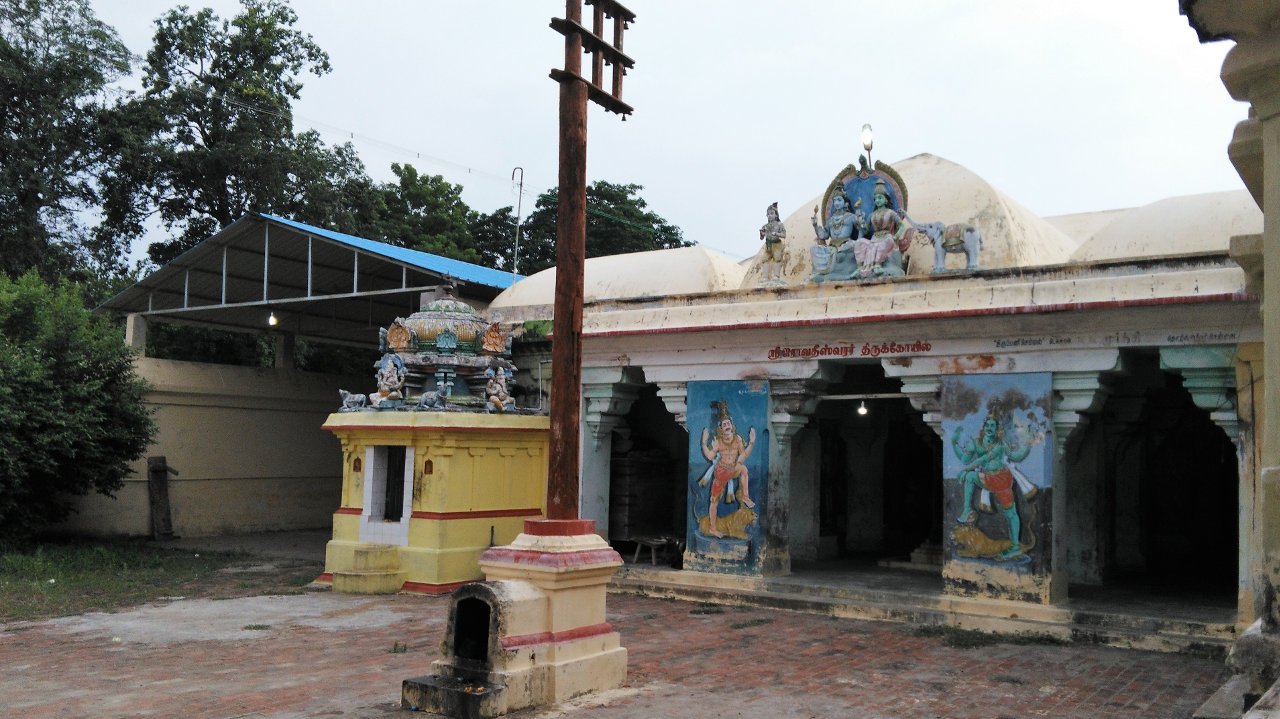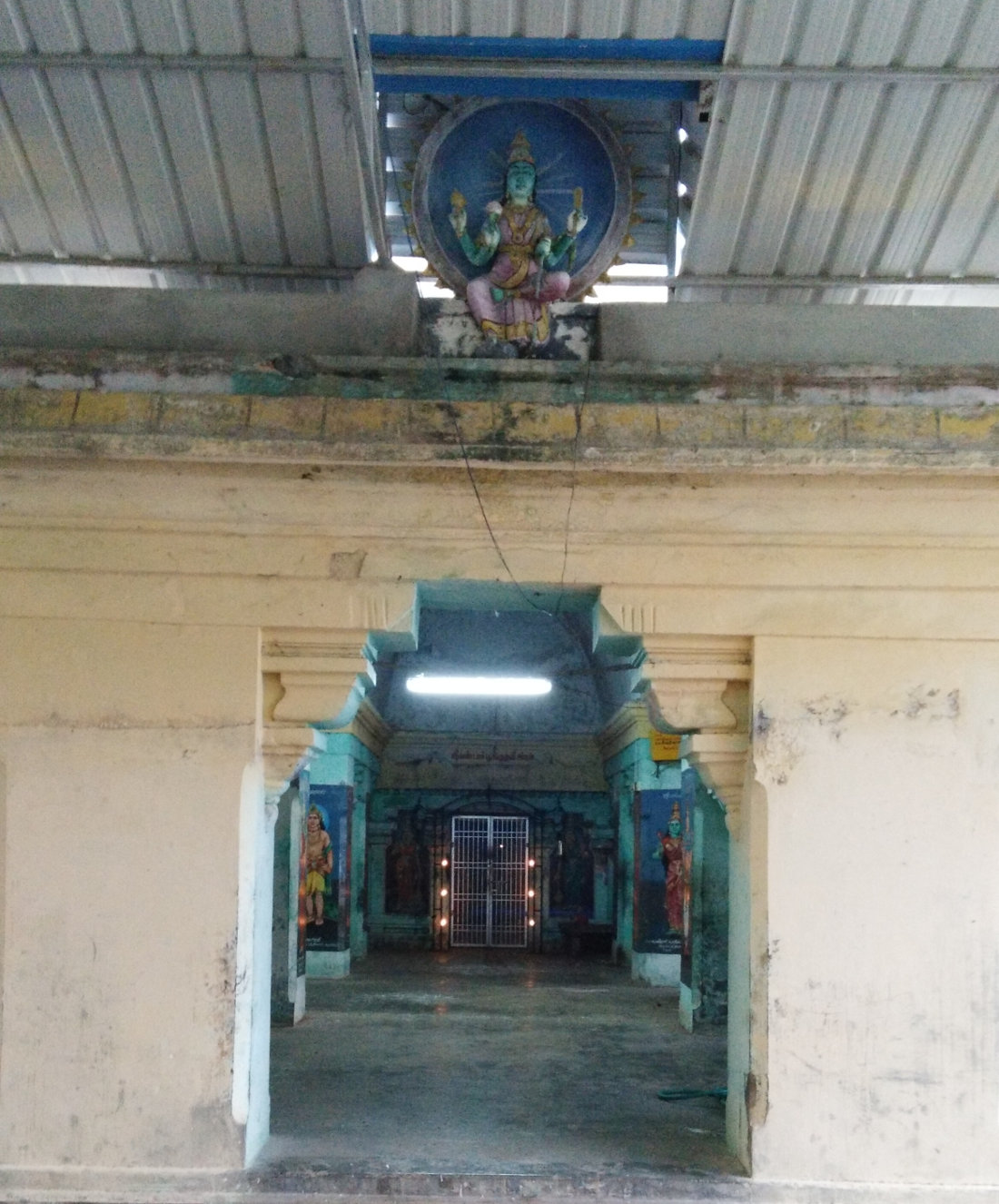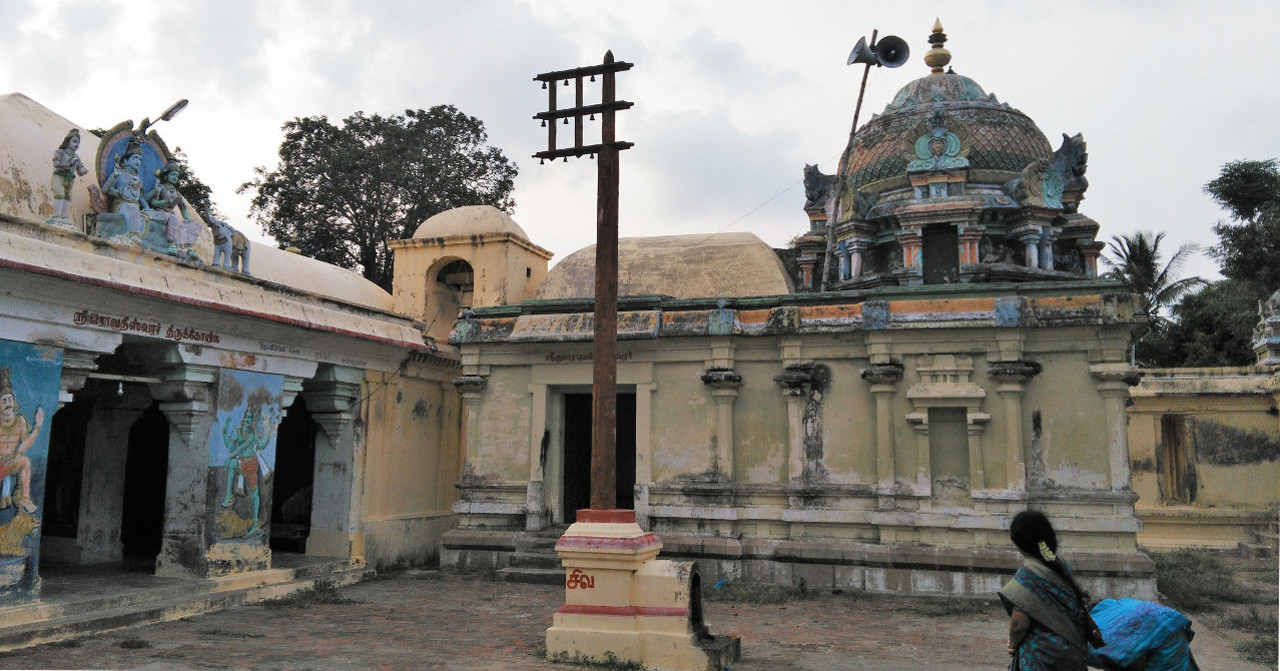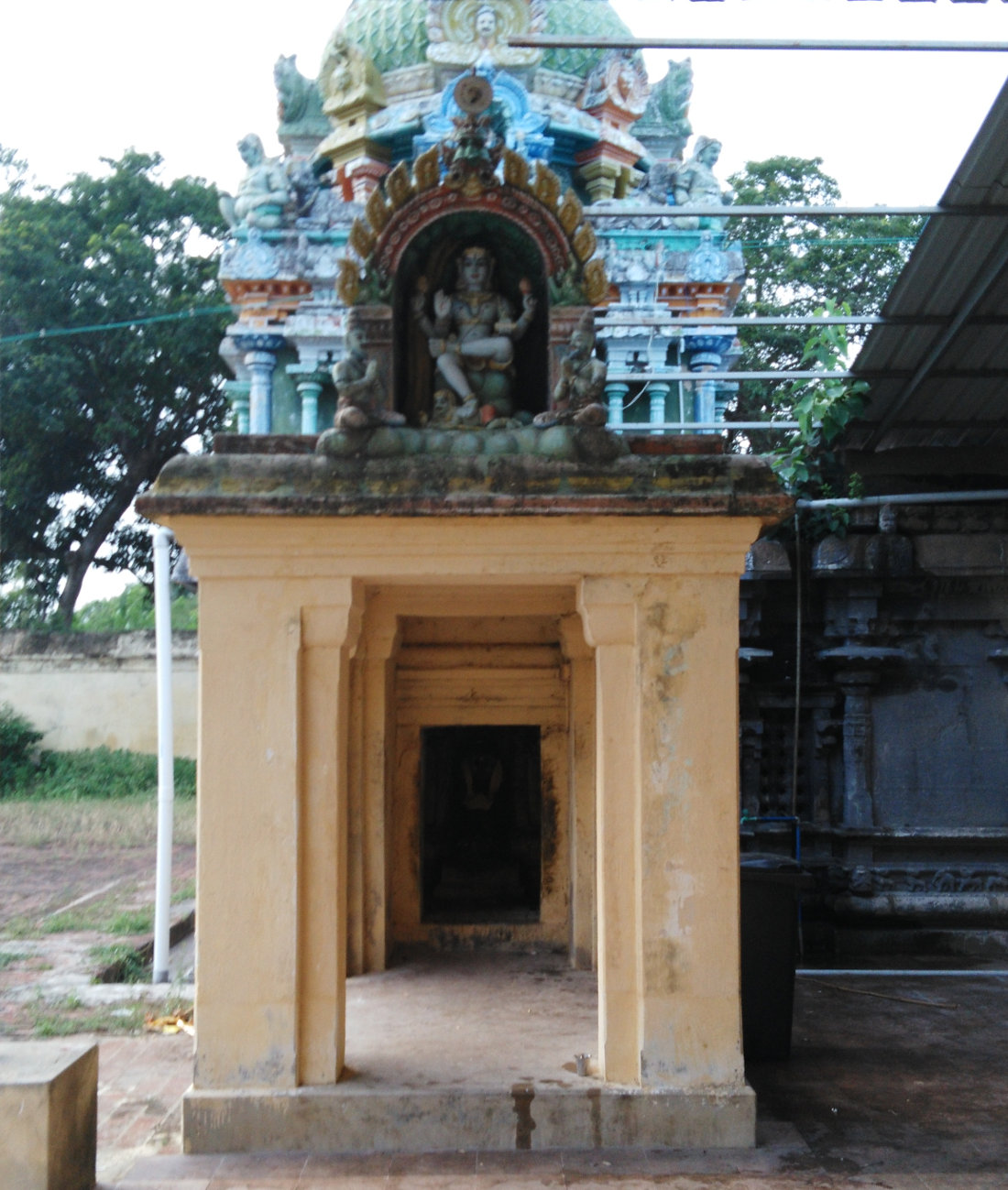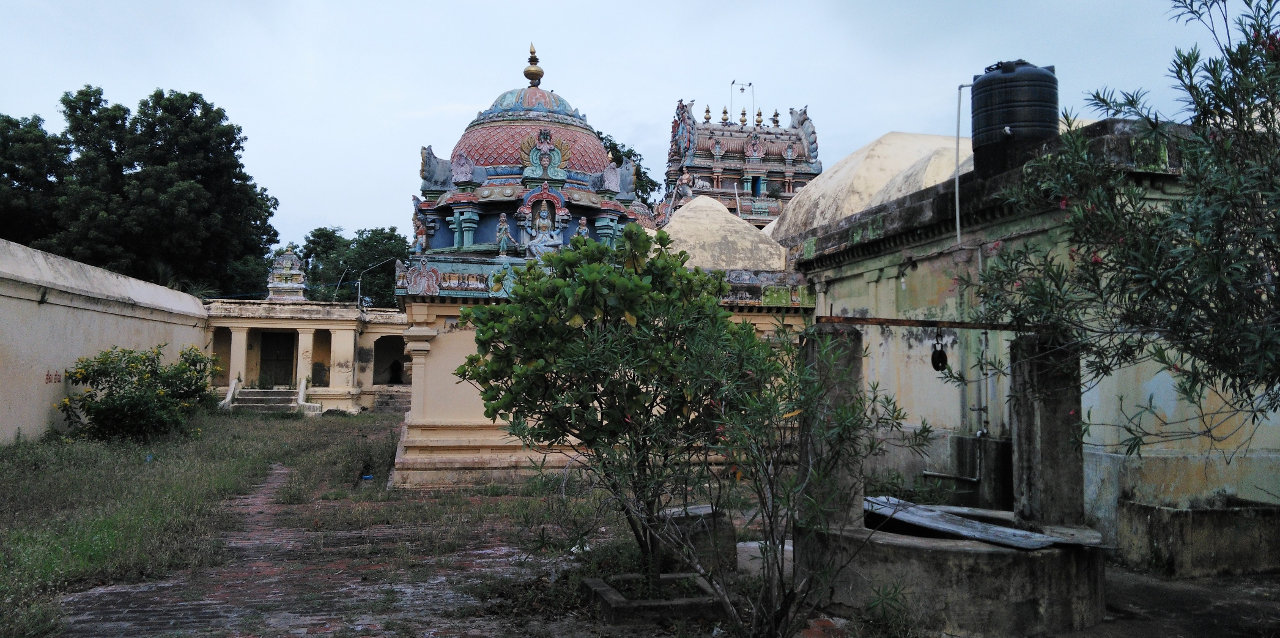 Salient Features
It is said that every year honey would be taken out from the beehive in the sanctum and "abhishekam" would be performed using it. However, this beehive is not there now.
In his hymn of this temple, Saint Thirugnanasambanthar mentioned about the elephant Iraavatham's worship and the river that he created.
Greatness of this temple
It is believed that those seeking wedding boon can pray to the lord here.
Devotees also worship Lord Shiva of this temple for prosperity and wisdom.
Important Festivals
The important festivals celebrated in this temple are –
Visaakam in the Tamil month of Vaikaasi (May-June) and
Thiruvadhirai in the Tamil month of Markazhi (Dec-Jan).
Pradosham is also observed regularly.
Temple Timings
From 08.00 AM to 11.30 AM and 05.30 PM to 08.30 PM.
Temple Address
Sri Iravadeswarar Temple,
Thirukkottaram Post,
Nedungadu Via,
Nannilam Taluk,
Thiruvarur District
Tamil Nadu – 609603.
Tele: +91 - 4368 - 261 447.

As pooja is only performed here once a day, devotees can contact the temple priests' Sri Sriram Gurukkal at 8903888174 or Sri Maadhu Gurukkal at 7502212319, before planning a visit.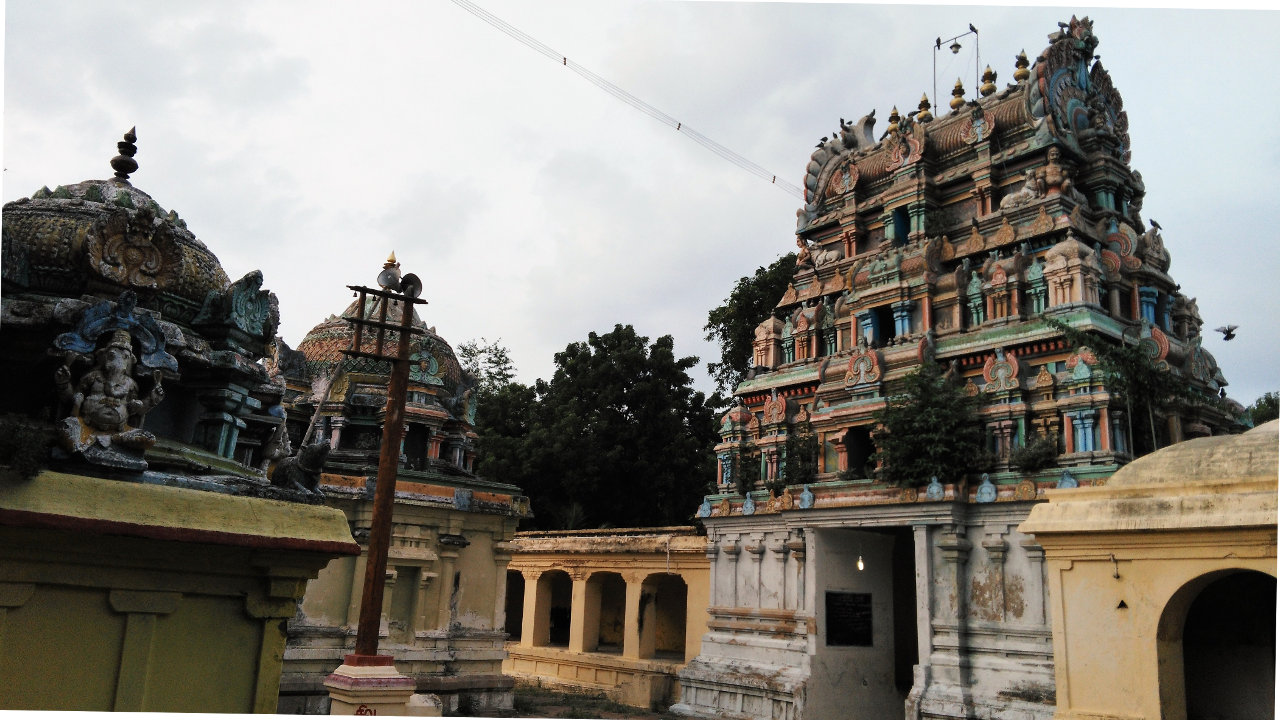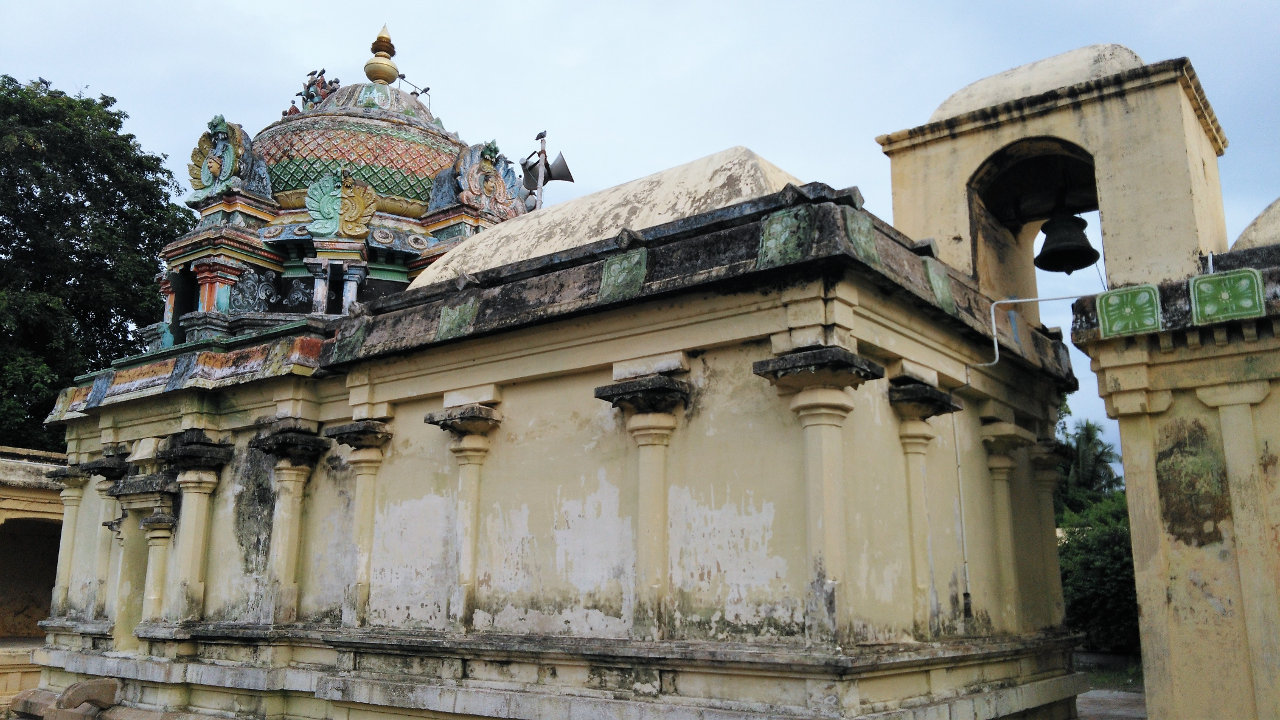 ---
Pathigam (Hymn) with English transliteration
Saint Thirugnanasambanthar visited this temple and sang this Pathigam.
Devotees visiting this temple should make it a practice to recite this Pathigam.
கருந்த டங்கணின் மாத ராரிசை
செய்யக் காரதிர் கின்ற பூம்பொழிற்
குருந்த மாதவியின் விரைமல்கு கோட்டாற்றில்
இருந்த எம்பெரு மானை யுள்கி
இணையடி தொழு தேத்தும் மாந்தர்கள்
வருந்து மாறறியார் நெறிசேர்வர் வானூடே.
"Karuntha ṭaṅkaṇiṉ mātha rārisai
seyyak kārathir kiṉtṟa pūmpozhiṟ
kuruntha māthaviyiṉ viraimalku kōṭṭātṟil
iruntha emperu māṉai yuḷki
iṇaiyaṭi thozhu thēththum māntharkaḷ
varunthu māṟaṟiyār neṟisērvar vāṉūdē".
நின்று மேய்ந்து நினைந்து மாகரி
நீரொ டும்மலர் வேண்டி வான்மழை
குன்றின் நேர்ந்துகுத்திப் பணிசெய்யுங் கோட்டாற்றுள்
என்றும் மன்னிய எம்பி ரான்கழல்
ஏத்தி வானர சாள வல்லவர்
பொன்று மாறறியார் புகழார்ந்த புண்ணியரே.
"Niṉtṟu mēynthu niṉainthu mākari
nīro ṭum'malar vēṇṭi vāṉmazhai
kuṉtṟiṉ nērnthukuththip paṇiseyyuṅ kōṭṭātṟuḷ
eṉtṟum maṉṉiya empi rāṉkazhal
ēththi vāṉara sāḷa vallavar
poṉtṟu māṟaṟiyār pukazhārntha puṇṇiyarē".
விரவி நாளும் விழாவி டைப்பொலி
தொண்டர் வந்து வியந்து பண்செயக்
குரவ மாரும்நீழற் பொழில்மல்கு கோட்டாற்றில்
அரவ நீள்சடை யானை யுள்கிநின்
றாத ரித்துமுன் அன்பு செய்தடி
பரவுமாறு வல்லார் பழிபற் றறுப்பாரே.
Viravi nāḷum vizhāvi ṭaippoli
thoṇṭar vanthu viyanthu paṇseyak
kurava mārumnīzhaṟ pozhilmalku kōṭṭātṟil
arava nīḷsaṭai yāṉai yuḷkiniṉ
tṟātha riththumuṉ aṉpu seythaṭi
paravumāṟu vallār pazhipat ṟaṟuppārē".
அம்பின் நேர்விழி மங்கை மார்பலர்
ஆட கம்பெறு மாட மாளிகைக்
கொம்பி னேர்துகி லின்கொடியாடு கோட்டாற்றில்
நம்ப னேநட னேந லந்திகழ்
நாதனே யென்று காதல் செய்தவர்
தம்பின் நேர்ந்தறியார் தடுமாற்ற வல்வினையே.
"Ampiṉ nērvizhi maṅkai mārpalar
āṭa kampeṟu māṭa māḷikaik
kompi ṉērthuki liṉkoṭiyāṭu kōṭṭātṟil
nampa ṉēnaṭa ṉēna lanthikaḻzh
nāthaṉē yeṉtṟu kāthal seythavar
thampiṉ nērnthaṟiyār thaṭumātṟa valviṉaiyē".
பழைய தம்மடி யார்து திசெயப்
பாரு ளோர்களும் விண்ணு ளோர்தொழக்
குழலும் மொந்தை விழாவொலி செய்யுங் கோட்டாற்றில்
கழலும் வண்சிலம் பும்மொ லிசெயக்
கானி டைக்கண மேத்த ஆடிய
அழக னென்றெழுவா ரணியாவர் வானவர்க்கே.
"Pazhaiya tham'maṭi yārthu thiseyap
pāru ḷōrkaḷum viṇṇu ḷōrthozhak
kuzhalum monthai vizhāvoli seyyuṅ kōṭṭātṟil
kazhalum vaṇsilam pum'mo liseyak
kāṉi ṭaikkaṇa mēththa āṭiya
azhaka ṉeṉtṟezhuvā raṇiyāvar vāṉavarkkē".
பஞ்சின் மெல்லடி மாத ராடவர்
பத்தர் சித்தர்கள் பண்பு வைகலும்
கொஞ்சி இன்மொழியாற் தொழில்மல்கு கோட்டாற்றில்
மஞ்ச னேமணி யேம ணிமிடற்
றண்ண லேயென வுள்நெ கிழ்ந்தவர்
துஞ்சு மாறறியார் பிறவார்இத் தொல்நிலத்தே.
"Pañchiṉ mellaṭi mātha rāṭavar
paththar siththarkaḷ paṇpu vaikalum
koñchi iṉmozhiyāṟ thozhilmalku kōṭṭātṟil
mañcha ṉēmaṇi yēma ṇimiṭaṟ
tṟaṇṇa lēyeṉa vuḷne kizhnthavar
thuñchu māṟaṟiyār piṟavār'ith tholnilaththē".
கலவ மாமயி லாளொர் பங்கனைக்
கண்டு கண்மிசை நீர்நெ கிழ்த்திசை
குலவு மாறுவல்லார் குடிகொண்ட கோட்டாற்றில்
நிலவு மாமதி சேர்ச டையுடை
நின்ம லாவென வுன்னு வாரவர்
உலவு வானவரின் உயர்வாகுவ துண்மையதே.
"Kalava māmayi lāḷor paṅkaṉaik
kaṇṭu kaṇmisai nīrne kizhththisai
kulavu māṟuvallār kuṭikoṇṭa kōṭṭātṟil
nilavu māmathi sērsa ṭaiyuṭai
niṉma lāveṉa vuṉṉu vāravar
ulavu vāṉavariṉ uyarvākuva thuṇmaiyathē".
வண்ட லார்வயற் சாலி யாலைவ
ளம்பொ லிந்திட வார்பு னல்திரை
கொண்ட லார்கொணர்ந் தங்குலவுந்திகழ் கோட்டாற்றில்
தொண்டெ லாந்துதி செய்ய நின்ற
தொழில னேகழ லால ரக்கனை
மிண்டெ லாந்தவிர்த் தென்னுகந்திட்ட வெற்றிமையே.
"Vaṇṭa lārvayaṟ sāli yālaiva
ḷampo linthiṭa vārpu ṉalthirai
koṇṭa lārkoṇarn thaṅkulavunthikazh kōṭṭātṟil
thoṇṭe lānthuthi seyya niṉtṟa
thozhila ṉēkazha lāla rakkaṉai
miṇṭe lānthavirth theṉṉukanthiṭṭa vetṟimaiyē".
கருதி வந்தடி யார்தொ ழுதெழக்
கண்ண னோடயன் தேட ஆனையின்
குருதி மெய்கலப்ப உரிகொண்டு கோட்டாற்றில்
விருதி னான்மட மாதும் நீயும்வி
யப்பொ டும்முயர் கோயில் மேவிவெள்
எருதுகந் தவனே இரங்காயுன தின்னருளே.
"Karuthi vanthaṭi yārtho zhuthezhak
kaṇṇa ṉōṭayaṉ thēṭa āṉaiyiṉ
kuruthi meykalappa urikoṇṭu kōṭṭātṟil
viruthi ṉāṉmaṭa māthum nīyumvi
yappo ṭum'muyar kōyil mēviveḷ
eruthukan thavaṉē iraṅkāyuṉa thiṉṉaruḷē".
உடையி லாதுழல் கின்ற குண்டரும்
ஊண ருந்தவத் தாய சாக்கியர்
கொடையி லாமனத்தார் குறையாருங் கோட்டாற்றில்
படையி லார்மழு வேந்தி யாடிய
பண்ப னேயிவ ரென்கொ லோநுனை
அடைகி லாதவண்ணம் அருளாயுன் னடியவர்க்கே.
"Uṭaiyi lāthuzhal kiṉtṟa kuṇṭarum
ūṇa runthavath thāya sākkiyar
koṭaiyi lāmaṉaththār kuṟaiyāruṅ kōṭṭātṟil
paṭaiyi lārmazhu vēnthi yāṭiya
paṇpa ṉēyiva reṉko lōnuṉai
aṭaiki lāthavaṇṇam aruḷāyuṉ ṉaṭiyavarkkē".
கால னைக்கழ லாலுதைத்தொரு
காம னைக்கன லாகச் சீறிமெய்
கோல வார்குழலாள் குடிகொண்ட கோட்டாற்றில்
மூல னைம்முடி வொன்றி லாதஎம்
முத்த னைப்பயில் பந்தன் சொல்லிய
மாலை பத்தும்வல்லார்க் கெளிதாகும் வானகமே.
"Kāla ṉaikkazha lāluthaiththoru
kāma ṉaikkaṉa lākach chīṟimey
kōla vārkuzhalāḷ kuṭikoṇṭa kōṭṭātṟil
mūla ṉaim'muṭi voṉtṟi lātha'em
muththa ṉaippayil banthaṉ solliya
mālai paththumvallārk keḷithākum vāṉakamē".