Visited on: 4th July, 2017
Location
Thiruppaigneeli is situated at a distance of about 20 kms from Trichy.
From Trichy, first reach Mannachanallur (11kms) and then proceed to Thiruppaigneeli (8 kms). Nearest railway station is Pitchandar Koil.
Other Devara Paadal Petra Shiv Sthalams near this place are – Thiruchirappalli (Tiruchy Malaikkottai), Thiruvanaikkaval, Thiruvasi, Anbilanthurai, Thirumanthurai, Thiruppatrurai, Mukkeecharam (Uraiyur), Thirupparaithurai, and Thiruverumbur.
General Information
Moolavar

Sri Gneelivaneswarar, Sri Chottrudaya Easwarar,
Sri Meignana Neelakandeswarar

Ambal

Sri Visalakshi, Sri Neelnedungkanni

Theertham (Holy water)

8 Theerthams (Vimalaranya river, Visalakshi, Yama, Kalyana, Agni, Deva, Appar and Maniankarunai).

Sthala Vriksham (Sacred Tree)

Kalvazhai – Plantain trees

Pathigam (Hymn) rendered by

Saint Thirugnanasambanthar, Saint Thirunavukarasar and Saint Sundaramurthy

This is one of the 276 Devara Paadal Petra Shiva Sthalams and 61st Shiva Sthalam on the northern bank of the river Cauvery in Chozha Nadu (Vadakarai).
Lord Shiva in this temple is a Swayambumurthi (self-manifested).
This is one of the 44 Paadal Petra Sthalams where the "Moovar" (the three saints - Saint Thirugnanasambanthar, Saint Thirunavukarasar (Appar) and Saint Sundaramurthy (Sundarar) had rendered their Pathigams.
Thiruppainjeeli is referred to as "South Kailash".
The uniqueness of this temple is that there is a shrine for Lord Yama (Lord of death).
This is one of the "Saptha Sthana" temples of Thiruvanaikkaval.
This is one of the famous "parikara sthalams" for conducting poojas to remove obstacles from marriage proposals and to seek child boon.
This east facing temple's main tower (Rajagopuram) is incomplete and its second tower has 3 tiers. This temple has four corridors.
The last consecration ceremony (Mahakumbabishekam) took place on 02.02.2017 and prior to that on 06.02.2003.
History of the Temple
This ancient temple is situated on the northern bank of the river Kollidam. This temple complex is spread over sprawling 12 acres of land.
The temple's main tower is believed to have been built by King Konerinmai Kondaan and it is only constructed up to the first tier.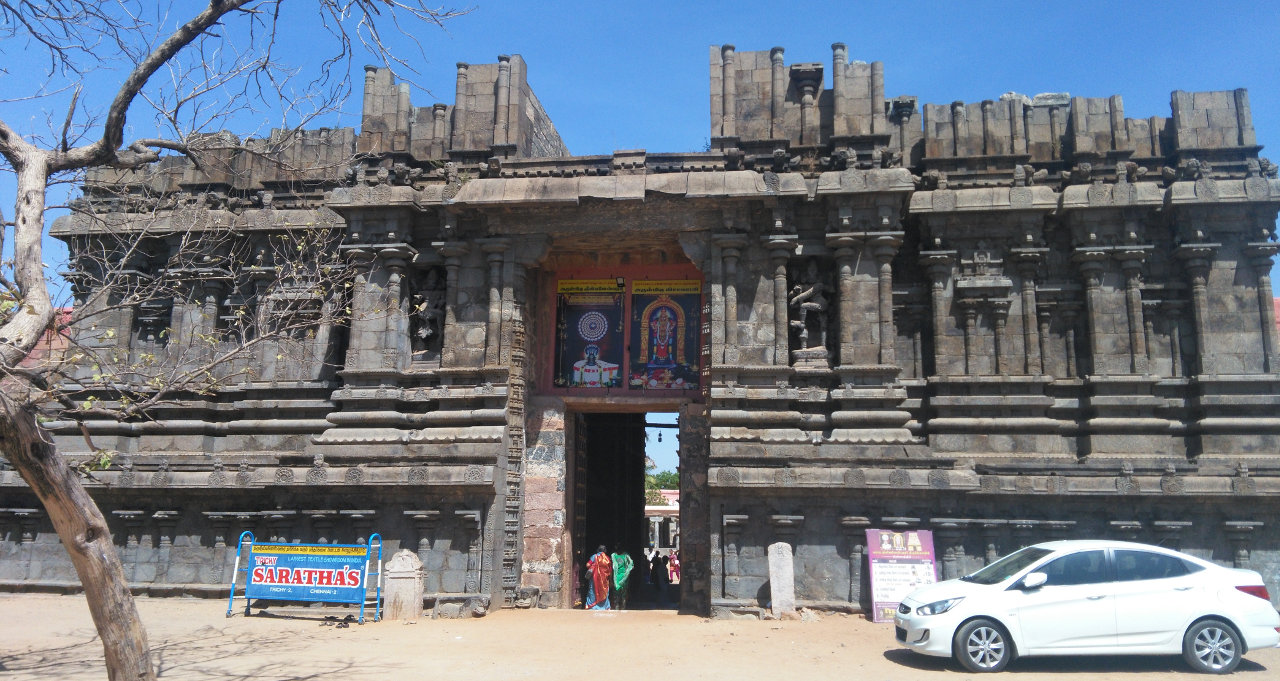 The stone inscriptions available in this temple date back to the periods of Chola kings Rajendran, Rajathirajan, Rajarajan and Konerinmai Kondaan.
Lord Yama's shrine is in the form of a cave ("Gunabaram") and is said to have been constructed by King Mahendra Varma Pallava in 640 AD.
As the Sthala Viruksham of this temple is the "Gneeli" plant, this place gets the name "Thiru Paingneeli". "Gneeli" is a variety of plantain and "Pain" means lush green. Other historical names of this place are – Kathalivanam, Arambaivanam, Vimalaaranyam, Muthumalai, Swethagiri and Viyakrapuri.
Legend
It is believed that Goddess Parvathy, Mahavishnu, Indiran, Kamadhenu, Adhiseshan, Vayu, Agni, Ram, Arjuna, Vashista, Sudhama Munivar, Sapta Rishis, King Musukunda Chola, King Kaliyugarama Pandiyan, Viyakirasuran, Sivamithiran, Padumakarpan, Sutharman and Ankamithiran have worshipped Lord Shiva in this temple.
Lord Shiva here has many names – it is believed that the lord has 43 names – few of them are Kathalivasanthar, Sakrathiyagar, Aaranyavidankar, Neelakandar and Gneelivananathar.
Lord Yama
As per the sthala puranam, Lord Shiva reinstated Lord Yama here after he was vanquished in order to save Markendaya's life in Thirukadaiyur. The legend is that after Lord Yama's death, his work had stopped and there was no one to take care of the cycle of life and death. Lord Mahavishnu, Bramha, Bhoomadevi, and Devas came to this temple and urged Lord Shiva to give rebirth to Yama. Lord Shiva gave rebirth to Yama on the day of Thai Poosam and gave him the powers to restart his work. Hence the lord here is praised as "Sri Adhikaravallavar ("athikaram" means power in Tamil).
Inside Lord Adhikaravallavar's shrine, Lord Shiva and Goddess Parvathi can be seen along with Murugan in between them as Somaskantha. Lord Yama can be seen in the form of a child under Lord Shiva's feet. Near the ceiling, on either side of Lord Shiva's idol, Suryan and Chandran can be seen fanning the lord with a "Samaram". This shrine is known as "Yama Dharmaraja" temple.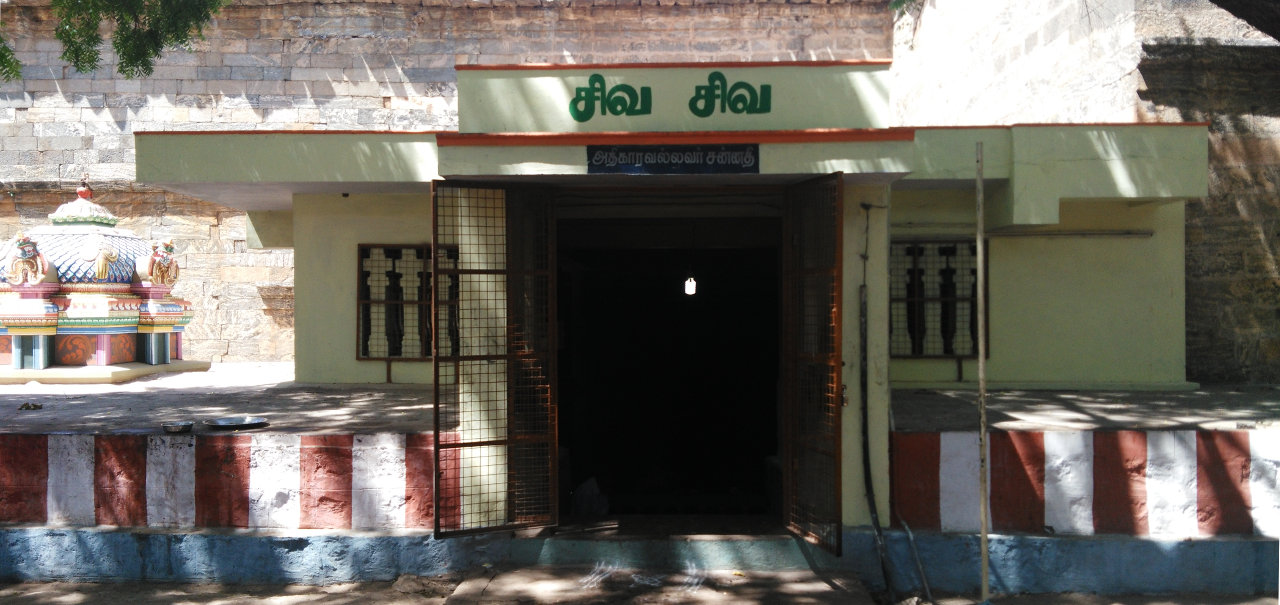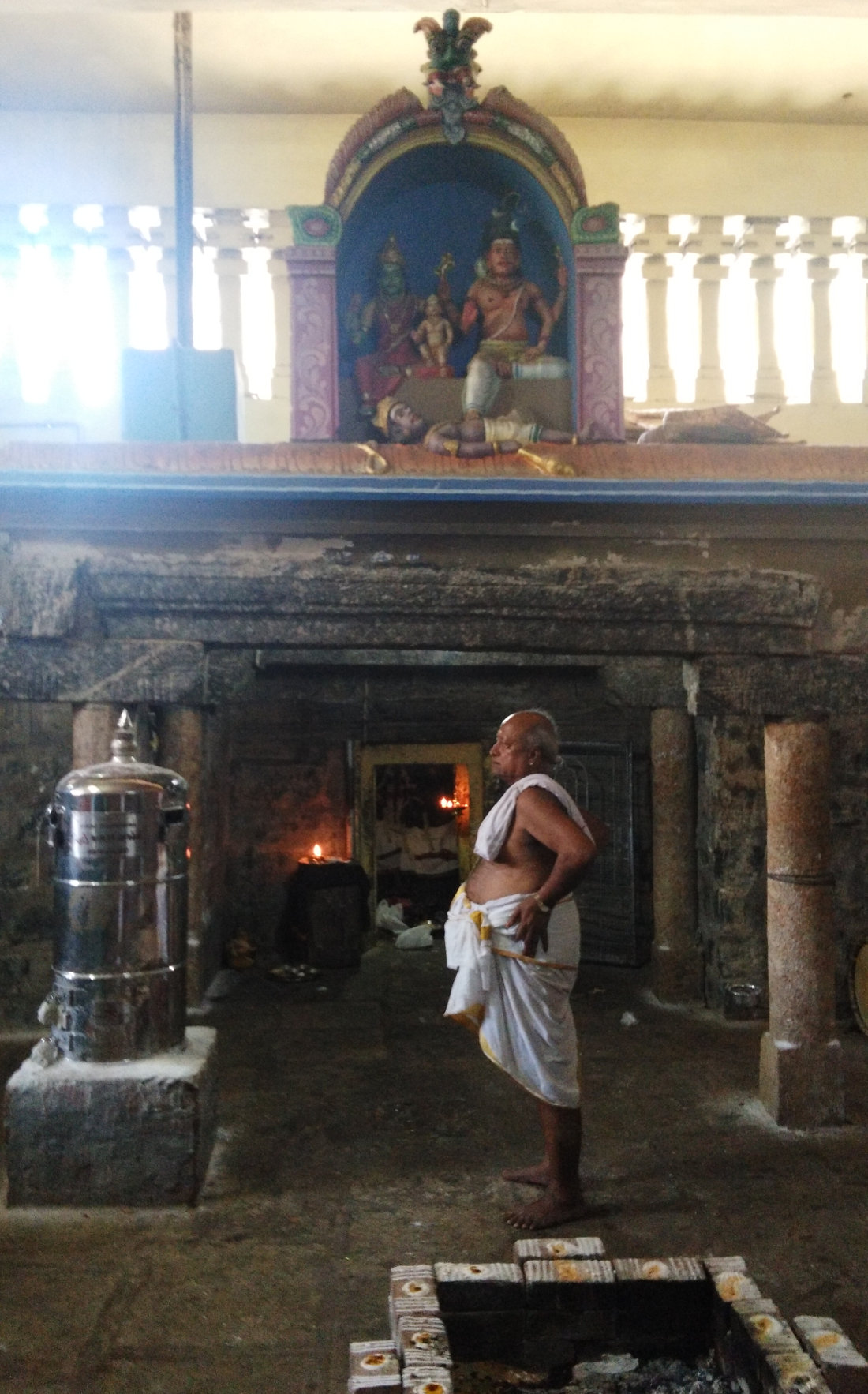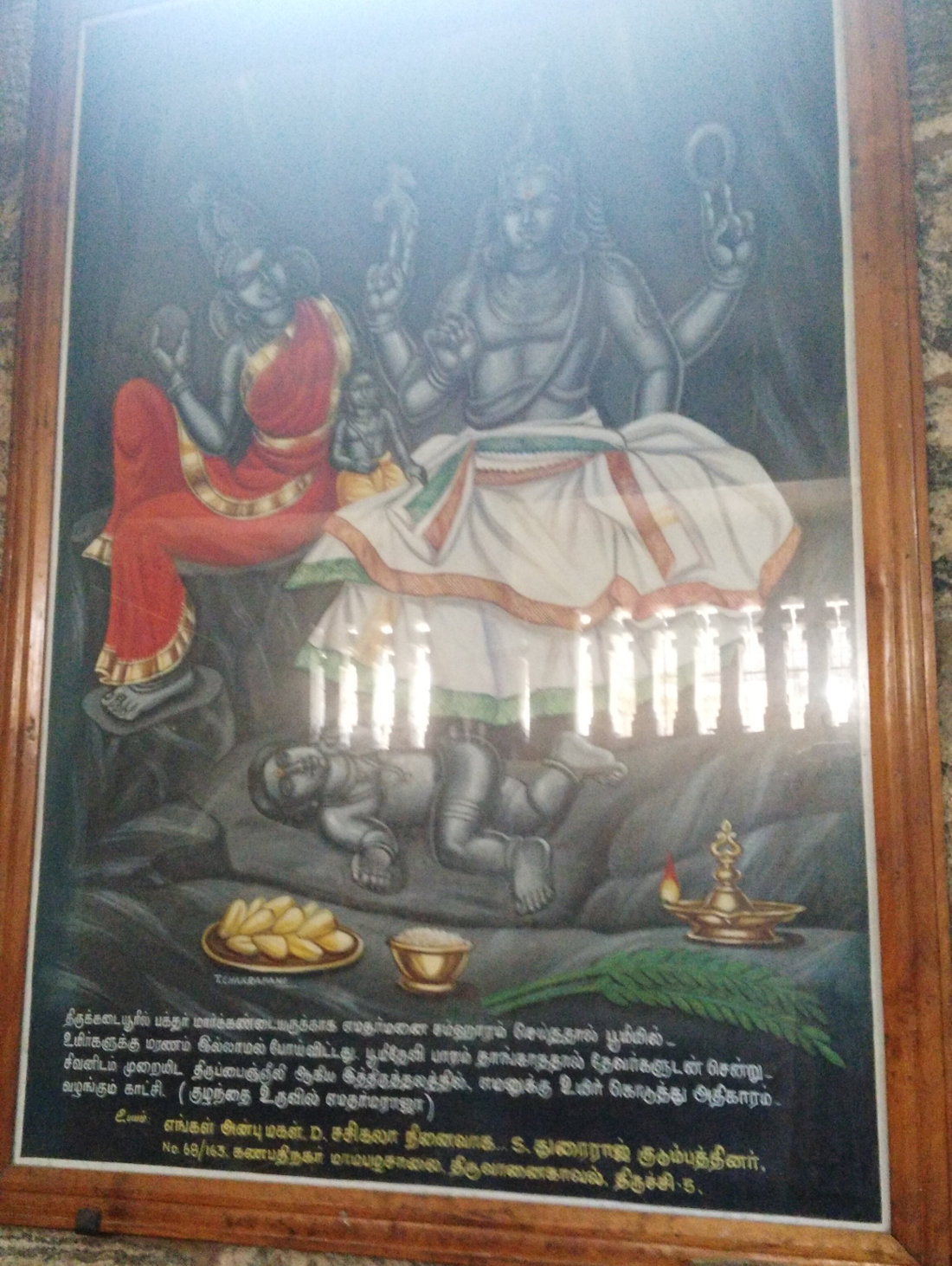 Lord Shiva's cosmic dance
According to legend, sages Viyakirapathar and Pathanjali went to Mount Kailash to see Lord Shiva's dance but the lord directed them to go Chidambaram instead. In Chidambaram, it is believed that the lord gave his Nataraja dharisanam on the day of "Thai Poosam". The place where he performed his dance is known as Rathina Sabha.
When sage Vashistar came to know of this incident, he reached Mount Kailash and requested Lord Shiva to give him the opportunity to watch his dance. Lord Shiva advised him to go to "Gneelivanamakiya Thiruppaigneeli". When he reached this place, Sage Vashistar was blessed with Lord Shiva's dance performance in this temple. There is a Rathina Sabha in this temple also. This temple is also known as "Melai Chidambaram".
It is believed that Lord Ram visited this temple on the advice of Sage Vashistar to worship Lord Shiva before going to Lanka.
Sthala Viruksham
It is believed that Goddess Parvathi visited this place and worshiped the lord. The Seven virgins (Saptha Kannikas) - Brahmi, Maheshwari, Gaumari, Vaishnavi, Varahi, Indrani and Chamundi came to this place before their wedding to seek the darshan of Goddess Parvathy. The goddess appeared before them and blessed them that they would be married soon to suitable grooms. The goddess also granted them the boon of staying here in the form of plantain trees to continually receive her darshan. Accordingly, they left their worldly form here in the form of plantain trees which then became the "sthala viruksham" of this temple.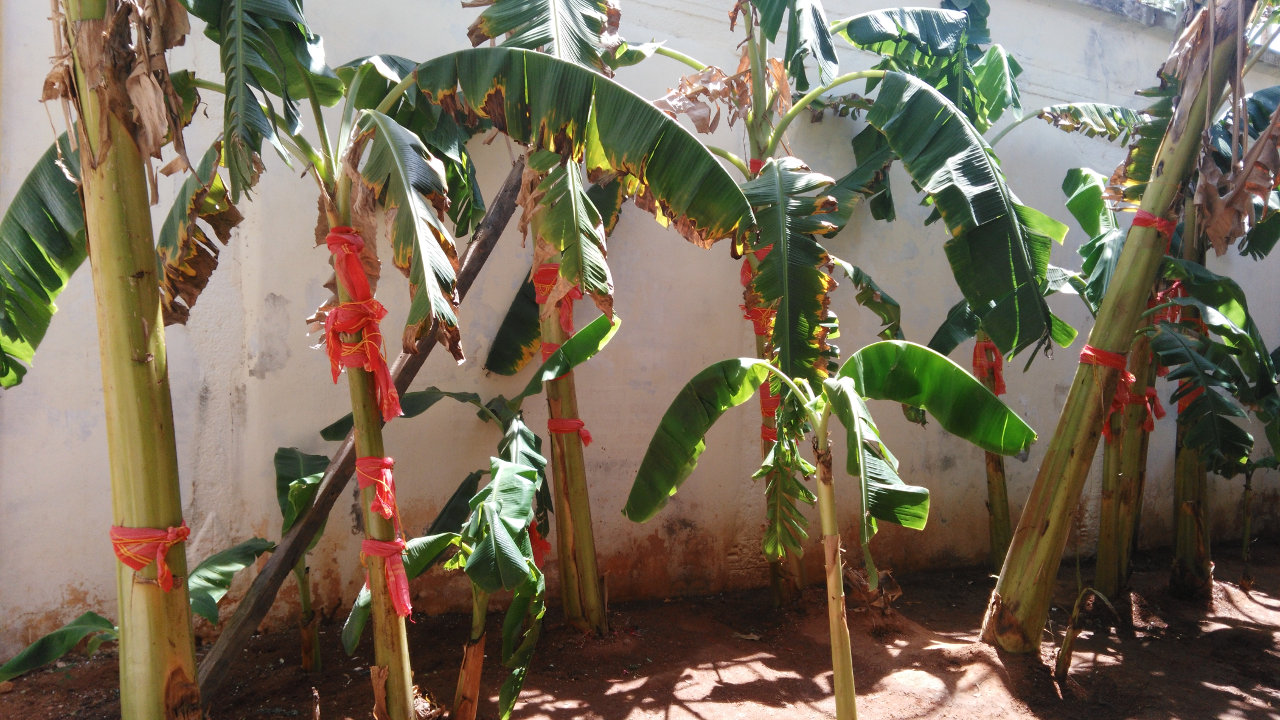 Then Kailasam (South Kailash)
As per mythology, Adhisheshan (the serpent on whom Sri Mahavishnu rests) and Vayu (lord of the winds) fought among themselves frequently to test their superiority. During one such struggle, Adhiseshan encircled Mount Kailash and Vayu tried to break his hold by creating a "santamarutham" (Tornado). Because of this tornado, 8 parts ("Kodumudigal") fell from Mount Kailash into 8 different places on the earth. These places are - Thirugonamalai, Thirukalahasthi, Thiruchiramalai, Thiruenkoimalai, Rajathagiri, Neerthagiri, Ratnagiri, and Swethagiri. Swethagiri is known as Thiruppaigneeli. As this place is believed to have originated from Mount Kailash, it is called "Then Kailasam" ("then" means South in Tamil).
Saint Thirunavukkarasar (Appar)
Saint Thirunavukkarasar (Appar) was on his way to worship Lord Gneelivana Nathar in Thiruppaigneeli. However, due to the oppressive heat, he became exhausted and hungry. A priest appeared before him and asked him where he was going. Appar replied that he was proceeding to Gneelivana Nathar's temple. Noticing how tired and hungry Appar was, the priest offered him the rice ("kattamudhu") which he was carrying. He also told him to take water from a tank nearby. He further told Appar that he would take him to the temple. After Appar ate the food, both of them proceeded to the temple.
As soon as they reached the temple, the priest disappeared and Lord Shiva gave him dharshan along with Goddess Parvathi seated on his bull mount (Rishaba Vakanam). Hence Lord Shiva here is also known as "Sri Chottrudaya Easwarar" - the lord who offered rice ("choru" means rice in Tamil). This event is celebrated every year on the day of Avittam star, in the Tamil month of Chithirai (Apr-May). The tank near which Lord Shiva appeared and offered food and water to Appar can still be seen near the temple.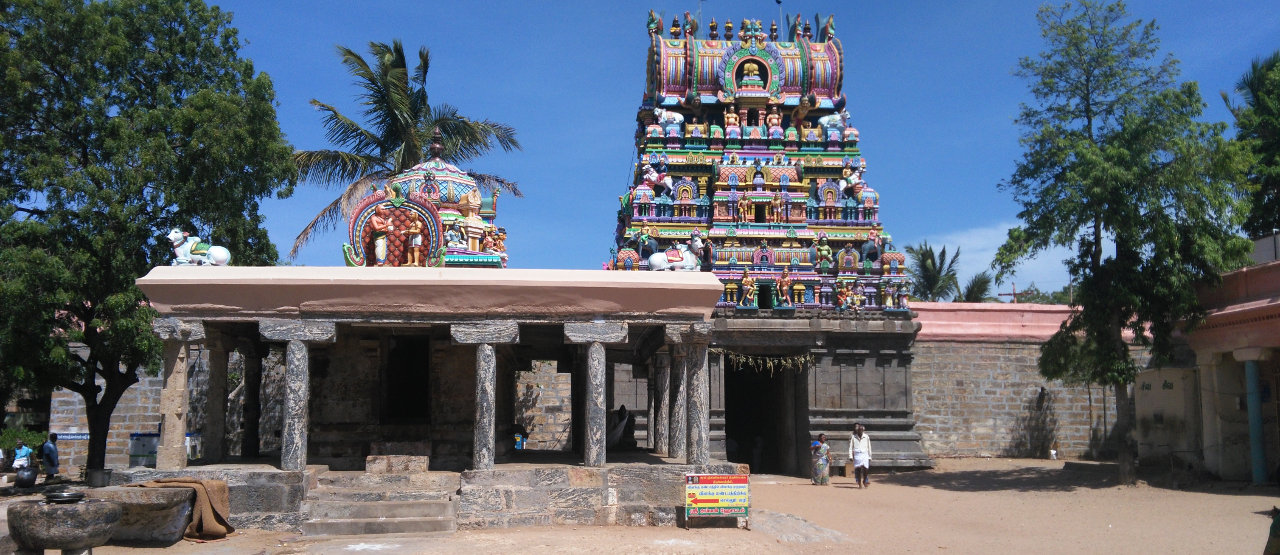 King Kaliyugarama Pandiyan
It is believed that King Kaliyugarama Pandiyan of Madurai came to this place and worshiped the lord to seek relief from his ailments. He prayed to the lord for eight days after taking a dip in each of the temple's eight different holy waters. It is believed that he was cured of his illness.
Deities in the temple
Other than the shrines of Lord Shiva and Goddess Parvathy, there are shrines and idols of lords Vasantha Vinayakar, Adhikaravallavar, Chotrudaya Easwarar, Vinayakar, Murugan, Natarajar, Somaskandar, Dakshinamurthy, Arthanareeswarar, Brahma, Durgai, Kasi Viswanathar, Mahavishnu, Mahalakshmi, Sabtha Mathakkal and Sudama Munivar in the corridors.
There are idols of guardian deities of Chinnandavar and Periyandavar in the corridors.
There is no Navagraham in this temple.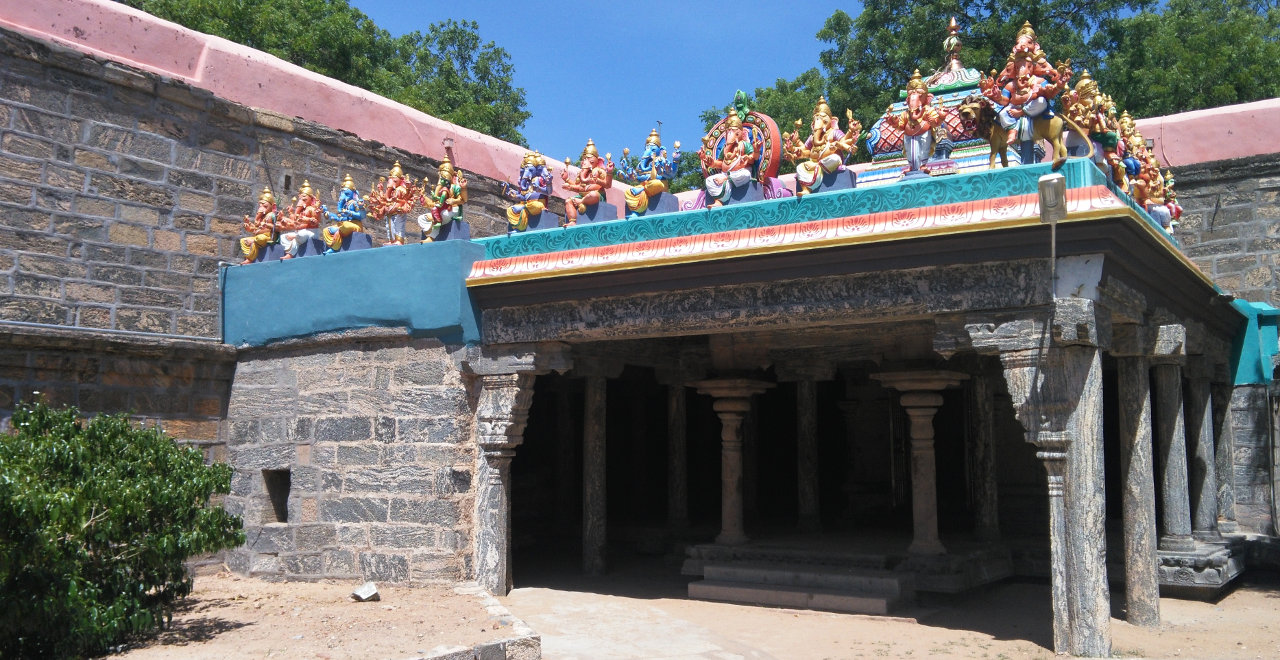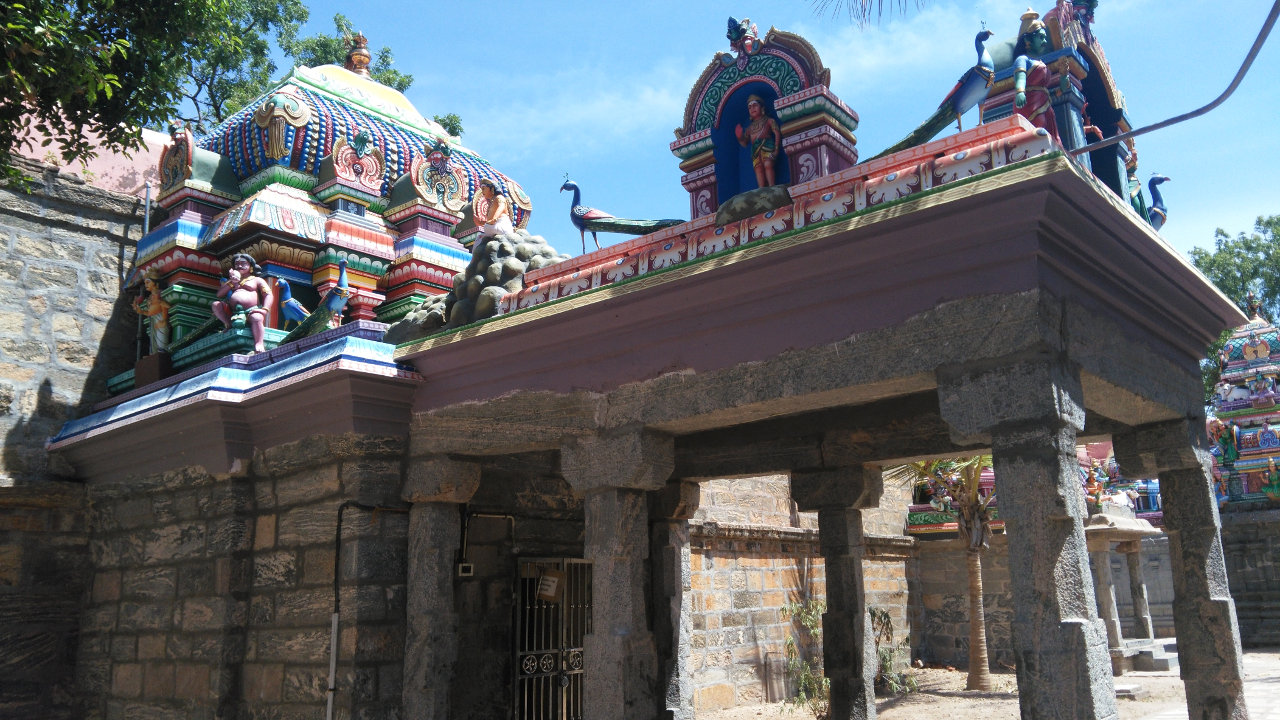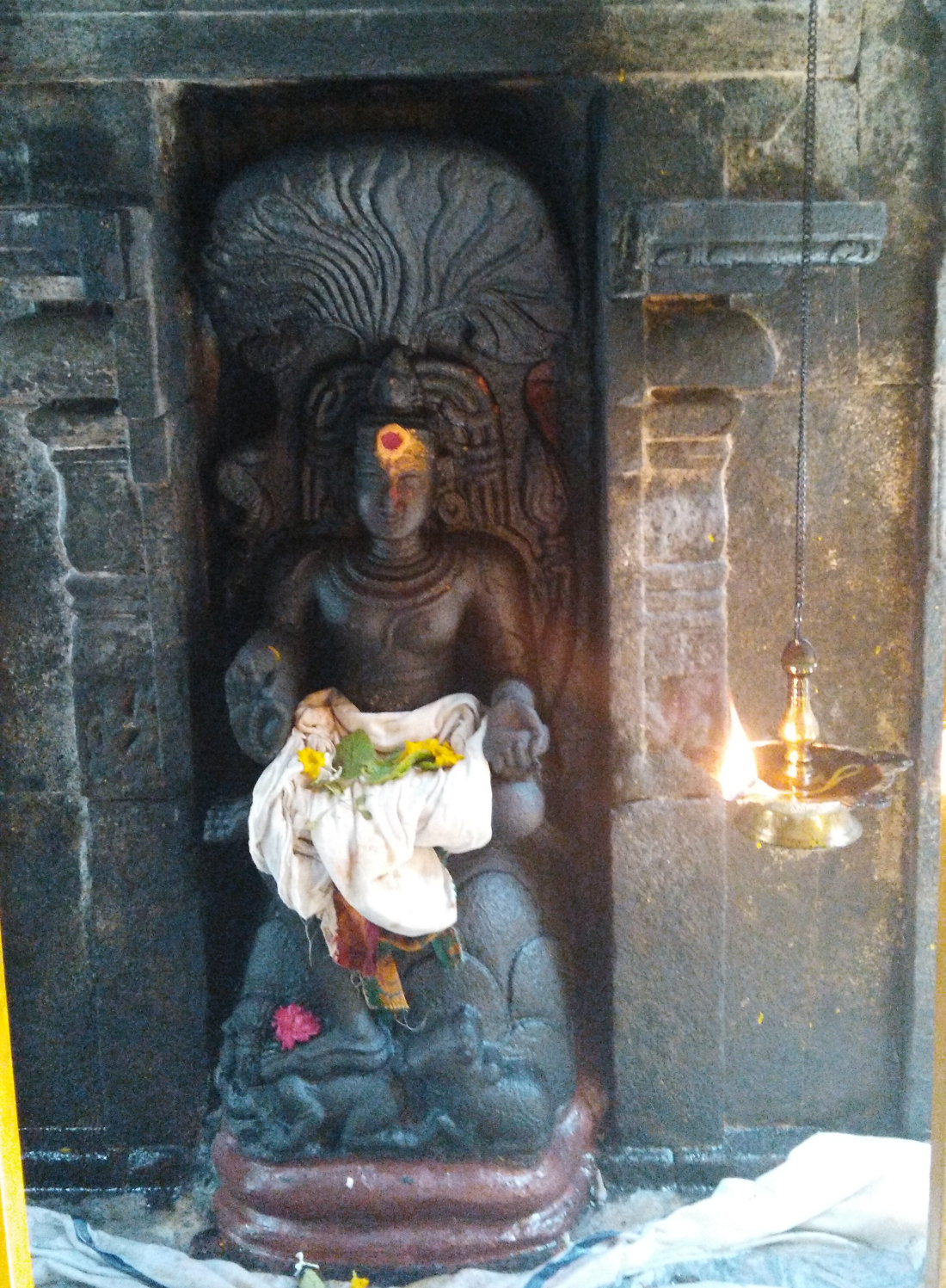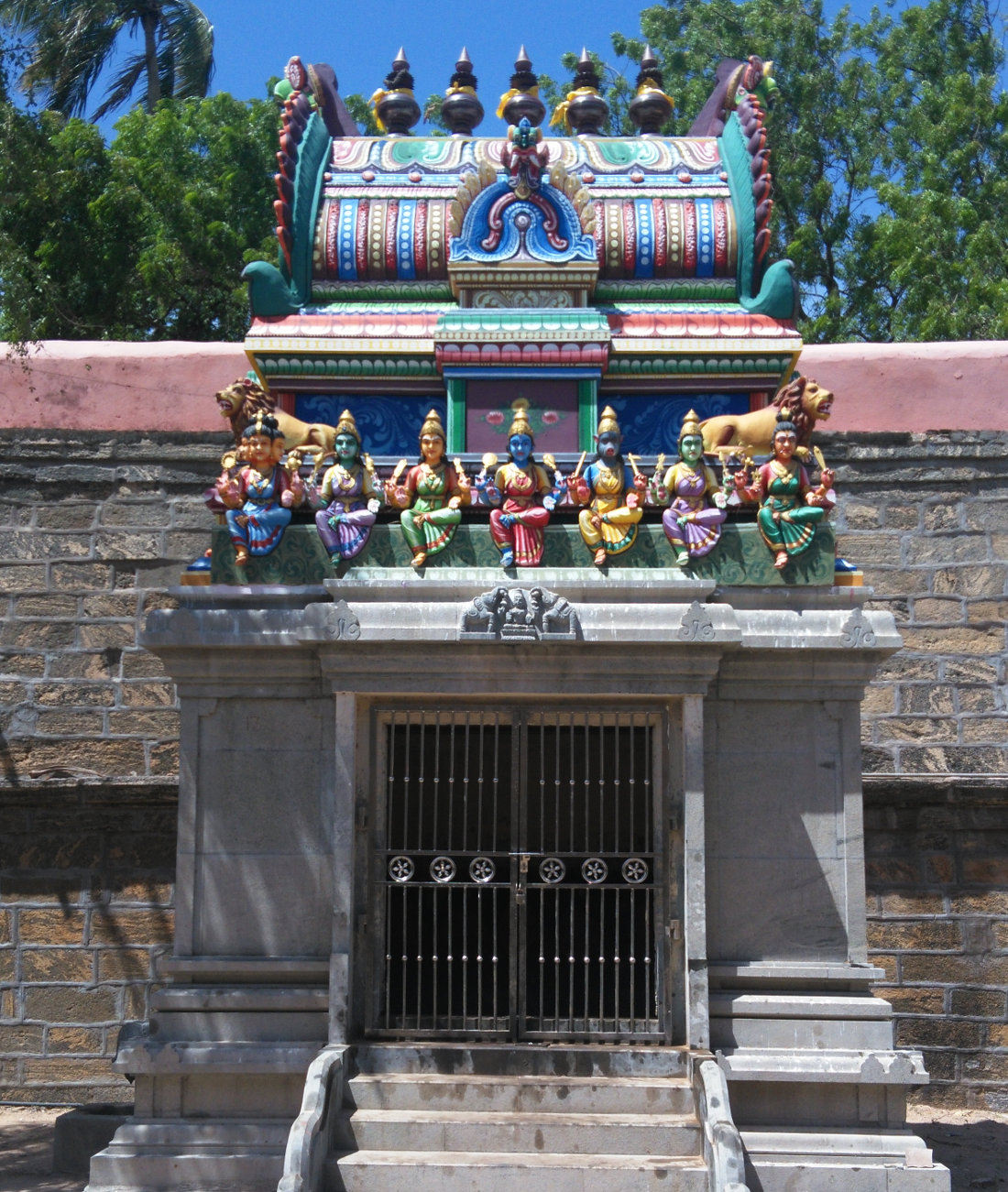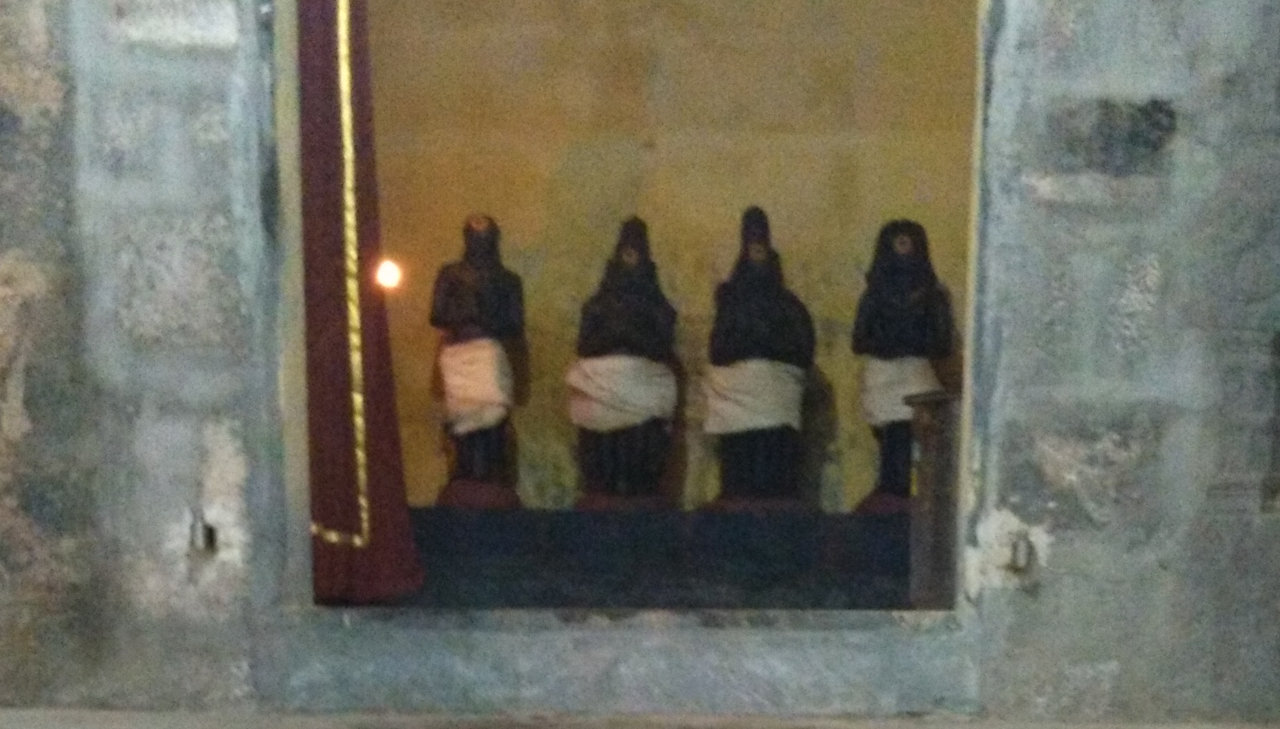 Salient Features
It is believed that Lord Suryan (Sun) worships Lord Shiva of this temple by directing his rays on the lingam in the Tamil months of Purattasi (September-October) and Panguni (March-April).
There are two shrines for Goddess Parvathy in this temple.
There is no separate Navagraham here as Lord Yama is considered as their lord. However, the 9 steps from "Ravana gate" to Lord Shiva's shrine and the 9 holes in front of the Nandhi are considered to be the Navagrahas in this temple.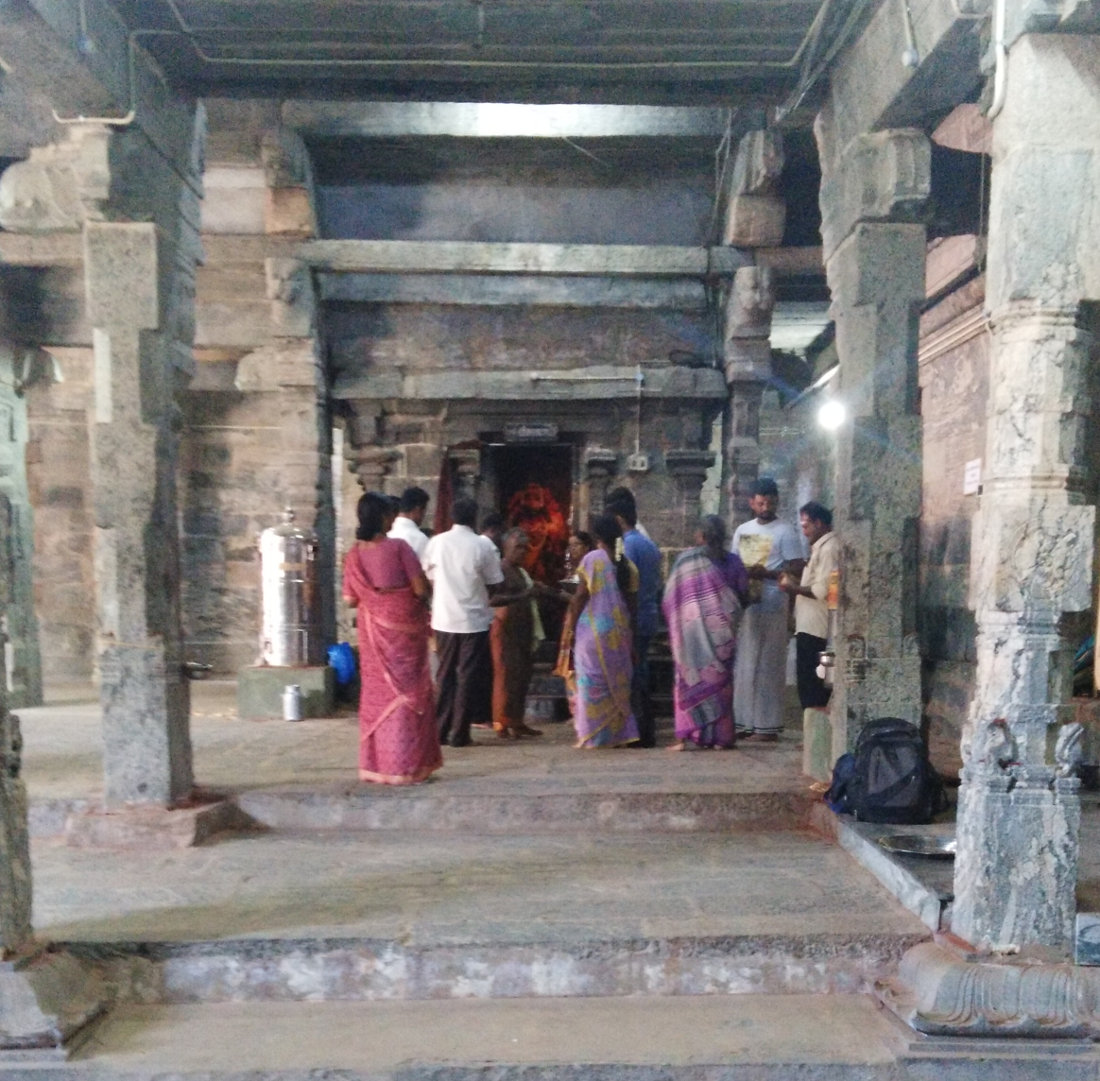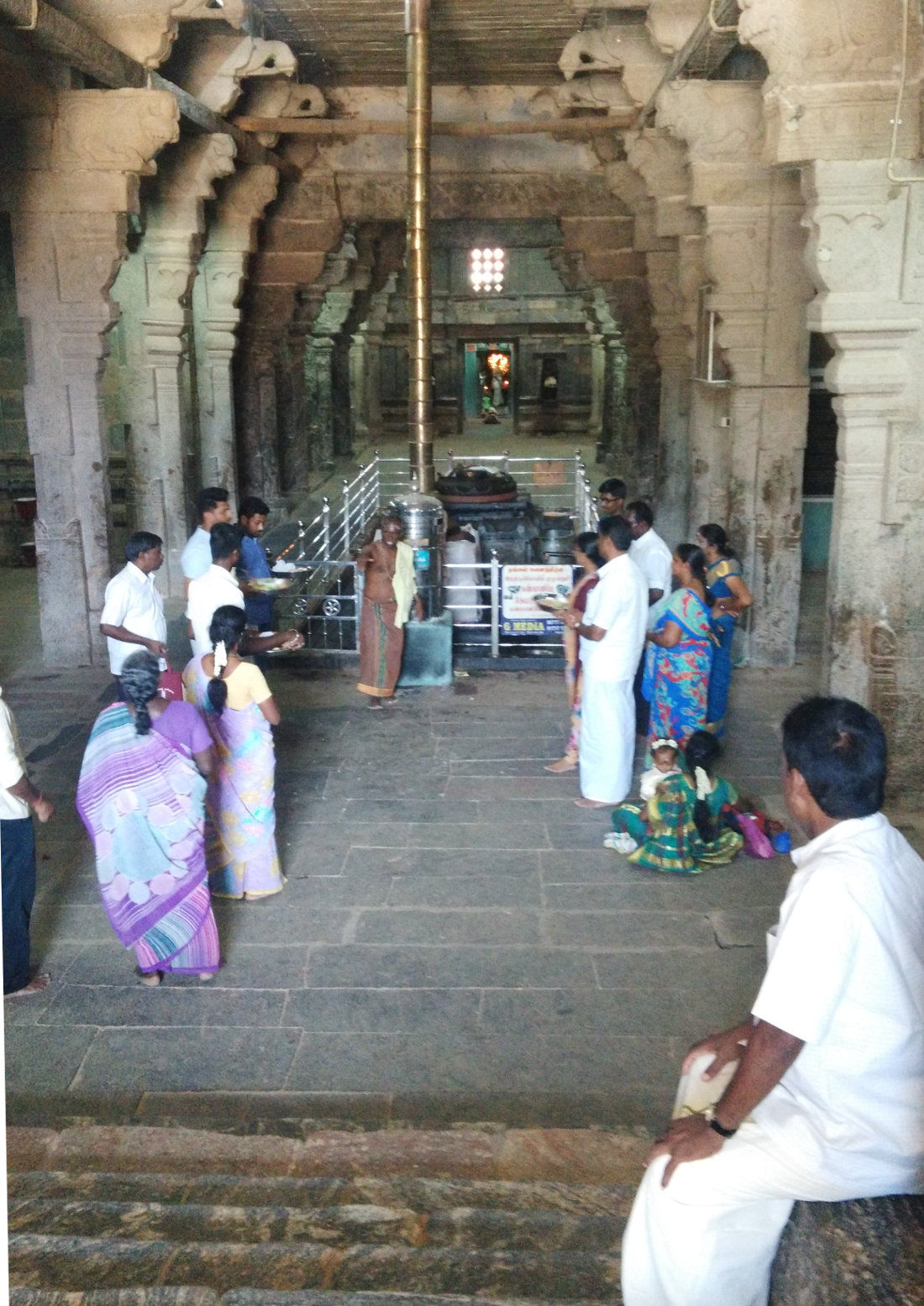 It is believed that the Nandhi near the flag post (Kodimaram) is Swayambu (self-manifested).
The temple's Sthala Viruksham (Gneeli) does not grow anywhere else.
The Vimanam above the sanctum sanctorum is called "Badra Vimanam".
Some of the stones in this temple have stripes like that on a tiger. Stones of this particular variety can only be found in this village.
Inside Lord Vinayakar's shrine there are idols of Lord Shiva and Lord Mahavishnu (Senthamarai Kannan). Lord Dakshinamurthy of this temple is seen with Nandhi under his feet. These are two occurrences that is unique to this temple.
Soothama Munivar performed penance in this temple for many years and attained salvation. His "Jeeva Samadhi" (tomb) can be seen in the outer corridor.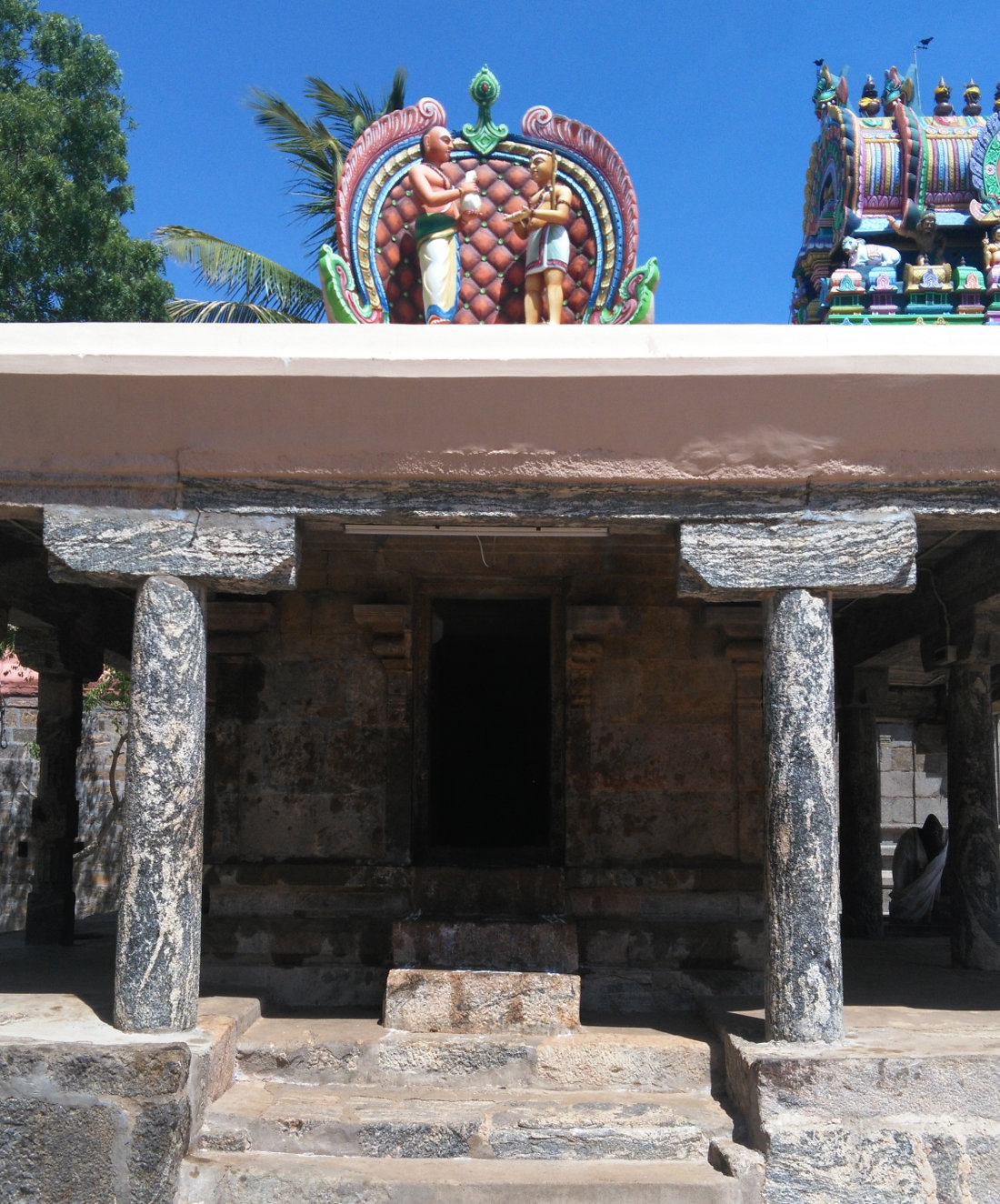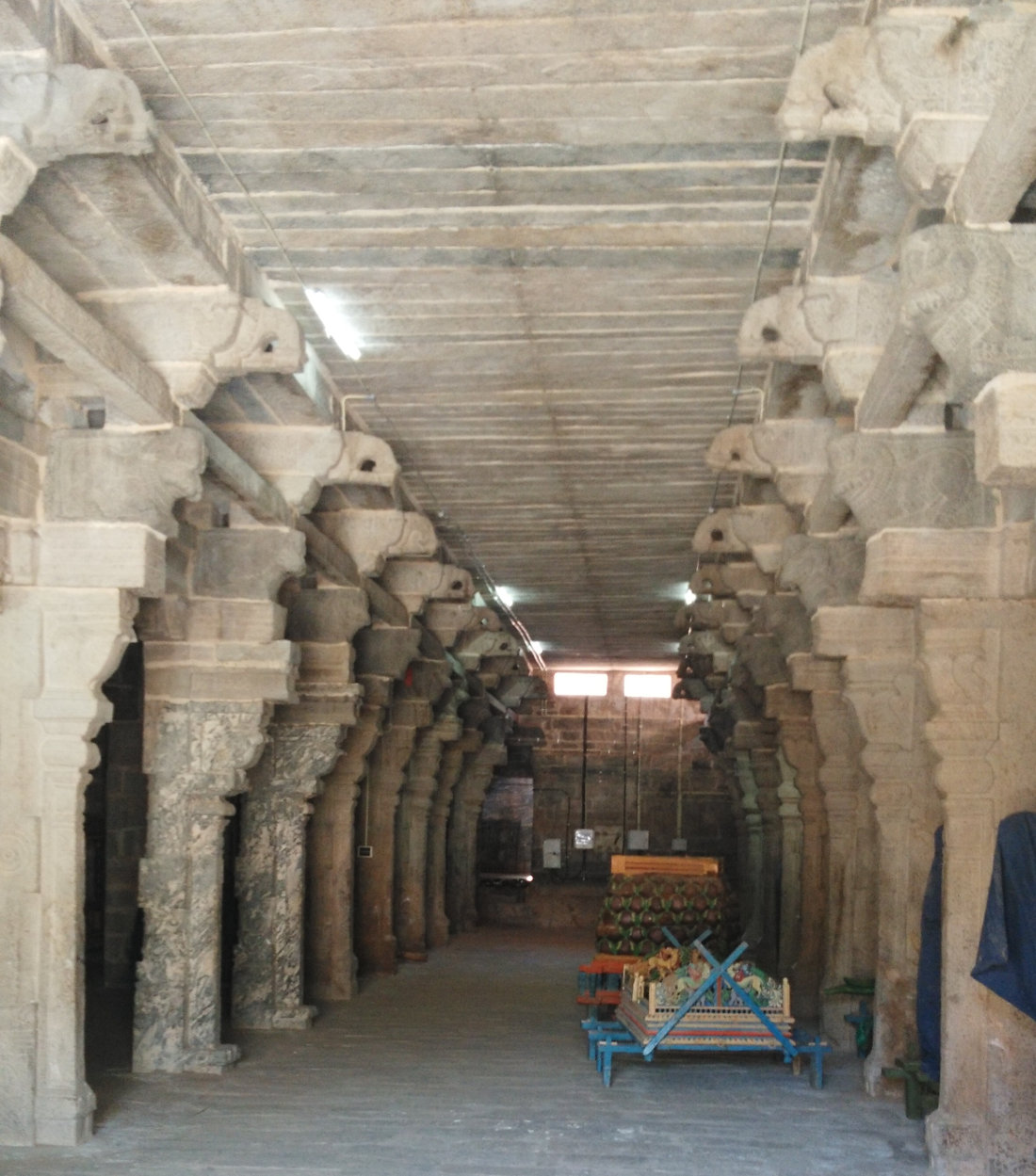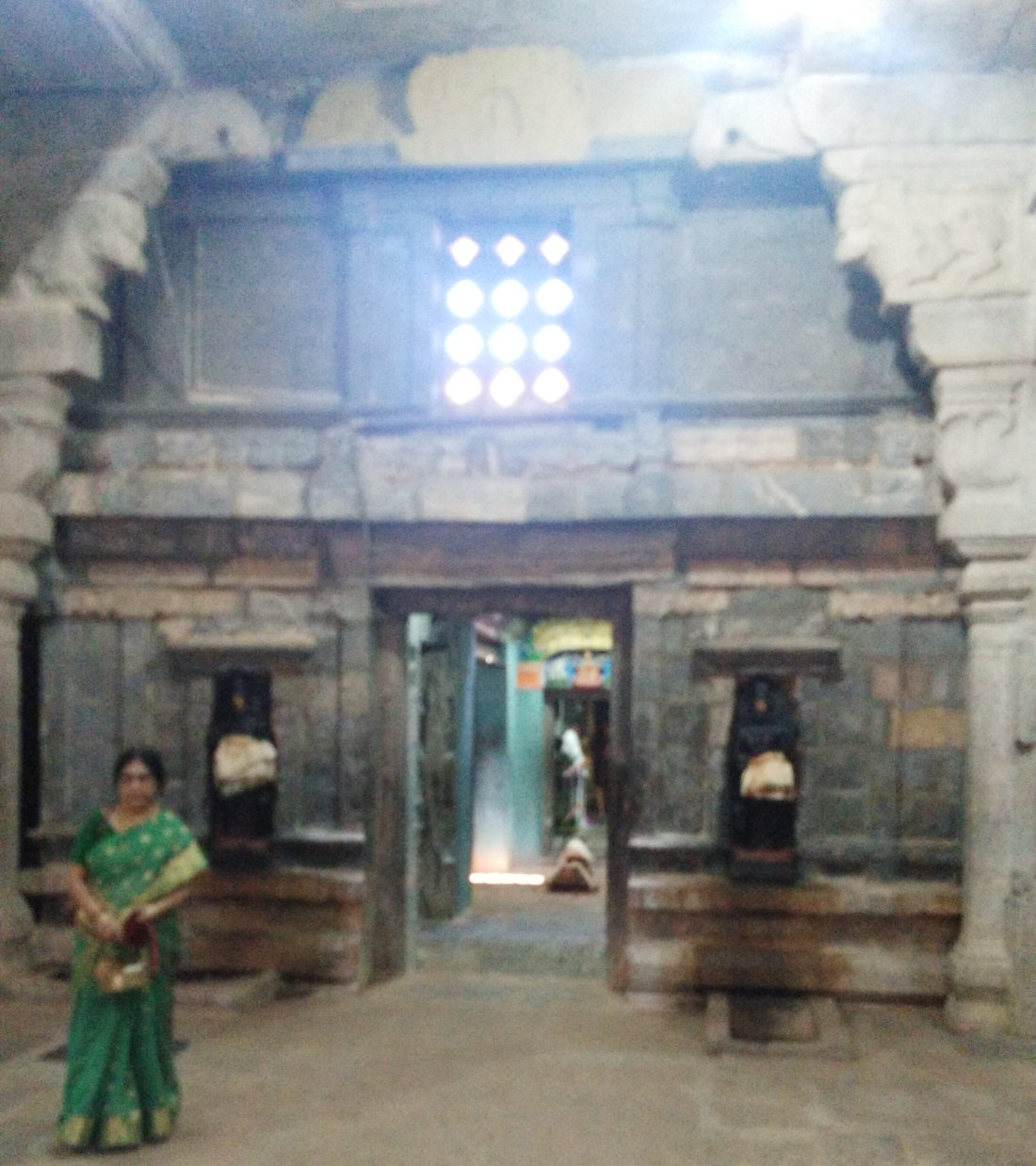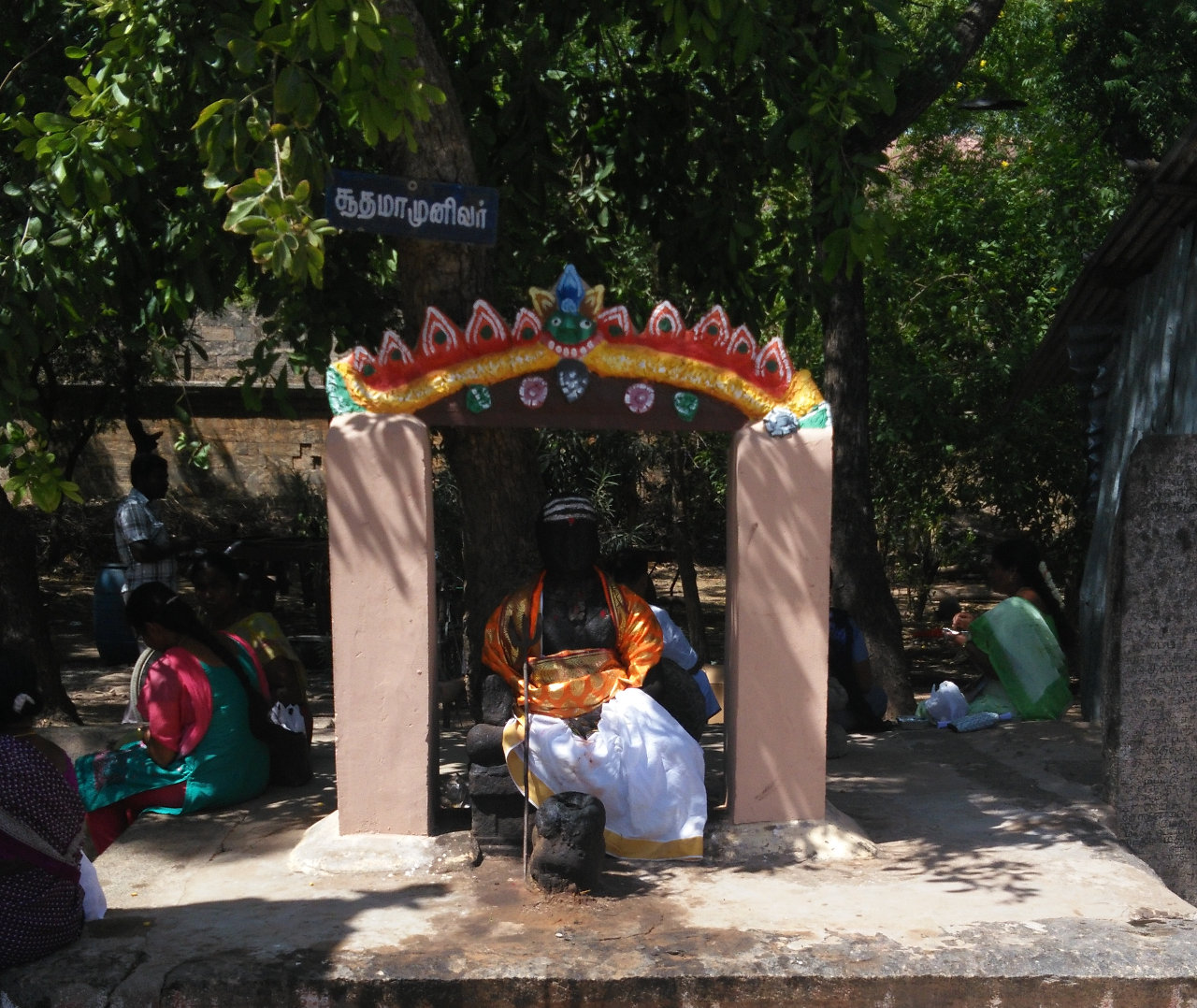 Greatness of this temple
Devotees perform poojas in Lord Yama's shrine on their 60th and 80th birthdays for a long and prosperous life.
As per Sthala Puranam, Devakanniyarkal (virgins) represent the sacred trees of this temple. It is believed that those facing obstacles in their marriage proposals can perform poojas here by tying a "mangal sutra" on the trees. It is also believed that those seeking "santhana prapthi" (child boon) can offer poojas to the sthala viruksham here.
Since Lord Yama's position was reinstated here, devotees believe that worshiping Lord Shiva here would give them back their lost fortunes.
Important Festivals
Some of the important festivals celebrated in this temple are –
Special pujas to Lord Yama on the day of Poosam star in the Tamil month of Thai (Jan-Feb);
Shivrathri in the Tamil month of Masi (Feb-Mar);
10-day Chithirai Brahmotsavam in the Tamil month of Chithirai (April-May);
Thirunavukkarasar (Appar) Guru Puja;
Vinayakar Chaturthi in the Tamil month of Aavani (Aug-Sept); and
Navarathri in the Tamil month of Purattasi (Sept-Oct).
Pradosham is also observed regularly.
Temple Timings
From 06.30 AM to 01.00 PM and from 04.00 PM to 08.00 PM.
Temple Address
Shri Gneelivaneswarar Temple,
Thiruppainjeeli,
Mannachanallur Taluk,
Trichy District,
Tamil Nadu- 621005.

Tele: +91- 431 - 2902654, 2560011, 2560813, 9790107474.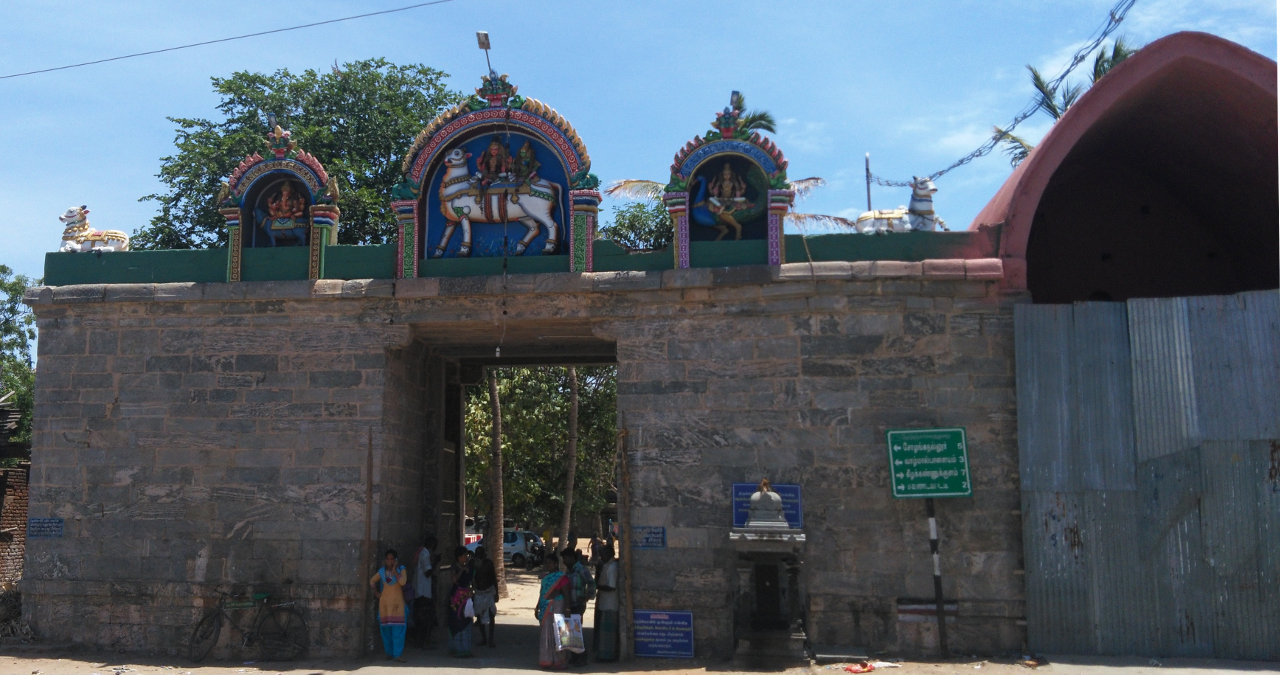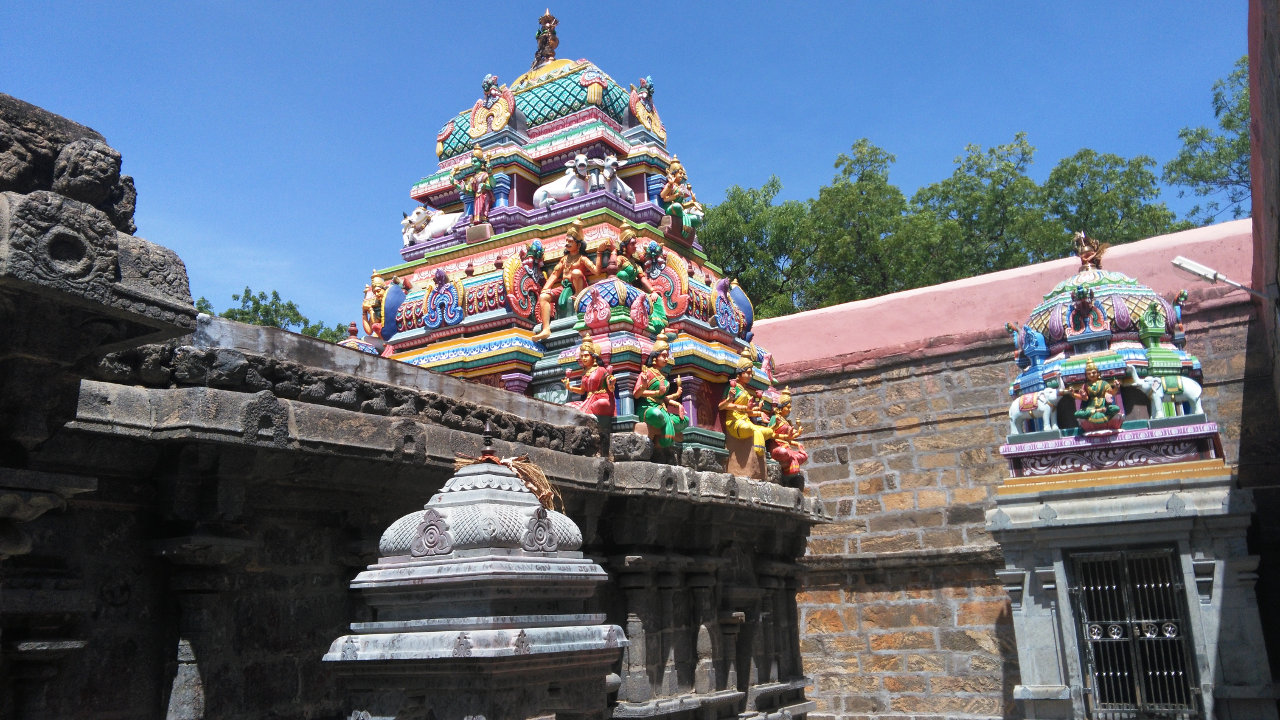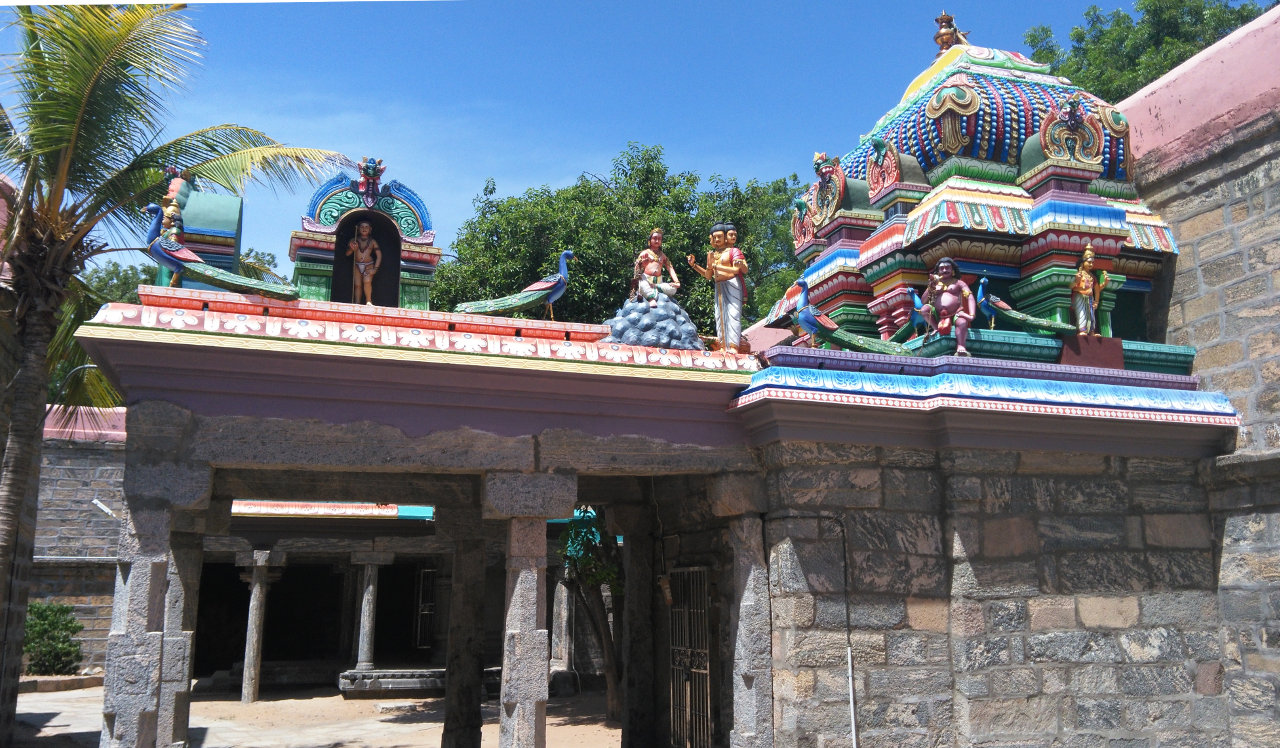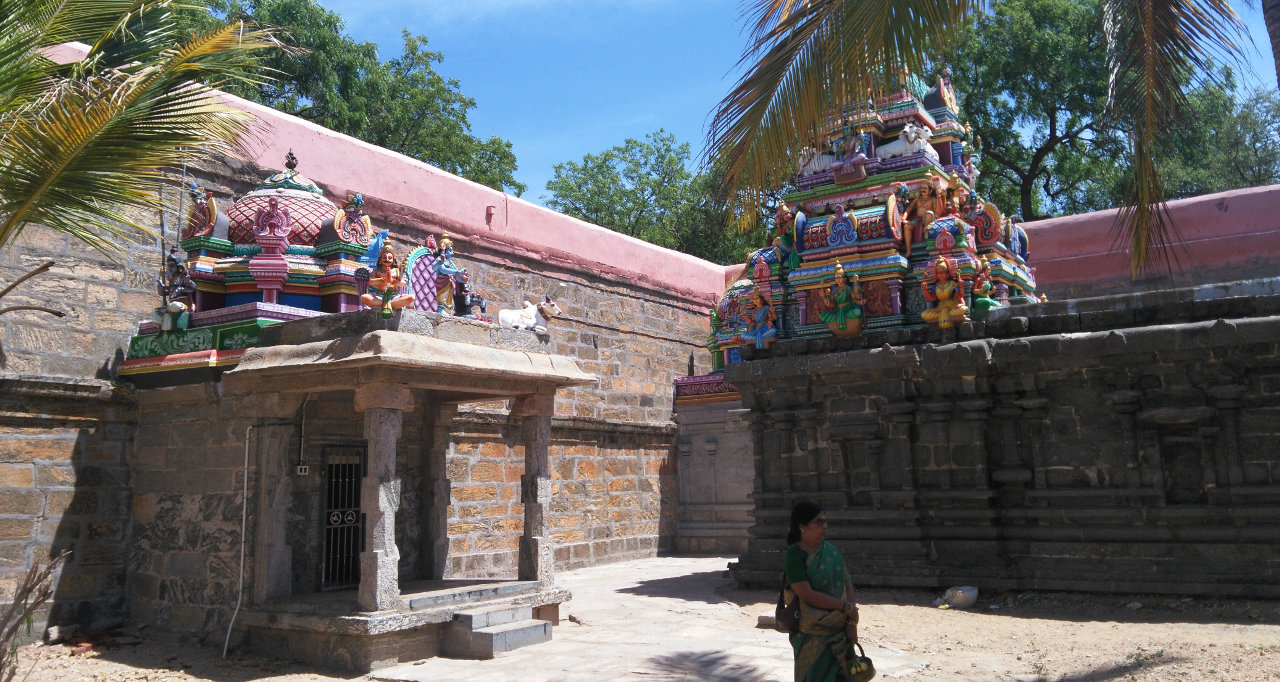 ---
Pathigam (Hymn) with English transliteration
Saint Thirugnanasambanthar visited this temple and sang this Pathigam.
Devotees visiting this temple should make it a practice to recite this Pathigam.
ஆரிடம் பாடிலர் அடிகள் காடலால்
ஓரிடங் குறைவிலர் உடையர் கோவணம்
நீரிடஞ் சடைவிடை யூர்தி நித்தலும்
பாரிடம் பணிசெயும் பயில்பைஞ் ஞீலியே.
"Āriṭam pāṭilar aṭikaḷ kāṭalāl
ōriṭaṅ kuṟaivilar uṭaiyar kōvaṇam
nīriṭañ saṭaiviṭai yūrthi niththalum
pāriṭam paṇiseyum payilpaiñ gñīliyē".
மருவிலார் திரிபுரம் எரிய மால்வரை
பருவிலாக் குனித்தபைஞ் ஞீலி மேவலான்
உருவிலான் பெருமையை உளங்கொ ளாதவத்
திருவிலார் அவர்களைத் தெருட்ட லாகுமே.
"Maruvilār thiripuram eriya mālvarai
paruvilāk kuṉiththapaiñ gñīli mēvalāṉ
uruvilāṉ perumaiyai uḷaṅko ḷāthavath
thiruvilār avarkaḷaith theruṭṭa lākumē".
அஞ்சுரும் பணிமலர் அமுதம் மாந்தித்தேன்
பஞ்சுரம் பயிற்றுபைஞ் ஞீலி மேவலான்
வெஞ்சுரந் தனிலுமை வெருவ வந்ததோர்
குஞ்சரம் படவுரி போர்த்த கொள்கையே.
"Añchurum paṇimalar amutham mānthiththēṉ
pañchuram payitṟupaiñ gñīli mēvalāṉ
veñchuran thaṉilumai veruva vanthathōr
kuñcharam paṭavuri pōrththa koḷkaiyē".
கோடல்கள் புறவணி கொல்லை முல்லைமேல்
பாடல்வண் டிசைமுரல் பயில்பைஞ் ஞீலியார்
பேடலர் ஆணலர் பெண்ணும் அல்லதோர்
ஆடலை யுகந்தஎம் அடிகள் அல்லரே.
"Kōṭalkaḷ puṟavaṇi kollai mullaimēl
pāṭalvaṇ ṭisaimural payilpaiñ gñīliyār
pēṭalar āṇalar peṇṇum allathōr
āṭalai yukantha'em aṭikaḷ allarē".
விழியிலா நகுதலை விளங்கி ளம்பிறை
சுழியிலார் வருபுனற் சூழல் தாங்கினான்
பழியிலார் பரவுபைஞ் ஞீலி பாடலான்
கிழியிலார் கேண்மையைக் கெடுக்க லாகுமே.
"Vizhiyilā nakuthalai viḷaṅki ḷampiṟai
chuzhiyilār varupuṉaṟ chūzhal thāṅkiṉāṉ
pazhiyilār paravupaiñ gñīli pāṭalāṉ
kiḻzhiyilār kēṇmaiyaik keṭukka lākumē".
விடையுடைக் கொடிவல னேந்தி வெண்மழுப்
படையுடைக் கடவுள்பைஞ் ஞீலி மேவலான்
துடியிடைக் கலையல்கு லாளோர் பாகமாச்
சடையிடைப் புனல்வைத்த சதுரன் அல்லனே.
"Viṭaiyuṭaik koṭivala ṉēnthi veṇmazhup
paṭaiyuṭaik kaṭavuḷpaiñ gñīli mēvalāṉ
tguṭiyiṭaik kalaiyalku lāḷōr pākamāch
saṭaiyiṭaip puṉalvaiththa sathuraṉ allaṉē".
தூயவன் தூயவெண் ணீறு மேனிமேற்
பாயவன் பாயபைஞ் ஞீலி கோயிலா
மேயவன் வேய்புரை தோளி பாகமா
ஏயவன் எனைச்செயுந் தன்மை யென்கொலோ.
"Thūyavaṉ thūyaveṇ ṇīṟu mēṉimēṟ
pāyavaṉ pāyapaiñ gñīli kōyilā
mēyavaṉ vēypurai thōḷi pākamā
ēyavaṉ eṉaichcheyun thaṉmai yeṉkolō".
தொத்தின தோள்முடி யுடைய வன்றலை
பத்தினை நெரித்தபைஞ் ஞீலி மேவலான்
முத்தினை முறுவல்செய் தாளோர் பாகமாப்
பொத்தினன் திருந்தடி பொருந்தி வாழ்மினே.
"Thoththiṉa thōḷmuṭi yuṭaiya vaṉtṟalai
paththiṉai neriththapaiñ hñīli mēvalāṉ
muththiṉai muṟuvalsey thāḷōr pākamāp
poththiṉaṉ thirunthaṭi porunthi vāzhmiṉē".
நீருடைப் போதுறை வானும் மாலுமாய்ச்
சீருடைக் கழலடி சென்னி காண்கிலர்
பாருடைக் கடவுள்பைஞ் ஞீலி மேவிய
தாருடைக் கொன்றையந் தலைவர் தன்மையே.
"Nīruṭaip pōthuṟai vāṉum mālumāych
chīruṭaik kazhalaṭi seṉṉi kāṇkilar
pāruṭaik kaṭavuḷpaiñ gñīli mēviya
thāruṭaik koṉtṟaiyan thalaivar thaṉmaiyē".
பீலியார் பெருமையும் பிடகர் நூன்மையுஞ்
சாலியா தவர்களைச் சாதி யாததோர்
கோலியா வருவரை கூட்டி யெய்தபைஞ்
ஞீலியான் கழலடி நினைந்து வாழ்மினே.
"Pīliyār perumaiyum piṭakar nūṉmaiyuñ
chāliyā thavarkaḷaich chāthi yāthathōr
kōliyā varuvarai kūṭṭi yeythapaiñ
gñīliyāṉ kazhalaṭi niṉainthu vāzhmiṉē".
கண்புனல் விளைவயற் காழிக் கற்பகம்
நண்புணர் அருமறை ஞான சம்பந்தன்
பண்பினர் பரவுபைஞ் ஞீலி பாடுவார்
உண்பின வுலகினி லோங்கி வாழ்வரே.
"Kaṇpuṉal viḷaivayaṟ kāzhik kaṟpakam
naṇpuṇar arumaṟai gñāṉa sambanthaṉ
paṇpiṉar paravupaiñ gñīli pāṭuvār
uṇpiṉa vulakiṉi lōṅki vāzhvarē".