Visited on: December 15, 2017.
Location
Patteeswaram is situated at a distance of about 8 kms from Kumbakonam on the Kumbakonam to Avoor route. From Swamimalai it is about 3 kms and from Darasuram it is about 4 kms. Both Swamimalai and Darasuram have railway stations.
Other Devara Paadal Petra Shiva Sthalams near this place are –Sakthimutram, Pazhayarai Vadathali, Thiruvalanchuzhi, Kottaiyur, Innambur, Thiruppurambiam, Thiruvaikavur, Thiruvisayamangai, Kumbakonam (3 temples – Kudamukku, Keezhkkottam and Karonam).
General Information
| | |
| --- | --- |
| Moolavar | Sri Dhenupureeswarar, Sri Patteeswarar |
| Ambal | Sri Palvalainayagi, Sri Gnanambikai |
| Theertham (Holy water) | Gnanavavi, Kodi Theertham, Gayathri Theertham |
| Sthala Vriksham (Sacred Tree) | Vanni tree |
| Pathigam (Hymn) rendered by | Saint Thirugnanasambanthar-1 |
This is one of the 276 Devara Paadal Petra Shiva Sthalams and 23rd Shiva Sthalam on the Southern bank of the river Cauveri in Chozha Nadu (Thenkarai).
Lord Shiva in this temple is a Swayambumurthi (self-manifested).
This temple is very famous for Goddess Durgai and is popularly known as Durgai Amman temple.
This east facing temple has 3 corridors and its main tower (Rajagopuram) has 7- tiers.
History of the Temple
This ancient temple is on the northern bank of the river Thirumalairayan. This temple is very big and is spread over a sprawling 4.4 acre temple campus. It has 4 main towers at all the four entrances.
The historical names of this place are Mazhapadi, Patteecharam, Devivanam and Shaktivanam.
This place was once called Pazhayarai and it was the capital of the Chola Kingdom.
This temple is under the administrative control of the Hindu Religious and Charitable Endowments Department of Government of Tamil Nadu (HR&CE).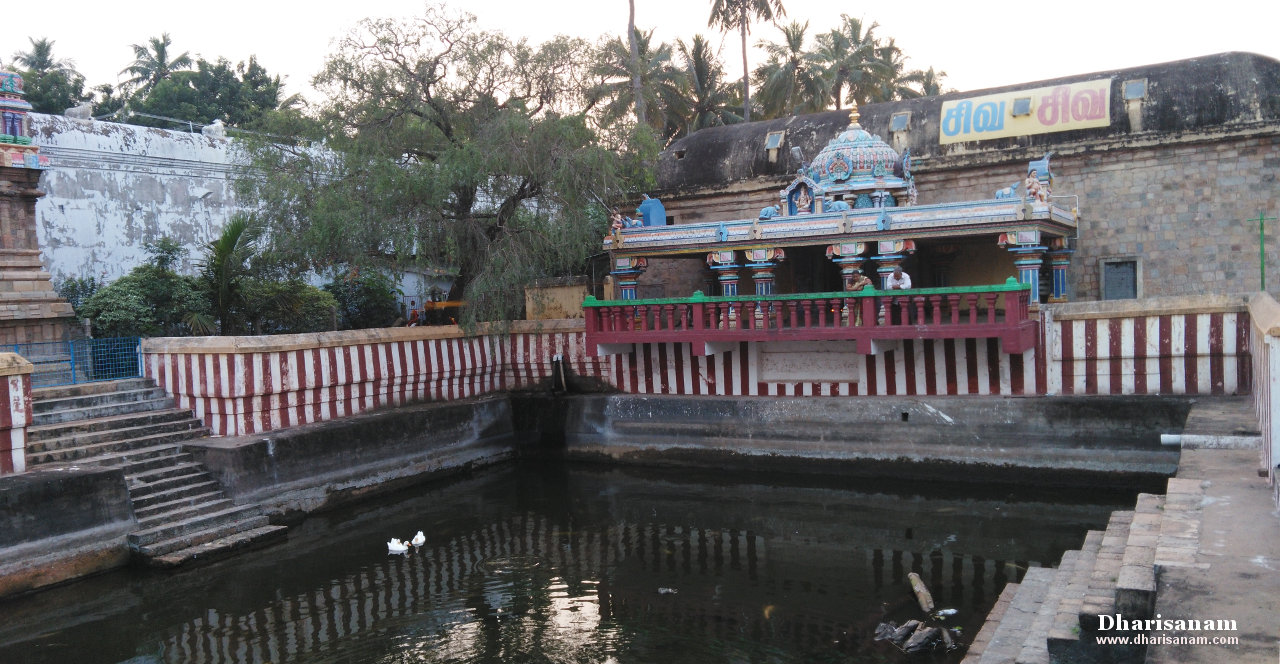 Legend
The legend is that Patti, the daughter of the divine cow Kamadenu, worshipped the lord here. Hence this place gets the name Patteecharam ("Echaram" means temple in Tamil). The lord is praised as Sri Patteeswarar (Sri Thenupureeswarar in Sanskrit).
It is believed that Goddess Parvathy had performed penance here. Devas came here in the form of trees and plants to protect her and make the environment green. Kamadenu sent her daughter Patti to assist Goddess Parvathy. Pleased with her penance, Lord Shiva blessed her with his darshan. In this darshan he was seen with his dreadlocks ("jadamudi").
Another legend is that Saint Thirugnanasambanthar, after worshiping the lord at Sakthi Mutram, a nearby Lord Shiva temple, proceeded to visit this temple. It was a peak summer day and in order to protect him from the oppressive heat, Lord Shiva created a tent lined with pearls ("Muthu panthal") and sent it through his attendants ("Bhootha ganas"). He also advised the Nandhis to move a little bit to the side so that he could see the beautiful sight of Sambanthar arriving through the pearls roof.
Other legends
Lord Ram worshipped Lord Shiva here to seek pardon for the sins ("Chayahathi dosham") that he had accrued by killing Ravana, Vaali and others. This event is commemorated every year during the Tamil month of Margazhi (Dec-Jan). He created a well here and used this water to perform abhishekam to Lord Shiva. This well is known as "Rama Theertham" or "Kodi Theertham". This Theertham is considered to be equivalent to "Dhanushkoti Theertham".
Sage Medhavi of Maluva Kingdom was to attend a yagna conducted by Sage Pradesas. Sage Medhavi asked one of his students, a brahmin boy named Dharma Sarma, to take care of the Ashram and the cows. When he returned he found that the cows were not taken care of properly. He cursed the student that he would turn into a dog. When the boy pleaded for forgiveness, the sage advised him to come to this temple and worship the lord here. Dharma Sarma came here, took a holy dip in the "Gnanavavi", circumambulated the Sthala Viruksham (Vanni) and worshiped the lord. It is believed that he regained his original form after that.
It is believed that Sage Viswamitra worshiped the lord here and attained the full power of "Gayathri Mantra" and also received the title of "Brahma Rishi". The Gayathri Theertham here is believed to have been created by Sage Vishwamitra.
Chithirasena Maharaja of Kaampeeli kingdom stayed here along with his wife and worshiped the lord. He performed "Puthira Kameshti Yagna" and was blessed with a child. The king also conducted a festival during Uthirattathi star day in the Tamil month of Thai.
King Sakthiyumnan, who was afflicted with Brahmahathi dosham, was advised by Sage Kasyaba to visit this temple for relief. The king visited this place and worshiped the lord after taking bath in the Gnanavavi Theertham. It is believed that a parrot taught him the "Panchatchara mantra" (namasivaya) in this temple and thereafter he was relieved from his dosham.
It is believed that Sage Markandeya also worshiped the lord here.
Goddess Durgai Temple
Goddess Vishnu Durgai's shrine, located at the northern entrance of this temple, is very popular among devotees. This temple is also known as Durgai Amman temple.
The Chola kings including the great Rajaraja Chola were staunch devotees of Goddess Durgai. She was the protecting deity of the Cholas in their fort's northern gate. After the decline of the Chola empire, the idol of Durgai from their fort was installed in this temple. She is also known as "Sri Kottaivayil Durgai".
The Goddess here is known by many names such as Vishnu Durgai, Durga Lakshmi, Navayoga Nayaki, Navakoti Nayaki, Navagraha Nayaki, Navaratri Nayaki and Navasakthi Nayaki, to name a few. Unlike in other temples, Goddess Durgai here has a pleasing appearance ("Shanta Swarupi"). She appears in a Thribanga stature - with eight hands, three eyes, wearing ear rings ("kundalam") and standing on top of the demon Mahishasuran. Generally, her mount (lion) looks towards the right side whereas here it faces left.
Deities in the temple
Other than the shrines of Lord Shiva and Goddess Parvathy, shrines and idols of Swarna Vinayakar, Murugan, Somaskandar, Natarajar, Gajalakshmi, Kasi Visvanathar, Shanmugar with 6 faces, Subramanyar with his consorts, Saptamadas, Navagraham, Moovars, 63 Nayanmars, lingam worshiped by Lord Ram, Bairavar, Thirugnanasambanthar, Madavaranap Pillayar, Mahalingam, Anjaneyar, Saneeswarar, Suryan, Renukadevi, Keerthivasar, Veda Lingam and Dhandapani can be seen in the hall and in the corridors.
In the "koshtam" (place surrounding the sanctum sanctorum), idols of Vinayakar, Dakshinamurthy, Lingothbavar, Brahma, Durgai and Chandikeswarar can be seen.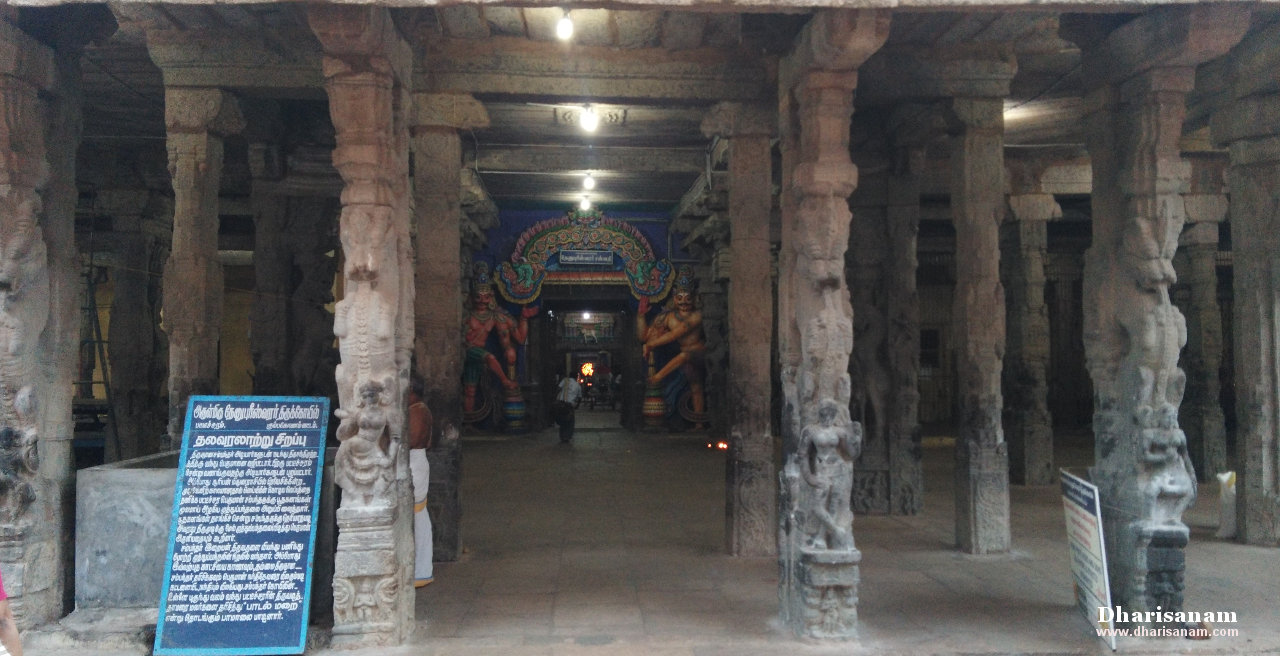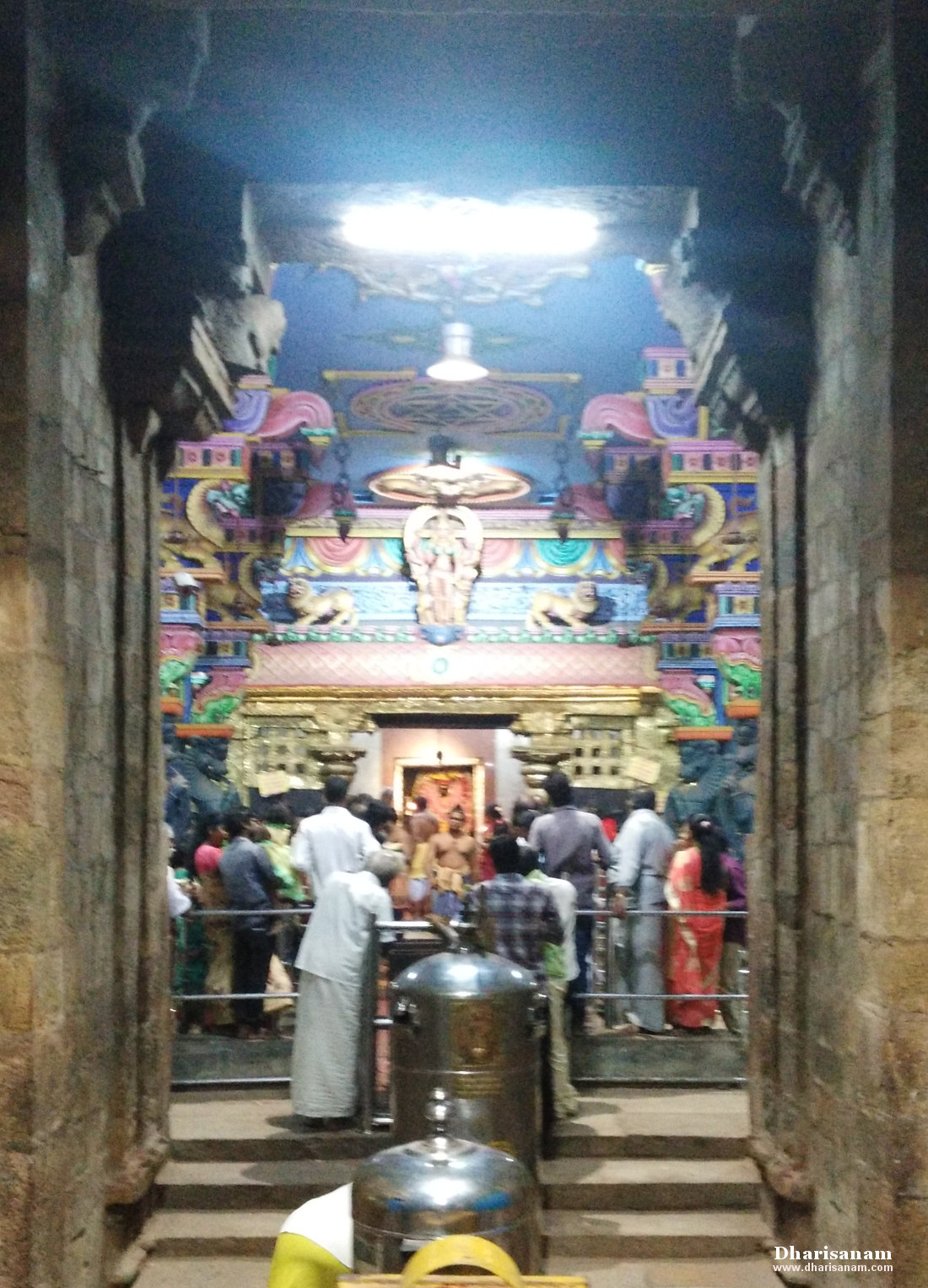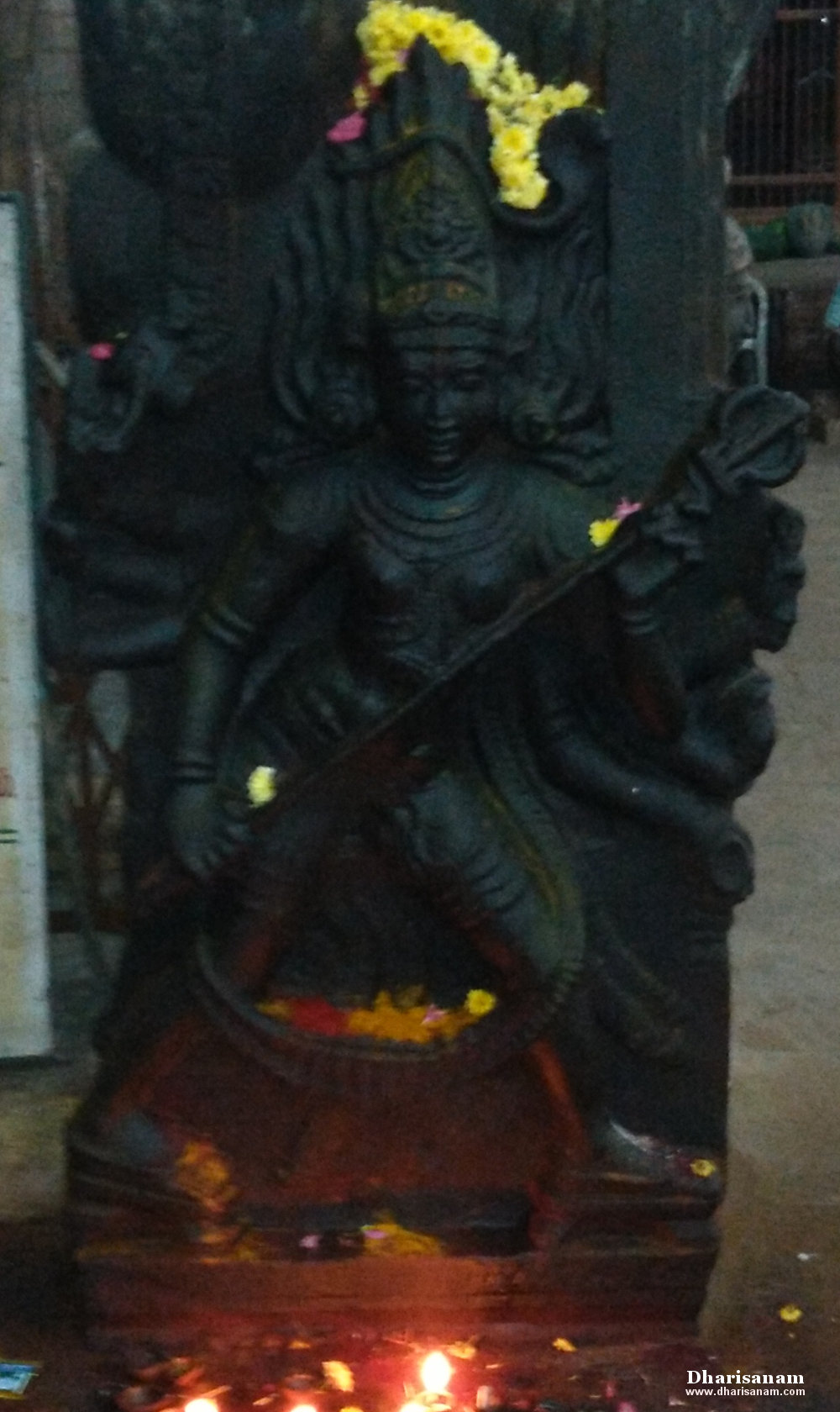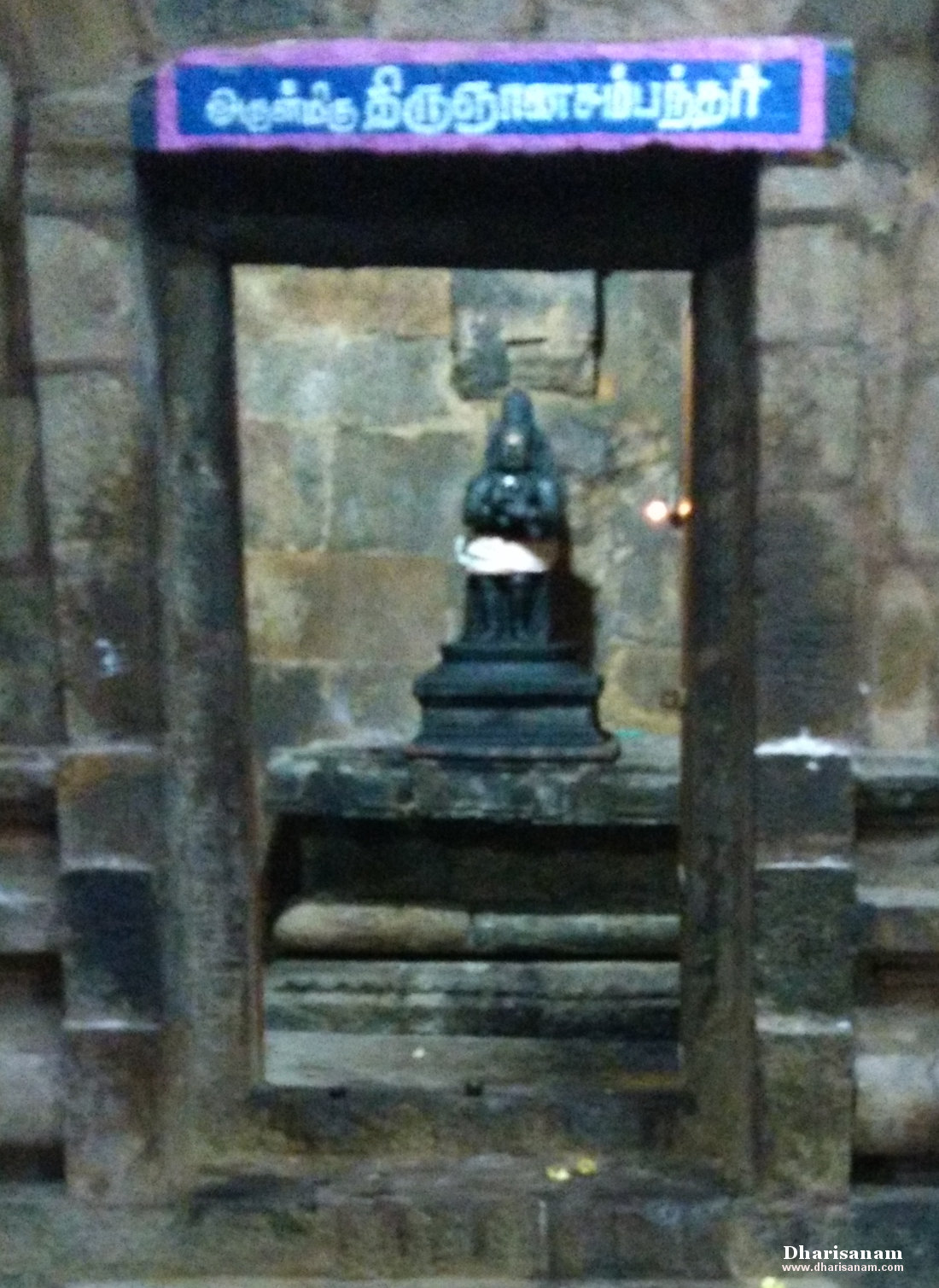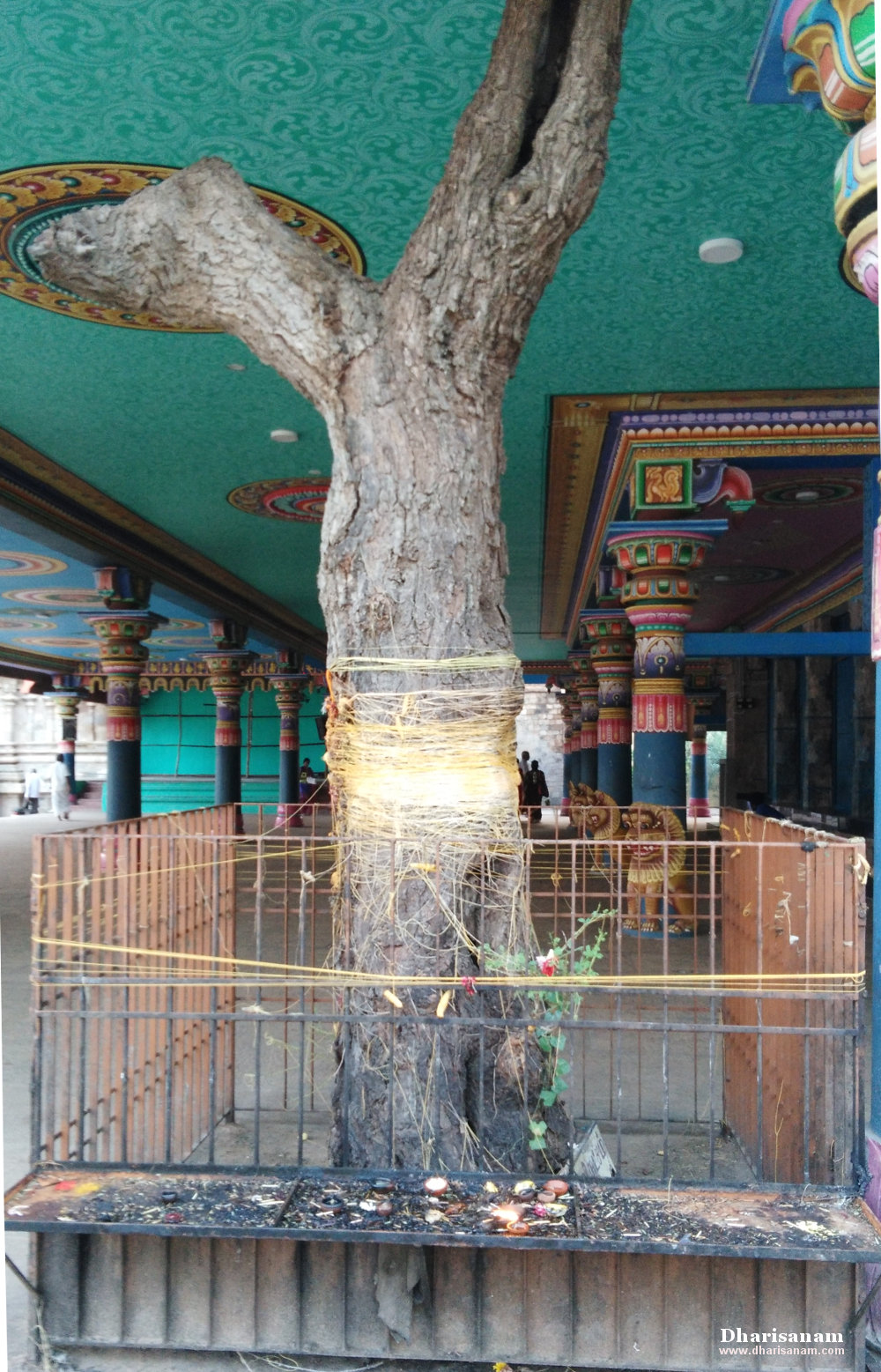 Salient Features
This is a typical temple from the time of Cholas and Nayakkars. It is spread over a large campus, has beautiful and intricate sculptures, artistic pillars and halls (mandapams).
Lord Vinayakar here is praised as Swarna Vinayakar, Anukgnai Vinayakar and Madavaranap Pillayar.
This is a "Pancha Nandhi kshetram". All the 5 Nandhis here are not seen in their usual plae but are shifted a bit to the side.
The pillars in Goddess Parvathy's shrine have many beautiful sculptures of the mythological "Yaali". It also has a chain made of a single stone which is rotatable.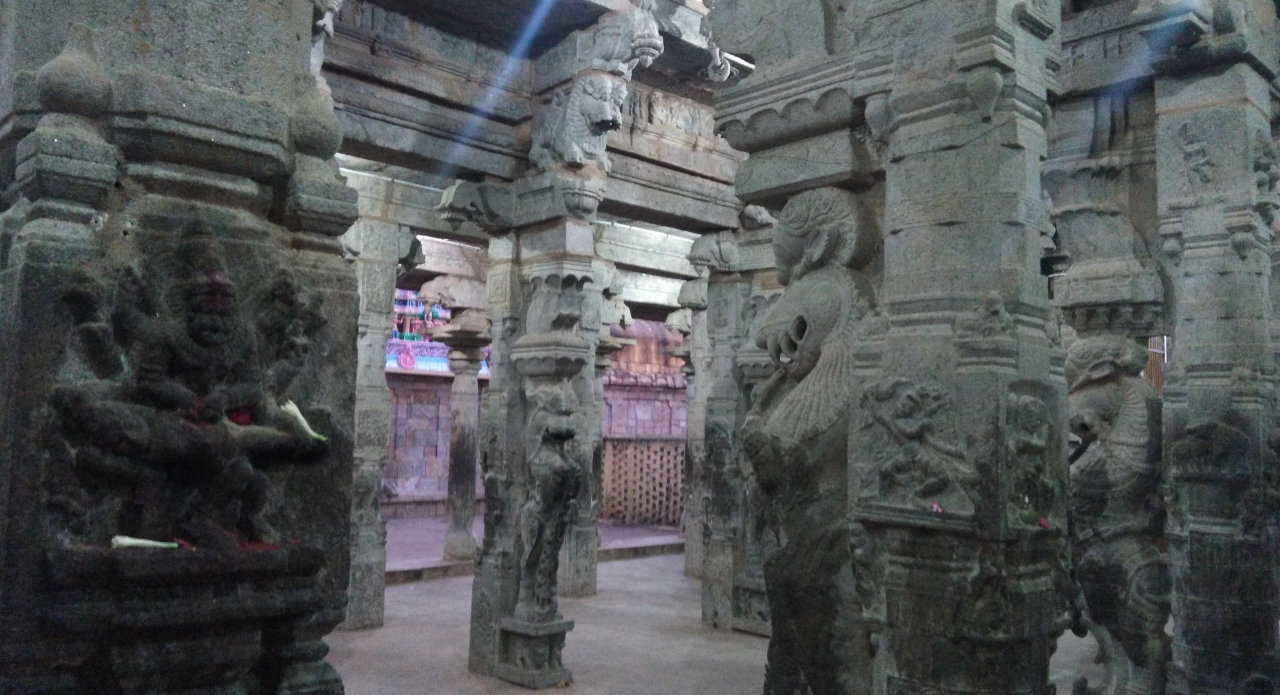 Beautiful paintings depicting the legends of this temple are displayed in the Goddess's shrine. Some of them are -
Patti, the divine cow, worshiping the lord,
Lord Ram with Sita and Lakshman worshiping the lord.
A Chola king from his capital Pazhayarai visiting this temple along with his wife every day for worship,
Saint Thirugnanasambanthar with his disciples arriving to this place,
Lord Shiva sending a pearl tent through his attendants to receive Sambanthar,
King Veeradeva Maharayar with his wife worshiping the lord. It is also mentioned that he built a new temple and endowed it with some lands,
Veerapprathaba Devarayar worshiping the lord. It is also mentioned that he created a tank and built a hall here. He also gifted some lands to this temple,
Govinda Theekshidar with his wife worshipping the lord here daily.
Greatness of this temple
Devotees worship Lord Shiva of this temple to seek the blessing of prosperity and wisdom.
Devotees can get relief from the adverse effects of planets Raahu and Kethu by worshiping Goddess Durgai here.
Devotees pray to Lord Bhairavar here to seek relief from enemy threats and for cure from dog bites and other ailments.
Important Festivals
Some of the important festivals celebrated in the temple are –
Muthu Panthal festival on the 1st day of the Tamil month Aani (June-July),
Theerthavari at Kodi theertham on new moon day in Margazhi (Dec-Jan) to commomerate the event of Lord Ram being relieved from Chayahasthi dosham,
Other festivals celebrated here are –
Vaikasi Visakam Theerthavari at the river Thirumalairajan in the Tamil month of Vaikasi (May-June),
Aani Thirumanjanam in the Tamil month of Aani (June-July),
Aadi Pooram in the Tamil month of Aadi (July-Aug),
Vinayakar Chaturthi in the Tamil month of Aavani (Aug-Sept),
Navarathri in the Tamil month of Purattasi (Sept-Oct),
Skanda Shashti and Annabishekam in the Tamil month of Aippasi (Oct–Nov),
Thiru Karthikai in the Tamil month of Karthikai (Nov-Dec),
Thiruvadhirai in the Tamil month of Markazhi (Dec-Jan),
Makara Sankranthi in the Tamil month of Thai (Jan-Feb),
Maha Shivrathri and Masi Maham in the Tamil month of Masi (Feb-Mar) and
Panguni Uthiram in the Tamil month of Panguni (Mar-Apr).
The Navakoti (9 crores) archana is very popular here.
Pradosham is also observed regularly.
Temple Timings
From 06.30 AM to 12.30 PM and from 04.00 PM to 09.00 PM.
Temple Address
Sri Dhenupureeswarar Temple,
Patteswaram Post,
Kumbakonam Taluk,
Tanjure District,
Tamil Nadu 612 703.
Tele: +91 435-2416976.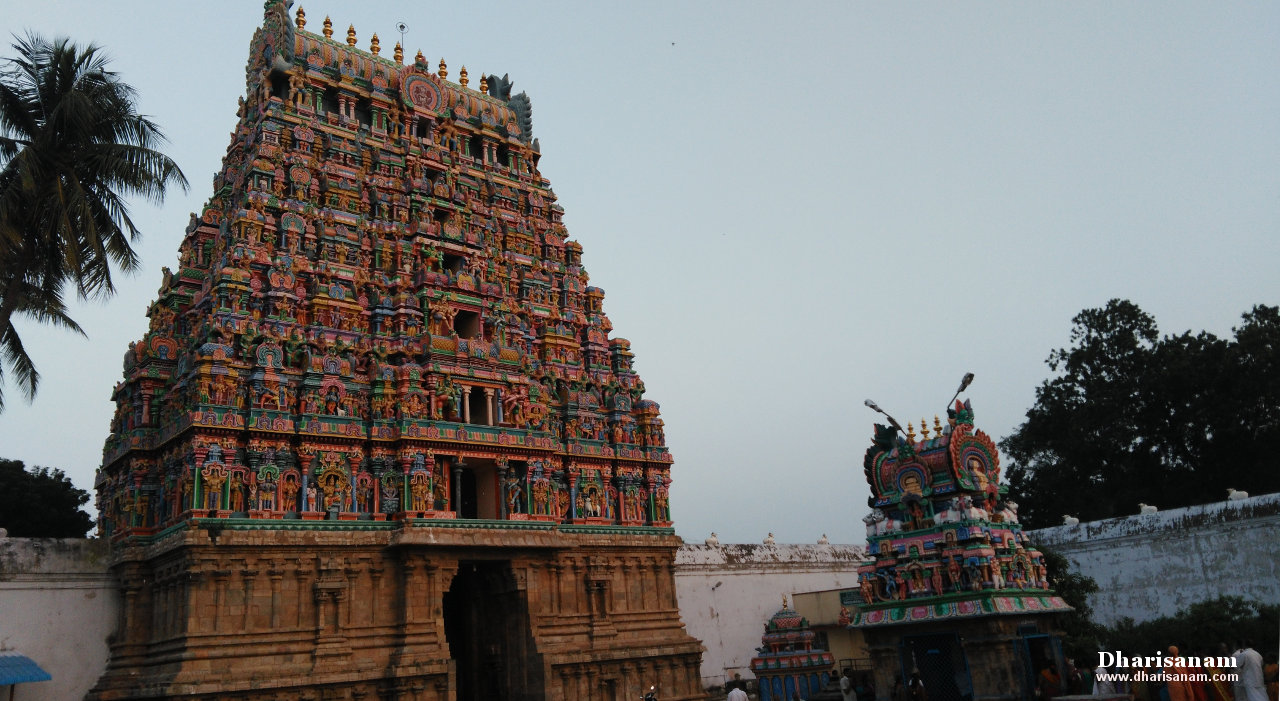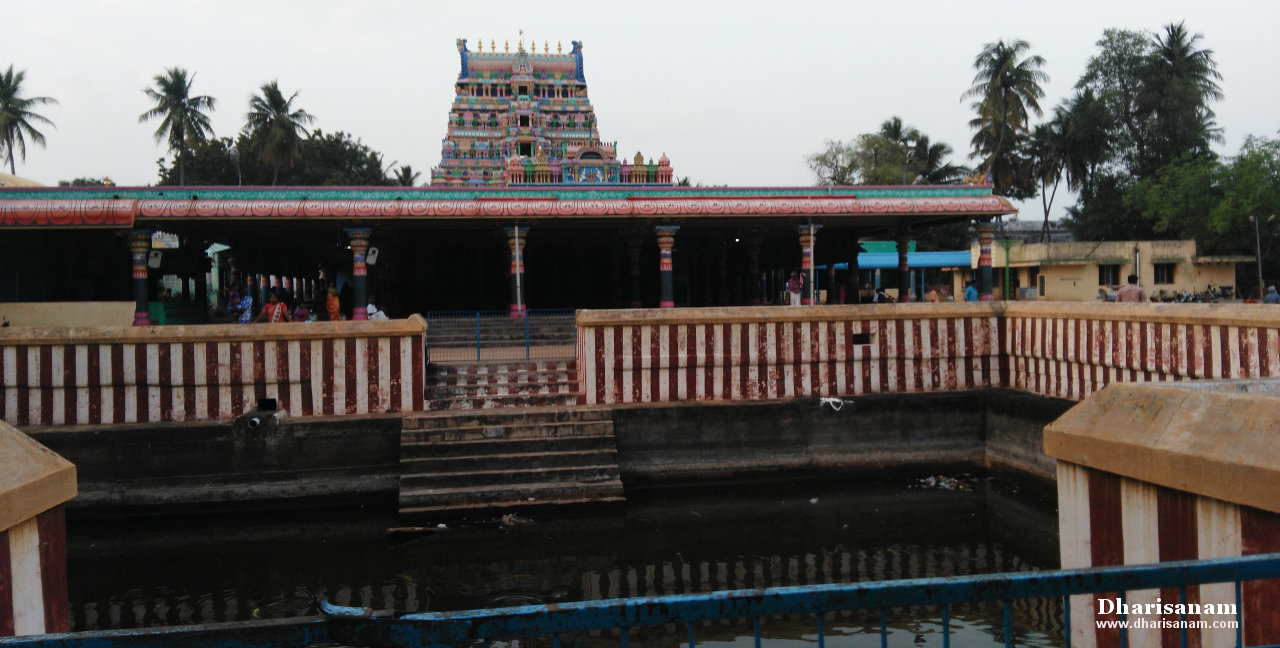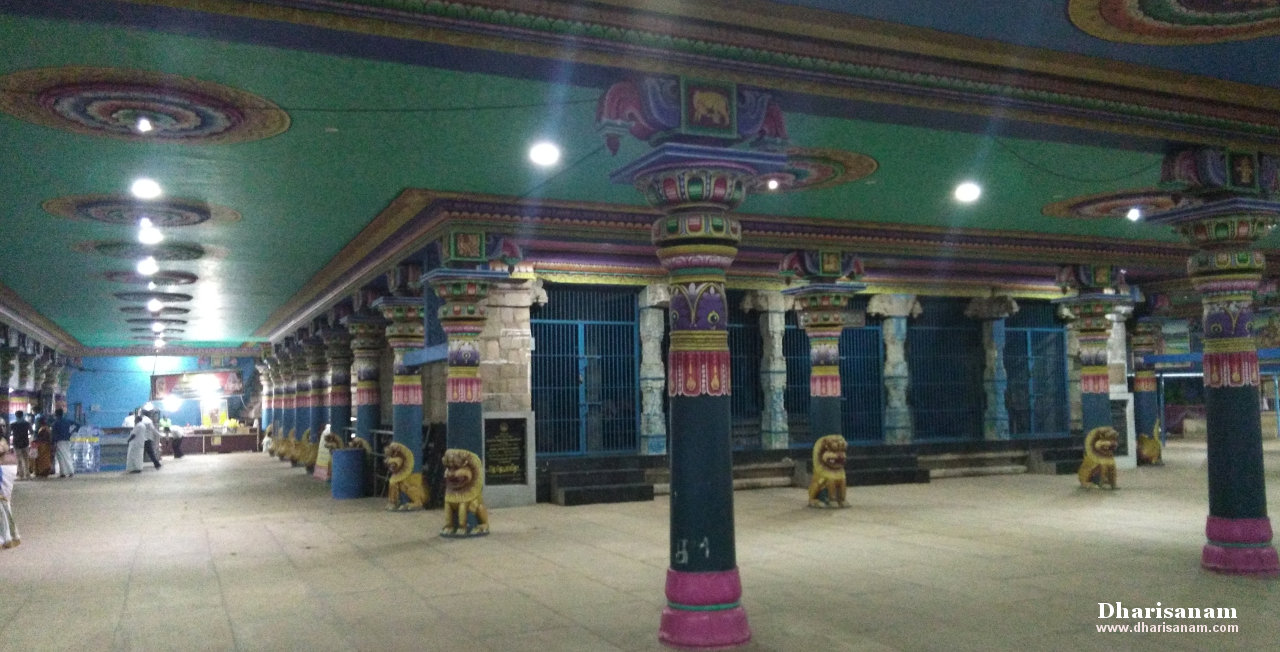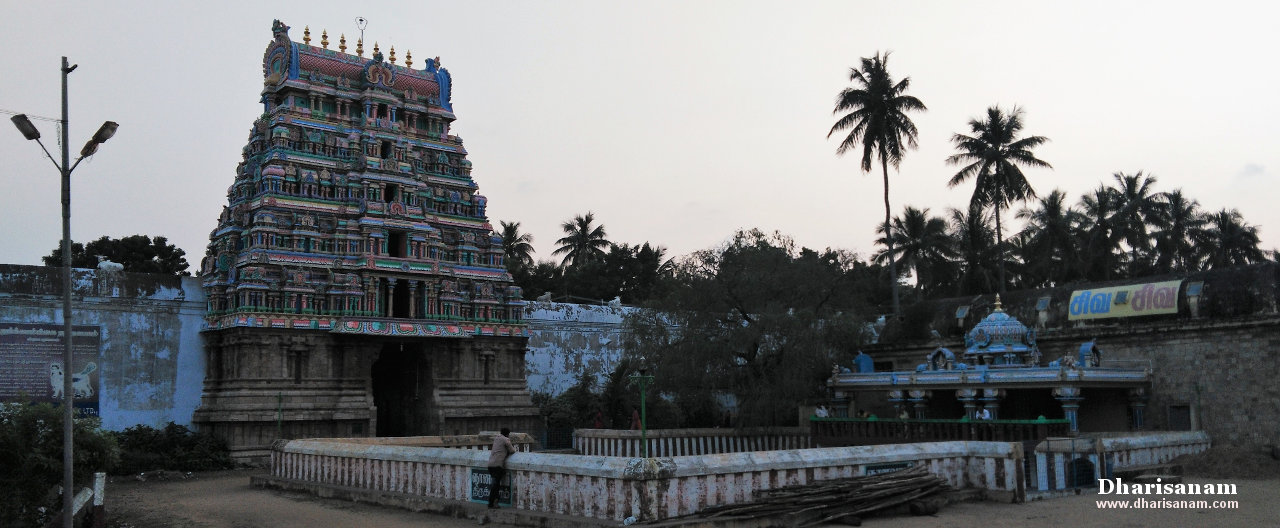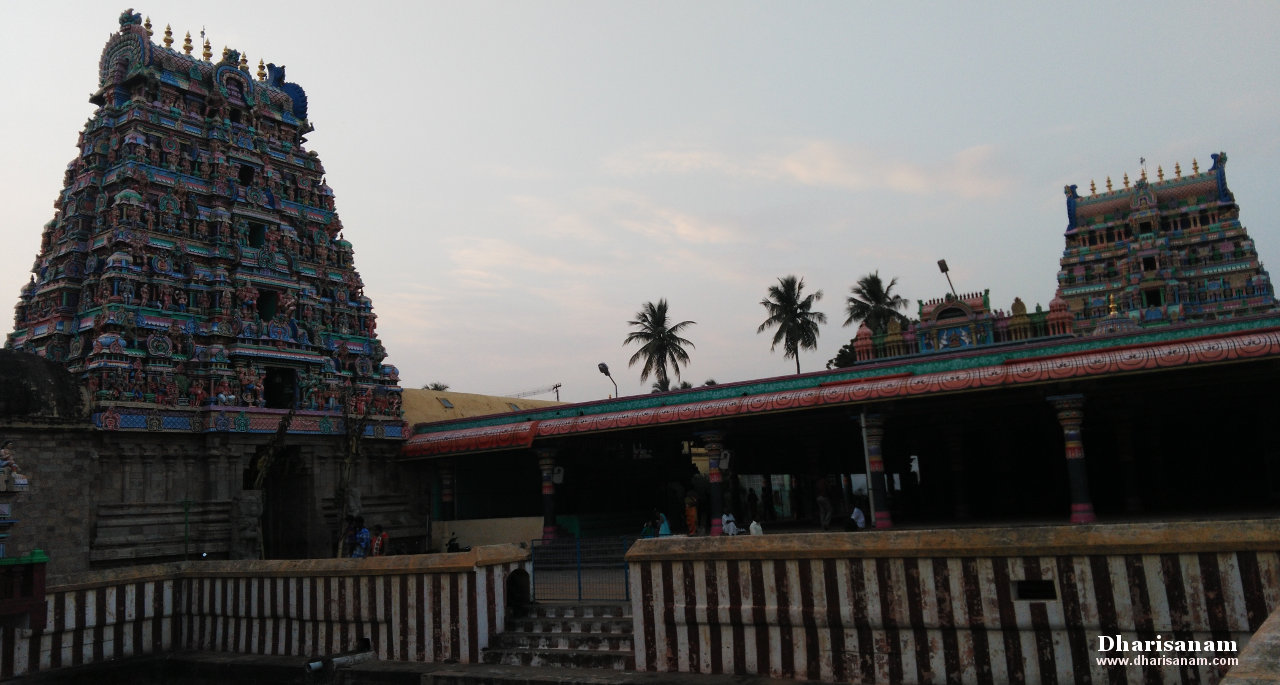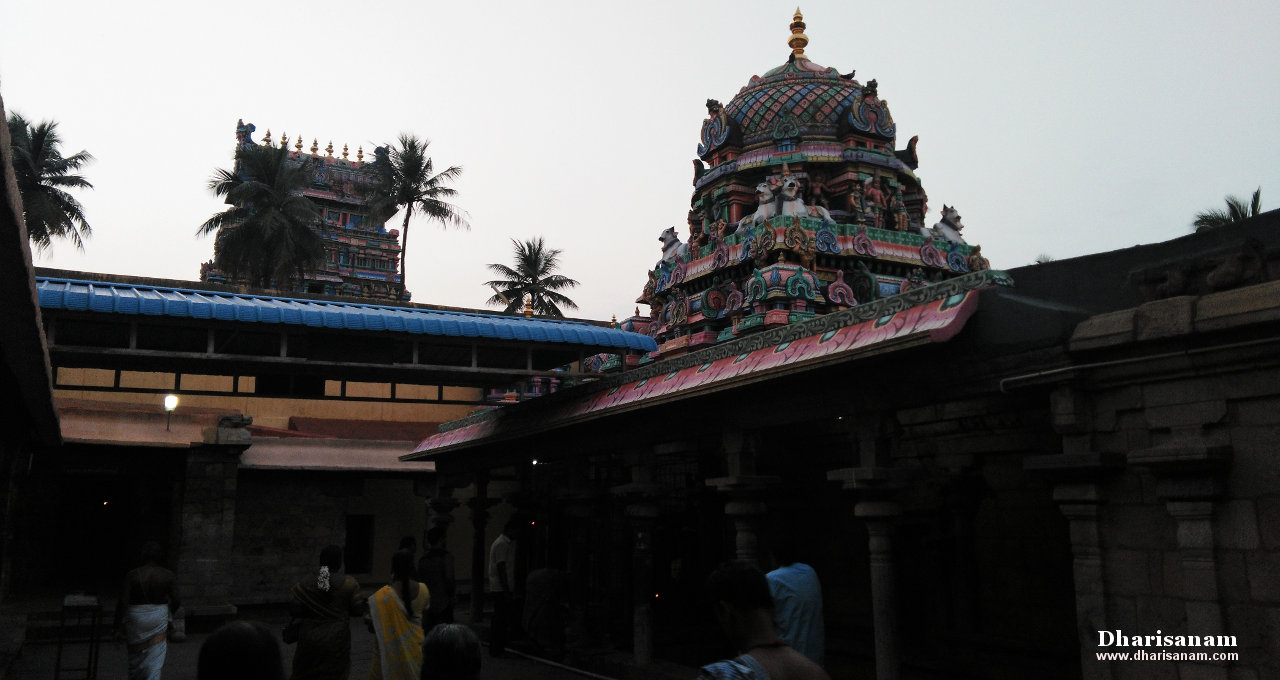 ---
Pathigam (Hymn) with English transliteration
Saint Thirugnanasambanthar visited this temple and sang this Pathigam.
Devotees visiting this temple should make it a practice to recite this Pathigam.
பாடன்மறை சூடன்மதி பல்வளையோர் பாகமதில் மூன்றோர்கணையாற்
கூடஎரி யூட்டியெழில் காட்டிநிழல் கூட்டுபொழில் சூழ்பழைசையுள்
மாடமழ பாடியுறை பட்டிசர மேயகடி கட்டரவினார்
வேடநிலை கொண்டவரை வீடுநெறி காட்டிவினை வீடுமவரே.
"Pāṭaṉmaṟai chūṭaṉmathi palvaḷaiyōr pākamathil mūṉtṟōrkaṇaiyāṟ
kūṭa'eri yūṭṭiyezhil kāṭṭinizhal kūṭṭupozhil chūzhpazhaisaiyuḷ
māṭamazha pāṭiyuṟai paṭṭisara mēyakaṭi kaṭṭaraviṉār
vēṭanilai koṇṭavarai vīṭuneṟi kāṭṭiviṉai vīṭumavarē".
நீரின்மலி புன்சடையர் நீளரவு கச்சையது நச்சிலையதோர்
கூரின்மலி சூலமது ஏந்தியுடை கோவணமும் மானின்உரிதோல்
காரின்மலி கொன்றைவிரி தார்கடவுள் காதல்செய்து மேயநகர்தான்
பாரின்மலி சீர்பழைசை பட்டிசர மேத்தவினை பற்றழியுமே.
"Nīriṉmali puṉsaṭaiyar nīḷaravu kachchaiyathu nachchilaiyathōr
kūriṉmali chūlamathu ēnthiyuṭai kōvaṇamum māṉiṉurithōl
kāriṉmali koṉtṟaiviri thārkaṭavuḷ kāthalseythu mēyanakarthāṉ
pāriṉmali sīrpazhaisai paṭṭisara mēththaviṉai patṟazhiyumē".
காலைமட வார்கள்புன லாடுவது கௌவைகடி யார்மறுகெலாம்
மாலைமணம் நாறுபழை யாறைமழ பாடியழ காயமலிசீர்ப்
பாலையன நீறுபுனை மார்பனுறை பட்டிசர மேபரவுவார்
மேலையொரு மால்கடல்கள் போற்பெருகி விண்ணுலகம் ஆளுமவரே.
"Kālaimaṭa vārkaḷpuṉa lāṭuvathu kauvaikaṭi yārmaṟukelām
mālaimaṇam nāṟupazhai yāṟaimazha pāṭiyazha kāyamalisīrp
pālaiyaṉa nīṟupuṉai mārpaṉuṟai paṭṭisara mēparavuvār
mēlaiyoru mālkaṭalkaḷ pōṟperuki viṇṇulakam āḷumavarē".
கண்ணின்மிசை நண்ணியிழி விப்பமுக மேத்துகமழ் செஞ்சடையினான்
பண்ணின்மிசை நின்றுபல பாணிபட ஆடவல பால்மதியினான்
மண்ணின்மிசை நேரில்மழ பாடிமலி பட்டிசர மேமருவுவார்
விண்ணின்மிசை வாழும்இமை யோரொடுட னாதலது மேவலெளிதே.
"Kaṇṇiṉmisai naṇṇiyizhi vippamuka mēththukamazh señchaṭaiyiṉāṉ
paṇṇiṉmisai niṉtṟupala pāṇipaṭa āṭavala pālmathiyiṉāṉ
maṇṇiṉmisai nērilmazha pāṭimali paṭṭisara mēmaruvuvār
viṇṇiṉmisai vāzhumimai yōroṭuṭa ṉāthalathu mēvaleḷithē".
மருவமுழ வதிரமழ பாடிமலி மத்தவிழ வார்க்கஅரையார்
பருவமழை பண்கவர்செய் பட்டிசர மேயபடர் புன்சடையினான்
வெருவமத யானையுரி போர்த்துமையை அஞ்சவரு வெள்விடையினான்
உருவமெரி கழல்கள்தொழ உள்ளமுடை யாரையடை யாவினைகளே.
"Maruvamuzha vathiramazha pāṭimali maththavizha vārkka'araiyār
paruvamazhai paṇkavarsey paṭṭisara mēyapaṭar puṉsaṭaiyiṉāṉ
veruvamatha yāṉaiyuri pōrththumaiyai añchavaru veḷviṭaiyiṉāṉ
uruvameri kazhalkaḷthozha uḷḷamuṭai yāraiyaṭai yāviṉaikaḷē".
மறையின்ஒலி கீதமொடு பாடுவன பூதமடி மருவிவிரவார்
பறையினொலி பெருகநிகழ் நட்டம்அமர் பட்டிசரம் மேயபனிகூர்
பிறையினொடு மருவியதோர் சடையினிடை யேற்றபுனல் தோற்றநிலையாம்
இறைவனடி முறைமுறையின் ஏத்துமவர் தீத்தொழில்கள் இல்லர்மிகவே.
"Maṟaiyiṉoli kīthamoṭu pāṭuvaṉa pūthamaṭi maruviviravār
paṟaiyiṉoli perukanikazh naṭṭamamar paṭṭisaram mēyapaṉikūr
piṟaiyiṉoṭu maruviyathōr saṭaiyiṉiṭai yētṟapuṉal thōtṟanilaiyām
iṟaivaṉaṭi muṟaimuṟaiyiṉ ēththumavar thīththozhilkaḷ illarmikavē".
பிறவிபிணி மூப்பினொடு நீங்கியிமை யோருலகு பேணலுறுவார்
துறவியெனும் உள்ளமுடை யார்கள்கொடி வீதியழ காயதொகுசீர்
இறைவனுறை பட்டிசர மேத்தியெழு வார்கள்வினை யேதுமிலவாய்
நறவவிரை யாலுமொழி யாலும்வழி பாடுமற வாதவவரே.
"Piṟavipiṇi mūppiṉoṭu nīṅkiyimai yōrulaku pēṇaluṟuvār
thuṟaviyeṉum uḷḷamuṭai yārkaḷkoṭi vīthiyazha kāyathokusīr
iṟaivaṉuṟai paṭṭisara mēththiyezhu vārkaḷviṉai yēthumilavāy
naṟavavirai yālumozhi yālumvazhi pāṭumaṟa vāthavavarē".
நேசமிகு தோள்வலவ னாகியிறை வன்மலையை நீக்கியிடலும்
நீசன்விறல் வாட்டிவரை யுற்றதுண ராதநிரம் பாமதியினான்
ஈசனுறை பட்டிசர மேத்தியெழு வார்கள்வினை யேதுமிலவாய்
நாசமற வேண்டுதலின் நண்ணலெளி தாம்அமரர் விண்ணுலகமே.
"Nēsamiku thōḷvalava ṉākiyiṟai vaṉmalaiyai nīkkiyiṭalum
nīsaṉviṟal vāṭṭivarai yutṟathuṇa rāthaniram pāmathiyiṉāṉ
īsaṉuṟai paṭṭisara mēththiyezhu vārkaḷviṉai yēthumilavāy
nāsamaṟa vēṇṭuthaliṉ naṇṇaleḷi thāmamarar viṇṇulakamē".
தூயமல ரானும்நெடி யானும்அறி யாரவன தோற்றநிலையின்
ஏயவகை யானதனை யாரதறி வாரணிகொள் மார்பினகலம்
பாயநல நீறதணி வானுமைத னோடுமுறை பட்டிசரமே
மேயவன தீரடியு மேத்தஎளி தாகுநல மேலுலகமே.
"Thūyamala rāṉumneṭi yāṉumaṟi yāravaṉa thōtṟanilaiyiṉ
ēyavakai yāṉathaṉai yārathaṟi vāraṇikoḷ mārpiṉakalam
pāyanala nīṟathaṇi vāṉumaitha ṉōṭumuṟai paṭṭisaramē
mēyavaṉa thīraṭiyu mēththa'eḷi thākunala mēlulakamē".
தடுக்கினையி டுக்கிமட வார்களிடு பிண்டமது வுண்டுழல்தருங்
கடுப்பொடியு டற்கயவர் கத்துமொழி காதல்செய்தி டாதுகமழ்சேர்
மடைக்கயல்வ யல்கொள்மழ பாடிநகர் நீடுபழை யாறையதனுள்
படைக்கொரு கரத்தன்மிகு பட்டிசர மேத்தவினை பற்றறுதலே.
"Thaṭukkiṉaiyi ṭukkimaṭa vārkaḷiṭu piṇṭamathu vuṇṭuzhaltharuṅ
kaṭuppoṭiyu ṭaṟkayavar kaththumozhi kāthalseythi ṭāthukamazhsēr
maṭaikkayalva yalkoḷmazha pāṭinakar nīṭupazhai yāṟaiyathaṉuḷ
paṭaikkoru karaththaṉmiku paṭṭisara mēththaviṉai patṟaṟuthalē".
மந்தமலி சோலைமழ பாடிநகர் நீடுபழை யாறையதனுள்
பந்தமுயர் வீடுநல பட்டிசர மேயபடர் புன்சடையனை
அந்தண்மறை யோரினிது வாழ்புகலி ஞானசம் பந்தன்அணியார்
செந்தமிழ்கள் கொண்டினிது செப்பவல தொண்டர்வினை நிற்பதிலவே.
"Manthamali sōlaimazha pāṭinakar nīṭupazhai yāṟaiyathaṉuḷ
panthamuyar vīṭunala paṭṭisara mēyapaṭar puṉsaṭaiyaṉai
anthaṇmaṟai yōriṉithu vāzhpukali gñāṉasam banthaṉaṇiyār
senthamizhkaḷ koṇṭiṉithu seppavala thoṇṭarviṉai niṟpathilavē".