Visited on: July 4, 2017 and November 29, 2017.
Location
Thirupparaithurai is situated at a distance of about 16 kms from Trichy on the Trichy to Karur (via Kulithalai) route.
There is a railway station in Thirupparaithurai on the Trichy – Erode railway line, which is about one km away from this temple.
Other Devara Paadal Petra Shiva Sthalams near this place are – Thiruvatpokki (Iyarmalai), Kadambanthurai (Kulithalai), Mukkeecharam (Uraiyur) and Trichy Malaikkottai.
General Information
| | |
| --- | --- |
| Moolavar | Sri Dharukavaneswarar, Sri Paraithurai Nathar |
| Ambal | Sri Hemavarnambal, Sri Pasumpon Mayilammai |
| Theertham (Holy water) | River Cauvery |
| Sthala Vriksham (Sacred Tree) | Parai tree |
| Pathigam (Hymn) rendered by | Saint Thirugnanasambanthar and Saint Thirunavukarasar (Appar) |
This is one of the 276 Devara Paadal Petra Shiva Sthalams and 3rd Shiva Sthalam on the Southern bank of the river Cauveri in Chozha Nadu (Thenkarai).
Lord Shiva in this temple is a Swayambumurthi (self-manifested).
This east facing temple has two corridors and its main tower (Rajagopuram) has 7-tiers.
The last consecration ceremony (Maha Kumbabishekam) took place in the year 2013 and prior to that in 1998.
History of the Temple
In ancient times, this region is believed to have been densely covered with "Parai" trees. The Shivalingam of this temple was found among the Parai trees and this temple was later built around it. This temple's "sthala viruksham" is also the Parai tree. Generally, the names of temples that are located on river banks end with "Thurai". Following this tradition, as this temple is situated on the banks of the river Kaveri, it gets the name Paraithurai.
In Sanskrit, Parai tree is known as "Dharuka Viruksham". Hence, the historical name of this place is Dharukavanam.
There are 83 stone inscriptions in this temple which date back to the periods of Paranthaka Chola-I, Rajakesari Varman, Sundarapandiyan and Krishnadeva Maharayar.
This temple is under the administrative control of the Hindu Religious and Charitable Endowments Department of Government of Tamil Nadu (HR&CE).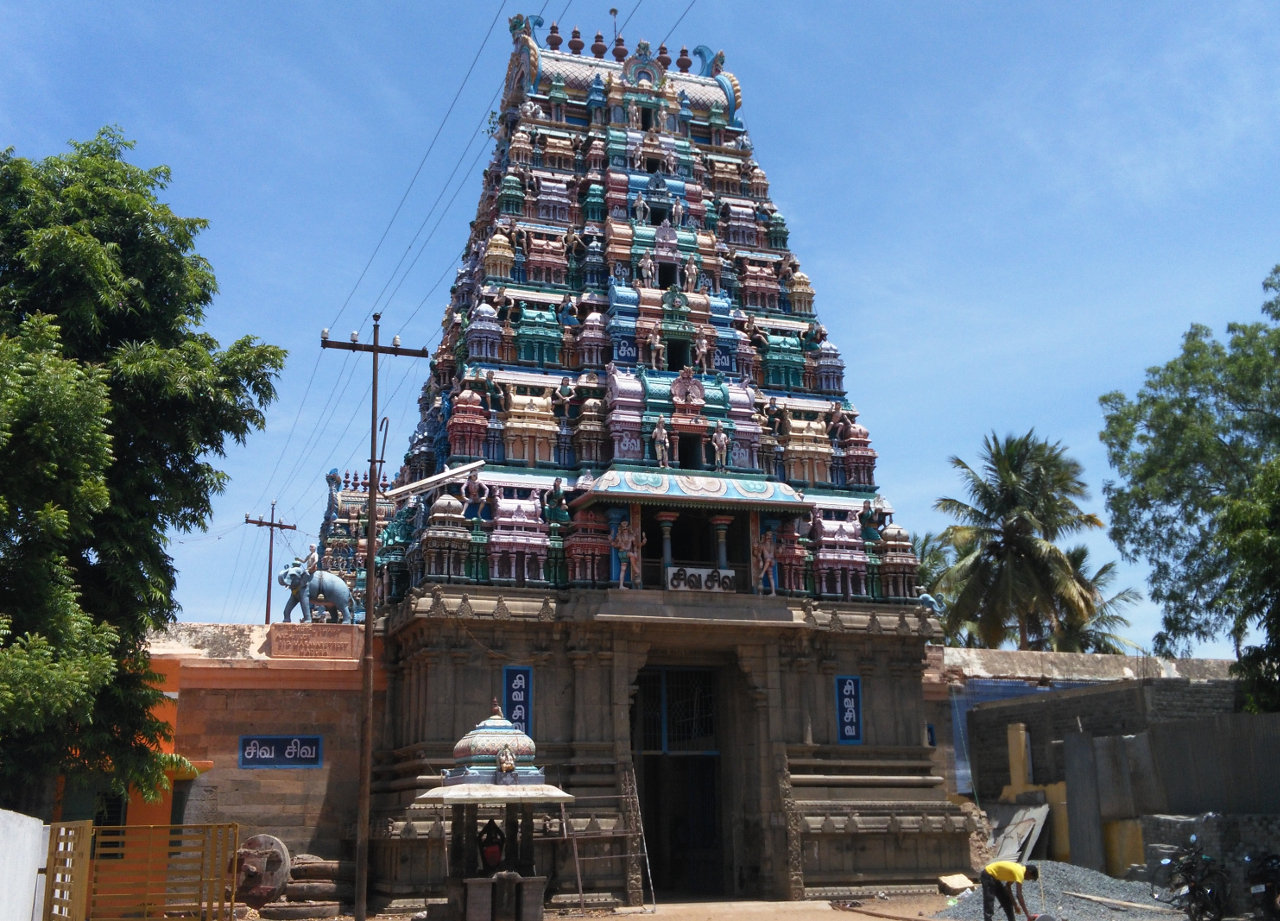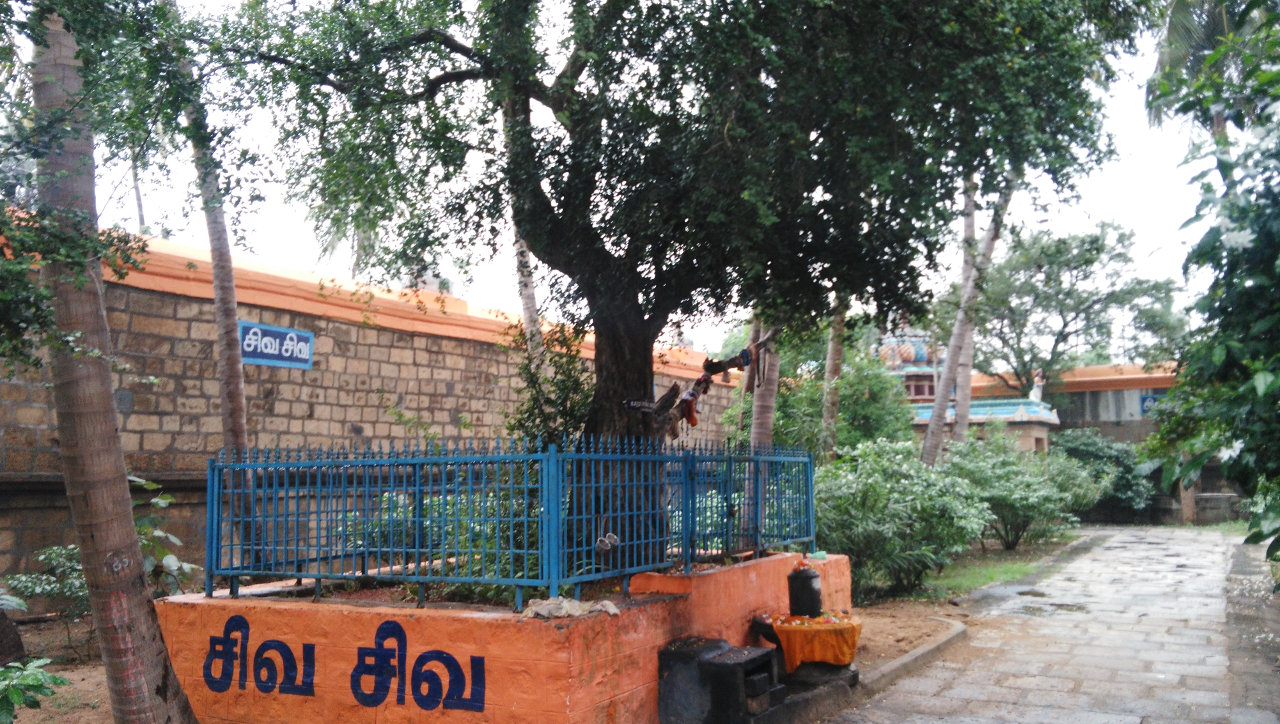 Legend
The legend of this temple involves some arrogant and very egoistic sages from a place called Dharukavanam. In their excessive vanity, they thought themselves to be superior than gods. To teach them a lesson, Lord Shiva asked Mahavishnu to take the form of "Mohini" (a beautiful angel) to divert the attention of the sages from their penance which they claimed was unparalleled. It is believed that the sages failed in their penance because they were attracted by Mohini. At the same time, Lord Shiva took the form of Pikshandavar and went to the sages' house to ask for alms. It is believed that the wives of the sages were so enamoured by Pikshandavar that they started following him. This incident further shattered the sages' claims that their wives were most pious and devout.
When the sages realized that this was all a play by Lord Shiva, they decided to perform a Yagna and used evil spirits and mantras to kill Lord Shiva. They failed in all their attempts and realized that it was a mistake to try and fight against the lord. The sages understood that learning all the mantras and Vedas was not for their self- preservation but was instead a way to promote the welfare of humanity. They surrendered to Lord Shiva and sought his blessings.
It is believed that Kuberan, Indran and Saptharishis have worshiped the lord here.
Deities in the temple
Other than the shrines of Lord Shiva and Goddess Parvathy, shrines and idols of lords Valampuri Vinayakar, Murugan with his consorts, Natarajar, Somaskandar, Pikshandavar, Mahalakshmi, Gajalakshmi, Pancha Bhootha lingams, Sapthamathas, Iyanar, Nalvar, 63 Nayanmars, Kangalamurthy, Mahavishnu, Mahalakshmi, Durga Lakshmi, Bairavar and Navagraham can be seen in the corridors.
In the "koshtam" (place surrounding the sanctum sanctorum), idols of Narthana Vinayakar, Dakshinamoorthy, Arthanareeswarar (in place of Lingothbavar), Brahma, Durgai and Chandikeswarar can be seen.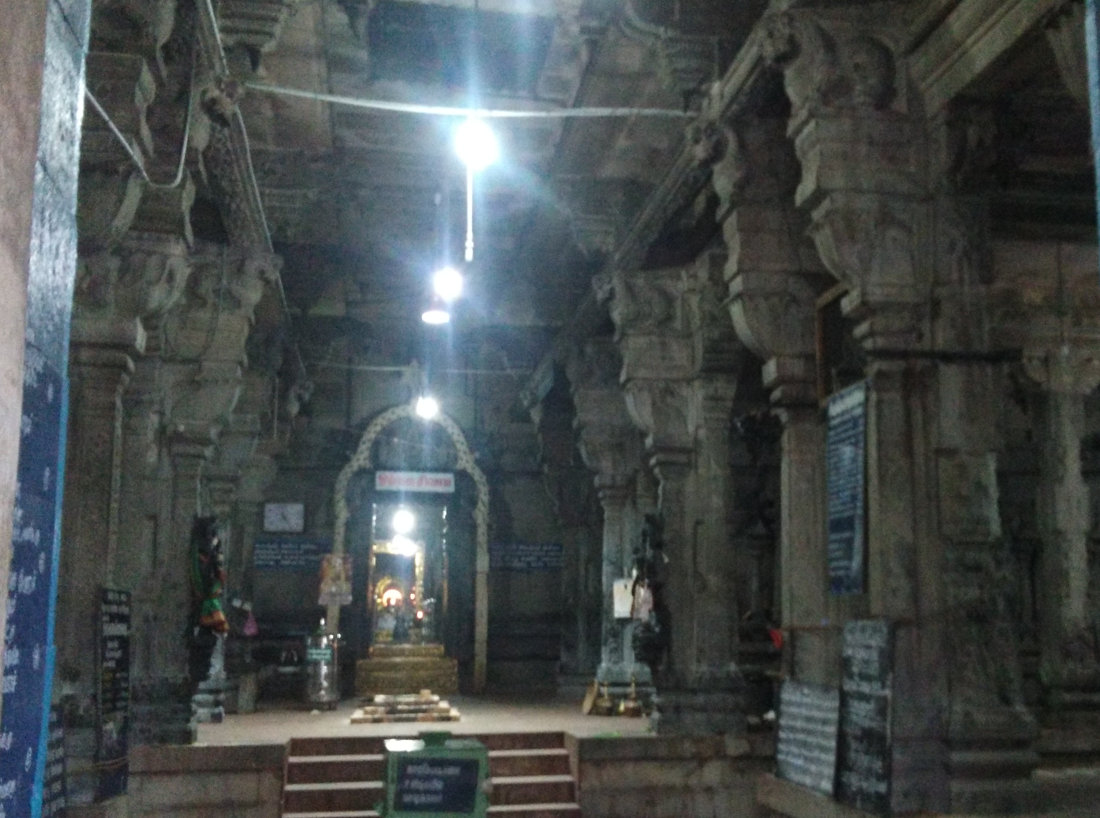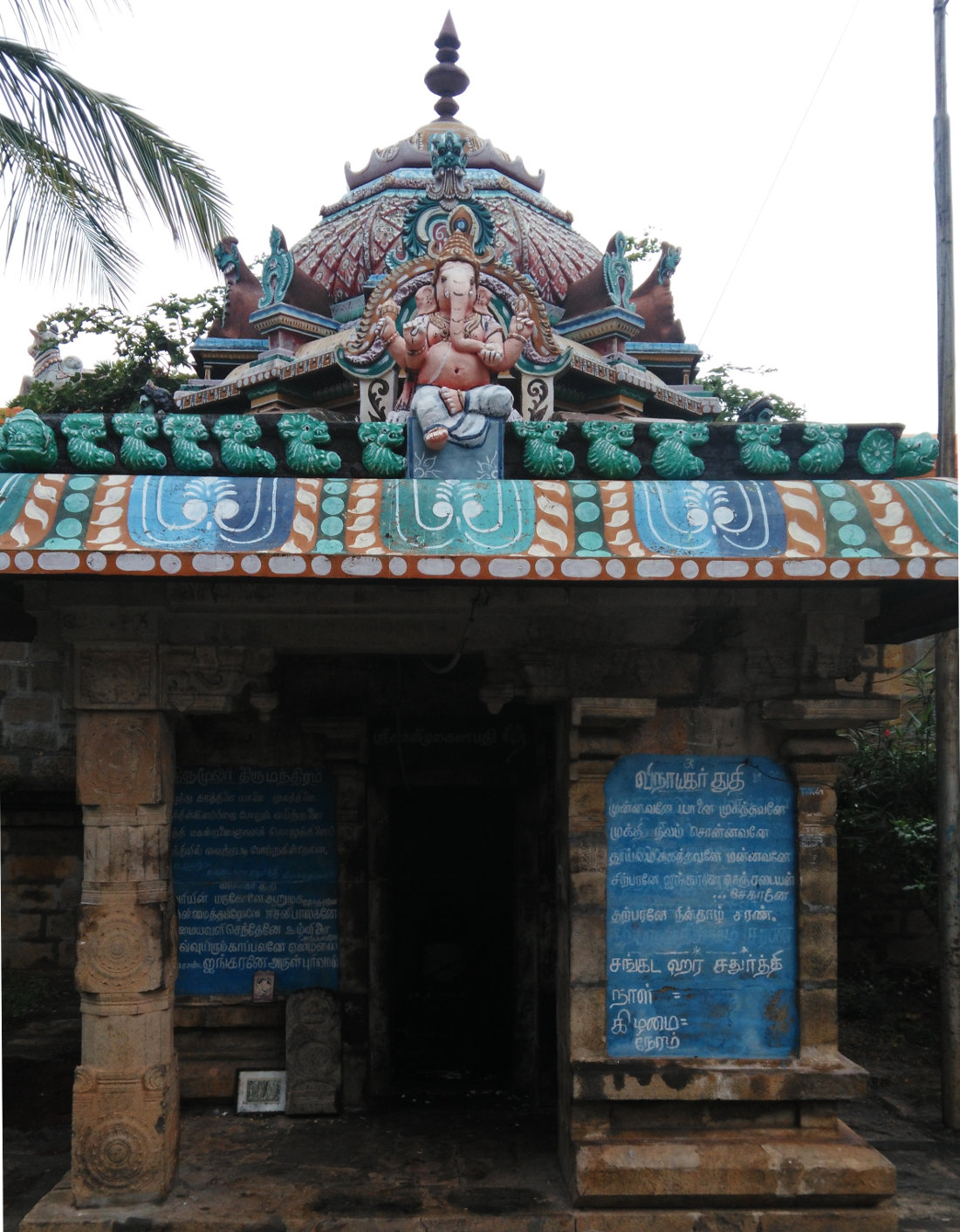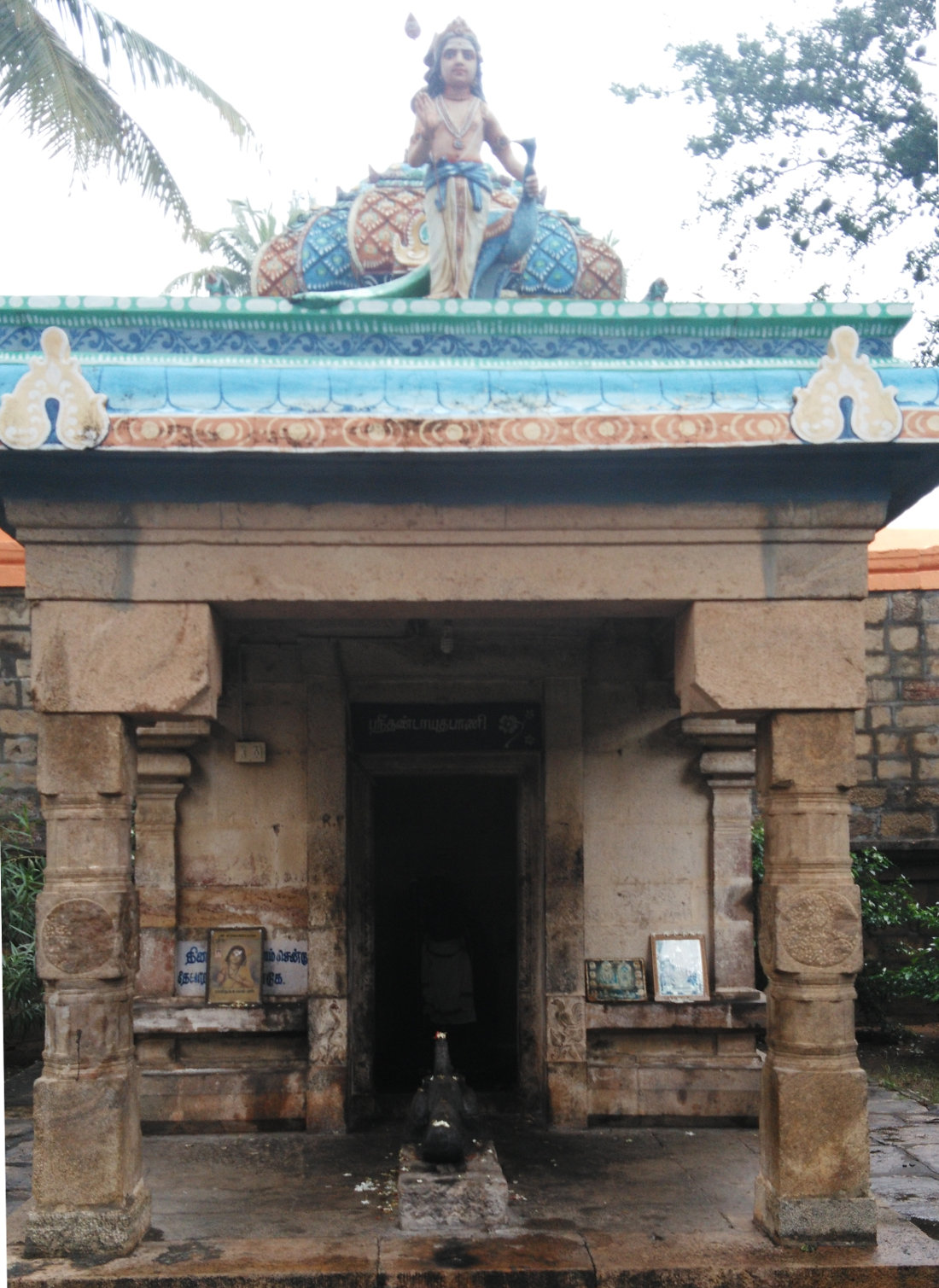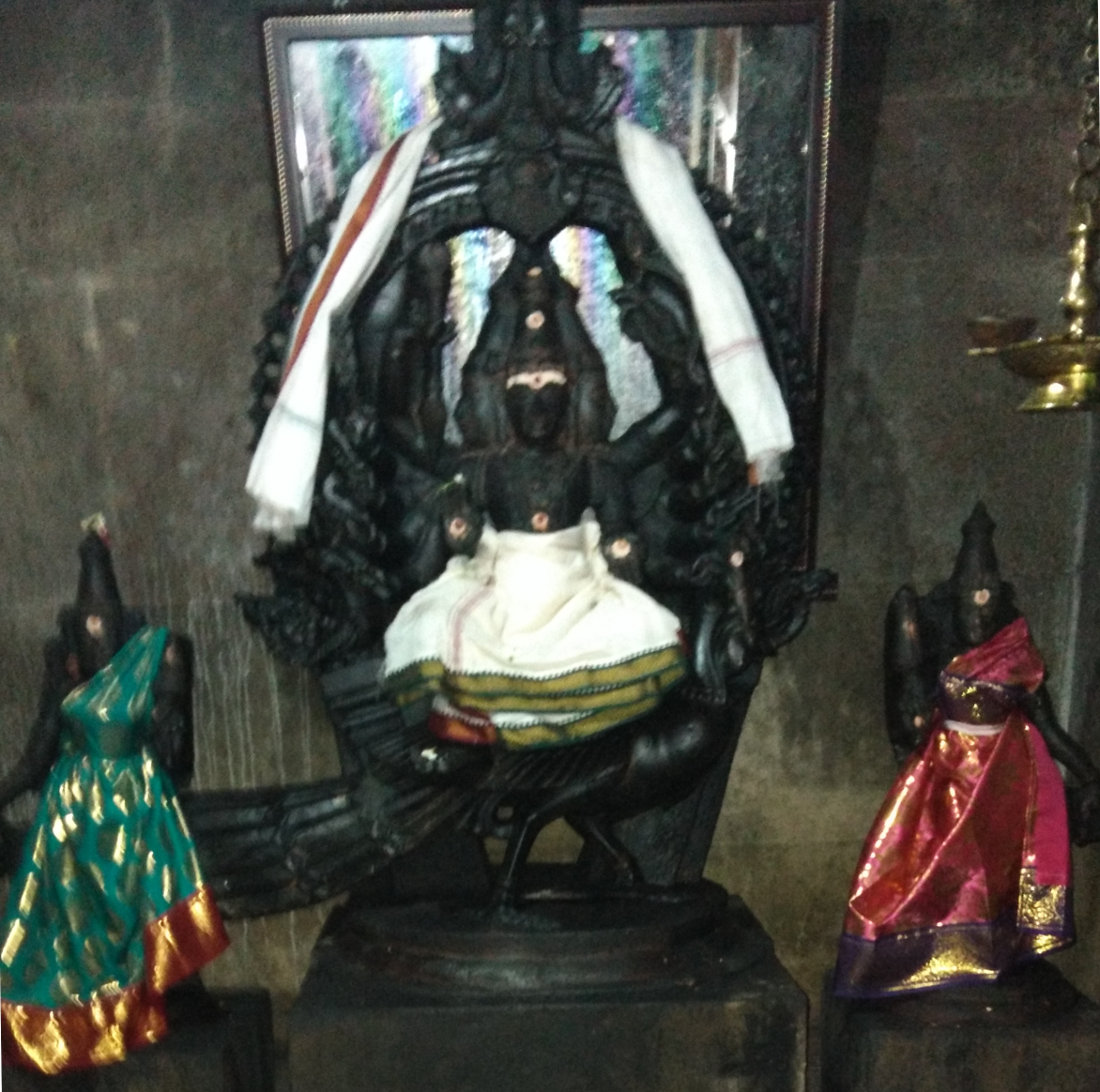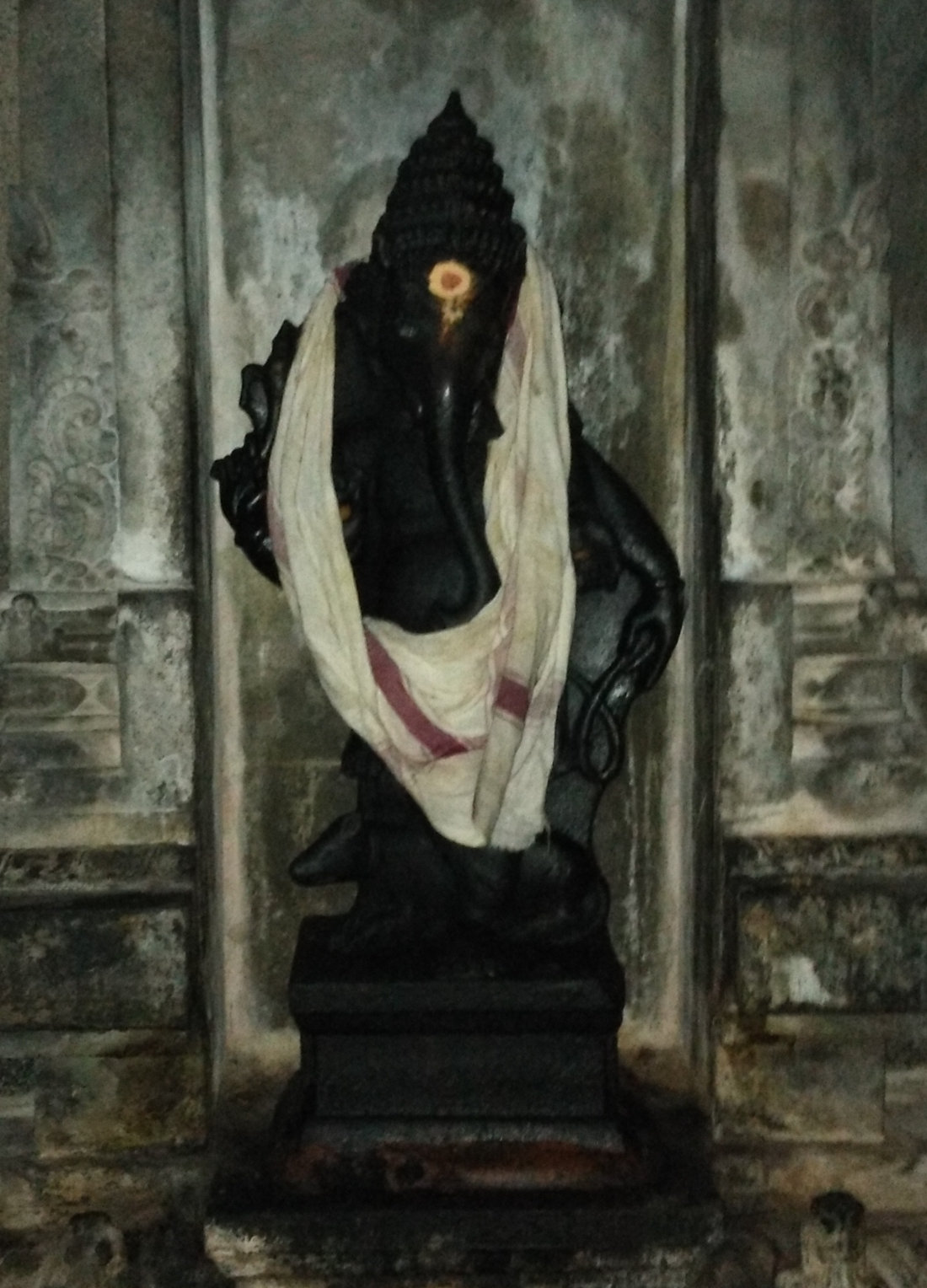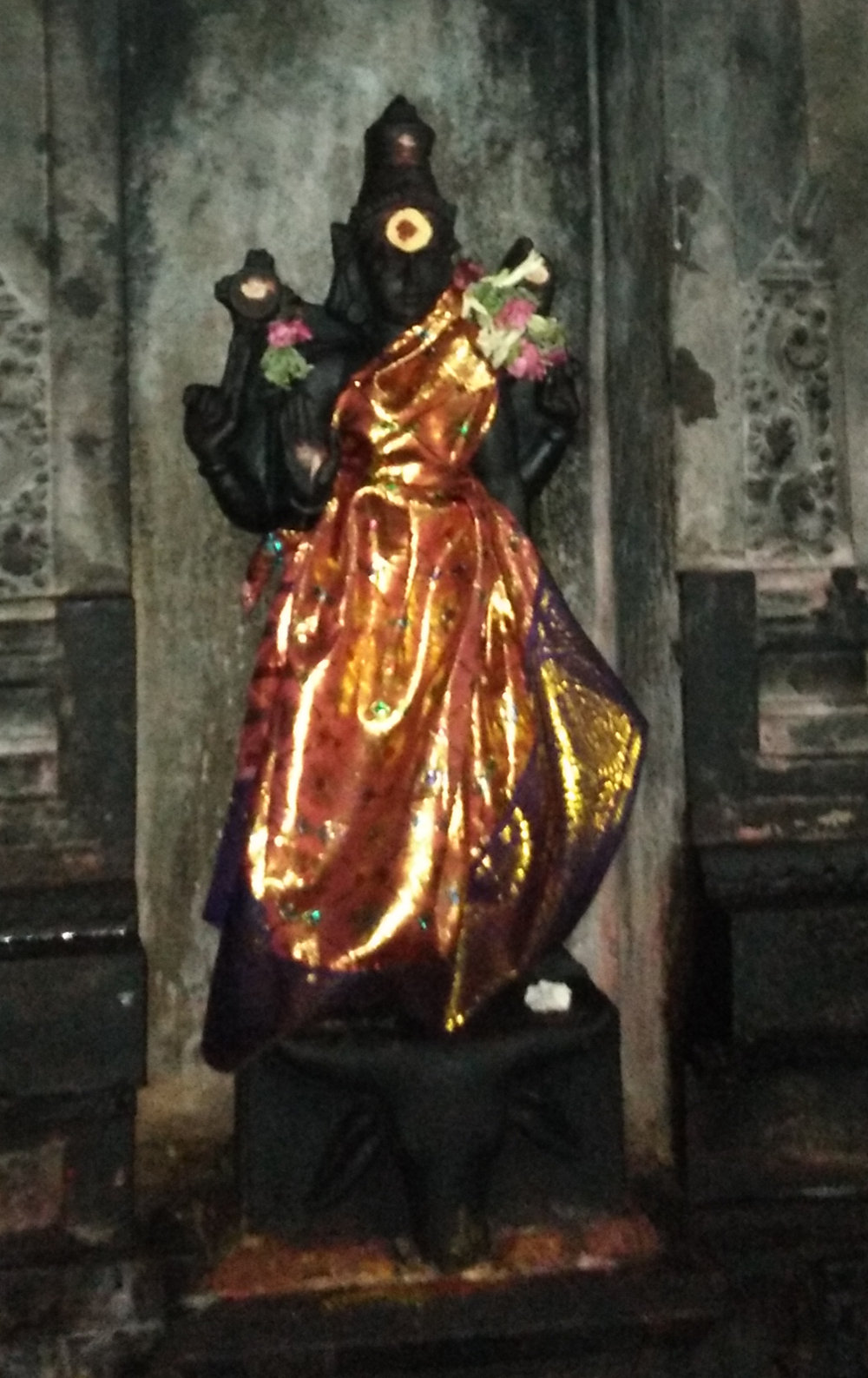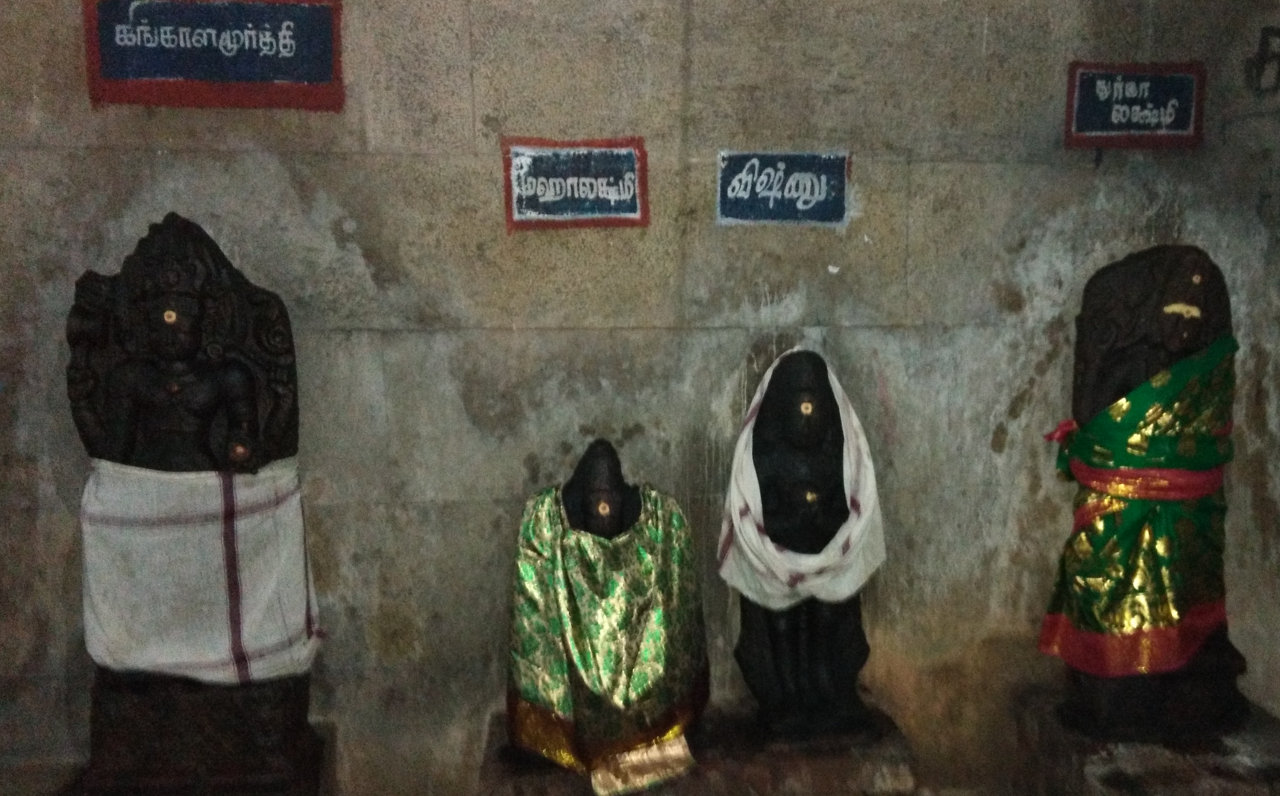 Salient Features
Lord Shiva (as Pikshandavar) graces in the hall (Mandap) as the procession deity. The 12 zodiac signs are drawn on the roof of the mandap. It is believed that worshipping Lord Shiva and Lord Pikshandavar by standing under the zodiac signs would relieve devotees of all adverse effects caused by the position of planets in their horoscope.
Idols of Lord Murugan are housed in two separate shrines. In one of these idols, he is depicted as Sri Dandayuthapani and in the other he is shown having six faces.
In the pillars in front of the Goddess Parvathy's shrine, beautiful sculptures of Lord Oorthuva Dhandava Murthy and Goddess Kaali can be seen.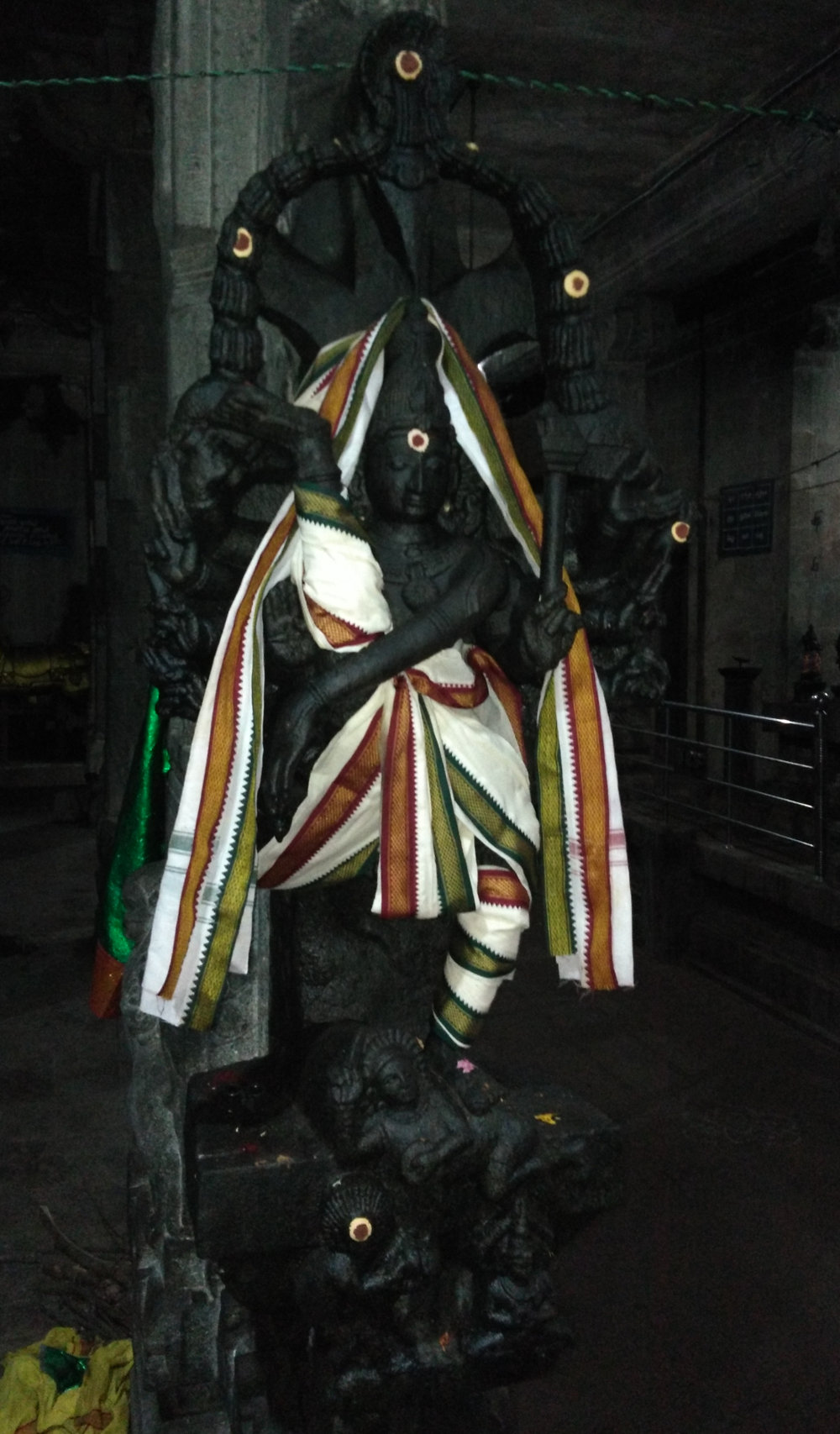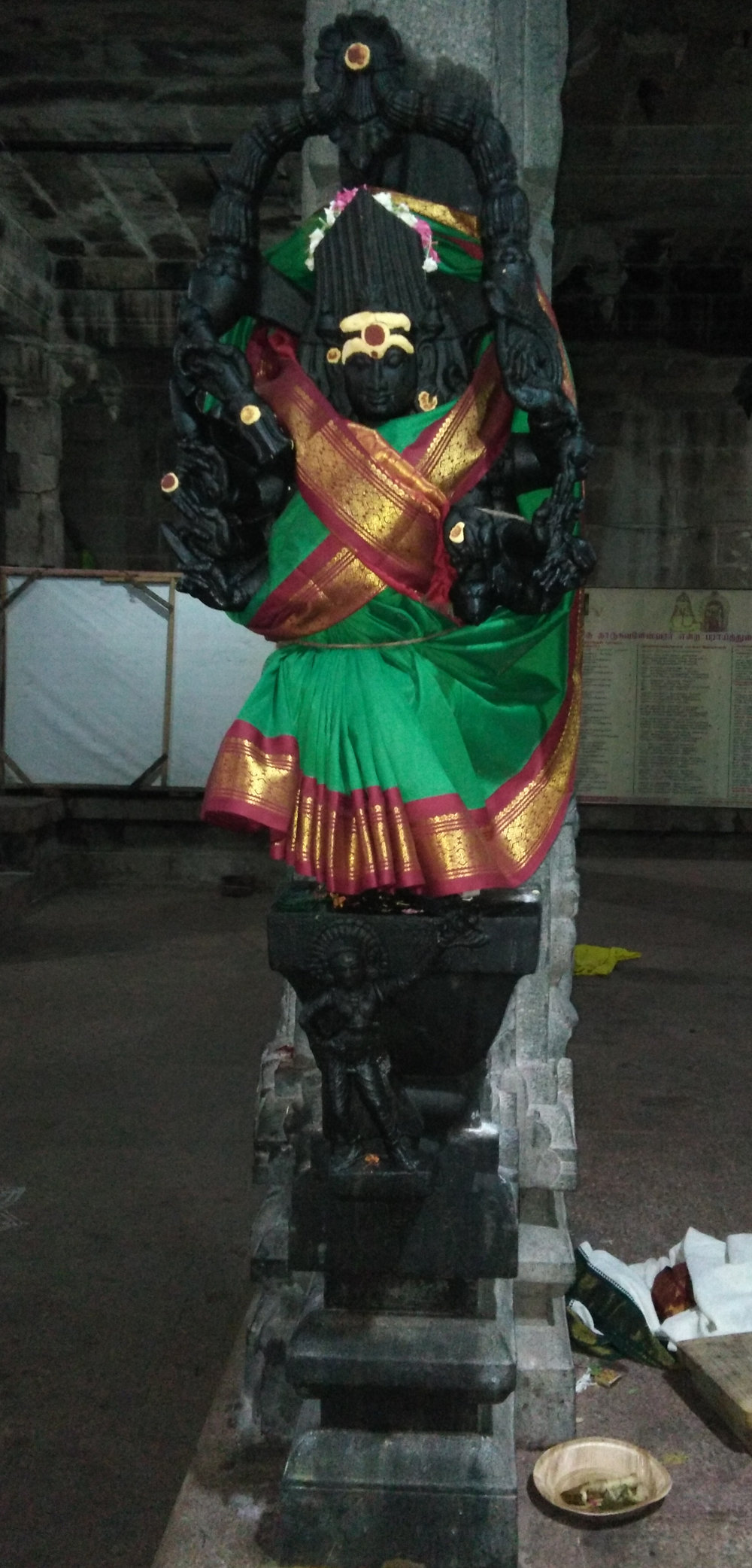 Similar to "Kadai Muzhukku" in Mayiladuthurai, "Thulasnanam" (Theerthavari) takes place here on the first day of the Tamil month of Aipasi (October-November) in the river Cauvery. On that day, Lord Shiva and Goddess Parvathy are taken on a "Rishaba Vahan" for "Theerthavari". Devotees believe that taking a dip here on this day would cleanse them of their sins.
Thirupparaithurai is one of the "Sabthasthana temples" (seven temples) in this region – the other six temples are Thiruvaanaikkaval, Thiruppainjeeli, Thiruchenthurai, Thiruvasi, Thiruvedhikkudi and Thiru Alanthurai.
On the pillars of the Nandhi mandapam (Hall), sculptures of Thirugnanasambanthar, Thirunavukkarasar, Manickavasakar and V.V.Nagappa Chettiayar (who renovated this temple) can be seen.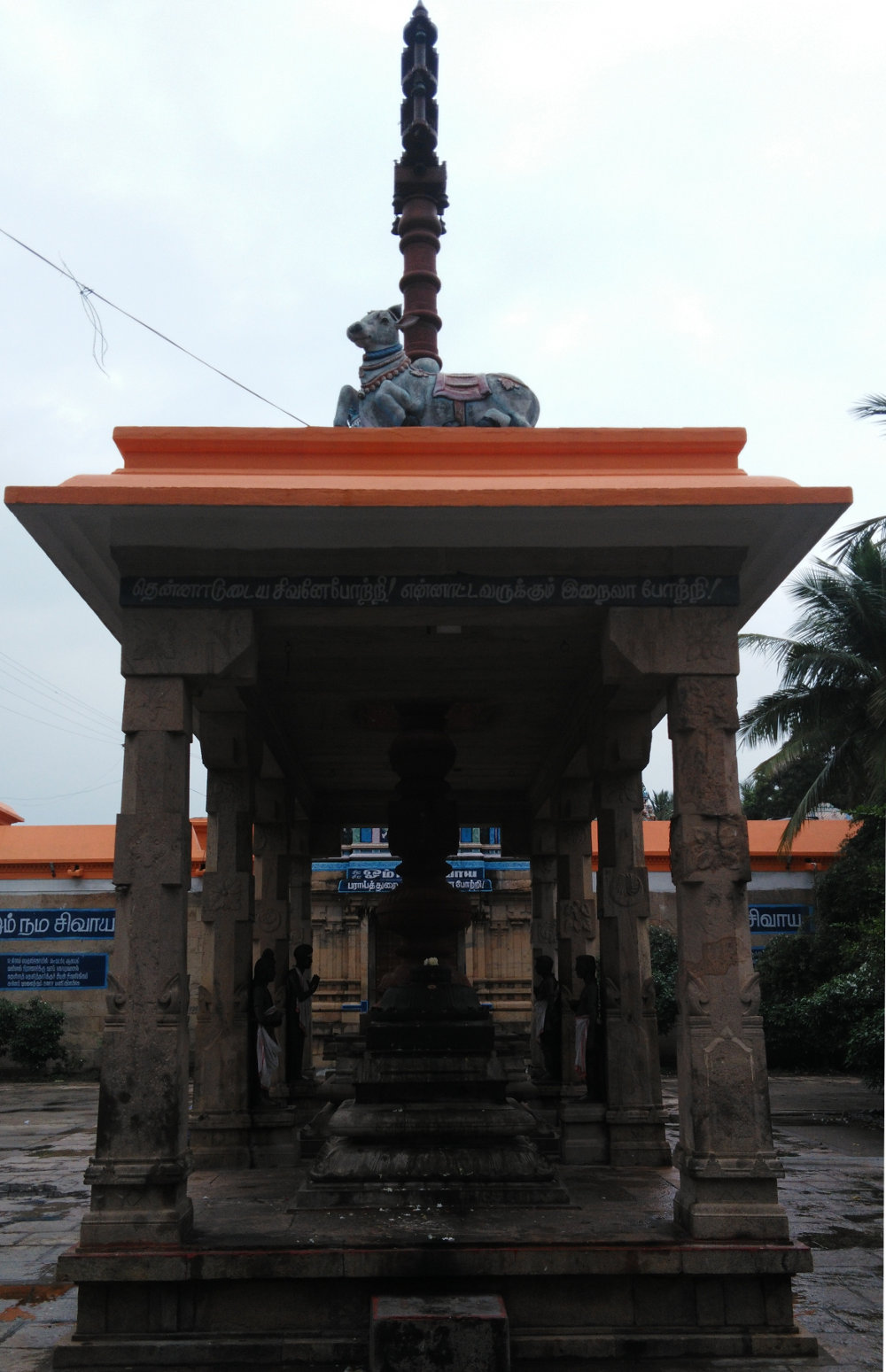 Meditating under the Sthala Viruksham here is considered to be very auspicious. There is a Shivalingam also under this temple's Sthala Viruksham.
It is believed that Lord Suryan (Sun) worships Lord Shiva of this temple by directing his rays on the lingam every year on the 18th day in the Tamil month of Purattasi (September-October).
Lord Vinayakar is praised as "Parali Vinayakar" who graces from a shrine situated outside the temple's main tower.
Lord Dakshinamurthy's shrine has a Kallala tree (banyan) as the roof and four lions are depicted holding the four pillars.
Normally idols of Lord Arthanareeswarar are not depicted along with his "Rishaba Vahan" (bull mount). However, the unique feature of Lord Arthanareeswarar's idol here is that he is shown with his bull mount.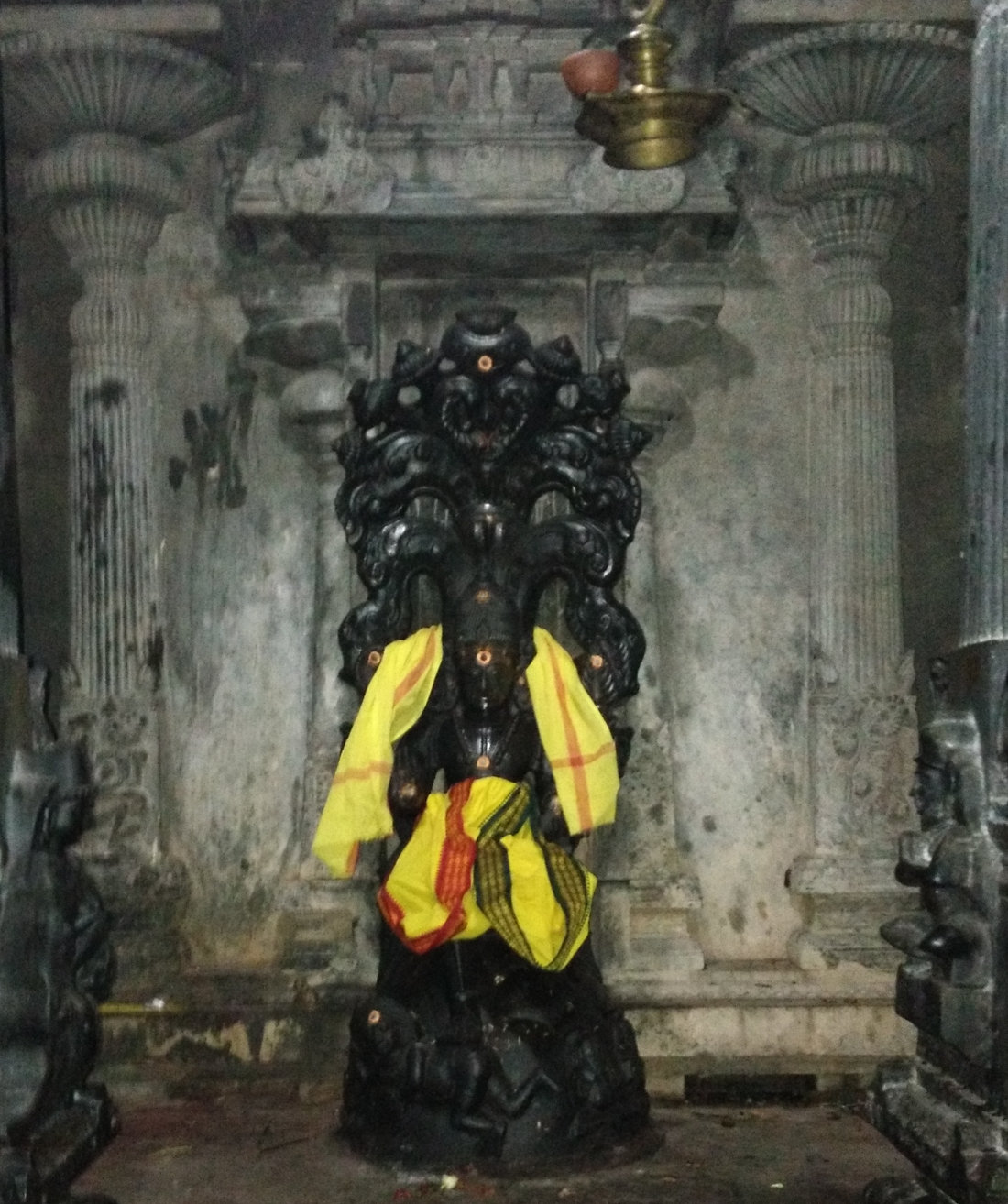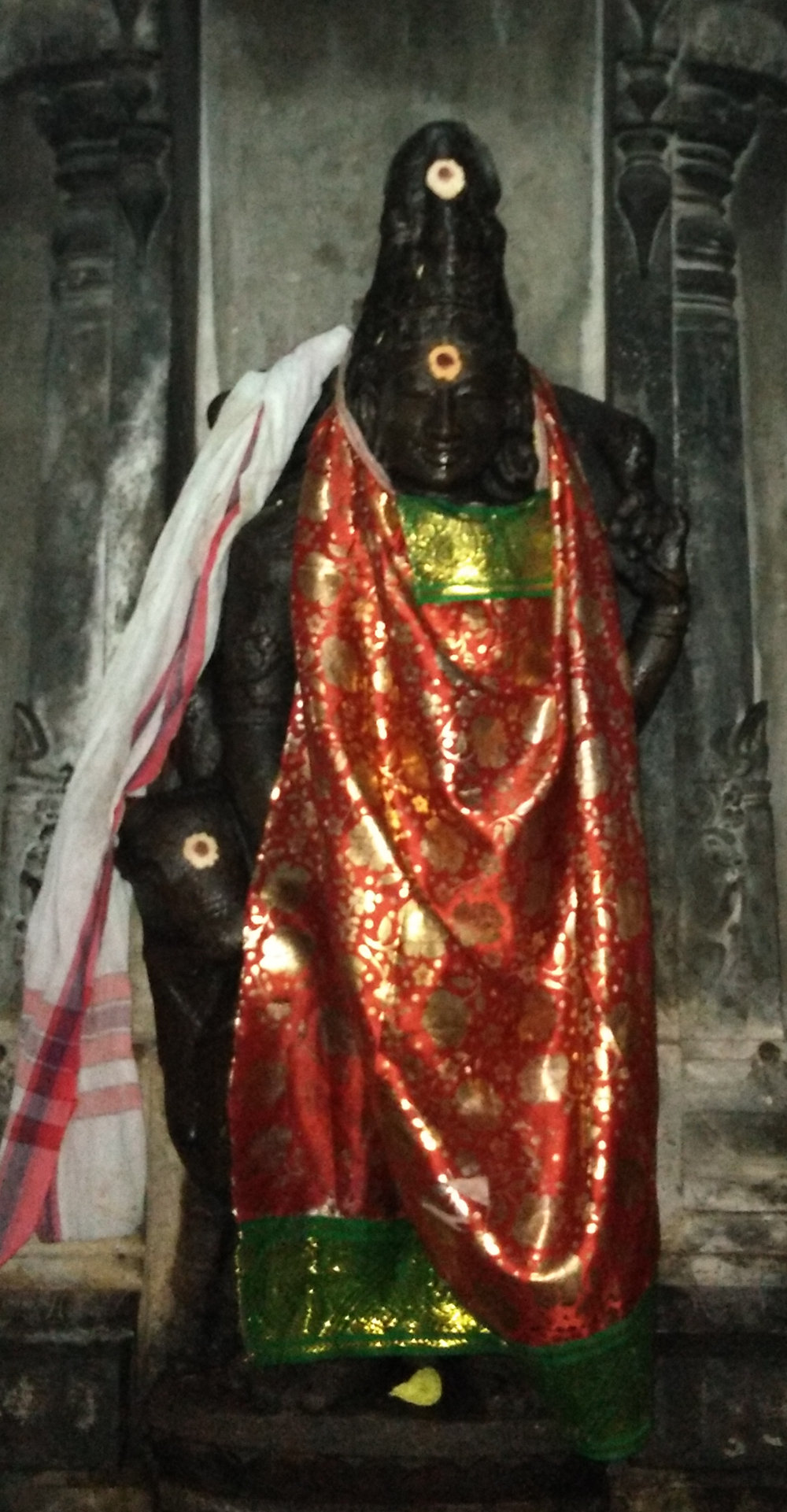 The river Cauvery near this temple is revered as "Akanda Cauvery" ("Akanda meaning wide in Tamil).
Saint Arunagirinadhar has sang songs in praise of Lord Murugan of this temple in his revered Thirupugazh. Saints Manickavasakar and Pattinathar have also rendered songs praising the lord of this temple.
Parai tree is considered to be an important medicinal plant – its sap, leaves, seeds and roots are used to treat cancer, skin diseases, snake bites, bloody nose, diarrhoea etc.
Greatness of this temple
Those suffering from skin diseases or even cancer can worship Lord Shiva here to seek relief.
Devotees believe that by worshiping the lord here, obstacles from their marriage proposals will be removed.
Children facing speech impairment, especially stammering, can worship the lord here for relief.
Important Festivals
Some of the important festivals celebrated in this temple are -
12-day Brahmotsavam in the Tamil month of Vaikasi (May-June).
Thula Snanam (Theerthavari) on the first day of the Tamil month of Aippasi (Oct.-Nov).
Vinayakar Chaturthi in the Tamil month of Aavani (Aug-Sept),
Navarathri in the Tamil month of Purattasi (Sept-Oct),
Annabishekam in the Tamil month of Aippasi (Oct–Nov),
Thiru Karthikai in the Tamil month of Karthikai (Nov-Dec),
Thiruvadhirai in the Tamil month of Markazhi (Dec-Jan) and
Shivrathri in the Tamil month of Masi (Feb-Mar).
Pradosham is also observed regularly.
Temple Timings
From 07.30 AM to 11.30 AM and from 04.30 PM to 08.30 PM.
Temple Address
Sri Dharukavaneswarar Temple,
Thiruparaithurai Post,
Karur District
Tamil Nadu - 639 115.
Tele: +91- 99408 43571.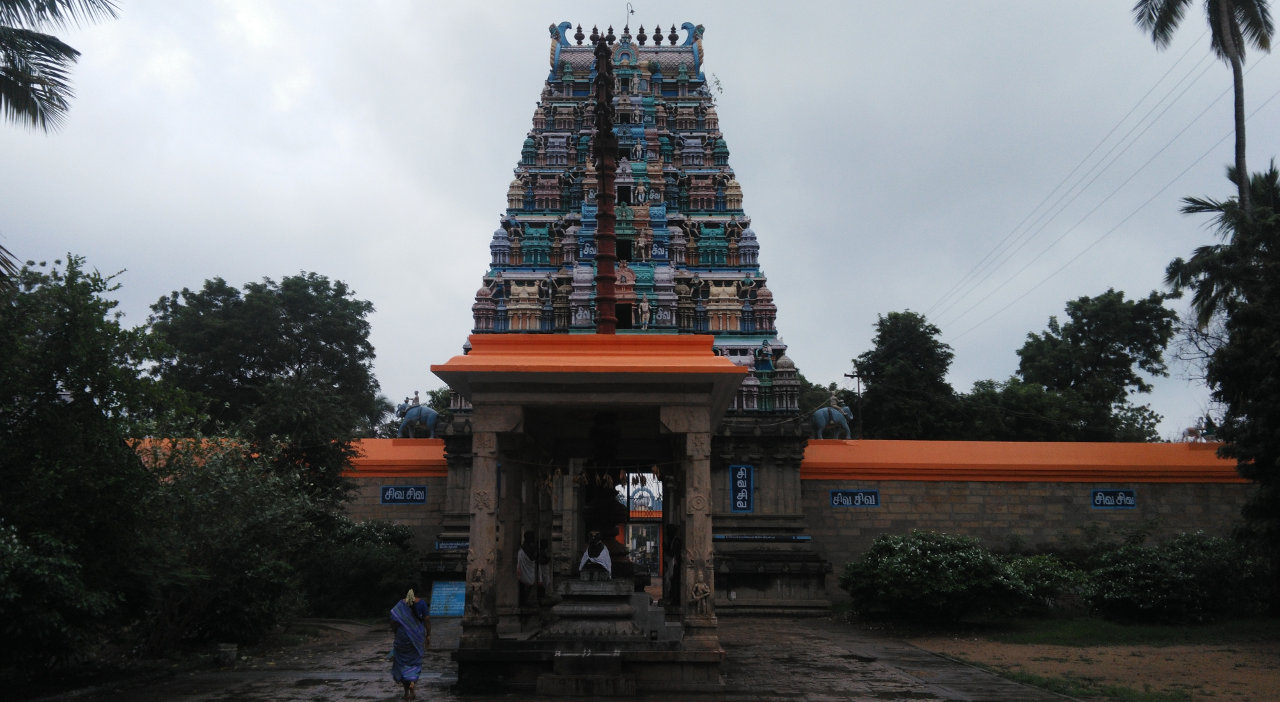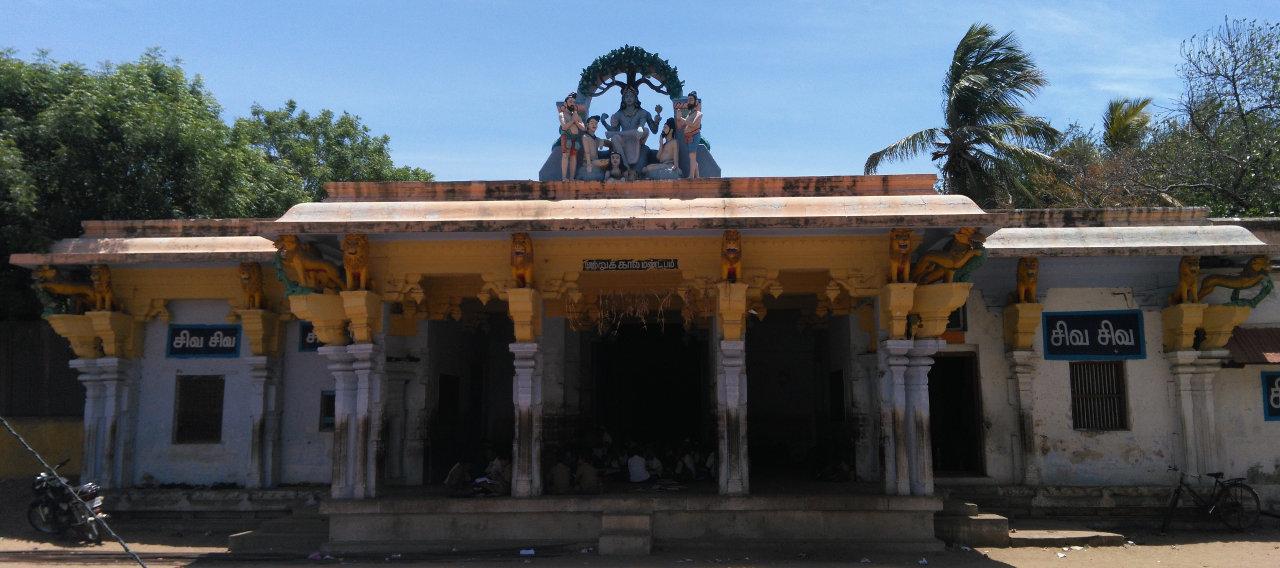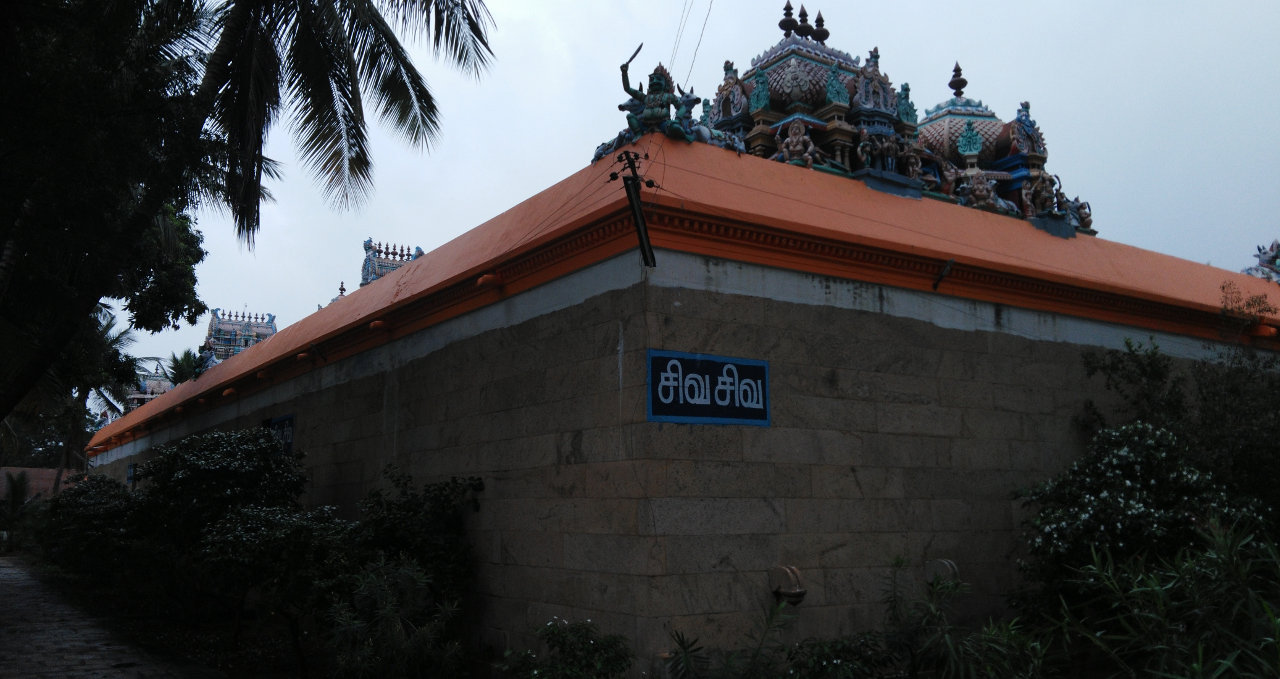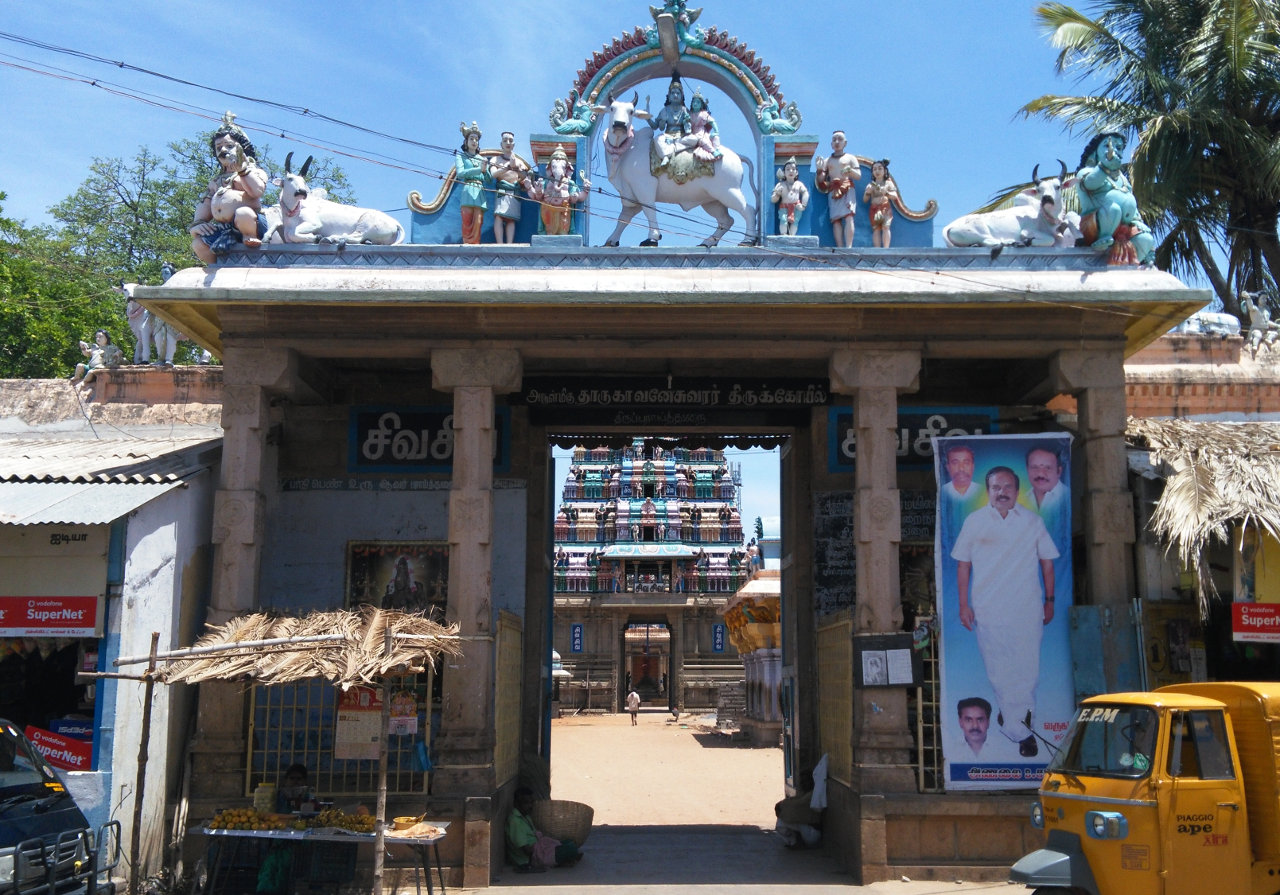 ---
Pathigam (Hymn) with English transliteration
Saint Thirugnanasambanthar visited this temple and sang this Pathigam.
Devotees visiting this temple should make it a practice to recite this Pathigam.
நீறுசேர்வதொர் மேனியர்நேரிழை
கூறுசேர்வதொர் கோலமாய்ப்
பாறுசேர்தலைக் கையர்பராய்த்துறை
ஆறுசேர்சடை அண்ணலே.
"Nīṟusērvathor mēṉiyarnērizhai
kūṟusērvathor kōlamāyp
pāṟusērthalaik kaiyarparāyththuṟai
āṟusērsaṭai aṇṇalē".
கந்தமாமலர்க் கொன்றைகமழ்சடை
வந்தபூம்புனல் வைத்தவர்
பைந்தண்மாதவி சூழ்ந்தபராய்த்துறை
அந்தமில்ல அடிகளே.
"Kanthamāmalark koṉtṟaikamazhsaṭai
vanthapūmpuṉal vaiththavar
painthaṇmāthavi chūzhnthaparāyththuṟai
anthamilla aṭikaḷē".
வேதர்வேதமெல் லாமுறையால்விரித்
தோதநின்ற ஒருவனார்
பாதிபெண்ணுரு ஆவர்பராய்த்துறை
ஆதியாய அடிகளே.
"Vētharvēthamel lāmuṟaiyālvirith
thōthaniṉṟa oruvaṉār
pāthipeṇṇuru āvarparāyththuṟai
āthiyāya aṭikaḷē".
தோலுந்தம்மரை யாடைசுடர்விடு
நூலுந்தாமணி மார்பினர்
பாலும்நெய்பயின் றாடுபராய்த்துறை
ஆலநீழல் அடிகளே.
"Thōluntham'marai yāṭaisuṭarviṭu
nūlunthāmaṇi mārpiṉar
pālumneypayiṉ tṟāṭuparāyththuṟai
ālanīzhal aṭikaḷē".
விரவிநீறுமெய் பூசுவர்மேனிமேல்
இரவில்நின்றெரி யாடுவர்
பரவினாரவர் வேதம்பராய்த்துறை
அரவமார்த்த அடிகளே.
"Viravinīṟumey pūsuvarmēṉimēl
iravilniṉtṟeri yāṭuvar
paraviṉāravar vēthamparāyththuṟai
aravamārththa aṭikaḷē".
மறையுமோதுவர் மான்மறிக்கையினர்
கறைகொள்கண்ட முடையவர்
பறையுஞ்சங்கும் ஒலிசெய்பராய்த்துறை
அறையநின்ற அடிகளே.
"Maṟaiyumōthuvar māṉmaṟikkaiyiṉar
kaṟaikoḷkaṇṭa muṭaiyavar
paṟaiyuñchaṅkum oliseyparāyththuṟai
aṟaiyaniṉtṟa aṭikaḷē".
விடையுமேறுவர் வெண்பொடிப்பூசுவர்
சடையிற்கங்கை தரித்தவர்
படைகொள்வெண்மழு வாளர்பராய்த்துறை
அடையநின்ற அடிகளே.
"Viṭaiyumēṟuvar veṇpoṭippūsuvar
saṭaiyiṟgaṅgai thariththavar
paṭaikoḷveṇmazhu vāḷarparāyththuṟai
aṭaiyaniṉtṟa aṭikaḷē".
தருக்கின்மிக்க தசக்கிரிவன்றனை
நெருக்கினார்விர லொன்றினால்
பருக்கினாரவர் போலும்பராய்த்துறை
அருக்கன்றன்னை அடிகளே.
"Tharukkiṉmikka thasakkirivaṉtṟaṉai
nerukkiṉārvira loṉtṟiṉāl
parukkiṉāravar pōlumparāyththuṟai
arukkaṉtṟaṉṉai aṭikaḷē".
நாற்றமாமல ரானொடுமாலுமாய்த்
தோற்றமும் மறியாதவர்
பாற்றினார்வினை யானபராய்த்துறை
ஆற்றல்மிக்க அடிகளே.
"Nātṟamāmala rāṉoṭumālumāyth
thōtṟamum maṟiyāthavar
pātṟiṉārviṉai yāṉaparāyththuṟai
ātṟalmikka aṭikaḷē".
திருவிலிச்சில தேரமண்ஆதர்கள்
உருவிலாவுரை கொள்ளேலும்
பருவிலாலெயில் எய்துபராய்த்துறை
மருவினான்றனை வாழ்த்துமே.
"Thiruvilichchila thēramaṇātharkaḷ
uruvilāvurai koḷḷēlum
paruvilāleyil eythuparāyththuṟai
maruviṉāṉtṟaṉai vāzhththumē".
செல்வமல்கிய செல்வர்பராய்த்துறைச்
செல்வர்மேற் சிதையாதன
செல்வன்ஞான சம்பந்தனசெந்தமிழ்
செல்வமாமிவை செப்பவே.
"Selvamalkiya selvarparāyththuṟaich
selvarmēṟ sithaiyāthaṉa
selvaṉgñāṉa sambanthaṉasenthamizh
selvamāmivai seppavē".