Visited on: September 4, 2017.
Location
Thirunallaru is located at a distance of about 4 kms from Karaikkal. From Mayiladuthurai, Thirunallaru is about 34 kms. The nearest railway station is Karaikkal.
Other Devara Paadal Petra Shiva Sthalam near this place are – Dharumapuram, Thiruvettakkudi, Thiruthelichery, Thirukkadaiyur and Thirukkadaiyur Mayanam.
General Information
| | |
| --- | --- |
| Moolavar | Sri Dharbaranyeswarar, Sri Thirunallatreeswarar |
| Ambal | Sri Bohamaartha Poonmulaiyaal, Sri Branambigai |
| Theertham (Holy water) | Brahma Theertham, Saraswathi (Vaani) Theertham, Nala Theertham |
| Sthala Vriksham (Sacred Tree) | Dharbai grass |
| Pathigam (Hymn) rendered by | Saint Thirugnanasambanthar-4, Saint Thirunavukarasar (Appar)-2 and Saint Sundaramurthy (Sundarar)-1 |
This is one of the 276 Devara Paadal Petra Shiva Sthalams and 52nd Shiva Sthalam on the Southern bank of the river Cauveri in Chozha Nadu (Thenkarai).
Lord Shiva in this temple is a Swayambumurthi (self-manifested).
This is one of the "Saptha (seven) Vidanga Sthalams".
This is one of the Shakti Peetam – known as "Braneswari Peetam".
This is one of the Navagraha sthalams and it is the most popular temple for Lord Saneeswaran.
This is one of the 44 Paadal petra sthalams where the "Moovar" (the three saints - Saint Thirugnanasambanthar, Saint Thirunavukarasar (Appar) and Saint Sundaramurthy (Sundarar) had rendered their Pathigams.
This east facing temple has 3 corridors and its main tower (Rajagopuram) has 7-tiers.
The last consecration ceremony (Kumbabishekam) took place on 24.03.2006.
History of the Temple
This ancient temple is believed to have been constructed by Chola kings.
The historical names of this place are Aadhipuri, Naleswaram and Nalavidangar.
This temple is under the administrative control of Dharumapuram Aadheenam as well as the Hindu Religious and Charitable Endowments Department of Government of Tamil Nadu (HR & CE).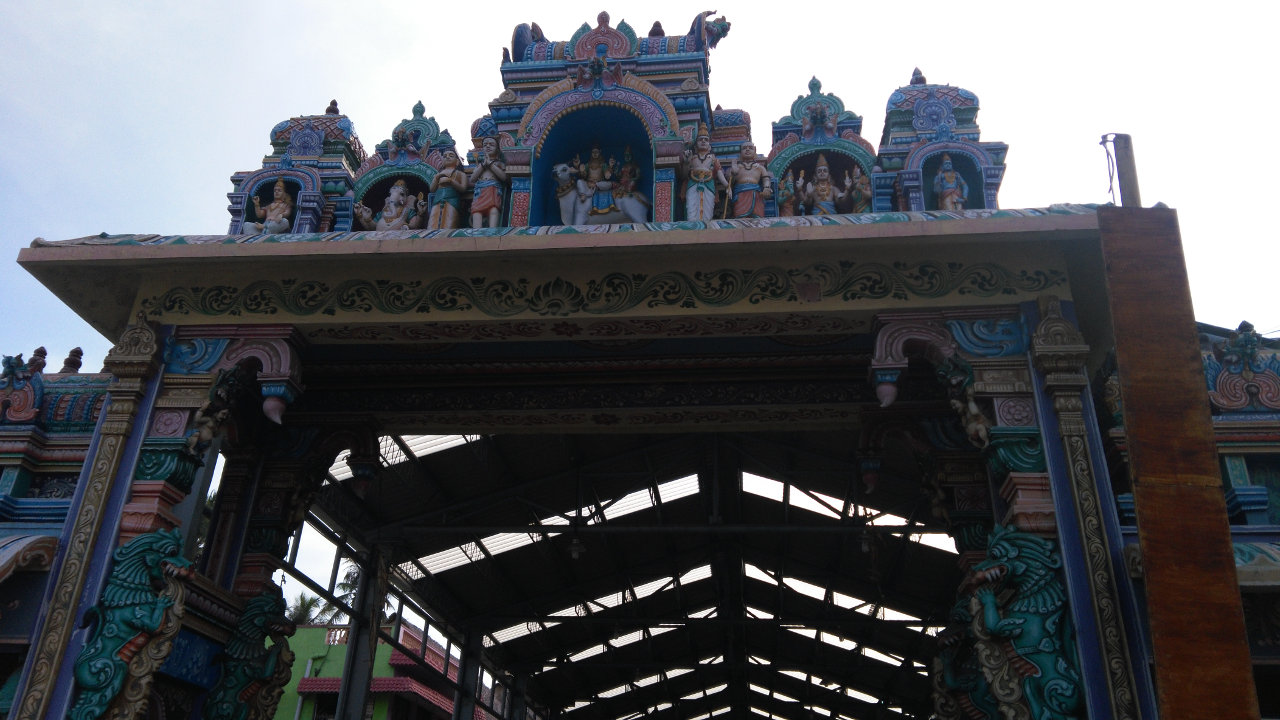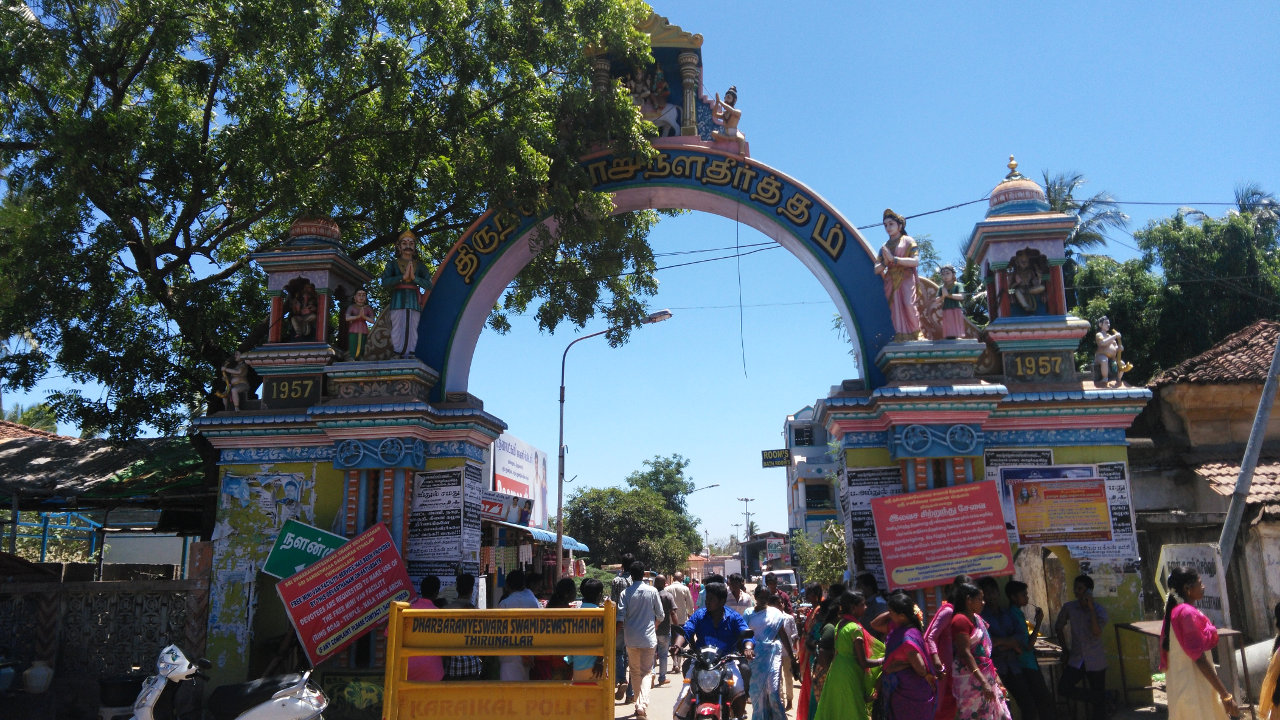 Legend
This temple's sacred plant is "Dharbai". It is a grass that is used in rituals. According to legend, in ancient times, this region was densely covered with Dharbai plants. It is believed that the lord of this temple appeared in the midst of these plants. The lingam looks as if it is created out of a bunch of Dharbai leaves. Hence the lord is known as "Sri Dharbharanyeswarar" and the place gets the name "Dharbaranyam".

This temple is one of the Navagraha sthalams and is represented by Lord Saneeswaran. Saneeswaran is the son of Lord Suryan and Chayadevi. Jeshtadevi is his wife. It is believed that Saneeswaran performed rigorous penance and worshiped Lord Shiva at Kasi (Banaras) to get a place among the Navagraham. Saneeswaran is believed to be the lord of "Makara (Capricorn) and Kumba (Aquarius) rasis" (zodiac signs).
King Nalan
King Nalan was a ruler of the Nidatha kingdom who married Damayanthi, the princess of Vidharba kingdom. Nalan was under the influence of Sani dosha and had to undergo several ordeals. He was advised by Sage Bharatwaj to visit this place, take a dip in this temple's Theertham and worship Lord Shiva. It is believed that when Nalan entered the sanctum to worship the lord, Sani left him there itself as Sani was afraid to enter into the sanctum along with Nalan. In his hymn, Saint Thirugnanasambanthar mentioned about Nalan's worship – he worshiped the lord with flowers, dheepam and sambirani.
Lord Shiva not only relieved Nalan from Sani's grip but also gave Sani the title of lord and asked him to stay here itself. Hence Sani is known as "Sani Eswarar" and this place gets the name "Thiru Nalan Aru" ("Thiru" a prefix for respect, "Nalan" refers to the king and "Aru" means healing in Tamil). Over a period of time this name has changed to Thiru Nallaru. Saneeswararn is also known as "Sanaicharan".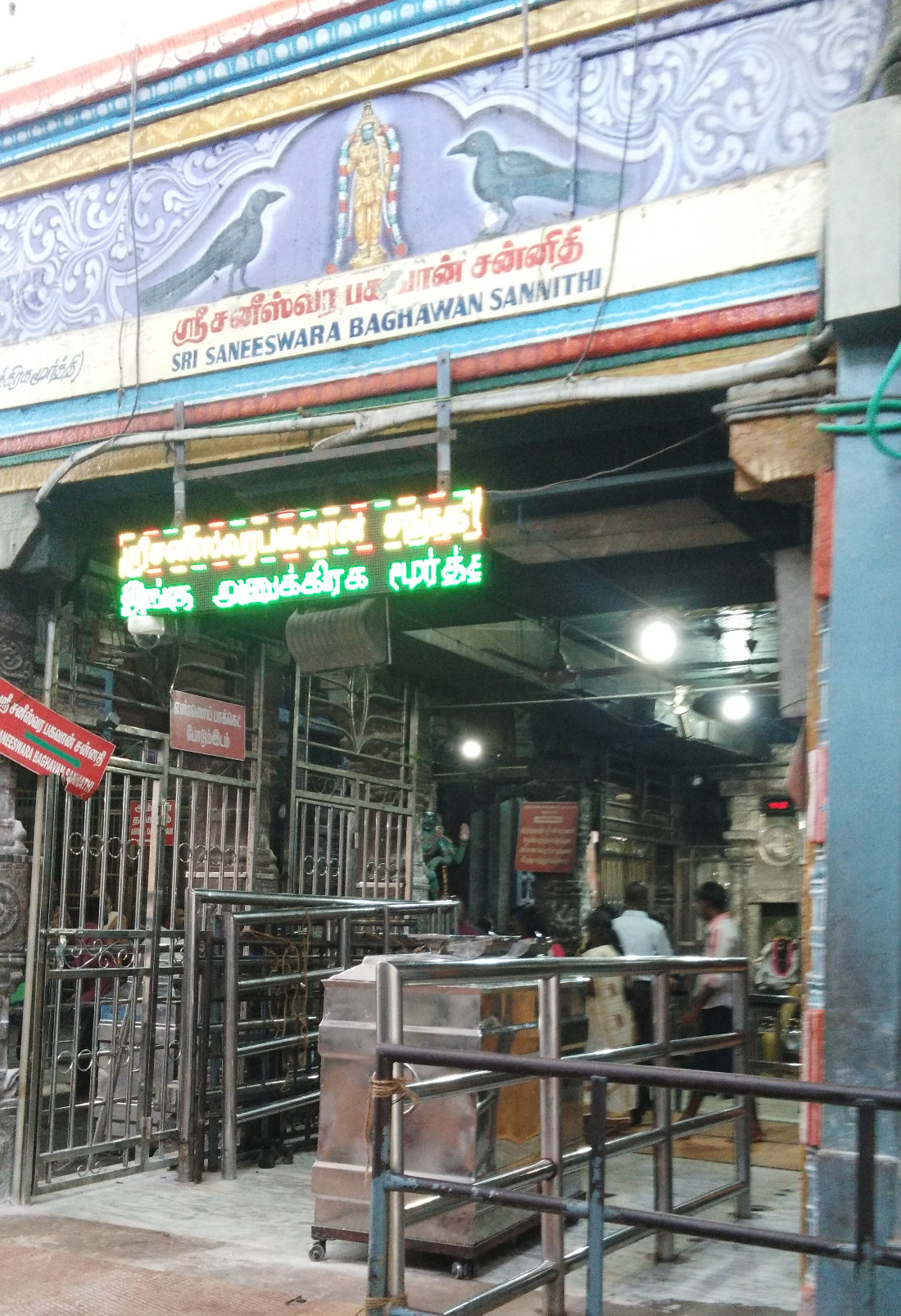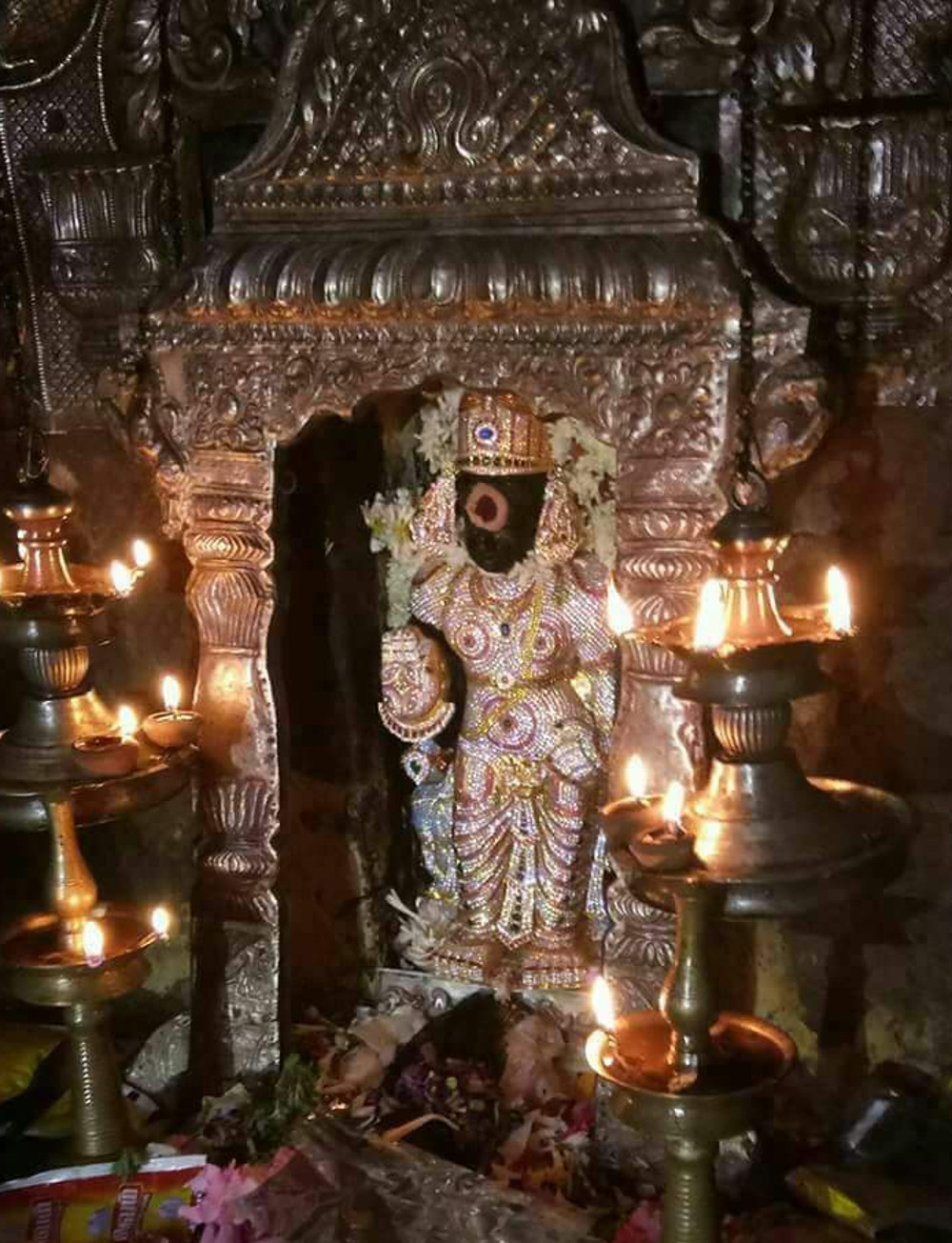 Saneeswarar on his crow mount (golden)
Idayanar
Another legend associated with this temple is that of a shepherd (Idayan in Tamil). On the instructions of the local king, a shepherd used to supply milk to this temple regularly. The accountant of this temple used to send some of the milk to his home and falsify the teple's accounts. Once, when the king came to know that no milk had reached the temple, he wanted to punish the shepherd. The shepherd prayed to the lord for help. It is believed that in order to save the shepherd and punish the accountant, Lord Shiva sent his lance (trishul) from his sanctum. The trishul punished the accountant and the lord appeared and gave darshan to the shepherd.
To give way to the trishul, the Nandhi and the Balipeet moved from their original positions. Hence, in this temple, Nandhi and Balipeet are not in their regular positions i.e. on a straight line to the main deity, but are placed slightly on one side.
There is a separate shrine for "Idaiyanar" where idols of the shepherd, his wife and the accountant can be seen.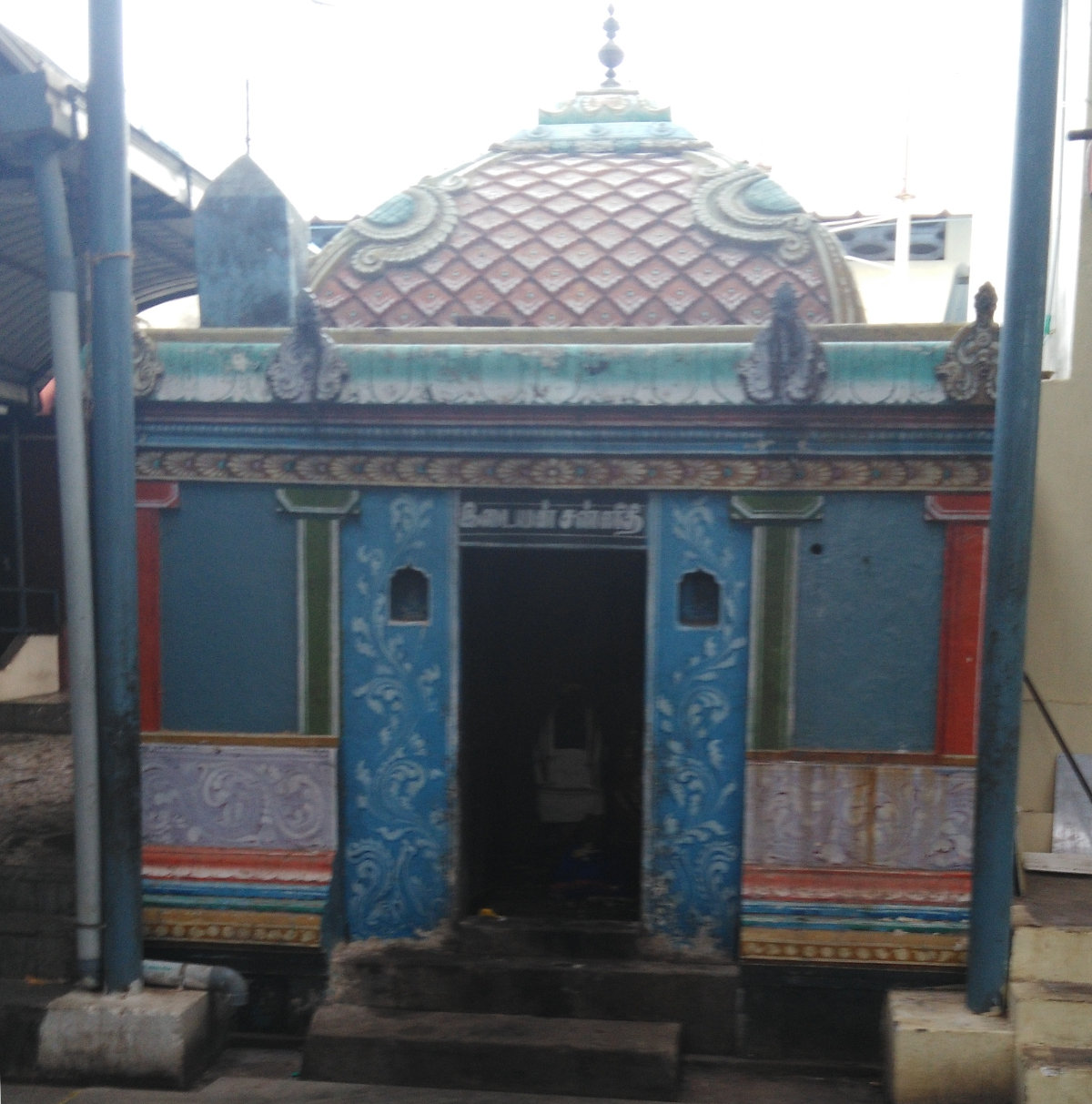 Lord Mahavishnu
Another legend is Lord Mahavishnu worshiped the lord here for "Santhana Prapthi" (child boon). He was blessed with a child called Manmadan. At the time of granting darshan to Lord Mahavishnu, Lord Shiva was accompanied by Goddess Parvathy with Lord Murugan in between them. Pleased with that form of darshan, Lord Mahavishnu named that posture as "Somaskanda Murthy" and requested Lord Shiva to stay here and bless other devotees as well. It is believed that this posture called "Somaskandar" originated from Thirunallaru.
Lord Indra was also seeking a child. When he came to know that Lord Mahavishnu had been blessed with a child, he sought his advice. Lord Mahavishnu gave Lord Indran the Shivalingam that he had used for worship. Indran started worshiping the lingam in his celestial world and was blessed with two children namely Jayanthan and Jayanthi.
Pachchai Pathigam
It is believed that once Saint Thirugnanasambanthar agreed to a debate with Samanars in order to prove the superiority of their respective religions. This debate was conducted in front of the King Koon Pandiyan of Madurai. As part of their debate, both parties agreed to the contest of "Anal Vatham". The rules of this contest stipulated that slokas were to be written on a palm leaf and put in fire. Whosoever's palm leaf remained unscathed in the fire would be declared the winner and their religion would be declared superior. The palm leaf that the Samanars put in the fire was destroyed instantly. However, when Thiugnanasambanthar wrote the Pathigam of Thirunallaru ("Bohamartha poon mulaiyal") on a leaf and put it in the fire, it came out unscathed. Thereafter, king as well as the Samanars accepted Thiugnanasambanthar as the victor and converted to Hinduism. Hence this pathigam is known as "Pachchai Pathigam" ("Pachchai" means green in Tamil). This pathigam is considered very auspicious.
Other Legends
It is believed that lords Mahavishnu, Brahma, Indran, Goddess Saraswathi, Ashtathik Balakas, Sage Agasthiyar and Sage Pulasthiyar, Hamsam, kings Arjunan, Nalan, Kalingan and Varusha Rajan have worshiped the lord here.
Sapthavidangam
The legend is that Lord Mahavishnu used to keep a "Maragatha Lingam" (lingam made of Emerald) for his worship. Later he gave it to Lord Brahma and then to Lord Indra. Indra worshiped that lingam for a long time. The Chola King Muchukunda Chakravarthy, who had the face of a monkey, was a king known for his valour. He had once helped Indra defeat the demon Valasuran. Indra wanted to present something and asked Muchukunda what he wanted. Muchukunda, being a staunch devotee of Lord Shiva, asked for that Emerald lingam. However, Indra was not willing to part with it. So, he had six similar lingams made and asked Muchukunda to select any one of them. Muchukunda prayed to Lord Shiva and was able to select the original idol. Impressed with his devotion, Indra gave him all the seven idols to Muchukunda. Muchukunda kept these idols in seven temples which are called "Seven Vidanga Sthalams". However, he kept the original one at Thiruvarur. "Vidanga" means something that has not been chiselled.
In the "Vidanga" temples there is a procession idol called Thyagarajar. It is in the form of Somaskandar. Somaskandar is derived from the term – "So-Uma-Skanda" where So means Lord Shiva, Uma means Goddess Parvathy and Skanda means Lord Murugan. It signifies that Lord Murugan is seated on the lap of Lord Shiva and Goddess Parvathy. In this temple, Lord Thyagarajar is known as "Sri Shenbaka Thyagarajar".
Another interesting aspect about all these temples is that the "Vidangar" is believed to be the ruler of all the planets. For this reason, all the idols of Navagraham are seen in a straight line facing Lord Shiva. In some temples, they are in their usual matrix, but still all of them face the lord.
In all these seven temples, the main deity of the temple ("Moolavar") is different from the "Vidangar".
These seven Vidanga sthalams, name of the Vidangar and the name of the dance (Nadanam) related to each of these places is as follows:
| | | |
| --- | --- | --- |
| Thiruvarur | Vidhi Vidangar | Ajapa Nadanam |
| Thirunallar | Naga Vidangar | Unmaththa Nadanam |
| Nagapattinam | Sundhara Vidangar | Visi Nadanam |
| Thirukarayil | Adhi Vidangar | Kukkuda Nadanam |
| Thirukkuvalai | Avani Vidangar | Brunga Nadanam |
| Thiruvaimur | Nila Vidangar | Kamala Nadanam |
| Vedaranyam | Buvani Vidangar | Hamsapada Nadanam |
Of these seven emerald lingams, the biggest one is at Thirunallar and the one at Thiruvarur is of a moderate size. It is believed that at present only these two emerald lingams are the original ones kept by the king. For the remaining five, it is believed that some of them were stolen and some of them were replaced by a fresh one.
Deities in the temple
Other than the shrines of Lord Shiva and Goddess Parvathy, shrines and idols of lords Swarna Ganapathy, Murugan, Natarajar, Somaskandar, Kalahasthi Nathar, Pitchandavar, Nalvar, 63 Nayanmars, Adhisheshan, Nalanarayana Perumal, Mahalakshmi, Suryan and Bairavar can be seen in the corridors. Idols of King Nala and the lingam worshiped by him are placed next to 63 Nayanmars.
In the "koshtam" (place surrounding the sanctum sanctorum), idols of Vinayakar, Dakshinamurthy, Lingothbhavar, Brahma, Durgai and Chandikeswarar can be seen.
The lingam worshiped by King Nalan (Sri Naleswarar), Shivalingams in the names of rest of the Saptha Vidanga temples and the lingams worshiped by Ashtatik Balakas can also be seen in the corridors.
There is a separate shrine for the Emerald lingam, Sri Thyagaraja Vidangar.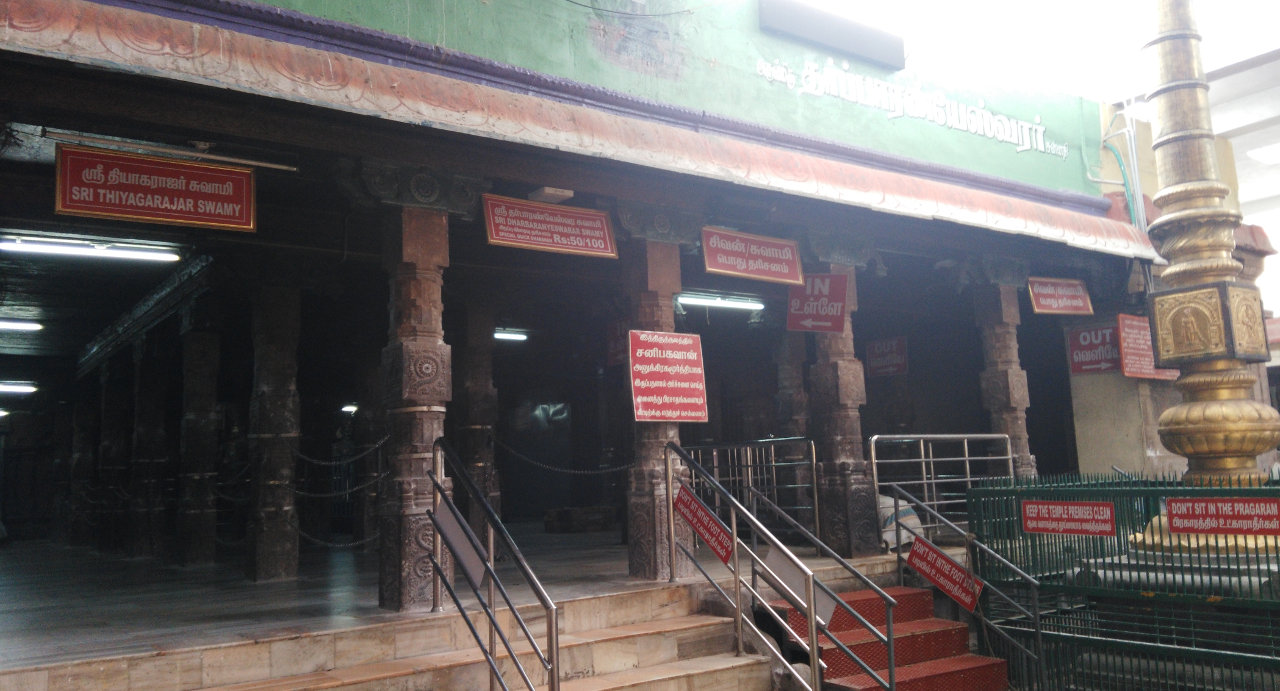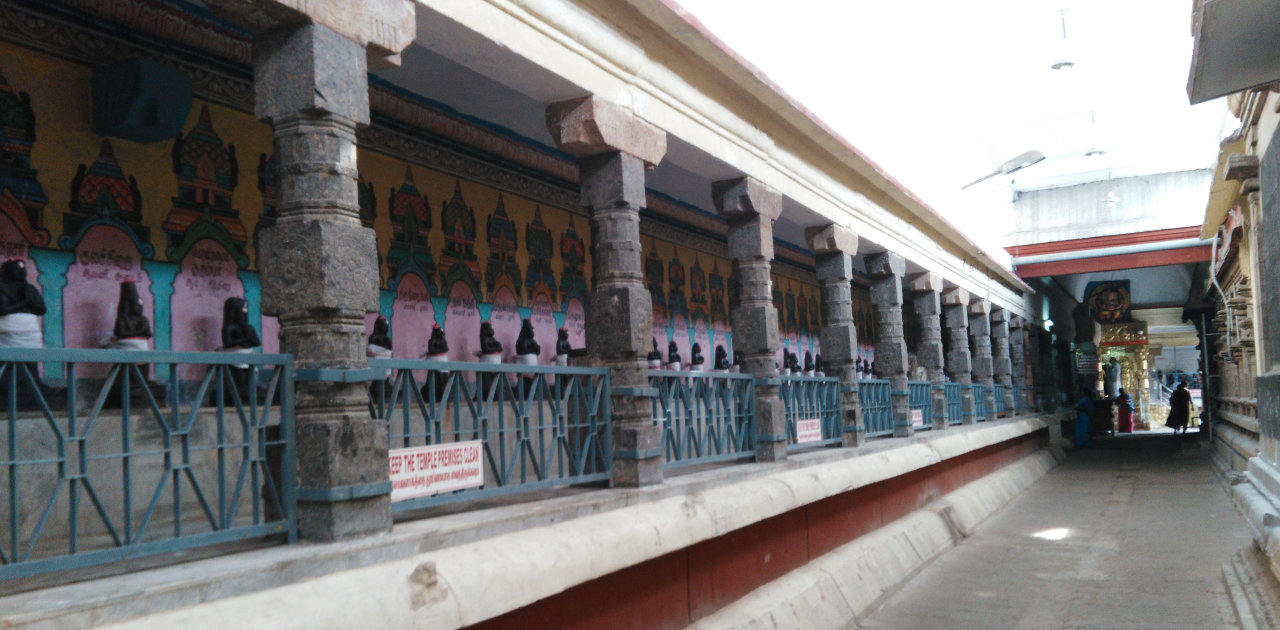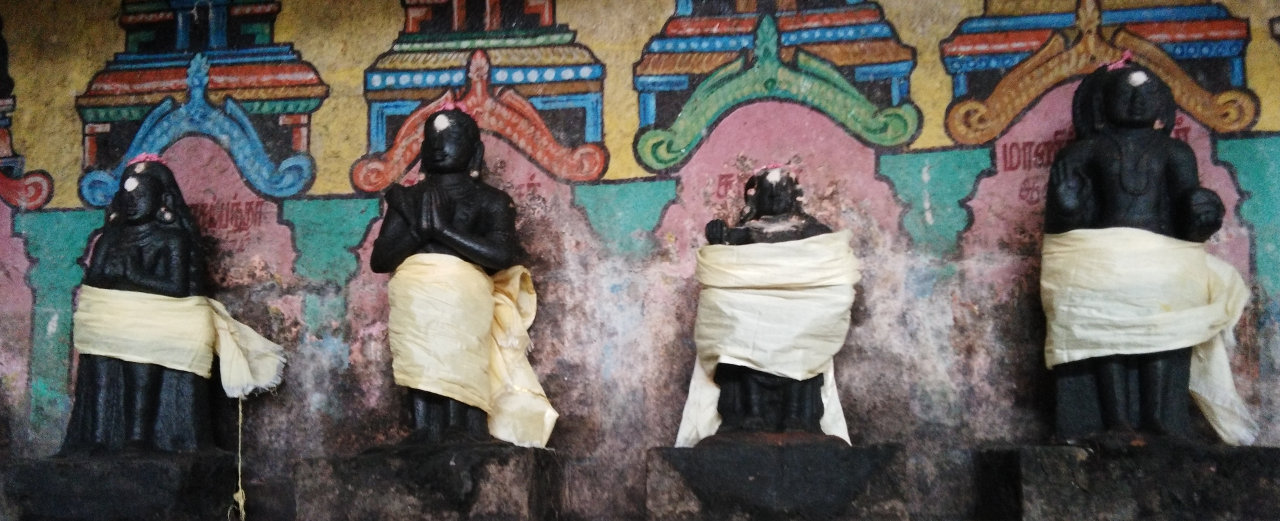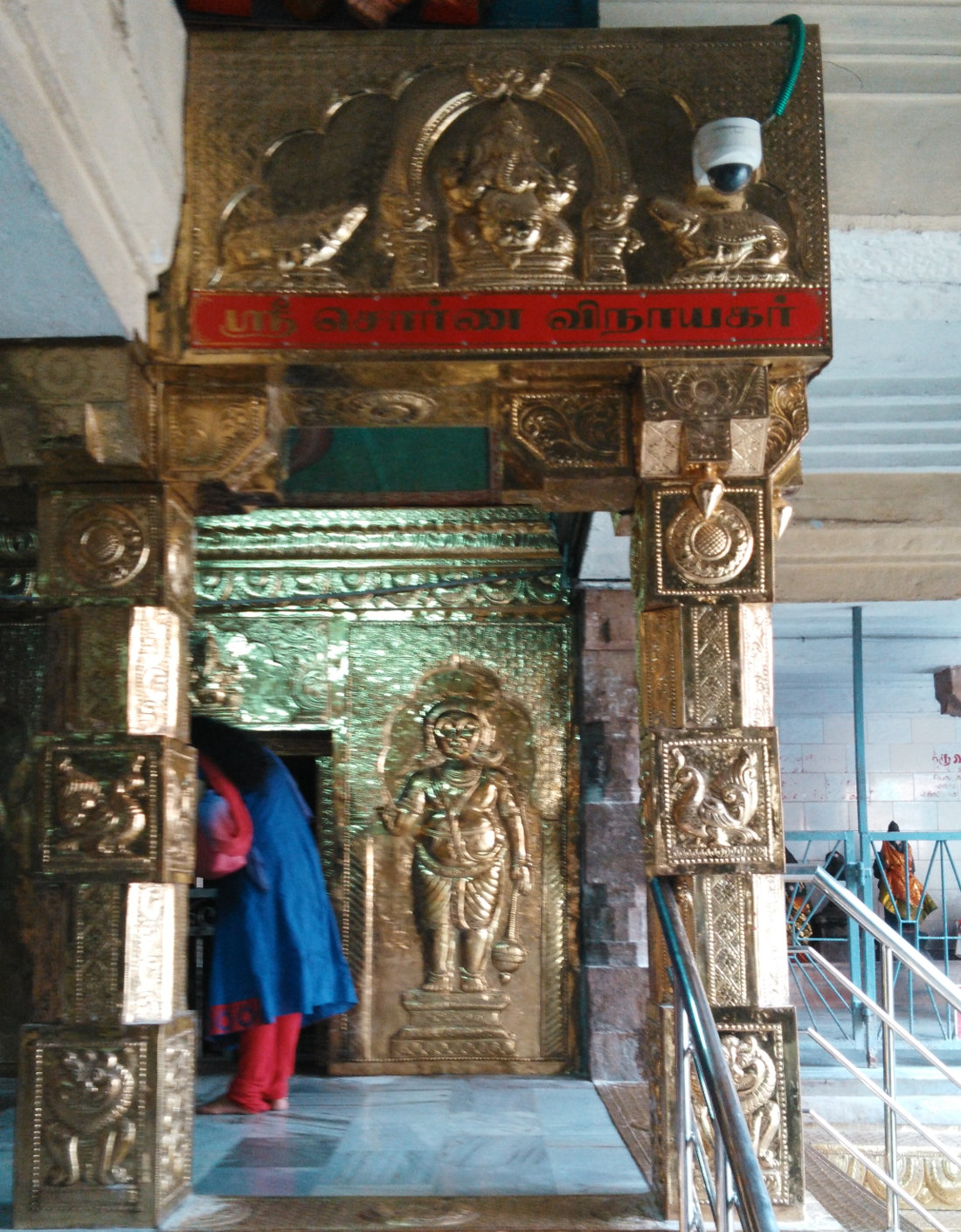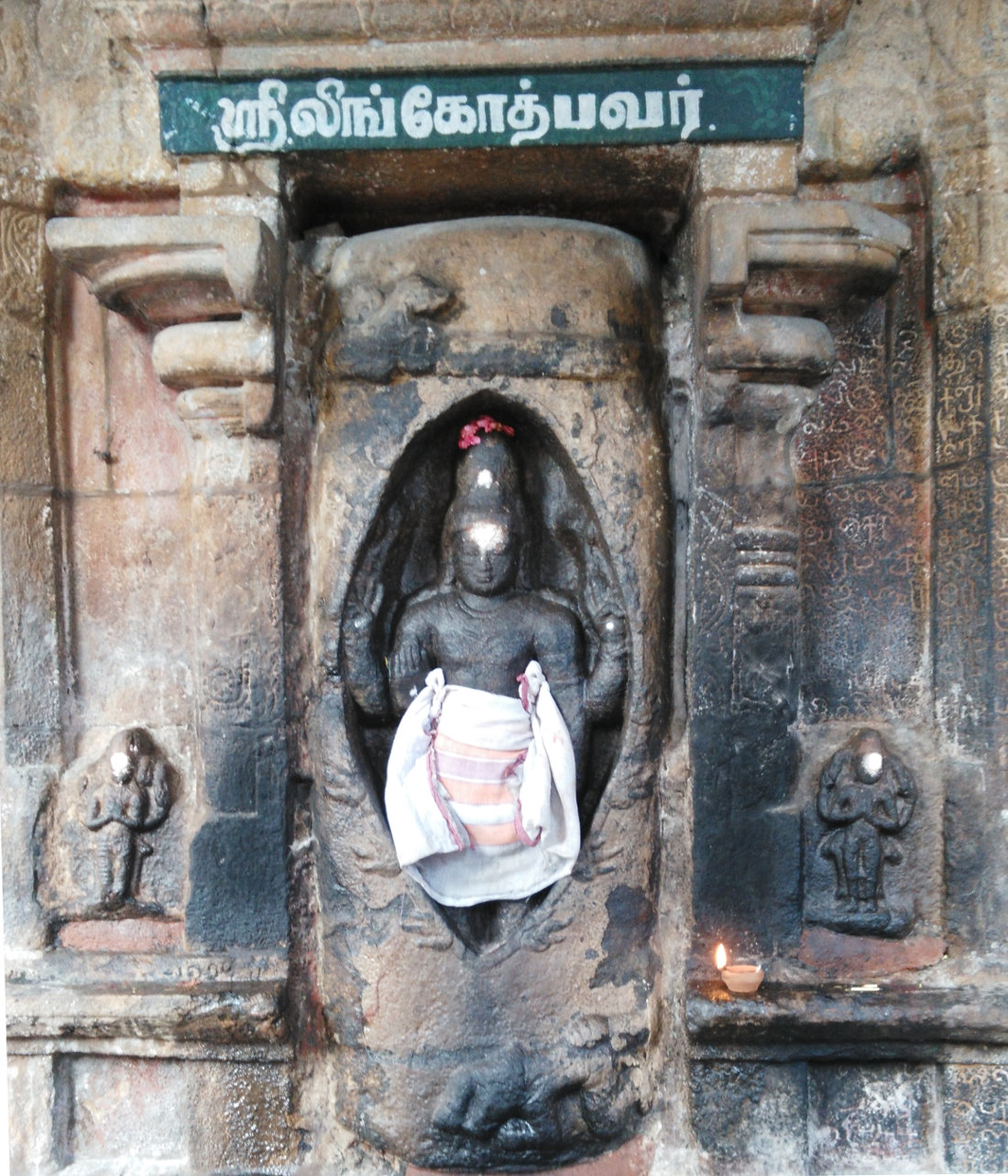 Salient Features
The greatness of the Thirunallaru temple is attributed to the unique idol of Lord Saneeswaran. He is seen in the "abhaya hastham" posture. This is a very unique posture of Lord Saneeswaran.
Thirunallaru is famous for its Theerthams and is known as Theertha Sthalam. There are many theerthams associated with this temple - Nala, Brahma, Vaani, ashtathik balakas (eight theerthams), Anna and Ganga Theertham.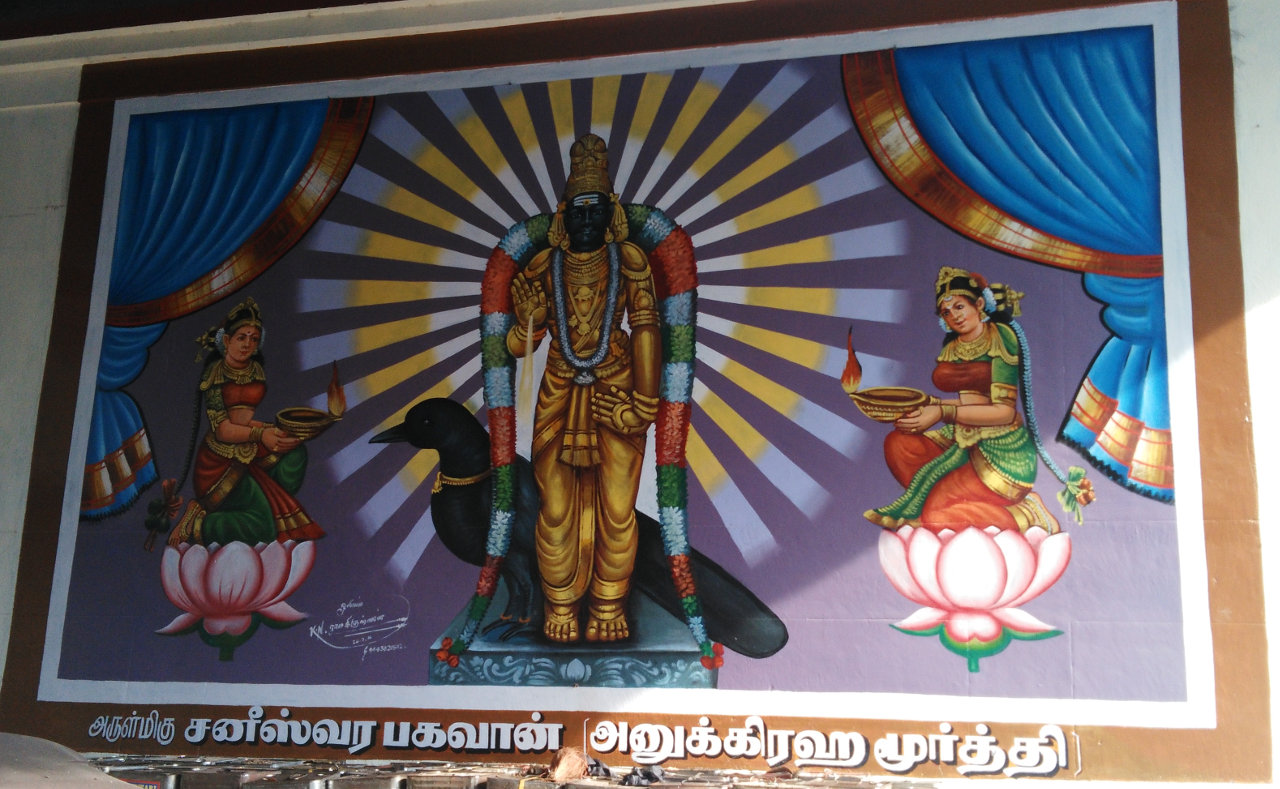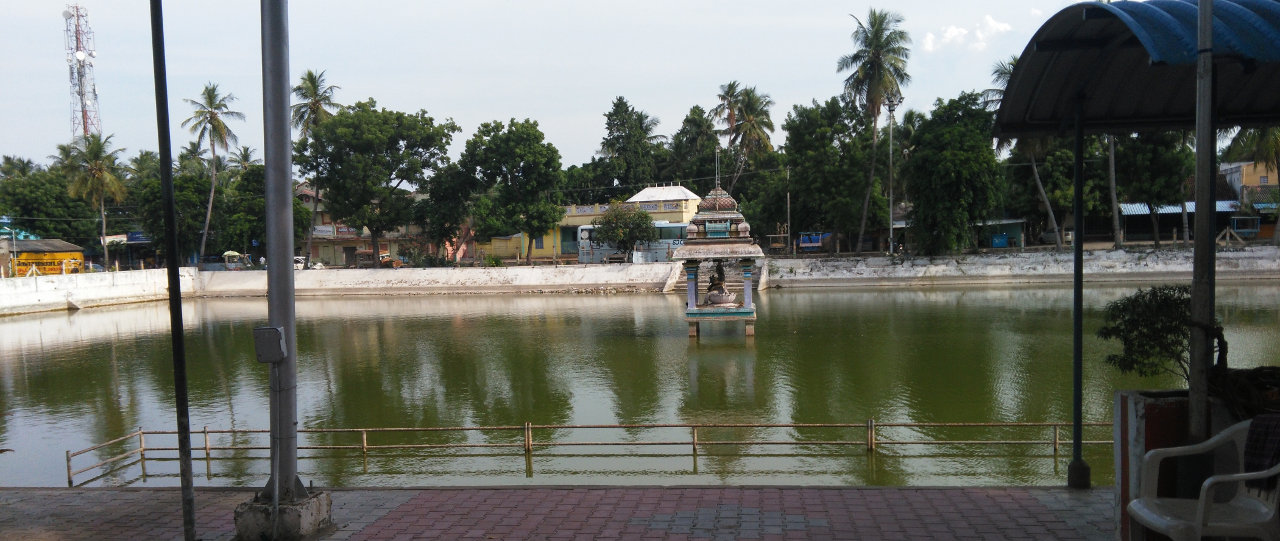 Another unusual fact is that in this temple the Saneeswaran idol only has two hands and the right-hand holds the "Abhaya Mudra". In most other temples, the idol of Lord Saneeswaran usually has four hands. The significance of the Abhaya Mudra is that it is supposed to dispel fear. In Sanskrit, "Abhaya" means "fearlessness". This mudra symbolizes protection, peace, and the dispelling of fear.
This temple is considered to be significant for its three important attributes – Moorthy, Sthalam and Theertham - glory of Lord, sacredness of the land and the auspicious temple tank.
Saint Arunagirinadhar has sang songs in praise of Lord Murugan of this temple in his revered Thirupugazh.
Greatness of this temple
Devotees believe that by worshiping the lord here, all "doshas" related to "Sani" will be removed. Devotees are advised to worship the lord of this temple in the following manner – take a dip in the Nala Theertham, worship Vinayagar and Bairavar on the banks of the Theertham, worship Nala Narayana Perumal on the way to this temple, worship Lord Shiva and Goddess Parvathy and then finally worship Lord Saneeswaran.
As Lord Mahavishnu was blessed with a child here, it is believed that those seeking "santhana prapthi" (child boon) can worship Lord Shiva of this temple.
Devotees believe that worshiping the lord here after taking a dip in the Brahma Theertham will lead to removal of all the sins from their previous birth.
Students can take a dip in the Vaani theertham and worship the lord here to excel in their education.
Important Festivals
The important festival here is the transition of Saturn. It happens once every two and a half years. Lakhs of devotees visit this place to worship Lord Saneeswaran on this transition day ("Sani Peyarchi").
Also, on all Saturdays, devotees throng in thousands to worship Saneeswaran as Saturdays are considered to be very auspicious for Lord Saneeswaran.
On the full moon night in the Tamil month of Purattasi (Sept-Oct), special poojas are performed to the Emerald Lingam.
18-day Brahmotsavam in the Tamil month of Vaikasi (May-June) is celebrated in a grand manner.
All festivals related to Shiva temples are celebrated in this temple.
Temple Timings
From 06.00 AM to 12.00 Noon and from 04.00 PM to 09.00 PM.
Temple Address
Sri Dharbaranyeswarar Temple,
Thirunallaru Post,
Karaikkal Taluk,
Puducherry State.
Pincode – 609 607.
Tele: +91 4368 - 236 530, 236 504, 94422 36504.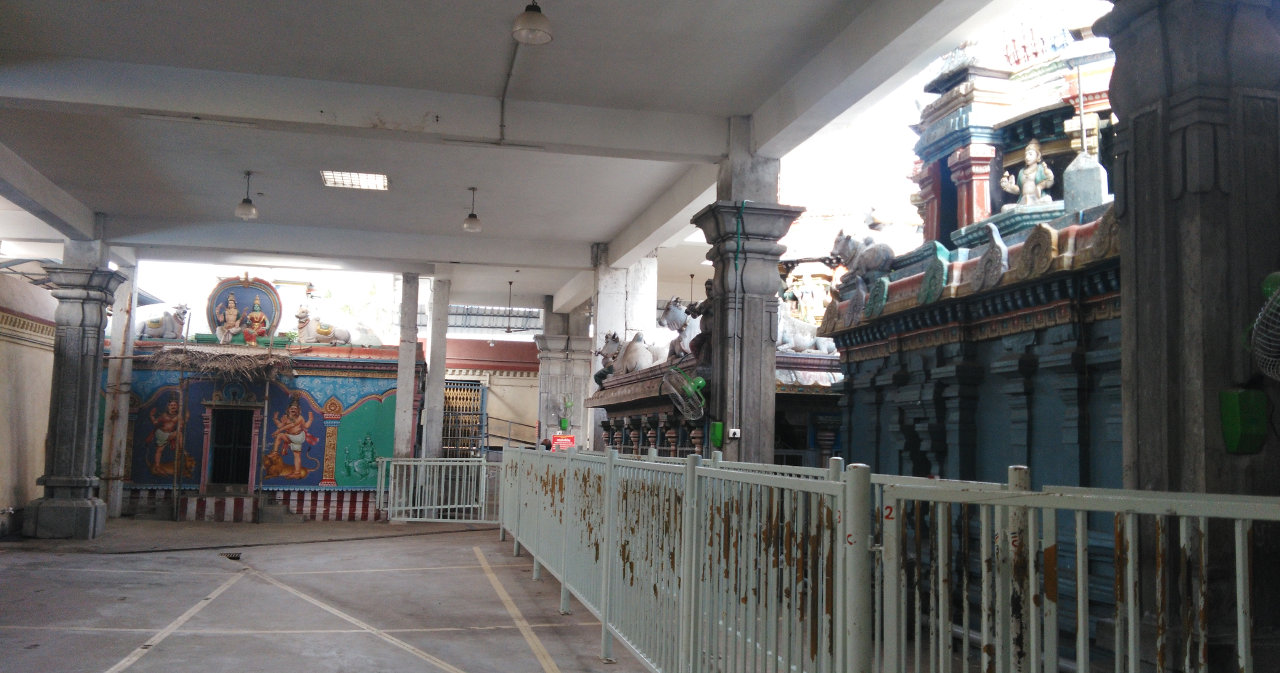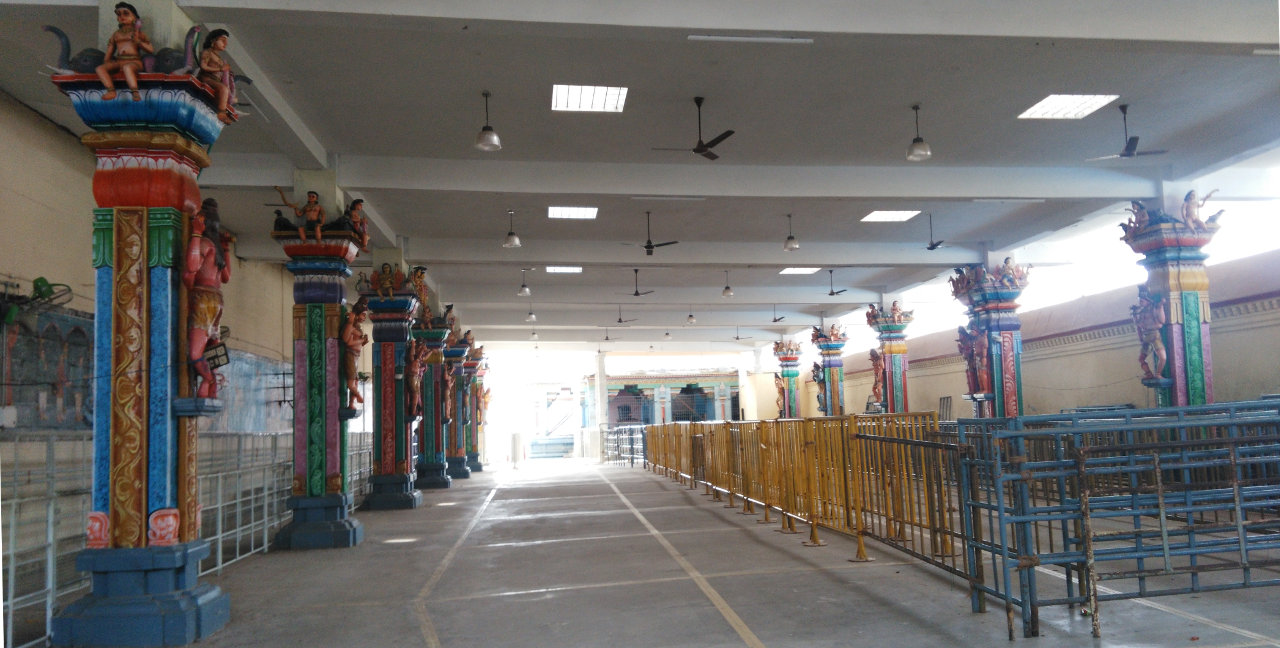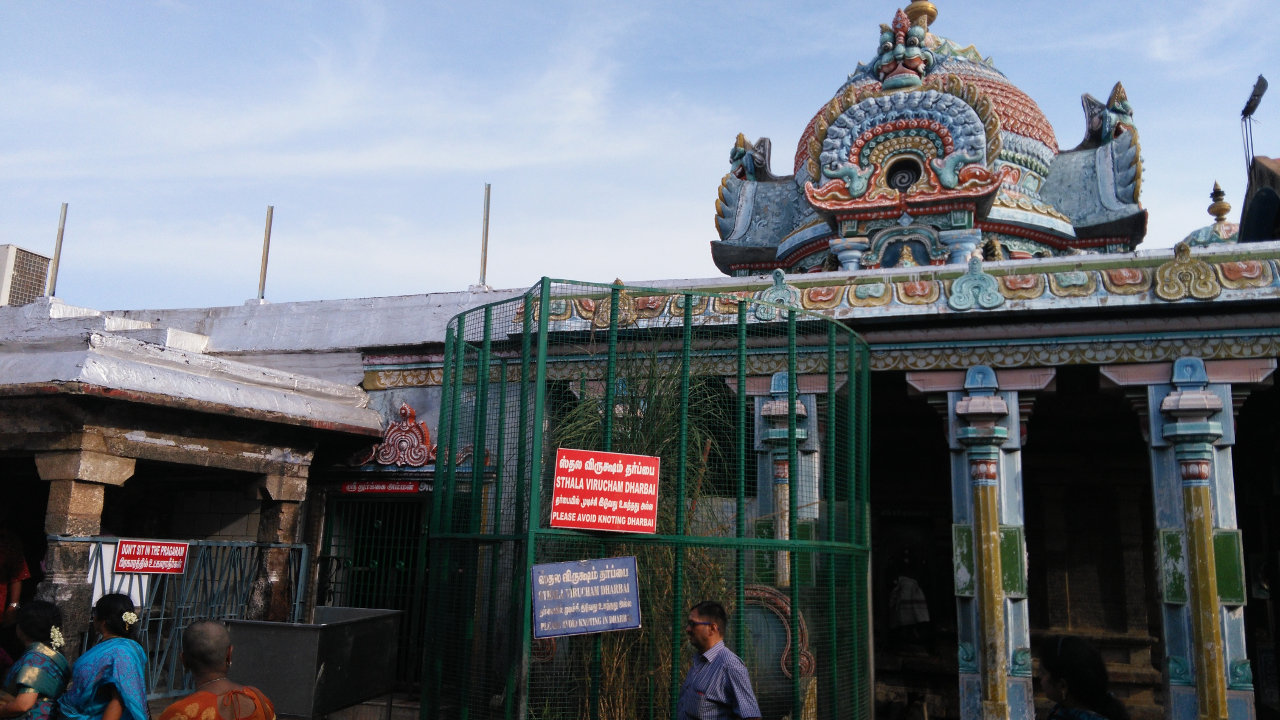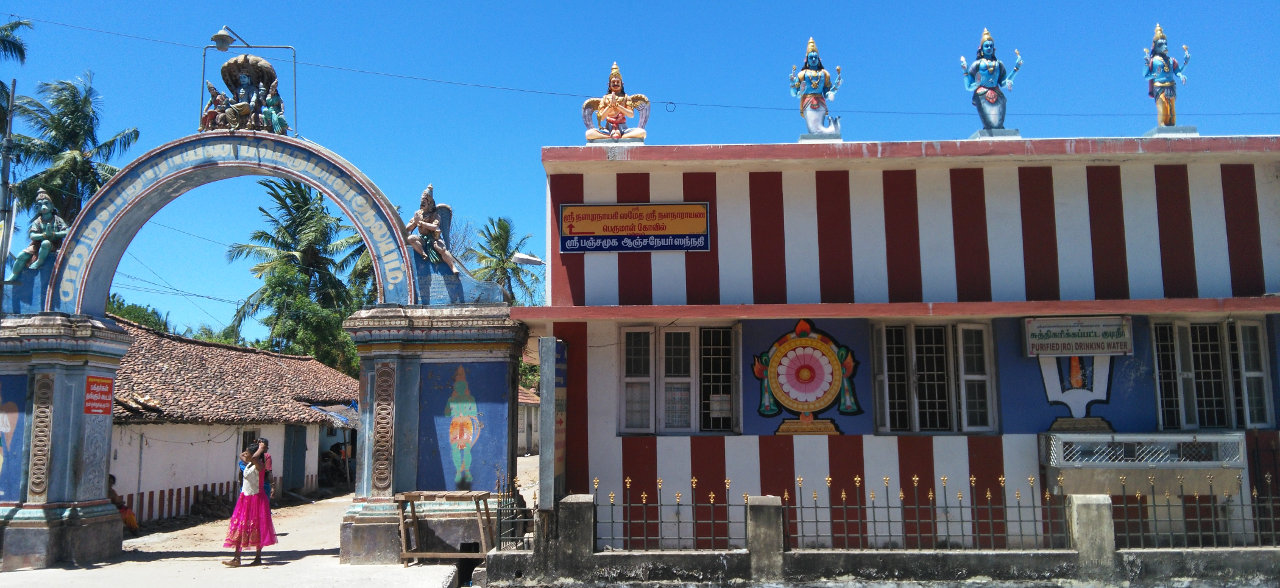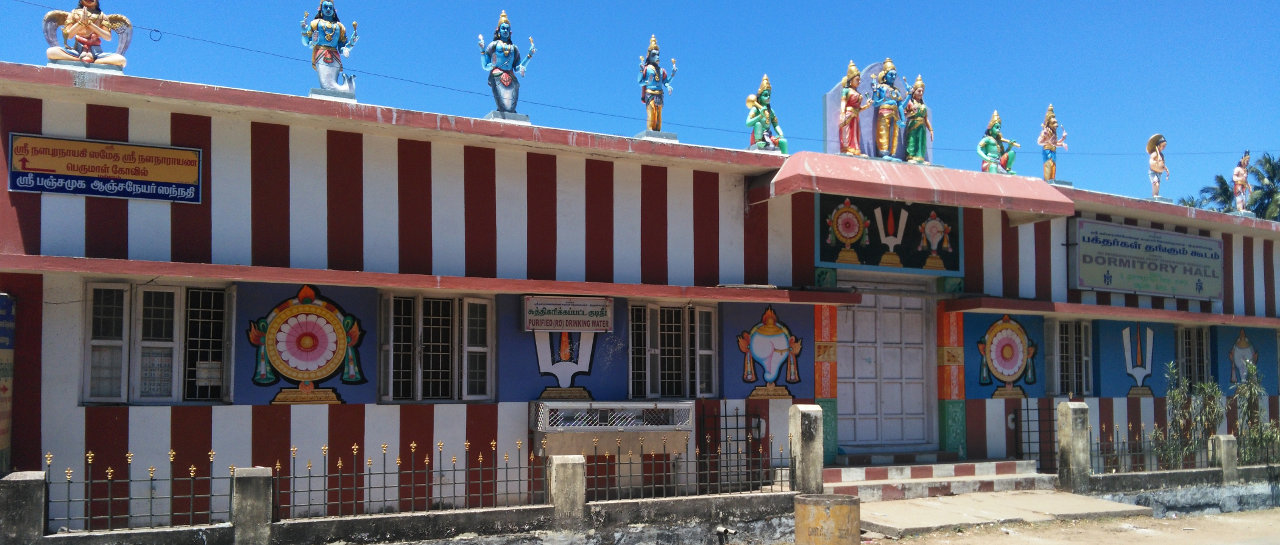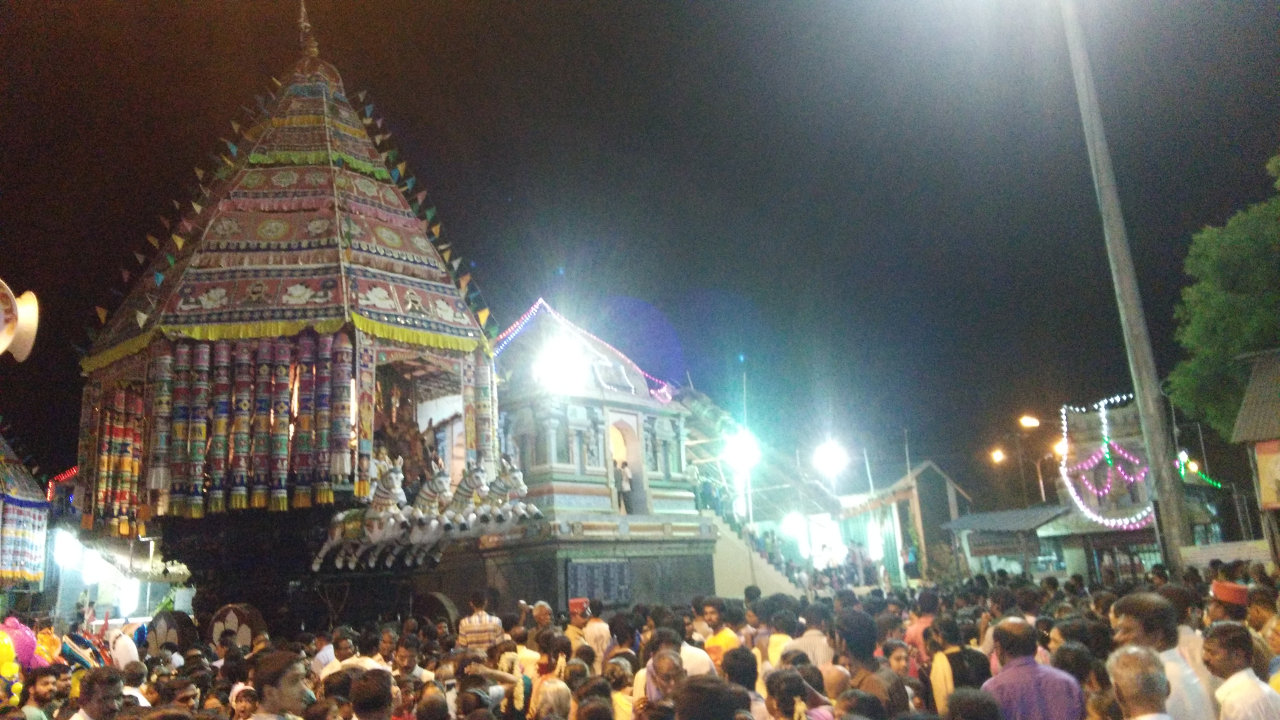 ---
Pathigam (Hymn) with English transliteration
Saint Thirugnanasambanthar visited this temple and sang this Pathigam.
Devotees visiting this temple should make it a practice to recite this Pathigam.
போகமார்த்த பூண்முலையாள் தன்னோடும் பொன்னகலம்
பாகமார்த்த பைங்கண்வெள் ளேற்றண்ணல் பரமேட்டி
ஆகமார்த்த தோலுடையன் கோவண ஆடையின்மேல்
நாகமார்த்த நம்பெருமான் மேயது நள்ளாறே.
"Pōkamārththa pūṇmulaiyāḷ thaṉṉōṭum poṉṉakalam
pākamārththa paiṅkaṇveḷ ḷētṟaṇṇal paramēṭṭi
ākamārththa thōluṭaiyaṉ kōvaṇa āṭaiyiṉmēl
nākamārththa namperumāṉ mēyathu naḷḷāṟē".
தோடுடைய காதுடையன் தோலுடை யன்தொலையாப்
பீடுடைய போர்விடையன் பெண்ணுமோர் பாலுடையன்
ஏடுடைய மேலுலகோ டேழ்கடலுஞ் சூழ்ந்த
நாடுடைய நம்பெருமான் மேயது நள்ளாறே.
"Thōṭuṭaiya kāthuṭaiyaṉ thōluṭai yaṉtholaiyāp
pīṭuṭaiya pōrviṭaiyaṉ peṇṇumōr pāluṭaiyaṉ
ēṭuṭaiya mēlulakō ṭēzhkaṭaluñ chūzhntha
nāṭuṭaiya namperumāṉ mēyathu naḷḷāṟē".
ஆன்முறையா லாற்றவெண்ணீ றாடி அணியிழையோர்
பான்முறையால் வைத்தபாதம் பத்தர் பணிந்தேத்த
மான்மறியும் வெண்மழுவுஞ் சூலமும் பற்றியகை
நான்மறையான் நம்பெருமான் மேயது நள்ளாறே.
"Āṉmuṟaiyā lātṟaveṇṇī ṟāṭi aṇiyizhaiyōr
pāṉmuṟaiyāl vaiththapātham paththar paṇinthēththa
māṉmaṟiyum veṇmazhuvuñ chūlamum patṟiyakai
nāṉmaṟaiyāṉ namperumāṉ mēyathu naḷḷāṟē".
புல்கவல்ல வார்சடைமேல் பூம்புனல் பெய்தயலே
மல்கவல்ல கொன்றைமாலை மதியோ டுடன்சூடிப்
பல்கவல்ல தொண்டர்தம்பொற் பாத நிழல்சேர
நல்கவல்ல நம்பெருமான் மேயது நள்ளாறே.
"Pulkavalla vārsaṭaimēl pūmpuṉal peythayalē
malkavalla koṉtṟaimālai mathiyō ṭuṭaṉchūṭip
palkavalla thoṇṭarthampoṟ pātha nizhalsēra
nalkavalla namperumāṉ mēyathu naḷḷāṟē".
ஏறுதாங்கி யூர்திபேணி யேர்கொள் இளமதியம்
ஆறுதாங்குஞ் சென்னிமேலோர் ஆடர வஞ்சூடி
நீறுதாங்கி நூல்கிடந்த மார்பில் நிரைகொன்றை
நாறுதாங்கு நம்பெருமான் மேயது நள்ளாறே.
"Ēṟuthāṅki yūrthipēṇi yērkoḷ iḷamathiyam
āṟuthāṅkuñ cheṉṉimēlōr āṭara vañchūṭi
nīṟuthāṅki nūlkiṭantha mārpil niraikoṉtṟai
nāṟuthāṅku namperumāṉ mēyathu naḷḷāṟē".
திங்களுச்சி மேல்விளங்குந் தேவன் இமையோர்கள்
எங்களுச்சி யெம்மிறைவன் என்றடி யேயிறைஞ்சத்
தங்களுச்சி யால்வணங்குந் தன்னடி யார்கட்கெல்லாம்
நங்களுச்சி நம்பெருமான் மேயது நள்ளாறே.
"Thiṅkaḷuchchi mēlviḷaṅkun thēvaṉ imaiyōrkaḷ
eṅkaḷuchchi yem'miṟaivaṉ eṉtṟaṭi yēyiṟaiñchath
thaṅkaḷuchchi yālvaṇaṅkun thaṉṉaṭi yārkaṭkellām
naṅkaḷuchchi namperumāṉ mēyathu naḷḷāṟē".
வெஞ்சுடர்த்தீ யங்கையேந்தி விண்கொள் முழவதிர
அஞ்சிடத்தோர் ஆடல்பாடல் பேணுவ தன்றியும்போய்ச்
செஞ்சடைக்கோர் திங்கள்சூடித் திகழ்தரு கண்டத்துள்ளே
நஞ்சடைத்த நம்பெருமான் மேயது நள்ளாறே.
"Veñchuṭarththī yaṅkaiyēnthi viṇkoḷ muzhavathira
añchiṭaththōr āṭalpāṭal pēṇuva thaṉtṟiyumpōych
cheñchaṭaikkōr thiṅkaḷchūṭith thikazhtharu kaṇṭaththuḷḷē
nañchaṭaiththa namperumāṉ mēyathu naḷḷāṟē".
சிட்டமார்ந்த மும்மதிலுஞ் சிலைவரைத் தீயம்பினால்
சுட்டுமாட்டிச் சுண்ணவெண்ணீ றாடுவ தன்றியும்போய்ப்
பட்டமார்ந்த சென்னிமேலோர் பால்மதி யஞ்சூடி
நட்டமாடும் நம்பெருமான் மேயது நள்ளாறே.
"Siṭṭamārntha mum'mathiluñ chilaivaraith thīyampiṉāl
suṭṭumāṭṭich chuṇṇaveṇṇī ṟāṭuva thaṉtṟiyumpōyp
paṭṭamārntha seṉṉimēlōr pālmathi yañchūṭi
naṭṭamāṭum namperumāṉ mēyathu naḷḷāṟē".
உண்ணலாகா நஞ்சுகண்டத் துண்டுட னேயொடுக்கி
அண்ணலாகா வண்ணல்நீழ லாரழல் போலுருவம்
எண்ணலாகா வுள்வினையென் றெள்க வலித்திருவர்
நண்ணலாகா நம்பெருமான் மேயது நள்ளாறே.
"Uṇṇalākā nañchukaṇṭath thuṇṭuṭa ṉēyoṭukki
aṇṇalākā vaṇṇalnīzha lārazhal pōluruvam
eṇṇalākā vuḷviṉaiyeṉt ṟeḷka valiththiruvar
naṇṇalākā namperumāṉ mēyathu naḷḷāṟē".
மாசுமெய்யர் மண்டைத்தேரர் குண்டர் குணமிலிகள்
பேசும்பேச்சை மெய்யென்றெண்ணி அந்நெறி செல்லன்மின்
மூசுவண்டார் கொன்றைசூடி மும்மதி லும்முடனே
நாசஞ்செய்த நம்பெருமான் மேயது நள்ளாறே.
"Māsumeyyar maṇṭaiththērar kuṇṭar kuṇamilikaḷ
pēsumpēchchai meyyeṉtṟeṇṇi anneṟi sellaṉmiṉ
mūsuvaṇṭār koṉtṟaichūṭi mum'mathi lum'muṭaṉē
nāsañcheytha namperumāṉ mēyathu naḷḷāṟē".
தண்புனலும் வெண்பிறையுந் தாங்கிய தாழ்சடையன்
நண்புநல்லார் மல்குகாழி ஞானசம் பந்தன்நல்ல
பண்புநள்ளா றேத்துபாடல் பத்தும் இவைவல்லார்
உண்புநீங்கி வானவரோ டுலகி லுறைவாரே.
"Thaṇpuṉalum veṇpiṟaiyun thāṅkiya thāzhsaṭaiyaṉ
naṇpunallār malkukāzhi ñāṉasam banthaṉnalla
paṇpunaḷḷā ṟēththupāṭal paththum ivaivallār
uṇpunīṅki vāṉavarō ṭulaki luṟaivārē".