Visited on: September 17, 2016
Location
Thiruvakkari is situated at a distance of about 25 kms each from Pondicherry, Tindivanam and Villupuram. On the Pondicherry to Mayilam route, there is a village called Perumbakkam. An arch (Entrance) of this temple is erected at Perumpakkam and from here this temple is at a distane of about 6 kms.
General Information
| | |
| --- | --- |
| Moolavar | Sri Chandramouleeswarar |
| Ambal | Sri Amirthambikai, Sri Vadivambikai |
| Theertham (Holy water) | Surya Pushkarini, Chandira Pushkarini and Varaha River |
| Sthala Vriksham (Sacred Tree) | Vilvam |
| Pathigam (Hymn) rendered by | Saint Thirugnanasambanthar |
This is one of the 276 Devara Paadal Petra Shiva Sthalams and 30th Shiva Sthalam in Thondai Nadu.
Lord Shiva in this temple is a Swayambumurthi (self-manifested).
This temple has three corridors and its main tower (Rajagopuram) has 7-tiers.
Although this is a Shiva temple, Goddess Vakrakali is more prominent here.
Everything in this temple, including the idols, the structures and the flag post are "Vakram" (Contrary / Unusual).
History of the Temple
The temple is located on the banks of river Varaha.
As per the information displayed at the temple, it is more than 2000 years old and was built by King Adithya Chola.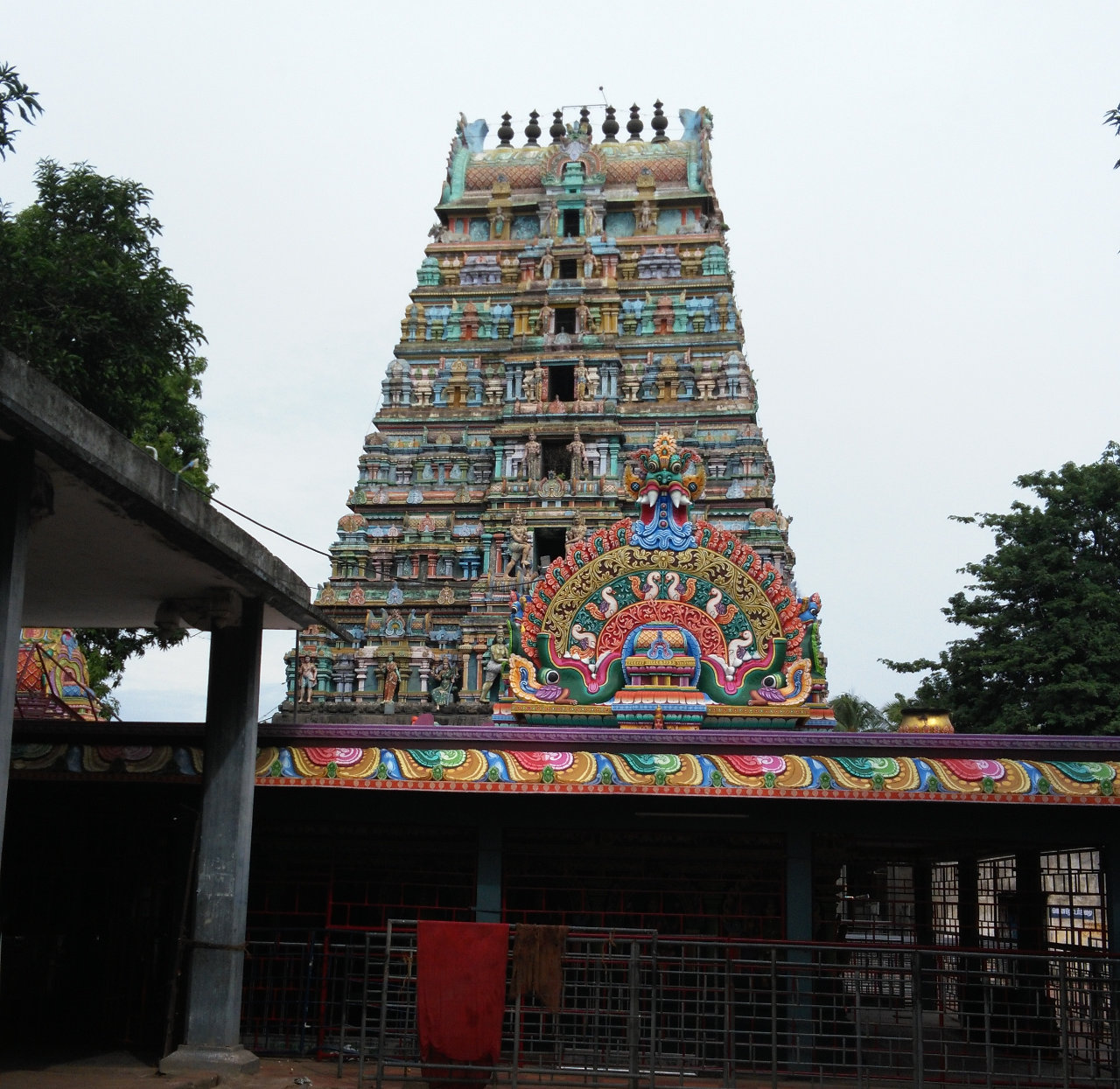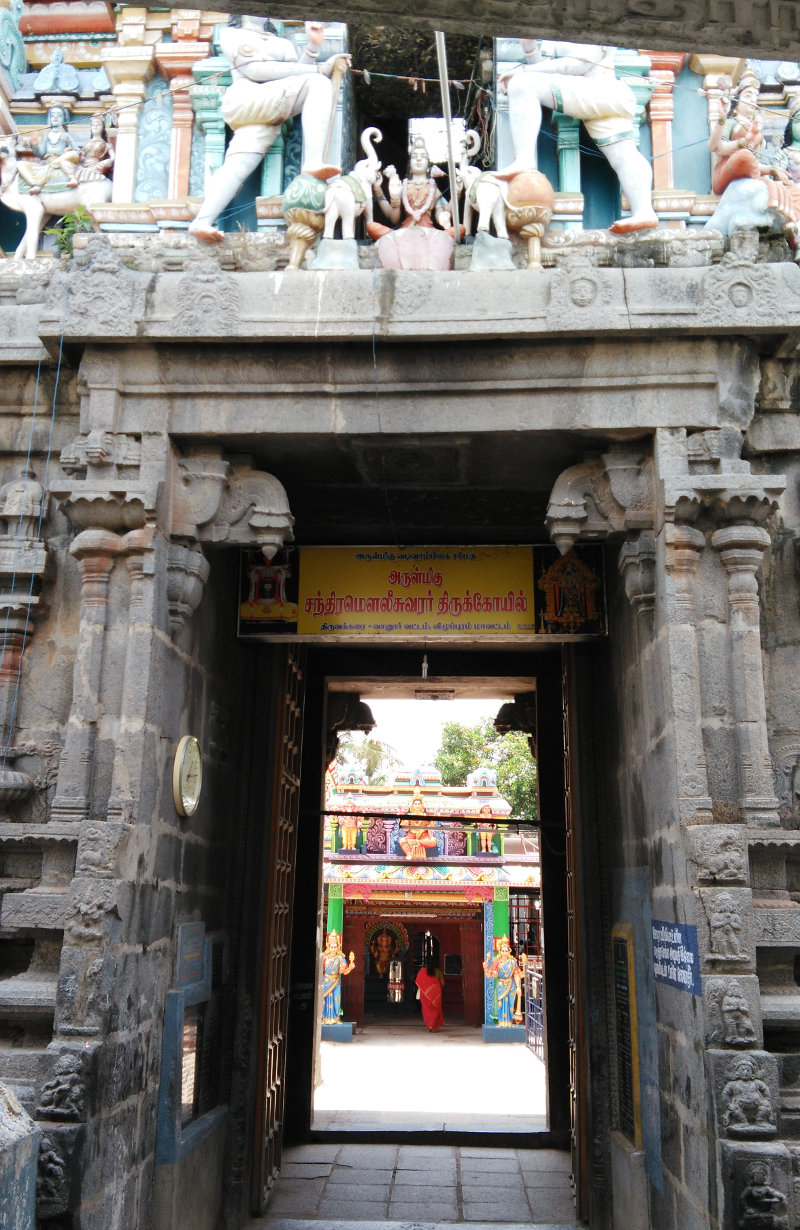 Legend
According to legend that there was once a Demon King called Vakrasuran, who, being a staunch devotee of Lord Shiva and had performed rigorous penance here. Pleased by his penance, Lord Shiva granted him the boon of immortality. Empowered with immortality, he started terrorizing the celestial gods (Devas). The Devas pleaded with Lord Shiva to save them from Vakrasuran's atrocities. Lord Shiva asked Lord Mahavishnu to kill Vakrasuran, In the fight between Lord Vishnu and Vakrasuran, as soon as Vakrasuran's blood touched the ground, demons started forming in its place. Vakkra Kali (Goddess Parvathi) was sent to drink the blood without letting it drop to the ground. Mahavishnu used his Sri Chakra and killed Vakrasuran. When Vakrasuran's sister Dhunmukhi came to the battle field, she was pregnant. Goddess Parvathi took out the baby, wore it in her ear as earring and then killed Dhunmukhi. After killing Dhunmukhi, she stayed there in the form of Vakrakali.
As the Demon Vakrasuran worshipped Lord Shiva here, it is said that this place is called Vakkarai. Other names associated with this place are Kundalivanam, Dhukrapuri and Vakrapuripattinam.
It is also said that Chandiran (Moon god) worshipped the Lord Shiva here.
Salient Features
The main deity in this temple, Chandramouleeswarar is in the form of a huge lingam with 3 faces (Mukham) representing Shiva, Brahmma and Vishnu. This idol is known as Dhanumalayan. (Dhanu -Shiva, Mal-Vishnu and Ayan- Brahma) The three faces are facing three different directions - East, North and South. This is a very rare form and it is said that Thiruvakkarai is the only place where you can see a three faced Lingam (Mummukham). The face looking east is Thathpurusha Lingam, the one facing north is the Vamadeva Lingam and the one facing south is the Agora Lingam. Agora Lingam has two sharp teeth on sides, visible only during abishekam.
The Goddess Vakrakali is huge in size and is an example of excellent artistic workmanship. Normally, Kali temples are present at the border areas of the villages, whereas in this place, the Kali shrine is inside the Shiva temple itself.
A lingam known as "Vakralingam" which is believed to have been worshipped by Demon Vakrasuran is present just opposite to Goddess Vakkrakali's shrine. It is said that during summer this lingam is cool to touch and during winter water drops can be seen on top.
The Sri Chakra, installed by Acharya Sri Sankara is present on the left side of Goddess Vakrakali.
Some examples of the vakram nature (contradictory) are -
Unlike other temples, Lord Varadharaja Perumal is having the Chakra in prayoka form (ready to be hurled).
Usually one can see the main deity from the entrance of the temple itself, however, in this temple the main deity is not visible from the entrance because the Nandhi, the flag post and the Moolavar are not in a straight line and are slightly away from each other.
Unlike other temples the Sani Bhagavan's Vahanam, the crow is facing the left side as opposed to the normal right side.
On the right side of lord Shiva shrine, you can see Kundalini Maharishi's Jeeva Samadhi with a Shiva Lingam installed on the top of it. Kundalini Maharishi was a Siddhar and made many prayers to Lord Shiva here.
Here Lord Shiva has three faces. It is said that there are only two famous Shiva temples that have a Panchamukha Lingam (Lingam with five faces) - one in Nepal in the North and the other in Srikalahasthi in Andhra Pradesh in the South. But a three faced Lingam – Mummukha Lingam – can only be seen at Thiruvakkarai.
The mandapam (hall) is called Vasantha Mandapam and it is built beautifully in the form of a horse-driven chariot.
The Nandhi that is present in front of the Vakra Lingam is half-submerged in water.
Saint Arunagirinathar has praised Lord Murugan of this temple in his Tirupugazh hyms.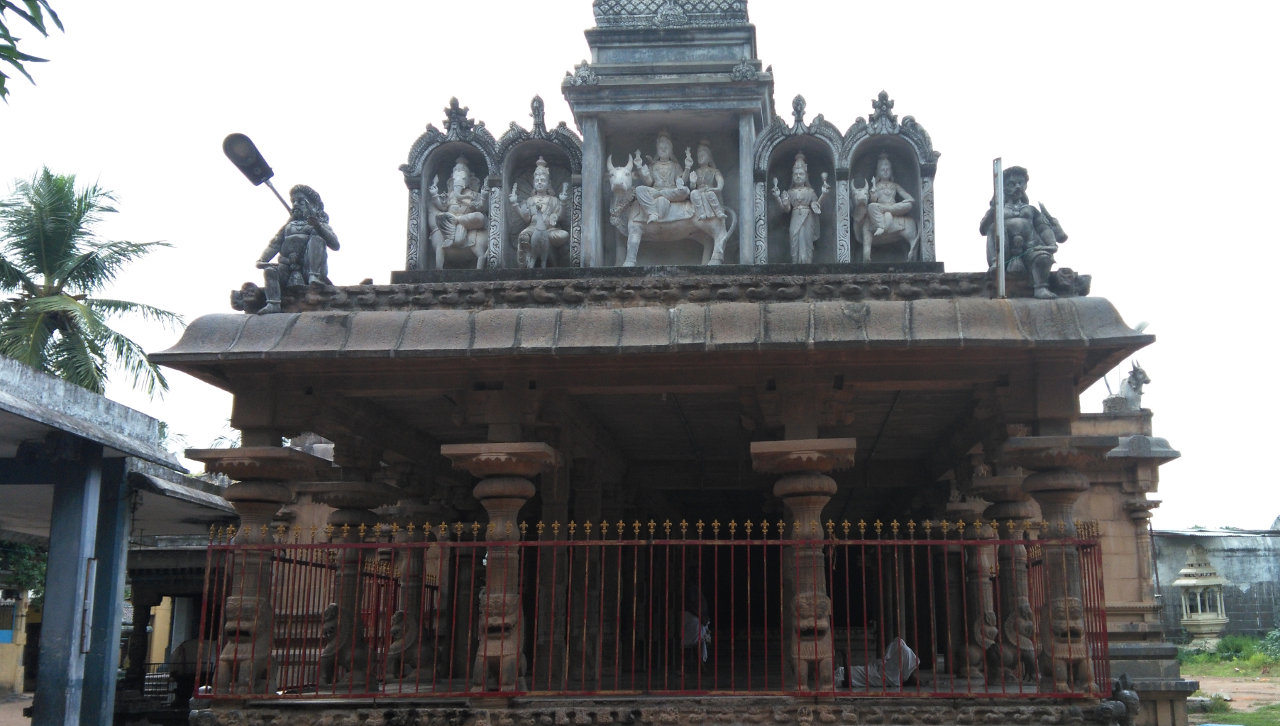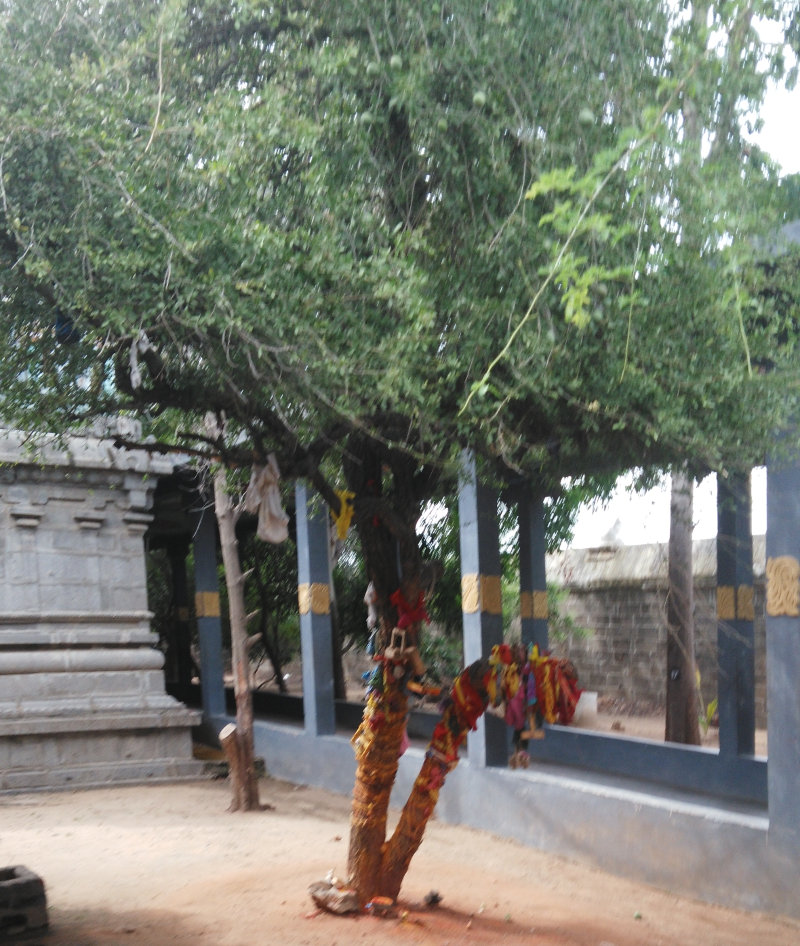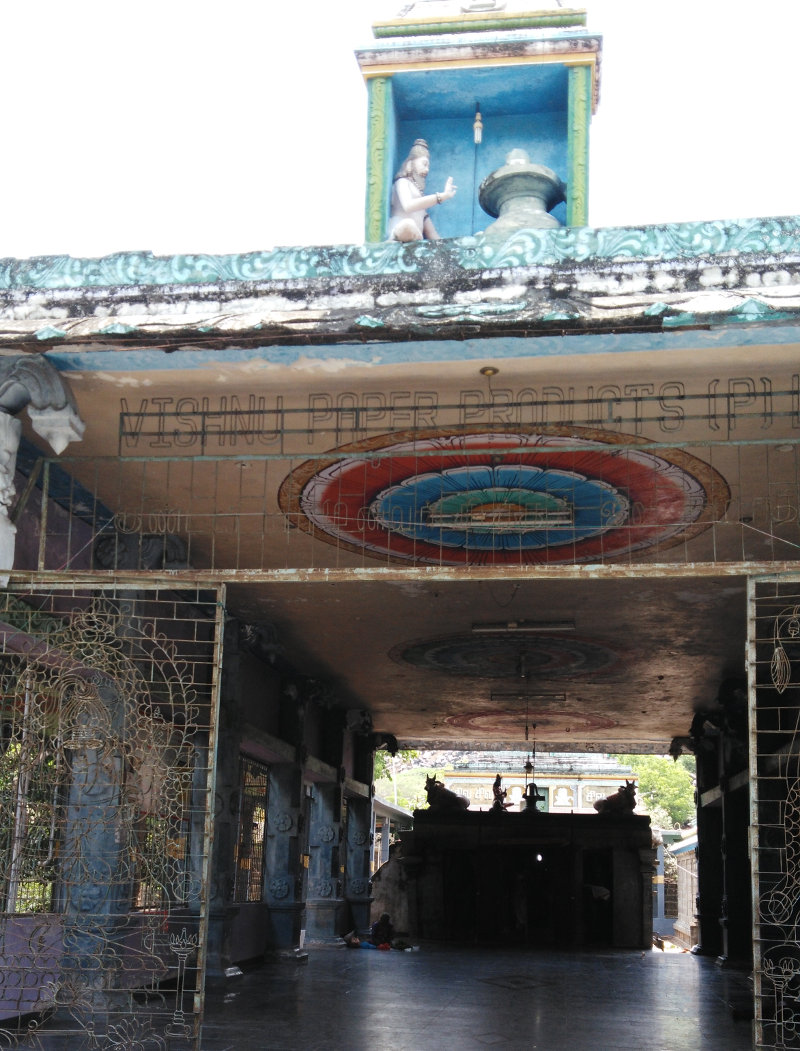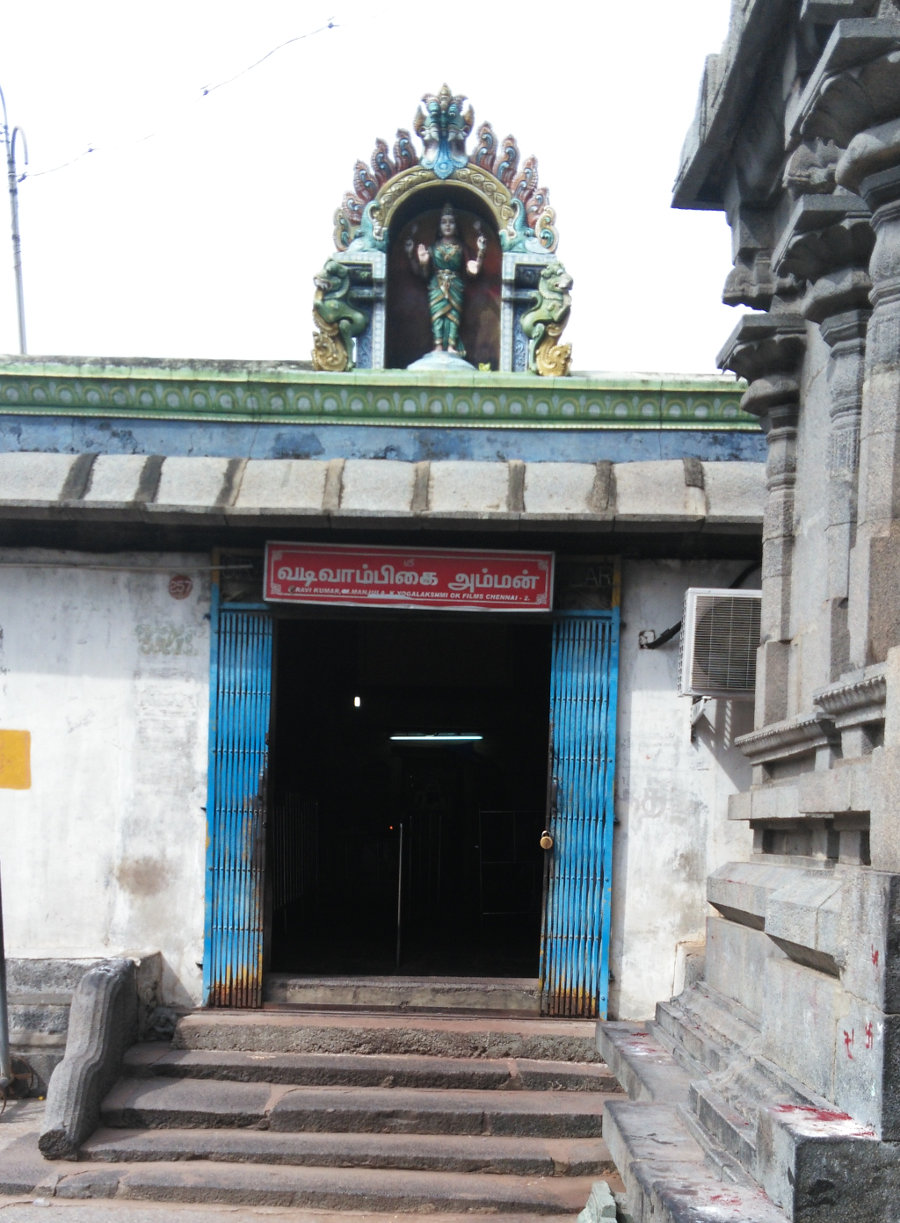 Deities in the Temple
Natarajar has his right leg lifted up and left leg placed on the ground, contrary to the normal posture. Also, his hair is tied up and not flowing, like in other temples. This posture is called "Vasantha Tandavam".
Amongst others, idols of Pichadanar, Lingothbavar, Brahma, Bairavar, Arthanareeswarar, Durgai, Kundalini Munivar, Nageswarar, Kalabairavar, Sandikeswarar, Agasthya Lingam can be seen in the second corridor.
The idol of Lord Varadaja Perumal is about six feet tall and the lord can be seen in a standing posture without his consorts.
Idols of Saptha Kanniyars (Seven virgin angels) namely Varaki, Indrani, Kaumari, Vaishnavi, Brahmani, Maheshwari and Chamundi are also present in the temple.
In the outer corridor, you can see the idols of 16 plate (pattai in Tamil) Shiva Lingam and Veerabathrar with 8 hands. There is a separage shrine for Sakasra Lingam –(1008 small lingams engraved on one larger lingam).
Inside the sanctum sanctorum of Vakrakali, Yogeswara Lingam is in the right and Valampuri Ganapathi is in the left side. It is important to note that Valampuri Ganapathi is rarely seen in Shiva temples.
Greatness of this Temple
Thiruvakkarai is a famous Parihara Sthlam for all "Vakra Dhoshams".
Those experiencing Vakra Sani period in their horoscope, can pray here for relief from its adverse effects.
There is a small shrine for Deepalakshmi, next to the Goddess Parvathi's shrine. It is strongly believed by devotees that worshiping Deepalakshmi after lighting a lamp and tying a Mangalsutra during Rahukalam, can help remove obstacles in their marriage proposal.
Devotees pray to Lord Shiva in this temple to seek mental peace and to seek absolution from the sins of their previous lives.
Important Festivals
Thousands of devotees gather in this temple on Poornima (full moon) days at 12.00 p.m. (midnight) and on Amavasya (new moon) days at 12.00 noon when Jyothi dharisanan is offered to Goddess Vakrakali Amman. This dharisanam is considered very auspicious.
Other regular festivals being celebrated in this temple are - Poornima day procession of Goddess Vakrakaliamman in the Tamil month of Chithirai (April-May), Aadi Kruthikai (July-August), Thai Kruthikai (January-February), Vinayakar Chathurthi (August-September), Vijayadasami in (September-October), and Thiru Karthikai Deepam (November-December).
Temple Timings
07.00 AM to 08.30 PM
Temple Address

Sri Chandramouleeswarar Temple,
Tiruvakkarai Post, Vanur Taluk,
Villupuram District,
Tamil Nadu-604 304.
Tele: +91 - 413 2680870, 2688949, 94435 36652.
Note:
Other interests: In and around this village there are a number of fossilised tree trunks (wood becoming stone over millions of years). There is a huge National Fossil Wood Park in Thiruvakkarai that is maintained by the Geological Survey of India, Ministry of Mines, Government of India. Here they have displayed different varieties of fossilised wood. While visiting this temple, you can also plan to visit this park since it is rare to see fossilised wood elsewhere.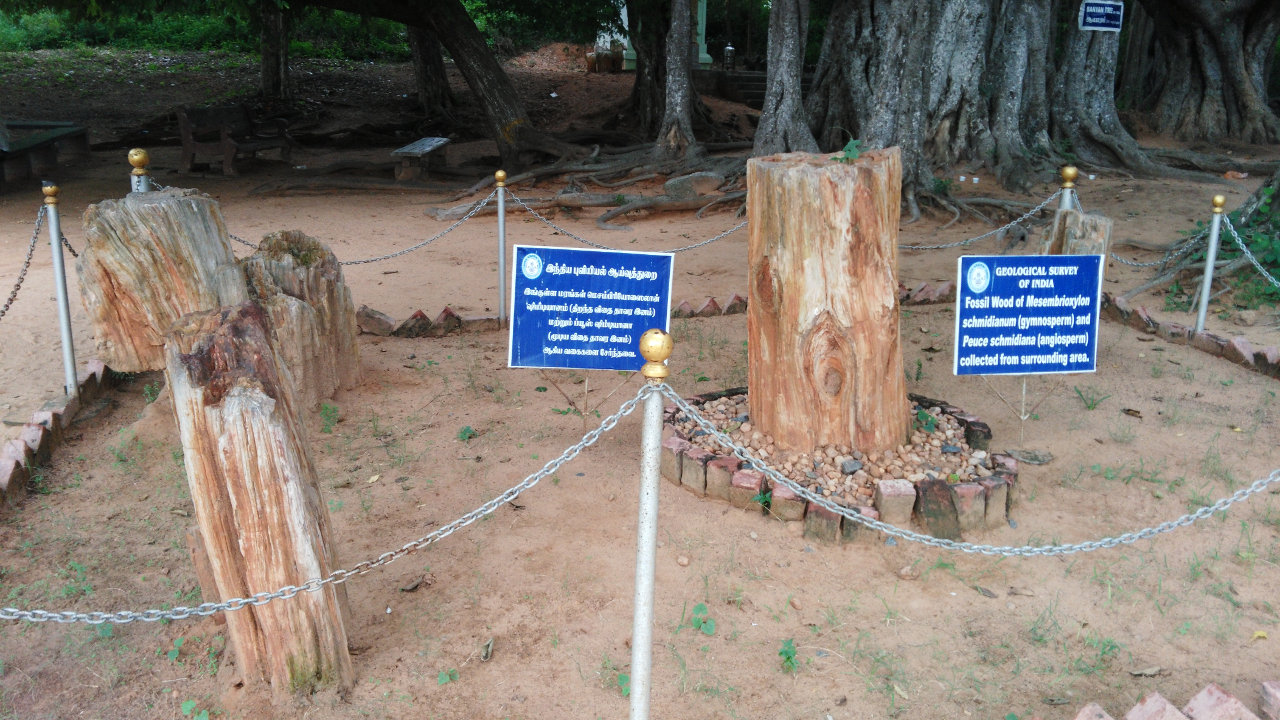 ---
Pathigam (Hymn) with English transliteration
Saint Thirugnanasambanthar visited this temple and sang this Pathigam.
Devotees visiting this temple should make it a practice to recite this Pathigam.
கறையணி மாமிடற்றான் கரிகாடரங் காவுடையான்
பிறையணி கொன்றையினான் ஒருபாகமும் பெண்ணமர்ந்தான்
மறையவன் தன்றலையிற் பலிகொள்பவன் வக்கரையில்
உறைபவன் எங்கள்பிரான் ஒலியார்கழல் உள்குதுமே.

"Kaṟaiyaṇi māmiṭatṟāṉ karikāṭaraṅ kāvudaiyāṉ
piṟaiyaṇi koṉtṟaiyiṉāṉ orupākamum peṇṇamarnthāṉ
maṟaiyavaṉ thaṉtṟalaiyiṟ palikoḷpavaṉ vakkaraiyil
uṟaipavaṉ eṅkaḷpirāṉ oliyārkazhal uḷkuthumē".
பாய்ந்தவன் காலனைமுன் பணைத்தோளியோர் பாகமதா
ஏய்ந்தவன் எண்ணிறந்தவ் விமையோர்கள் தொழுதிறைஞ்ச
வாய்ந்தவன் முப்புரங்கள் எரிசெய்தவன் வக்கரையில்
தேய்ந்திள வெண்பிறைசேர் சடையானடி செப்புதுமே.

"Pāynthavaṉ kālaṉaimuṉ paṇaithōḷiyōr pākamathā
ēynthavaṉ eṇṇiṟanthav vimaiyōrkaḷ thozuthiṟaiñcha
vāynthavaṉ muppuraṅkaḷ eriseythavaṉ vakkaraiyil
thēynthiḷa veṇpiṟaisēr sadaiyāṉadi sepputhumē".
சந்திர சேகரனே யருளாயென்று தண்விசும்பில்
இந்திர னும்முதலா இமையோர்கள் தொழுதிறைஞ்ச
அந்தர மூவெயிலும் அனலாய்விழ ஓரம்பினால்
மந்தர மேருவில்லா வளைத்தானிடம் வக்கரையே.

"Chanthira sēkaraṉē yaruḷāyeṉtṟu thaṇvisumpil
inthira ṉum'muthalā imaiyōrkaḷ thozhuthiṟaiñcha
anthara mūveyilum aṉalāyvizha ōrampiṉāl
manthara mēruvillā vaḷaithāṉidam vakkaraiye".
நெய்யணி சூலமோடு நிறைவெண்மழு வும்மரவுங்
கையணி கொள்கையினான் கனல்மேவிய ஆடலினான்
மெய்யணி வெண்பொடியான் விரிகோவண ஆடையின்மேல்
மையணி மாமிடற்றான் உறையும்மிடம் வக்கரையே.

"Neyyaṇi chūlamōdu niṟaiveṇmazhu vum'maravuṅ
kaiyaṇi koḷkaiyiṉāṉ kaṉalmēviya ādaliṉāṉ
meyyaṇi veṇpodiyāṉ virikōvaṇa ādaiyiṉmēl
maiyaṇi māmidatṟāṉ uṟaiyum'midam vakkaraiyē".
ஏனவெண் கொம்பினோடும் இளவாமையும் பூண்டுகந்து
கூனிள வெண்பிறையுங் குளிர்மத்தமுஞ் சூடிநல்ல
மானன மென்விழியா ளொடும்வக்கரை மேவியவன்
தானவர் முப்புரங்கள் எரிசெய்த தலைமகனே.

"Ēṉaveṇ kompiṉōdum iḷavāmaiyum pooṇdukanthu
kūṉiḷa veṇpiṟaiyuṅ kuḷirmathamuñj chūṭinalla
māṉaṉa meṉvizhiyā ḷodumvakkarai mēviyavaṉ
thāṉavar muppuraṅkaḷ eriseytha thalaimakaṉē".
கார்மலி கொன்றையோடுங் கதிர்மத்தமும் வாளரவும்
நீர்மலி யுஞ்சடைமேல் நிரம்பாமதி சூடிநல்ல
வார்மலி மென்முலையா ளொடும்வக்கரை மேவியவன்
பார்மலி வெண்டலையிற் பலிகொண்டுழல் பான்மையனே.

"Kārmali koṉtṟaiyōṭuṅ kathirmathamum vāḷaravum
nīrmali yuñchaṭaimēl nirampāmathi chūṭinalla
vārmali meṉmulaiyā ḷodumvakkarai mēviyavaṉ
pārmali veṇdalaiyiṟ palikonduzhal pāṉmaiyaṉē".
கானண வும்மறிமான் ஒருகையதோர் கைமழுவாள்
தேனண வுங்குழலாள் உமைசேர்திரு மேனியினான்
வானண வும்பொழில்சூழ் திருவக்கரை மேவியவன்
ஊனண வுந்தலையிற் பலிகொண்டுழல் உத்தமனே.

"Kāṉaṇa vum'maṟimāṉ orukaiyathōr kaimazhuvāḷ
thēṉaṇa vuṅkuzhalāḷ umaisērthiru mēṉiyiṉāṉ
vāṉaṇa vumpozhilchūzh thiruvakkarai mēviyavaṉ
Oṉaṇa vunthalaiyiṟ palikoṇduzhal uthamaṉē".
இலங்கையர் மன்னனாகி எழில்பெற்றஇ ராவணனைக்
கலங்கவோர் கால்விரலாற் கதிர்பொன்முடி பத்தலற
நலங்கெழு சிந்தையனாய் அருள்போற்றலு நன்களித்த
வலங்கெழு மூவிலைவேல் உடையானிடம் வக்கரையே.

"Ilaṅkaiyar maṉṉaṉāki ezhilpetṟa'i rāvaṇaṉaik
kalaṅkavōr kālviralāṟ kathirpoṉmudi pathalaṟa
nalaṅkezhu chinthaiyaṉāy aruḷpōtṟalu naṉkaḷitha
valaṅkezhu mūvilaivēl udaiyāṉidam vakkaraiyē".
காமனை யீடழித்திட் டவன்காதலி சென்றிரப்பச்
சேமமே உன்றனக்கென் றருள்செய்தவன் தேவர்பிரான்
சாமவெண் டாமரைமேல் அயனுந்தர ணியளந்த
வாமன னும்மறியா வகையானிடம் வக்கரையே.

"Kāmaṉai yīdazhithiṭ ṭavaṉkāthali seṉtṟirappach
chēmamē uṉtṟaṉakkeṉ tṟaruḷseythavaṉ thēvarpirāṉ
sāmaveṇ ṭāmaraimēl ayaṉunthara ṇiyaḷantha
vāmaṉa ṉum'maṟiyā vakaiyāṉidam vakkaraiyē".
மூடிய சீவரத்தர் முதிர்பிண்டிய ரென்றிவர்கள்
தேடிய தேவர்தம்மா லிறைஞ்சப்படுந் தேவர்பிரான்
பாடிய நான்மறையன் பலிக்கென்றுபல் வீதிதோறும்
வாடிய வெண்டலைகொண் டுழல்வானிடம் வக்கரையே.

"Mūdiya sīvarathar muthirpiṇdiya reṉtṟivarkaḷ
thēdiya thēvartham'mā liṟaiñchappadun thēvarpirāṉ
pādiya nāṉmaṟaiyaṉ palikkeṉtṟupal vīthithōṟum
vādiya veṇdalaikoṇ ṭuzhalvāṉidam vakkaraiyē".
தண்புன லும்மரவுஞ் சடைமேலுடை யான்பிறைதோய்
வண்பொழில் சூழ்ந்தழகார் இறைவன்னுறை வக்கரையைச்
சண்பையர் தந்தலைவன் தமிழ்ஞானசம் பந்தன்சொன்ன
பண்புனை பாடல்வல்லா ரவர்தம்வினை பற்றறுமே.

"Thaṇpuṉa lum'maravuñj chaṭaimēluṭai yāṉpiṟaithōy
vaṇpozhil chūzhnthazhakār iṟaivaṉṉuṟai vakkaraiyaich
saṇpaiyar thanthalaivaṉ thamizhgñāṉasam panthaṉsoṉṉa
paṇpuṉai paādalvallā ravarthamviṉai patṟaṟumē".