Visited on: July 8, 2017
Location
Thirukadaiyur Mayanam is situated at a distance of about 2 kms from Thirukadaiyur.
Thirukadaiyur is situated at a distance of about 22 kms from Mayiladuthurai on the Mayiladuthurai to Karaikkal route.
Other Devara Paadal Petra Shiva Sthalam near this place are – Thirukadaiyur, Thirunallaru, Dharumapuram, Thiruvettakkudi and Thiruthelichery.
General Information
| | |
| --- | --- |
| Moolavar | Sri Brahmapureeswarar, Sri Peruman Adigal |
| Ambal | Sri Aamla Gujambikai, Sri Vaadamulai Ammai, Sri Malarkuzhal Minnammai |
| Theertham (Holy water) | Brahma Theertham / Asvathi Theertham |
| Sthala Vriksham (Sacred Tree) | Kontrai tree / Vilva tree |
| Pathigam (Hymn) rendered by | Saint Thirugnanasambanthar, Saint Thirunavukarasar (Appar) and Saint Sundaramurthy Nayanar |
This is one of the 276 Devara Paadal Petra Shiva Sthalams and 48th Shiva Sthalam on the Southern bank of the river Cauveri in Chozha Nadu (Thenkarai).
Lord Shiva in this temple is a Swayambumurthi (self-manifested).
This is one of the 44 Paadal petra sthalams where the "Moovar" (the three saints - Saint Thirugnanasambanthar, Saint Thirunavukarasar (Appar) and Saint Sundaramurthy (Sundarar) have rendered their Pathigams.
This temple is one of the 55 west facing Shivasthalams in Tamil Nadu.
There is no main tower (Rajagopuram) in this temple. However, there is a 3-tiered second tower. This temple has two corridors.
The last consecration ceremony (Kumbabishekam) took place on 10.09.2014.
History of the Temple
As per Hindu mythology, Lord Shiva destroyed and created Lord Brahma five times at five different places. Each such incident took place at an interval of "one karbam". One karbam consists of hundreds of thousands of years. These 5 places are known as "Mayaanam" ("Mayaanam" means burial ground in Tamil). They are - Kasi Mayaanam, Kachchi Mayaanam (Kanchipuram), Thirukkadavur Mayaanam, Kazhi Mayaanam (Sirkazhi) and Veezhi Naalur Mayaanam. Since this place is very near to Thirukkadavur, this Mayaanam gets the name "Thirukkadavur Mayaanam".
The historical names of this place are Brahmapuri, Vilvaranyam, Siva Vedapuyri and Thirumeignanam.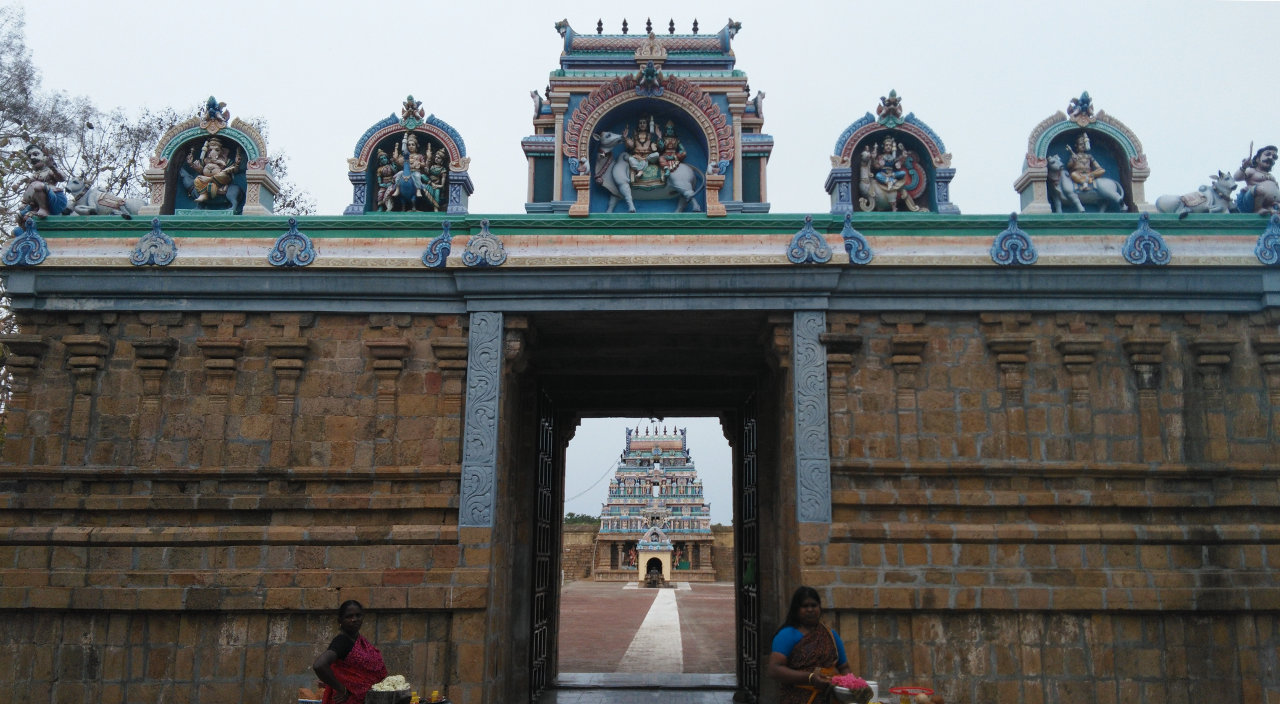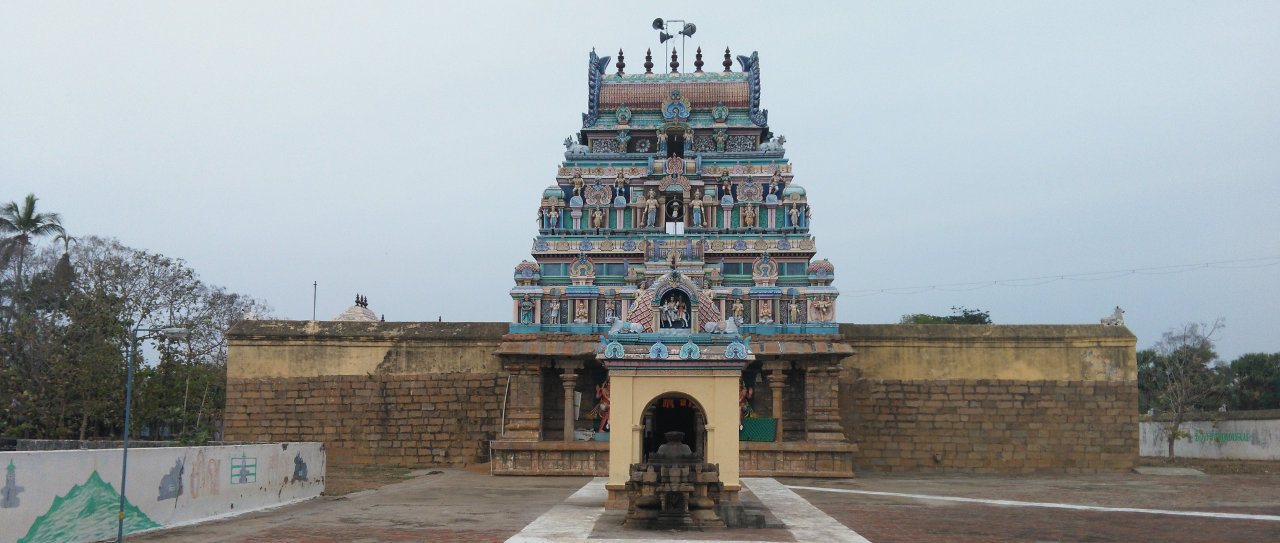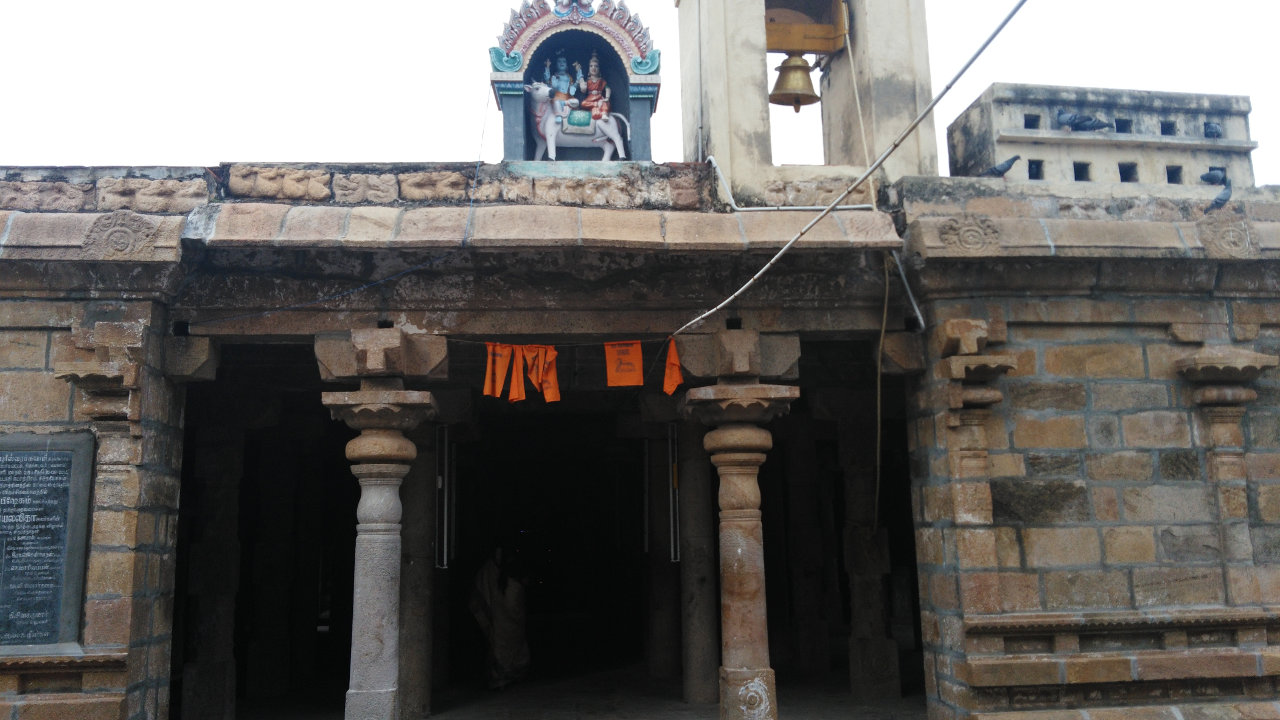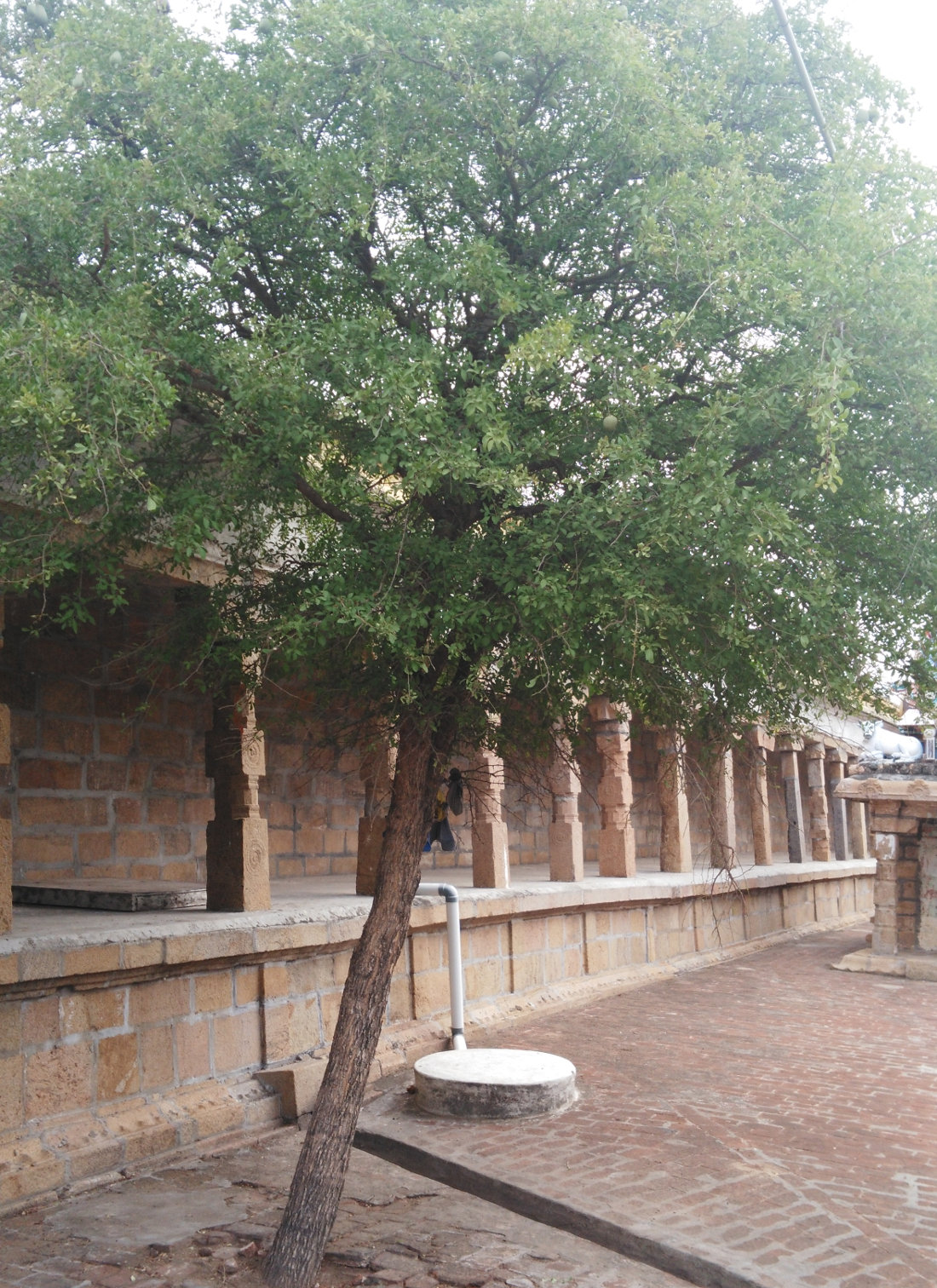 Legend
In this place, Lord Shiva is believed to have first burnt Lord Brahma and then remade him as holy water – hence the name Mayaanam. Since Lord Brahma is the creator god in Hinduism, after his death the process of creation came to a standstill. The celestial gods came to this place and requested Lord Shiva to reinstate Lord Brahma. Lord Shiva then revived Brahma and reinstated him and bestowed upon him the duty of creation. It is believed that this is third such Mayaanam. It is also believed that Lord Shiva further taught Brahma the "Shiva Gnanam" here. Hence this place is also known as "Thiru Meignanam".
Another legend is that Lord Shiva created a well here with water from the Ganges for Sage Markandeya to perform his pooja. This well is located next to the holy water of this temple "Brahma Theertham". Water is taken from this well to Thirukadaiyur temple for daily ablution (abhishekam) of Sri Amirthakateswarar. It is believed that no other water is being used for abhishekam of Sri Amirthakateswarar. Also, water from this well is not used for other deities.
It is believed that once a king tried to perform abhishekam for Lord Brahmapureeswarar using the water from this well. However, as soon as the water was poured on the lingam, a crack appeared on it. This crack can still be seen on the lingam.
Another legend associated with this temple is that of the Chalukya King Emakeridan. He was defeated in battle by another king and was thrown out of his kingdom. Since he was a Shiva devotee, he visited many temples asking Lord Shiva for his blessings. He came to this temple and prayed to Lord Singaravelar (Murugan) and sought his help. It is believed that Lord Murugan took the form of this king and went to his kingdom along with his army. The lord defeated the enemy king and later asked Emakeridan to take control of his country. The king is believed to have donated 53 acres of land to this temple. These lands are still be called as "Singaraveli".
As per the "Sthala Puranam", a few more legends are associated with this temple – A Chola king, who had leprosy, visited and prayed to the lord here and got cured of his ailment. A Vedic scholar Somadevasarma was relieved from his "Brahmahathi dosham" after worshiping the lord here; and a brahmin by the name of Sivasarma from Pandiya Nadu, was cured of his curse which had made him take the form of a crow. He later obtained salvation in this temple.
It is believed that Ganges visited this temple's holy water on Aswini star day in the Tamil month of Panguni. Every year, on this day, procession idols of Lord Shiva and Goddess Parvathy are taken to this well and "Theerthavari" festival is celebrated in a grand manner.
Deities in the temple
Apart from the shrines of Lord Shiva and Goddess Parvathy, shrines and idols of lords Sidhi Vinayakar, Murugan with his consorts, Natarajar, Dakshinamurthy, Nardana Vinayakar, Lingothbavar, Brahma, Kalyana Sundarar, Nalvar, Mahavishnu as Sri Pillai Perumal, Vishnu Durgai, Gajalakshmi, Chandikeswarar, Chandikeswari and Sri Pitchana Bairavar can be seen in the corridors.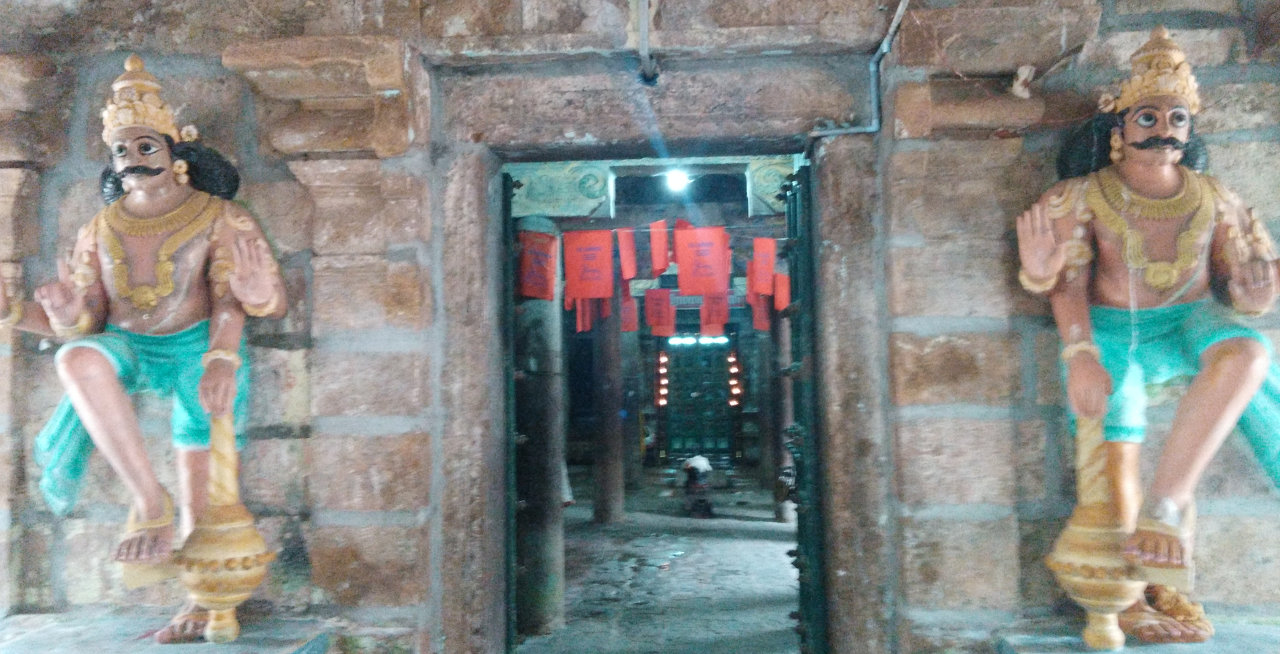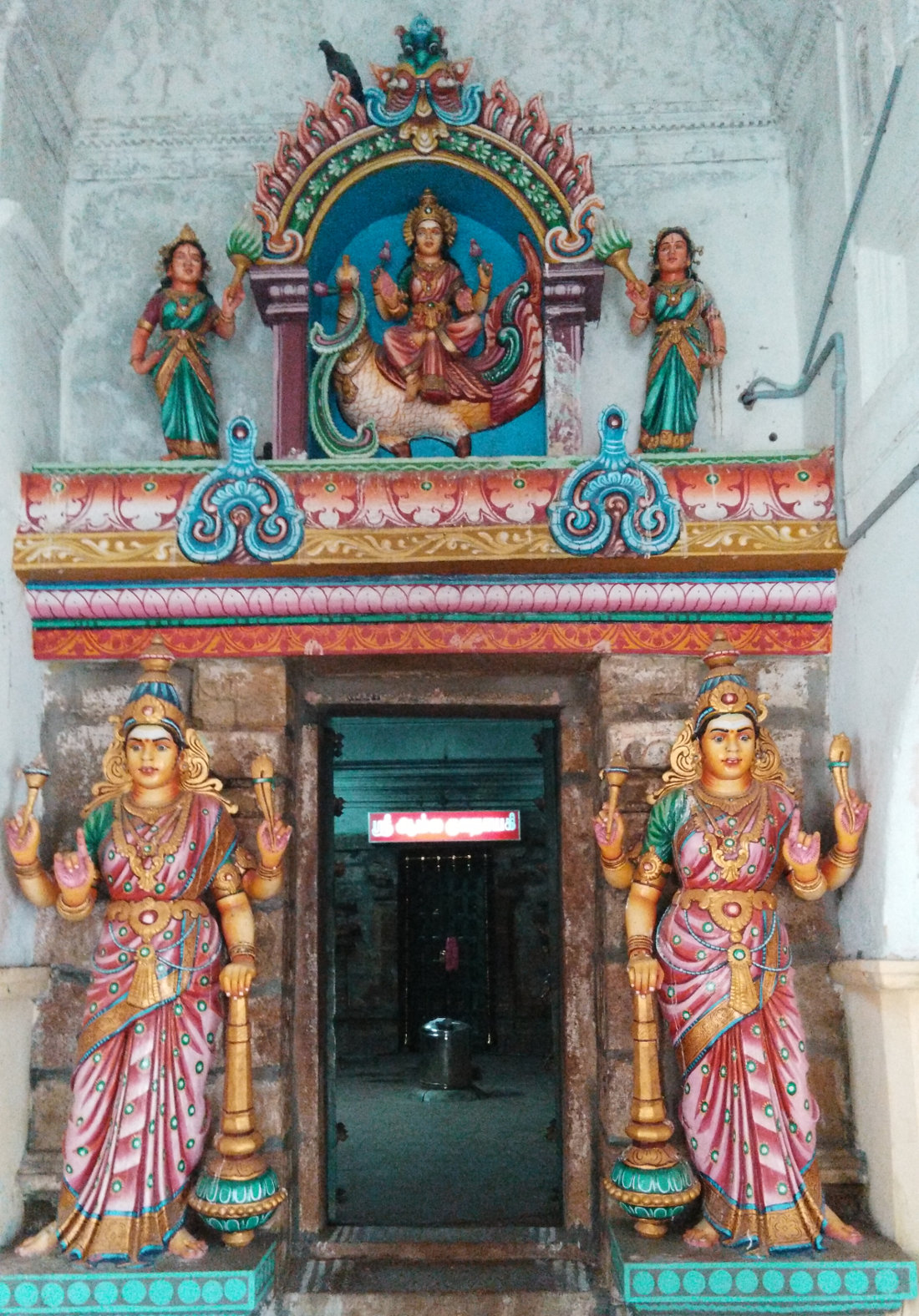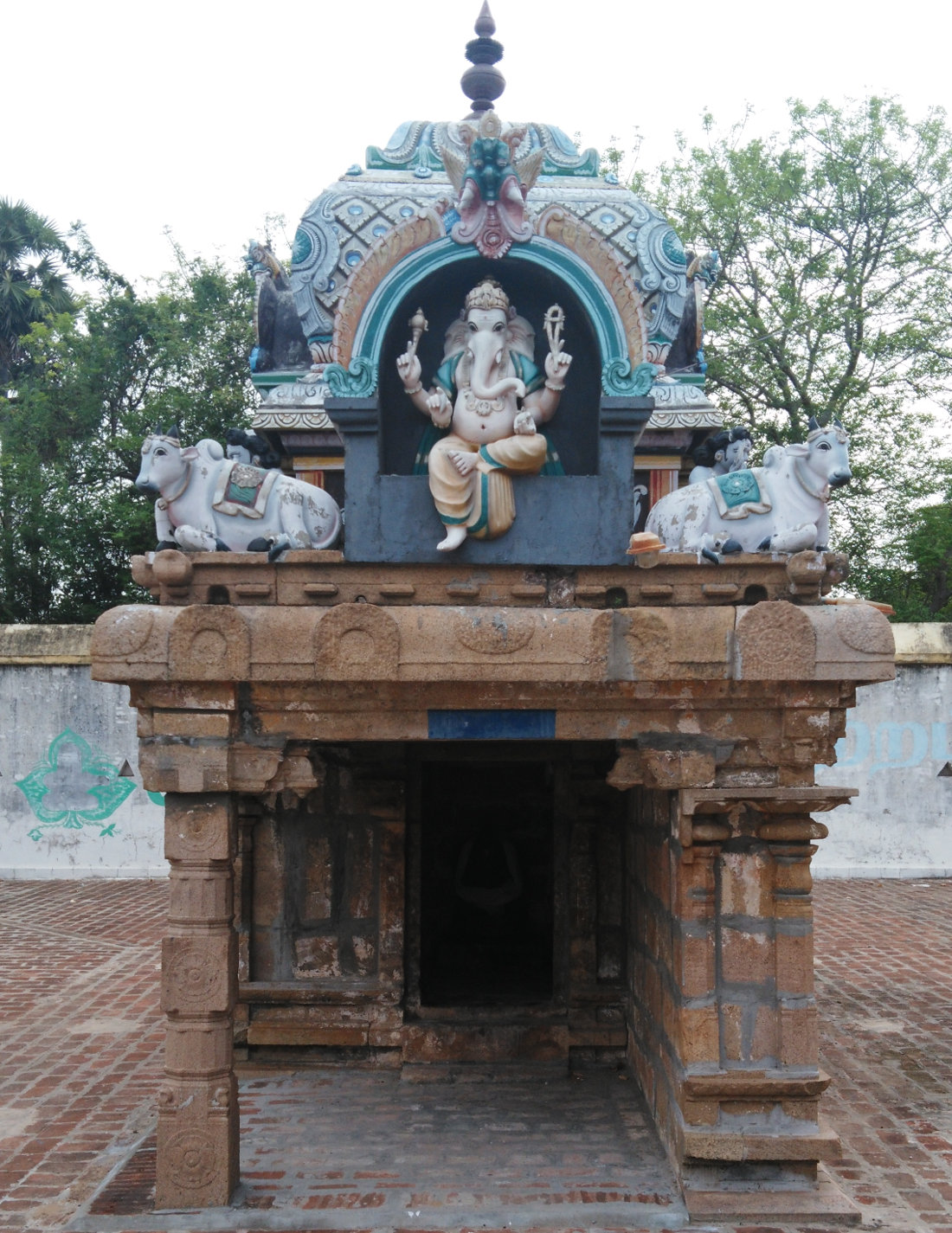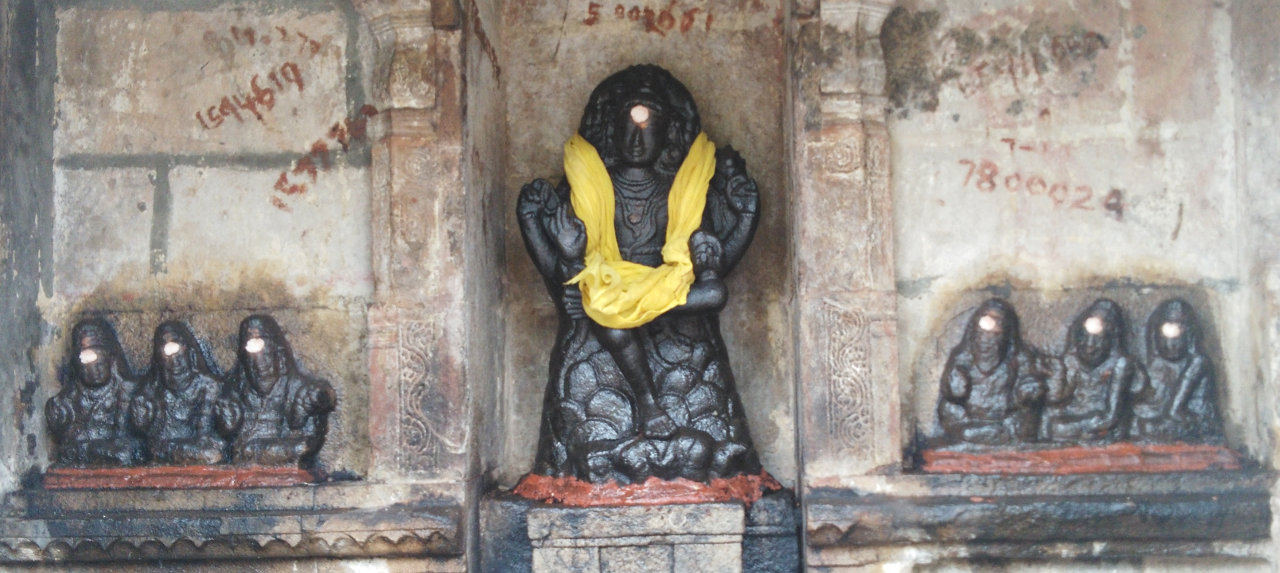 | | |
| --- | --- |
| | |
| | |
Salient Features
The uniqueness of the procession idol of Lord Singaravelar (Murugan) is that he holds a bow and arrow in his hands, wears a "Rudraksha" garland and also wears footwear.
Lord Dakshinamurthy is seen here with his six disciples – "Sanakaatha" rishis.
All the stone sculptures in this temple are exquisitely carved. The idol of Sri Pitchana Bairavar is especially beautiful.
Usually Lord Vinayakar is depicted with a pot belly. However, in this temple he is seen with a flat belly. He is worshipped as "Sri Pranava Vinayakar".
It is said that Pambatti Siddhar, one of the revered 18 Siddhars, lived in this place.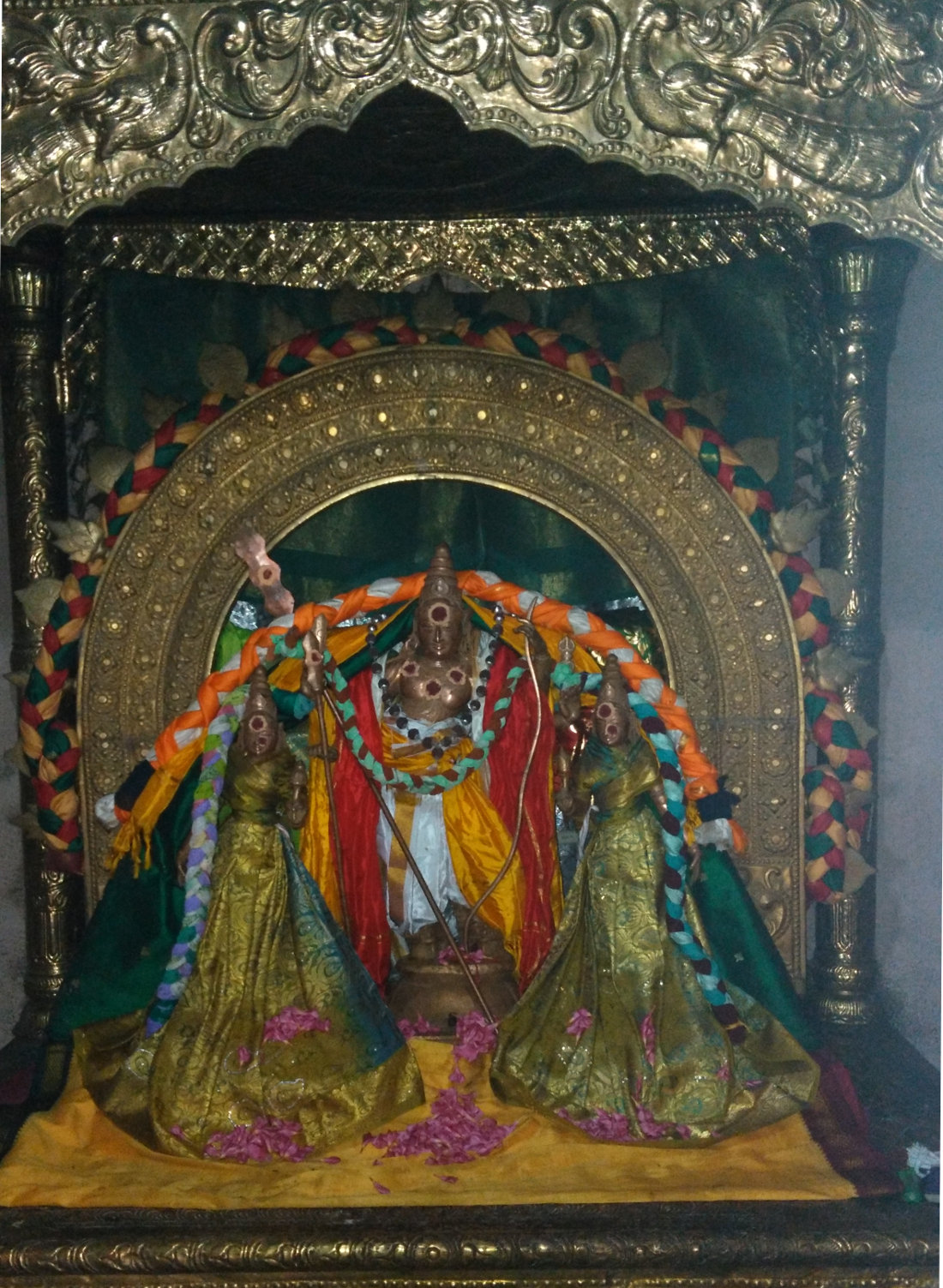 Greatness of this temple
Since the lord of this temple is believed to have taught "Shiva Gnanam" to Lord Brahma, devotees worship the lord here to gain knowledge and wisdom.
Important Festivals
Some of the major festivals celebrated in this temple are –
Skantha Sashti in the Tamil month of Aippasi (Oct-Nov);
Thirukarthikai in the Tamil month of Karthikai (Nov-Dec);
Thiruvadhirai in the Tamil month of Margazhi (Dec-Jan);
Shivarathri in the Tamil month of Maasi (Feb-Mar); and
Theerthavari on Aswini star day in the Tamil month of Panguni (Mar-Apr).
Pradosham is also observed regularly.
Temple Timings
From 06:30 AM to 12:00 Noon and from 04:00 PM to 07:30 PM.
Temple Address
Sri Brahmapureeswarar Temple,
Thirumayanam, Aadhi Kadavur,
Thirukadayur Post,
Tharangambadi Taluk,
Nagapattinam District,
Tamil Nadu – 609 311.
This temple's priest, Sri M.K.Ganesa Gurukkal can be contacted at: +91- 4364 - 287999, 287222, 94420 12133.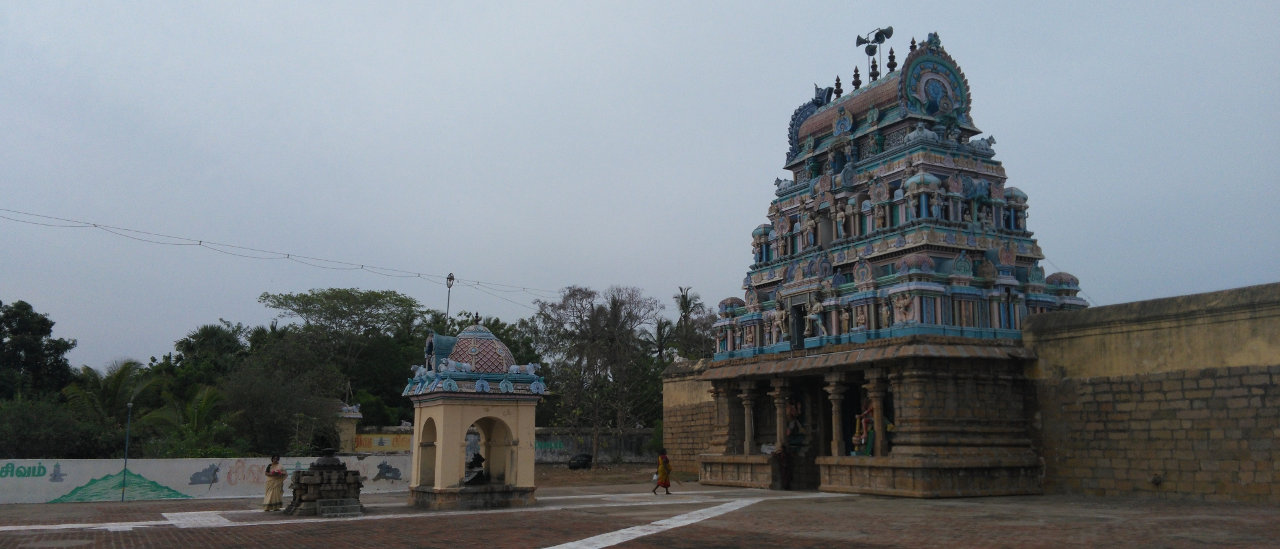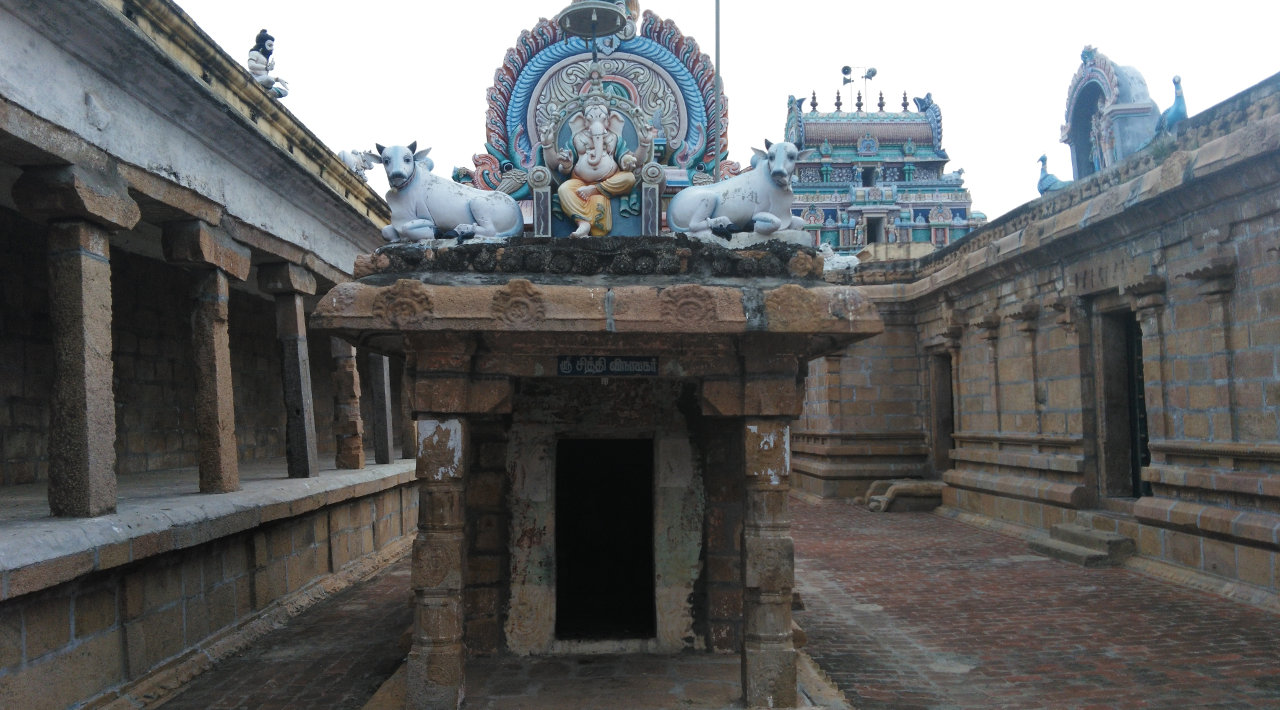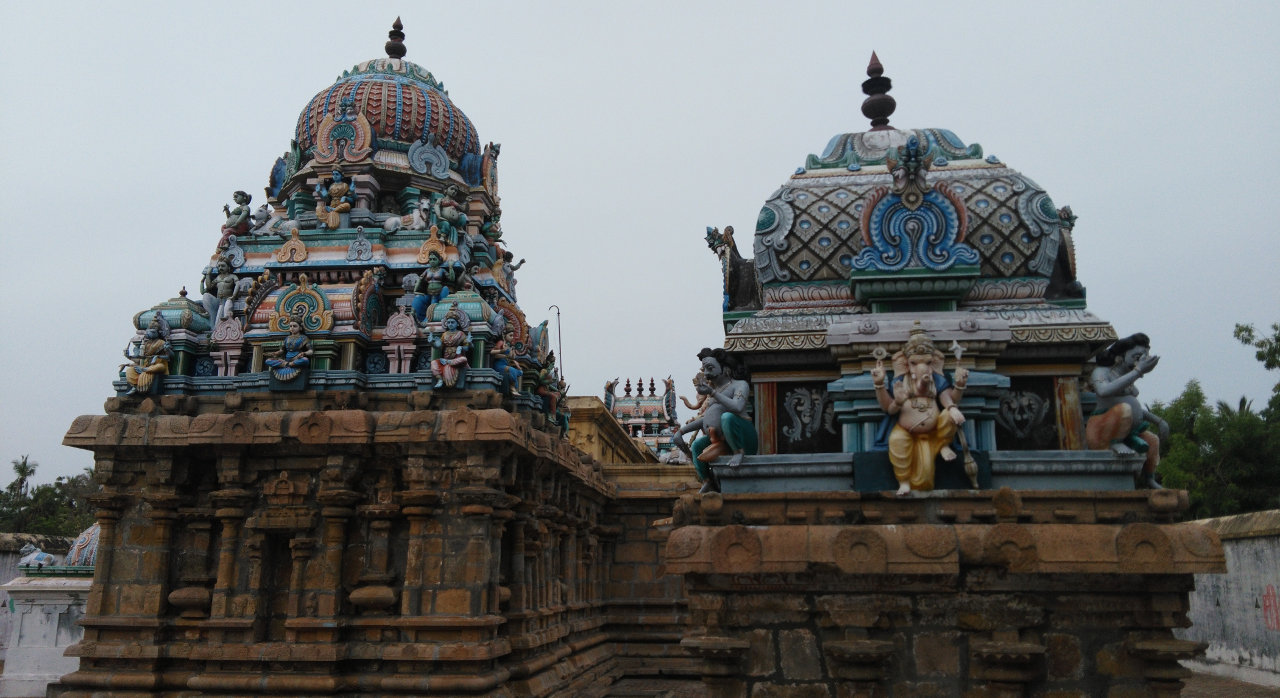 ---
Pathigam (Hymn) with English transliteration
Saint Thirugnanasambanthar visited this temple and sang this Pathigam.
Devotees visiting this temple should make it a practice to recite this Pathigam.
வரிய மறையார் பிறையார் மலையோர் சிலையா வணக்கி
எரிய மதில்கள் எய்தார் எறியு முசலம் உடையார்
கரிய மிடறும் உடையார் கடவூர் மயானம் அமர்ந்தார்
பெரிய விடைமேல் வருவார் அவரெம் பெருமான் அடிகளே.
"Variya maṟaiyār piṟaiyār malaiyōr silaiyā vaṇakki
eriya mathilkaḷ eythār eṟiyu musalam uṭaiyār
kariya miṭaṟum uṭaiyār kaṭavūr mayāṉam amarnthār
periya viṭaimēl varuvār avarem perumāṉ aṭikaḷē".
மங்கைமணந்த மார்பர் மழுவாள் வலனொன்றேந்திக்
கங்கைசடையிற் கரந்தார் கடவூர்மயானம் அமர்ந்தார்
செங்கண்வெள்ளே றேறிச் செல்வஞ்செய்யா வருவார்
அங்கையேறிய மறியார் அவரெம் பெருமான் அடிகளே.
"Maṅkaimaṇantha mārpar mazhuvāḷ valaṉoṉtṟēnthik
gaṅgaisaṭaiyiṟ karanthār kaṭavūrmayāṉam amarnthār
seṅkaṇveḷḷē ṟēṟich chelvañcheyyā varuvār
aṅkaiyēṟiya maṟiyār avarem perumāṉ aṭikaḷē".
ஈடல்இடபம் இசைய ஏறிமழுவொன் றேந்திக்
காடதிடமா வுடையார் கடவூர்மயானம் அமர்ந்தார்
பாடலிசைகொள் கருவி படுதம்பலவும் பயில்வார்
ஆடல்அரவம் உடையார் அவரெம் பெருமான் அடிகளே.
"Īṭaliṭapam isaiya ēṟimazhuvoṉ tṟēnthik
kāṭathiṭamā vuṭaiyār kaṭavūrmayāṉam amarnthār
pāṭalisaikoḷ karuvi paṭuthampalavum payilvār
āṭalaravam uṭaiyār avarem perumāṉ aṭikaḷē".
இறைநின்றிலங்கு வளையாள் இளையாளொருபா லுடையார்
மறைநின்றிலங்கு மொழியார் மலையார்மனத்தின் மிசையார்
கறைநின்றிலங்கு பொழில்சூழ் கடவூர்மயானம் அமர்ந்தார்
பிறைநின்றிலங்கு சடையார் அவரெம் பெருமான் அடிகளே.
"Iṟainiṉtṟilaṅku vaḷaiyāḷ iḷaiyāḷorupā luṭaiyār
maṟainiṉtṟilaṅku mozhiyār malaiyārmaṉaththiṉ misaiyār
kaṟainiṉtṟilaṅku pozhilchūzh kaṭavūrmayāṉam amarnthār
piṟainiṉtṟilaṅku saṭaiyār avarem perumāṉ aṭikaḷē".
வெள்ளையெருத்தின் மிசையார் விரிதோடொருகா திலங்கத்
துள்ளும்இளமான் மறியார் சுடர்பொற்சடைகள் துளங்கக்
கள்ளநகுவெண் டலையார் கடவூர்மயானம் அமர்ந்தார்
பிள்ளைமதியம் உடையார் அவரெம் பெருமான் அடிகளே.
"Veḷḷaiyeruththiṉ misaiyār virithōṭorukā thilaṅkath
thuḷḷumiḷamāṉ maṟiyār suṭarpoṟsaṭaikaḷ thuḷaṅkak
kaḷḷanakuveṇ ṭalaiyār kaṭavūrmayāṉam amarnthār
piḷḷaimathiyam uṭaiyār avarem perumāṉ aṭikaḷē".
பொன்றாதுதிரு மணங்கொள் புனைபூங்கொன்றை புனைந்தார்
ஒன்றாவெள்ளே றுயர்த்த துடையாரதுவே யூர்வார்
கன்றாவினஞ்சூழ் புறவிற் கடவூர் மயானம் அமர்ந்தார்
பின்தாழ் சடையார் ஒருவர் அவரெம் பெருமான் அடிகளே.
"Poṉṟāthuthiru maṇaṅkoḷ puṉaipūṅkoṉtṟai puṉainthār
oṉtṟāveḷḷē ṟuyarththa thuṭaiyārathuvē yūrvār
kaṉtṟāviṉañchūzh puṟaviṟ kaṭavūr mayāṉam amarnthār
piṉtāzh saṭaiyār oruvar avarem perumāṉ aṭikaḷē".
பாசமான களைவார் பரிவார்க்கமுதம் அனையார்
ஆசைதீரக் கொடுப்பார் அலங்கல்விடைமேல் வருவார்
காசைமலர்போல் மிடற்றார் கடவூர்மயானம் அமர்ந்தார்
பேசவருவார் ஒருவர் அவரெம் பெருமான் அடிகளே.
"Pāsamāṉa kaḷaivār parivārkkamutham aṉaiyār
āsaithīrak koṭuppār alaṅkalviṭaimēl varuvār
kāsaimalarpōl miṭatṟār kaṭavūrmayāṉam amarnthār
pēsavaruvār oruvar avarem perumāṉ aṭikaḷē".
செற்றஅரக்கன் அலறத் திகழ்சேவடிமெல் விரலாற்
கற்குன்றடர்த்த பெருமான் கடவூர் மயானம் அமர்ந்தார்
மற்றொன்றிணையில் வலிய மாசில்வெள்ளி மலைபோல்
பெற்றொன்றேறி வருவார் அவரெம் பெருமான் அடிகளே.
"Setṟa'arakkaṉ alaṟath thikazhsēvaṭimel viralāṟ
kaṟkuṉtṟaṭarththa perumāṉ kaṭavūr mayāṉam amarnthār
matṟoṉṟiṇaiyil valiya māsilveḷḷi malaipōl
petṟoṉṟēṟi varuvār avarem perumāṉ aṭikaḷē".
வருமாகரியின் உரியார் வளர்புன்சடையார் விடையார்
கருமான்உரிதோல் உடையார் கடவூர்மயானம் அமர்ந்தார்
திருமாலொடுநான் முகனுந் தேர்ந்துங்காணமுன் ணொண்ணாப்
பெருமானெனவும் வருவார் அவரெம் பெருமான் அடிகளே.
"Varumākariyiṉ uriyār vaḷarpuṉsaṭaiyār viṭaiyār
karumāṉurithōl uṭaiyār kaṭavūrmayāṉam amarnthār
thirumāloṭunāṉ mukaṉun thērnthuṅkāṇamuṉ ṇoṇṇāp
perumāṉeṉavum varuvār avarem perumāṉ aṭikaḷē".
தூயவிடைமேல் வருவார் துன்னாருடைய மதில்கள்
காயவேவச் செற்றார் கடவூர்மயானம் அமர்ந்தார்
தீயகருமஞ் சொல்லுஞ் சிறுபுன்தேரர் அமணர்
பேய்பேயென்ன வருவார் அவரெம் பெருமான் அடிகளே.
"Thūyaviṭaimēl varuvār thuṉṉāruṭaiya mathilkaḷ
kāyavēvach chetār kaṭavūrmayāṉam amarnthār
thīyakarumañ cholluñ chiṟupuṉthērar amaṇar
pēypēyeṉṉa varuvār avarem perumāṉ aṭikaḷē".
மரவம் பொழில்சூழ் கடவூர் மன்னுமயானம் அமர்ந்த
அரவம் அசைத்த பெருமான் அகலம்அறிய லாகப்
பரவுமுறையே பயிலும் பந்தன்செஞ்சொல் மாலை
இரவும்பகலும் பரவி நினைவார் வினைகள் இலரே.
"Maravam pozhilchūzh kaṭavūr maṉṉumayāṉam amarntha
aravam asaiththa perumāṉ akalamaṟiya lākap
paravumuṟaiyē payilum panthaṉcheñchol mālai
iravumpakalum paravi niṉaivār viṉaikaḷ ilarē".