Visited on: 2nd June, 2016
Location
Sirkazhi is situated at a distance of about 20 kms from Mayiladuthurai and 19 kms from Chidambaram. It is on the Chidambaram to Kumbakonam route.
Sirkazhi has a railway station and this temple is about 2 kms away from the station.
Other Devara Paadal Petra Sthalams near this place are – Thirukkolakka, Thirumullaivasal, Thiruvenkadu, Chayavanam, Poompukar, Mahendrapalli, Thirukkurukavur and Achalpuram.
General Information
| | |
| --- | --- |
| Moolavar | Sri Brahmapureeswarar, Sri Uma Maheswarar, Sri Sattainathar, Sri Thoniappar, Sri Vadukanathar |
| Ambal | Sri Thirunilai Nayagi, Sri Periyanayaki, Sri Sthira Sundari |
| Theertham (Holy water) | Brahma Theertham |
| Sthala Vriksham (Sacred Tree) | Parijadam / Pavazhamalli |
| Pathigam (Hymn) rendered by | Saint Thirugnanasambanthar, Saint Thirunavukarasar (Appar) and Saint Sundaramurthy (Sundarar) |
This is one of the 276 Devara Paadal Petra Shiva Sthalams and 14th Shiva Sthalam on the northern bank of the river Cauvery in Chozha Nadu (Vadakarai).
Lord Shiva in this temple is a Swayambumurthi (self-manifested).
This is the 11th Shakti Peetas – Goddess Parvathy graces this temple as Mahalakshmi.
This is the birth place of the renowned saint Thirugnanasambanthar - the first of the four Samaya Kuravars (Nalvar).
This is a Moovar Paadal Petra Sthalam.
This is also the birth place of saint Gananatha Nayanar, one of the 63 Nayanmars.
History of the Temple
This ancient temple is more than 1500 years old.
There are 12 historical names for this place – Brahmapuram, Venupuram, Pukali, Venguru, Thonipuram, Poontharaai, Sirapuram, Puravam, Shanbai, Seekazhi, Kochaivayam and Kazhumalam.
This is the birth place of saint Thirugnanasambanthar. There is a separate temple for him in Sirkazhi.
The name Sirkazhi is derived from Goddess Kali, as she is believed to have worshiped the lord here ("Sree" is a respectful prefix and "Kali" refers to the goddess).
This is one of the 27 temples that are under the administration of the Dharumapuram Aadheenam.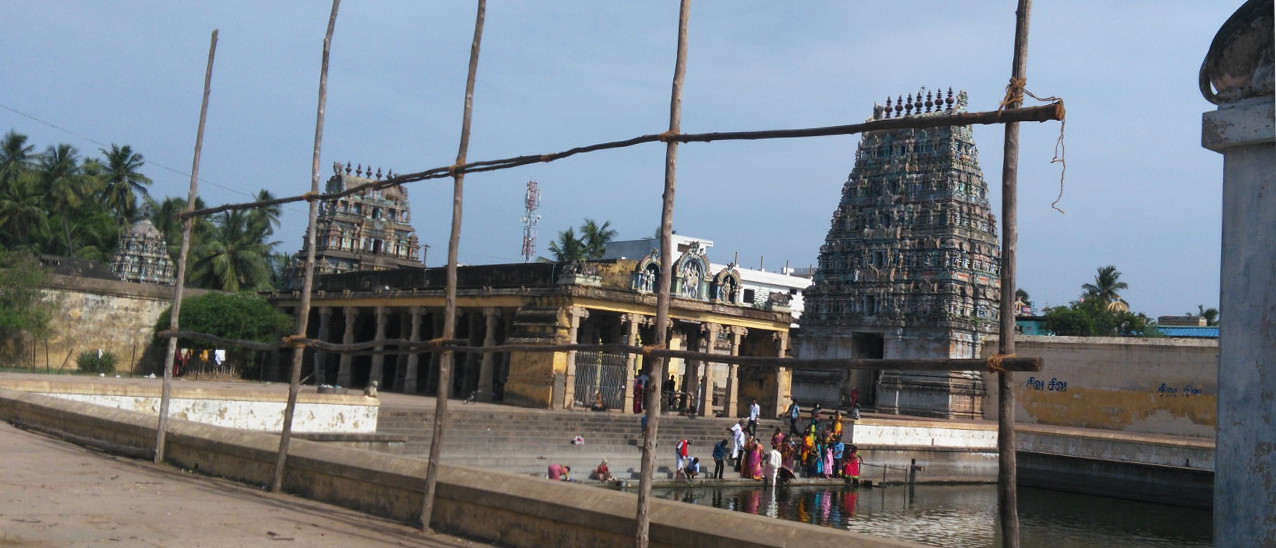 Legend
It is believed that there was once a great deluge that submerged the entire earth. During this incident, Lord Shiva is believed to have carried the 64 arts with him on a raft ("Thoni" in Tamil) and reached this shrine where he stayed with Goddess Parvathy. Hence this place gets the name, "Thonipuram" and the lord is praised as "Sri Thoniappar".
Lord Bhairavar (Sattainathar), who is believed to have quelled the arrogance of Lord Thrivikrama (Ulgalantha Perumal) after his show of dominance over the three worlds (the emperor Mahabali's destruction), is worshiped here every Friday night. A special pooja is conducted in this temple for Sri Sattainathar on every Friday that continues till midnight. It is considered very auspicious to worship the lord at this time.
There is also a separate temple for Sri Ulgalantha Perumal in Sirkazhi.
Lord Brahma became vain thinking that he was the greatest among the three lords. To teach him a lesson, Lord Shiva made him forget the "Pranava Mantra". Realizing his folly, Brahma worshipped Lord Shiva here and got his memory restored. Since Lord Brahma is believed to have worshipped Lord Shiva here, the lord is also praised as "Sri Bhramapureeswarar".
It is also believed that lords Brahma, Mahavishnu, Murugan, Indira, Guru Bhagawan, Suryan, Chandran, Rahu, Kethu, Adisheshan, Goddess Kali, sages Parasara, Romasa, Veda Vyasa and Emperor Sibi have worshiped the lord of this temple.
According to legend, that Saint Thirugnanasambanthar was born in this place during the 7th century. Sambanthar was born in a Brahmin family to Sivapada Hrudayar and his wife Bhagavathiar. Once when Sambanthar was about three years old, his father had taken him to a nearby Shiva temple. When his father had gone to take a dip in the "Brahma Theertham" (the temple's tank), young Sambanthar started crying. Noticing the crying child, Lord Shiva and his wife Goddess Parvathi appeared before him. It is believed that Goddess Parvathi fed him with wisdom milk (Gnanappaal). When Sambanthar's father returned, he was astonished to see drops of milk on the child's mouth. He asked him who had fed him, whereupon the boy pointed to the sky and responded with a song "Thodudaya Seviyan" - the first hymn and verse of the revered Devaram.
Sambanthar is also regarded as an incarnation of Lord Murugan. He is praised as "Ilaya Pillayar" (younger son) and is also affectionately called "Aaludaya Pillayar".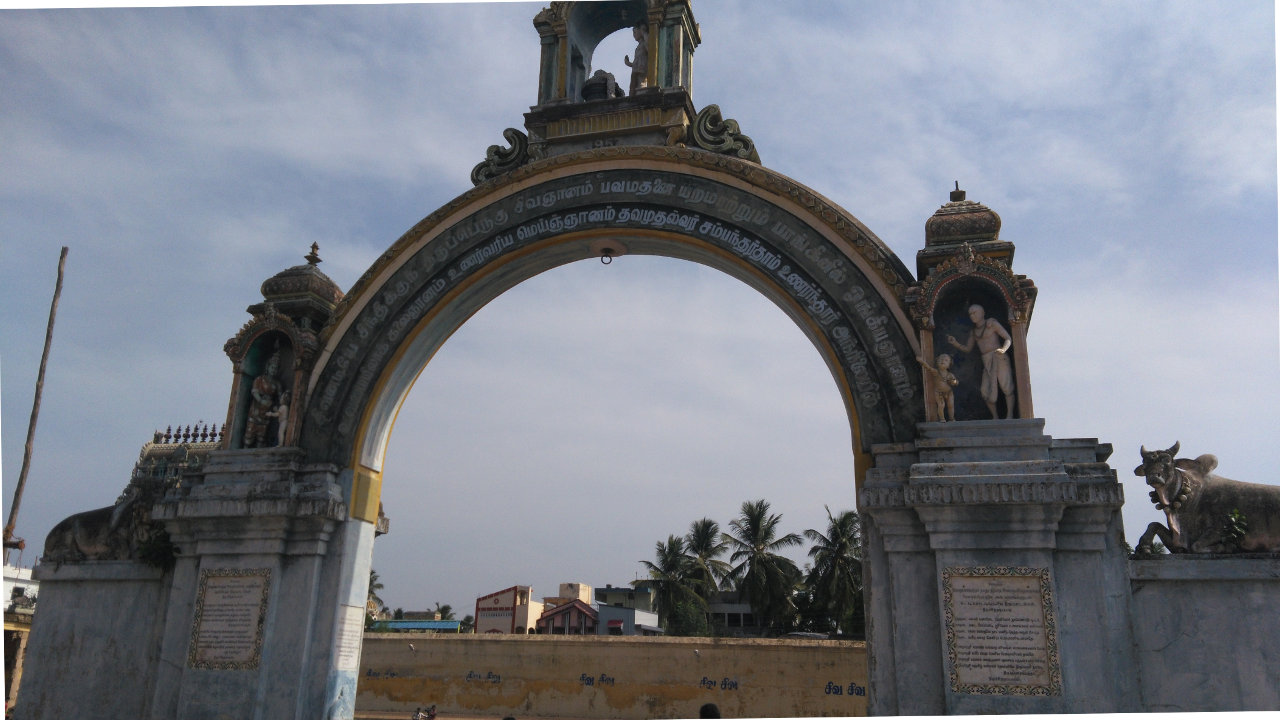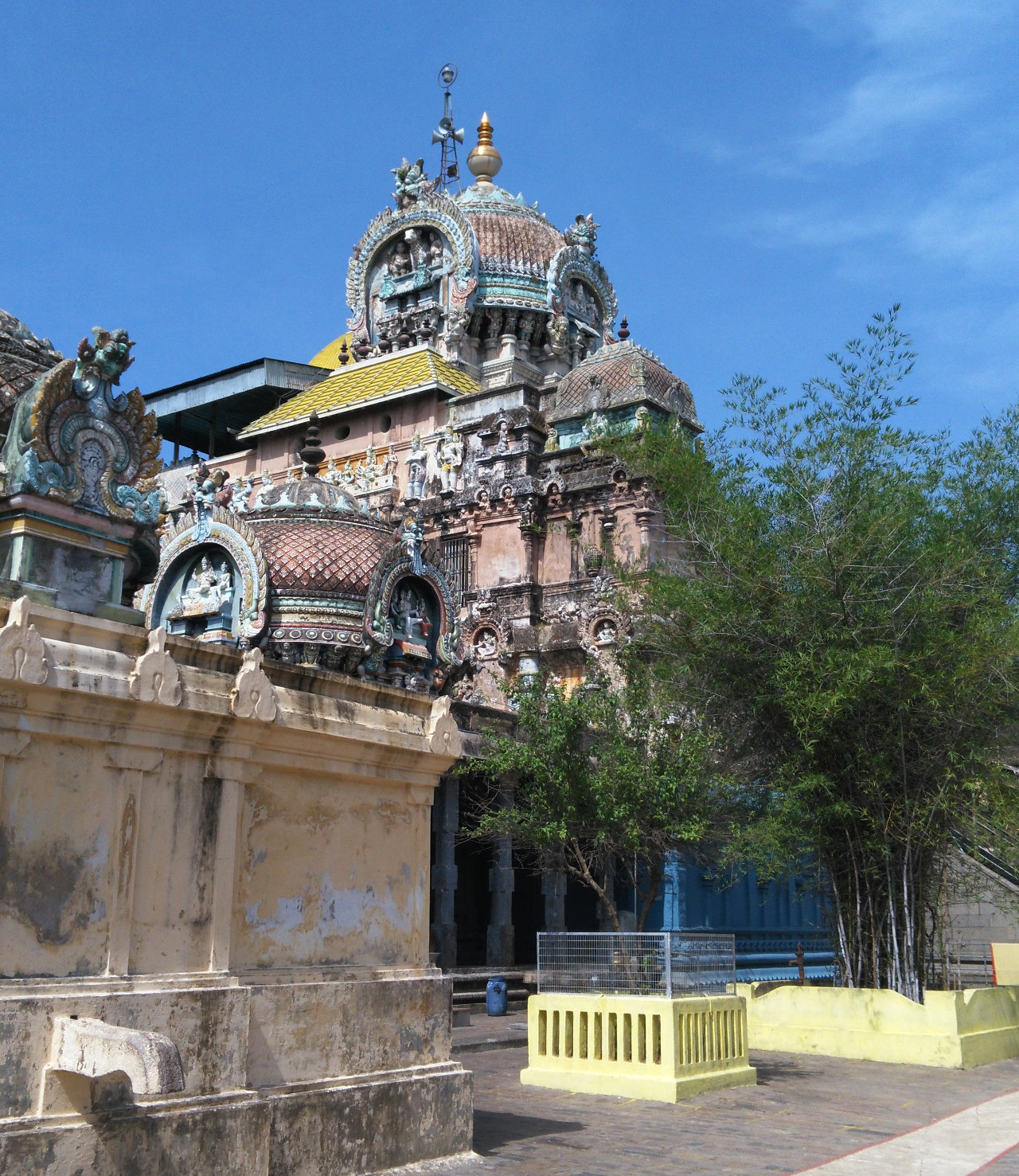 Deities in the temple
Other than the shrines of the main deities, shrines and idols of lords Vinayakar, Murugan, Somaskandhar and the 63 Nayanmars can be seen in the corridors.
There is a separate shrine for Thirugnanansambanthar located next to Lord Shiva's shrine. This temple has a beautiful procession idol that depicts Sambanthar as a small child holding a cup of milk in his hand.
There are separate shrines for each of the Ashta Bhairavas.
Goddess Thirunilai Nayagi graces from a separate temple. In the inner corridor, idols of Sri Shyamala Devi, Sri Ichha Sakthi, Sri Gnana Sakthi and Sri Kiriya Sakthi can be seen.
There is a separate two storeyed temple (that looks like a small hill) where Lord Thoniyappar and Sattainathar (Vadukanathar) can be seen.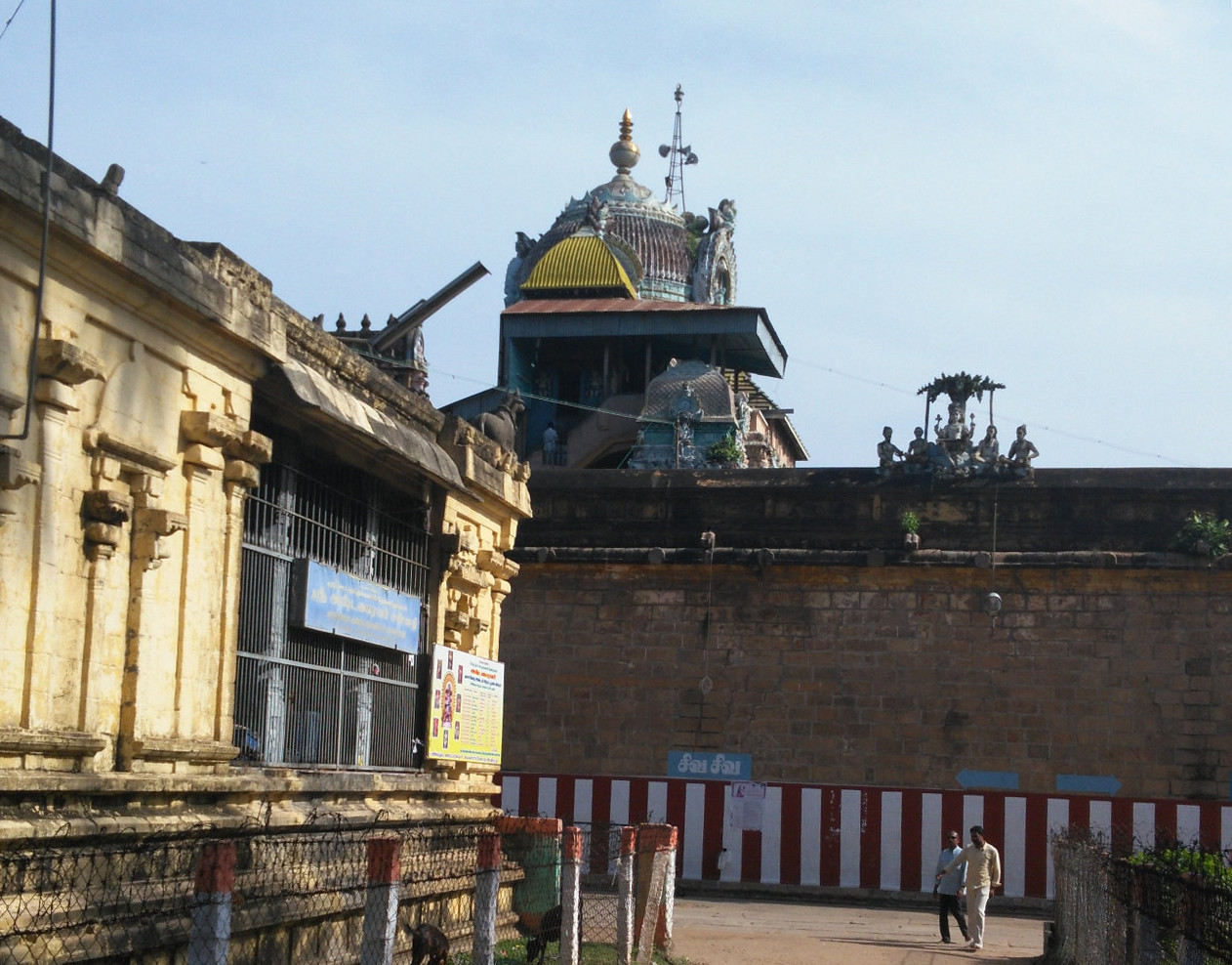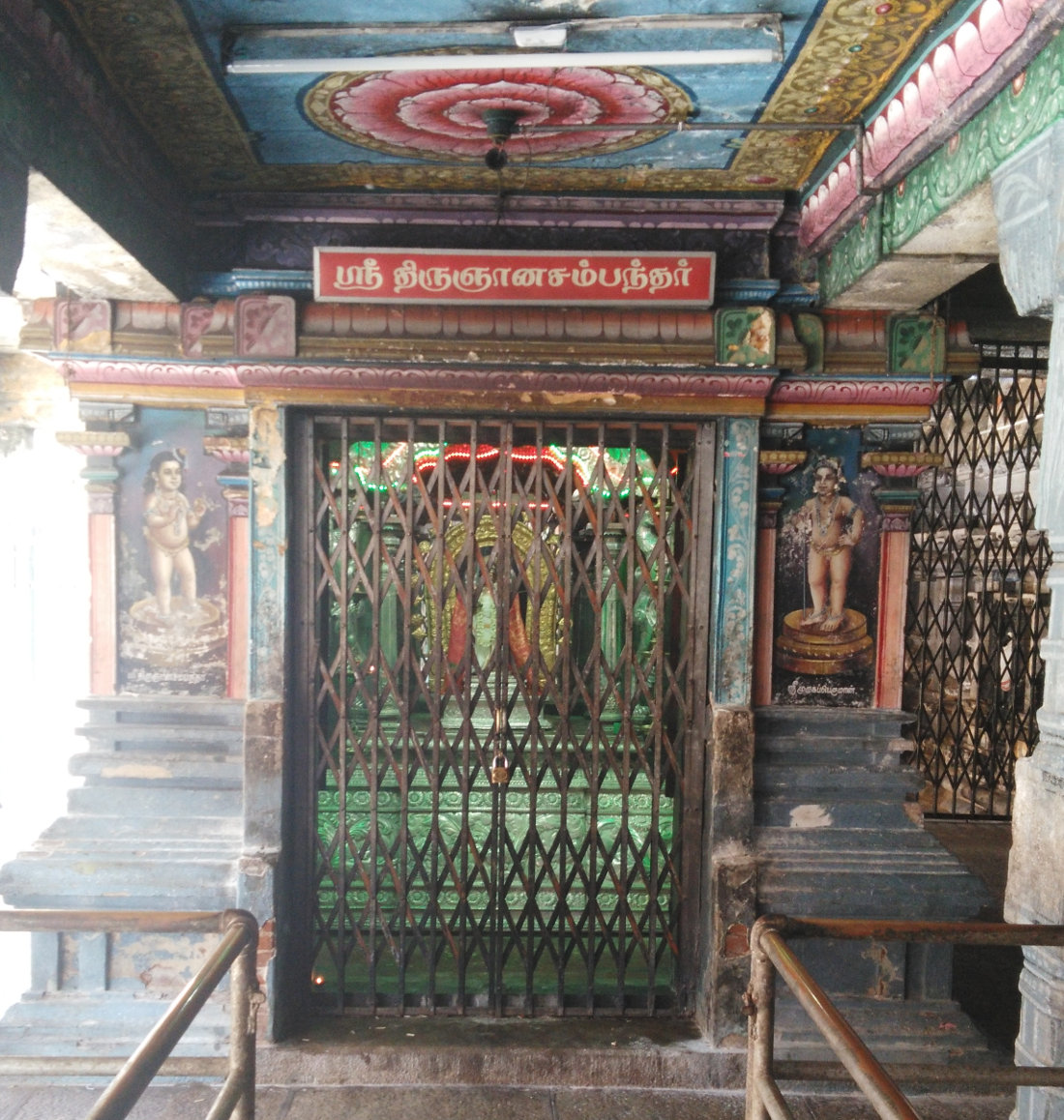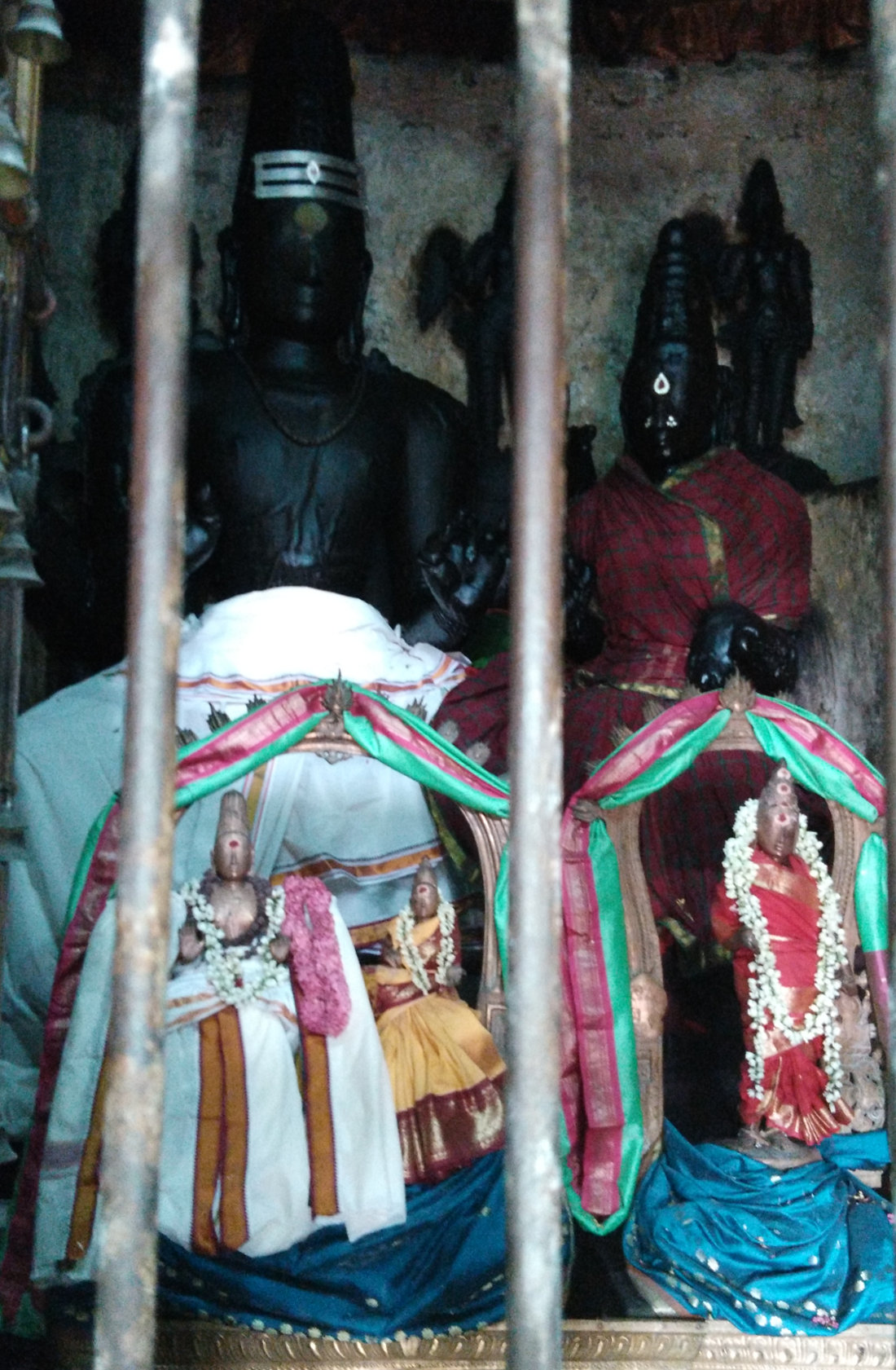 Salient Features
This temple has the highest number of hymns (devara pathigams) rendered by the Moovar - a tall number of 71 hymns.
It is believed that there are 22 sacred water bodies (Theerthams) associated with this temple.
Lord Shiva graces here in three forms - as Brahma, Vishnu and Shiva. It is believed that they granted darshan to Saint Thirugnanasambanthar. This place is also revered as "Gurumurtham".
Lord Bhairava of this temple is considered to be as significant as the one in Kasi-Varanasi. Special pujas are performed for him here on Ashtami days (eighth day of new moon or full moon fortnight).
As Lord Shiva of this temple is considered to be the maker of all laws ("Sattam" in Tamil), he is also praised here as Sri Satta Nathar.
There is a 3-tiered shrine in this temple. In the first tier, Sri Bhramapureeswarar, is present in the form of a lingam along with Goddess Thirunilai Nayagi. The second tier has Sri Periyanayakar (Thoniyappar) with Goddess Periyanayaki on a raft ("Thoni"). Here, Sri Periyanayakar is in the form of a teacher ("Guru").
In the third tier, Sri Bhairavar is present as Sattainathar. He is in the unified form ("Sankamam").
On one particular day during the 10-day Brahmotsavam festival, the procession idol (Utsavamoorthy) of Saint Thirugnanasambanthar is taken to Sri Thiruthalamudaiyar temple at Thirukkolakka. This is another Devara Paadal Petra Sthalam situated on the outskirts of Sirkazhi. It is believed that here Sambanthar was blessed with the golden plates (Thalam) by the lord and Goddess Parvathy infused divine music into it. This incident is symbolically celebrated on this day here. Thereafter, the procession idol of Sambanthar is brought back to Sirkazhi temple in a flower-bedecked palanquin ("Poo Pallakku").
The entrance to the Brahma Theertham (tank) has some beautiful sculptures depicting Lord Brahma's worship, Saint Sambanthar receiving milk from Goddess Parvathi and the saint pointing towards the lord.
This is the place where Saint Thirunavukkarasar was affectionately called as "Appa" by Saint Thirugnanasambanthar. This why Saint Thirunavukkarasar gets the name "Appar".
Since Sirkazhi is the birth place of saint Thirugnanasambanthar, saint Sundaramurthy Nayanar considered this place to be so sacred that he did not want to soil it by placing his feet there. When he visited this place, he stayed in the outskirts and rendered his hymn from there. It is believed that Lord Shiva was pleased with his hymns and blessed him with his darshan.
It is from this place that Saint Thiru Neelakanta Yazhpanar, a maestro of the Yazh (a lute) started accompanying saint Thirugnanasambanthar.
Saint Arunagirinadhar has sang songs in praise of Lord Murugan of this temple in his revered Thirupugazh.
This is the birth place of Saint Gananatha Nayanar - one of the 63 Nayanmars.
The Jeeva Samadhi (monument) of Sattai Muni Siddhar, one of the 18 siddhars, is present in this temple with a peeta (stage) above it.
It is believed that Lord Shiva of this temple has been praised by the following saints - Thirugnanasambanthar, Thirunavukkarasar, Sundaramurthy Nayanar, Manickavasakar, Arunagirinathar, Gananathar, Nambiandar Nambigal, Pattinathar, Sekkizhar, Arunachala Kavi Rayar and Muthu Thandava Dikshithar.
Greatness of this temple
Vanity and arrogance are often considered to be curses. Devotees believe that worshiping the lord here helps them to look past their own ignorance.
Devotees involved in litigation matters seek the lord's blessings to help them win their cases.
Important Festivals
The 10-day annual Brahmotsavam is celebrated in the Tamil month of Chithirai (Apr-May). The "Thirumulaippal Urchavam" is celebrated in a grand manner on the second day.
Other important festivals celebrated in this temple are –
Karthikai Deepam in the Tamil month of Karthikai (November-December),
Thiruvadirai in the Tamil month of Margazhi (December-January),
Shivrathri in the Tamil month of Maasi (February-March),
Aadi Pooram in the Tamil month of Aadi (July-August),
Navrathri in the Tamil month of Purattasi (September-October).
Pradosham is also observed regularly.
Temple Timings
From 06.00 AM to 12.00 Noon and 04.00 PM to 09.00 PM.
Temple Address
Sri Brahmapureeswarar Temple,
Sri Sattainathaswami Devastghanam,
Sirkazhi
Nagapattinam District
Tamil Nadu – 609110.
Tele: +91 4364 -270 235.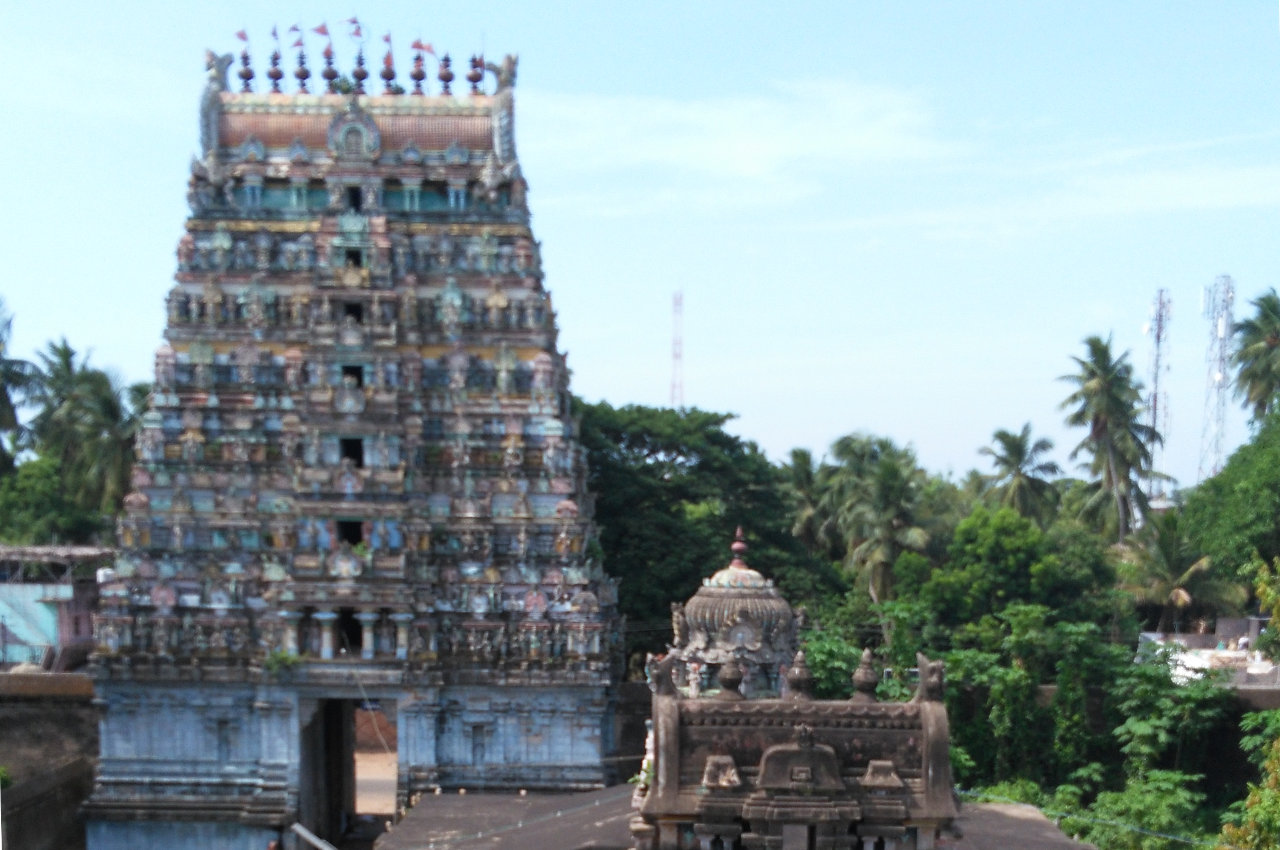 ---
Pathigam (Hymn) with English transliteration
Saint Thirugnanasambanthar visited this temple and sang this Pathigam.
Devotees visiting this temple should make it a practice to recite this Pathigam.
தோடுடைய செவியன் விடையேறியோர் தூவெண்மதி சூடிக்
காடுடையசுட லைப்பொடிபூசிஎன் உள்ளங்கவர் கள்வன்
ஏடுடையமல ரான்முனைநாட்பணிந் தேத்தஅருள் செய்த
பீடுடையபிர மாபுரம்மேவிய பெம்மானிவ னன்றே.
"Thōṭuṭaiya seviyaṉ viṭaiyēṟiyōr thūveṇmathi chūṭik
kāṭuṭaiyachuṭa laippoṭipūsi'eṉ uḷḷaṅkavar kaḷvaṉ
ēṭuṭaiyamala rāṉmuṉaināṭpaṇin thēththa'aruḷ seytha
pīṭuṭaiyapira māpuram'mēviya pem'māṉiva ṉaṉtṟē".
முற்றலாமையிள நாகமோடேன முளைக்கொம்பவை பூண்டு
வற்றலோடுகல னாப்பலிதேர்ந்தென துள்ளங்கவர் கள்வன்
கற்றல்கேட்டலுடை யார்பெரியார்கழல் கையால்தொழு தேத்தப்
பெற்றம்ஊர்ந்தபிர மாபுரம்மேவிய பெம்மானிவ னன்றே.
"Mutṟalāmaiyiḷa nākamōṭēṉa muḷaikkompavai pūṇṭu
vatṟalōṭukala ṉāppalithērntheṉa thuḷḷaṅkavar kaḷvaṉ
katṟalkēṭṭaluṭai yārperiyārkazhal kaiyālthozhu thēththap
petṟamūrnthapira māpuram'mēviya pem'māṉiva ṉaṉtṟē".
நீர்பரந்தநிமிர் புன்சடைமேலோர் நிலாவெண்மதி சூடி
ஏர்பரந்தஇன வெள்வளைசோரஎன் உள்ளங்கவர் கள்வன்
ஊர்பரந்தவுல கின்முதலாகிய ஓரூரிது வென்னப்
பேர்பரந்தபிர மாபுரம்மேவிய பெம்மானிவ னன்றே.
"Nīrparanthanimir puṉsaṭaimēlōr nilāveṇmathi chūṭi
ērparantha'iṉa veḷvaḷaisōra'eṉ uḷḷaṅkavar kaḷvaṉ
ūrparanthavula kiṉmuthalākiya ōrūrithu veṉṉap
pērparanthapira māpuram'mēviya pem'māṉiva ṉaṉtṟē".
விண்மகிழ்ந்தமதி லெய்ததுமன்றி விளங்குதலை யோட்டில்
உண்மகிழ்ந்துபலி தேரியவந்தென துள்ளங்கவர் கள்வன்
மண்மகிழ்ந்தஅர வம்மலர்க்கொன்றை மலிந்தவரை மார்பிற்
பெண்மகிழ்ந்தபிர மாபுரமேவிய பெம்மானிவ னன்றே.
"Viṇmakizhnthamathi leythathumaṉtṟi viḷaṅkuthalai yōṭṭil
uṇmakizhnthupali thēriyavantheṉa thuḷḷaṅkavar kaḷvaṉ
maṇmakizhntha'ara vam'malarkkoṉtṟai malinthavarai mārpiṟ
peṇmakizhnthapira māpuramēviya pem'māṉiva ṉaṉtṟē".
ஒருமைபெண்மையுடை யன்சடையன்விடை யூரும்இவ னென்ன
அருமையாகவுரை செய்யஅமர்ந்தென துள்ளங்கவர் கள்வன்
கருமைபெற்றகடல் கொள்ளமிதந்ததோர் காலம்இது வென்னப்
பெருமைபெற்றபிர மாபுரம்மேவிய பெம்மானிவ னன்றே.
"Orumaipeṇmaiyuṭai yaṉsaṭaiyaṉviṭai yūrumiva ṉeṉṉa
arumaiyākavurai seyya'amarntheṉa thuḷḷaṅkavar kaḷvaṉ
karumaipetṟakadal koḷḷamithanthathōr kālamithu veṉṉap
perumaipetṟapira māpuram'mēviya pem'māṉiva ṉaṉtṟē".
மறைகலந்தஒலி பாடலொடாடல ராகிமழு வேந்தி
இறைகலந்தஇன வெள்வளைசோரஎன் உள்ளங்கவர் கள்வன்
கறைகலந்தகடி யார்பொழில்நீடுயர் சோலைக்கதிர் சிந்தப்
பிறைகலந்தபிர மாபுரம்மேவிய பெம்மானிவ னன்றே.
"Maṟaikalantha'oli pāṭaloṭāṭala rākimazhu vēnthi
iṟaikalantha'iṉa veḷvaḷaisōra'eṉ uḷḷaṅkavar kaḷvaṉ
kaṟaikalanthakaṭi yārpozhilnīṭuyar sōlaikkathir sinthap
piṟaikalanthapira māpuram'mēviya pem'māṉiva ṉaṉtṟē".
சடைமுயங்குபுன லன்அனலன்எரி வீசிச்சதிர் வெய்த
உடைமுயங்கும்அர வோடுழிதந்தென துள்ளங்கவர் கள்வன்
கடல்முயங்குகழி சூழ்குளிர்கானலம் பொன்னஞ்சிற கன்னம்
பெடைமுயங்குபிர மாபுரம்மேவிய பெம்மானிவ னன்றே.
"Saṭaimuyaṅkupuṉa laṉaṉalaṉeri vīsichchathir veytha
uṭaimuyaṅkumara vōṭuzhithantheṉa thuḷḷaṅkavar kaḷvaṉ
kaṭalmuyaṅkukazhi chūḻkuḷirkāṉalam poṉṉañchiṟa kaṉṉam
peṭaimuyaṅkupira māpuram'mēviya pem'māṉiva ṉaṉtṟē".
வியரிலங்குவரை யுந்தியதோள்களை வீரம்விளை வித்த
உயரிலங்கையரை யன்வலிசெற்றென துள்ளங்கவர் கள்வன்
துயரிலங்கும்உல கிற்ஊழிகள் தோன்றும்பொழு தெல்லாம்
பெயரிலங்குபிர மாபுரம்மேவிய பெம்மானிவ னன்றே.
"Viyarilaṅkuvarai yunthiyathōḷkaḷai vīramviḷai viththa
uyarilaṅkaiyarai yaṉvalisetṟeṉa thuḷḷaṅkavar kaḷvaṉ
thuyarilaṅkumula kiṟūzhikaḷ thōṉtṟumpozhu thellām
peyarilaṅkupira māpuram'mēviya pem'māṉiva ṉaṉtṟē".
தாணுதல் செய்திறை காணியமாலொடு தண்டாமரை யானும்
நீணுதல் செய்தொழி யந்நிமிர்ந்தானென துள்ளங்கவர் கள்வன்
வாணுதல் செய்மக ளீர்முதலாகிய வையத்தவ ரேத்தப்
பேணுதல் செய்பிர மாபுரம்மேவிய பெம்மானிவ னன்றே.
"Thāṇuthal seythiṟai kāṇiyamāloṭu thaṇṭāmarai yāṉum
nīṇuthal seythozhi yannimirnthāṉeṉa thuḷḷaṅkavar kaḷvaṉ
vāṇuthal seymaka ḷīrmuthalākiya vaiyaththava rēththap
pēṇuthal seypira māpuram'mēviya pem'māṉiva ṉaṉtṟē".
புத்தரோடுபொறி யில்சமணும்புறங் கூறநெறி நில்லா
ஒத்தசொல்லஉல கம்பலிதேர்ந்தென துள்ளங்கவர் கள்வன்
மத்தயானைமறுகவ்வுரி போர்த்ததோர் மாயம்இது வென்னப்
பித்தர்போலும்பிர மாபுரம்மேவிய பெம்மானிவ னன்றே.
"Puththarōṭupoṟi yilsamaṇumpuṟaṅ kūṟaneṟi nillā
oththacholla'ula kampalithērntheṉa thhuḷḷaṅkavar kaḷvaṉ
matthayāṉaimaṟukavvuri pōrththathōr māyamithu veṉṉap
piththarpōlumpira māpuram'mēviya pem'māṉiva ṉaṉtṟē".
அருநெறியமறை வல்லமுனியகன் பொய்கையலர் மேய
பெருநெறியபிர மாபுரம்மேவிய பெம்மானிவன் றன்னை
ஒருநெறியமனம் வைத்துணர்ஞானசம் பந்தன்உரை செய்த
திருநெறியதமிழ் வல்லவர்தொல்வினை தீர்தல்எளி தாமே.
"Aruneṟiyamaṟai vallamuṉiyakaṉ poykaiyalar mēya
peruneṟiyapira māpuram'mēviya pem'māṉivaṉ tṟaṉṉai
oruneṟiyamaṉam vaiththuṇar gñāṉasam banthaṉurai seytha
thiruneṟiyathamizh vallavartholviṉai thīrthaleḷi thāmē".