Visited on: November 2, 2015
Location
About 40 kms from Coimbatore and 10 kms from Tiruppur. Nearest airport is at Coimbatore. Nearest Railway station is at Tiruppur.
General Information
| | |
| --- | --- |
| Moolavar | Sri Avinasi Appar / Sri Perungkediliyappar |
| Ambal | Sri Karunambikai / Sri Perungkarunai Nayaki |
| Theertham | Kasi Kinaru (well), Naga Kanni Theertham, Iravata Theertham, Kashi Gangai Theertham in the form of a well |
| Sthala Vriksham (Sacred Tree) | Pathiri Tree |
| Pathigam (Hymn) rendered by | Saint Sundararamurthy Nayanar (Sundarar) |
This is one of the 276 Devara Paadal Petra Shiva Sthalams and 1st Shiva Sthalam in Kongu Nadu.
The Moolavar is Swayambumurthy (self-manifested).
Vinasam in Sanskrit and Tamil means perishable. Avinashi means imperishable (eternal).
The colloquial name of this temple is Karunaiyaathaal Temple.
Avinashi is referred to as Dakshin Kashi (South Varanasi).
The historical name of the place is Tirupukkoliyur. Thiru meaning grace of God and Pukkoliyur meaning a place of refuge. It is said that once Devas took shelter in this temple in fear of Asuras.
The main tower (Rajagopuram) is 7-tiered and is more than 100 feet in height.
The temple is a protected monument under the Archaeological survey of India.
History of the Temple
The temple belongs to 10th century CE. The present structure of the temple was originally built by the Kings of Chola, Hoysala and the Mysore dynasties. The main tower was first built during the period of King Sundarapandian and later reconstructed by the King of Mysore.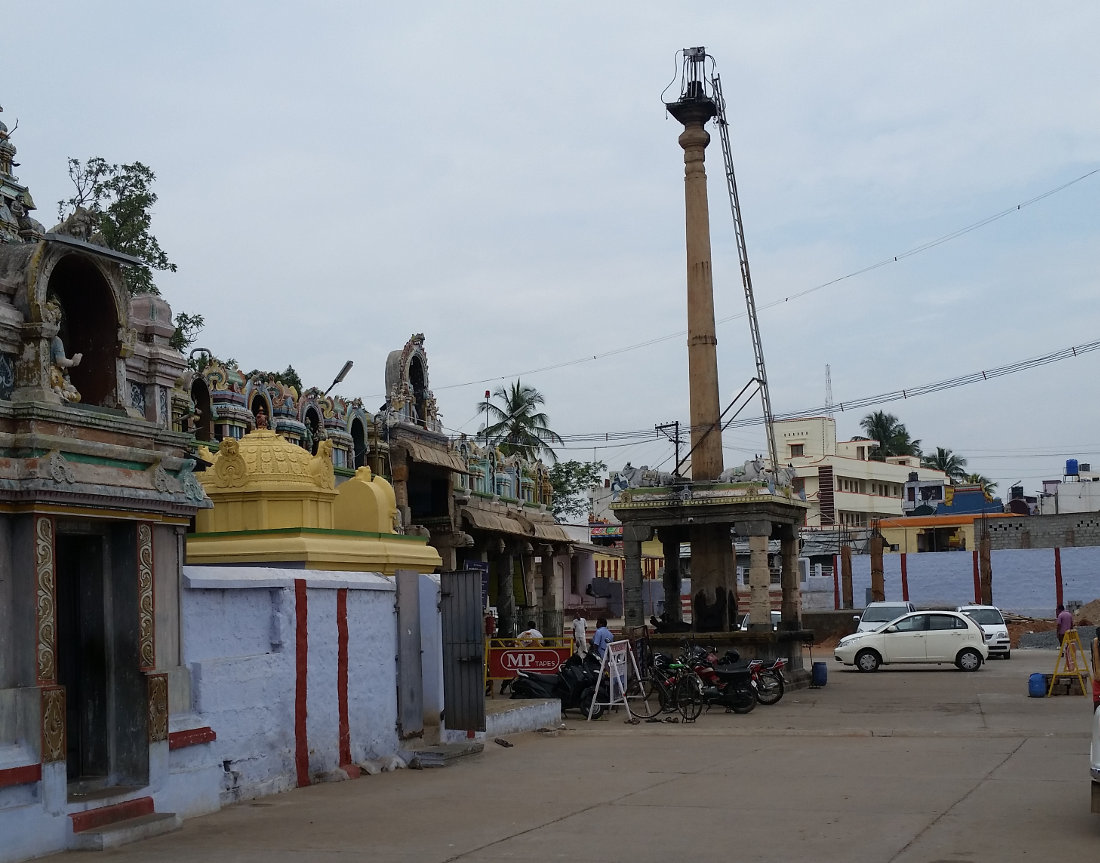 Legend
The Lord Avinashilingeswarar enshrined in this temple is believed to be an offshoot of the one in Kashi (Varanarasi). For this reason, Avinashi is also known as Dakshin Kashi.
As per the Tamil saying "Kasiyil Vasi Avinashi", it is believed that devotees looking to seek the blessings of Lord Shiva in Kasi-Varanasi, can do so by worshipping Lord Avinashilingeswarar in Avinashi.
The Theertham (holy water) in the "Kashi Kinaru" and the idols of Lord Avinashilingeswarar and Lord Bhairavar are said to have been brought from Kashi. Bathing in the Kashi well in this temple on new moon day (Amavasya) is considered to be auspicious.
It is said that the temple has a close relationship with the Mysore Royal family. In the early days, it was customary for the king-designate to go to Kashi, bring a Lingam from there and perform poojas in this temple before assuming power and stately responsibilities.
The legend is that Goddess Karunambikai did her penance and worshipped the lingam under the Pathiri Tree here. The Pathiri tree of this temple would blossom only during the Brahmmotsavam festival and not during other days of the year. According to this temple Sthala Puranam, this shows the devotion of the tree to Lord Shiva.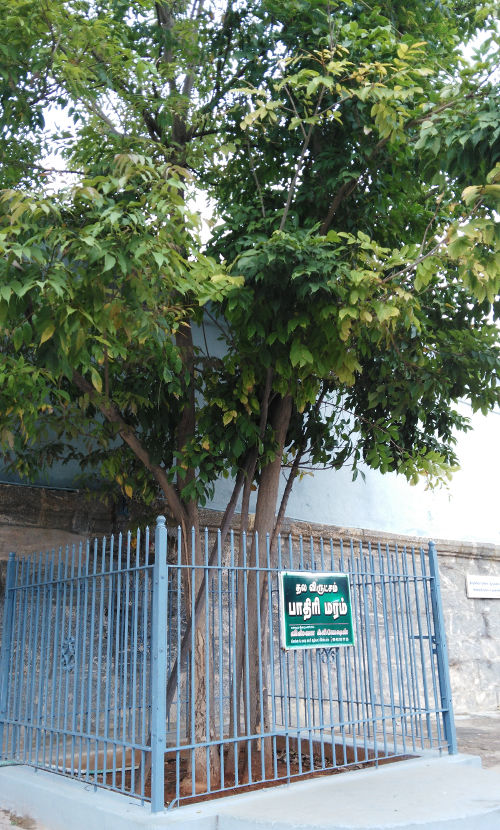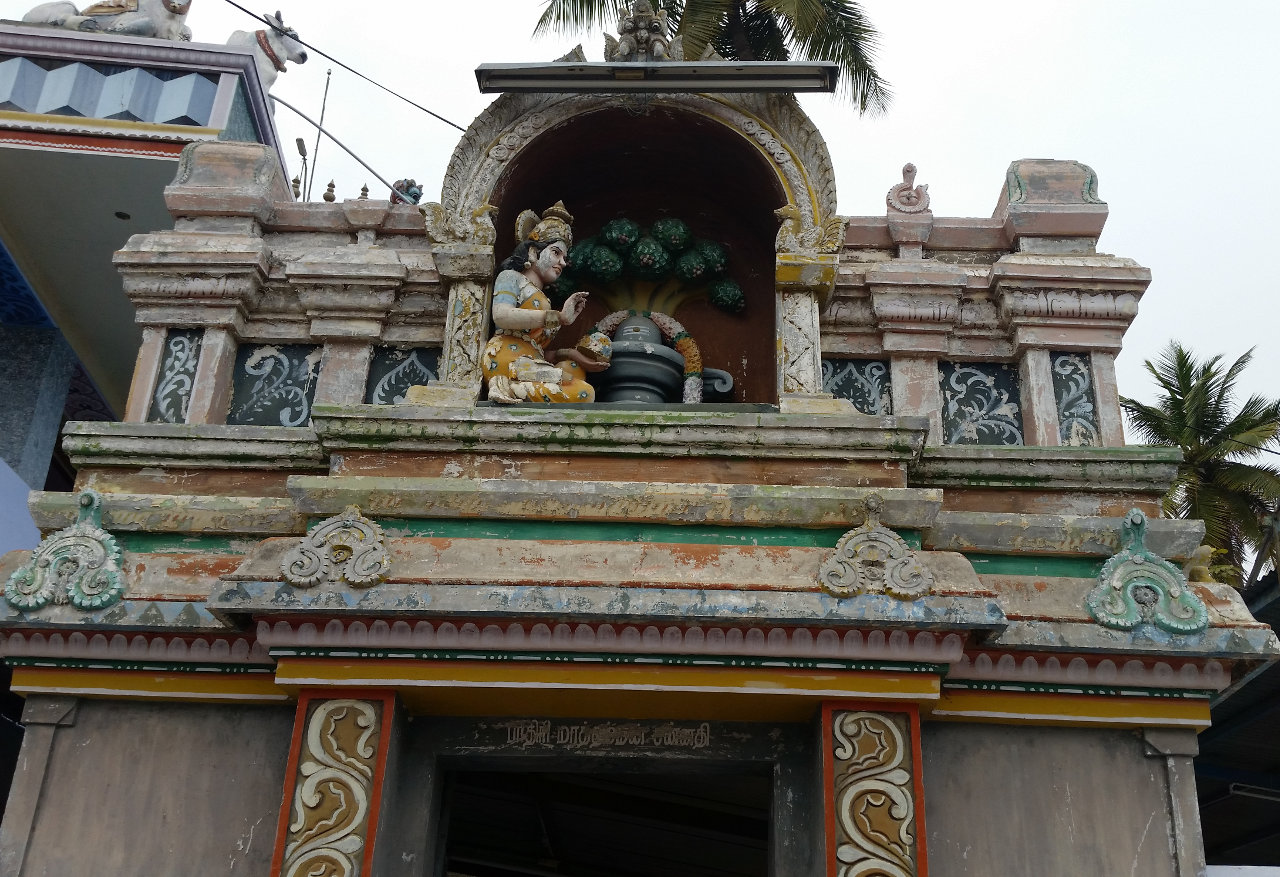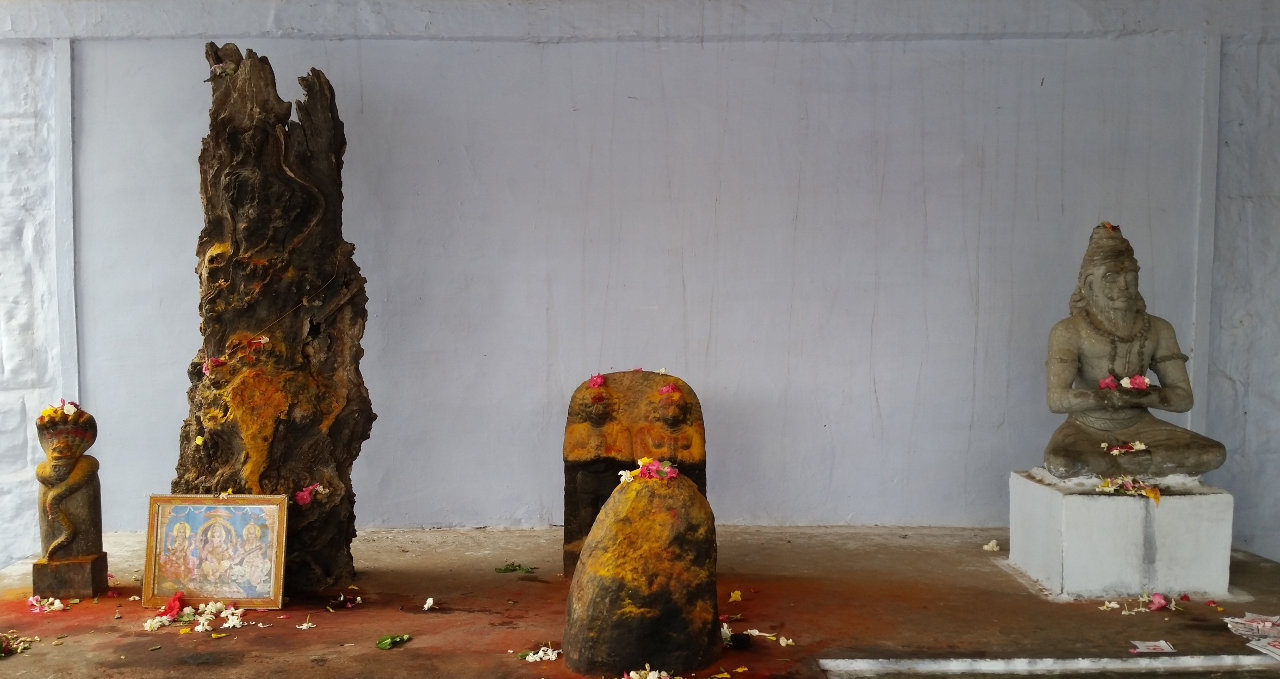 According to scriptures, it is said Sage Vasishta worshipped in this temple to seek respite from the adverse effects of Sani Bhagwan (Planet Saturn). It is believed that he installed an idol of Sani Bhagwan in this temple. This idol is now worshiped as Anugraha Murthy.
The lord of this temple is also known as Brahmapureeswarar because it is believed that Lord Brahma worshipped here to seek atonement for his sin.
Lord Ram, Iravath (Lord Indran's white elephant), Thadagai and Naga Kannigai are also believed to have worshipped Lord Shiva here.
Another important historical event
Another interesting and significant legend associated with this temple is that on his way to meet King Cheraman Perumal at Thiruvanchikulam, Saint Sundaramurthy Nayanar happened to pass by Avinashi and heard conflicting voices from two neighbouring houses. One blooming with happiness and joy and the other gloomy and melancholy. He was told that three years ago, when two boys of the same age had gone to take bath in the nearby tank, one of them was devoured by a crocodile. The surviving boy was supposed to have his Upanayanam (sacred thread ceremony) that day which was the reason for celebration in one of the houses. On the other hand, the members of the other house were mourning the loss of their son as they felt that they too would be celebrated had he been alive.
On seeing this, Saint Sundarar immediately went to the temple and demanded the Lord to direct the crocodile to give back the boy it had swallowed three years ago. Sundarar rendered a soulful Pathigam pleading Lord Shiva to resurrect the dead child. As he sang the fourth stanza his prayers were answered. To the joy of everyone around him, water started flowing into the dry tank, a crocodile emerged from it and ejected a full grown boy of seven years. Saint Sundarar took the boy to the parents and arranged his Upanayanam too.
This story is depicted beautifully in the form of paintings and reliefs in this temple.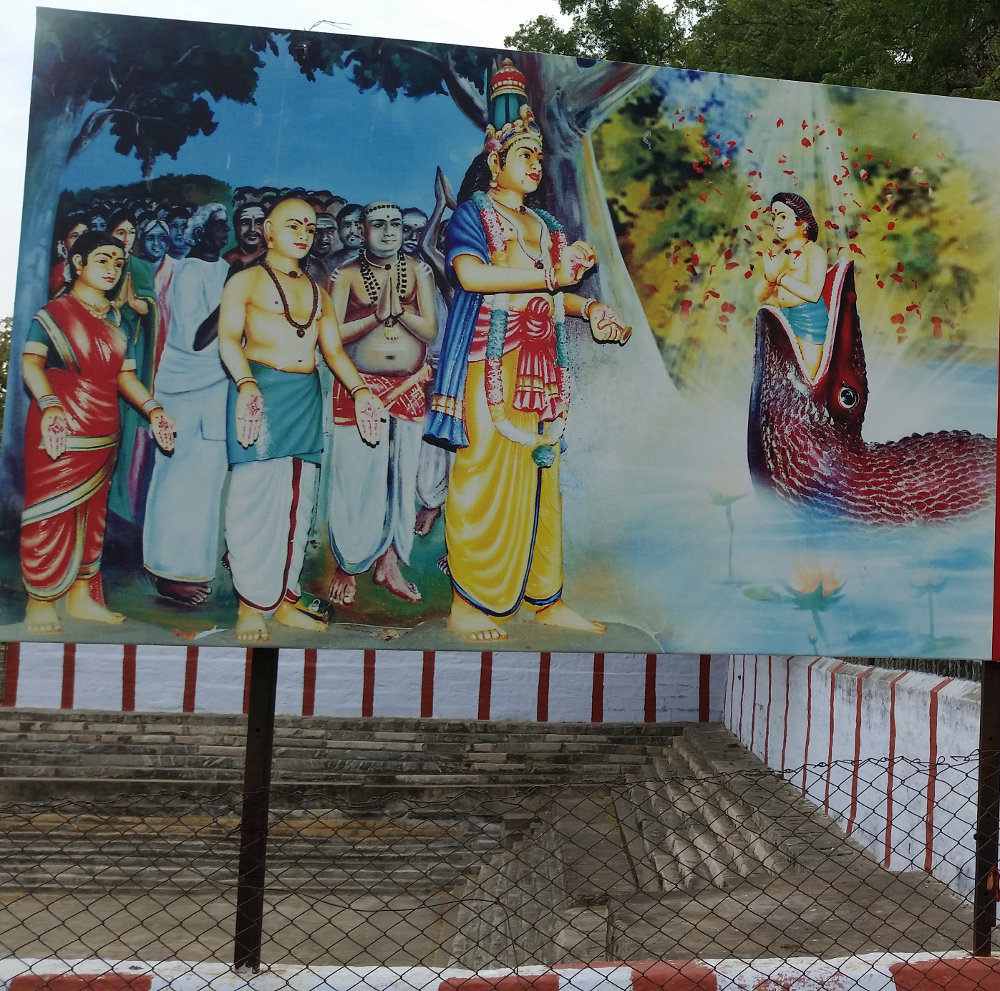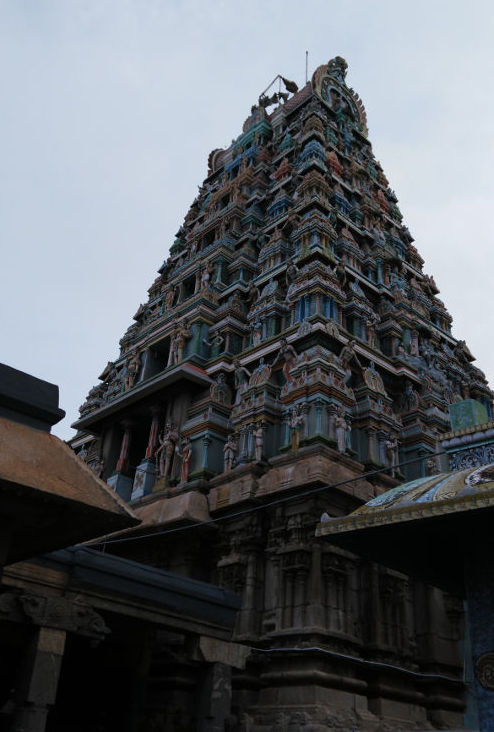 Deities in the temple
There are two Ambals in the temple, one in penance under a Mango (Pathiri) tree and the other with the Lord in the sanctum sanctorum. Here the Goddess is on the right side of the Lord instead of left side, as is the tradition in other temples.

In this temple, the shrine of Lord Kala Bairavar is aesthetically designed and occupies a special significance among devotees. Amongst others, idols of Vinayakar, Murugan and his consorts, Natarajar, Dakshinamurthy and the Navagragam can be seen in the corridors.
Salient Features
There is a 70 feet high pillar constructed of a single stone called "Deepa Sthambam" with sculptures of Lord Vinayakar and Saint Sundarar.
The temple has two precincts. The Navaranga Mandapam in the inner precinct has intricate sculptures and reliefs highlighting the artistic excellence of the era.
The large Nandi and the carved image of a scorpion inside the Goddess's sanctum are also of significance.
This temple is also called Villvavanam as the premises was once believed to have been surrounded by a large number of Vilvam trees.
Saint Manicka Vasagar referred to this temple in his celebrated Tiruvasagam hymns.
Saint Arunagirinadhar has also sang in praise of Lord Murugan of this temple in his revered Thirupugazh.
Saint Thirumular has also immortalised this temple in his Thirumantiram.
Greatness of this temple
The Kashi Kinaru (well) inside the temple is considered to be the Ganges of Kasi itself and is considered to be auspicious.
It is believed that devotees get respite from the adverse effects by worshiping Sani Bhagwan (Planet Saturn) here.
Important Festivals
The event 'Mudalai Vaai Pillai' Utsavam (literally translated as "boy in the grip of a crocodile" is commemorated in a grand manner every year for three days during Panguni Uththiram in the months of March-April.
Chithirai Brahmotsavam is celebrated grand manner in April-May with flag hoisting on Mrigaseersham star day and Ther (Car) festival on Pooram star day.
The Ther festival is the most exciting festivals in this temple and the Therottam (Car Pulling) attracts thousands of devotees every year. This temple's Ther is one of the biggest in South India and is noted for its intricate wooden carvings. Apart from this, the procession of the 63 Nayanmars (Arupathi Moovar Ula) is another notable festival.

Temple Timings
05.00 AM to 01.00 PM and 04.00 PM to 08.00 PM.
Temple Address
Sri Avinashi Lingeshwarar Temple,
Avinashi Post,
Thiruppur District,
Tamil Nadu - 641 654.
Telephone: +91- 4296 - 273 113.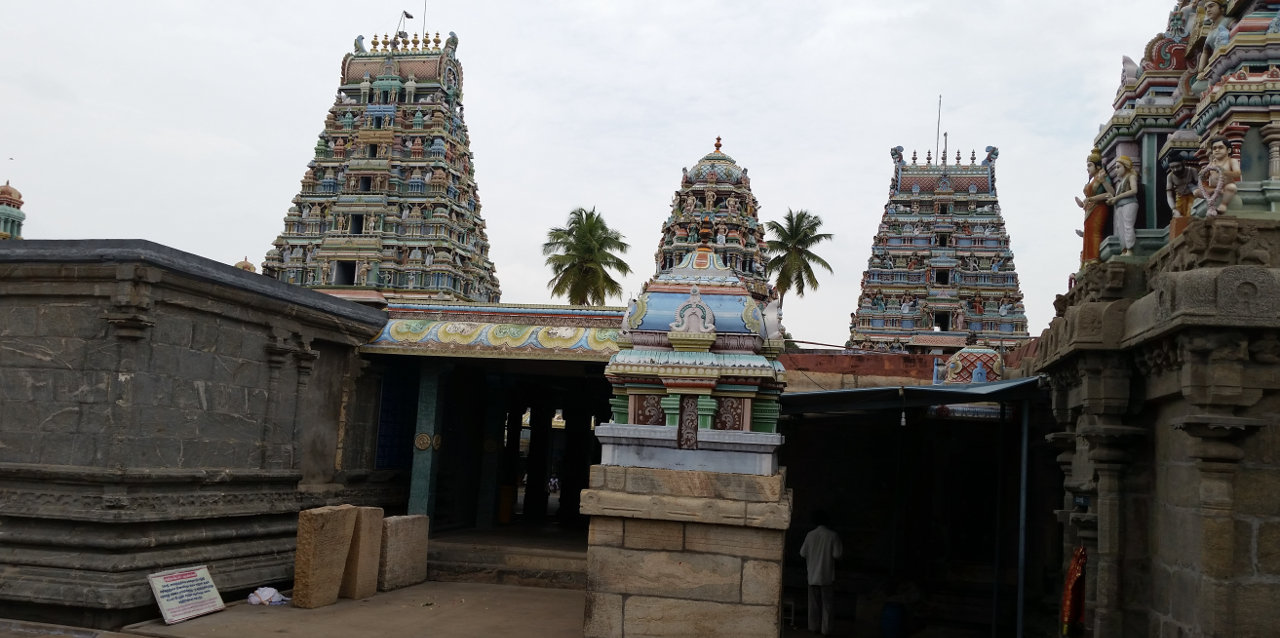 ---
Pathigam (Hymn) with English transliteration:
This is the hymn that Saint Sundarar sang to resurrect the dead boy.
Devotees visiting this temple should make it a practice to recite this Pathigam.
இது முதலையுண்டபிள்ளையை அழைப்பித்த பதிகம்:-
1. எற்றான் மறக்கேன் எழுமைக்கும் எம்பெரு மானையே
உற்றாயென் றுன்னையே உள்குகின் றேனுணர்ந் துள்ளத்தாற்
புற்றா டரவா புக்கொளி யூரவி நாசியே
பற்றாக வாழ்வேன் பசுபதி யேபர மேட்டியே.
"Etṟāṉ maṟakkēṉ ezhumaikkum emperu māṉaiyē
utṟāyeṉ tṟuṉṉaiyē uḷkukiṉ tṟēṉuṇarnth thuḷḷathāṟ
putṟā ṭaravā pukkoḷi yūravi nāsiyē
patṟāka vāzhvēṉ pasupathi yēpara mēṭṭiyē".
2. வழிபோவார் தம்மோடும் வந்துடன் கூடிய மாணிநீ
ஒழிவ தழகோ சொல்லாய் அருளோங்கு சடையானே
பொழிலாருஞ் சோலைப் புக்கொளி யூரிற் குளத்திடை
இழியாக் குளித்த மாணியெ னைக்கிறி செய்ததே.
"Vazhipōvār tam'mōdum vanthuṭaṉ kūṭiya māṇinī
ozhiva thazhakō chollāy aruḷōṅku chaṭaiyāṉē
pozhilāruñ chōlaip pukkoḷi yūriṟ kuḷathiṭai
izhiyāk kuḷitha māṇiye ṉaikkiṟi seythathē".
3. எங்கேனும் போகினும் எம்பெரு மானை நினைந்தக்காற்
கொங்கே புகினுங் கூறைகொண் டாறலைப் பாரிலை
பொங்கா டரவா புக்கொளி யூரவி நாசியே
எங்கோ னேயுனை வேண்டிக்கொள் வேன்பிற வாமையே.
"Eṅkēṉum pōkiṉum emperu māṉai niṉainthakkāṟ
koṅgkē pukiṉuṅ kūṟaikoṇ ṭāṟalaip pārilai
poṅkā ṭaravā pukkoḷi yūravi nāsiyē
eṅkō ṉēyuṉai vēṇṭikkoḷ vēṉpiṟa vāmaiyē".
4. உரைப்பார் உரையுகந் துள்கவல் லார்தங்கள் உச்சியாய்
அரைக்கா டரவா ஆதியும் அந்தமும் ஆயினாய்
புரைக்காடு சோலைப் புக்கொளி யூரவி நாசியே
கரைக்கால் முதலையைப் பிள்ளை தரச்சொல்லு காலனையே.
"Uraippār uraiyukanth thuḷkaval lārthaṅkaḷ uchiyāy
araikkā ṭaravā āthiyum anthamum āyiṉāy
puraikkāṭu sōlaip pukkoḷi yūravi nāsiyē
karaikkāl muthalaiyaip piḷḷai tharachollu kālaṉaiyē".
5. அரங்காவ தெல்லா மாயிடு காடது வன்றியுஞ்
சரங்கோலை வாங்கி வரிசிலை நாணியிற் சந்தித்துப்
புரங்கோட எய்தாய் புக்கொளி யூரவி நாசியே
குரங்காடு சோலைக் கோயில்கொண் டகுழைக் காதனே.
"Araṅgkāva thellā māyidu kāṭathu vaṉtṟiyuñj
saraṅkōlai vāṅki varisilai nāṇiyiṟ santhithup
puraṅgkōda eythāy pukkoḷi yūravi nāsiyē
kuraṅgkādu chōlaik kōyilkoṇ ṭakuzhaik kāthaṉē".
6. நாத்தா னும்உனைப் பாடலன் றிநவி லாதெனாச்
சோத்தென்று தேவர் தொழநின்ற சுந்தரச் சோதியாய்
பூத்தாழ் சடையாய் புக்கொளி யூரவி நாசியே
கூத்தா உனக்குநான் ஆட்பட்ட குற்றமுங் குற்றமே.
"Nāthā ṉumuṉaip pādalaṉ tṟinavi lātheṉāch
chōtheṉtṟu thēvar thozhaniṉtṟa suntharach chōthiyāy
pūthāzh chadaiyāy pukkoḷi yūravi nāsiyē
kūthā uṉakkunāṉ āṭpaṭṭa kutṟamuṅg kutṟamē".

7. மந்தி கடுவனுக் குண்பழம் நாடி மலைப்புறஞ்
சந்திகள் தோறுஞ் சலபுட்பம் இட்டு வழிபடப்
புந்தி உறைவாய் புக்கொளி யூரவி நாசியே
நந்தி உனைவேண்டிக் கொள்வேன் நரகம் புகாமையே.
"Manthi kaduvaṉuk kuṇpazham nādi malaippuṟañj
santhikaḷ thōṟuñj chalapudpam iṭṭu vazhipadap
punthi uṟaivāy pukkoḷi yūravi nāsiyē
nanthi uṉaivēṇṭik koḷvēṉ narakam pukāmaiyē".
8. பேணா தொழிந்தேன் உன்னைய லாற்பிற தேவரைக்
காணா தொழிந்தேன் காட்டுதி யேலின்னங் காண்பன்நான்
பூணாண் அரவா புக்கொளி யூரவி நாசியே
காணாத கண்கள் காட்டவல் லகறைக் கண்டனே.
"Pēṇā thozhinthēṉ uṉṉaiya lāṟpiṟa thēvaraik
kāṇā thozhinthēṉ kāṭṭuthi yēliṉṉaṅg kāṇpaṉnāṉ
pūṇāṇ aravā pukkoḷi yūravi nāsiyē
kāṇātha kaṇkaḷ kāṭṭaval lakaṟaik kaṇṭaṉē".
9. நள்ளாறு தெள்ளா றரத்துறை வாய்எங்கள் நம்பனே
வெள்ளாடை வேண்டாய் வேங்கையின் தோலை விரும்பினாய்
புள்ளேறு சோலைப் புக்கொளி யூரிற் குளத்திடை
உள்ளாடப் புக்க மாணியென் னைக்கிறி செய்ததே.
"Naḷḷāṟu theḷḷā ṟarathuṟai vāyeṅkaḷ nampaṉē
veḷḷādai vēṇṭāi vēṅgkaiyiṉ thōlai virumpiṉāi
puḷḷēṟu sōlaip pukkoḷi yūriṟ kuḷathiṭai
uḷḷāṭap pukka māṇiyeṉ ṉaikkiṟi seythathē".
10. நீரேற ஏறுநிமிர் புன்சடை நின்மல மூர்த்தியைப்
போரேற தேறியைப் புக்கொளி யூரவி நாசியைக்
காரேறு கண்டனைத் தொண்டன் ஆரூரன் கருதிய
சீரேறு பாடல்கள் செப்பவல் லார்க்கில்லை துன்பமே.
"Nīrēṟa ēṟunimir puṉsadai niṉmala mūrtthyaip
pōrēṟa thēṟiyaip pukkoḷi yūravi nāsiyaik
kārēṟu kaṇṭaṉaith thoṇṭaṉ ārūraṉ karuthiya
sīrēṟu pādalkaḷ seppaval lārkkillai thuṉpamē".