Visited on: 10th March, 2017
Location
Thiru Arayaninallur temple is located at a distance of about 3 kms from Thirukkovilur on the Villupuram route. It is about 38 kms from Thiruvannamalai and 36 kms from Villupuram. This temple is opposite to the Thirukkoyilur railway station at a distance of about one kilometre from it.
General Information
| | |
| --- | --- |
| Moolavar | Sri Athulyanatheswarar, Sri Oppilaa Maneeswarar, Sri Arayani Nathar |
| Ambal | Sri Soundarya Kanakambigai, Sri Arul Nayagi, Sri Azhakiya Ponnazhagi |
| Theertham (Holy water) | Thenpennai river, Pandava Theertham |
| Sthala Vriksham (Sacred Tree) | Vilva Tree |
| Pathigam (Hymn) rendered by | Saint Thirugnanasambanthar |
This is one of the 276 Devara Paadal Petra Shiva Sthalams and 12th Shiva Sthalam in Nadu Naadu.
Lord Shiva in this temple is a Swayambumurthi (self-manifested).
The west facing temple has three corridors and its huge (160 feet high) main tower (Rajagopuram) has 7-tiers.
The last consecration ceremony (Maha Kumbabishekam) took place on 06.02.2003.
History of the Temple
The temple is on the southern bank of the river Pennai. It is believed to have been constructed during the 7th century by the Pallava kings. This temple is built on top of a rock (Paarai). The rock and the nearby river bring out the beauty of this temple.
There are two entrances - one through the main road and the other through the river-side which is very scenic.
In Tamil, "Arai (Paarai)" means rock and "Ani" means beauty. Hence, the lord here is named as "Araiani Nathar" – the Lord who is beautifully seated on top of a rock. This place was earlier called "Arayaninallur" and its name has since been changed to Arakandanallur.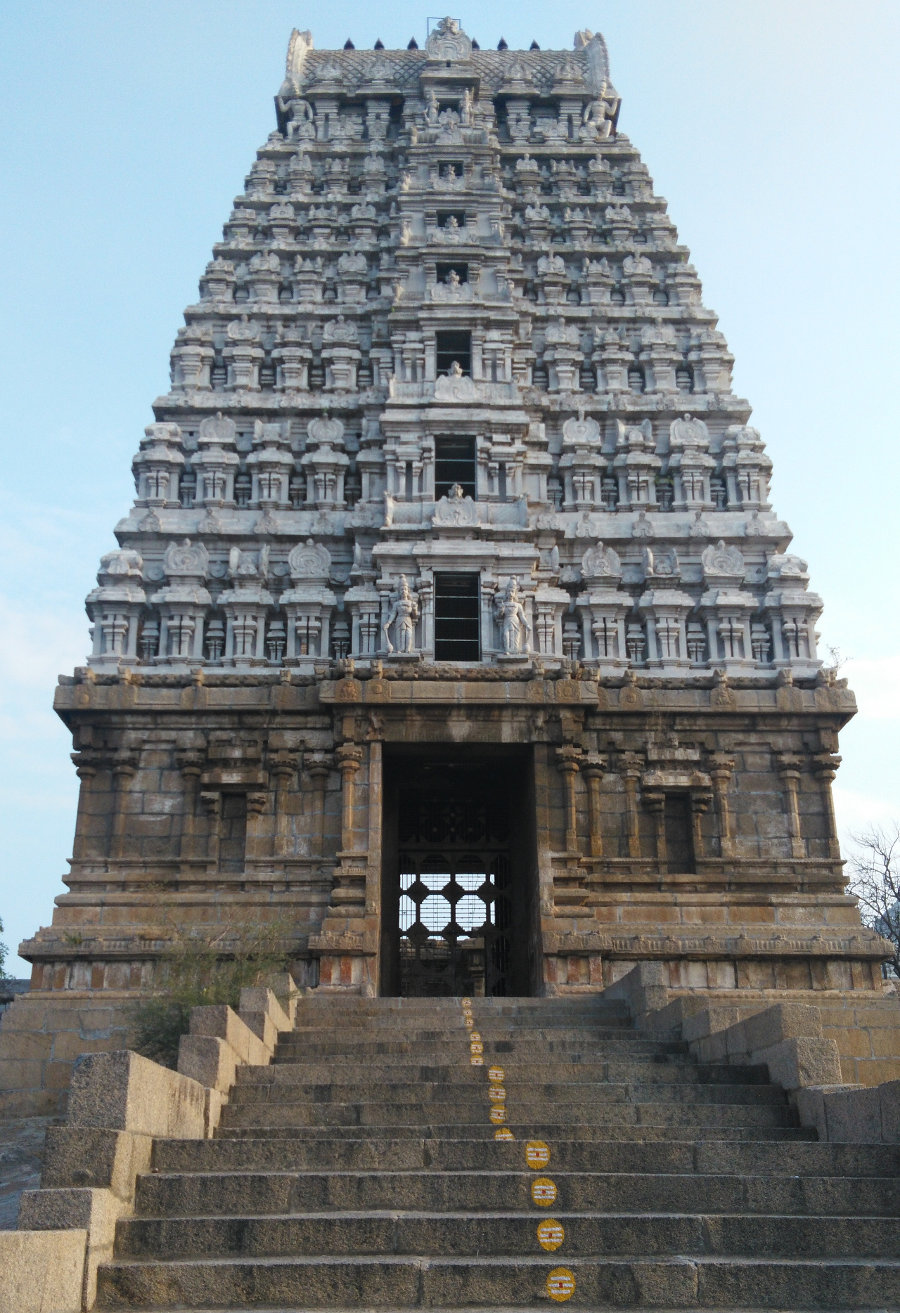 Legend
It is believed that the doors of the sanctum sanctorum of this temple had been locked by the Jains (Samanars). The door was opened by Lord Shiva himself for Thirugnanasambanthar's song. Also, in order to prevent Sambanthar from entering this temple, it is believed that people from other faiths had blocked the entrance to this temple's shrine by placing huge rocks and boulders. The power of Sambanthar's hymn is believed to have miraculously moved those rocks.
It is also believed that both Pradosha Nandhi and Adhikara Nandhi leaned to the right and left sides respectively in order to facilitate easy dharisanam of the Lord to the Saint Thirugnanasambanthar. Even now both Nandhis are seen facing opposite directions.
Saint Thirugnanasambanthar worshipped the Lord Annamalayar of Thiruvannamalai from this temple itself. Annamalayar hill can be seen from this temple.
There is a stone imprint of Saint Thirugnanasambanthar's feet in the outer corridor from where it is believed that he worshipped Lord Annamalaiyar and rendered a Pathigam.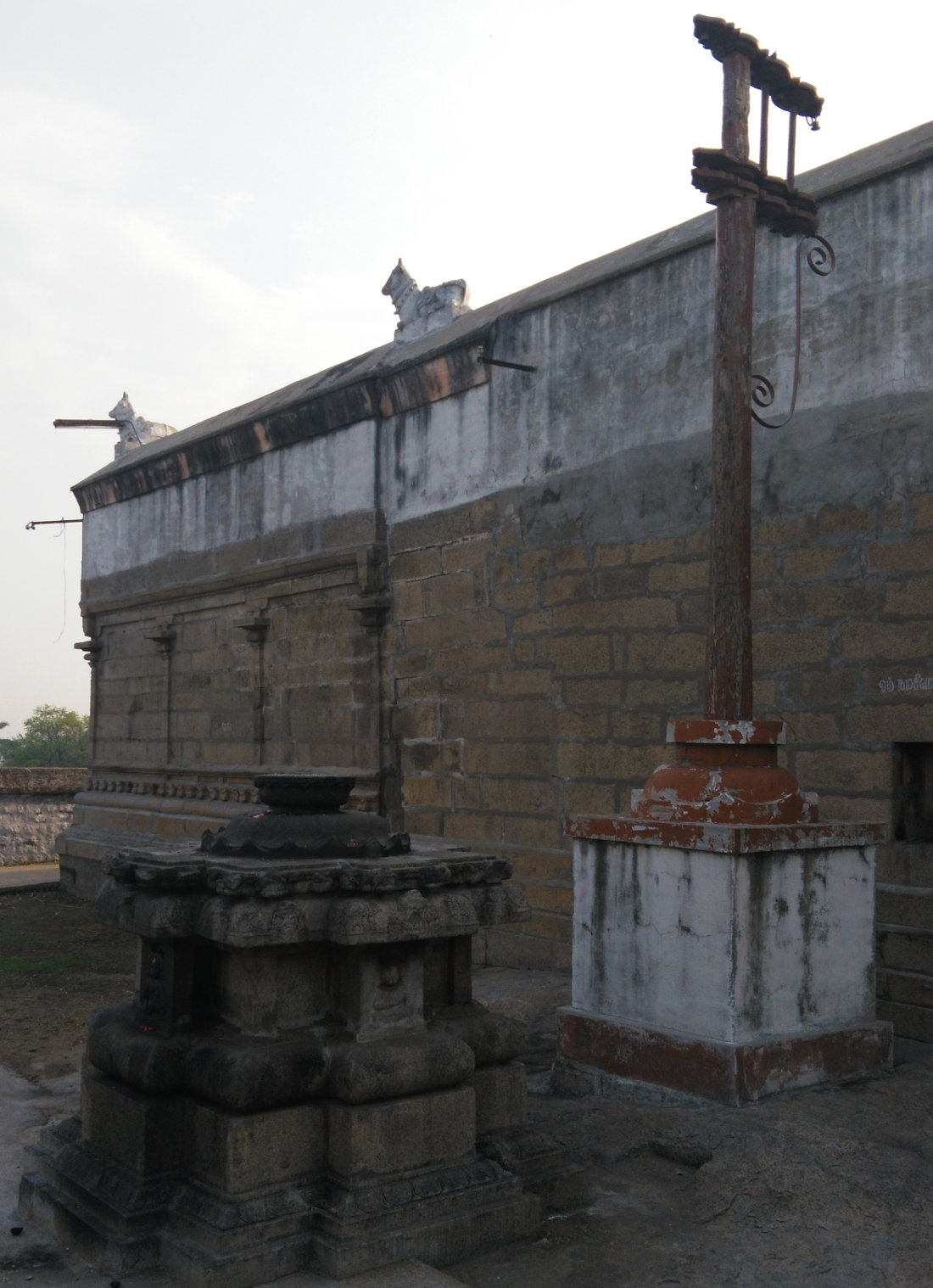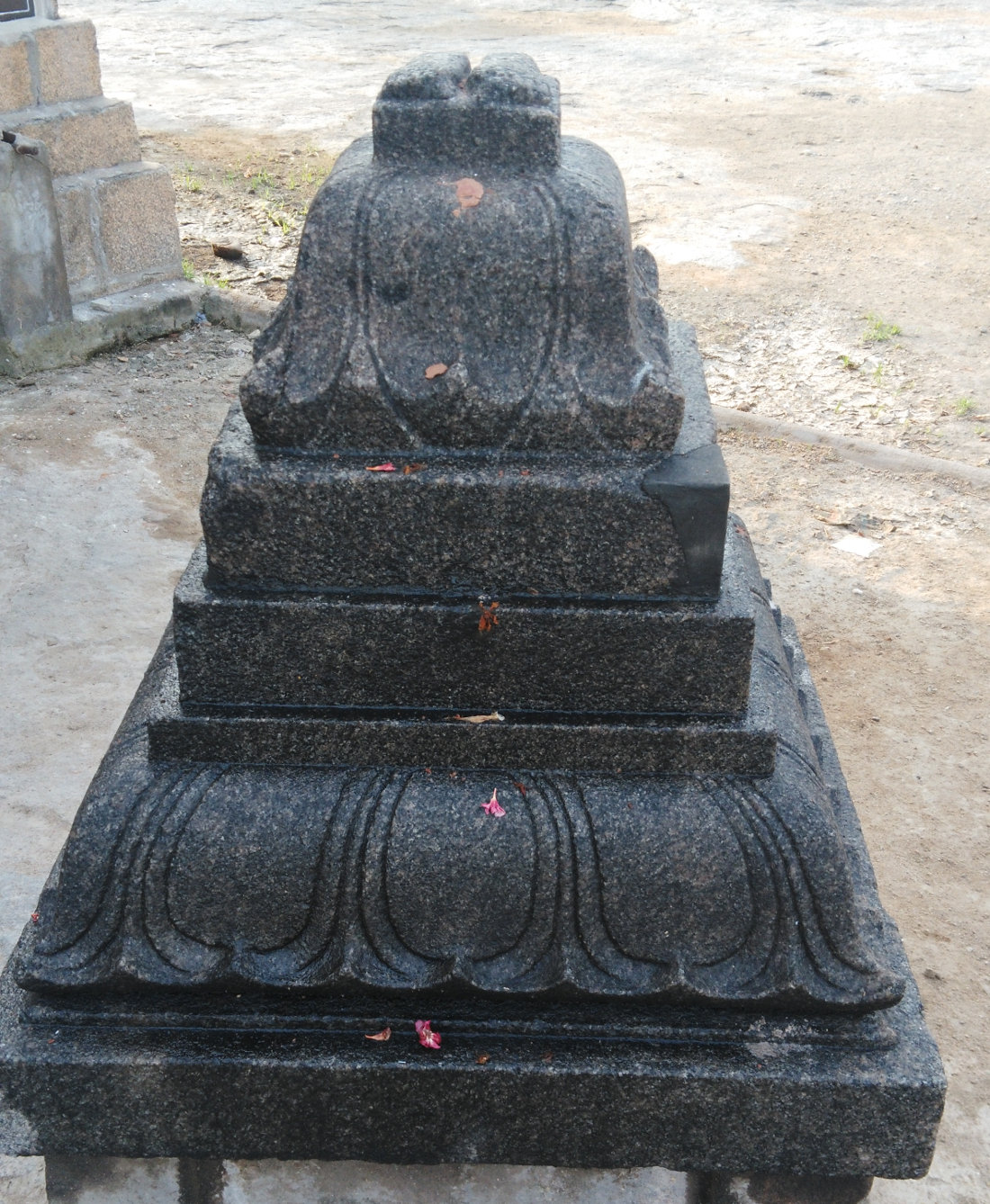 Another version of this story mentions that Thirugnanasambanthar was unable to visit Thiruvannamalai. Instead, he installed a lingam for Sri Annamalaiyar at this place and worshiped the lord here itself.
Another legend is that the Pandavas visited Arankandanallur and stayed here for some days during their exile. There are five cave rooms under the temple's main tower which were used by them. There is also a water tank near this tower, which is believed to have been created by Bhima with his mace. It is also believed that after the war (Mahabharat) which was lasted for 18 days, the Pandavas regain their kingdom and visited this temple again to offer their prayers.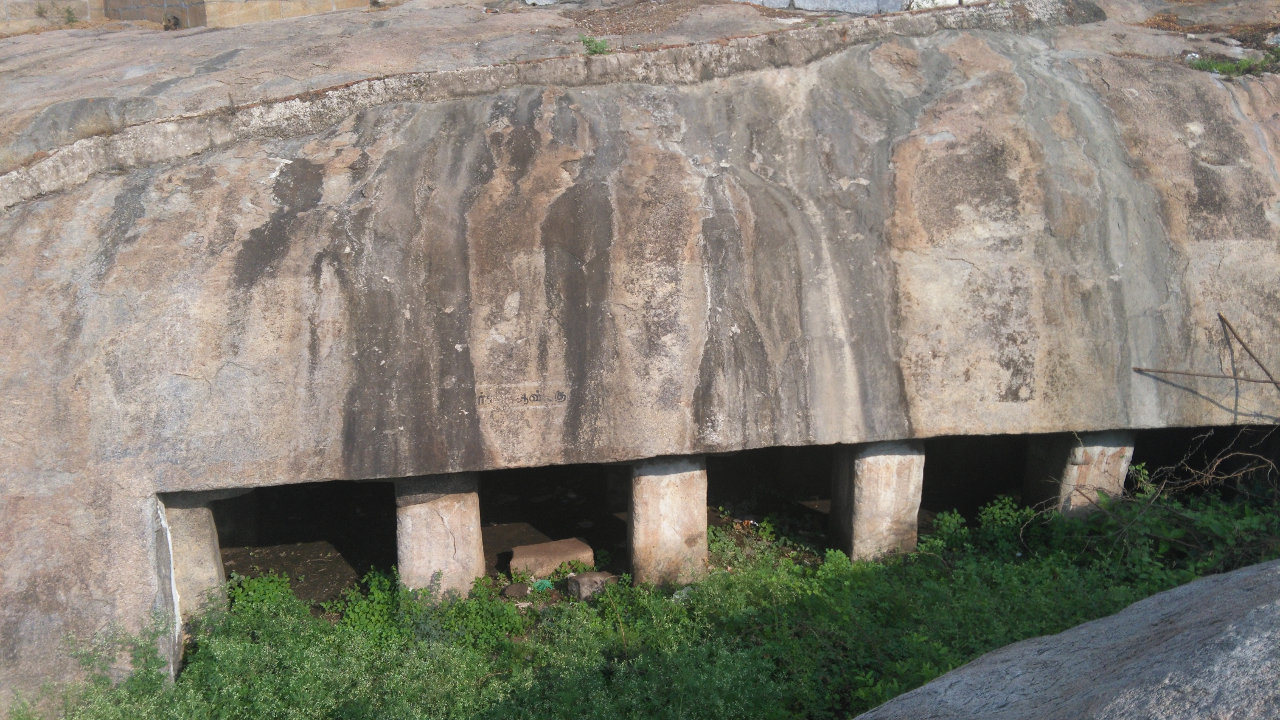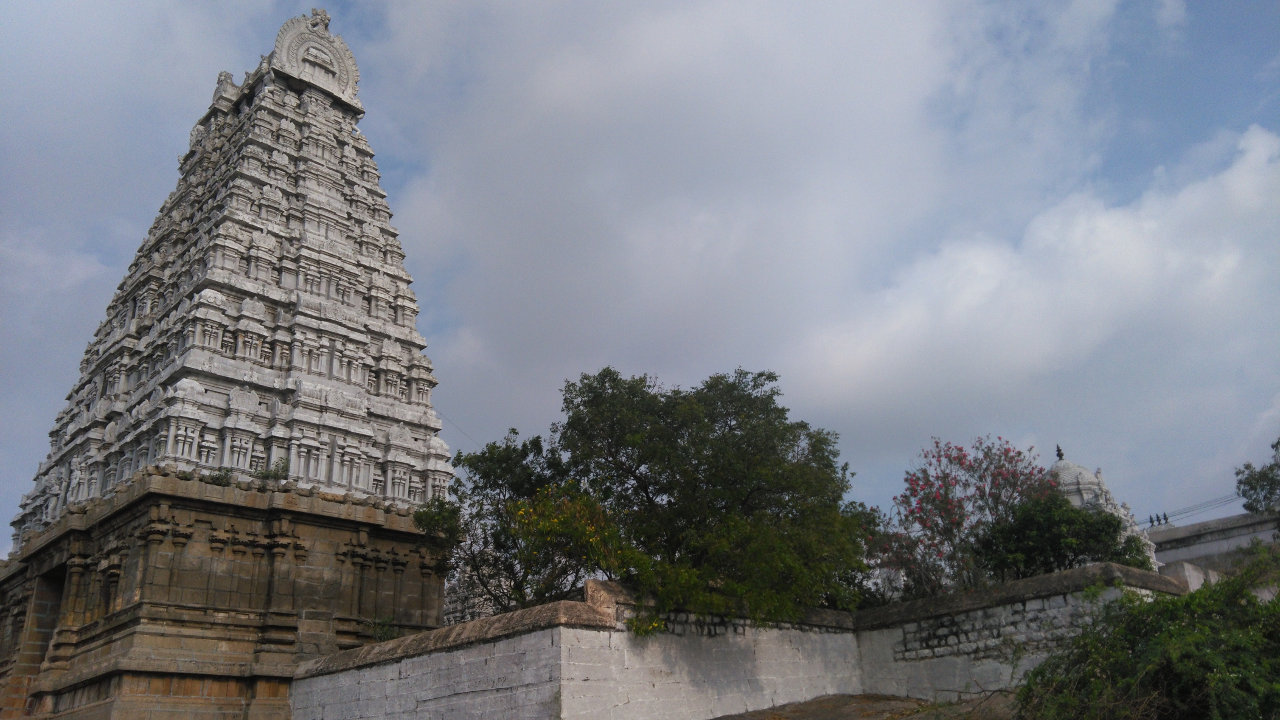 It is believed that Lord Mahavishnu took the form of Vamana and destroyed King Mahabali at Thirukovilur, where he is worshipped as "Sri Ulagalandha Perumal". To absolve himself from this sin, he prayed to Lord Shiva here. Lord Shiva blessed Lord Mahavishnu and absolved him from his sins. Goddess Sridevi, consort of Lord Mahavishnu, also got the blessings of Lord Shiva here.
Rishi Prasanda, Poet Kabilar, Rishi Neelakandar are believed to have worshiped the lord of this temple.
It is believed that as a young boy, before going to Thiruvannamalai, Sri Ramana Maharishi meditated at this temple.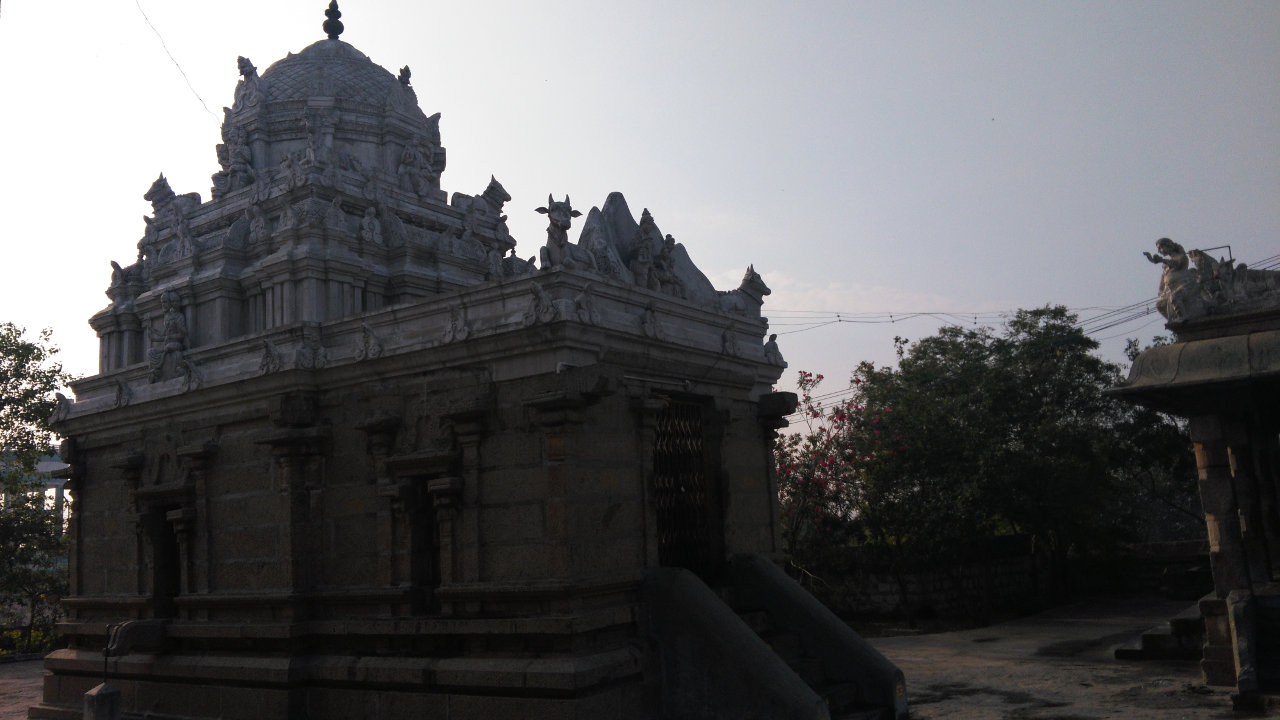 Sri Annamalaiyar Shrine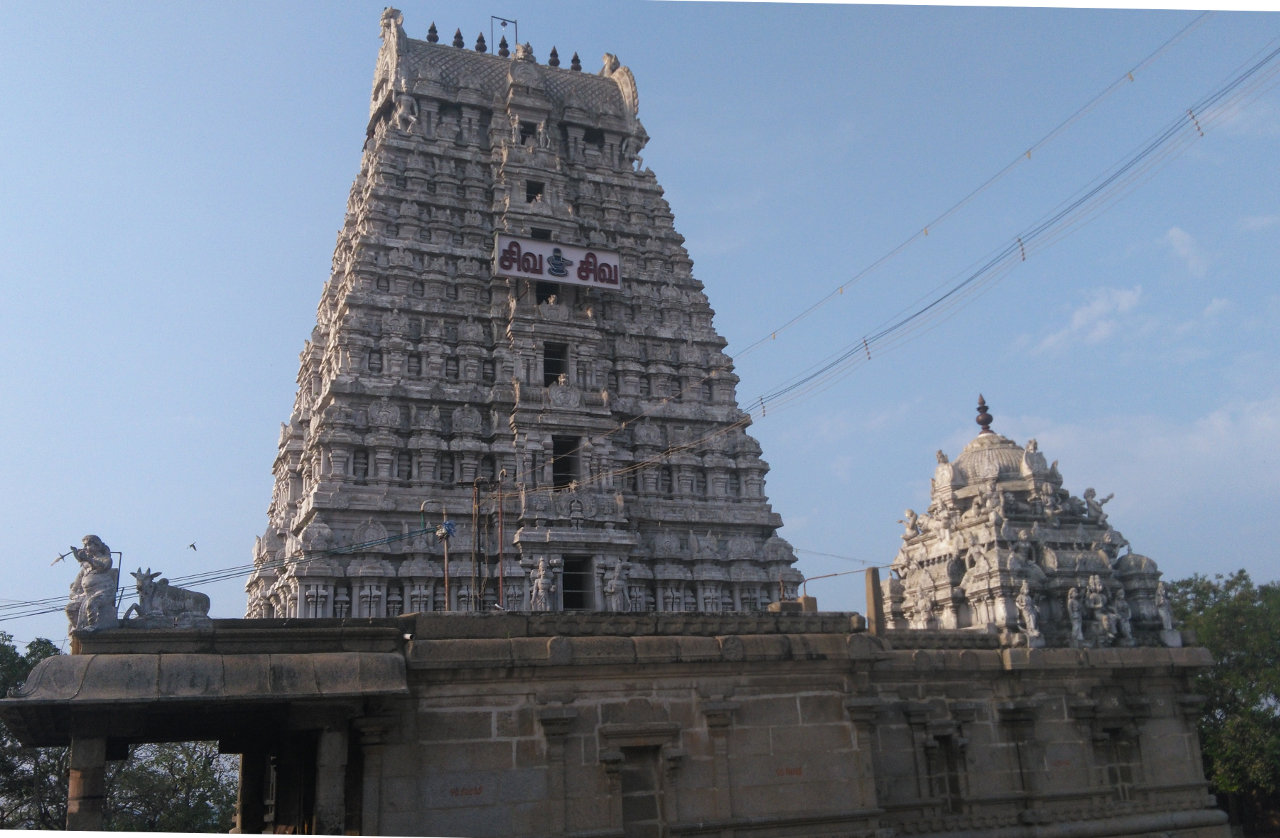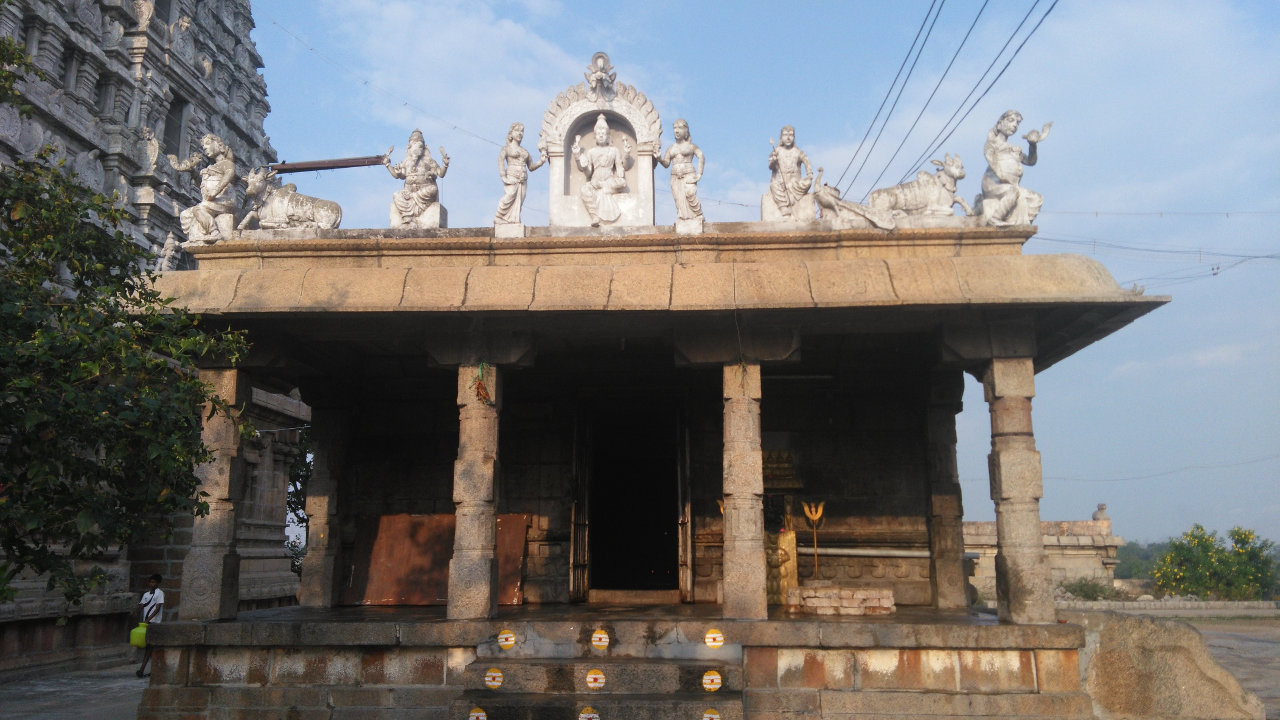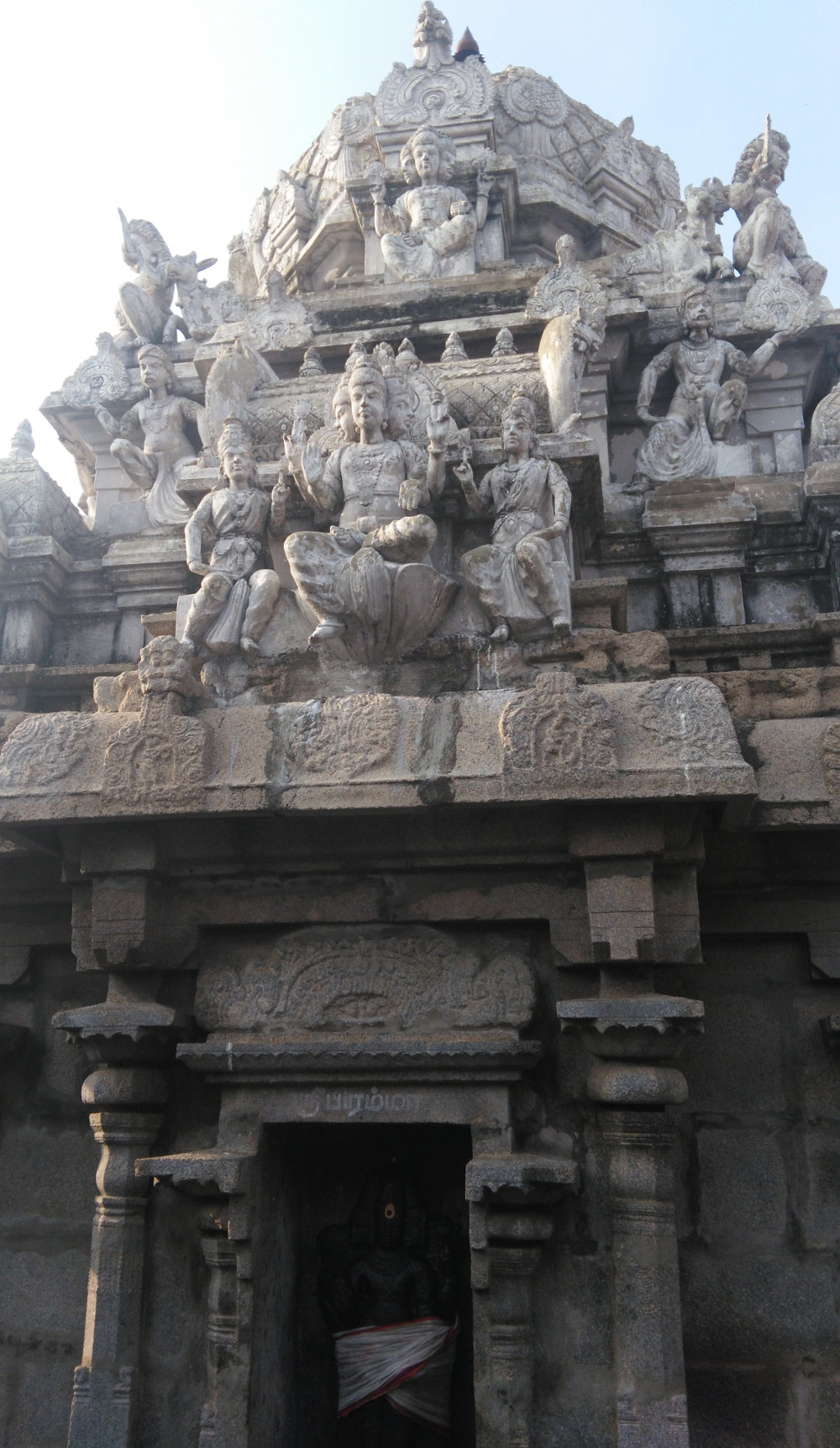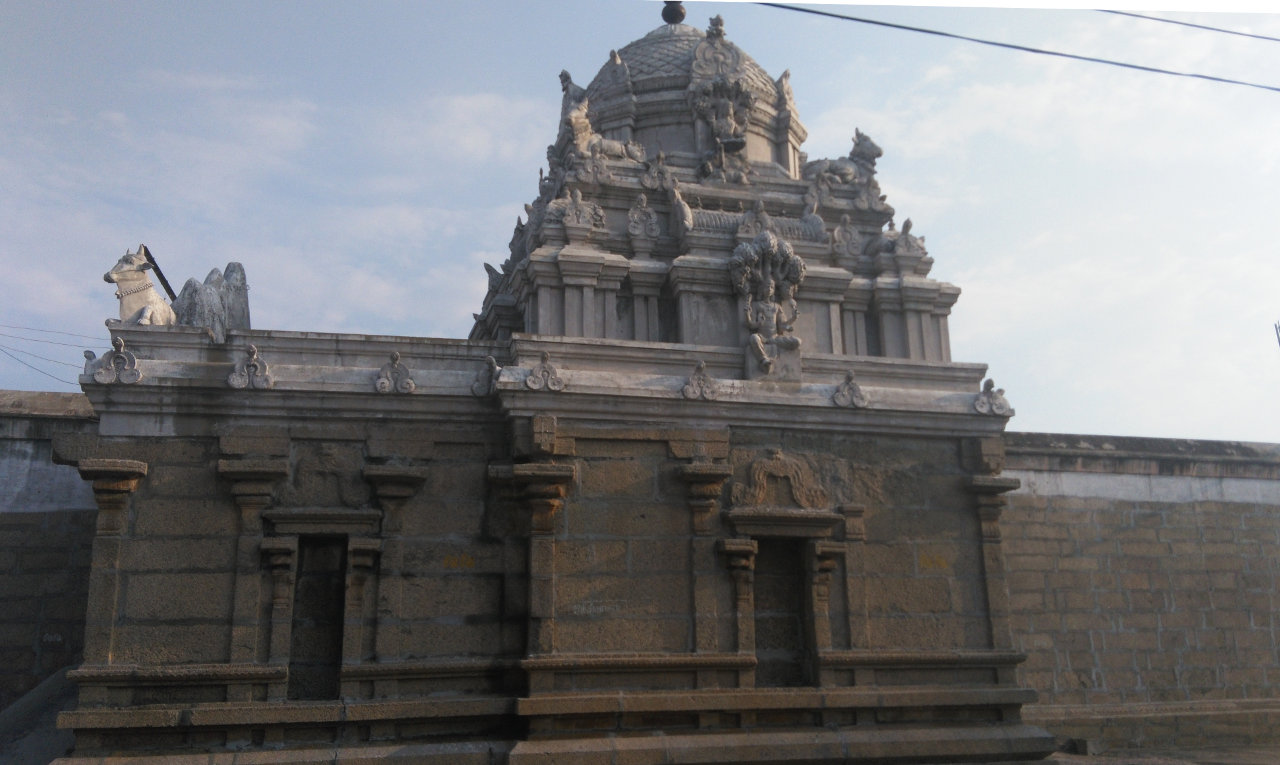 Deities in the Temple
Shrines and Idols of Lords Valampuri Vinayakar, Bala Murugan, Narthana Ganapathi, Murugan with his consorts, Kasi Viswanathar and Visalakshi, Natarajar, Dakshinamurthy, Lingodhbavar, Mahavishnu, Sridevi, Brahma, Jyeshta Devi, Navagraham, Nalvar, Sankara Narayanar, Hanuman, Gajalakshmi, Vishnudurgai (south facing), Saptha Mathakkal, Kala Bairavar (without his vahanam) can be seen in the corridors. There is also a separate idol of Lord Saneeswaran.
The circumambulatory path around the sanctum sanctorum is in the form of a covered, raised platform, popularly called "Thirunadaimaaligai" in those days.
Shrines of Saint Thirugnanasambanthar and Sri Ramana Maharishi can also be seen next to the Nalvars. It is believed that both Saint Thirugnanasambanthar and Sri Ramana Maharishi had experienced the divine grace of the lord of this temple.
There is a separate shrine for Goddess Soundarya Kanakambigai in the outer corridor. Lord Annamalaiyar's shrine can also be seen near it.
Salient Features
The sanctum sanctorum is in the form of semi-circular tank (akazhi in Tamil).
Goddess Vishnudurgai is facing the south. This is very rare.
The navagraham contains a unique idol of Lord Saneeswaran with one leg placed on top of his mount (crow).
Another unique feature here is that Lord Bhairavar is found without his mount which is a very rare occurrence.
Nearby temples of Sri Ulagalantha Perumal and Sri Veerateeswarar can be seen from this top of this hill.
There is an idol of Sri Ramana Maharishi as a young boy in a meditative posture and the temple is visited by many of his followers.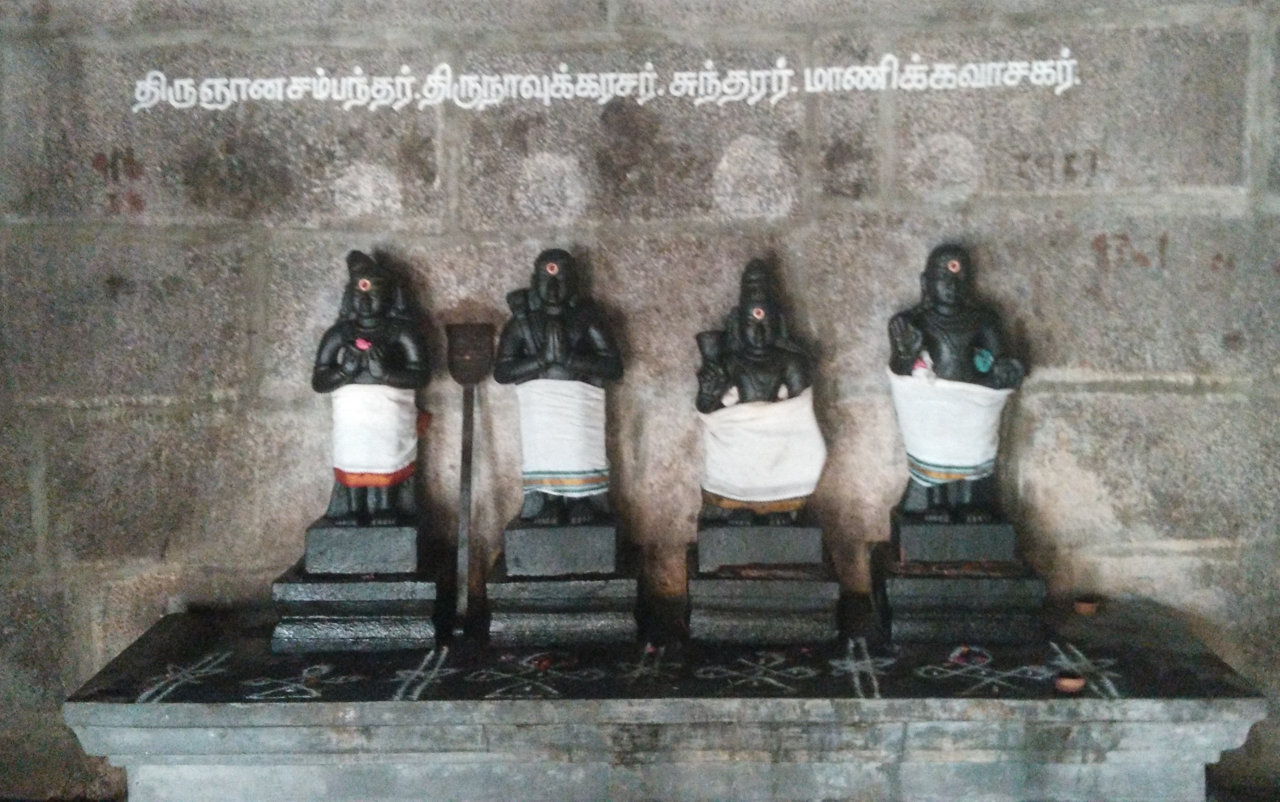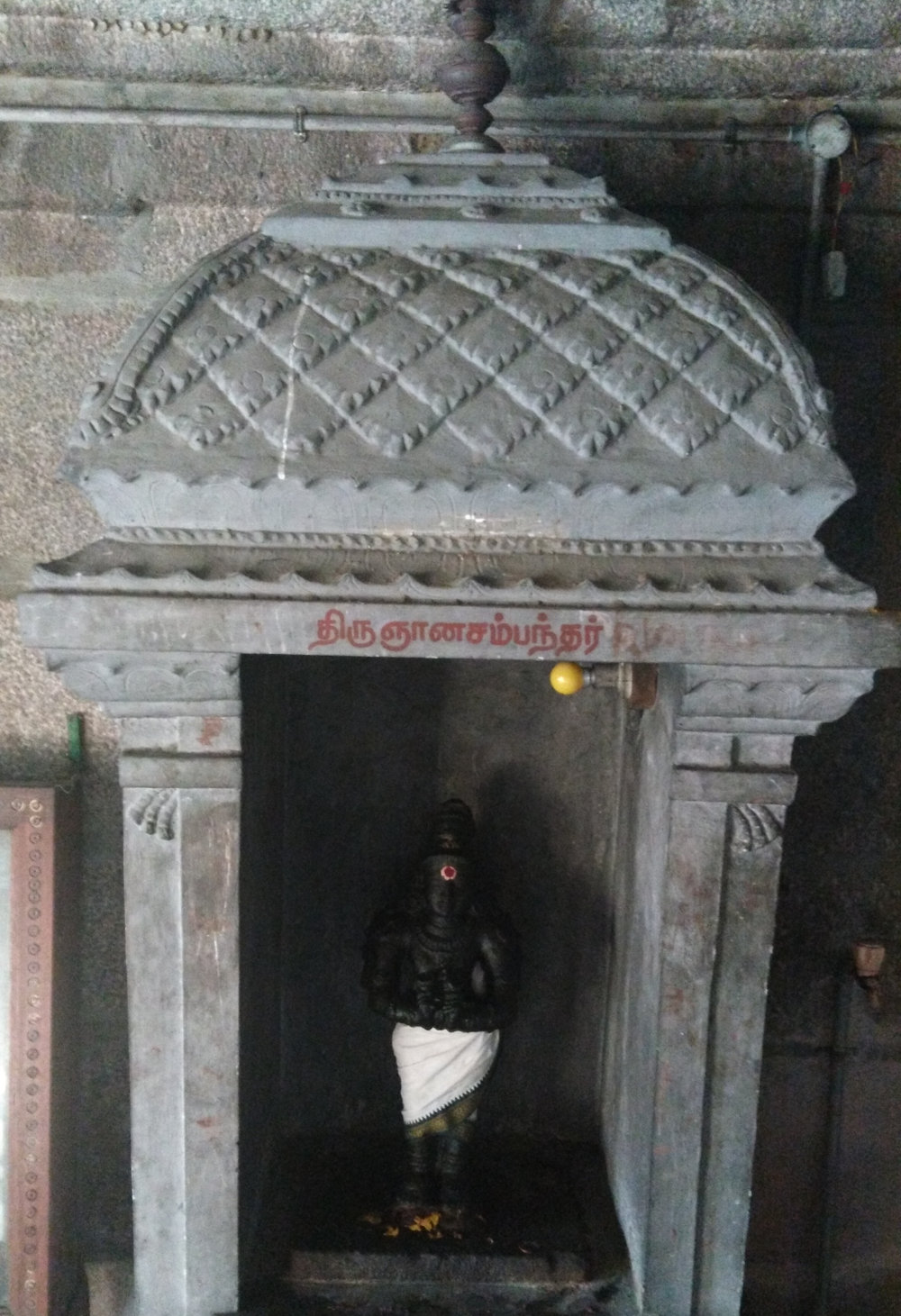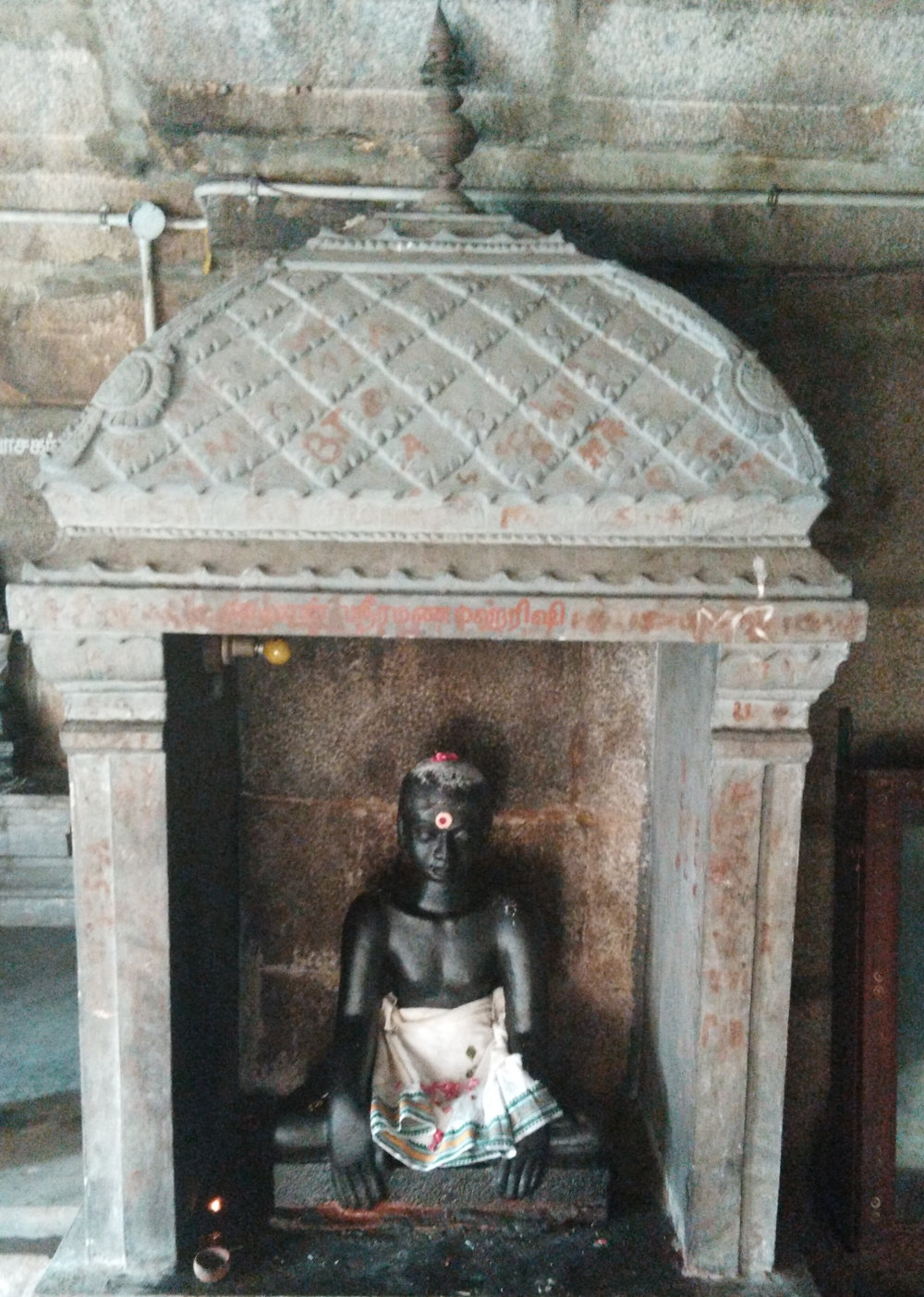 Sri Ramana Maharishi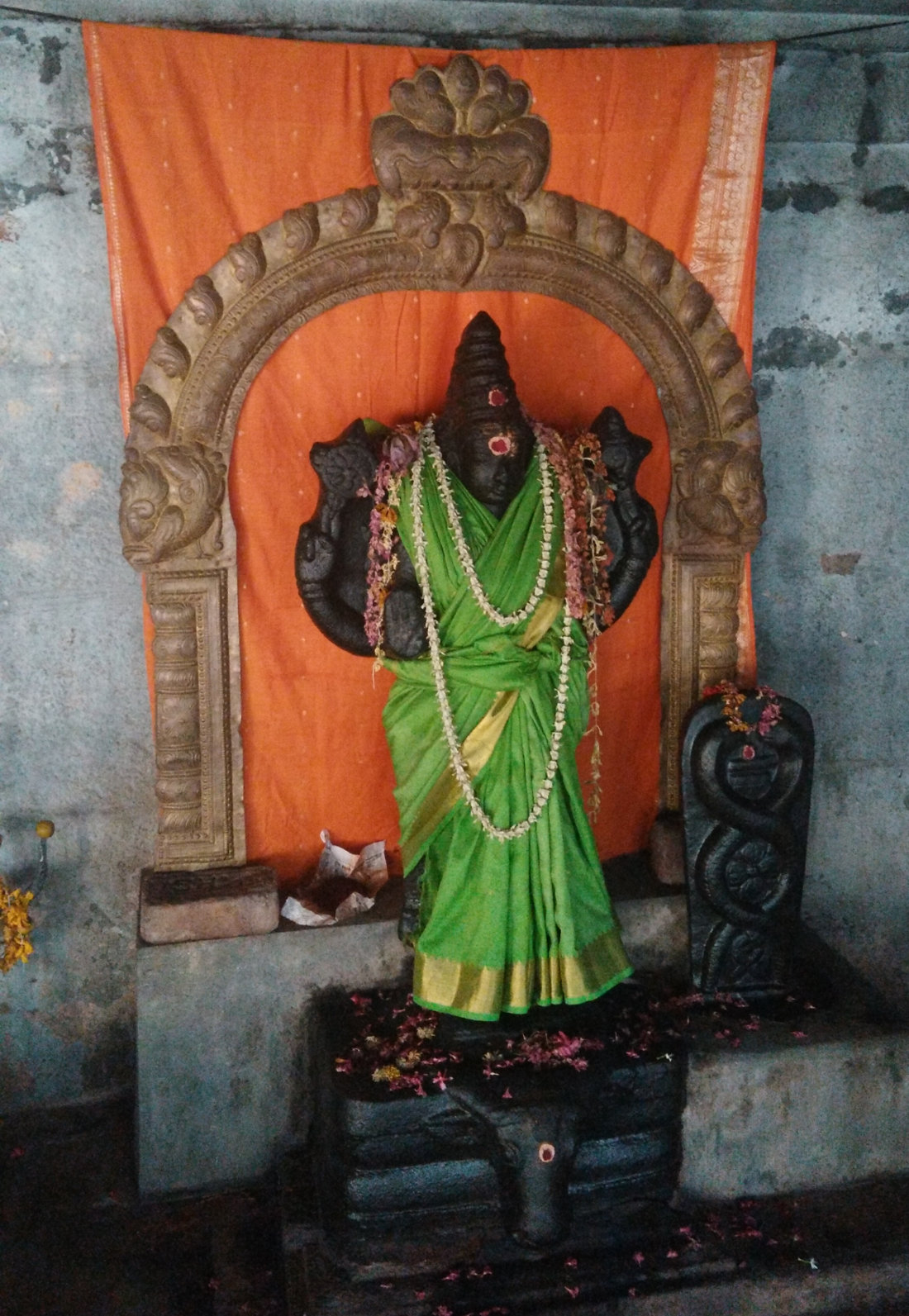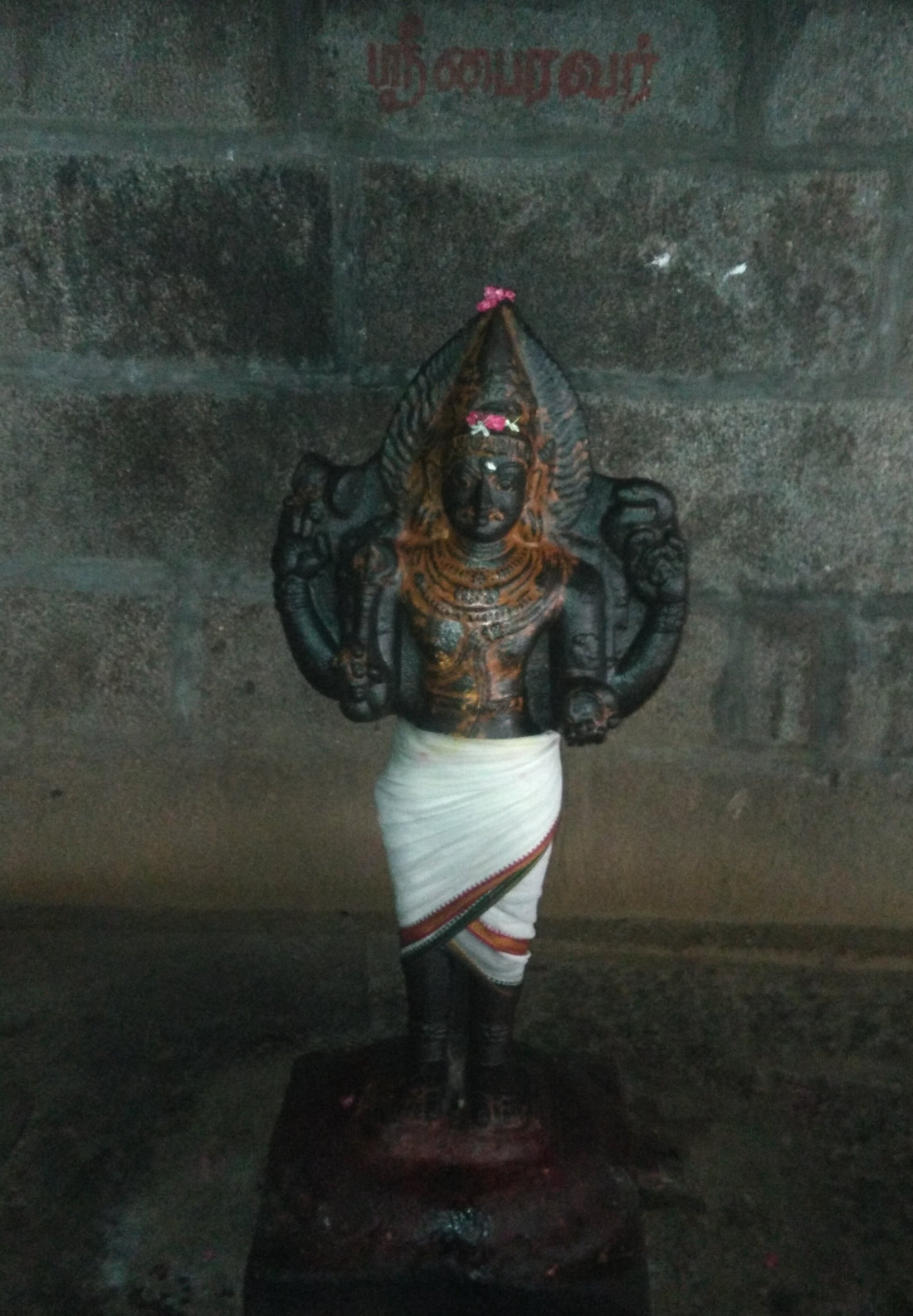 Greatness of this temple
Since the Pandavas worshiped the lord here and got back their kingdom, it is believed that by worshiping the lord here, devotees can regain their lost positions and wealth.
Important Festivals
10 day Brahmotsavam in the Tamil month of Vaikasi (May-June), Maha Shivrathri in the Tamil month of Masi (Feb-March) and Tirukarthikai in the Tamil month of Karthikai (Nov-Dec) are the important festivals observed in the temple. Pradosham is observed regularly.
Temple Timings
From 07:00 AM to 10:00 AM and from 04:00 PM to 07:00 PM.
Temple Address
Sri Athulyanatheswarar Temple
Arakandanallur Post
Thirukovilur Taluk
Villupuram District
Tamil Nadu – 605 752.
Tele: +91-93456 60711.

This temple's priest can be contacted at +91 99651 44849.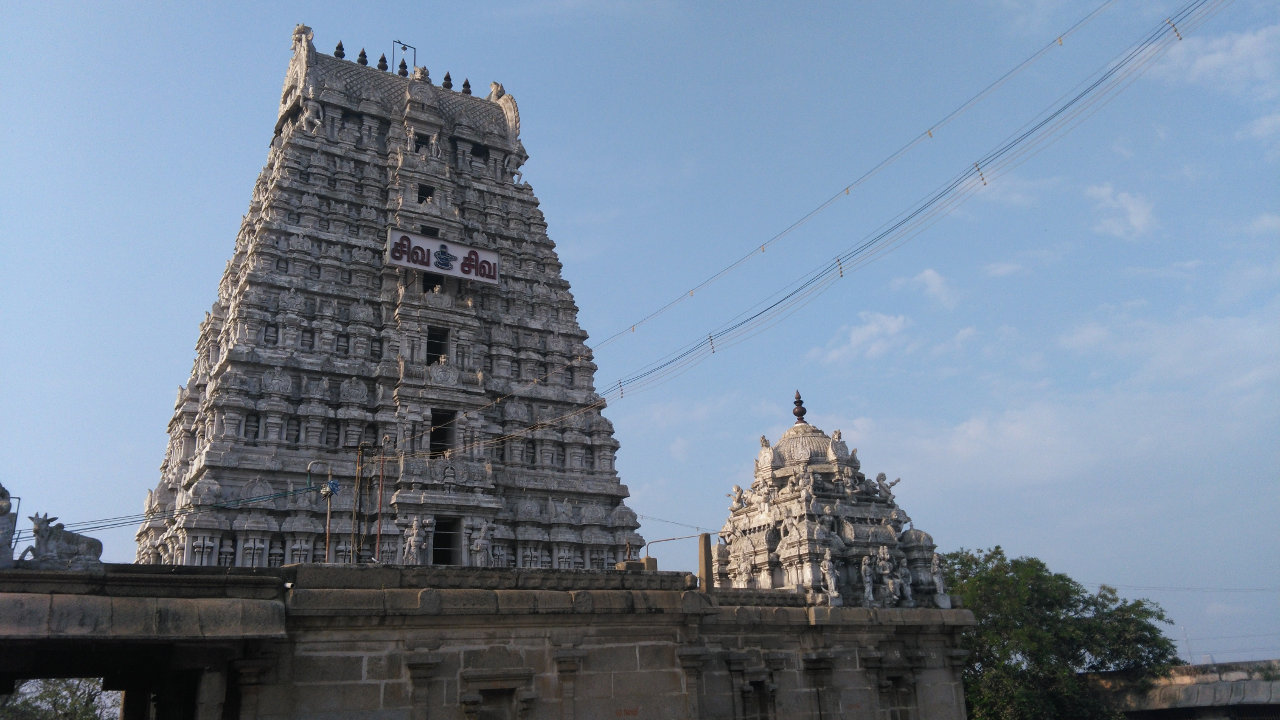 ---
Pathigam (Hymn) with English transliteration
Saint Thirugnanasambanthar visited this temple and sang this Pathigam.
Devotees visiting this temple should make it a practice to recite this Pathigam.
பீடினாற்பெரி யோர்களும் பேதைமைகெடத் தீதிலா
வீடினாலுயர்ந் தார்களும் வீடிலாரிள வெண்மதி
சூடினார்மறை பாடினார் சுடலைநீறணிந் தாரழல்
ஆடினார் அறையணி நல்லூர் அங்கையால் தொழுவார்களே.
"Peeṭiṉāṟperi yōrkaḷum pēthaimaikeṭath theethilā
veeṭiṉāluyarn thārkaḷum veeṭilāriḷa veṇmathi
chūṭiṉārmaṟai pāṭiṉār suṭalainīṟaṇin thārazhal
āṭiṉār aṟaiyaṇi nallūr aṅkaiyāl thozhuvārkaḷē".
இலையினார்சூலம் ஏறுகந் தேறியேயிமை யோர்தொழ
நிலையினாலொரு காலுறச் சிலையினால்மதி லெய்தவன் அலையினார்புனல்சூடிய அண்ணலார்அறை யணிநல்லூர் தலையினால்தொழு தோங்குவார் நீங்குவார்தடு மாற்றமே.
"Ilaiyiṉārsūlam ēṟukan thēṟiyēyimai yōrthozha
nilaiyiṉāloru kāluṟach chilaiyiṉālmathi leythavaṉ
alaiyiṉārpuṉalsūṭiya aṇṇalār'aṟai yaṇinallūr
thalaiyiṉālthozhu thōṅkuvār nīṅkuvārthaṭu mātṟamē".
என்பினார்கனல் சூலத்தார் இலங்குமாமதி யுச்சியான்
பின்பினாற்பிறங் குஞ்சடைப் பிஞ்ஞகன்பிறப் பிலியென்று முன்பினார்மூவர் தாந்தொழு முக்கண்மூர்த்திதன் தாள்களுக்
கன்பினார்அறை யணிநல்லூர் அங்கையால்தொழு வார்களே.
"Eṉpiṉārkaṉal chūlathār ilaṅkumāmathi yuchiyāṉ
piṉpiṉāṟpiṟaṅ kuñchaṭaip piñjakaṉpiṟap piliyeṉtṟu
muṉpiṉārmūvar thānthozhu mukkaṇmūrthithaṉ thāḷkaḷuk
kaṉpiṉār'aṟai yaṇinallūr aṅkaiyālthozhu vārkaḷē".
விரவுநீறுபொன் மார்பினில் விளங்கப்பூசிய வேதியன்
உரவுநஞ்சமு தாகவுண் டுறுதிபேணுவ தன்றியும்
அரவுநீள்சடைக் கண்ணியார் அண்ணலாரறை யணிநல்லூர் பரவுவார்பழி நீங்கிடப் பறையுந்தாஞ்செய்த பாவமே.
"Viravunīṟupoṉ mārpiṉil viḷaṅkappūsiya vētihyaṉ
uravunanjakamu thākavuṇ ṭuṟuthipēṇuva thaṉtṟiyum
aravunīḷsaṭaik kaṇṇiyār aṇṇalāraṟai yaṇinallūr
paravuvārpazhi nīṅkiṭap paṟaiyunthānjseytha pāvamē".
தீயினார்திகழ் மேனியாய் தேவர்தாந்தொழும் தேவன்நீ
ஆயினாய் கொன்றை யாய்அன லங்கையாய் அறை யணிநல்லூர்
மேயினார்தம தொல்வினை வீட்டினாய்வெய்ய காலனைப் பாயினாயதிர் கழலினாய் பரமனேயடி பணிவனே.
"Thīyiṉārthikazh mēṉiyāy thēvarthānthozhum thēvaṉnī
āyiṉāy koṉtṟai yāyaṉa laṅkaiyāy aṟai yaṇinallūr
mēyiṉārthama tholviṉai vīṭṭiṉāyveyya kālaṉaip
pāyiṉāyathir kazhaliṉāy paramaṉēyaṭi paṇivaṉē".
விரையினார் கொன்றை சூடியும் வேகநாகமும் வீக்கிய
அரையினார் அறை யணிநல்லூர் அண்ணலார் அழகாயதோர்
நரையினார்விடை யூர்தியார் நக்கனார் நறும்போதுசேர்
உரையினாலுயர்ந் தார்களும் உரையினாலுயர்ந் தார்களே.
"Viraiyiṉār koṉtṟai chūṭiyum vēkanākamum vīkkiya
araiyiṉār aṟai yaṇinallūr aṇṇalār azhakāyathōr
naraiyiṉārviṭai yūrthiyār nakkaṉār naṟumpōthusēr
uraiyiṉāluyarnth thārkaḷum uraiyiṉāluyarnth thārkaḷē".
வீரமாகிய வேதியர் வேகமாகளி யானையின்
ஈரமாகிய வுரிவைபோர்த் தரிவைமேற்சென்ற எம்மிறை
ஆரமாகிய பாம்பினார் அண்ணலாரறை யணிநல்லூர்
வாரமாய்நினைப் பார்கள்தம் வல்வினையவை மாயுமே.
"Vīramākiya vēthiyar vēkamākaḷi yāṉaiyiṉ
īramākiya vurivaipōrth tharivaimēṟseṉtṟa em'miṟai
āramākiya pāmpiṉār aṇṇalāraṟai yaṇinallūr
vāramāyniṉaip pārkaḷtham valviṉaiyavai māyumē".
தக்கனார்பெரு வேள்வியைத் தகர்த்துகந்தவன் தாழ்சடை
முக்கணான்மறை பாடிய முறைமையான்முனி வர்தொழ
அக்கினோடெழில் ஆமைபூண் அண்ணலாரறை யணிநல்லூர்
நக்கனாரவர் சார்வலால் நல்குசார்விலோம் நாங்களே.
"Thakkaṉārperu vēḷviyaith thakarthukanthavaṉ thāzhsaṭai
mukkaṇāṉmaṟai pāṭiya muṟaimaiyāṉmuṉi varthozha
akkiṉōṭezhil āmaipūṇ aṇṇalāraṟai yaṇinallūr
nakkaṉāravar sārvalāl nalkusārvilōm nāṅgkaḷē".
வெய்யநோயிலர் தீதிலர் வெறியராய்ப்பிறர் பின்செலார்
செய்வதேயலங் காரமாம் இவையிவை தேறி யின்புறில்
ஐயமேற்றுணுந் தொழிலராம் அண்ணலார் அறையணிநல்லூர்ச்
சைவனாரவர் சார்வலால்யா துஞ்சார்விலோம் நாங்களே.
"Veyyanōyilar thīthilar veṟiyarāyppiṟar piṉselār
seyvathēyalaṅg kāramām ivaiyivai thēṟi yiṉpuṟil
aiyamētṟuṇun thozhilarām aṇṇalār aṟaiyaṇinallūrch
saivaṉāravar sārvalālyā thuñsārvilōm nāṅkaḷē'.
வாக்கியஞ்சொல்லி யாரொடும் வகையலாவகை செய்யன்மின்
சாக்கியஞ்சம ணென்றிவை சாரேலும்மர ணம்பொடி
ஆக்கியம்மழு வாட்படை அண்ணலாரறை யணிநல்லூர்ப்
பாக்கியங்குறை யுடையீரேற் பறையுமாஞ்செய்த பாவமே.
"Vākkiyañcholli yāroṭum vakaiyalāvakai seyyaṉmiṉ
sākkiyañchama ṇeṉtṟivai sārēlum'mara ṇampoṭi
ākkiyam'mazhu vāṭpaṭai aṇṇalāraṟai yaṇinallūrp
pākkiyaṅkuṟai yuṭaiyīrēṟ paṟaiyumāñseytha pāvamē'.
கழியுலாங்கடற் கானல்சூழ் கழுமலம்அமர் தொல்பதிப்
பழியிலாமறை ஞானசம் பந்தன்நல்லதோர் பண்பினார்
மொழியினால் அறை யணிநல்லூர் முக்கண்மூர்த்திகள் தாள்தொழக்
கெழுவினாரவர் தம்மொடுங் கேடில்வாழ்பதி பெறுவரே.
"Kazhiyulāṅkaṭaṟ kāṉalchūzh kazhumalamamar tholpathip
pazhiyilāmaṟai gñāṉasam banthaṉnallathōr paṇpiṉār
mozhiyiṉāl aṟai yaṇinallūr mukkaṇmūrthikaḷ thāḷthozhak
kezhuviṉāravar tham'moṭuṅg kēṭilvāzhpathi peṟuvarē".