Visited on: July 24, 2016 and November 25, 2017.
Location
Thiruppananthal is situated at a distance of about 18 kms from Kumbakonam on the Kumbakonam to Anaikkarai road (Chennai highway). From Aduthurai, it is about 10 kms.
Other Devara Paadal Petra Shiva Sthalam near this place are –Thiruvaippadi, Thiru Seinganur, Panthanallur, Aduthurai, Thiruneelakkudi and Thirumangalakkudi.
General Information
Moolavar

Sri Arunajadeswarar, Sri Thaalavaneswarar,
Sri Senjadaiappar, Sri Panangateesar

Ambal

Sri Brahan Nayagi, Sri Thalavaneswari,
Sri Periyanayagi

Theertham (Holy water)

Brahma Theertham, Iravadha Theertham, Thadagai Theertham, Nagakannigai Theertham, river Manniaru

Sthala Viruksham (Sacred Tree)

Panai (palm tree)

Pathigam (Hymn) rendered by

Saint Thirugnanasambanthar

This is one of the 276 Devara Paadal Petra Shiva Sthalams and 39th Shiva Sthalam on the northern bank of the river Cauvery in Chozha Nadu (Vadakarai).
Lord Shiva in this temple is a Swayambumurthi (self-manifested).
This west facing temple has 4 corridors (2 inner and 2 outer) and it has a 7-tiered main tower (Rajagopuram).
The last consecration ceremony (Kumbabishekam) took place on 06.07.2003.
History of the Temple
Of the 276 Paadal Petra Shivasthalams, six temples have Palm trees (Panai) as their Sthala Viruksham. These are Panaiyur, Panankattur, Puravaar Panankattur, Cheyyar, Thirumazhapadi and Thiruppanandal.
Since Lord Shiva is believed to have emerged from under the temple's sthala viruksham, this place gets the name Thiru Pananthal. ("Panai" means palm tree in Tamil).
There are certain stone inscriptions which date back to the periods of Chola Kings Kulothungan-I, Rajarajan-II and few others. The stone inscriptions in this temple mentioned its name as Thala Vanam and Thadagai Echaram. The lord's name is mentioned as "Sri Thadagecharathu Mahadevar". This temple was built in stone by a local king called Nakkandharan. The stone inscription also mentions Kungiliyakkalaya Nayanar's wife's name as Neelayi.
Thala Vanam is derived at from the words "Thala" meaning palm tree and "Vanam" meaning forest in Sanskrit.
Kasi mutt (Thiruppanandal Aadheenam) established by Sri Kumara Gurubara Swamigal is located in this town.
This temple is under the administrative control of the Dharumapuram Aadheenam.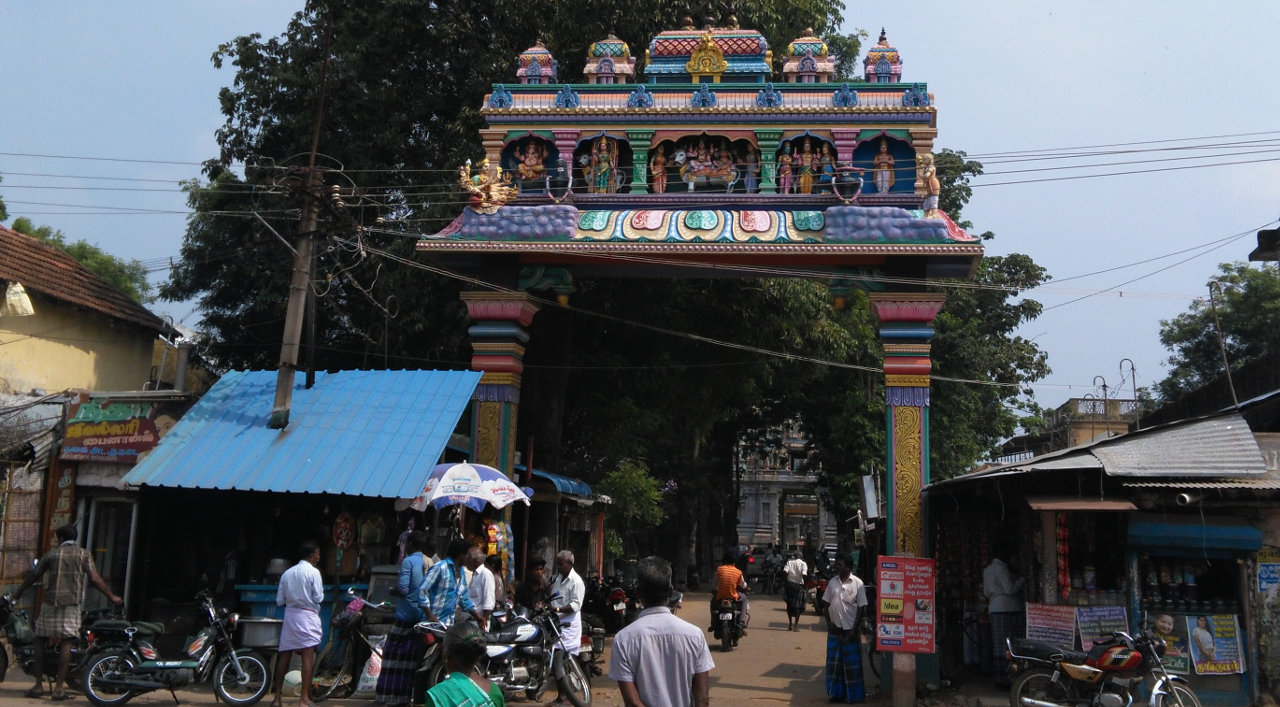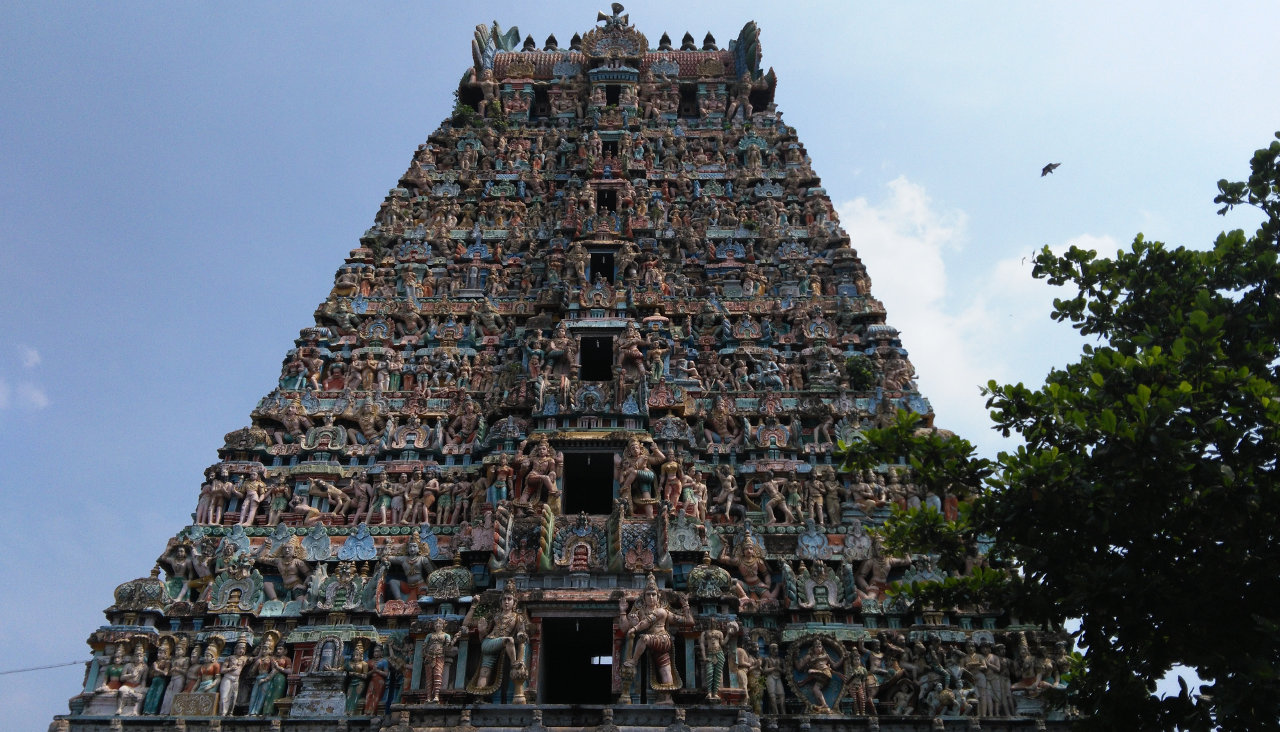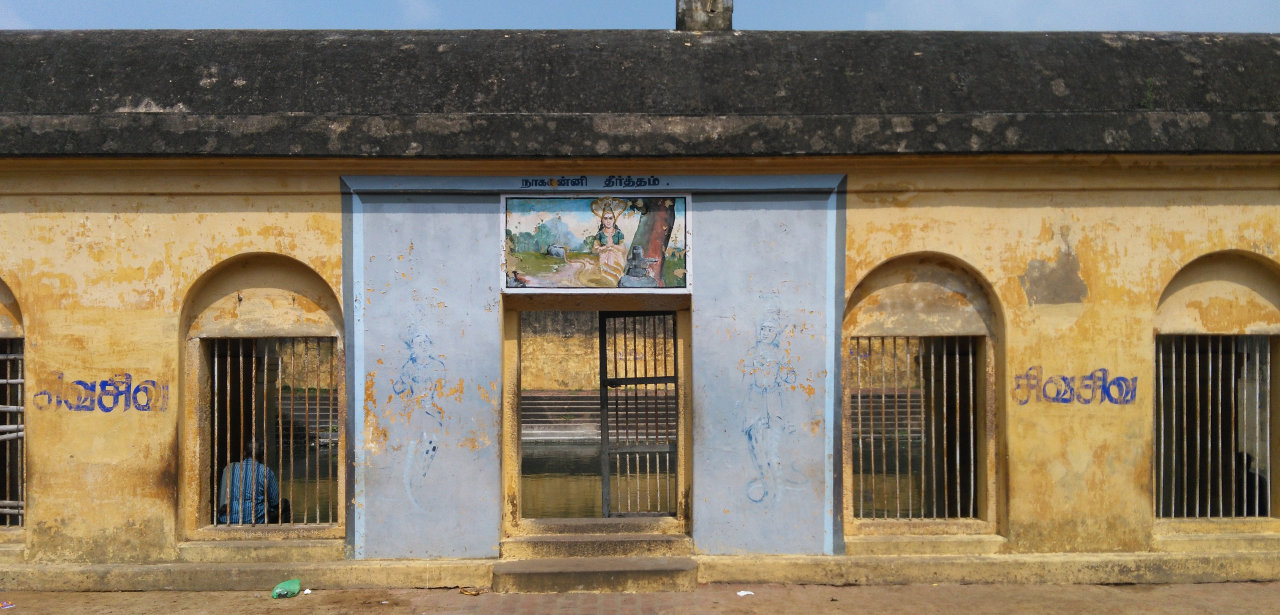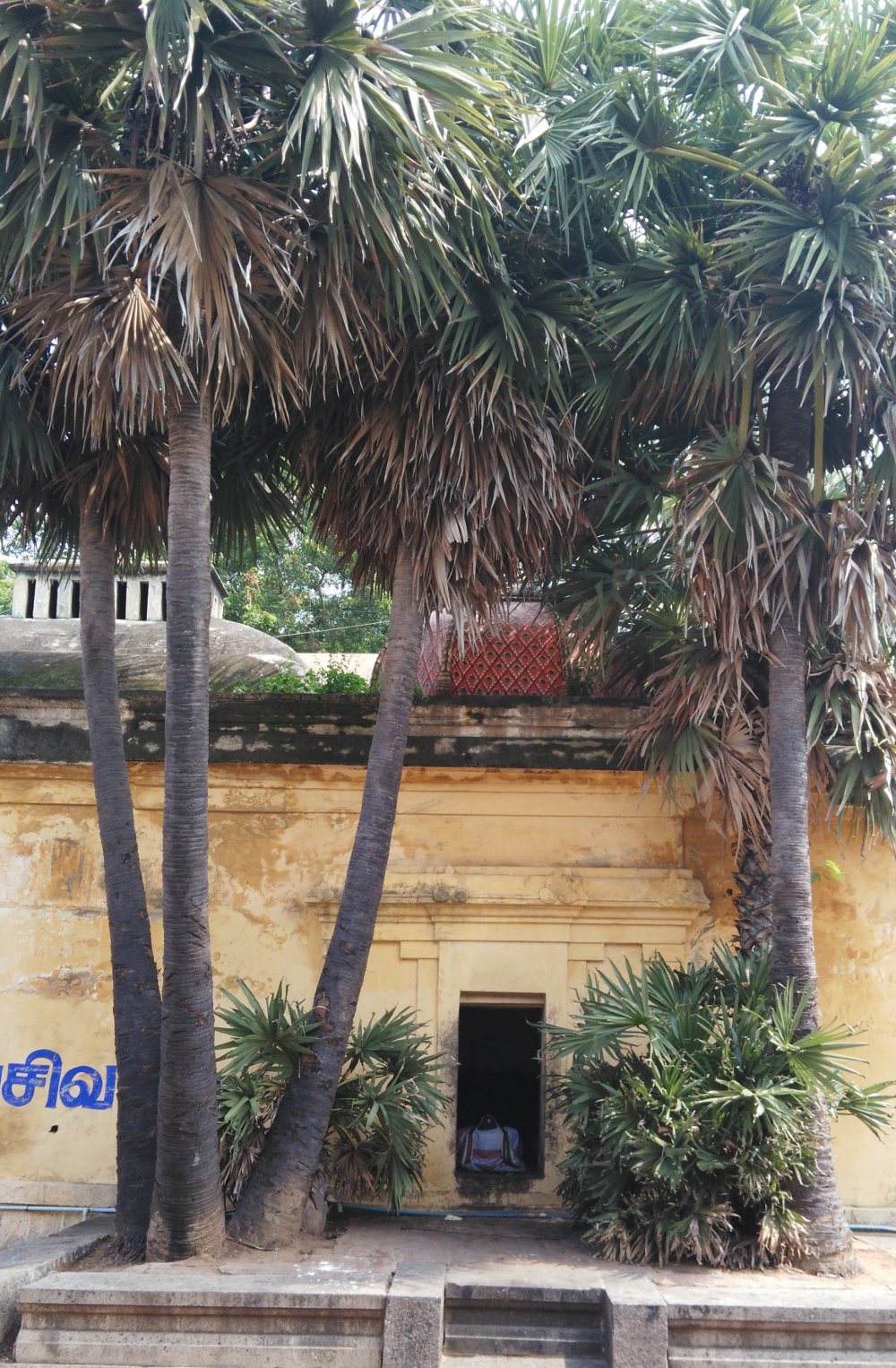 Legend
It is believed that Goddess Parvathy worshiped the lord here and received "Gnana Upadesa" (divine learning). Also, lords Brahma, Mahavishnu, Indran, Suryan, Chandran, Sage Agasthiyar and Iravadham, Adhisheshan, Thaadagai and Kungiliyakkalaya Nayanar have worshipped Lord Shiva here.
Nagakannikai (Vasuki's daughter; also called Sumathi) and her husband Arithuvasan from the Naga world have worshiped the lord here.
According to legend, an ardent devotee called Thaadagai, who was the daughter of a demon, used to worship Lord Shiva here every day with garlands. She used to do so in order to be blessed with a child. One day while taking a garland to offer to the lord, her saree slipped from her shoulders. She pressed the dress with her elbow to avoid it from slipping from her body and hence could not lift her hands to offer the garland to the lord. Lord Shiva, after seeing her predicament and in order to show to the world her devotion, leaned his head so that she could offer the garland without any difficulty.
Then she prayed to the lord that she be given 16 hands to perform the "Shodasa Upachara" pooja to him ("shodasa upachara" means 16 steps pooja in Sanskrit). It is believed that Lord Shiva fulfilled her wish and granted her 16 hands. A beautiful sculpture of Thaadagai with 16 hands performing her pooja can be seen in the inner corridor. As Thaadagai worshiped the lord here, this place gets the name "Thaadagai Echaram". It should be noted that this is not the same Thaadagai from the Ramayana epic.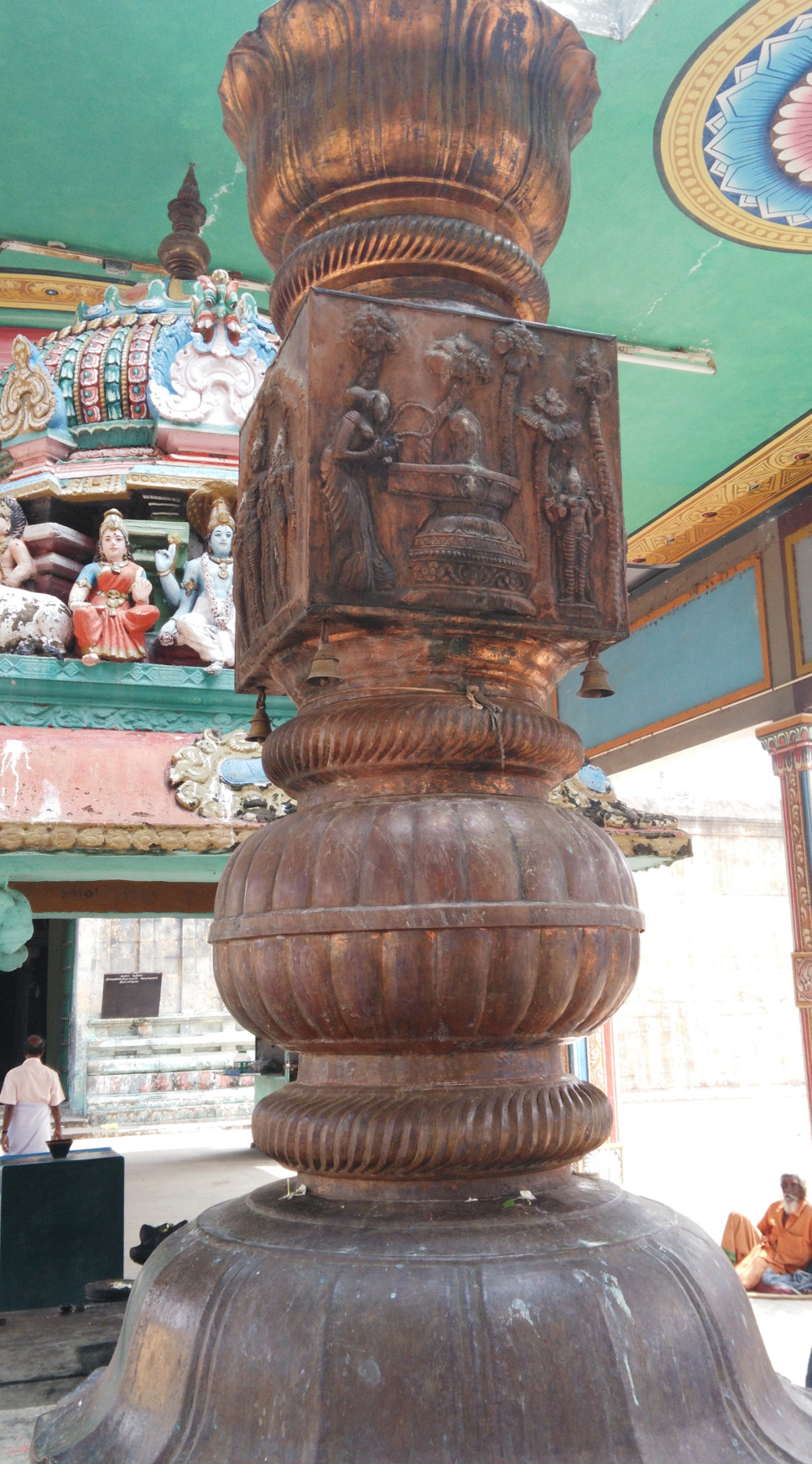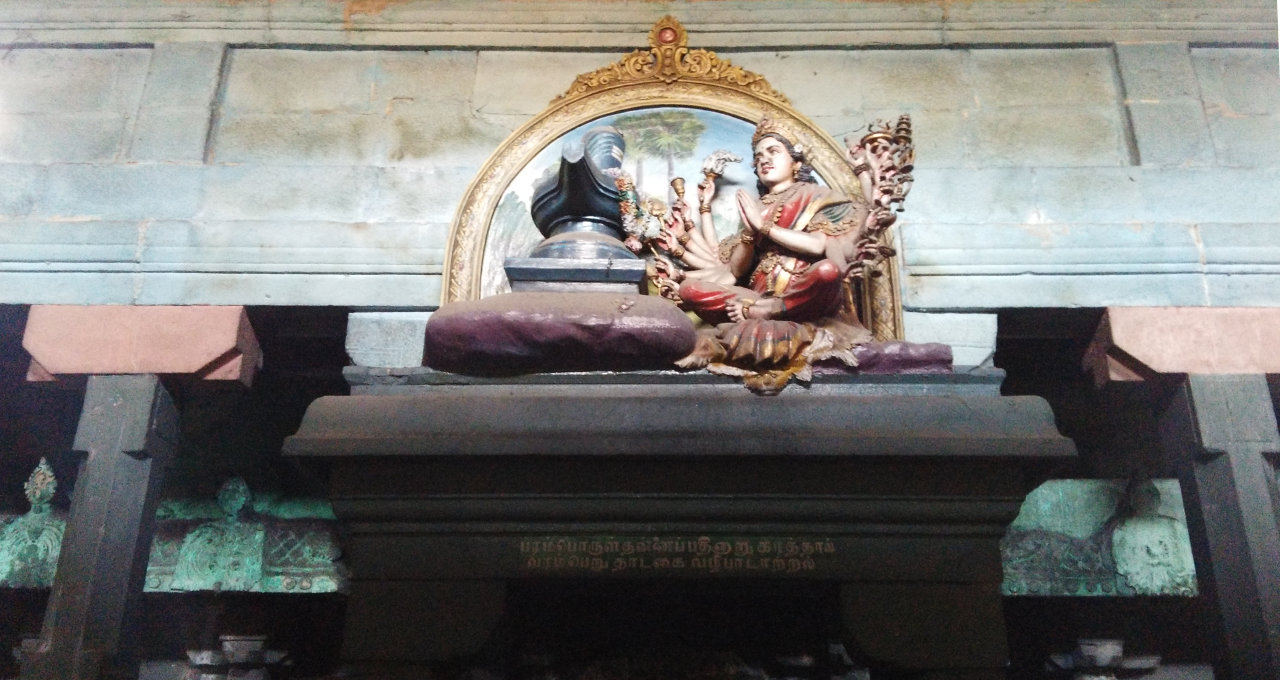 Since then the lingam is in a tilted position. Many people have tried to straighten the lingam but have failed to do so. When a Chola king named Veerasenan renovated this temple, he tried to straight the bend in the Shivalingam with the help of his soldiers but he could not succeed. He even tried to straighten it by using the force of his elephants but that was also in vain.
The king came to know about Saint Kungiliya Kalaya Nayanar of Thirukkadaiyur and his devotion towards Lord Shiva. He called him here and sought his help. This Nayanar was famous because his worship always involved the use of the fragrant smoke of Kunggiliam (Benzoin). He tied a rope to the lingam and to the other end of the rope he tied a knife. He wrapped the end with the knife to his neck and started pulling gently. He prayed to the lord that in case he failed to straighten the lingam in this process, the lord should take his life. Even as the rope tightened around his neck, the Nayanar did not flinch. Lord Shiva did not want to test Nayanar any further and returned the lingam back to its straightened position. The Devas showered flowers from heaven on the Nayanar. Everyone was amazed by his efforts and recognised his glory.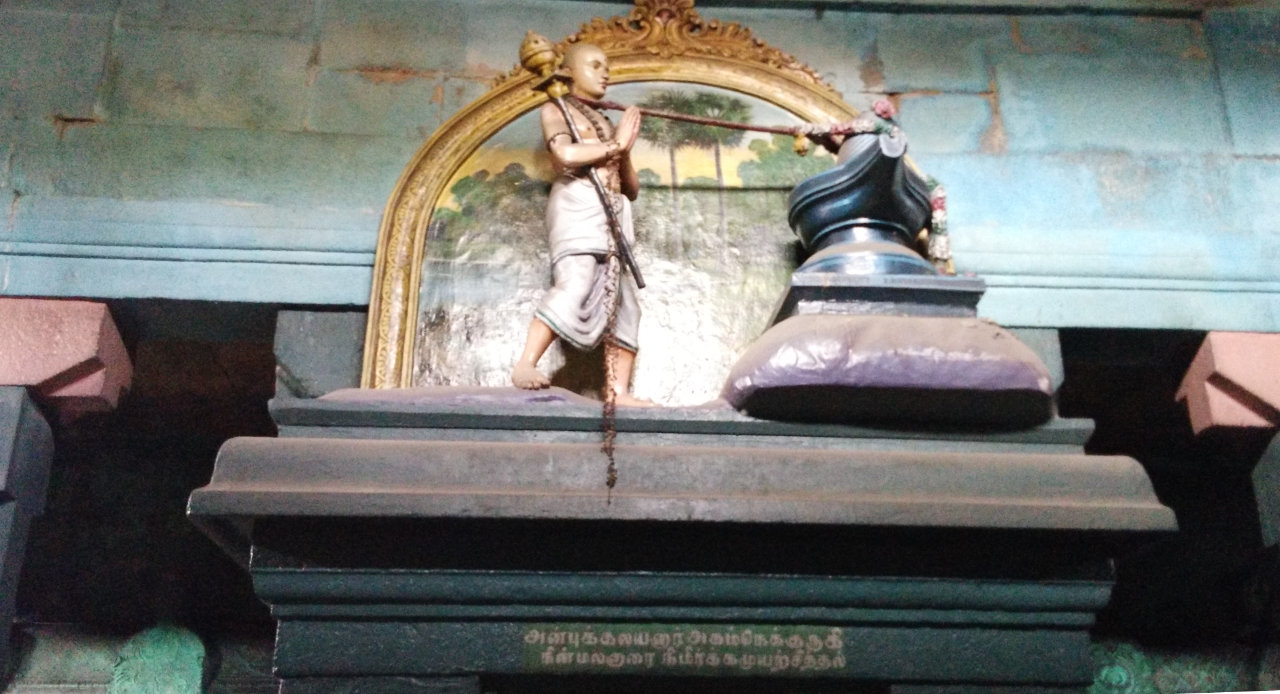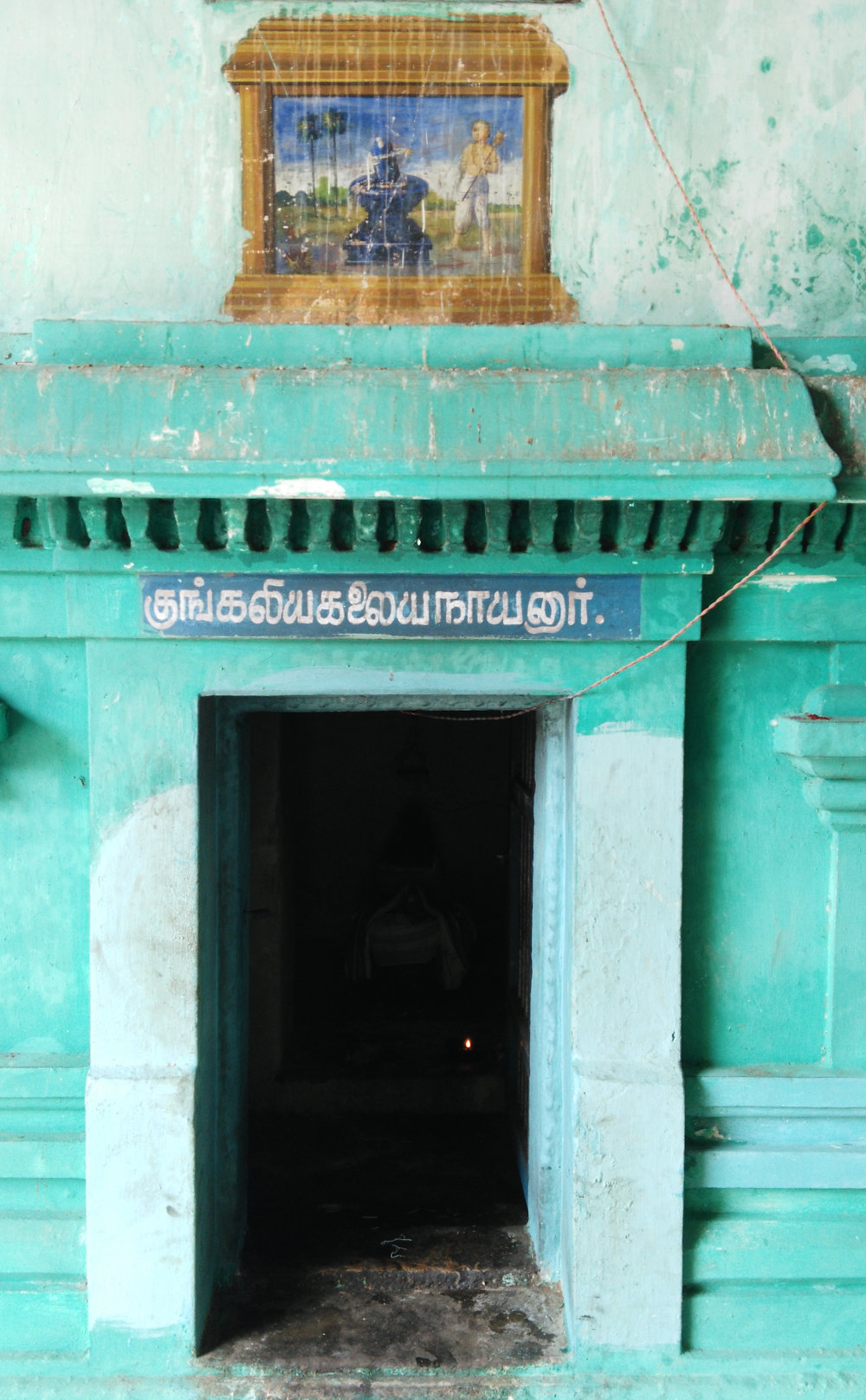 Another legend is that Kungiliya Kalaya Nayanar's son expired in this place. It is believed that when he was taken for cremation, Lord Vinayakar intercepted and advised them to bathe his son in the waters of the Nagakannikai Theertham. When they did so, the Nayanar's son was restored back to life.
Deities in the temple
Other than the shrines of Lord Shiva and Goddess Parvathy, shrines and idols of
Vinayakar, Murugan with his consorts, Mahalakshmi, Natarajar with Sivakami, Somaskandar, Panchabootha lingams (Pruthvi, Appu, Theyu, Vayu and Aakayam), Chokkanathar, Suryan, Chandran, Rishabaruder (Katchi kodutha Nayanar), Sattanathar, Bairavar, Sabthakannikas, Iyanaar, 63 Nayanmars, Navagraham and Nalvar can be seen in the corridors.
In the "koshtam" (place surrounding the sanctum sanctorum), idols of Vinayakar, Dakshinamurthy, Lingothbavar, Brahma, Durgai and Chandikeswarar can be seen.
There are two procession idols of Lord Murugan with his consorts – one where he is seen with his mount peacock and the other without it. The second one is known as Sri Muthukumaraswamy.
There are separate shrines for Sri Aanda Vinayakar and Saint Kungiliya Kalaya Nayanar in the outer corridor.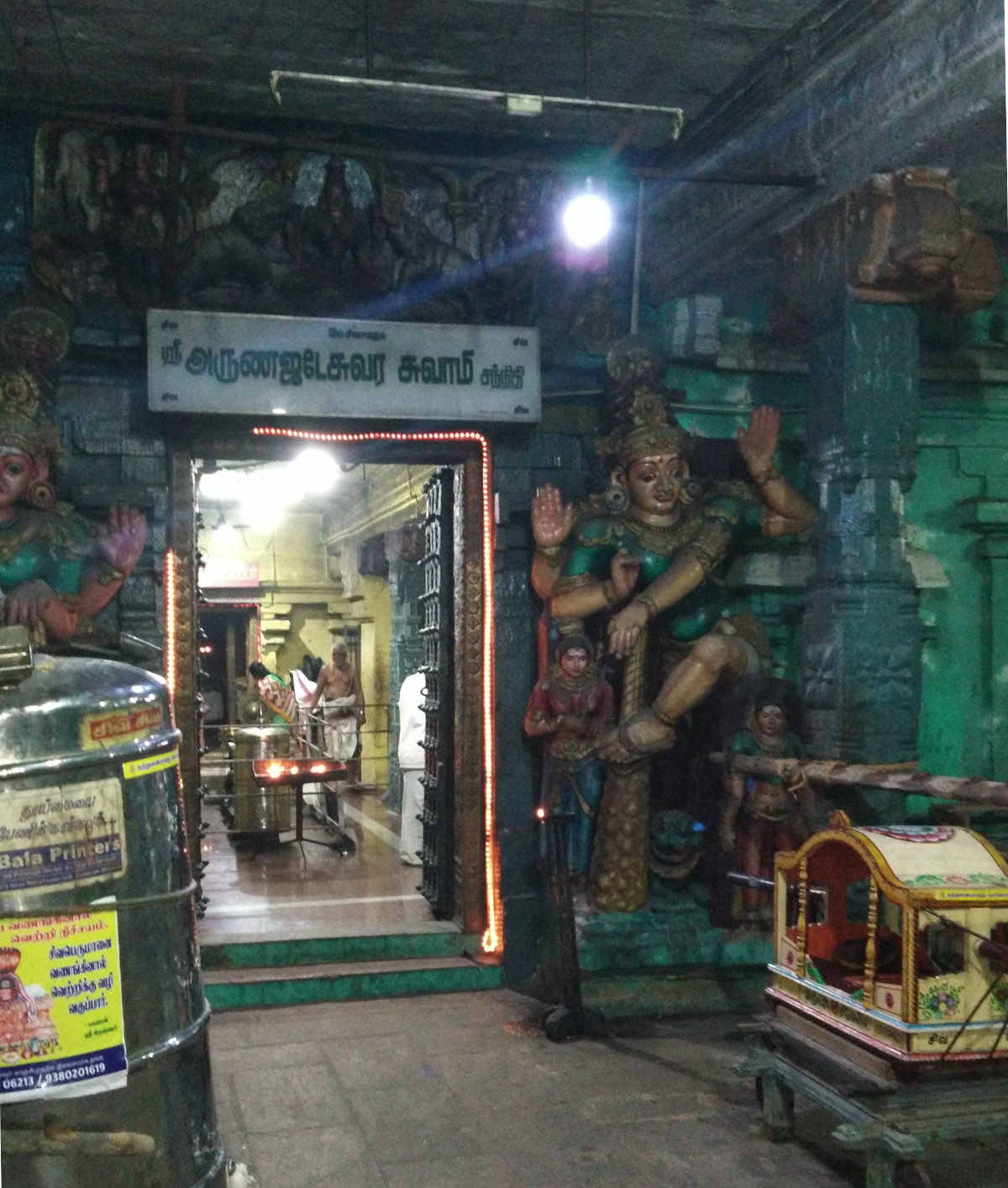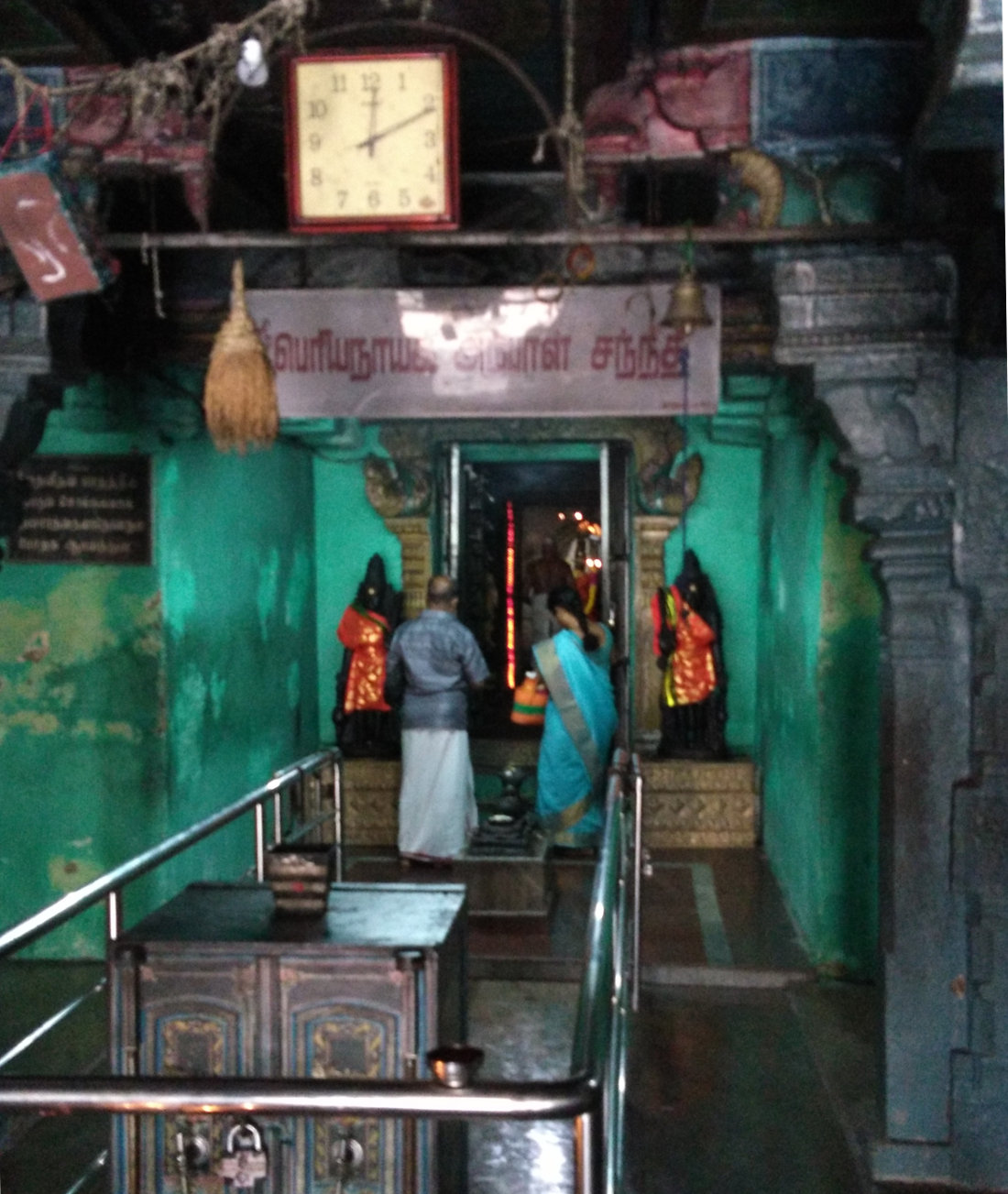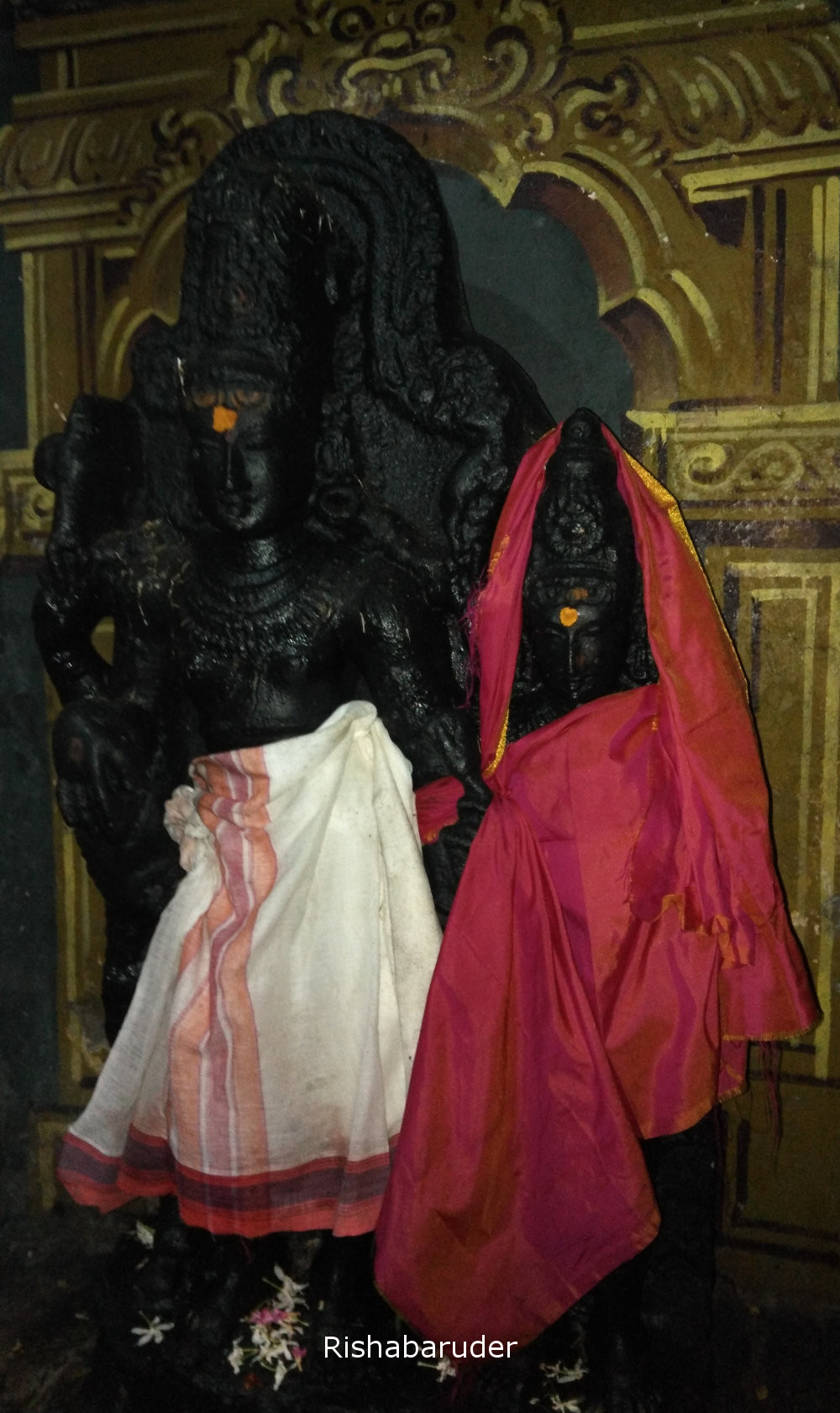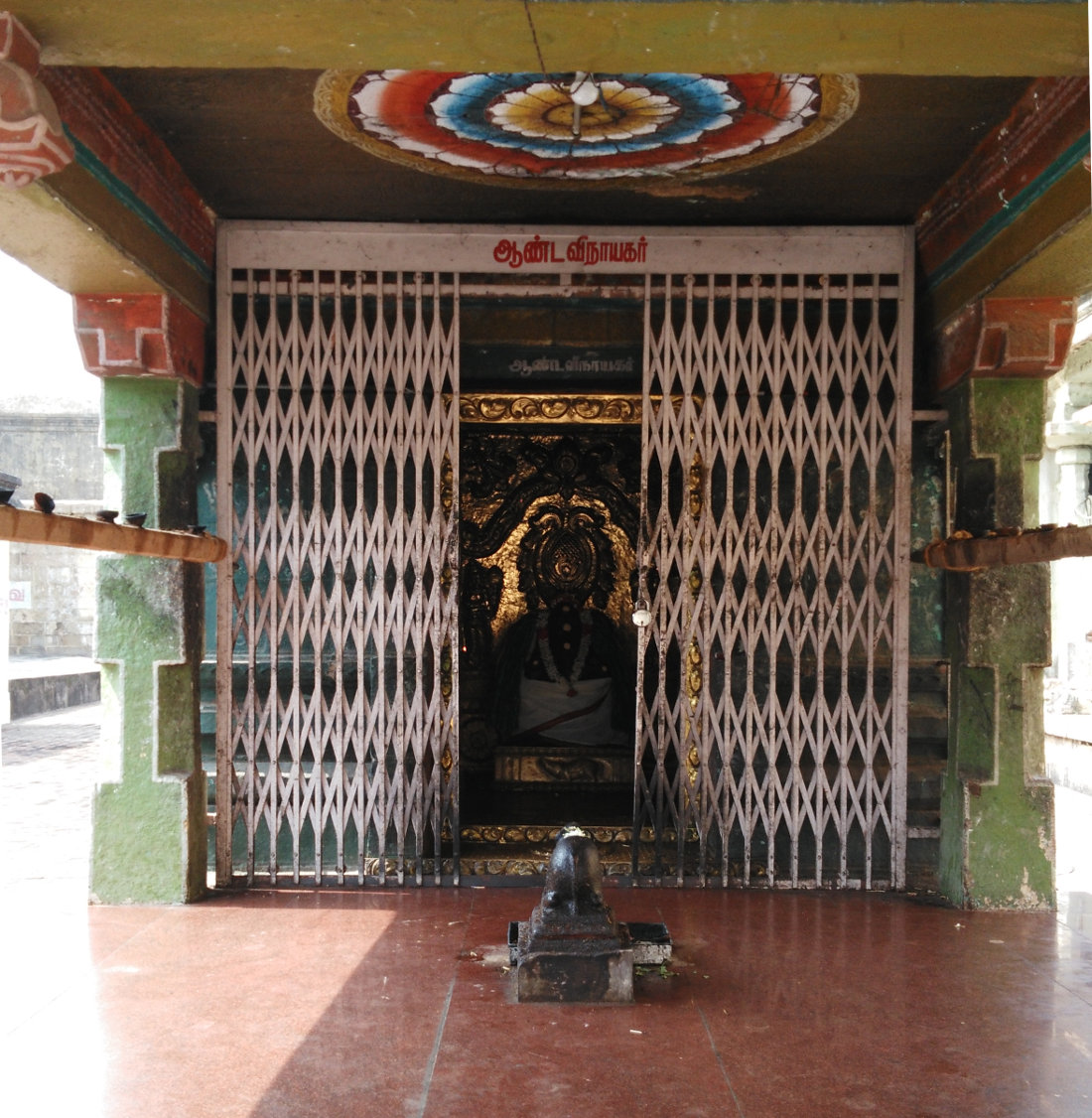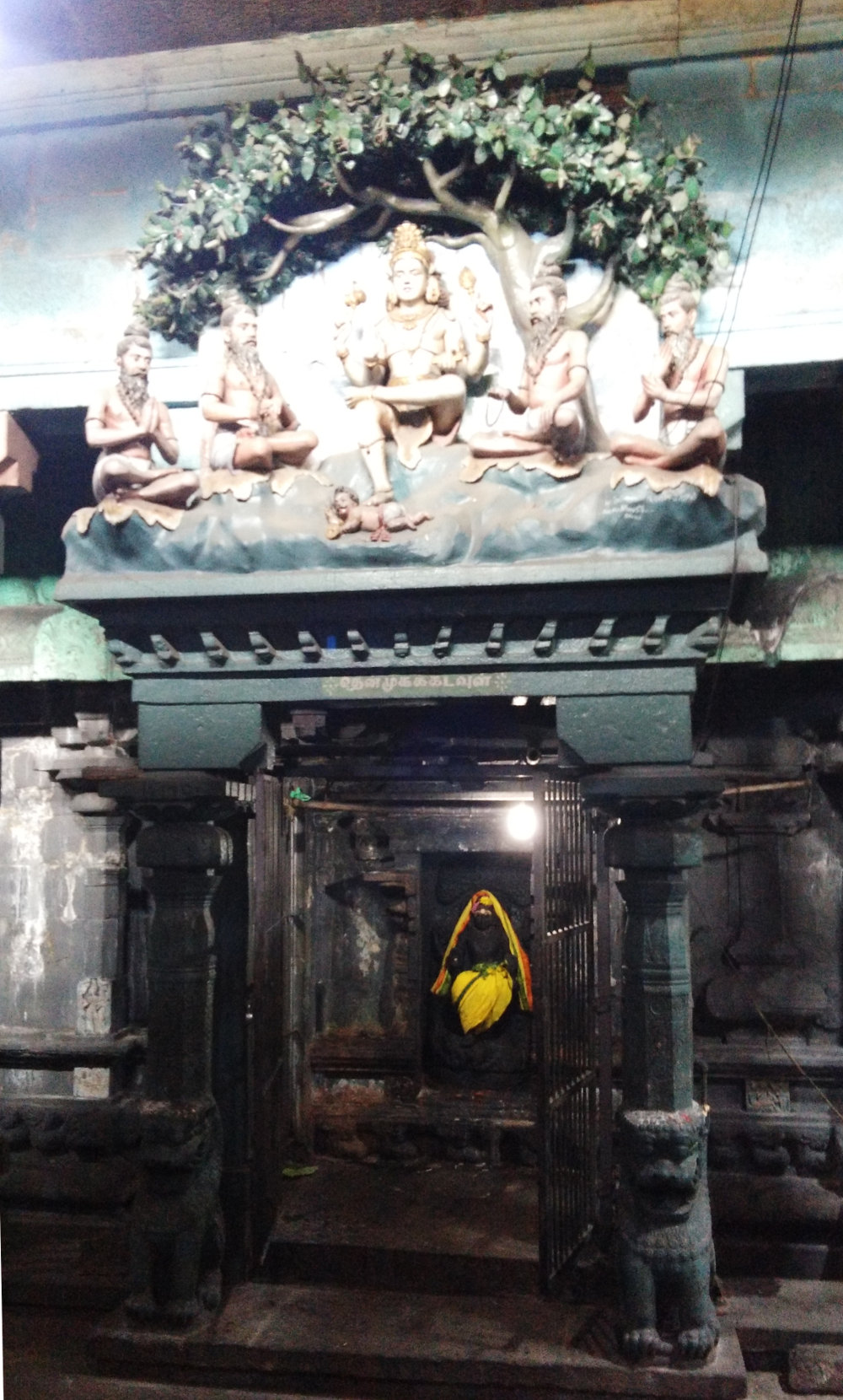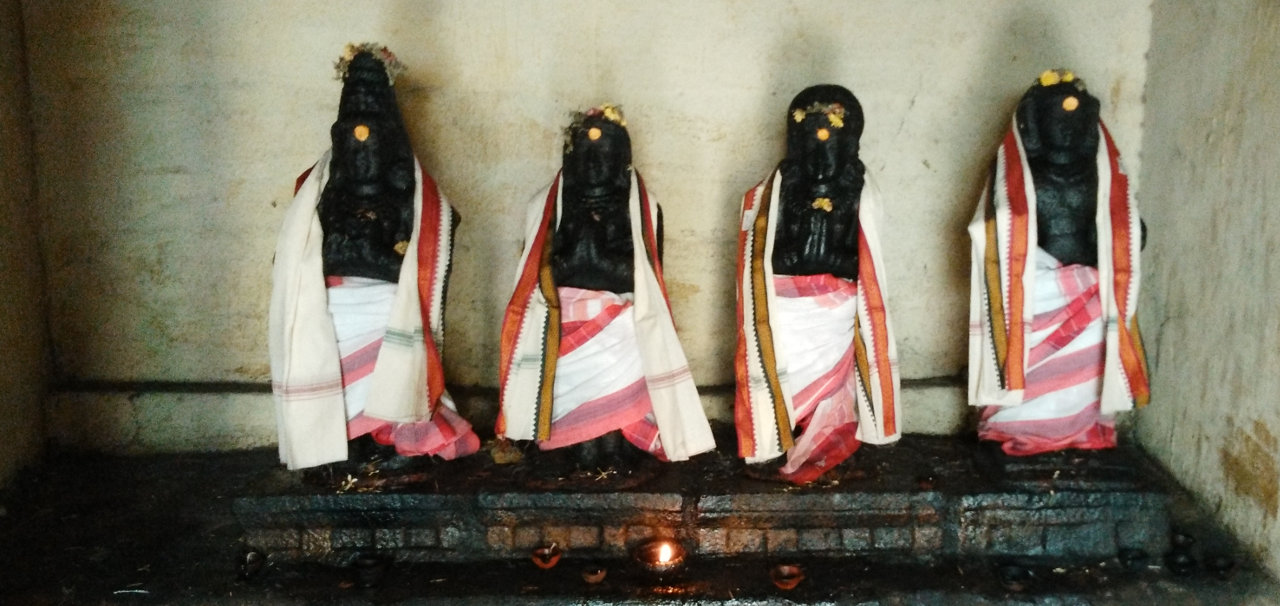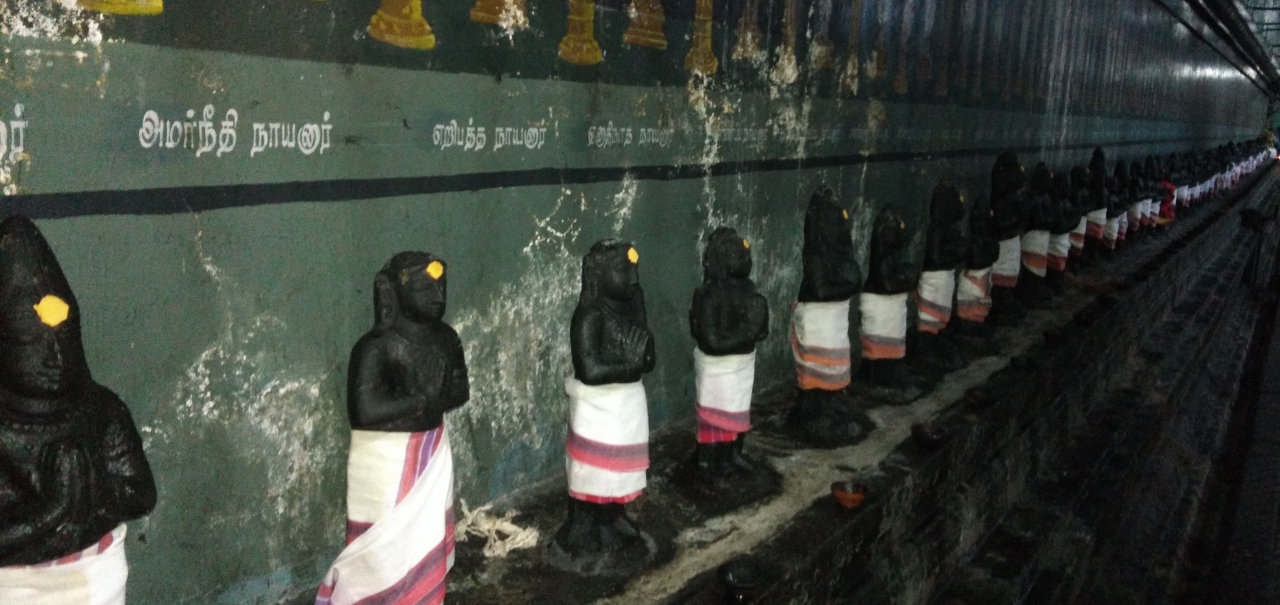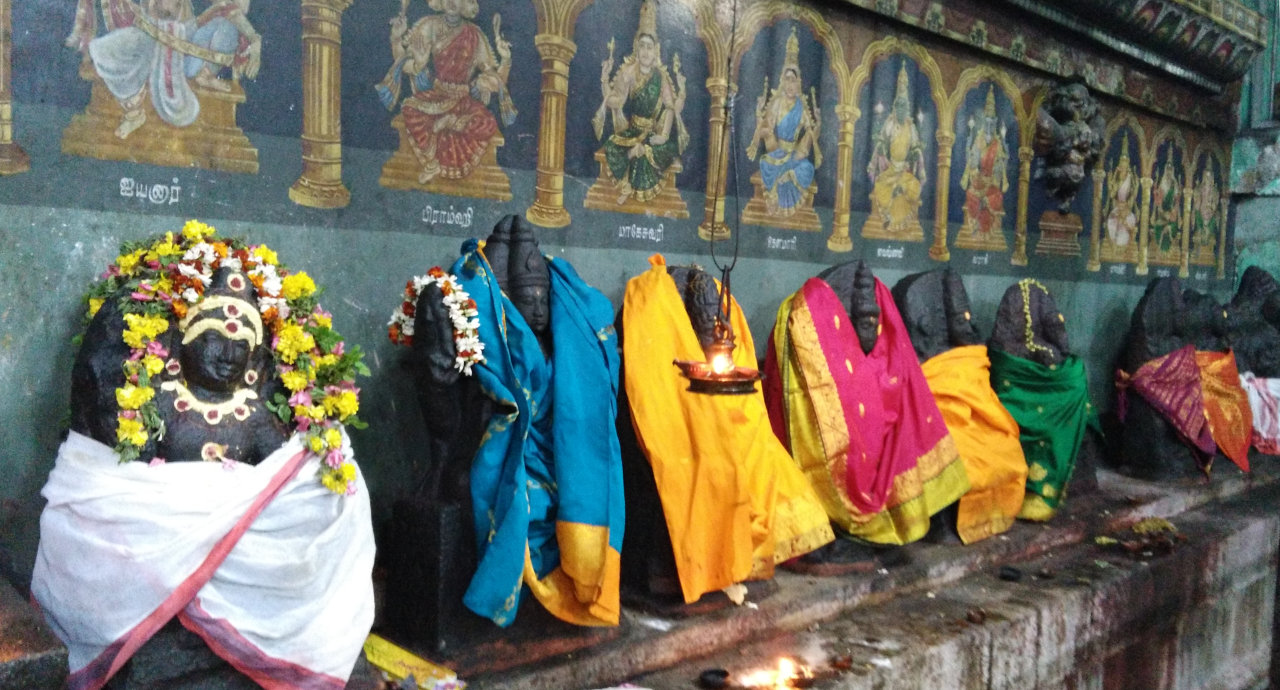 Salient Features
As Goddess Parvathy received "Gnana Upadesa" from Lord Shiva here, their shrines are located facing each other. This sthalam is considered to be an "Upadesa Sthalam".
There are marks on the Shivalingam which indicates that it was first bent in order to receive Thaadagai's garland and then straightened by Kungiliya Kalaya Nayanar using a rope.
Beautiful sculptures depicting Nayanar pulling the lingam and Thaadagai worshiping the lord with her 16 hands can be seen in the inner corridor.
The temple's sthala viruksham palm trees can be seen in the outer corridor. Under the tree there is small shrine for a Shivalingam which symbolises the legend of Thaadagai's worship.
There is a well near the sthala viruksham and it is believed that the Nagakannigai came from this well to worship the lord.
The front hall (Mandapam) of this temple is designed to look like the forehead of a bat ("Vovval Nethi Mandapam"). This looks very beautiful.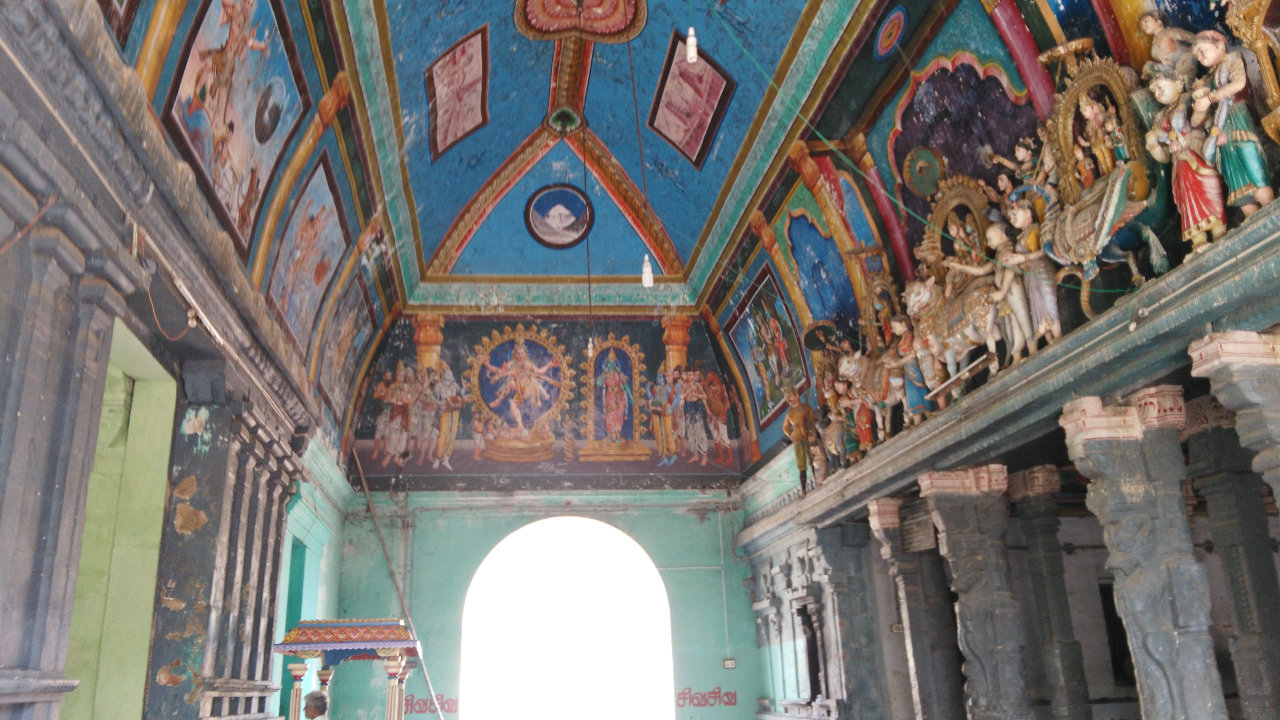 In all the stanzas of his hymn, Saint Thirugnanasambanthar mentioned this place as "Thiru Thaadagai Echarm".
It is believed that in Keezha Perumpallam, Kalahasthi and Thirunageswaram male snakes were worshipped the lord, whereas in Thiruppananthal female snake "Naga Kanni" worshipped.
Saint Arunagirinadhar has sang songs in praise of Lord Murugan of this temple in his revered Thirupugazh.
It is believed that Lord Suryan (Sun) worships Lord Shiva of this temple by directing his rays on the lingam every year for few days in the Tamil month of Chithirai (April-May).
The sanctum sanctorum is in the form of semi-circular tank (akazhi in Tamil).
Greatness of this temple
This is a "parikara sthalam" for Naga dosham and Sevvai dosham (Mars).
Important Festivals
Brahmotsavam in the Tamil month of Chithirai (Apr-May) is celebrated in a grand manner here.
Some of the other important festivals celebrated in this temple are –
Aadi Pooram in the Tamil month of Aadi (Jul-Aug),
Theerthavari at the Brahma Theertham on the new moon day of the Tamil month of Aavani (Aug-Sept).
Navarathri in the Tamil month of Purattasi (Sept-Oct) and
Skanda Shashti and Annabishekam in the Tamil month of Aippasi (Oct – Nov).
Pradosham is also observed regularly.
Temple Timings
From 06.30 AM to 12.00 Noon and from 04.00 PM to 09.00 PM.
Temple Address
Sri Arunajadeswarar Temple,
Thiruppananthal Post,
Kumbakonam Taluk,
Thanjavur District,
Tamil Nadu - 612 504.
Tele: +91- 435 - 256 422, 245 6047, 94431 16322, 99658 52734.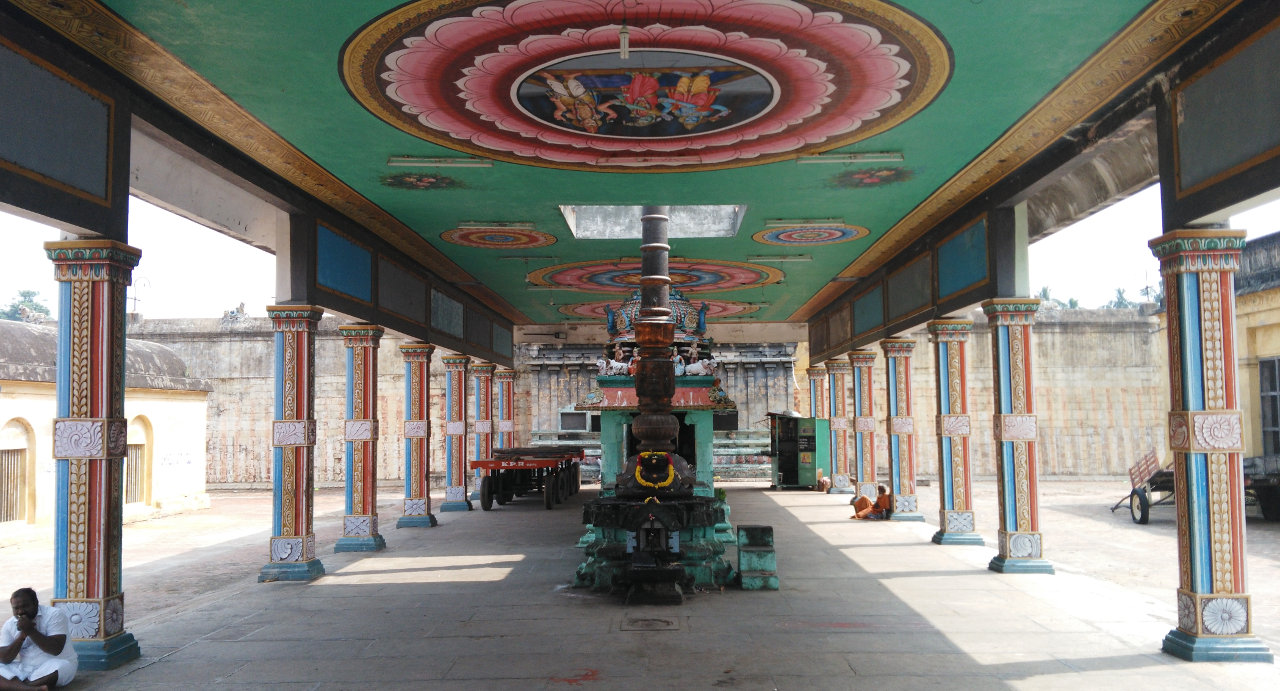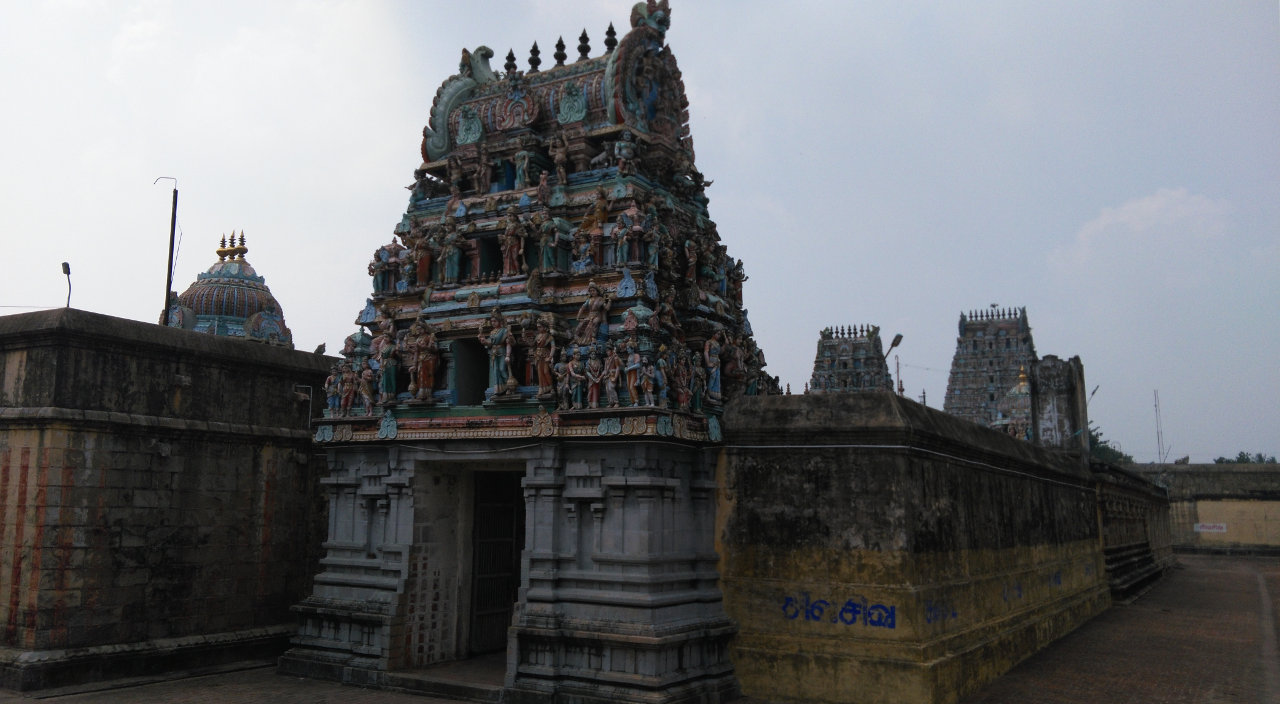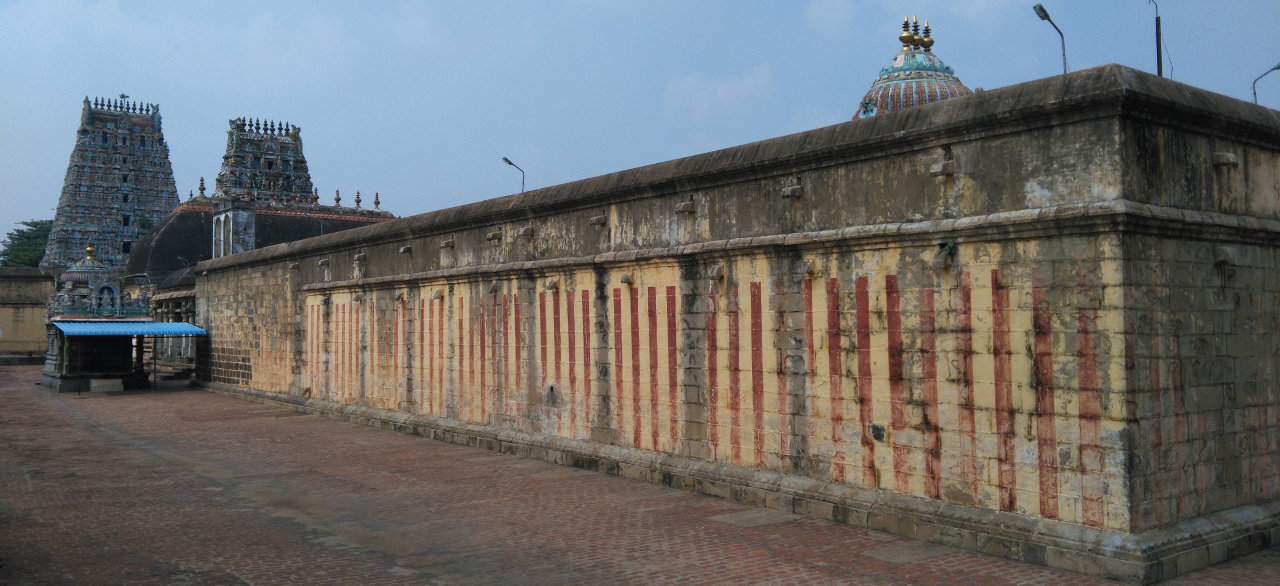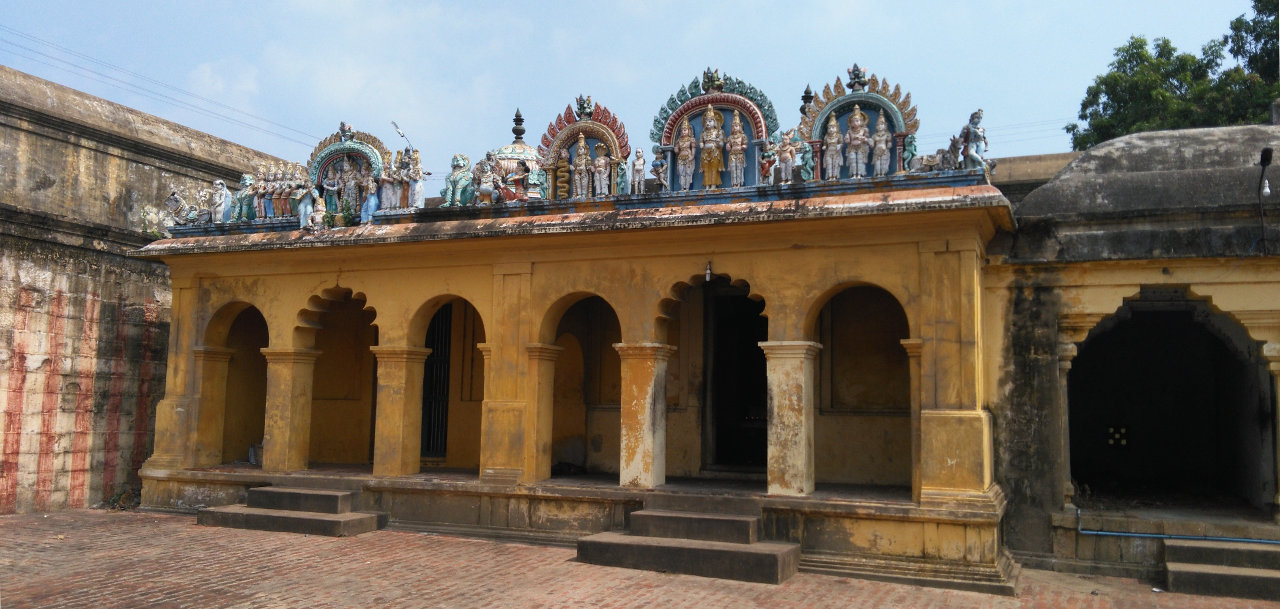 ---
Pathigam (Hymn) with English transliteration
Saint Thirugnanasambanthar visited this temple and sang this Pathigam.
Devotees visiting this temple should make it a practice to recite this Pathigam.
கண்பொலி நெற்றி யினான் திகழ் கையிலோர் வெண்மழுவான்
பெண்புணர் கூறுடையான் மிகு பீடுடை மால்விடையான்
விண்பொலி மாமதிசேர் தரு செஞ்சடை வேதியனூர்
தண்பொழில் சூழ்பனந்தாள் திருத் தாடகை யீச்சரமே.
"Kaṇpoli netṟi yiṉāṉ thikazh kaiyilōr veṇmazhuvāṉ
peṇpuṇar kūṟuṭaiyāṉ miku pīṭuṭai mālviṭaiyāṉ
viṇpoli māmathisēr tharu cheñchaṭai vēthiyaṉūr
thaṇpozhil chūzhpaṉanthāḷ thiruth thāṭakai yīcharamē".
விரித்தவன் நான்மறையை மிக்க விண்ணவர் வந்திறைஞ்ச
எரித்தவன் முப்புரங்கள் இயல் ஏழுல கில் லுயிரும்
பிரித்தவன் செஞ்சடைமேல் நிறை பேரொலி வெள்ளம் தன்னைத்
தரித்தவன் ஊர்பனந்தாள் திருத் தாடகை யீச்சரமே.
"Viriththavaṉ nāṉmaṟaiyai mikka viṇṇavar vanthiṟaiñcha
eriththavaṉ muppuraṅkaḷ iyal ēzhula kil luyirum
piriththavaṉ cheñchaṭaimēl niṟai pēroli veḷḷam thaṉṉaith
thariththavaṉ ūrpaṉanthāḷ thiruth thāṭakai yīcharamē".
உடுத்தவன் மானுரிதோல் கழல் உள்கவல்லார் வினைகள்
கெடுத்து அருள் செய்ய வல்லான் கிளர் கீதமோர் நான்மறையான்
மடுத்தவன் நஞ்சு அமுதா மிக்க மாதவர் வேள்வியை முன்
தடுத்தவன் ஊர்பனந்தாள் திருத் தாடகை யீச்சரமே.
"Uṭuththavaṉ māṉurithōl kazhal uḷkavallār viṉaikaḷ
keṭuththu aruḷ seyya vallāṉ kiḷar kīthamōr nāṉmaṟaiyāṉ
maṭuththavaṉ nañchu amuthā mikka māthavar vēḷviyai muṉ
taṭuththavaṉ ūrpaṉanthāḷ thiruth thāṭakai yīcharamē".
சூழ்தரு வல்வினையும் உடல் தோன்றிய பல்பிணியும்
பாழ்பட வேண்டுதிரேல் மிக ஏத்துமின் பாய்புனலும்
போழ் இள வெண்மதியும் அனல் பொங்கு அரவும் புனைந்த
தாழ்சடை யான் பனந்தாள் திருத் தாடகை யீச்சரமே.
"Chūzhtharu valviṉaiyum uṭal thōṉtṟiya palpiṇiyum
pāzhpaṭa vēṇṭuthirēl mika ēththumiṉ pāypuṉalum
pōzh iḷa veṇmathiyum aṉal poṅku aravum puṉaintha
thāzhsaṭai yāṉ paṉanthāḷ thiruth thāṭakai yīcharamē".
விடம்படு கண்டத்தினான் இருள் வெள்வளை மங்கையொடும்
நடம்புரி கொள்கையினான் அவன் எம்மிறை சேருமிடம்
படம்புரி நாகமொடு திரை பன்மணியும் கொணரும்
தடம்புனல் சூழ்பனந்தாள் திருத் தாடகை யீச்சரமே.
"Viṭampaṭu kaṇṭaththiṉāṉ iruḷ veḷvaḷai maṅkaiyoṭum
naṭampuri koḷkaiyiṉāṉ avaṉ em'miṟai sērumiṭam
paṭampuri nākamoṭu thirai paṉmaṇiyum koṇarum
thaṭampuṉal chūzhpaṉanthāḷ thiruth thāṭakai yīcharamē".
விடையுயர் வெல்கொடியான் அடி விண்ணொடு மண்ணுமெல்லாம்
புடைபட ஆடவல்லான் மிகு பூதமார் பல்படையான்
தொடை நவில் கொன்றையொடு வன்னி துன்னெருக்கும் அணிந்த
சடையவன் ஊர்பனந்தாள் திருத் தாடகை யீச்சரமே.
"Viṭaiyuyar velkoṭiyāṉ aṭi viṇṇoṭu maṇṇumellām
puṭaipaṭa āṭavallāṉ miku pūthamār palpaṭaiyāṉ
thoṭai navil koṉtṟaiyoṭu vaṉṉi thuṉṉerukkum aṇintha
saṭaiyavaṉ ūrpaṉanthāḷ thiruth thāṭakai yīcharamē".
மலையவன் முன்பயந்த மட மாதையோர் கூறுடையான்
சிலைமலி வெங்கணையால் புரம் மூன்று அவை செற்று உகந்தான்
அலைமலி தண்புனலும் மதி ஆடரவும் அணிந்த
தலையவன் ஊர்பனந்தாள் திருத் தாடகை யீச்சரமே.
"Malaiyavaṉ muṉpayantha maṭa māthaiyōr kūṟuṭaiyāṉ
silaimali veṅkaṇaiyāl puram mūṉtṟu avai cetṟu ukanthāṉ
alaimali thaṇpuṉalum mathi āṭaravum aṇintha
thalaiyavaṉ ūrpaṉanthāḷ thiruth thāṭakai yīcharamē".
செற்றரக் கன் வலியைத் திருமெல் விரலால் அடர்த்து
முற்றும் வெண் ணீறணிந்த திருமேனியன் மும்மையினால்
புற்றரவு அம்புலியின் னுரி தோலொடு கோவணமும்
உற்றவன் ஊர்பனந்தாள் திருத் தாடகை யீச்சரமே.
"Setṟarak kaṉ valiyaith thirumel viralāl aṭarththu
mutṟum veṇ ṇīṟaṇintha thirumēṉiyaṉ mum'maiyiṉāl
putṟaravu ampuliyiṉ ṉuri thōloṭu kōvaṇamum
utṟavaṉ ūrpaṉanthāḷ thiruth thāṭakai yīcharamē".
வின்மலை நாணரவம் மிகு வெங்கனல் அம்பதனால்
புன்மைசெய் தானவர்தம் புரம் பொன்றுவித் தான் புனிதன்
நன் மலர் மேல் அயனும் நண்ணும் நாரணனும் அறியாத்
தன்மையன் ஊர்பனந்தாள் திருத் தாடகை யீச்சரமே.
"Viṉmalai nāṇaravam miku veṅkaṉal ampathaṉāl
puṉmaisey thāṉavartham puram poṉtṟuvith thāṉ puṉithaṉ
naṉ malar mēl ayaṉum naṇṇum nāraṇaṉum aṟiyāth
thaṉmaiyaṉ ūrpaṉanthāḷ thiruth thāṭakai yīcharamē".
ஆதர் சமணரொடும் மடை ஐந்துகில் போர்த்துழலும்
நீதர் உரைக்கும் மொழி அவை கொள்ளன்மின் நின்மலனூர்
போதவிழ் பொய்கைதனுள் திகழ்புள்ளிரியப் பொழில்வாய்
தாதவிழும் பனந்தாள் திருத் தாடகை யீச்சரமே.
"Āthar samaṇaroṭum maṭai ainthukil pōrththuzhalum
nīthar uraikkum mozhi avai koḷḷaṉmiṉ niṉmalaṉūr
pōthavizh poykaithaṉuḷ thikazhpuḷḷiriyap pozhilvāy
thāthavizhum paṉanthāḷ thiruth thāṭakai yīcharamē".
தண் வயல் சூழ்பனந்தாள் திருத் தாடகை யீச்சரத்துக்
கண்ணயலே பிறையான் அவன் தன்னை முன் காழியர்கோன்
நண்ணிய செந்தமிழான் மிகு ஞானசம் பந்தன்நல்ல
பண்ணியல் பாடல்வல்லார் அவர் தம்வினை பற்றறுமே.
"Thaṇ vayal chūzhpaṉanthāḷ thiruth thāṭakai yīcharaththuk
kaṇṇayalē piṟaiyāṉ avaṉ thaṉṉai muṉ kāzhiyarkōṉ
naṇṇiya senthamizhāṉ miku gñāṉasam banthaṉnalla
paṇṇiyal pāṭalvallār avar thamviṉai patṟaṟumē".