Visited on: 10th February, 2017 and 24th March, 2018.
Location
Thiru Needur is situated at a distance of about 4 kms north of Mayiladuthurai on the Mayiladuthurai to Manalmedu route. Needur has a railway station which is about one kilometre away from this temple.
Other Paadal Petra Shiva Sthalams near this place are –
Mayiladuthurai, Anniyur, Thiru Nintriyur, Thiru Nani Palli, Thiru Kadaimudi, Vaitheeswaran Koil, Kurumanakkudi, Thiruppunkur, Thiru Karuppariyalur, Thiru Kurukkai, Thiru Kurakkukka and Thiru Vazhkoliputhur.
General Information
Moolavar

Sri Arul Somanatha Swamy, Sri Gana Nardhana Sankarar, Sri Padi Padiya Devar

Ambal

Sri Veyuru Tholiyammai, Sri Vedanayagi, Sri Aditya Abayapradambigai, Sri Adhigandhi Ammai

Theertham (Holy water)

Senkazhuneer Odai

Sthala Vriksham (Sacred Tree)

Mahizha tree (Bakula)

Pathigam (Hymn) rendered by

Saint Thirunavukarasar (Appar) and
Saint Sundaramurthy (Sundarar)

This is one of the 276 Devara Paadal Petra Shiva Sthalams and 21st Shiva Sthalam on the northern bank of the river Cauvery in Chozha Nadu (Vadakarai).
Lord Shiva in this temple is a Swayambumurthi (self-manifested).
This east facing temple has two corridors and it does not have a main tower.
At the entrance there is an arch with beautiful sculptures of Lord Shiva, with Goddess Parvathy, on his bull mount along with sculptures of Vinayakar and Murugan.
The last consecration ceremony (Maha Kumbabishekam) took place on 05.04.2007 and prior to that on 04.07.1985 and 30.06.1947.
This is the birth place of Saint Munaiyaduvar, one of the 63 Nayanmars.
History of the Temple
Needur in Tamil means eternal place. According to Hindu mythology, at the end of every "Yuga", there is a huge flood (deluge) that leads to the destruction of all living beings in the earth. This is called the "Pralayam". It is believed that this place was not destroyed even at the end of the "Pralayam". Hence it gets this name.
The historical names of this place are Magizhavanam, Vagularanyam and Magizharanyam.
There are some stone inscriptions in this temple which date back to the periods of Chola Kings Kulothungan-I, Rajathirajan-II and Rajarajan-III.
This temple is under the administrative control of the Hindu Religious and Charitable Endowments Department of Government of Tamil Nadu (HR&CE).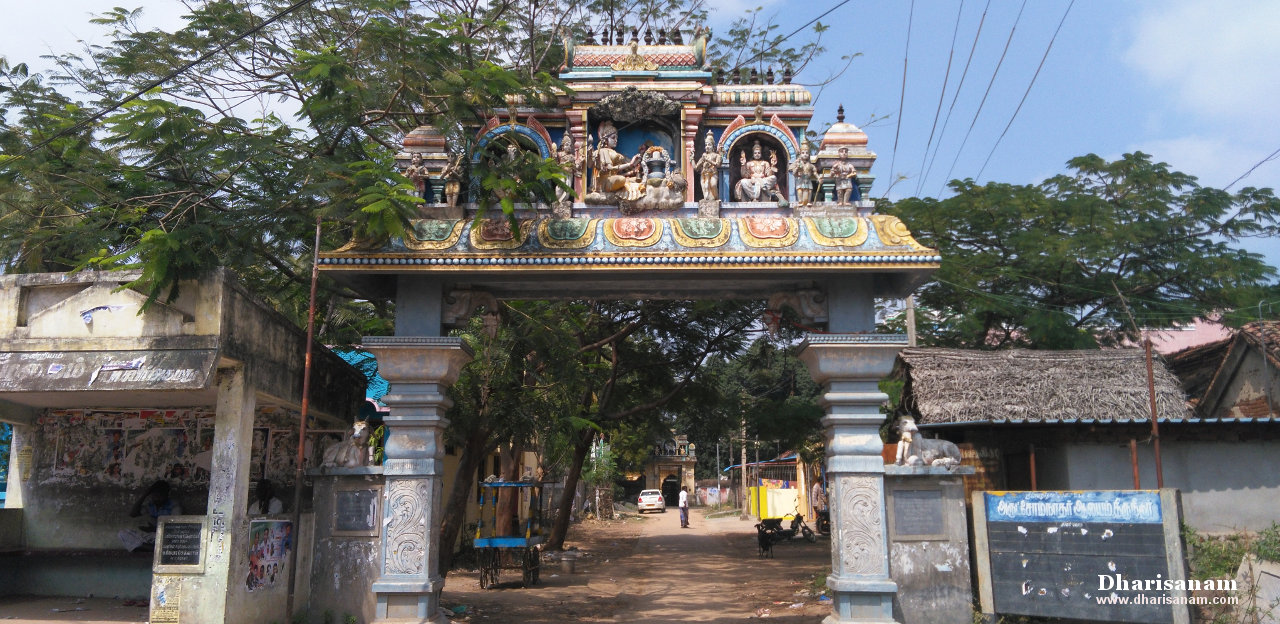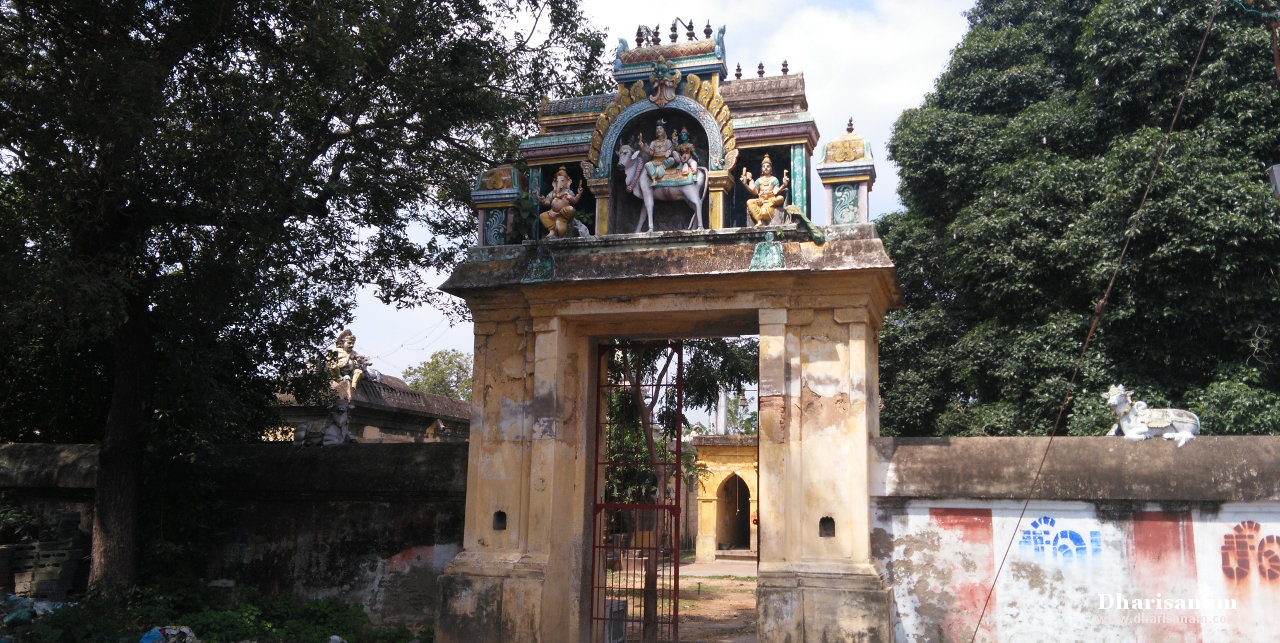 Legend
The Sthala Puranam states that Indra made a Shivalingam here out of the sand from river Cauvery's bank for his worship. He also sang a melodious song hoping to see the cosmic dance of Lord Shiva. Lord Shiva was pleased with his devotion and granted him with his darshan. Hence the lord here is also praised as "Sri Gana Nardhana Sankarar" – Lord who danced to a devotional song. This happened on a Thiruvathirai star day in the Tamil month of Margazhi. Since this lingam is a "Pruthivi lingam" (made out of sand), no abhishekam is performed directly to it. It is always covered with a metal sheet. Indra's finger prints are visible on the lingam.

Another legend is that a demon called Thanmasudhan was born as a crab due to a curse in his previous birth. He sought the advice of Sage Narada who told him to visit Needur and worship the lord here. He came to this place, took a dip in the river Cauvery and worshiped the lord. Lord Shiva blessed the crab with his darshan and granted him salvation. Further the lord absorbed the crab inside the lingam by making a hole in it. The crab's footprint and the hole can still be seen on the lingam. Special poojas are performed on the full moon day in the Tamil month of Aadi in commemoration of this event. Hence, Lord Shiva is also praised as "Sri Karkateswarar" ("Karkatam" means crab in Sanskrit).
Suryan worshiped Goddess Parvathy here and hence she is praised as "Sri Aditya Varada Ambigai" (Aditya means Suryan in Tamil).
Chandran worshiped the lord here and was cured from his illness. Hence the lord here is also praised as "Sri Soma Nathar" ("Soman" means Chandran in Tamil). Further, it is believed that Chandran created a tank here which is known as Chandra Theertham.
It is believed that when Goddess Bhadra Kaali visited this place after worshiping the lord at Kedarnath and Kaasi, she was entrusted with the task of protecting the villagers here. There is a separate shrine for her in the name of Sri Aalalasundhari.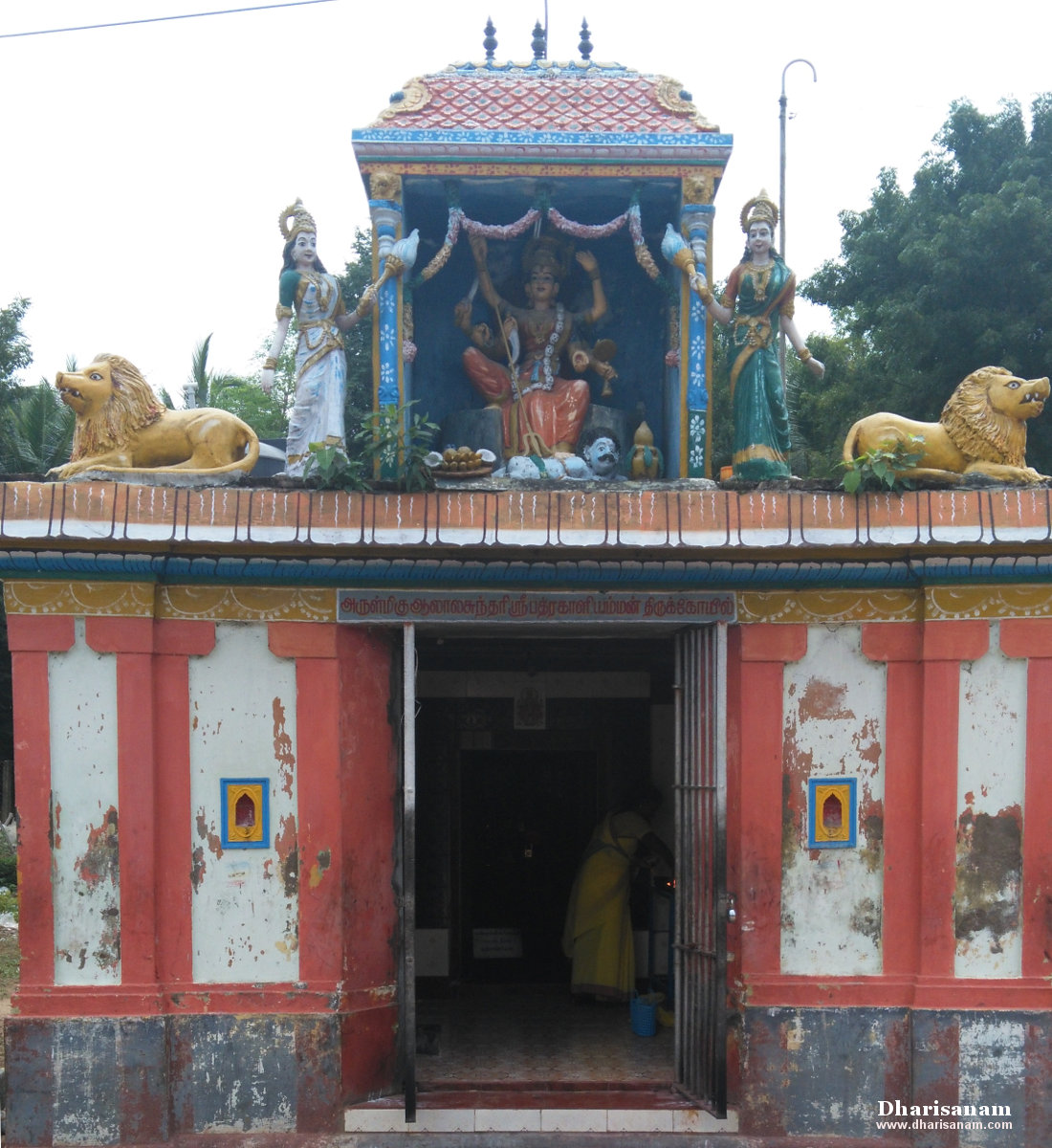 Deities in the temple
Other than the shrines of Lord Shiva and Goddess Parvathy, shrines and idols of
Siddhi Ganapathy, Murugan with his consorts, Somaskandar, Mahalakshmi, Sapthamadas, Sivalokanathar, Kailasanathar, Kasi Viswanathar, Sinmayanantha Ganapathy, Suryan, Chandran, Kala Bairavar, Munaiyaduvar and Saneeswarar can be seen in the main hall and corridors. There is no Navagraham here. There are three separate idols of Lord Vinayakar.
There is also a separate shrine for Saint Munaiyaduvar Nayanar in the outer corridor.
At the entrance, there is a shrine for Sri Sivaloka Ganapathy.
In the "koshtam" (place surrounding the sanctum sanctorum), idols of Bala Ganapathy, Dakshinamurthy, Annamalayar, Brahma, Durgai and Chandikeswarar can be seen.
The procession idols of this temple include idols of Lord Indra, Goddess Badrakaali and Saint Munaiyaduvar. There is no procession idol of Lord Natarajar. In its place, there is an idol made out of clay.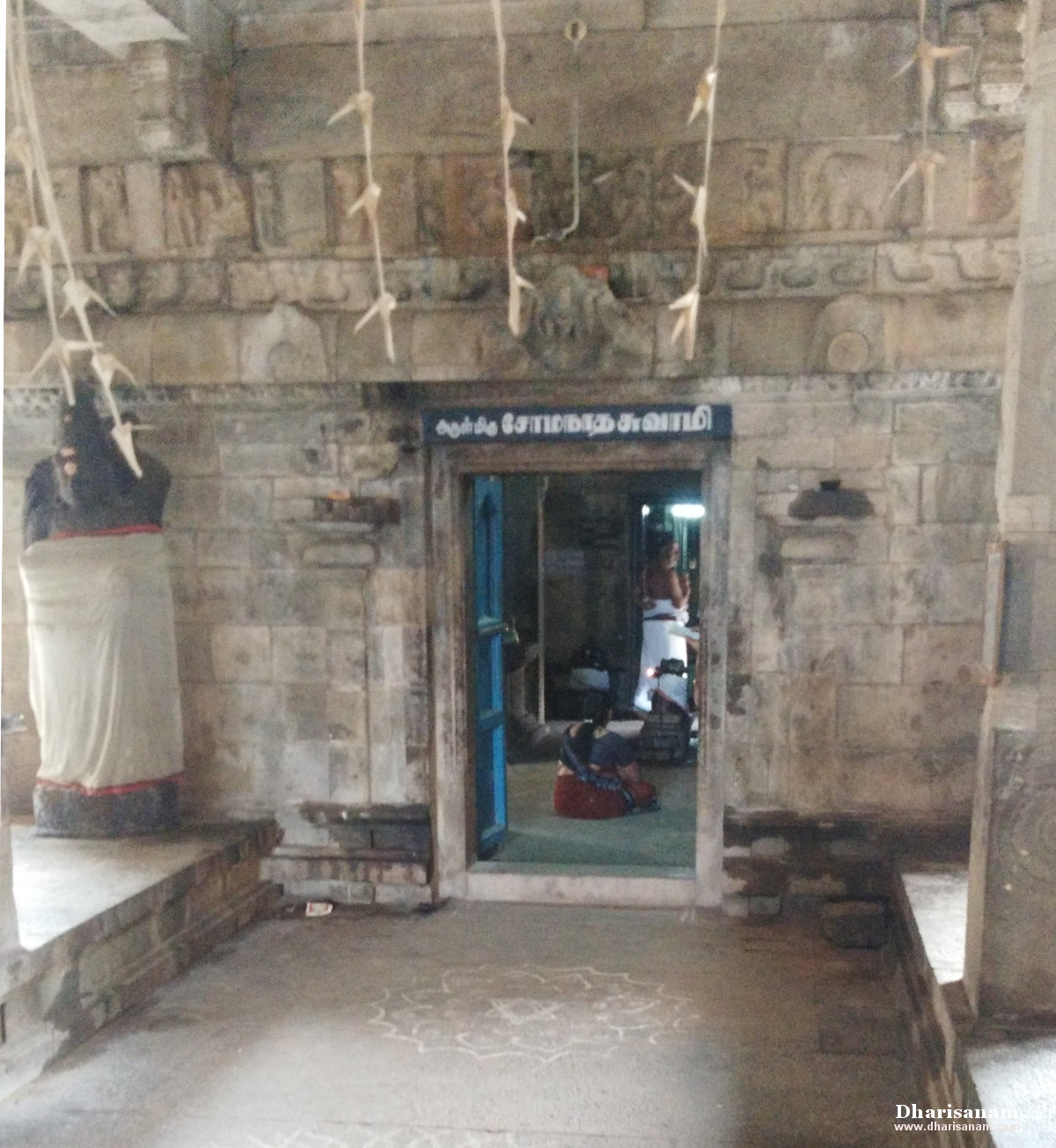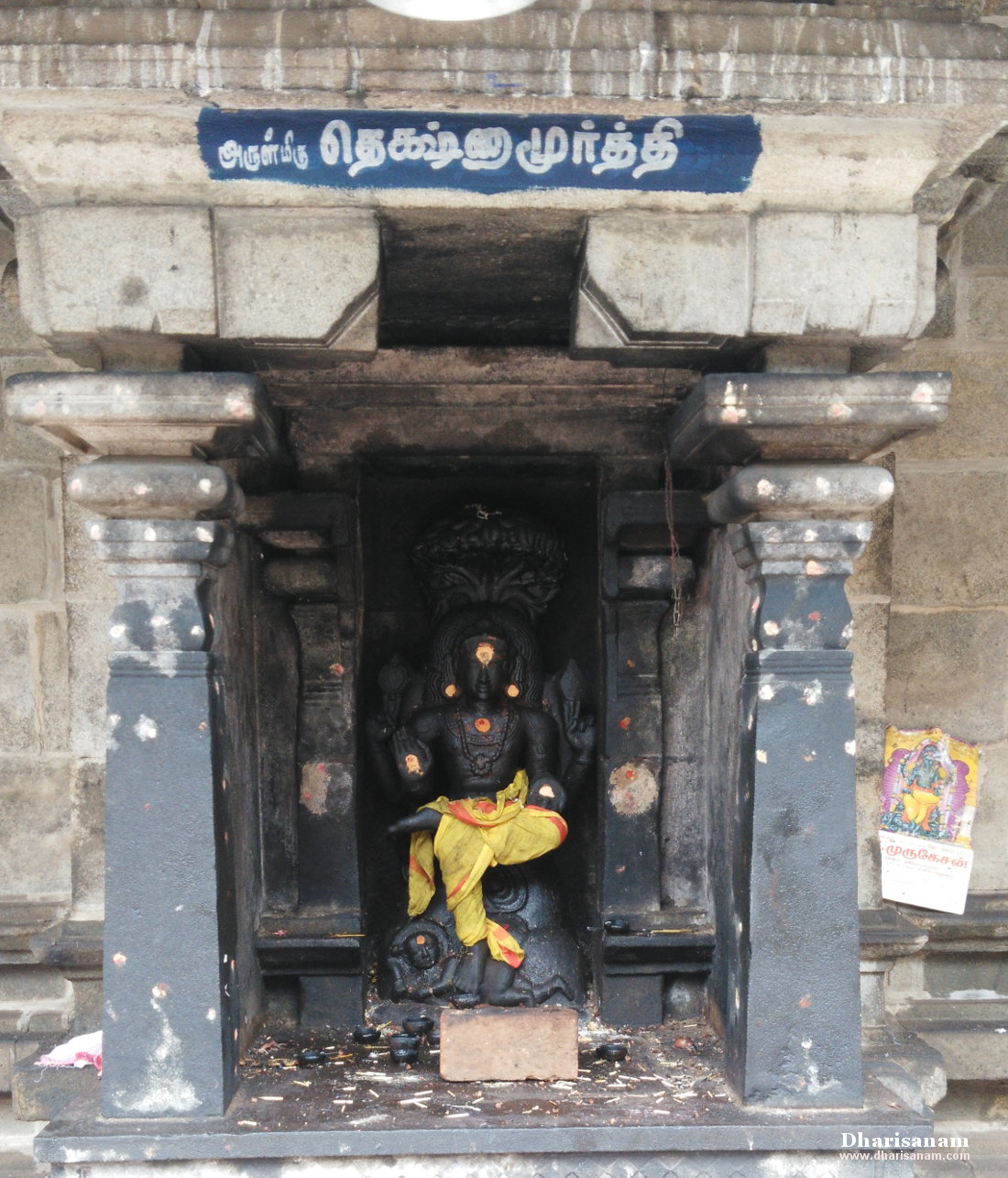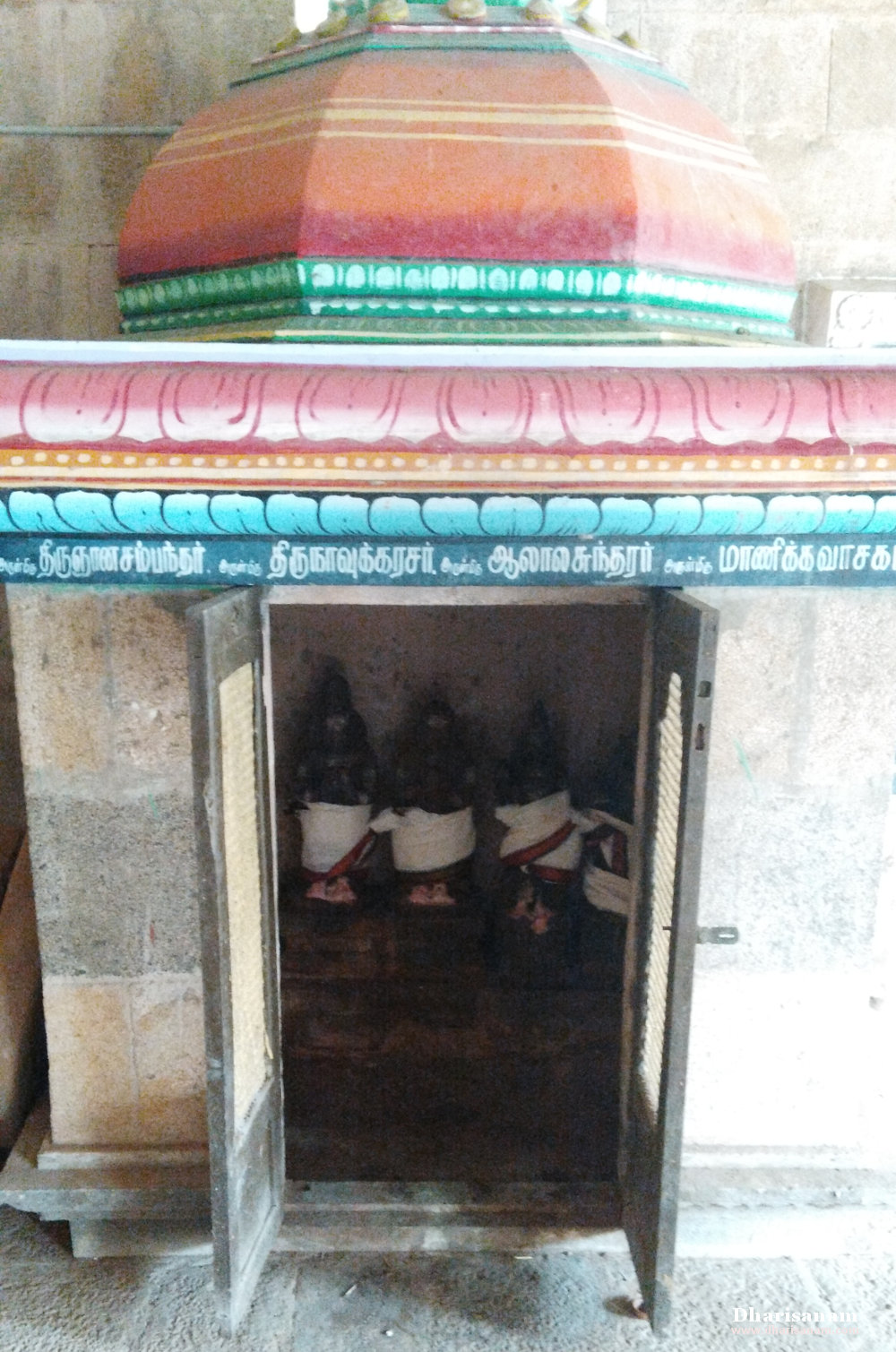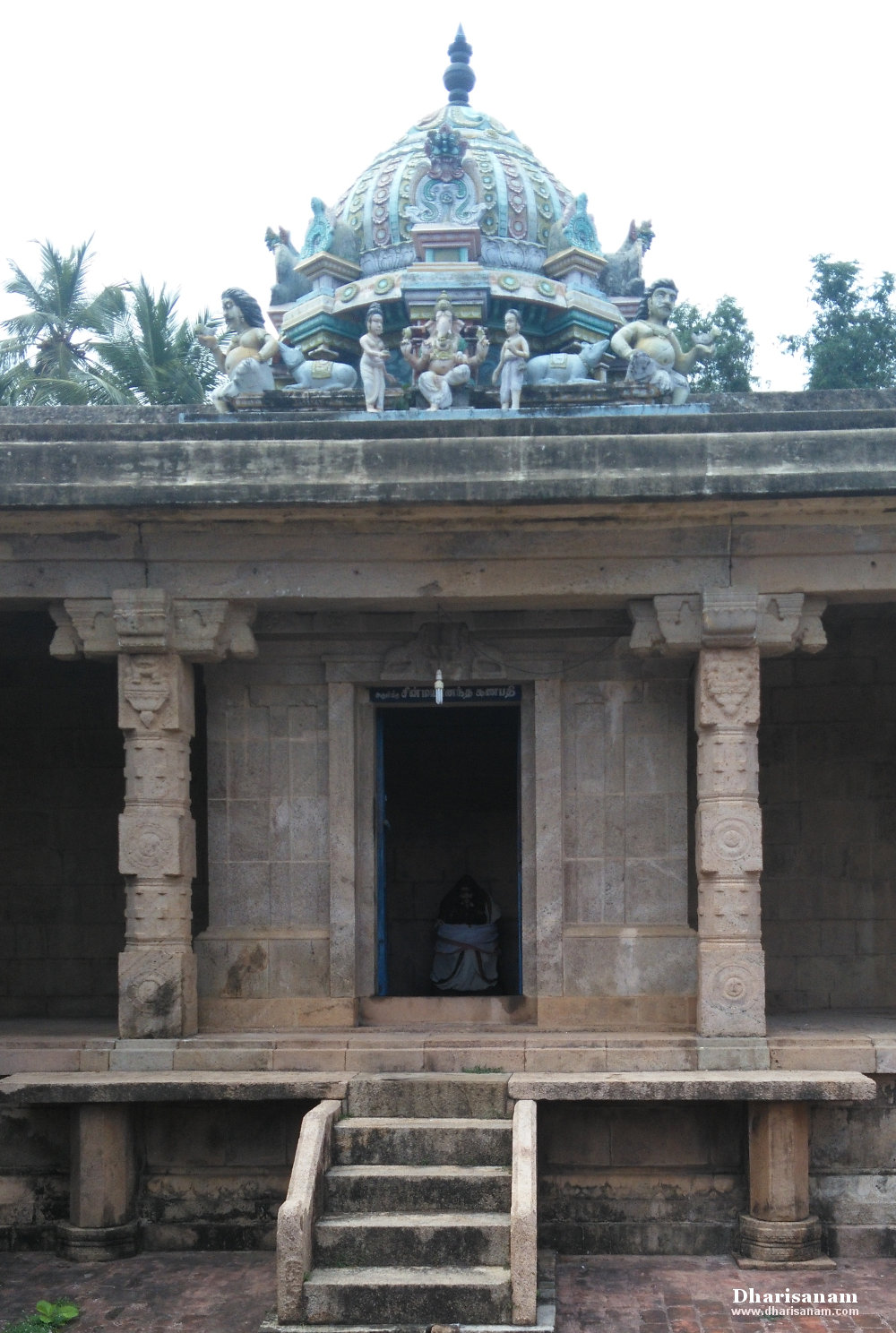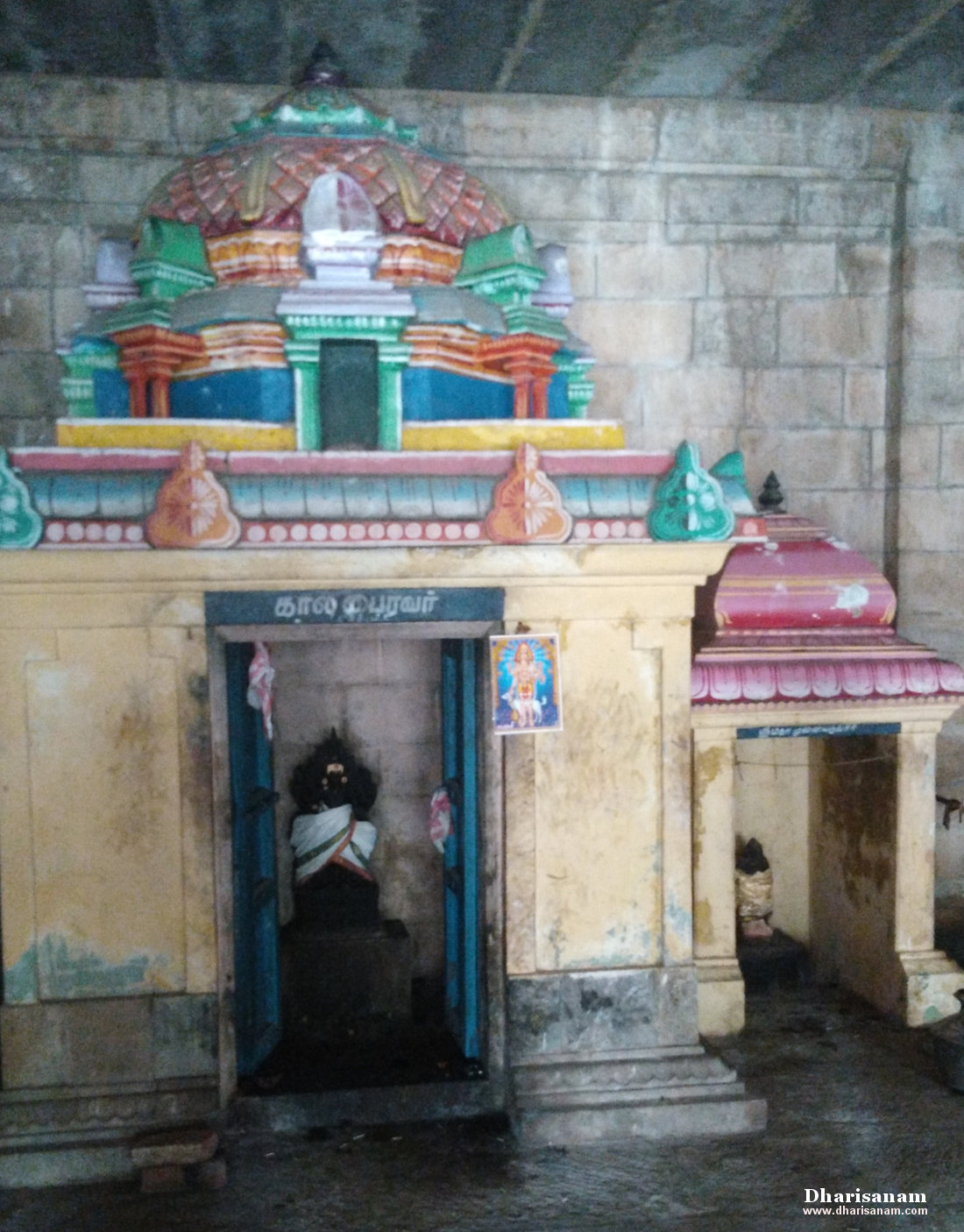 Salient Features
Needur has been mentioned in one of the ancient Sangam literature, Akanaanooru. In their hymns, both Saint Thirunavukkarasar and Saint Sundarar had mentioned about this place's prosperity and wealth.
Traditionally, people worship Lord Vinayakar first before commencing any work. They then seek the advice of elders. In this regard, it is significant to note that there are three separate idols of Lord Vinayakar - "Mikapperiyar Chinthamani" (the lord who is wise and elderly), "Mikappazhayar Selvamaang Ganapathy" (the lord who is experienced) and "Mihappanikar Sivaanantha Ganapathy" (the lord who acts as an advisor). Devotees can worship Lord Vinayakar here before undertaking any new work.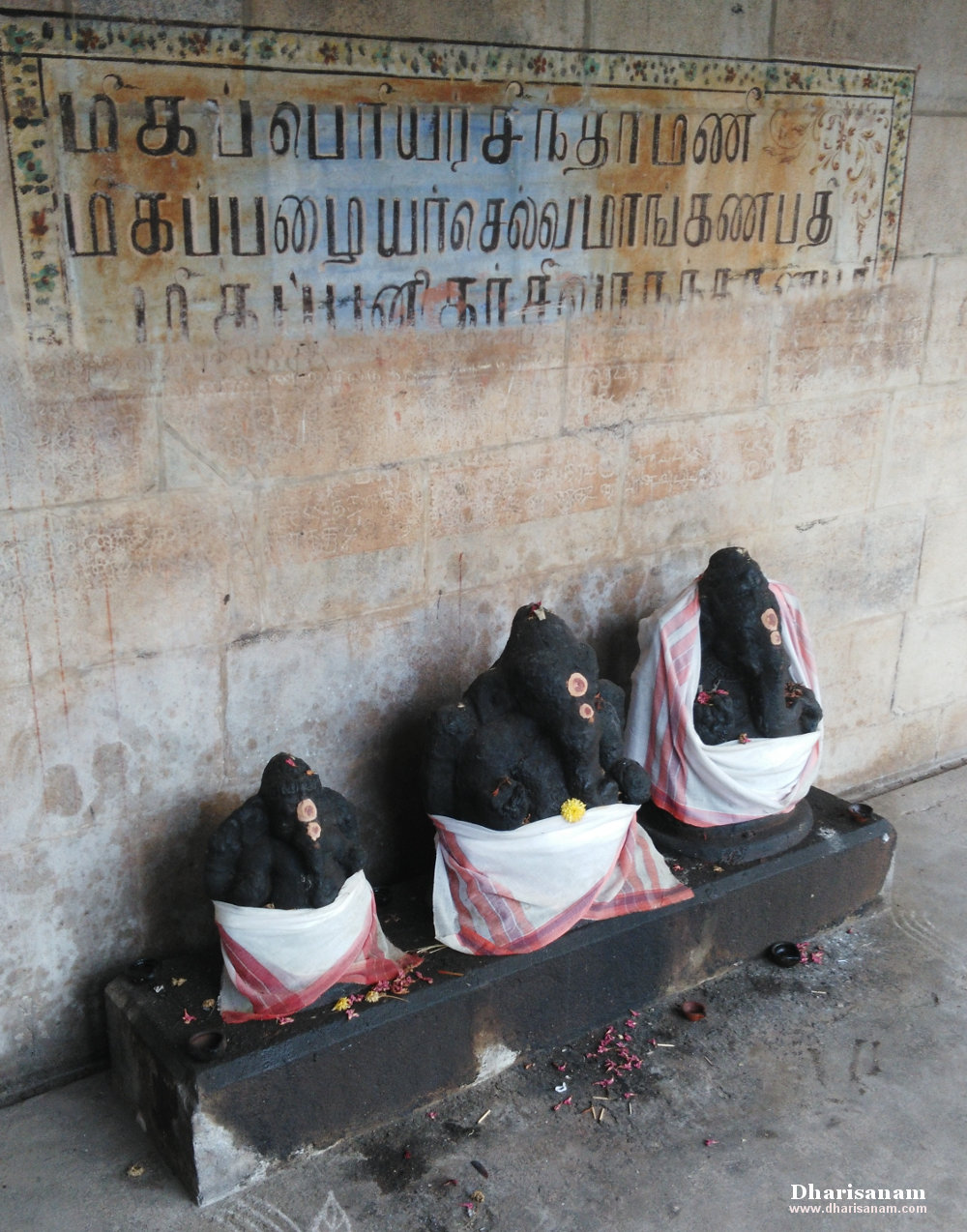 It is believed that Lord Suryan (Sun) worships Lord Shiva of this temple by directing his rays on the lingam every year for a few days in the Tamil month of Aavani. On every Sundays special poojas are performed to Suryan here.
There is a beautiful relief on the sanctum wall depicting Bhadrakaali and Suryan worshiping the lord.
Goddess Parvathy's shrine is facing the south. In front of the hall of her shrine, an idol of Lord Saneeswarar is placed facing the east direction. One can simultaneously worship the goddess and Lord Saneeswarar. This is considered to be very auspicious, especially for those afflicted with Sani doshas.
This is the birth place of Saint Munaiyaduvar, one of the 63 Nayanmars. He was a renowned Shiva "bhakta" who had enormous respect for other devotees of Lord Shiva. He was a soldier who commanded an army and assisted many kings in their battles. He was always a ray of hope for the desperate, the weak and the vanquished. He would be called upon to turn any defeat into a victory. Whatever money he earned, he would spend on the maintenance and renovation of this temple. For this reason, he was called "Munaiyaduvar". Pleased with his activities, Lord Shiva blessed him with his darshan and gave him a place among the 63 Nayanmars. Special poojas are performed for him in the Tamil month of Panguni (March-April) on "Poosam" star day.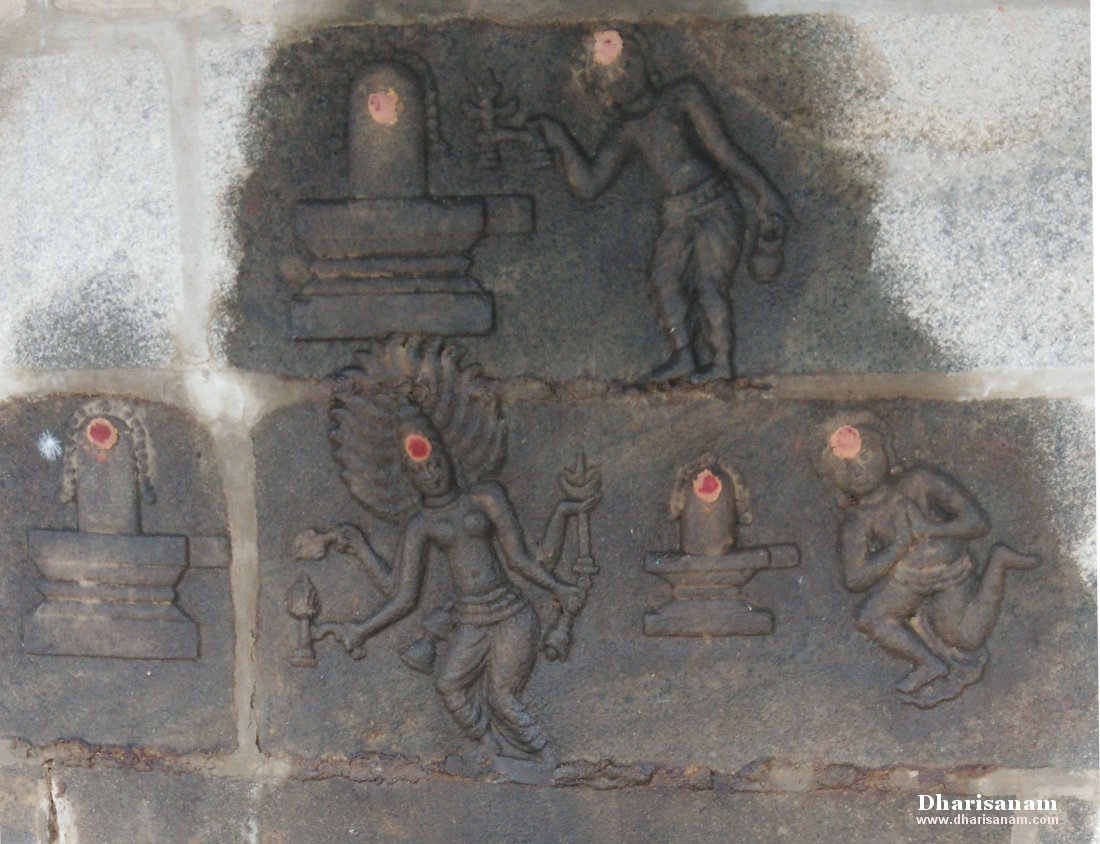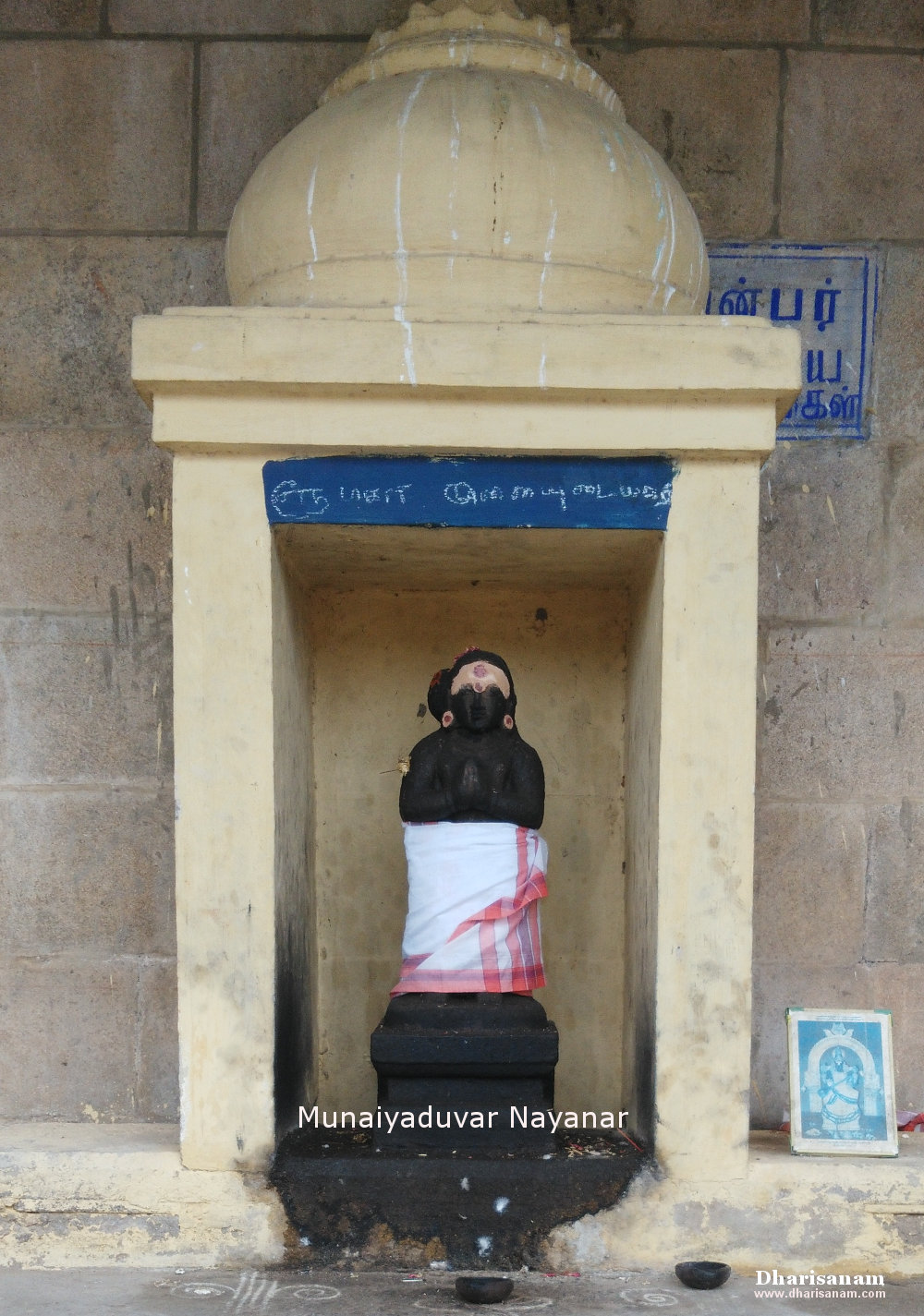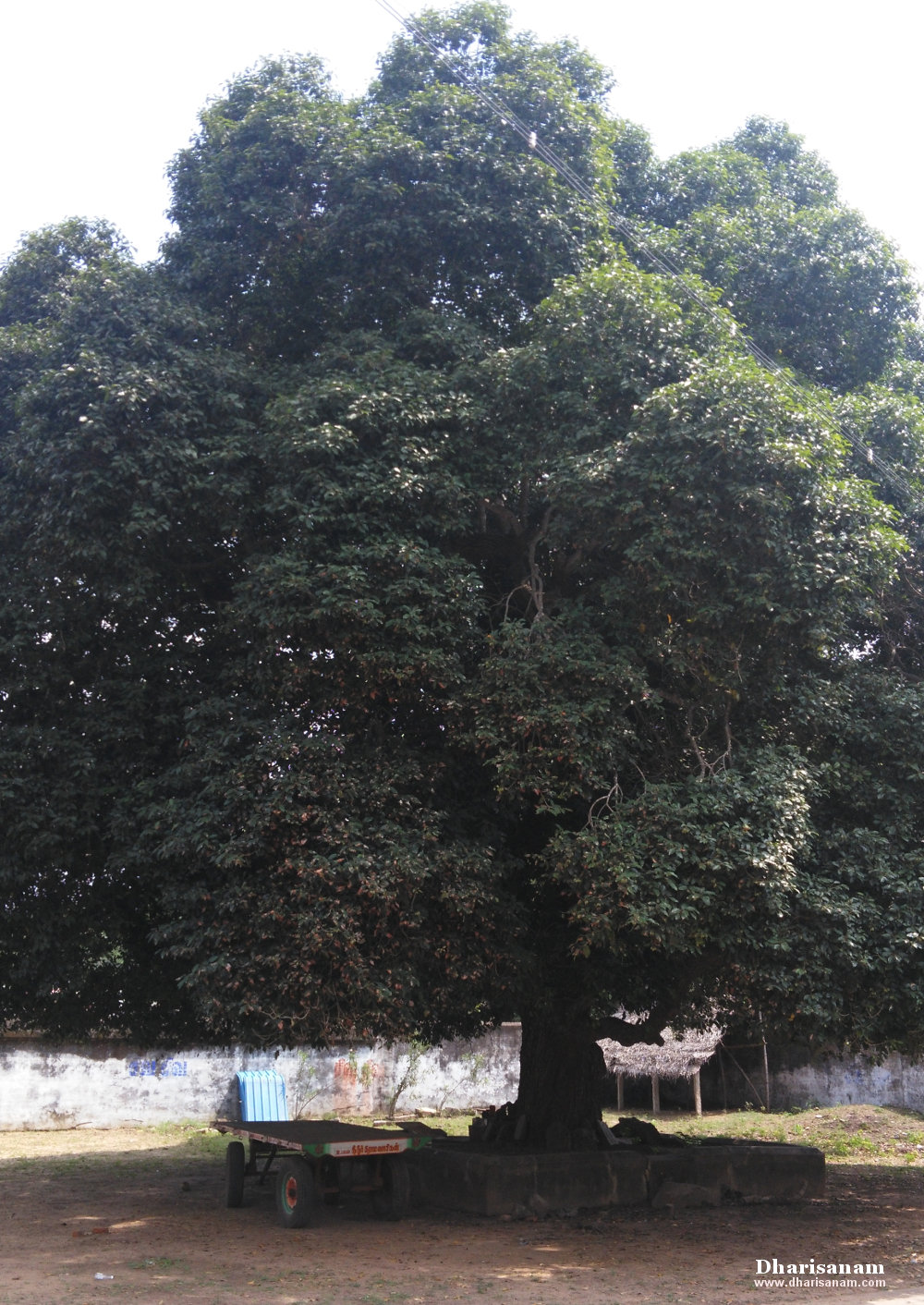 The Sthala Viruksham of this temple (Makizha tree) is very old and huge.
There are 9 Theerthams associated with this temple. They are - Surya Theertham, Ananda Theertham, Senkazhuneer Odai, Chandra Theertham, Indra Theertham, Padrakaali Theertham, Munivarar Theertham, Paruthi Kundam and Varuna Theertham.
Greatness of this temple
Devotees believe that by worshiping the lord here, obstacles from their marriage proposals will be removed.
Devotees can also worship Lord Shiva here in order to seek the blessings of wealth and prosperity.
Important Festivals
Some of the important festivals celebrated in this temple are –
Vinayakar Chaturthi in the Tamil month of Aavani (Aug-Sept),
Navarathri in the Tamil month of Purattasi (Sept-Oct),
Skanda Shashti and Annabishekam in the Tamil month of Aippasi (Oct–Nov),
Thiru Karthikai in the Tamil month of Karthikai (Nov-Dec),
Makara Sankranthi in the Tamil month of Thai (Jan-Feb), and
Shivrathri in the Tamil month of Masi (Feb-Mar).
Pradosham is also observed regularly.
Temple Timings
From 08.00 AM to 12.00 Noon and from 04.00 PM to 08.00 PM.
Temple Address
Sri Arul Somanatha Swamy Temple,
Thiru Needur Post,
Mayiladuthurai Taluk,
Nagapattinam District,
Tamil Nadu – 609203.
Tele: +91 4364 250424.
The temple priest, Sri K.Sivasubramaniya Gurukkal can be contacted at 9786879971.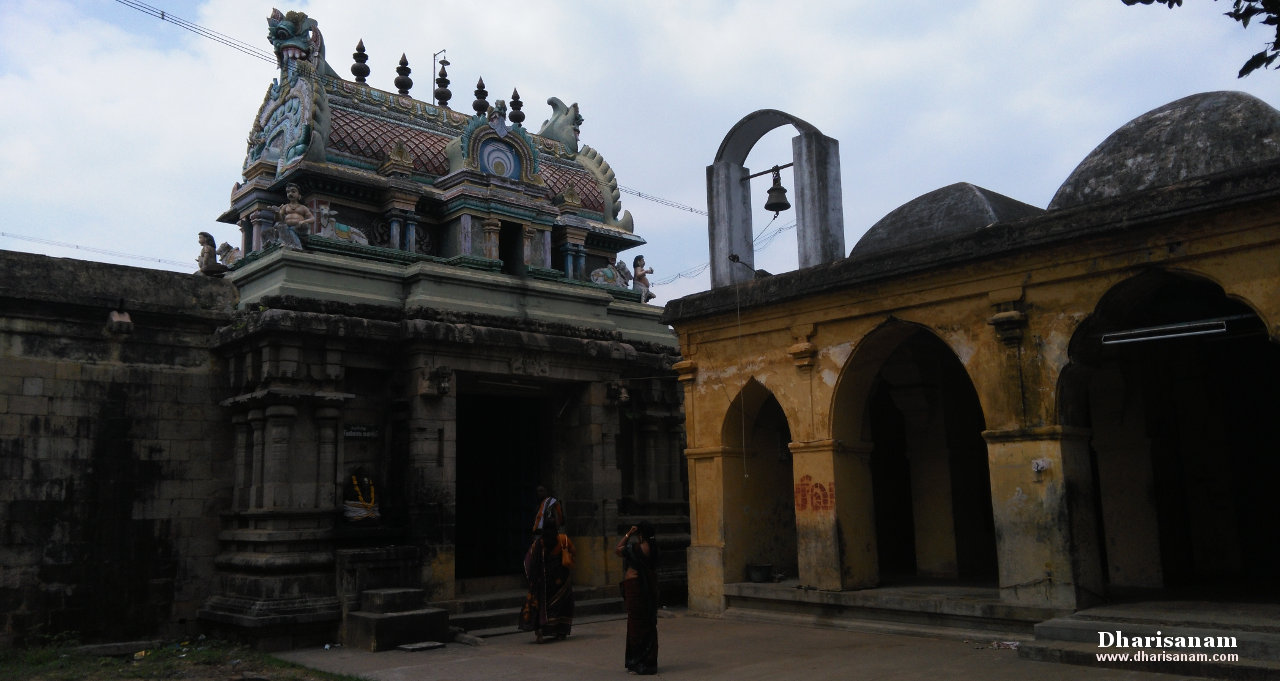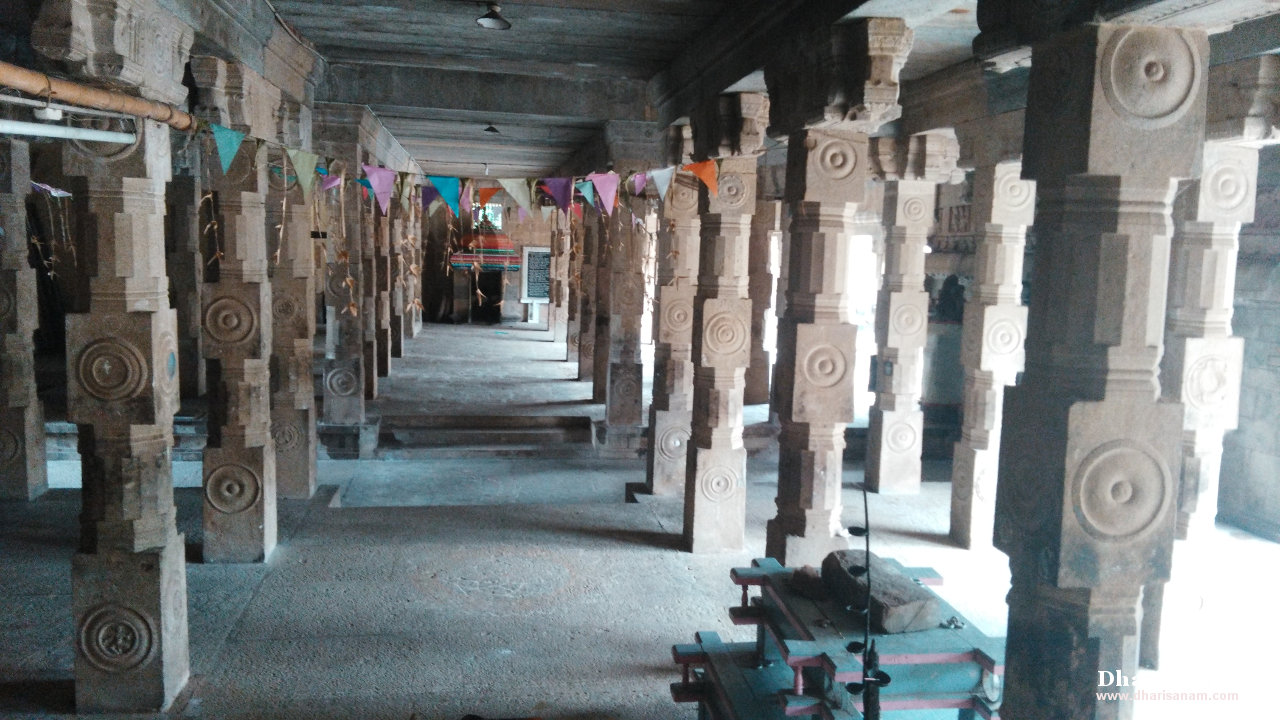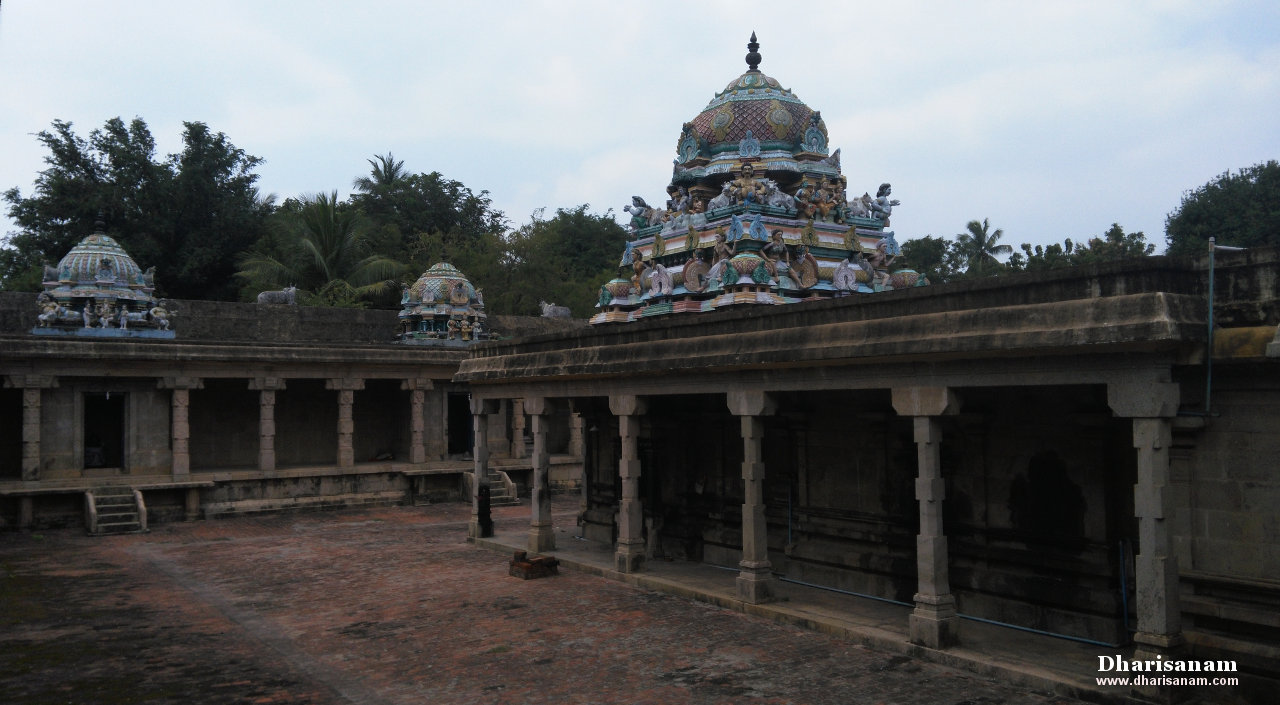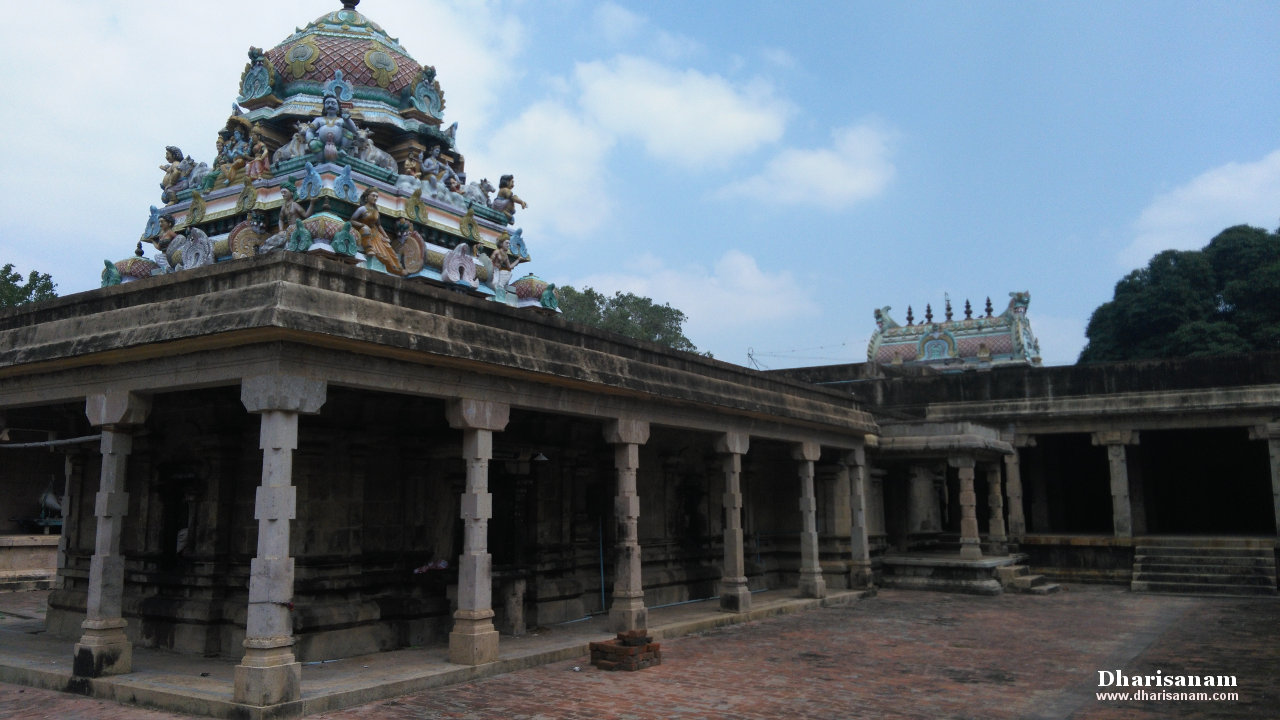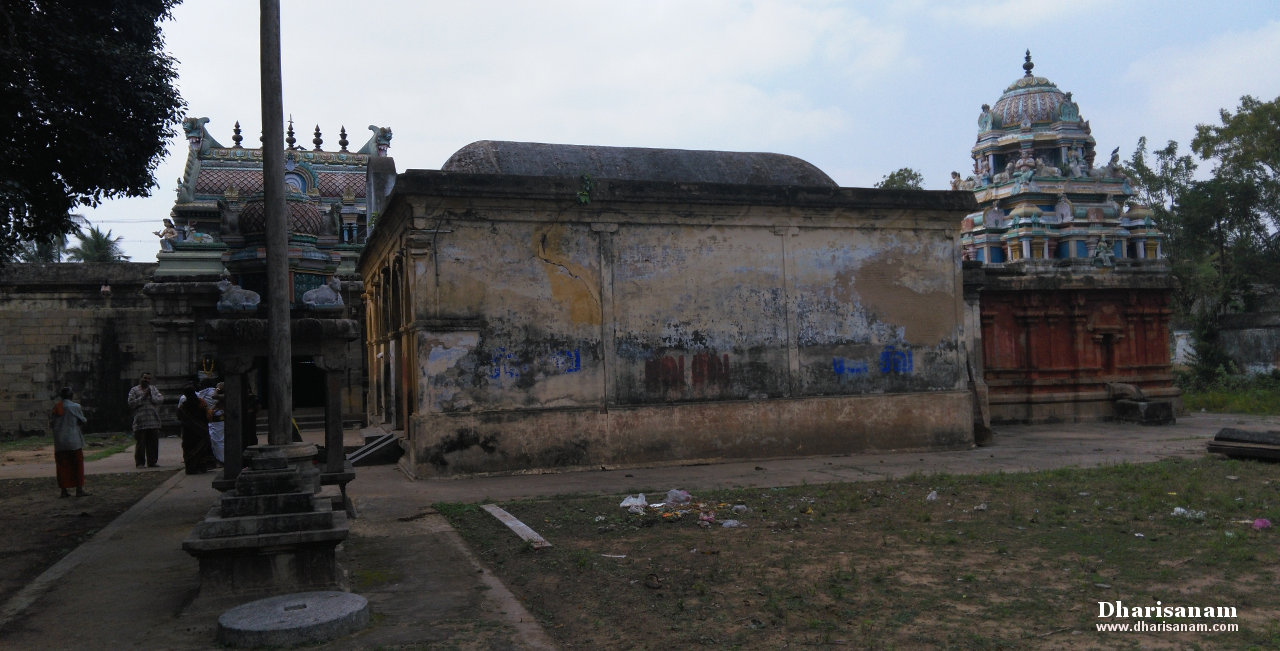 ---
Pathigam (Hymn) with English transliteration
Saint Sundaramurthy Nayanar visited this temple and sang this Pathigam.
Devotees visiting this temple should make it a practice to recite this Pathigam.
ஊர்வ தோர்விடை ஒன்றுடை யானை
ஒண்ணு தல்தனிக் கண்ணுத லானைக்
கார தார்கறை மாமிடற் றானைக்
கருத லார்புரம் மூன்றெரித் தானை
நீரில் வாளை வரால்குதி கொள்ளும்
நிறைபு னற்கழ னிச்செல்வ நீடூர்ப்
பாரு ளார்பர வித்தொழ நின்ற
பரம னைப்பணி யாவிட லாமே.
"Ūrva thōrviṭai oṉtṟuṭai yāṉai
oṇṇu thalthaṉik kaṇṇutha lāṉaik
kāra thārkaṟai māmiṭat ṟāṉaik
karutha lārpuram mūṉtṟerith thāṉai
nīril vāḷai varālkuthi koḷḷum
niṟaipu ṉaṟkazha ṉichchelva nīṭūrp
pāru ḷārpara viththozha niṉtṟa
parama ṉaippaṇi yāviṭa lāmē".
துன்னு வார்சடைத் தூமதி யானைத்
துயக்கு றாவகை தோன்றுவிப் பானைப்
பன்னு நான்மறை பாடவல் லானைப்
பார்த்த னுக்கருள் செய்தபி ரானை
என்னை இன்னருள் எய்துவிப் பானை
ஏதி லார்தமக் கேதிலன் றன்னைப்
புன்னை மாதவி போதலர் நீடூர்ப்
புனித னைப்பணி யாவிட லாமே.
"Thuṉṉu vārsaṭaith thūmathi yāṉaith
thuyakku ṟāvakai thōṉtṟuvip pāṉaip
paṉṉu nāṉmaṟai pāṭaval lāṉaip
pārththa ṉukkaruḷ seythapi rāṉai
eṉṉai iṉṉaruḷ eythuvip pāṉai
ēthi lārthamak kēthilaṉ tṟaṉṉaip
puṉṉai māthavi pōthalar nīṭūrp
puṉitha ṉaippaṇi yāviṭa lāmē".
கொல்லும் மூவிலை வேலுடை யானைக்
கொடிய காலனை யுங்குமைத் தானை
நல்ல வாநெறி காட்டுவிப் பானை
நாளும் நாம்உகக் கின்ற பிரானை
அல்ல லில்லரு ளேபுரி வானை
ஆடு நீர்வயல் சூழ்புனல் நீடூர்க்
கொல்லை வெள்ளெரு தேறவல் லானைக்
கூறி நாம்பணி யாவிட லாமே.
"Kollum mūvilai vēluṭai yāṉaik
koṭiya kālaṉai yuṅkumaith thāṉai
nalla vāneṟi kāṭṭuvip pāṉai
nāḷum nāmukak kiṉtṟa pirāṉai
alla lillaru ḷēpuri vāṉai
āṭu nīrvayal chūzhpuṉal nīṭūrk
kollai veḷḷeru thēṟaval lāṉaik
kūṟi nāmpaṇi yāviṭa lāmē".
தோடு காதிடு தூநெறி யானைத்
தோற்ற முந்துறப் பாயவன் றன்னைப்
பாடு மாமறை பாடவல் லானைப்
பைம்பொ ழிற்குயில் கூவிட மாடே
ஆடு மாமயில் அன்னமோ டாட
அலைபு னற்கழ னித்திரு நீடூர்
வேட னாயபி ரானவன் றன்னை
விரும்பி நாம்பணி யாவிட லாமே.
"Thōṭu kāthiṭu thūneṟi yāṉaith
thōtṟa munthuṟap pāyavaṉ tṟaṉṉaip
pāṭu māmaṟai pāṭaval lāṉaip
paimpo zhiṟkuyil kūviṭa māṭē
āṭu māmayil aṉṉamō ṭāṭa
alaipu ṉaṟkazha ṉiththiru nīṭūr
vēṭa ṉāyapi rāṉavaṉ tṟaṉṉai
virumpi nāmpaṇi yāviṭa lāmē".
குற்ற மொன்றடி யாரிலர் ஆனாற்
கூடு மாறத னைக்கொடுப் பானைக்
கற்ற கல்வியி லும்மினி யானைக்
காணப் பேணும வர்க்கெளி யானை
முற்ற அஞ்சுந் துறந்திருப் பானை
மூவ ரின்முத லாயவன் றன்னைச்
சுற்று நீள்வயல் சூழ்திரு நீடூர்த்
தோன்ற லைப்பணி யாவிட லாமே.
"Kutṟa moṉtṟaṭi yārilar āṉāṟ
kūṭu māṟatha ṉaikkoṭup pāṉaik
katṟa kalviyi lum'miṉi yāṉaik
kāṇap pēṇuma varkkeḷi yāṉai
mutṟa añchun thuṟanthirup pāṉai
mūva riṉmutha lāyavaṉ tṟaṉṉaich
chutṟu nīḷvayal chūzhthiru nīṭūrth
thōṉtṟa laippaṇi yāviṭa lāmē".
காடில் ஆடிய கண்ணுத லானைக்
கால னைக்கடிந் திட்டபி ரானைப்
பாடி ஆடும்பரி சேபுரிந் தானைப்
பற்றி னோடுசுற் றம்மொழிப் பானைத்
தேடி மாலயன் காண்பரி யானைச்
சித்த முந்தெளி வார்க்கெளி யானைக்
கோடி தேவர்கள் கும்பிடு நீடூர்க்
கூத்த னைப்பணி யாவிட லாமே.
"Kāṭil āṭiya kaṇṇutha lāṉaik
kāla ṉaikkaṭin thiṭṭapi rāṉaip
pāṭi āṭumpari sēpurin thāṉaip
patṟi ṉōṭusut ṟam'mozhip pāṉaith
thēṭi mālayaṉ kāṇpari yāṉaich
chiththa muntheḷi vārkkeḷi yāṉaik
kōṭi thēvarkaḷ kumpiṭu nīṭūrk
kūththa ṉaippaṇi yāviṭa lāmē".
விட்டி லங்கெரி யார்கையி னானை
வீடி லாதவி யன்புக ழானைக்
கட்டு வாங்கந் தரித்தபி ரானைக்
காதி லார்கன கக்குழை யானை
விட்டி லங்குபுரி நூலுடை யானை
வீந்த வர்தலை யோடுகை யானைக்
கட்டி யின்கரும் போங்கிய நீடூர்க்
கண்டு நாம்பணி யாவிட லாமே.
"Viṭṭi laṅkeri yārkaiyi ṉāṉai
vīṭi lāthavi yaṉpuka zhāṉaik
kaṭṭu vāṅkan thariththapi rāṉaik
kāthi lārkaṉa kakkuzhai yāṉai
viṭṭi laṅkupuri nūluṭai yāṉai
vīntha varthalai yōṭukai yāṉaik
kaṭṭi yiṉkarum pōṅkiya nīṭūrk
kaṇṭu nāmpaṇi yāviṭa lāmē".
மாய மாய மனங்கெடுப் பானை
மனத்து ளேமதி யாய்இருப் பானைக்
காய மாயமும் ஆக்குவிப் பானைக்
காற்று மாய்க்கன லாய்க்கழிப் பானை
ஓயு மாறுரு நோய்புணர்ப் பானை
ஒல்லை வல்வினை கள்கெடுப் பானை
வேய்கொள் தோள்உமைப் பாகனை நீடூர்
வேந்த னைப்பணி யாவிட லாமே.
"Māya māya maṉaṅkeṭup pāṉai
maṉaththu ḷēmathi yāyirup pāṉaik
kāya māyamum ākkuvip pāṉaik
kātṟu māykkaṉa lāykkazhip pāṉai
ōyu māṟuru nōypuṇarp pāṉai
ollai valviṉai kaḷkeṭup pāṉai
vēykoḷ thōḷumaip pākaṉai nīṭūr
vēntha ṉaippaṇi yāviṭa lāmē".
கண்ட முங்கறுத் திட்டபி ரானைக்
காணப் பேணும வர்க்கெளி யானைத்
தொண்ட ரைப்பெரி தும்முகப் பானைத்
துன்ப முந்துறந் தின்பினி யானைப்
பண்டை வல்வினை கள்கெடுப் பானைப்
பாக மாமதி யாயவன் றன்னைக்
கெண்டை வாளை கிளர்புனல் நீடூர்க்
கேண்மை யாற்பணி யாவிட லாமே.
"Kaṇṭa muṅkaṟuth thiṭṭapi rāṉaik
kāṇap pēṇuma varkkeḷi yāṉaith
thoṇṭa raipperi thum'mukap pāṉaith
thuṉpa munthuṟan thiṉpiṉi yāṉaip
paṇṭai valviṉai kaḷkeṭup pāṉaip
pāka māmathi yāyavaṉ tṟaṉṉaik
keṇṭai vāḷai kiḷarpuṉal nīṭūrk
kēṇmai yāṟpaṇi yāviṭa lāmē".
அல்லல் உள்ளன தீர்த்திடு வானை
அடைந்த வர்க்கமு தாயிடு வானைக்
கொல்லை வல்லர வம்மசைத் தானைக்
கோல மார்கரி யின்னுரி யானை
நல்ல வர்க்கணி யானவன் றன்னை
நானுங் காதல்செய் கின்றபி ரானை
எல்லி மல்லிகை யேகமழ் நீடூர்
ஏத்தி நாம்பணி யாவிட லாமே.
"Allal uḷḷaṉa thīrththiṭu vāṉai
aṭaintha varkkamu thāyiṭu vāṉaik
kollai vallara vam'masaith thāṉaik
kōla mārkari yiṉṉuri yāṉai
nalla varkkaṇi yāṉavaṉ tṟaṉṉai
nāṉuṅ kāthalsey kiṉtṟapi rāṉai
elli mallikai yēkamazh nīṭūr
ēththi nāmpaṇi yāviṭa lāmē".
பேரோர் ஆயிர மும்முடை யானைப்
பேரி னாற்பெரி தும்மினி யானை
நீரூர் வார்சடை நின்மலன் றன்னை
நீடூர் நின்றுகந் திட்டபி ரானை
ஆரூ ரன்னடி காண்பதற் கன்பாய்
ஆத ரித்தழைத் திட்டவிம் மாலை
பாரூ ரும்பர வித்தொழ வல்லார்
பத்த ராய்முத்தி தாம்பெறு வாரே.
"Pērōr āyira mum'muṭai yāṉaip
pēri ṉāṟperi thum'miṉi yāṉai
nīrūr vārsaṭai niṉmalaṉ tṟaṉṉai
nīṭūr niṉtṟukan thiṭṭapi rāṉai
ārū raṉṉaṭi kāṇpathaṟ kaṉpāy
ātha riththazhaith thiṭṭavim mālai
pārū rumpara viththozha vallār
paththa rāymuththi thāmpeṟu vārē".