Visited on: Janauary 12, 2016
Location
Thiruchengode is 20 kms from Erode and 35 kms from Namakkal.
Nearest airports are at Coimbatore and Trichy both are at a distance of about 130 kms. Nearest major railway station is at Erode.
General Information
| | |
| --- | --- |
| Moolavar | Sri Arthanareeswarar / Sri Mathoru Pagar |
| Ambal | Sri Bagam Priyal |
| Theertham | Devatheertham |
| Sthala Vriksham (Sacred Tree) | Iluppai Tree |
| Pathigam (Hymn) rendered by | Saint Thirugnanasambanthar |
This is one of the 276 Devara Paadal Petra Shiva Sthalams and 4th Shiva Sthalam in Kongu Nadu.
Moolavar is Swayambhumurthy (self-manifested) constituted of Nava Bashanam.
This temple is located at the top of a hill, at a height of about 1900 feet and there are about 1200 steps to reach the top. You can either choose to climb the stairs or take the motorable road. Vehicles are going right up to the entrance of the temple.
The moolavar sannathi is facing the west.
Lord Mahavishnu and Adiseshan are believed to have worshiped this Moolavar.
History of the Temple
This is an ancient temple and according to the inscriptions on the walls it must have been built about 2000 years ago.
The hill, that this temple is on top of, is mainly composed of sand stone and is reddish (senniram) in colour. This is why the place is called Sencode. Another reason for the name Sencode could be that the hill is a straight formation (Senguthana malai). Other names of this hill are Nagagiri (nagam meaning snake and giri meaning malai) and Vayumalai (wind).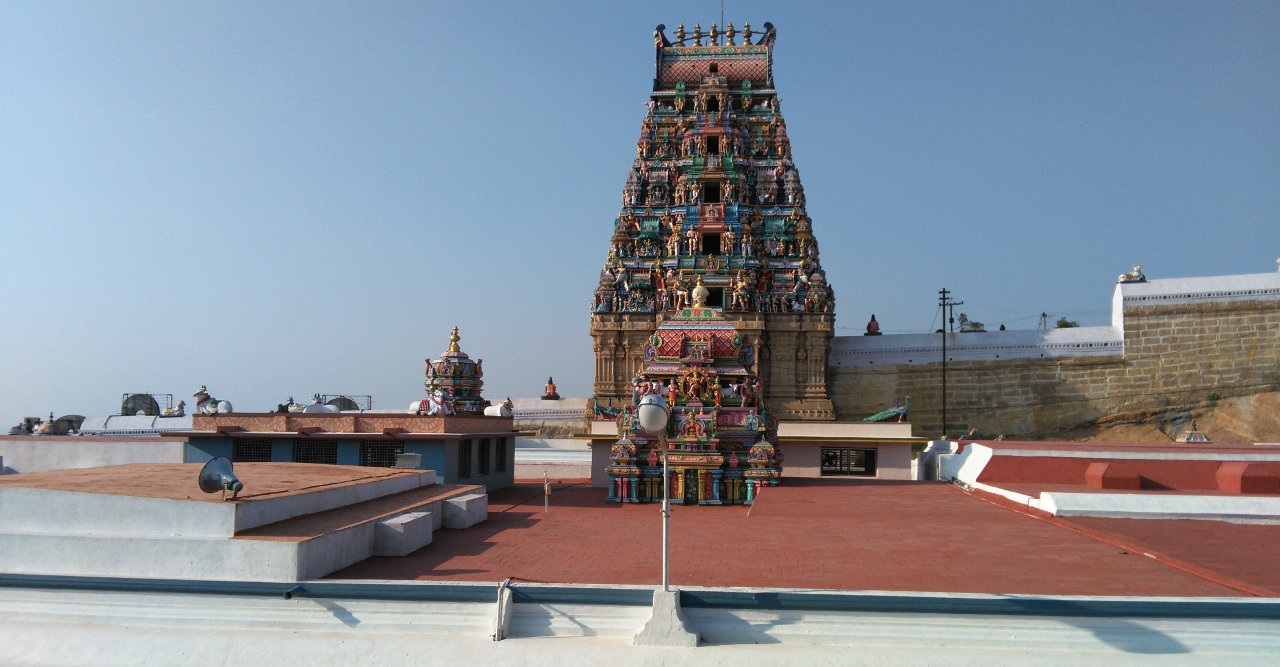 Legend
As per mythology, Adisheshan (the serpent on whom Sri Mahavishnu rests) and Vayu (lord of the winds) fought among themselves frequently to test their superiority. During one such struggle, against Vayu's severe wind, Adhiseshan failed to hold on to the Mount Meru. Three portions of Meru Malai came down to earth with Adisheshan's blood strain. One such piece is this hill. Since it was believed to be red in colour due to Adisheshan's blood strain, it is also called as sencode.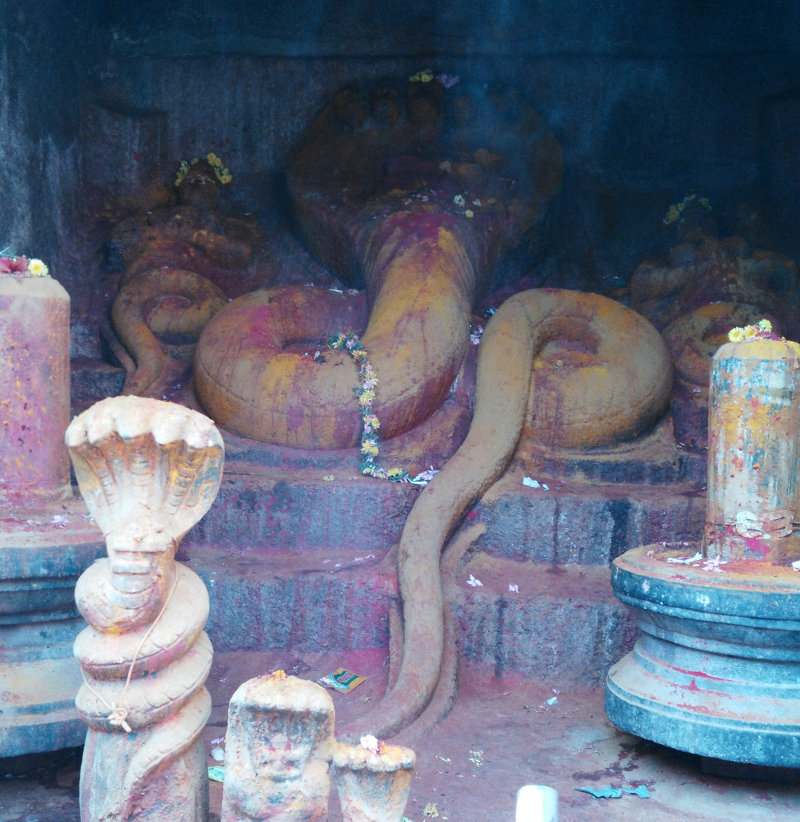 An interesting fact is that this hill itself is considered as the Lingam. In front of this hill, on the west side is the statue of a large Nandhi – seven feet in length and four feet in height.
The distinctive feature of this temple is that the idol of the main deity is six feet in height with the right half depicted as male and the left half as female. The male portion of the idol has jadamudi (knot of hair), thandam (baton), Silambu (anklet) and Rudraksham mala whereas the female portion has a Kazhal at the leg and Thali around the neck. Due to the androgynous nature of the idol, the deity is known as Arthanareeswarar.
The lord is also known as Madhorubagan and Ammayappan. It is claimed that this rare posture of the Lord as prime deity can only be found in this temple in the whole of Asia.
This temple also has an emerald lingam "Maragatha Lingam" and a small statue of Birunki Maharishi in front of the Moolavar.
As per mythology, it is believed that whenever Sage Birunki used to visit Kailash, he would take the form of a small insect and perform his worship by flying around Lord Shiva only. He would ignore the Ambal even though they were both sitting together. Angered by this, Ambal cursed Sage Birunki. Lord Siva intervened and pacified Ambal by explaining to her that Ambal is inseparable from Shiva. This legend is believed to be another reason behind this unique union of Swamy and Ambal as it represents the synthesis of masculine and feminine energies of the universe.
Another reason for the origin of the androgynous nature of the lord is attributed to the belief that Ambal worshiped this Maragatha Lingam. Daily three times Pooja is performed to this Lingam and these poojas are believed to be performed by the Ambal herself.
Another legend associated with Thiruchengode is that when Saint Thirugnanasambanthar visited this place he found that the people were adversely affected by "vishakaichal" (Viral Fever) due to "vishakkatru" (hazardous pollutants in the air). He sang the "Thiruneelakanda Pathigam" to relieve the people from their suffering.
Deities in the temple
There is no separate Ambal Sannadhi as the Moolavar is of Arthanareeswarar.
Senkottu Velavar shrine is on the back side of the main sanctum sanctorum.
Mahavishnu, with his consorts Sreedevi and Poodevi, have a separate shrine here. Mahavishnu is worshiped here as Adikesava Perumal and a Battachariyar performs the daily poojas as per Vaishnava traditions.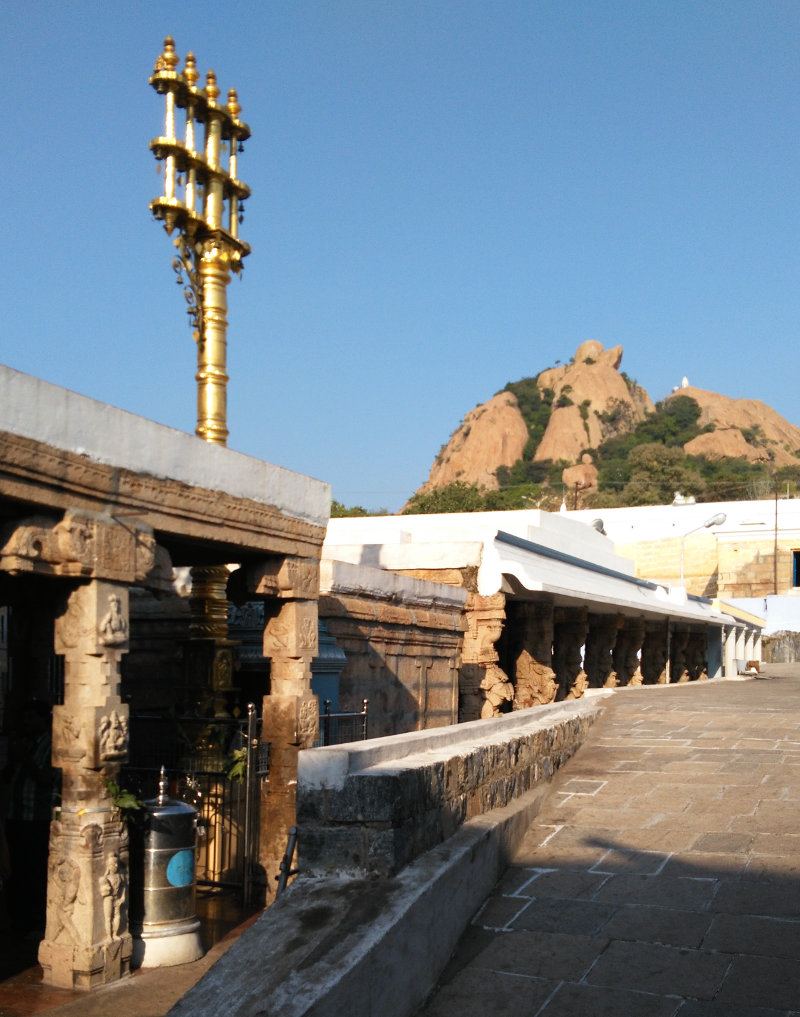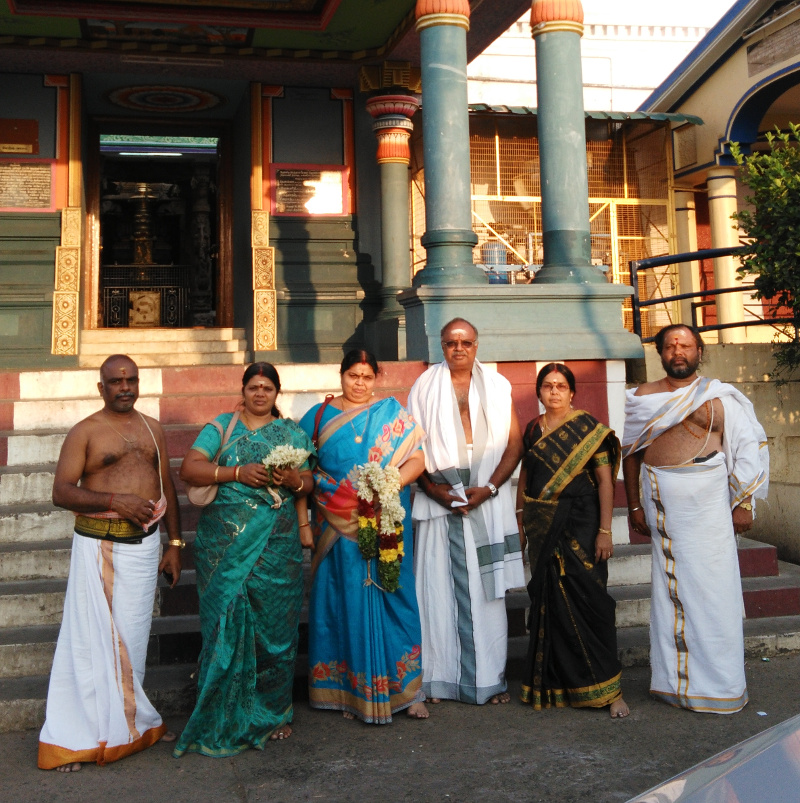 Salient Features
There is a small "Neer Ootru" (fresh water spring) under the Swami's foot which has water in it always. This is called Devatheertham and is distributed to the devotees as prasadam.
Here Lord Murugan is called "Senkottu Velavar" and is also a self-manifested idol constituted of "Vellai pashanam" (white poison).
According to the legend, once, in a contest between his brother Ganesha and himself, Lord Muruga lost the prize of the divine fruit (Gnana pazham). Angry with his parents, Lord Shiva and Goddess Parvathi, Lord Muruga left Mount Kailash and came to south India and reached Thiruvavinankudi and thereafter reached Nagachala Hills (Tiruchengode) and took residence here and blesses devotees as Sengottu Velavar.
A sixty feet long relief of Adiseshan inscribed in the hill on the way to the temple is very famous here. This relief of Adiseshan is revered by people hoping to mitigate the ill effects of "Sarbha Dosham", Raghu Dosham, Kala Sarbha Dosham and Kalathira Dosham.
The sculptures found in the hallway in front of the Senkottu Velavar shrine have intricate design and exquisite workmanship.
The pillars in the hallway are beautifully chiselled with a number of rock reliefs. Overall this temple exemplifies the artistic expertise of ancient Tamil Nadu.
Greatness of this temple
Arthanareeswarar is considered to be the lord of the star "Sadayam" so special poojas are conducted on the days of Sadaya Nakshatram.
It is believed that if one walks around the hill on a full moon day, he will get the benefit of visiting Mount Kailash and Vaikunth.
It is also believed that serpent related Doshams are relieved by worshiping the Adiseshan here.
Important Festivals
A special 21 day Pooja (Kedara Gowri Viradam) is performed in September - October (Puratasi month) by women for the longevity of their husbands and marital bliss.
This temple celebrates the Vaikasi Visaga Festival every year in a grand manner.
The special feature of this festival is that there are four car chariots - the first one for Lord Vinayagar, the second for Lord Sengottu Velavar, the third for Lord Arthanareeswarar and the fourth for Lord Aadhikesava Perumal.
Great poets and saints like Arunagirinathar, Ilango Adigal, Kaviraja Pandithar have immortalized this temple in their divine poems.
Saint Arunagirinathar has also composed Thirupugazh on Lord Senkottu Velavar here.
Temple Timings
06.00 AM to 06.00 PM
Temple Address
Sri Arthanareeswarar Temple
Arthanareeswarar Hills
Thiruchengode
Namakkal District
Tamil Nadu
Pincode:637 211.
Phone No:04288 255925, 93642 29181.
---
Pathigam (Hymn) with English transliteration
Saint Thirugnanasambanthar visited this temple and sang this Pathigam.
Devotees visiting this temple should make it a practice to recite this Pathigam.
Click here to read the Thiruneelakanda Pathigam.
வெந்த வெண்ணீறு அணிந்து விரிநூல்
திகழ்மார்பில் நல்ல பந்து அணவும் விரலாள்
ஒருபாகம் அமர்ந்து அருளிக் கொந்து அணவும்
பொழில்சூழ் கொடிமாடச் செங்குன்றூர் நின்ற
அந்தணனைத் தொழுவார் அவலம் அறுப்பாரே.
"Ventha veṇṇīṟu aṇinthu virinūl
thikazhmārpil nalla panthu aṇavum viralāḷ
orupākam amarnthu aruḷik konthu aṇavum
pozhilchūzh koṭimāṭach cheṅkuṉtṟūr niṉtṟa
anthaṇaṉaith thozhuvār avalam aṟuppārē".
அலை மலி தண்புனலோடு அரவமு சடைக்கு
அணிந்து ஆகம் மலைமகள் கூறு உடையான்
மலையார் இளவாழைக் குலை மலி தண்பொழில்
சூழ் கொடிமாடச் செங்குன்றூர் நின்ற
தலை மகனைத் தொழுவார் தடுமாற்று அறுப்பாரே.
"Alai mali thaṇpuṉalōdu aravamu chaṭaikku
aṇinthu ākam malaimakaḷ kūṟu udaiyāṉ
malaiyār iḷavāzhaik kulai mali thaṇpozhil
chūzh koṭimāṭach cheṅkuṉtṟūr niṉṟta
thalai makaṉaith thozhuvār thadumātṟu aṟuppārē".
பால் அன நீறுபுனை திருமார்பில்
பல்வளைக்கை நல்ல ஏல மலர்க்குழலாள்
ஒருபாகம் அமர்ந்து அருளிக் கோல மலர்ப்பொழில்
சூழ் கொடிமாடச் செங்குன்றூர் மல்கும்
நீல நல்மாமிடற்றான் கழல் ஏத்தல் நீதியே.
"Pāl aṉa nīṟupuṉai thirumārpil
palvaḷaikkai nalla ēla malarkkuzhalāḷ
orupākam amarnthu aruḷik kōla malarppozhil
chūzh koṭimāṭach cheṅkuṉtṟūr malkum
nīla nalmāmiṭatṟāṉ kazhal ētthal nīthiyē".
வார் உறு கொங்கை நல்ல மடவாள் திகழ்
மார்பில் நண்ணும் கார் உறு கொன்றையொடும்
கதநாகம் பூண்டு அருளிச் சீர் உறும் அந்தணர்
வாழ் கொடிமாடச் செங்குன்றூர் நின்ற
நீரி உறு செஞ்சடையான் கழல் ஏத்தல் நீதியே.
"Vār uṟu koṅgkai nalla madavāḷ thikazh
mārpil naṇṇum kār uṟu koṉtṟaiyodum
kathanākam pooṇdu aruḷich chīr uṟum anthaṇar
vāzh koṭimāṭach cheṅkuṉtṟūr niṉtṟa
nīri uṟu cheñchaṭaiyāṉ kazhal ētthal nīthiyē".
பொன் திகழ் ஆமையொடு புரிநூல் திகழ்
மார்பில் நல்ல பன்றியின் கொம்பு அணிந்து
பணைத்தோளியோர் பாகமாகக் குன்றன
மாளிகை சூழ் கொடிமாடச் செங்குன்றூர் வானில் மின்
திகழ் செஞ்சடையான் கழல் ஏத்தல் மெய்ப்பொருளே.
"Poṉ thikazh āmaiyodu purinūl thikazh
mārpil nalla paṉtṟiyiṉ kompu aṇinthu
paṇaitthōḷiyōr pākamākak kuṉtṟaṉa
māḷikai chūzh koṭimāṭach cheṅkuṉtṟūr vāṉil miṉ
thikazh cheñchaṭaiyāṉ kazhal ētthal meypporuḷē".
ஓங்கிய மூவிலை நல் சூலம் ஒரு கையன்
சென்னி தாங்கிய கங்கையொடு மதியம்
சடைக்கு அணிந்து கோங்கு அணவும் பொழில் சூழ்
கொடிமாடச் செங்குன்றூர் வாய்ந்த பாங்கன
தாள் தொழுவார் வினையாய பற்று அறுமே.
"Ōṅkiya mūvilai nal chūlam oru kaiyaṉ
seṉṉi thāṅkiya kaṅkaiyodu mathiyam
chaṭaikku aṇinthu kōṅku aṇavum pozhil chūzh
koṭimāṭach cheṅkuṉtṟūr vāyntha pāṅkaṉa
thāḷ tozhuvār viṉaiyāya patṟṟu aṟumē".
நீடு அல்ர் கொன்றையொடு நிமிர்புன்சடை
தாழ வெள்ளை வாடல் இடை தலையில்
பலிகொள்ளும் வாழ்க்கையனாய்க் கோடல் வளம்
புறவில் கொடிமாடச் செங்குன்றூர் நின்ற
சேடன தாள் தொழுவார் வினையாய தேயுமே.
"Nīdu alar koṉtṟaiyodu nimirpuṉchaṭai
thāzha veḷḷai vādal idai thalaiyil
palikoḷḷum vāzhkkaiyaṉāyk kōdal vaḷam
puṟavil koṭimāṭach cheṅkuṉtṟūr niṉtṟa
sēṭaṉa thāḷ tozhuvār viṉaiyāya thēyumē".
மத்தநல் மாமலரும் மதியும்வளர் கொன்றையுடன்
துன்று தொத்து அலர் செஞ்சடைமேல் துதைய
உடன்சூடிக் கொத்து அலர் தண்பொழில் சூழ்
கொடிமாடச் செங்குன்றூர் மேய தத்துவனைத்
தொழுவார் தடுமாற்று அறுப்பாரே.
"Mathanal māmalarum mathiyumvaḷar koṉtṟaiyuṭaṉ
thuṉtṟu thothu alar cheñchaṭaimēl thuthaiya
udaṉchūṭik kothu alar thaṇpozhil chūzh
koṭimāṭach cheṅkuṉtṟūr mēya tathuvaṉaith
tozhuvār tadumātṟu aṟuppārē".
செம்பொனின் மேனியனாம் பிரமன் திருமாலும்
தேட நின்ற அம் பவளத்திரள் போல் ஒளியாய
ஆதிபிரான் கொம்பு அணவும் பொழில் சூழ்
கொடிமாடச் செங்குன்றூர் மேய நம்பன தாள்
தொழுவார் வினையாய நாசமே.
"Chempoṉiṉ mēṉiyaṉām piramaṉ thirumālum
thēda niṉtṟa am pavaḷathiraḷ pōl oḷiyāya
āthipirāṉ kompu aṇavum pozhil chūzh
koṭimāṭach cheṅkuṉtṟūr mēya nampaṉa thāḷ
thozhuvār viṉaiyāya nāsamē".
போதியர் பிண்டியர் என்று இவர்கள் புறங்கூறும்
பொய்ந்நூல் ஓதிய கட்டுரை கேட்டு உழல்வீர்
வரிக்குயில்கள் கோதிய தண்பொழில் சூழ்
கொடிமாடச் செங்குன்றூர் நின்ற வேதியனைத்
தொழநும் வினையான வீடுமே.
"Pōthiyar piṇdiyar eṉtṟu ivarkaḷ puṟaṅgkūṟum
poynnūl ōthiya kaṭṭurai kēṭṭu uzhalvīr
varikkuyilkaḷ kōthiya thaṇpozhil chūzh
koṭimāṭach cheṅkuṉtṟūr niṉṟa vēthiyaṉaith
thozhanum viṉaiyāṉa vīdumē".
அலைமலி தண்புனல் சூழ்ந்து அழகு ஆர்
புகலிந்நகர் பேணும் தலைமகன் ஆகி நின்ற தமிழ்
ஞானசம்பந்தன் கொலைமலி மூவிலையான்
கொடிமாடச் செங்குன்றூர் ஏத்தும் நலம்மலி
பாடல் வல்லார் வினையான நாசமே.
"Alaimali thaṇpuṉal chūzhnthu azhaku ār
pukalinnakar pēṇum thalaimakaṉ āki niṉtṟa thamizh
gñāṉasampanthaṉ kolaimali mūvilaiyāṉ
koṭimāṭach cheṅkuṉtṟūr ēthum nalam'mali
pādal vallār viṉaiyāṉa nāsamē".