Visited on: 17th September, 2016
Location
15 kms away from Puducherry on the Puducherry to Tindivanam route. After crossing Morattandi, there is a small road on the right going to Ozhindiyapattu village. Travel along that road for about 1.5 kms to reach the temple. Two more Paadal Petra Sthalam - Kiliyanur and Irumbai Maakaalam are located very near to this place.
General Information
| | |
| --- | --- |
| Moolavar | Sri Arasaleeswarar / Sri Arasili Naathar |
| Ambal | Sri Periya Nayaki |
| Theertham (Holy water) | Arasili Theertham / Vamadeva Theertham |
| Sthala Vriksham (Sacred Tree) | Peepal Tree (Arasa) |
| Pathigam (Hymn) rendered by | Saint Thirugnanasambanthar |
This is one of the 276 Devara Padal Petra Shiva Sthalams and 31st Shiva Sthalam in Thondai Nadu.
Lord Shiva's lingam in this temple is a Swayambumurthi (self-manifested) and is very small in size.
History of the Temple
This temple has a small main tower (Rajagopuram) and a single corridor. It is east facing and is believed to have been built by the kings of Chalukyas.
Legend
The legend is that Sage Vamadeva visited many Shiva Sthalams seeking relief from a curse he had incurred. When he came to this place, he was taking rest for a while under a peepal (Arasu) tree. Mesmerized by the beautiful surrounding and atmosphere, he started imagining how pleasant it would be to have a temple for Lord Shiva built under this tree. Knowing the Sage's wish, Lord Shiva blessed him with an appearance, relieved Vamadeva's curse and stayed there as a swayambumurthy. Since the Lord appeared under an Arasu tree, he is named Sri Arasaleeswarar and this place itself is named Arasili.
However, over a period of time, this Shivalingam disappeared from this place and is believed to have gotten submerged under the earth.
Another legend is that the Chalukya King Sathyaviradhan, a staunch devotee of Lord Shiva developed a garden (nandavanam) with flowering plants specifically for making offerings of flowers during worship. He did not have any children and was praying for the boon of child birth. However, he noticed that gradually the quantity of flowers was decreasing. He was intrigued and decided to keep a check on his garden. He found that a couple of deers were grazing the garden and trampling the flowers. Angered, the king tried to kill them with his arrow but the deers escaped into a bush. To the surprise of the king, a hunter came out from the bush and started fighting with him. Suddenly the hunter also went into the bush and disappeared.
The king realised that this was Lord Shiva's doing and that it was the lord himself who had appeared as both the deer and the hunter. The king started clearing the bush and found a lingam which was bleeding after being struck by his arrow. It is believed that, at that point, Lord Shiva appeared before him and blessed him that he would have children. This lingam is said to be the one that was earlier installed by the sage Vamadeva. The arrow scar on this Lingam is still visible and is covered with a piece of cloth during poojas.
It is also said that the King Sathyaviradhan's son Indirasenan and his granddaughter Sundari lived and worshiped this lingam here.
It is believed that the village's name "Ozundiyapattu" is derived from "Odi olindu akapattu" which represents that the lord came here as a deer, hid, escaped and was later found.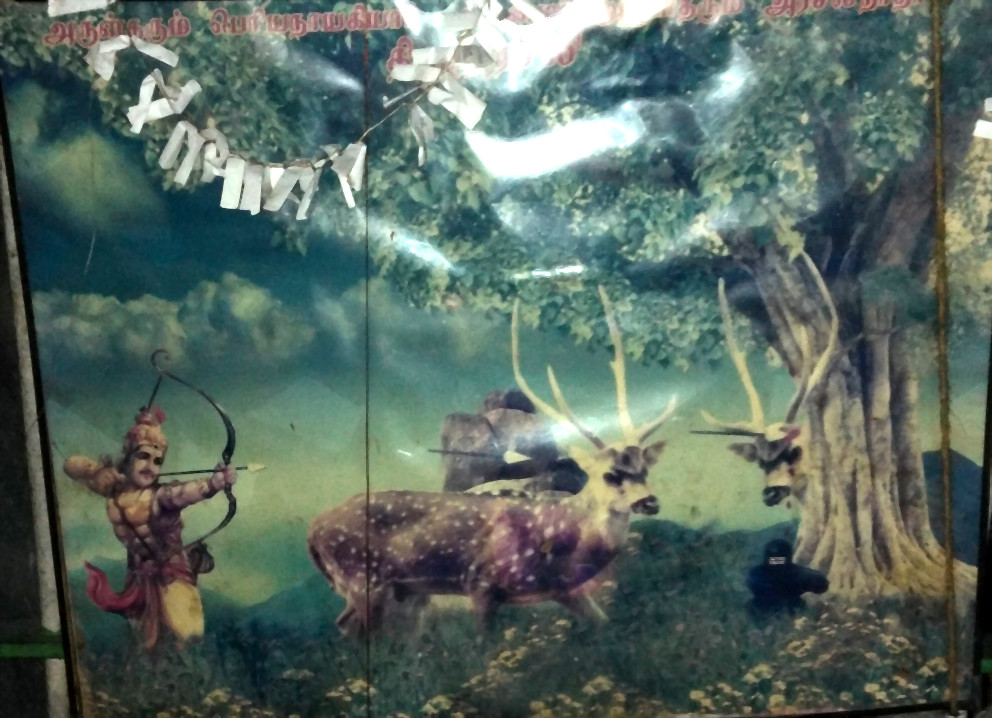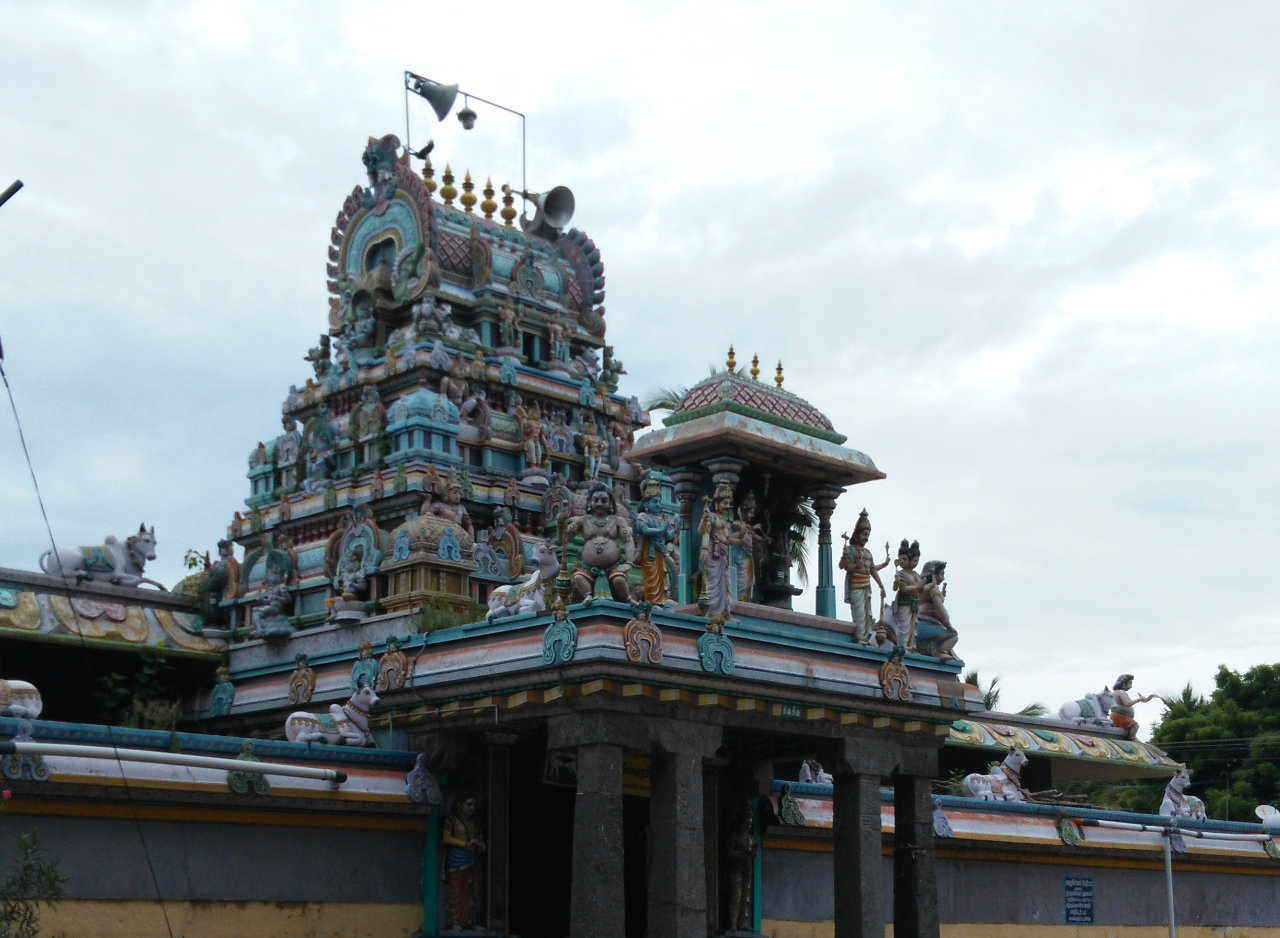 Deities in the Temple
Shrines for Lord Varasiddhi Vinayakar, Lord Murugan with his consorts Valli and Devayanai, Lord Brahma, Sun God, Vishnu Durgai, Vaishnavi, Kala Bhairavar, Chandikeswarar and Navagraham can be seen in the corridor.
Salient Features
Lord Dakshinamurthy's portrayal is somewhat different in this temple. The demon "Muyalagan" under Lord Dakshinamurthy's feet is mostly depicted as facing the right side. However, in this temple he is facing left. Another unique feature of this shrine is that above Dakshinamurthy's idol, there is a Natarajar sculpture in the "Ananda Thandavam" pose.
It is said that Saint Thirugnasambanthar stayed here for a few days and worshipped the lord. A mutt called the "Thirugnanasambanthar Mutt" can be seen on the southern side of the temple.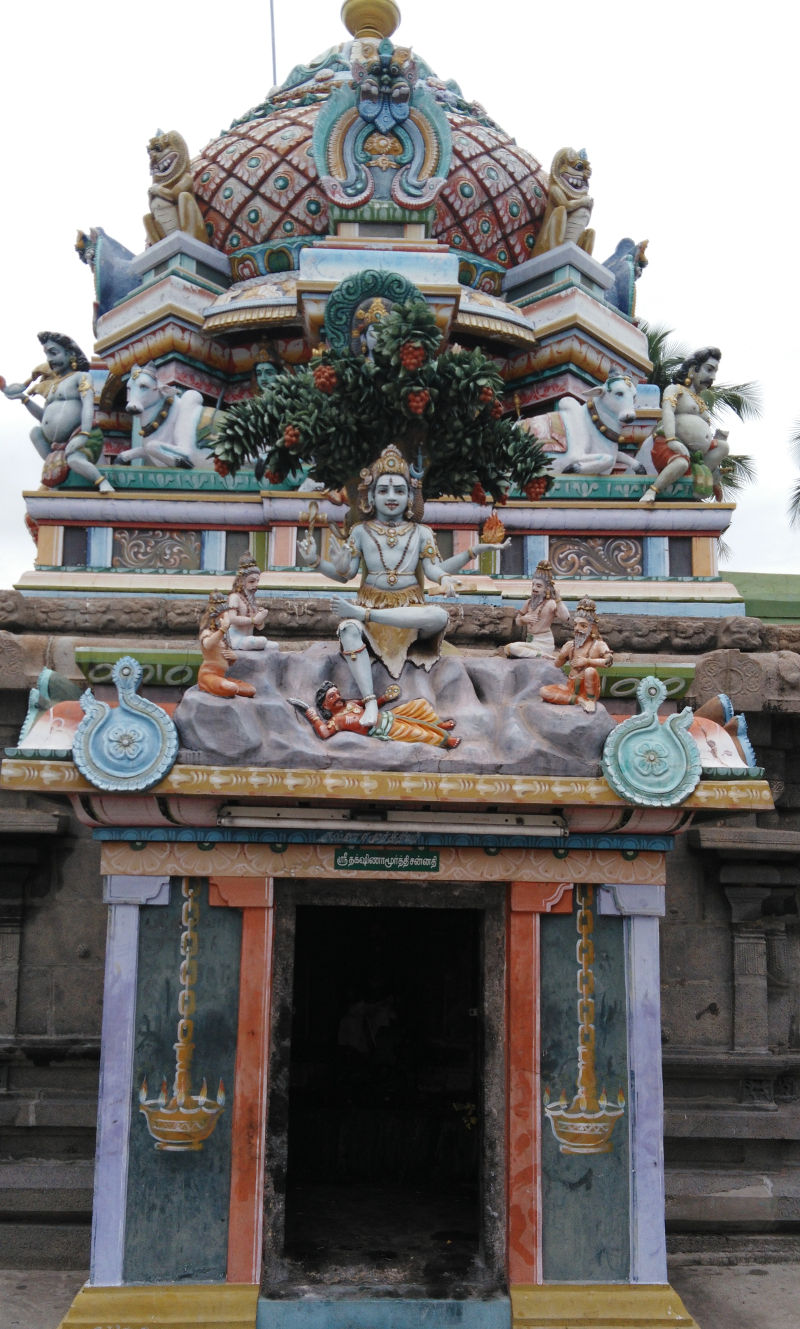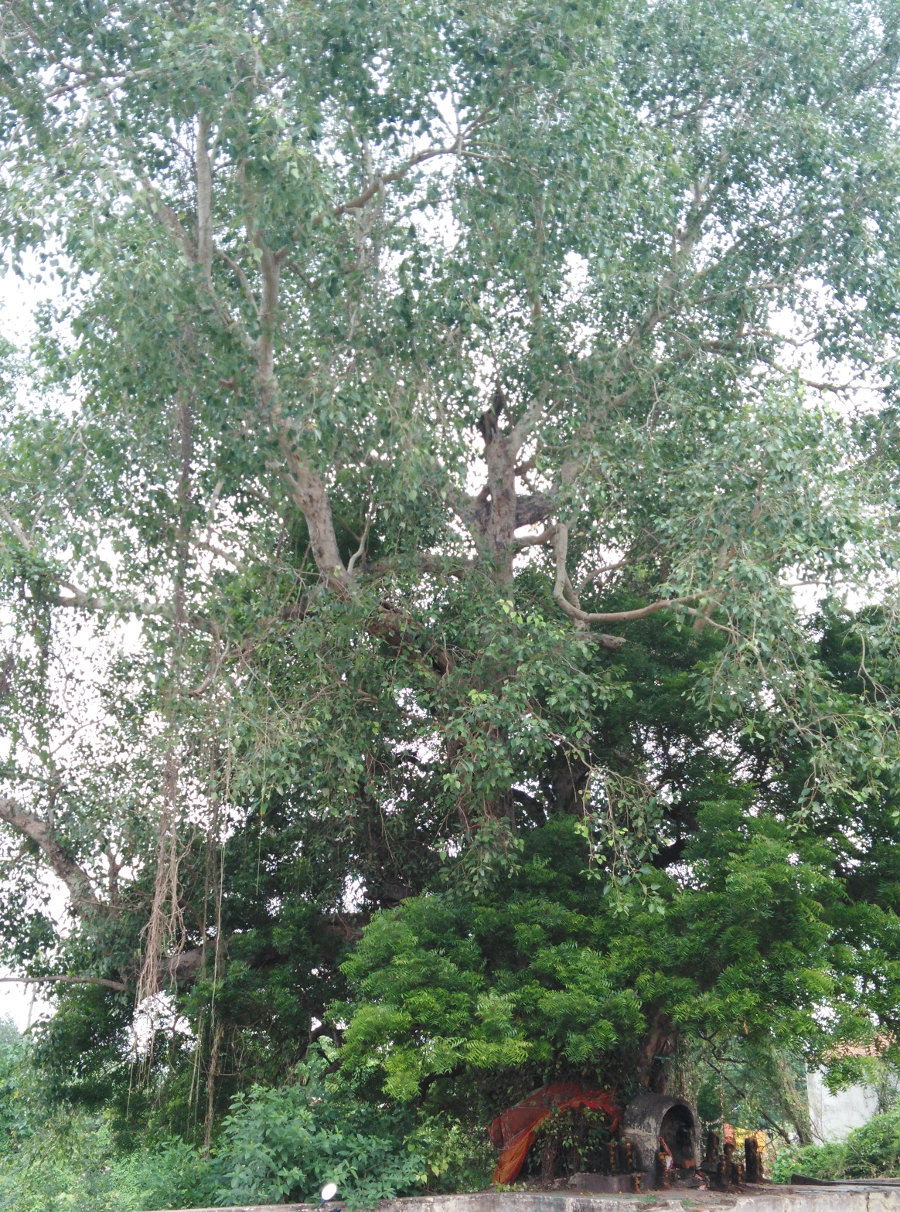 Greatness of this temple
Since this temple's Sthala Viruksham (peepal tree) is related to star poosam, this temple is considered as a Parihara Sthalam for Poosa nakshathirm.
It is believed that worshiping Lord Shiva here will grant the boon of childbirth to childless couples.
Important Festivals
Since the kings from the Chalukya dynasty worshiped Lord Shiva on Prathosham days here, poojas on Prathosham days is famous.
Ten day Brahmotsavam in the Tamil month of Vaikasi (May-June), Maha Shivrathri in Maasi (February-March) and Tirukarthikai in Karthikai (November-December) are the major festivals celebrated in this temple.
Temple Timings
06.30-AM to 12.00 Noon and 04.30 PM to 07.30 PM.
Temple Address
Sri Arasaleeswarar Temple,
Ozhindiapattu, Vanur Taluk,
Villupuram District,
Tamil Nadu - 605 109.
Tele: +91- 4147 - 235 472.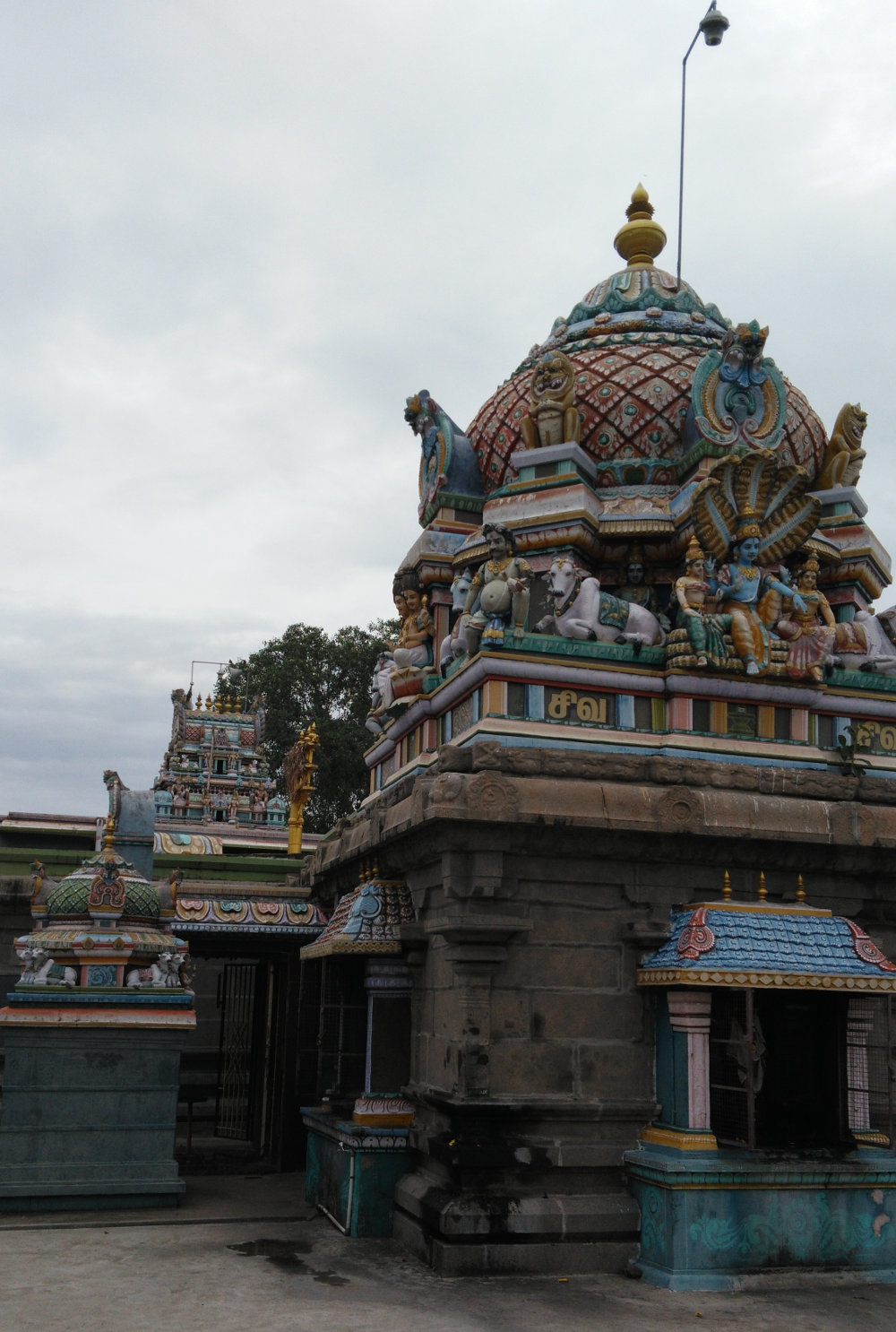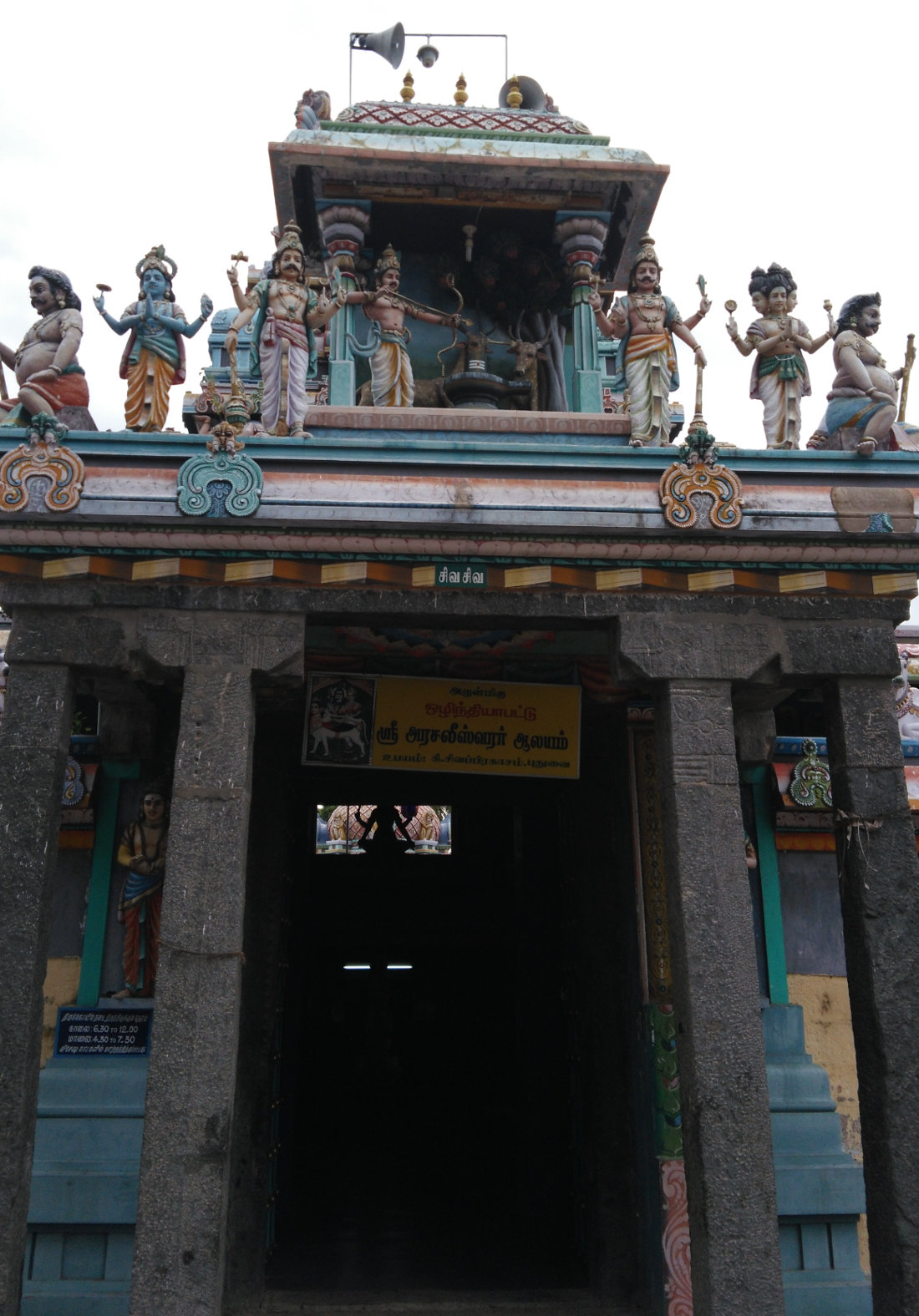 ---
Pathigam (Hymn) with English transliteration
Saint Thirugnanasambanthar visited this temple and sang this Pathigam.
Devotees visiting this temple should make it a practice to recite this Pathigam.
பாடல் வண்டறை கொன்றை பால்மதி பாய்புனற் கங்கை

கோடல் கூவிள மாலை மத்தமுஞ் செஞ்சடைக் குலாவி

வாடல் வெண்டலை மாலை மருவிட வல்லியம் தோள்மேல்

ஆடல் மாசுணம் அசைத்த அடிகளுக் கிடம்அர சிலியே.
"Pādal vaṇṭaṟai koṉtṟai pālmathi pāypuṉaṟ gaṅgai
kōdal kūviḷa mālai mathamuñh cheñchaṭaik kulāvi
vādal veṇdalai mālai maruvida valliyam thōḷmēl
ādal māsuṇam asaitha adikaḷuk kidamara siliyē".
ஏறு பேணிய தேறி யிளமதக் களிற்றினை யெற்றி

வேறு செய்ததன் உரிவை வெண்புலால் கலக்கமெய் போர்த்த

ஊறு தேனவன் உம்பர்க் கொருவன்நல் லொளிகொளொண் சுடராம்

ஆறு சேர்தரு சென்னி யடிகளுக் கிடம்அர சிலியே.
"Ēṟu pēṇiya thēṟi yiḷamathak kaḷitṟiṉai ytṟṟi
vēṟu seythathaṉ urivai veṇpulāl kalakkamey pōrtha
ūṟu thēṉavaṉ umpark koruvaṉnal loḷikoḷoṇ suṭarām
āṟu sērtharu seṉṉi yadikaḷuk kidamara siliyē".
கங்கை நீர்சடை மேலே கதம்மிகக் கதிரிள வனமென்

கொங்கை யாளொரு பாக மருவிய கொல்லைவெள் ளேற்றன்

சங்கை யாய்த்திரி யாமே தன்னடி யார்க்கருள் செய்து

அங்கை யாலன லேந்தும் அடிகளுக் கிடம்அர சிலியே.
"Gaṅgai nīrsaṭai mēlē katham'mikak kathiriḷa vaṉameṉ
koṅgkai yāḷoru pāka maruviya kollaiveḷ ḷētṟaṉ
saṅkai yāythiri yāmē thaṉṉadi yārkkaruḷ seythu
aṅkai yālaṉa lēnthum adikaḷuk kidamara siliyē".
மிக்க காலனை வீட்டி மெய்கெடக் காமனை விழித்துப்

புக்க ஊரிடு பிச்சை யுண்பது பொன்றிகழ் கொன்றை

தக்க நூல்திகழ் மார்பில் தவளவெண் ணீறணிந் தாமை

அக்கின் ஆரமும் பூண்ட அடிகளுக் கிடம்அர சிலியே.
"Mikka kālaṉai vīṭṭi meykedak kāmaṉai vizhithup
pukka ūridu pichai yuṇpathu poṉṟikazh koṉtṟai
thakka nūlthikazh mārpil thavaḷaveṇ ṇīṟaṇin thāmai
akkiṉ āramum pooṇda adikaḷuk kidamara siliyē".
மானஞ் சும்மட நோக்கி மலைமகள் பாகமு மருவித்

தானஞ் சாவரண் மூன்றுந் தழலெழச் சரமது துரந்து

வானஞ் சும்பெரு விடத்தை யுண்டவன் மாமறை யோதி

ஆனஞ் சாடிய சென்னி யடிகளுக் கிடம்அர சிலியே.
"Māṉañj sum'mada nōkki malaimakaḷ pākamu maruvith
thāṉañj chāvaraṇ mūṉtṟun tazhalezhach saramatu thuranthu
vāṉañj sumperu viṭathai yuṇṭavaṉ māmaṟai yōthi
āṉañj chāṭiya seṉṉi yadikaḷuk kidamara siliyē".
பரிய மாசுணங் கயிறாப் பருப்பத மதற்குமத் தாகப்

பெரிய வேலையைக் கலங்கப் பேணிய வானவர் கடையக்

கரிய நஞ்சது தோன்றக் கலங்கிய அவர்தமைக் கண்டு

அரிய ஆரமு தாக்கும் அடிகளுக் கிடம்அர சிலியே.
"Pariya māsuṇaṅ kayiṟāp paruppatha mathaṟkumath thākap
periya vēlaiyaik kalaṅgkap pēṇiya vāṉavar kadaiyak
kariya nañchathu thōṉṟak kalaṅgkiya avarthamaik kaṇdu
ariya āramu thākkum adikaḷuk kidamara siliyē".
இப்பதிகத்தில் 7-ம்செய்யுள் சிதைந்து போயிற்று.(7th song has been destroyed)
வண்ண மால்வரை தன்னை மறித்திட லுற்றவல் அரக்கன்

கண்ணுந் தோளுநல் வாயும் நெரிதரக் கால்விர லூன்றிப்

பண்ணின் பாடல்கைந் நரம்பாற் பாடிய பாடலைக் கேட்டு

அண்ண லாயருள் செய்த அடிகளுக் கிடம்அர சிலியே.
"Vaṇṇa mālvarai thaṉṉai maṟithida lutṟaval arakkaṉ
kaṇṇun thōḷunal vāyum neritharak kālvira lūṉtṟip
paṇṇiṉ pādalkain narampāṟ pādiya pādalaik kēṭṭu
aṇṇa lāyaruḷ seytha adikaḷuk kidamara siliyē".
குறிய மாணுரு வாகிக் குவலயம் அளந்தவன் தானும்

வெறிகொள் தாமரை மேலே விரும்பிய மெய்த்தவத் தோனும்

செறிவொ ணாவகை யெங்குந் தேடியுந் திருவடி காண

அறிவொ ணாவுரு வத்தெம் அடிகளுக் கிடம்அர சிலியே.
"Kuṟiya māṇuru vākik kuvalayam aḷanthavaṉ thāṉum
veṟikoḷ thāmarai mēlē virumpiya meythavath thōṉum
seṟivo ṇāvakai yeṅkun thēdiyun thiruvadi kāṇa
aṟivo ṇāvuru vathem adikaḷuk kidamara siliyē".


குருளை யெய்திய மடவார் நிற்பவே குஞ்சியைப் பறித்துத்

திரளை கையிலுண் பவருந் தேரருஞ் சொல்லிய தேறேல்

பொருளைப் பொய்யிலிமெய்யெம் நாதனைப் பொன்னடி வணங்கும்

அருளை ஆர்தரநல்கும் அடிகளுக் கிடம்அர சிலியே.
"Kuruḷai yeythiya maṭavār niṟpavē kuñchiyaip paṟithuth
thiraḷai kaiyiluṇ pavarun thēraruñ solliya thēṟēl
poruḷaip poyyilimeyyem nāthaṉaip poṉṉadi vaṇaṅkum
aruḷai ārtharanalkum adikaḷuk kidamara siliyē".
அல்லி நீள்வயல் சூழ்ந்த அரசிலி யடிகளைக் காழி

நல்ல ஞானசம் பந்தன் நற்றமிழ் பத்திவை நாளும்

சொல்ல வல்லவர் தம்மைச் சூழ்ந்தம ரர்தொழு தேத்த

வல்ல வானுல கெய்தி வைகலும் மகிழ்ந்திருப் பாரே.
"Alli nīḷvayal chzhntha arasili yaṭdkaḷaik kāzhi
nalla gñāṉasam panthaṉ natṟamizh pathivai nāḷum
solla vallavar tham'maich chūzhnthama rarthozhu thētha
valla vāṉula keythi vaikalum makizhnthirup pārē".