Visited on: 29th September, 2016 and 23rd May, 2017
Location
Keezhai Thirukkattupalli is situated at a distance of about 2 kms from Thiruvenkadu. It is near Alli Vilagam village on the Sirkazhi to Tharangkambadi route. From Sirkazhi, this place is at a distance of about 10 kms.
Other Devara Paadal Petra Shiva Sthalams near this temple are –
Thiruvenkadu, Thiruppallavaneecharam (Poompuhar), Thiruchaikkadu, Thiru Valampuram, Thirukkalikkamur (Annappan Pettai), Pariyal Veerattam, Thiruchempon Palli, Thiru Nani Palli, Thiru Nintriyur, Thiru Kadaimudi (Keezhur), Thalaichangadu, Aakkur, Thirukkadaiyur and Thirukkadaiyur Mayanam.
General Information
| | |
| --- | --- |
| Moolavar | Sri Aranya Sundareswarar |
| Ambal | Sri Akilandeswari |
| Theertham (Holy water) | Amirtha, Poigai Theertham |
| Sthala Vriksham (Sacred Tree) | Panneer flower tree |
| Pathigam (Hymn) rendered by | Saint Thirugnanasambanthar-1 |
This is one of the 276 Devara Paadal Petra Shiva Sthalams and 12th Shiva Sthalam on the northern bank of the river Cauvery in Chozha Nadu (Vadakarai).
Lord Shiva in this temple is a Swayambumurthi (self-manifested).
This west facing temple has a single corridor. It does not have a main tower (Rajagopuram) but in its place there is a small and beautiful arch.
The last consecration ceremony (Maha Kumbabishekam) took place on 24.01.2007.
History of the Temple
This temple is under the administrative control of the Hindu Religious and Charitable Endowments Department of Government of Tamil Nadu (HR&CE).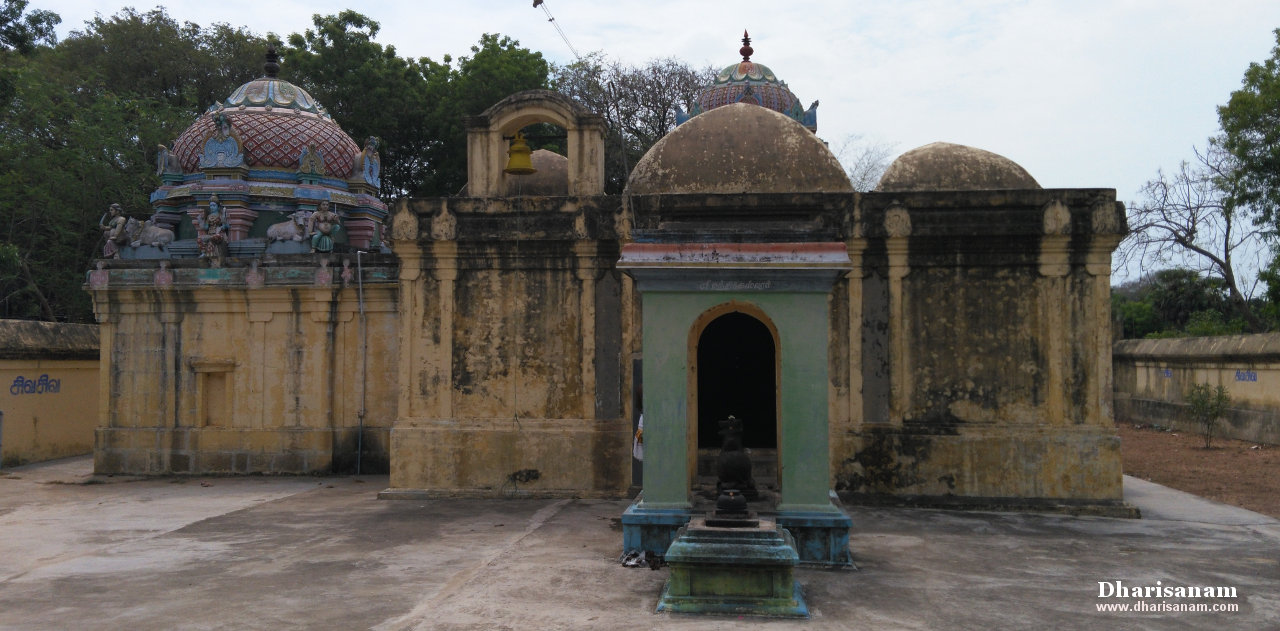 Legend
The legend of this temple revolves around the demon Visvarupan. It is believed that Lord Indra killed him after he was found to be terrorising the devas (celestial gods). Visvarupan's father Dhuvatta performed a yagna and created another demon called Vruthirasuran to kill Indra. Indra obtained a weapon called "Vajrayudham" from Sage Thatheesi and destroyed Vruthirasuran. Due to the sins accrued by these killings, Indra lost his position as the head of the celestial gods. He was also inflicted with "Brahmahathi Dosham". Indra sought the advice of Lord Brahma who asked him to come to this place and worship Lord Shiva. Indra came here and worshiped the lord and was absolved of his sins. He was also restored to his position.
Lord Brahma is believed to have created 10 Shivalingams here and worshiped Lord Shiva. These lingams are called - Muniyesar, Brahmesar, Agastheeswarar, Pulastheeswarar, Vyakrapatheswarar, Sakreswarar and Kapaleeswarar. They can be seen in the corridors. It is believed that worshiping Lord Brahmesar here would yield the same benefit as performing 100 "Aswametha Yagnas".

It is believed that a Gandharva (musicians to the celestial gods) was cursed by a sage to became a crab ("Nandu" in Tamil). To seek relief from this curse, he visited this place and worshiped Lord Vinayakar. Lord Vinayakar answered his prayers and he was restored back to his original form. Hence this Vinayakar is praised as "Sri Karkata Maha Ganapathy" and "Sri Nandu Vinayakar" ("Karkata" and "Nandu" means crab). This Vinayakar can be seen with a crab as his mount in place of his usual mouse.
It is also believed that Sages Mahakala and Aranya worshiped the lord here. There are reliefs in the outer wall of the sanctum depicting both of them. Sage Mahakala is shown blowing a conch and Sage Aranya is shown performing pooja to Lord Shiva.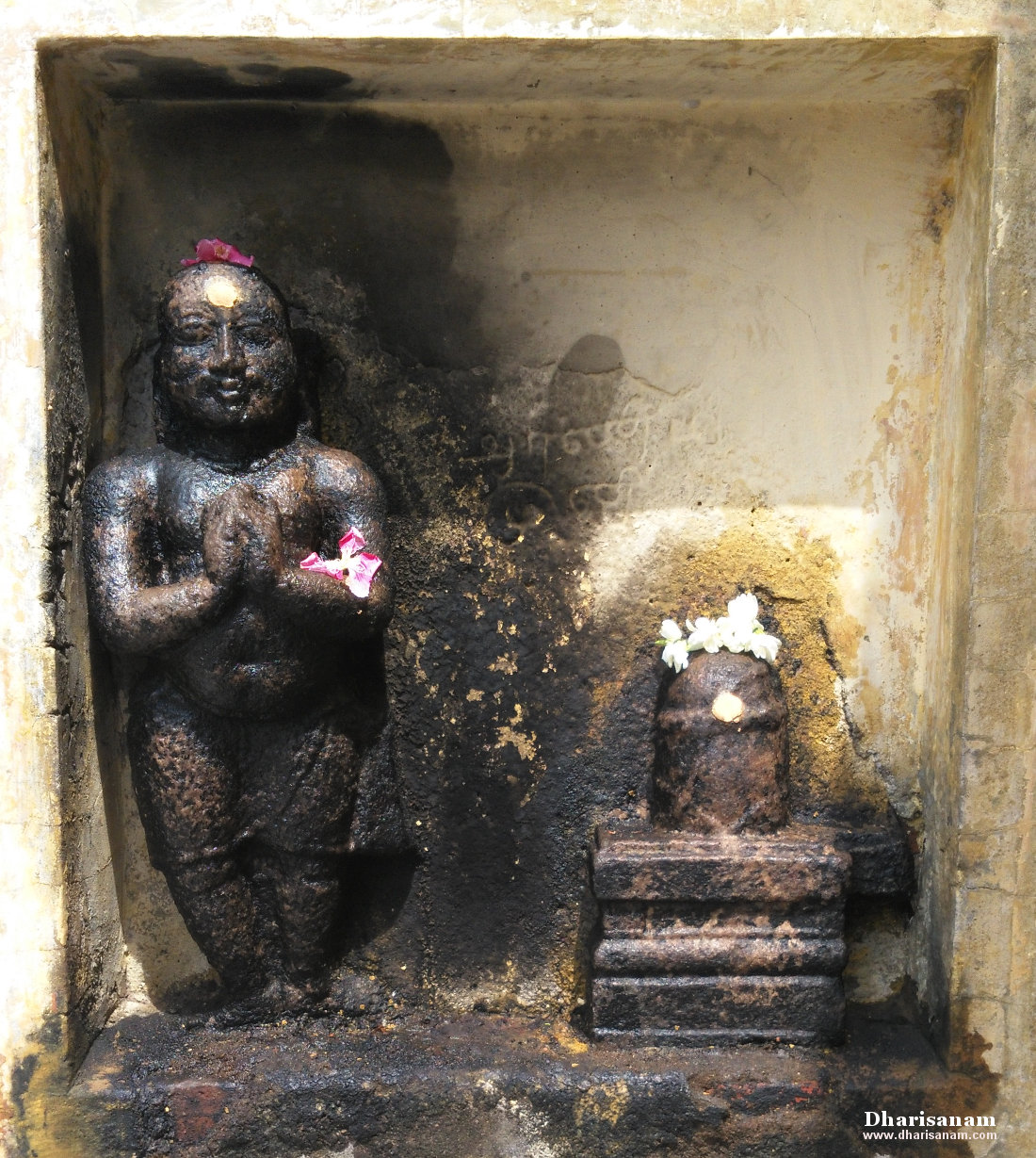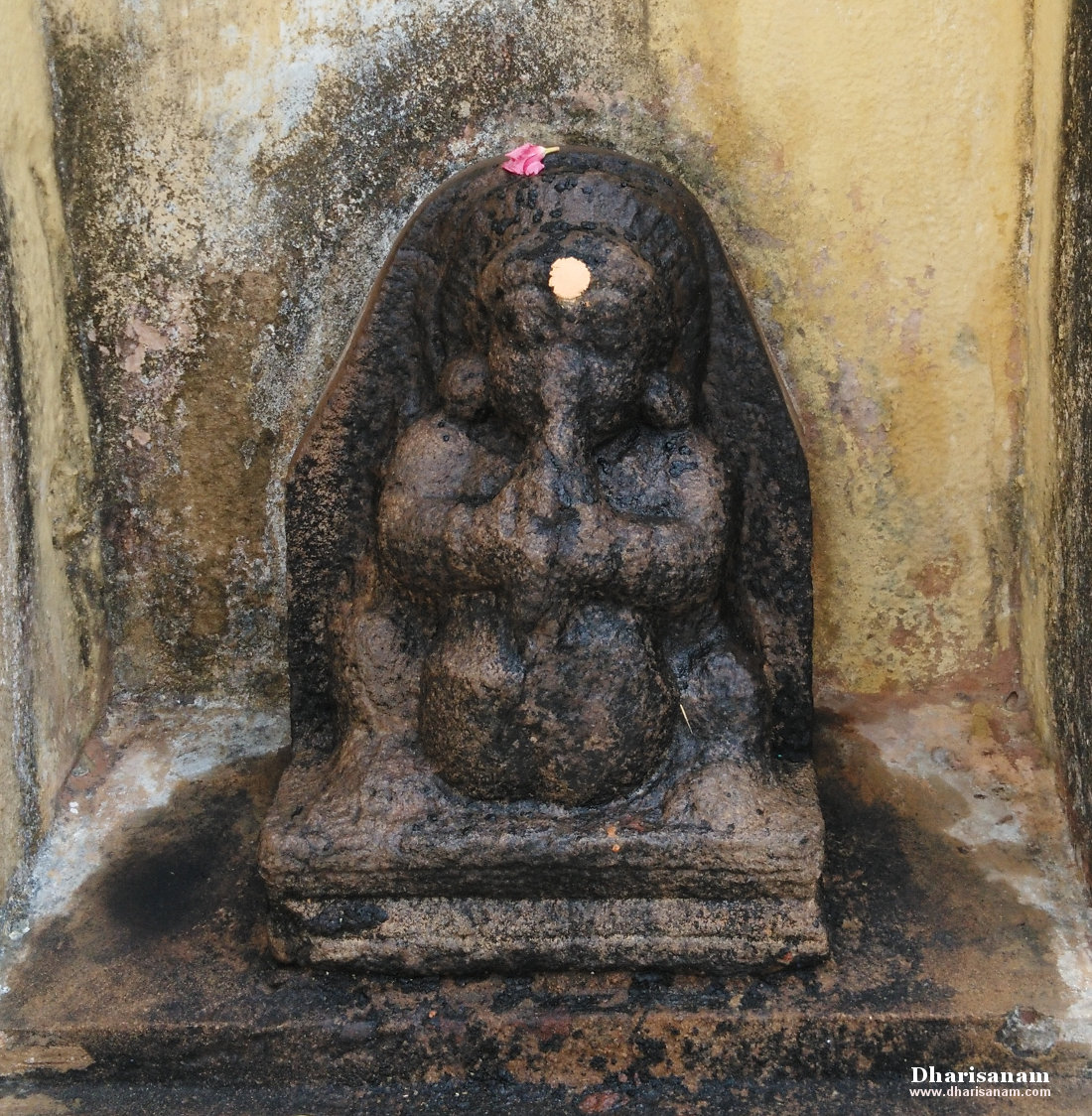 Deities in the temple
Other than the shrines of Lord Shiva and Goddess Parvathy, shrines and idols of Vinayakar, Murugan, Bairavar, Suryan and Saneeswarar can be seen in the corridors.
In the "koshtam" (place surrounding the sanctum sanctorum), idols of Dakshinamurthy and Chandikeswarar can be seen.
There is no Navagraham in this temple.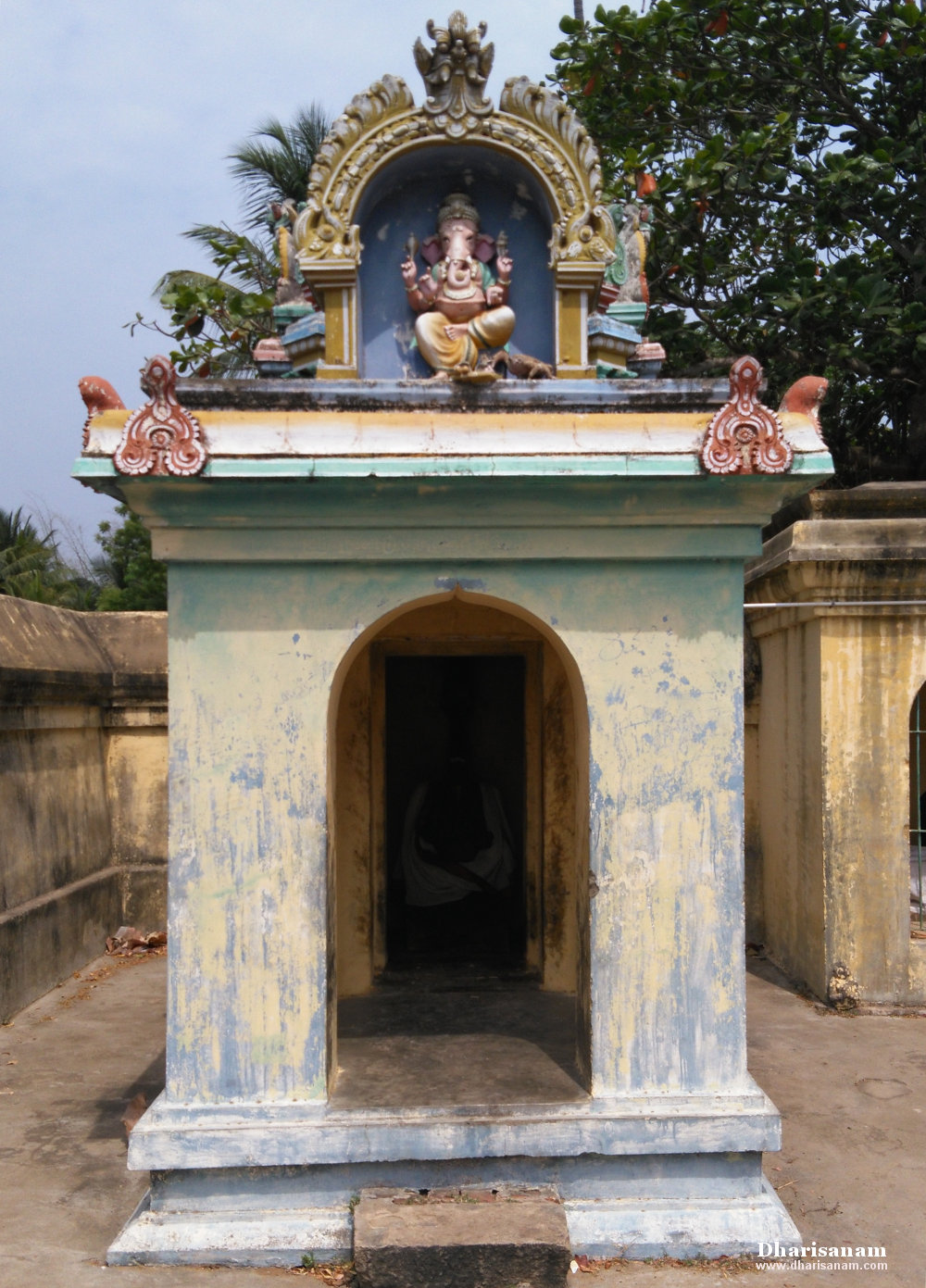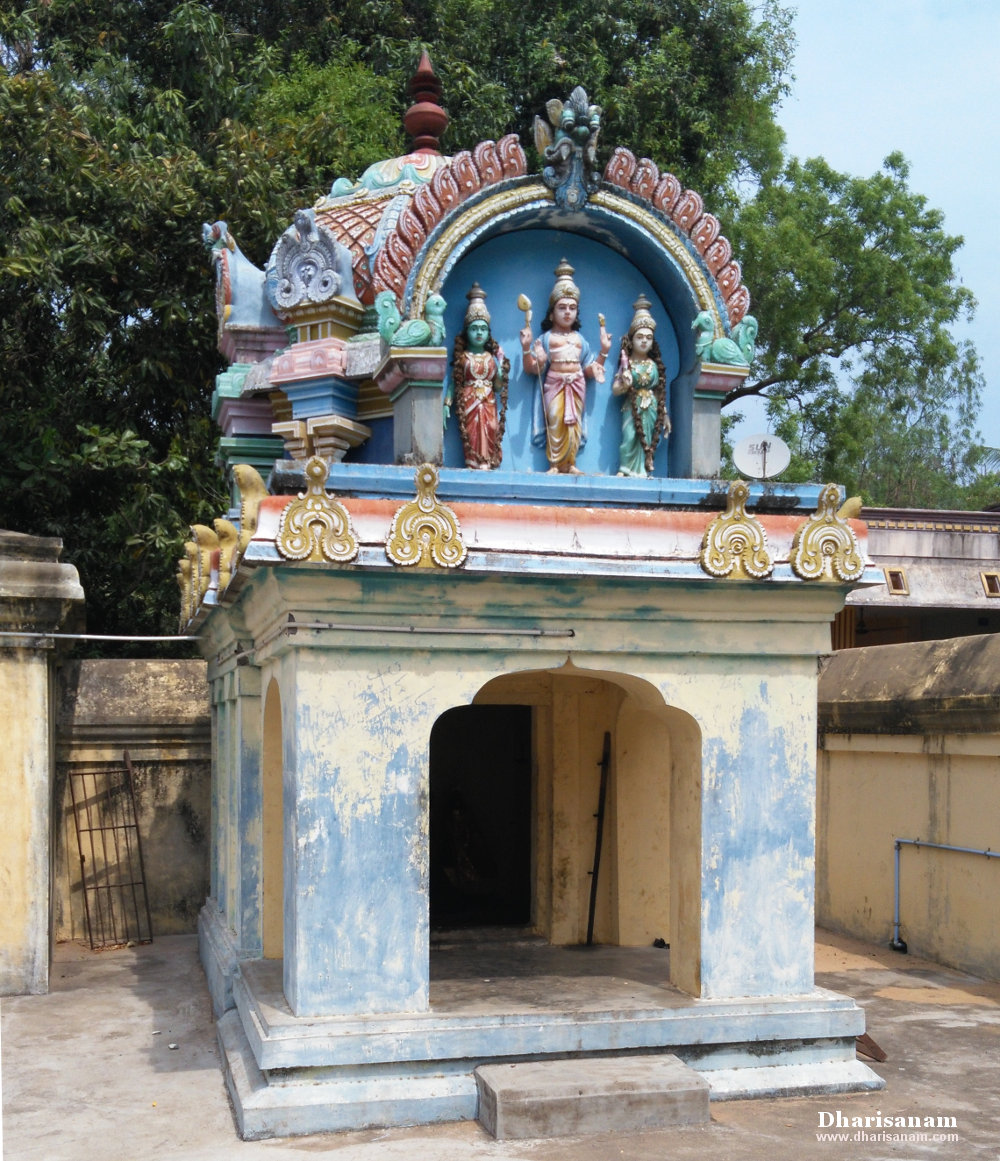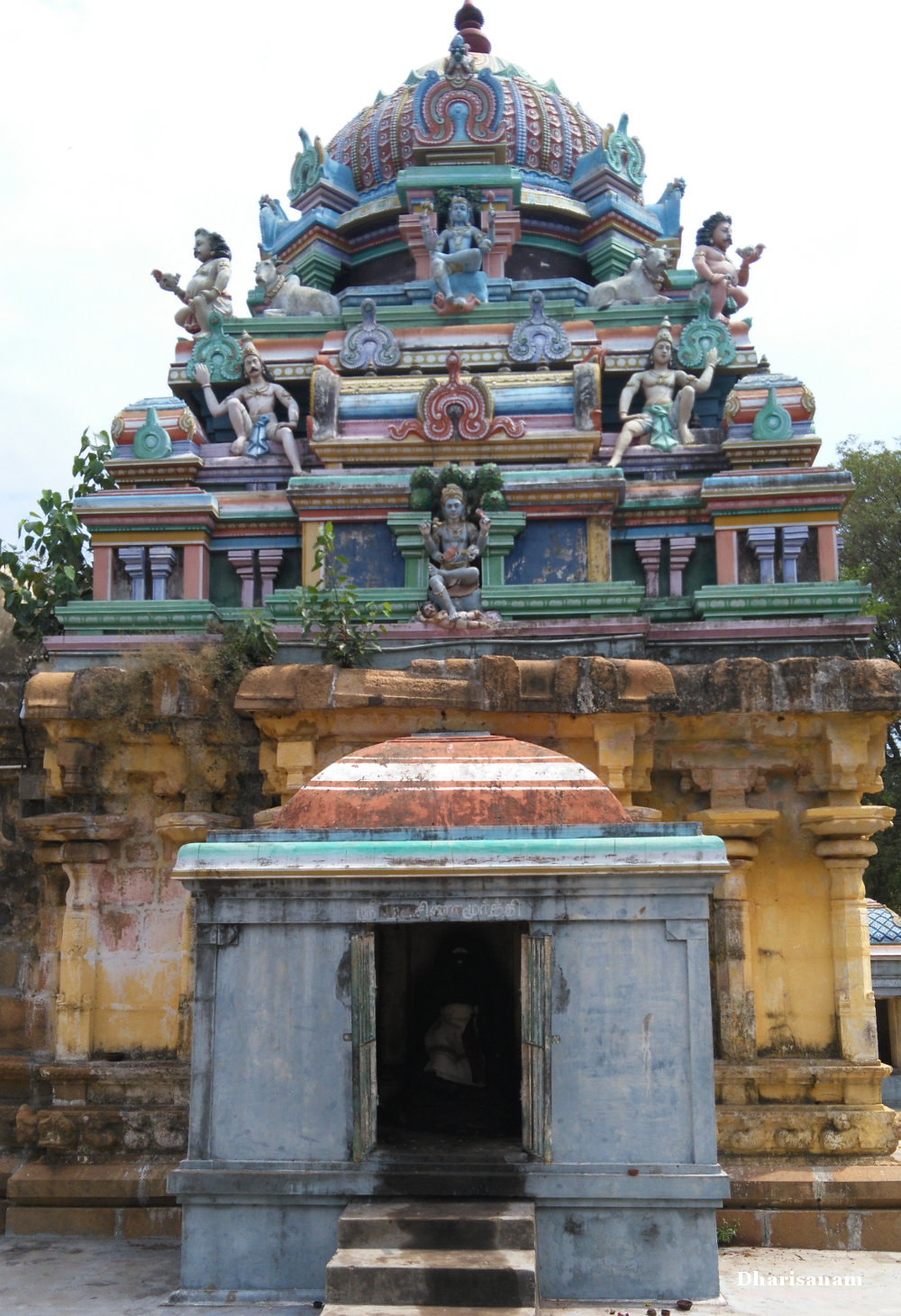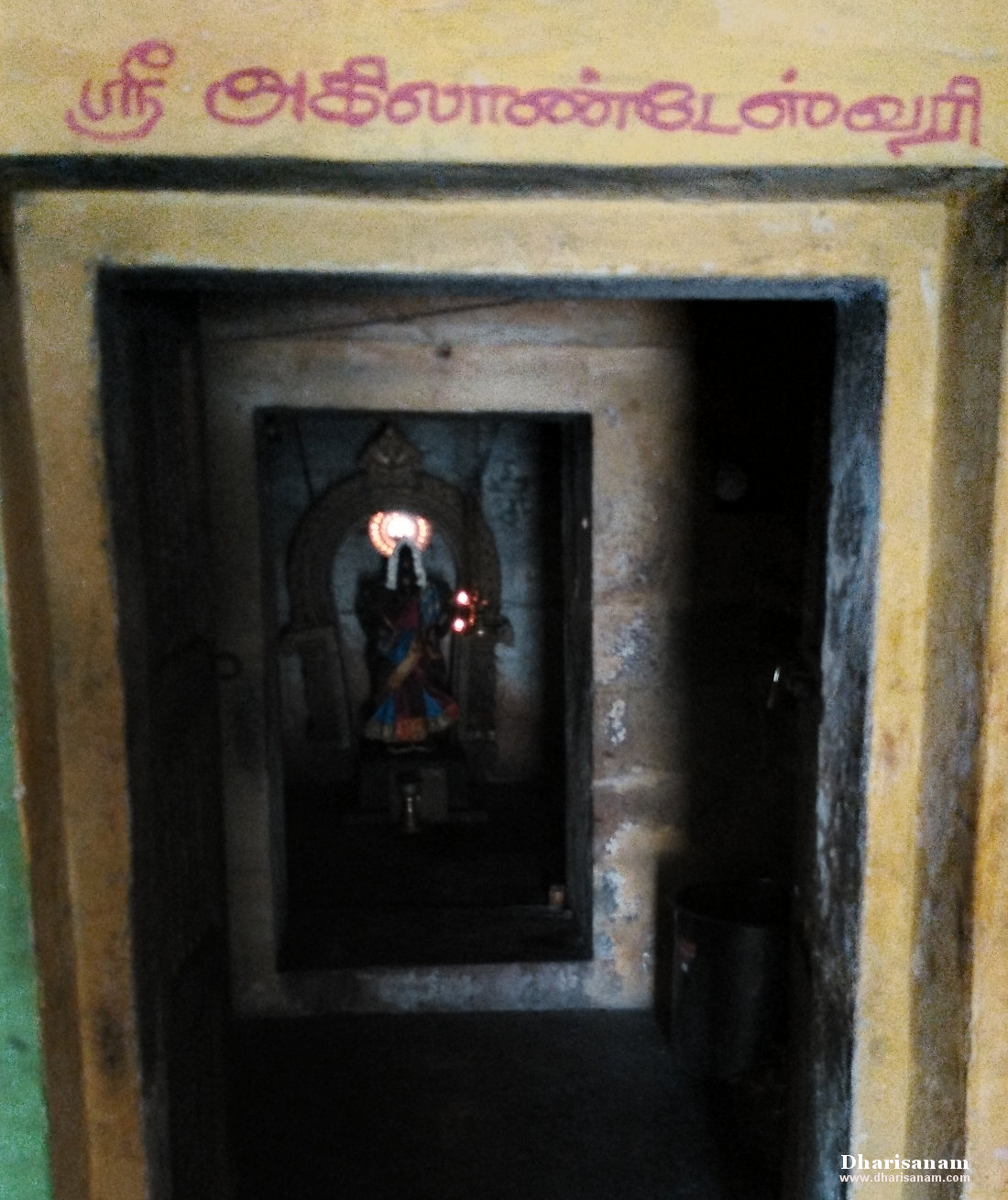 Salient Features
This temple is once believed to have been in the middle of a jungle ("Aaranyam" and "Kaadu" in Tamil). Hence Lord Shiva here is also praised as Sri Aranyeswarar ("Sri Kaattazhagar in Tamil).
The significance of this temple is that one can worship both Lord Shiva and Goddess Parvathy by standing at one place.
Lord Dakshinamurthy is praised here as "Sri Rajayoga Dakshinamurthy" and is seen with 6 disciples instead of his usual 4 disciples. They are Sanakar, Sanathanar, Sananthanar, Sanathkumarar, Lord Brahma and Lord Mahavishnu.
In the "Dasalingam" shrine there are 7 Shivalingams. In one of the Shivalingam's base, there are two lingams (Banams). This is quite unique.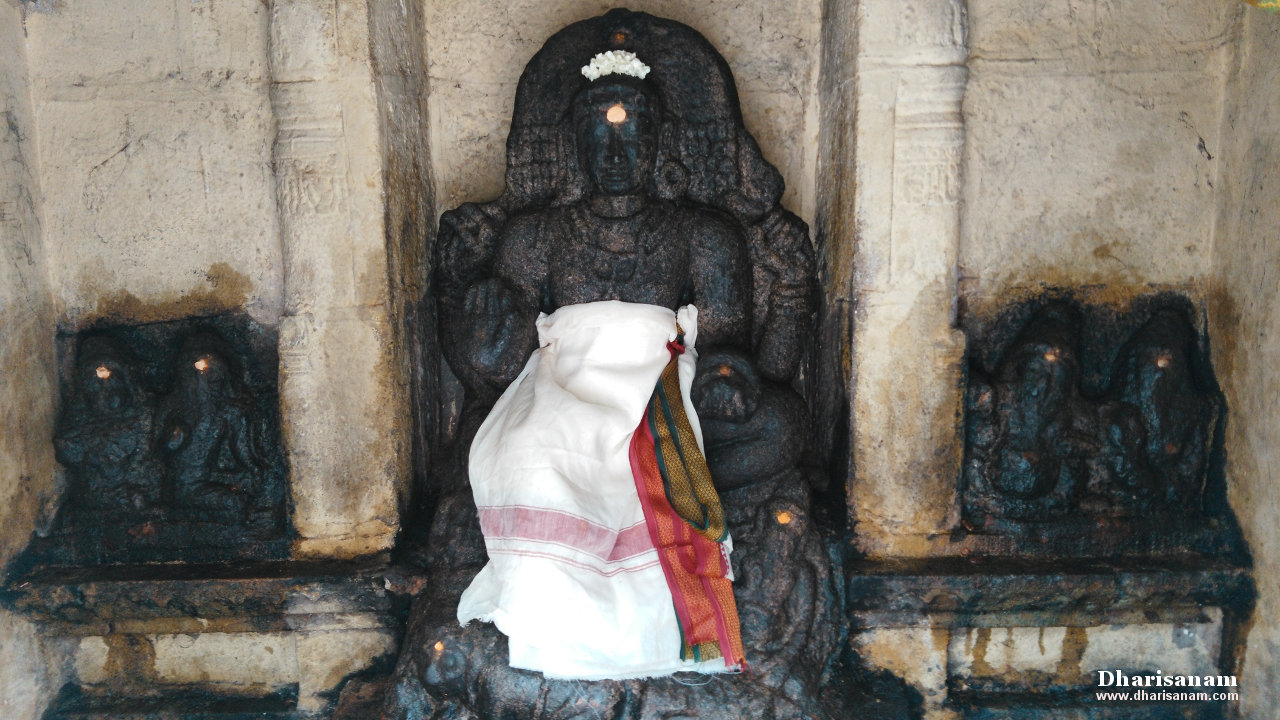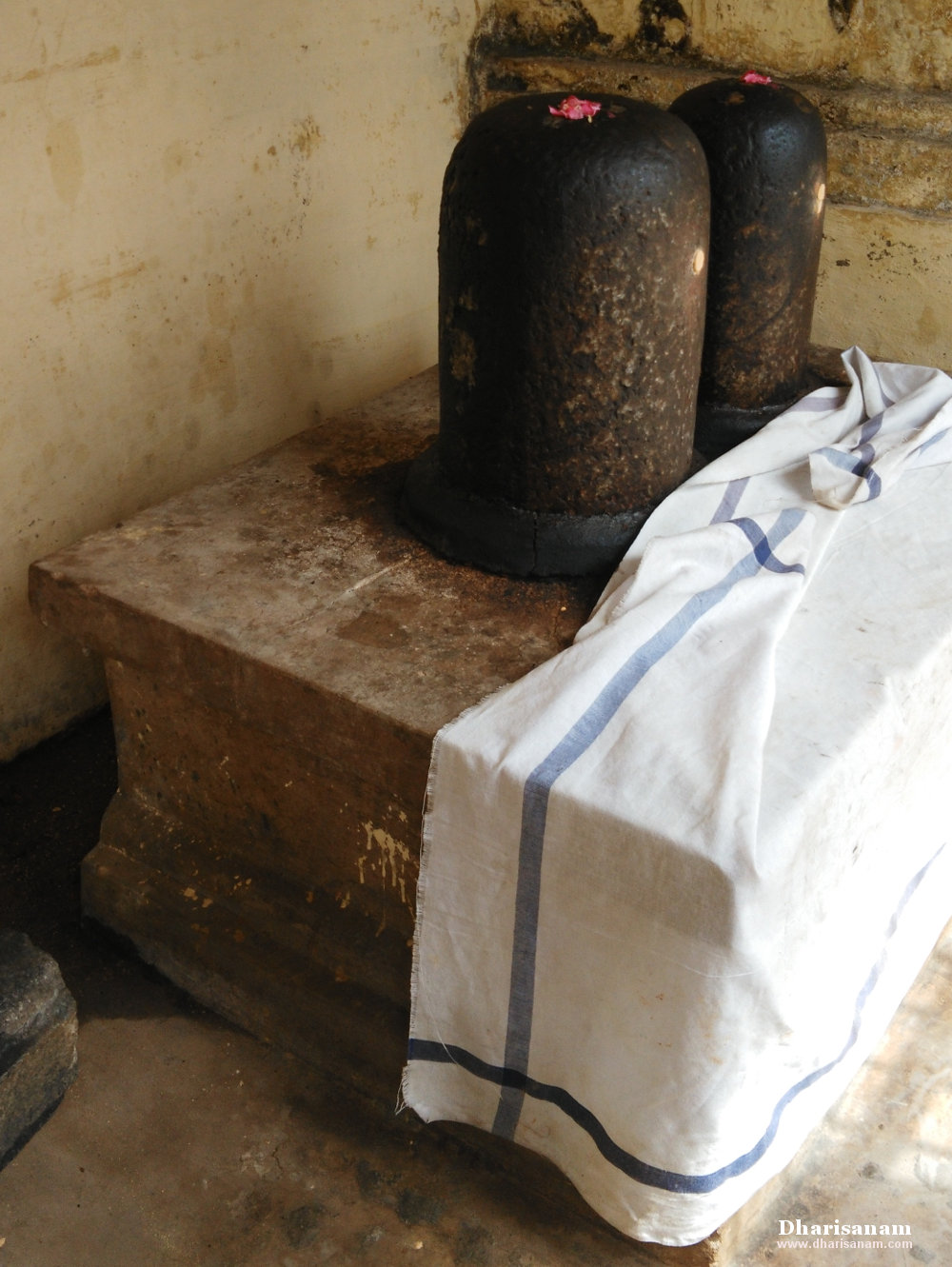 There are four Theerthams (tank) associated with this temple. They are located on the four corners of this temple.
The architecture of this temple is such that one can hear the sound of the sea waves near Lord Dakshinamurthy's shrine. The surprising fact is that the sea is more than 6 kms away from here.
Greatness of this temple
It is believed that those who have lost wealth, power or position can recover them by worshiping Lord Shiva here.
Important Festivals
Some of the festivals celebrated in this temple are -
Vinayakar Chaturthi in the Tamil month of Aavani (Aug-Sept).
Skanda Sashti in the Tamil month of Aippasi (Oct-Nov),
Arudra Dharisanam in the Tamil month of Markazhi (Dec-Jan), and
Maha Shivarathri in the Tamil month of Masi (Feb-Mar).
Pradosham is also observed regularly
Temple Timings
From 08.30 AM to 11.00 AM and 06.00 PM to 07.30 PM.
Temple Address
Sri Aranya Sundareswarar Temple,
Keezhai Thirukattupalli-Post,
Thiruvengadu-Via,
Sirkazhi-Taluk,
Nagapattinam District,
Tamil Nadu – 609 114.
Tele: +91- 4364 - 256 273, 94439 85770, 98425 93244.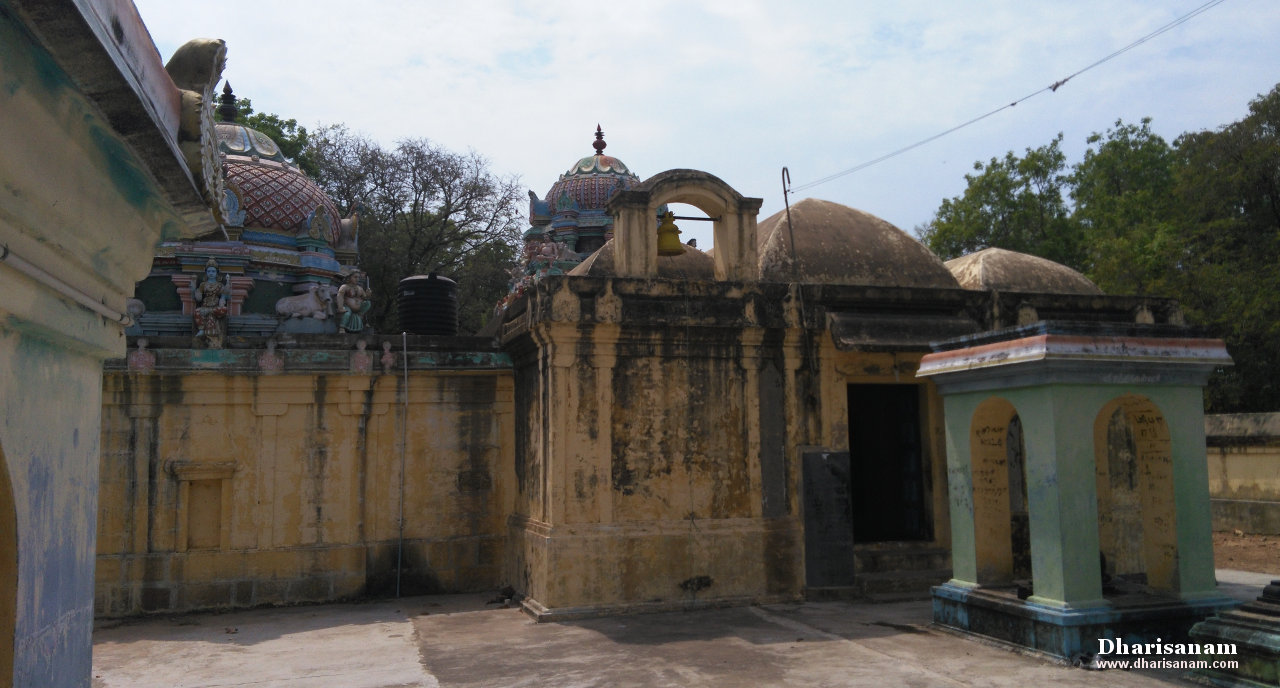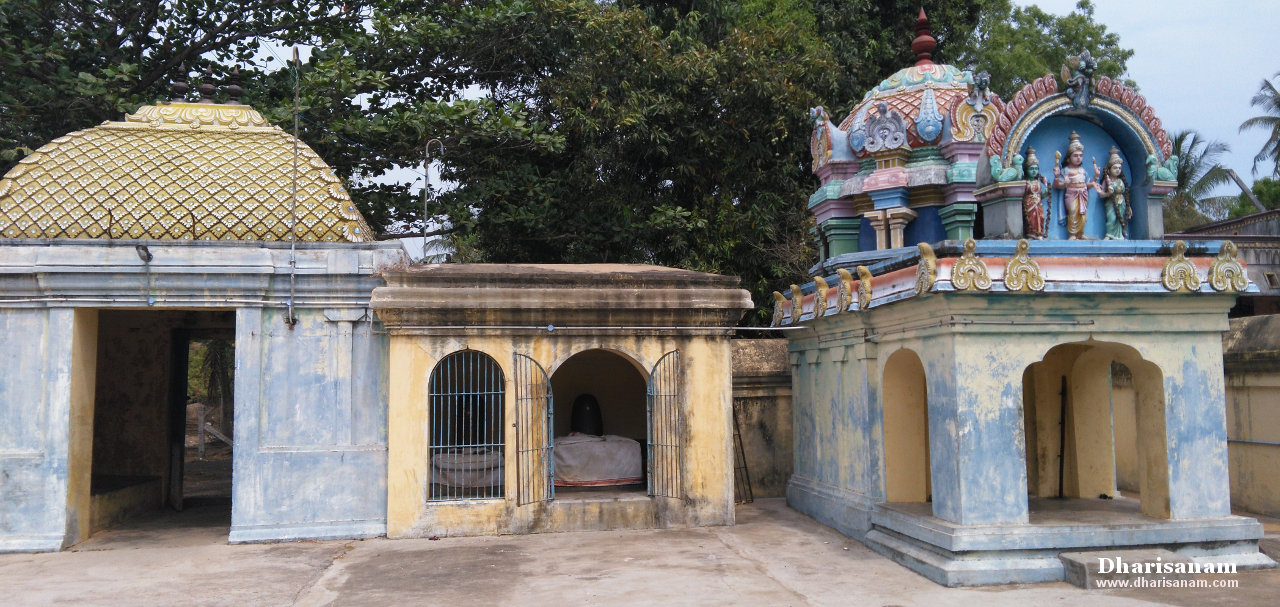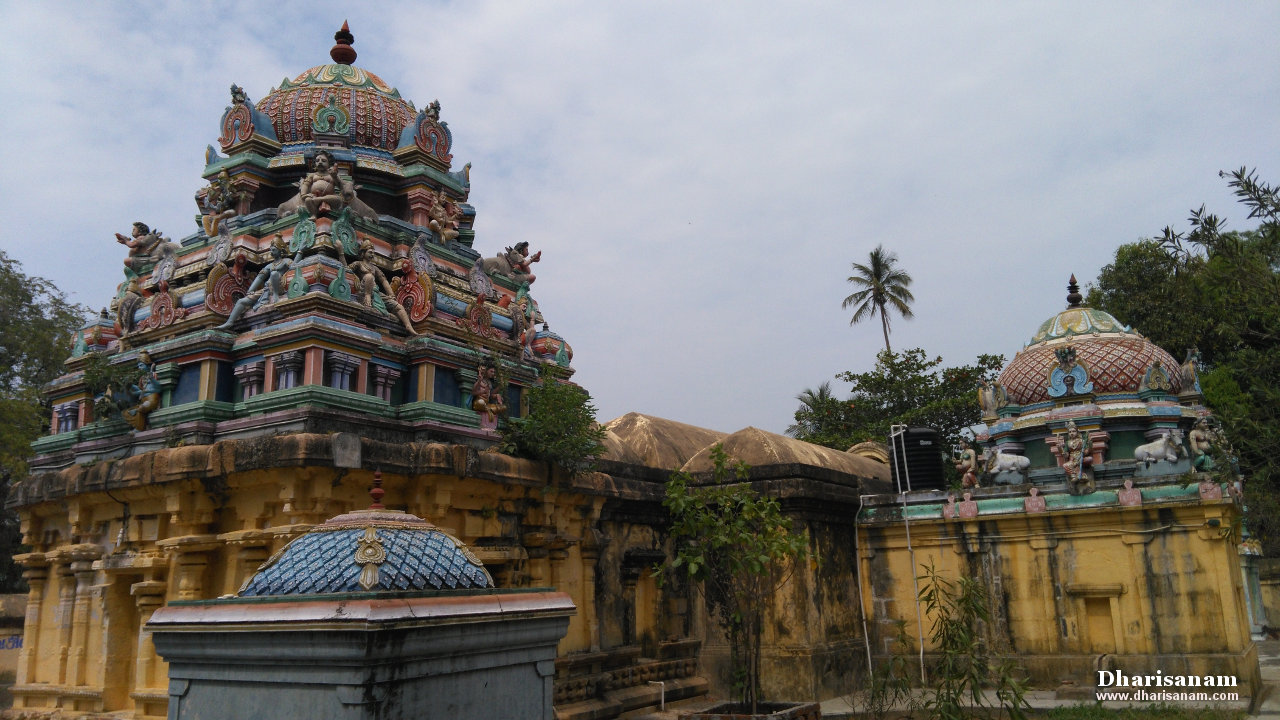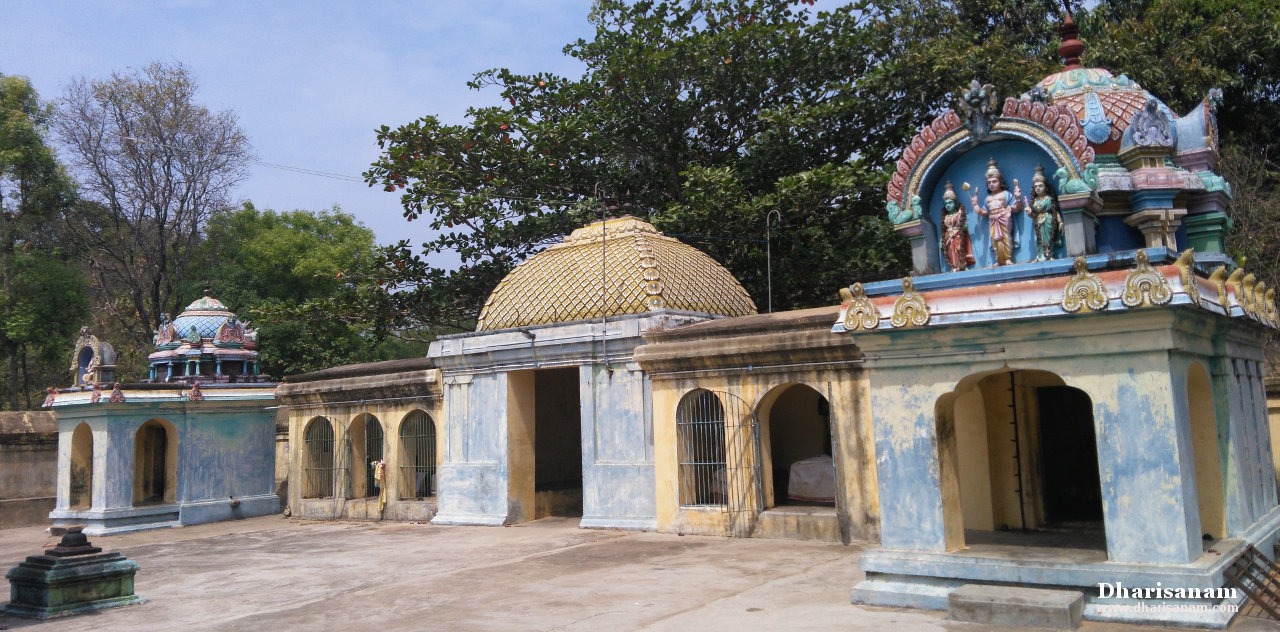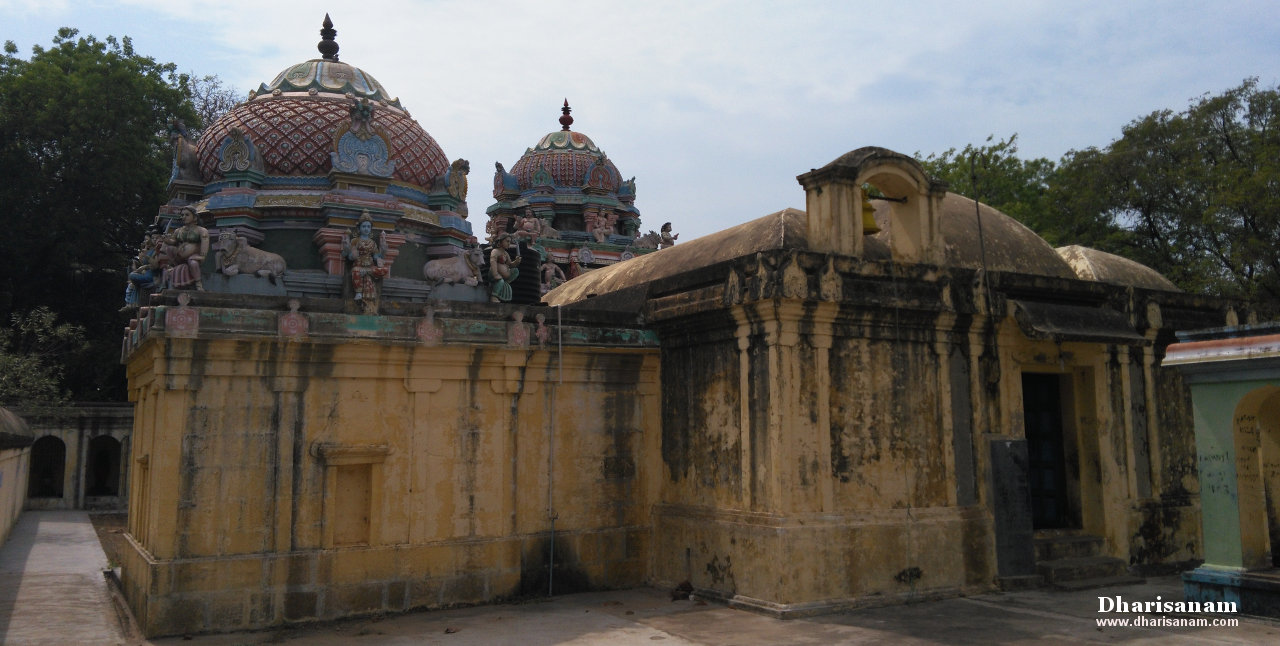 ---
Pathigam (Hymn) with English transliteration
Saint Thirugnanasambanthar visited this temple and sang this Pathigam.
Devotees visiting this temple should make it a practice to recite this Pathigam.
செய்யரு கேபுனல் பாயவோங்கிச்
செங்கயல் பாயச் சிலமலர்த்தேன்
கையரு கேகனி வாழையீன்று
கானலெல் லாங்கமழ் காட்டுப்பள்ளிப்
பையரு கேயழல் வாயவைவாய்ப்
பாம்பணை யான்பணைத் தோளிபாகம்
மெய்யரு கேயுடை யானையுள்கி
விண்டவ ரேறுவர் மேலுலகே.
"Seyyaru kēpuṉal pāyavōṅkich
cheṅkayal pāyach silamalarththēṉ
kaiyaru kēkaṉi vāzhaiyīṉtṟu
kāṉalel lāṅkamazh kāṭṭuppaḷḷip
paiyaru kēyazhal vāyavaivāyp
pāmpaṇai yāṉpaṇaith thōḷipākam
meyyaru kēyuṭai yāṉaiyuḷki
viṇṭava rēṟuvar mēlulakē".

* இப்பதிகத்தில் 2-ம் செய்யுள் சிதைந்து போயிற்று.

* Ippatikattil 2-m seyyuḷ sithainthu pōyitṟu.
திரைகளெல் லாமல ருஞ்சுமந்து
செழுமணி முத்தொடு பொன்வரன்றிக்
கரைகளெல் லாமணி சேர்ந்துரிஞ்சிக்
காவிரி கால்பொரு காட்டுப்பள்ளி
உரைகளெல் லாமுணர் வெய்திநல்ல
உத்தம ராயுயர்ந் தாருலகில்
அரவமெல் லாம்அரை யார்த்தசெல்வர்க்
காட்செய அல்லல் அறுக்கலாமே.
"Thiraikaḷel lāmala ruñchumanthu
sezhumaṇi muththoṭu poṉvaraṉtṟik
karaikaḷel lāmaṇi sērnthuriñchik
kāviri kālporu kāṭṭuppaḷḷi
uraikaḷel lāmuṇar veythinalla
uththama rāyuyarn thārulakil
aravamel lāmarai yārththaselvark
kāṭseya allal aṟukkalāmē".
தோலுடை யான்வண்ணப் போர்வையினான்
சுண்ணவெண் ணீறு துதைந்திலங்கு
நூலுடை யானிமை யோர்பெருமான்
நுண்ணறி வால்வழி பாடுசெய்யுங்
காலுடை யான்கரி தாயகண்டன்
காதலிக் கப்படுங் காட்டுப்பள்ளி
மேலுடை யானிமை யாதமுக்கண்
மின்னிடை யாளொடும் வேண்டினானே.
"Thōluṭai yāṉvaṇṇap pōrvaiyiṉāṉ
suṇṇaveṇ ṇīṟu thuthainthilaṅku
nūluṭai yāṉimai yōrperumāṉ
nuṇṇaṟi vālvazhi pāṭuseyyuṅ
kāluṭai yāṉkari thāyakaṇṭaṉ
kāthalik kappaṭuṅ kāṭṭuppaḷḷi
mēluṭai yāṉimai yāthamukkaṇ
miṉṉiṭai yāḷoṭum vēṇṭiṉāṉē".
சலசல சந்தகி லோடும்உந்திச்
சந்தன மேகரை சார்த்தியெங்கும்
பலபல வாய்த்தலை யார்த்துமண்டிப்
பாய்ந்திழி காவிரிப் பாங்கரின்வாய்க்
கலகல நின்றதி ருங்கழலான்
காதலிக் கப்படுங் காட்டுப்பள்ளிச்
சொலவல தொண்டர்க ளேத்தநின்ற
சூலம்வல் லான்கழல் சொல்லுவோமே.
"Salasala santhaki lōṭumunthich
chantaṉa mēkarai sārththiyeṅkum
palapala vāyththalai yārththumaṇṭip
pāynthizhi kāvirip pāṅkariṉvāyk
kalakala niṉtṟati ruṅkazhalāṉ
kāthalik kappaṭuṅ kāṭṭuppaḷḷic
solavala thoṇṭarka ḷēththaniṉtṟa
chūlamval lāṉkazhal solluvōmē".
தளையவிழ் தண்ணிற நீலம்நெய்தல்
தாமரை செங்கழு நீருமெல்லாங்
களையவி ழுங்குழ லார்கடியக்
காதலிக் கப்படுங் காட்டுப்பள்ளித்
துளைபயி லுங்குழல் யாழ்முரலத்
துன்னிய இன்னிசை யால்துதைந்த
அளைபயில் பாம்பரை யார்த்தசெல்வர்க்
காட்செய அல்லல் அறுக்கலாமே.
"Thaḷaiyavizh thaṇṇiṟa nīlamneythal
thāmarai seṅkazhu nīrumellāṅ
kaḷaiyavi zhuṅkuzha lārkaṭiyak
kāthalik kappaṭuṅ kāṭṭuppaḷḷith
thuḷaipayi luṅkuzhal yāzhmuralath
thuṉṉiya iṉṉisai yālthuthaintha
aḷaipayil pāmparai yārththaselvark
kāṭseya allal aṟukkalāmē".
முடிகையி னாற்றொடு மோட்டுழவர்
முன்கைத் தருக்கைக் கரும்பின்கட்டிக்
கடிகையி னாலெறி காட்டுப்பள்ளி
காதல்செய் தான்கரி தாயகண்டன்
பொடியணி மேனியி னானையுள்கிப்
போதொடு நீர்சுமந் தேத்திமுன்னின்
றடுகையி னால்தொழ வல்ல தொண்டர்
அருவினை யைத்துரந் தாட்செய்வாரே.
"Muṭikaiyi ṉātṟoṭu mōṭṭuzhavar
muṉkaith tharukkaik karumpiṉkaṭṭik
kaṭikaiyi ṉāleṟi kāṭṭuppaḷḷi
kāthalcey thāṉkari thāyakaṇṭaṉ
poṭiyaṇi mēṉiyi ṉāṉaiyuḷkip
pōthoṭu nīrsuman thēththimuṉṉiṉ
tṟaṭukaiyi ṉālthozha valla thoṇṭar
aruviṉai yaiththuran thāṭseyvārē".
பிறையுடை யான்பெரி யோர்கள்பெம்மான்
பெய்கழல் நாடொறும் பேணியேத்த
மறையுடை யான்மழு வாளுடையான்
வார்தரு மால்கடல் நஞ்சமுண்ட
கறையுடை யான்கன லாடுகண்ணாற்
காமனைக் காய்ந்தவன் காட்டுப்பள்ளிக்
குறையுடை யான்குறட் பூதச்செல்வன்
குரைகழ லேகைகள் கூப்பினோமே.
"Piṟaiyuṭai yāṉperi yōrkaḷpem'māṉ
peykazhal nāṭoṟum pēṇiyēththa
maṟaiyuṭai yāṉmazhu vāḷuṭaiyāṉ
vārtharu mālkaṭal nañchamuṇṭa
kaṟaiyuṭai yāṉkaṉa lāṭukaṇṇāṟ
kāmaṉaik kāynthavaṉ kāṭṭuppaḷḷik
kuṟaiyuṭai yāṉkuṟaṭ pūthachchelvaṉ
kuraikazha lēkaikaḷ kūppiṉōmē".
செற்றவர் தம்அர ணம்மவற்றைச்
செவ்வழல் வாயெரி யூட்டிநின்றுங்
கற்றவர் தாந்தொழு தேத்த நின்றான்
காதலிக் கப்படுங் காட்டுப்பள்ளி
உற்றவர் தாமுணர் வெய்திநல்ல
உம்பருள் ளார்தொழு தேத்த நின்ற
பெற்றமரும் பெருமா னையல்லால்
பேசுவ தும்மற்றொர் பேச்சிலோமே.
"setṟavar thamara ṇam'mavatṟaich
chevvazhal vāyeri yūṭṭiniṉtṟuṅ
katṟavar thānthozhu thēththa niṉtṟāṉ
kāthalik kappaṭuṅ kāṭṭuppaḷḷi
utṟavar thāmuṇar veythinalla
umparuḷ ḷārthozhu thēththa niṉtṟa
petṟamarum perumā ṉaiyallāl
pēsuva thum'matṟor pēchchilōmē".
ஒண்டுவ ரார்துகி லாடை மெய்போர்த்
துச்சிகொ ளாமையுண் டேயுரைக்குங்
குண்டர்க ளோடரைக் கூறையில்லார்
கூறுவ தாங்குணம் அல்லகண்டீர்
அண்ட மறையவன் மாலுங்காணா
ஆதியி னானுறை காட்டுப்பள்ளி
வண்டம ரும்மலர்க் கொன்றைமாலை
வார்சடை யான்கழல் வாழ்த்துவோமே.
"Oṇṭuva rārthuki lāṭai meypōrth
thuchchiko ḷāmaiyuṇ ṭēyuraikkuṅ
kuṇṭarka ḷōṭaraik kūṟaiyillār
kūṟuva thāṅkuṇam allakaṇṭīr
aṇṭa maṟaiyavaṉ māluṅkāṇā
āthiyi ṉāṉuṟai kāṭṭuppaḷḷi
vaṇṭama rum'malark koṉtṟaimālai
vārsaṭai yāṉkazhal vāzhththuvōmē".
பொன்னியல் தாமரை நீலம்நெய்தல்
போதுக ளாற்பொலி வெய்துபொய்கைக்
கன்னியர் தாங்குடை காட்டுப்பள்ளிக்
காத லனைக்கடற் காழியர்கோன்
துன்னிய இன்னிசை யாற்றுதைந்து
சொல்லிய ஞானசம் பந்தன் நல்ல
தன்னிசை யாற்சொன்ன மாலைபத்துந்
தாங்கவல் லார்புகழ் தாங்குவாரே.
"Poṉṉiyal thāmarai nīlamneythal
pōthuka ḷāṟpoli veythupoykaik
kaṉṉiyar thāṅkuṭai kāṭṭuppaḷḷik
kātha laṉaikkaṭaṟ kāzhiyarkōṉ
thuṉṉiya iṉṉisai yātṟuthainthu
solliya gñāṉasam banthaṉ nalla
thaṉṉisai yāṟsoṉṉa mālaipaththun
thāṅkaval lārpukazh thāṅkuvārē".