Visited on: 31st August, 2018.
Location
Mela Kadambur is situated at a distance of about 32 kms from Chidambaram on Chidambaram to Kattumannar Koil route (via Eyyalur). It is about 6 kms From Kattumannar Koil and 5 kms from both Thekkiruppa and Omampuliyur.
Other Paadal Petra Shiva Sthalams near this pilgrimage site are - Thiru Omampuliyur, Thiru Kanattumullur (Kanattampuliyur), Thiru Naaraiyur, Thiru Erukkathampuliyur (Rajendrapatinam) and Thiru Kudalaiyatrur.
Another Shiva temple in Kezhak Kadambur, very close to this place is named "Kadambur Ilamkoil" or "Rudrapathi koil" which is a "Vaippu Sthalam". This temple is a protected monument under the control of Archaeological Survey of India (ASI) owing to many beautiful sculptures adorning this temple.
General Information
Moolavar

Sri Amirtha Kadeswarar

Ambal

Sri Vidyujothi Nayaki, Sri Jyothi Minnammai

Theertham (Holy water)

Shakthi Theertham, Siva Theertham

Sthala Vriksham (Sacred Tree)

Kadamba tree

Pathigam (Hymn) rendered by

Saint Thirugnanasambanthar-1
Saint Thirunavukarasar (Appar)-2

This is one of the 276 Devara Paadal Petra Shiva Sthalams and 34th Shiva Sthalam on the northern bank of the river Cauvery in Chozha Nadu (Vadakarai).
Lord Shiva in this temple is a Swayambumurthi (self-manifested).
The vimanam (roof tower) of sanctum sanctorum has been beautifully sculpted completely in granite, resembling a magnificent chariot.
This east facing temple has two corridors and main tower (Rajagopuram) has 3-tiers.
Though Nandhi and Balipeetam are present, there is no flag post ("Kodimaram") present.
History of the Temple
This ancient village is named Kadambur and temple as Karakkoil.
The village is named after temple's Sthala Viruksham - Kadamba tree. Also, Kadambar ruled this region thus, the name.
It is believed that current stone chariot form of temple was built by the Chola King Kulothungan-I in the year 1113 AD, prior to which, it was a brick structure. The Chettiyars of Devakottai renovated this temple in later years.
Tamil literary sources describe nine categories of temple structures dedicated to Lord Shiva. They are – "Perung koyil", "Karak koyil", "Gnazhar koyil", "Kokudik koyil", "Ilam koyil", "Manik koyil", "Alak koyil", "Madak koyil" and "Thoongani koyil".

Amongst them, this temple is a Karakkoil type where the Sanctum Sanctorum ("Garbagraham") is in chariot like structure pulled by horses with an enchanting appearance. Karakkoil in Sanskrit is Vijayam – meaning victory.
This temple is under the administrative control of Hindu Religious and Charitable Endowments Department of Government of Tamil Nadu (HR&CE).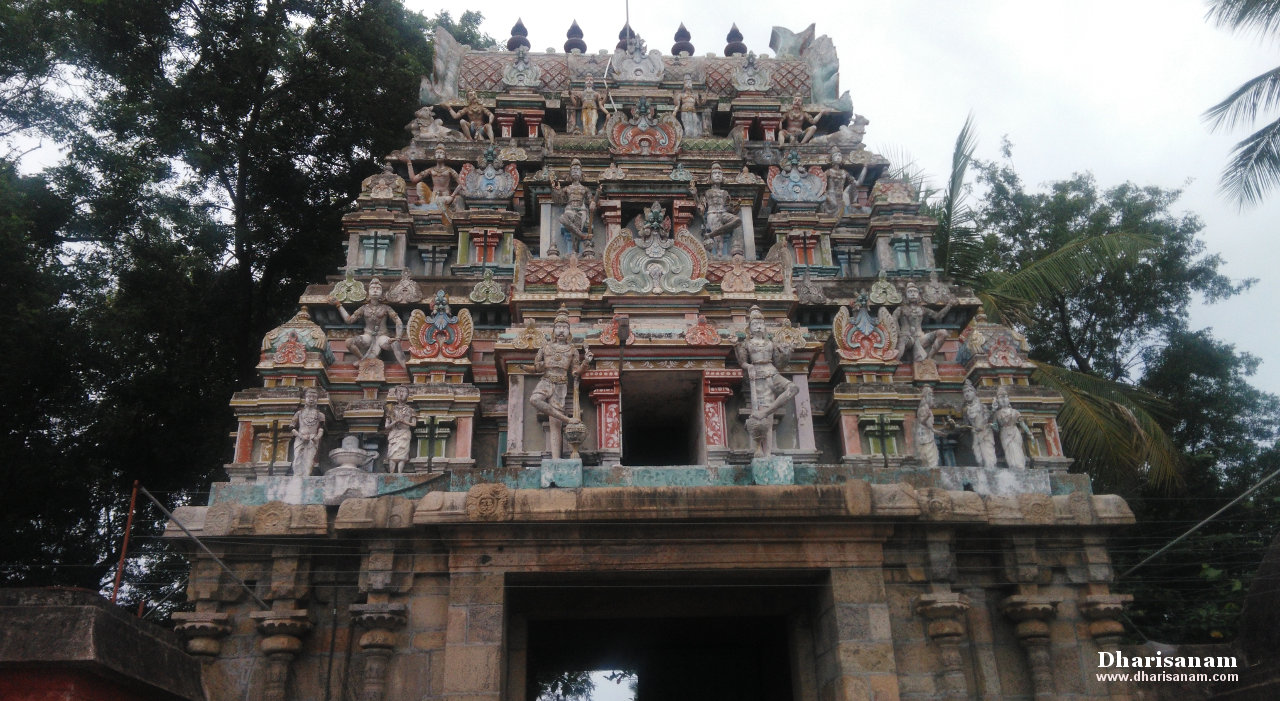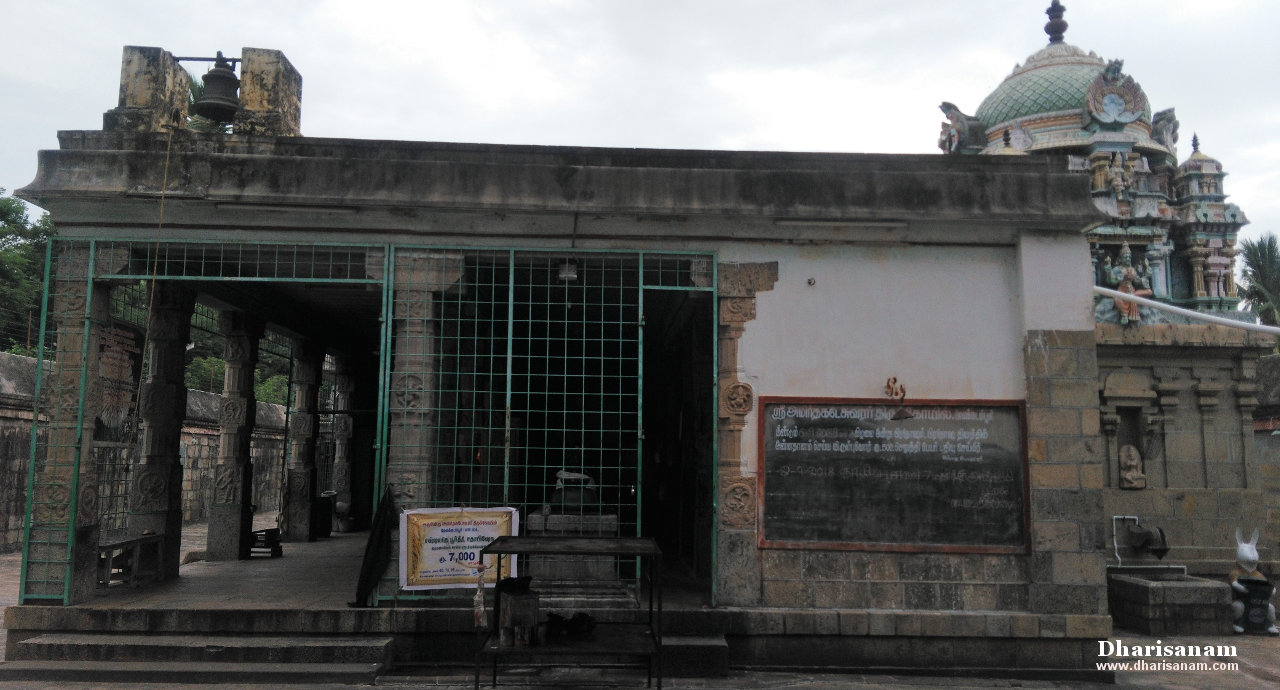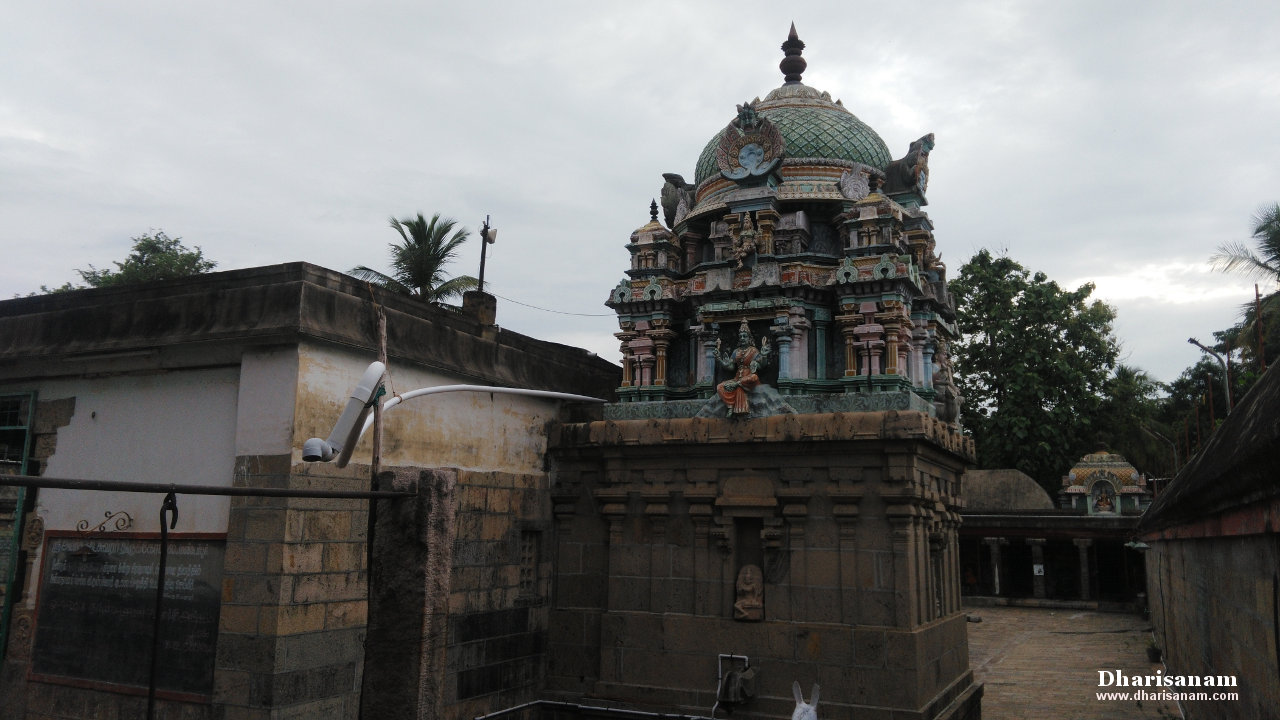 Legend
Before waging war against demon Surapadma, Lord Murugan penanced in this holy site and received his bow ("Vil" in Tamil) from his mother. Hence, procession idol of Lord Murugan here is seen with a bow in his hand along with his consorts. He is praised as "Sri Villenthiya Velavar". Since planet Mars worshiped Lord Murugan here, a procession idol of Mars is also present.
According to legend, Devas who churned the nectar from the ocean (Thirupparkadal) began to consume it without worshiping Lord Vinayakar. Angry, Lord Vinayakar took away the pot to teach them a lesson. When he passed through this place which was a Kadamba forest, a drop of nectar fell and became a Swayambu Lingam. Realizing their folly, Indira and Devas came here and begged Lord Vinayakar's pardon who in turn advised them to worship Lord Shiva. Lord Shiva, responding to their prayers returned the nectar and stayed here as Sri Amirthakadeswarar – "Amirtham" means nectar, "Kada" means (pot) and Easwar means the lord. As Lord Indra got the boon of getting "Amrit" here, this temple gets the name "Karakkoil".
Another legend associated with this place is that of Adithi, mother of Indra. It is believed that she was coming here every day from the celestial world (Devalokam) and worshiped Lord Amirthakadeswarar for granting the nectar to her children and Devas. Indira wanted to make her job easier by taking the Lord to celestial world.
He changed temple as a chariot and tried to drive it to his place without worshiping or getting permission from Lord Vinayakar. Angered Lord Vinayakar pressed left wheel of the chariot which got grounded. The sanctum sanctorum is in form of a chariot driven by horses with the left wheel stuck to earth as Lord Vinayakar left it grounded.
Indra's attempts failed and he begged Lord Vinayakar for pardon who agreed to let the temple if Indira installed one crore Shivalingams. Indra took the challenge with pride but every piece got damaged in the making. Realizing his fault over his pride, Indira fell at the feet of Lord Amirthakadeswarar. Lord asked him to make one Shivalingam chanting his name one crore times and Indira thus made the "Rudrakoteeswara Lingam". This lingam is present in the Keezha Kadambur temple close by. Lord appeared before Indra and asked him to stay here itself and worship for his mother which Indra obeyed. It is believed that Indira performs poojas to this lord in this temple each day.
It is also believed that Lord Murugan, Lord Indra, Roma Rishi, Chandran, Suryan, Sage Patanjali, King Parvatha Rajan, Saint Thirugnanasambanthar and Saint Thirunavukarasar have worshiped lord here.
One of the beliefs is that all nine planets worship Lord Shiva here on their respective days – when Lord Shiva here is adorned in clothes of different hues attributed to respective planet.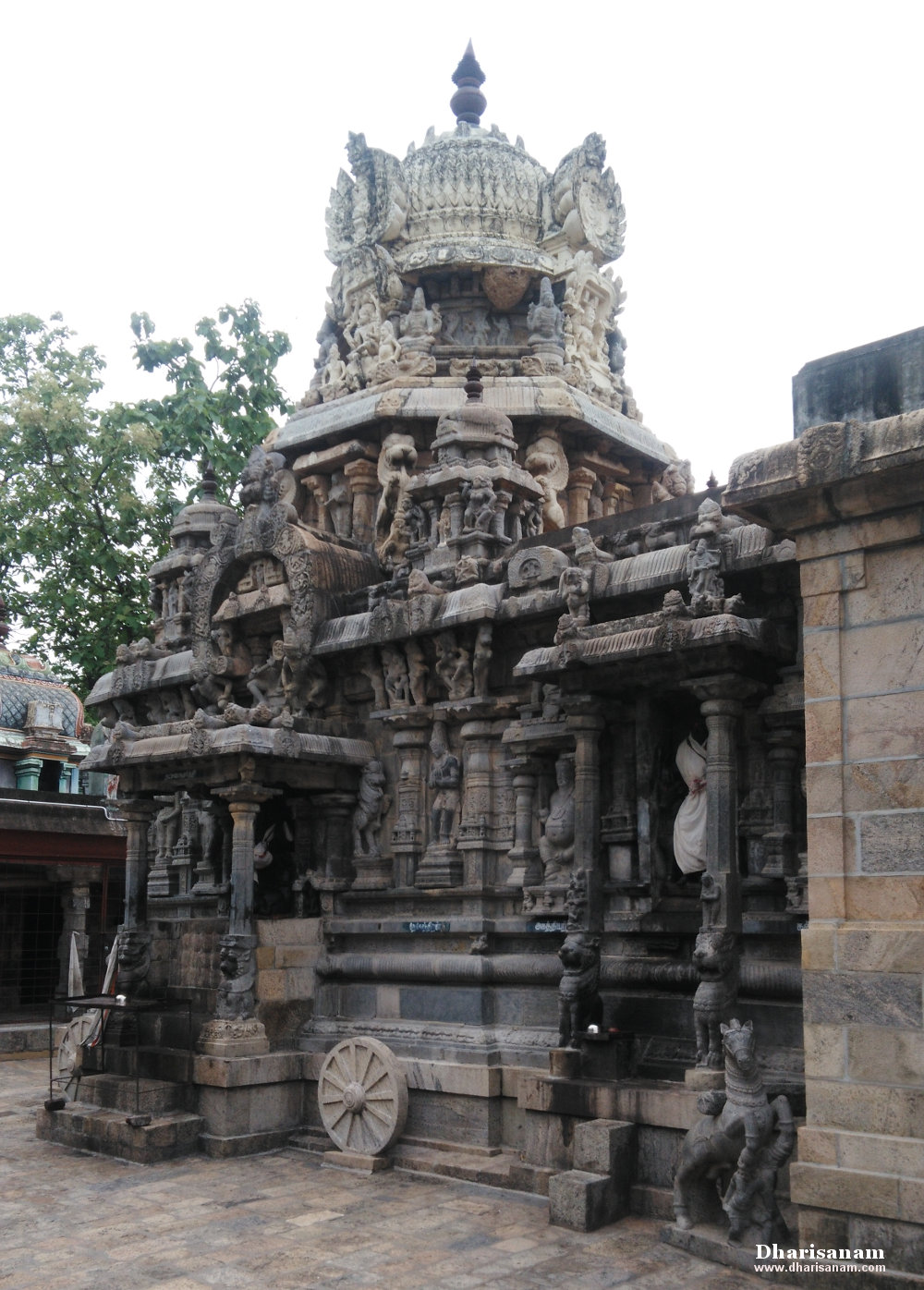 Deities in the temple
Other than the shrines of Lord Shiva and Goddess Parvathy, shrines and idols of Vinayagar, Murugan with his consorts, Kanni Vinayakar, Ardhanareeswarar with Nandhi, Agasthiyar, Devendran, Navagraham, Chandikeswarar, Aaravara Vinayakar, Gangadharar, Aalingana Murthy, Naalvar, Saraswathi, Mahalakshmi, Dhurvasar, Kadambavana Dakshina Rupini, Iyyanar, Kala Bairavar, Bairavar, Chandran, Suryan, Rishabaruder, Indra, Saneeswarar and Kadambavana Kaali can be seen in the main hall and the corridors.
In the "koshtam" (place surrounding the sanctum sanctorum), idols of Narthana Vinayakar, Dakshinamurthy, Mahavishnu, Brahma and Durgai with 8 hands can be seen.
The meticulously sculpted idols of Natarajar with Sivakami in stone are treat for pilgrims' eyes.
Sri Kadambavana Nathar can be seen under Sthala Viruksham - Kadamba tree. It is believed that by worshiping this lord will result in relief from debts.
The idol of Lord Mahavishnu graces with a Shivalingam in his hand with Goddess Mahalakshmi. The idols of Garudazhwar and Anjaneyar can be seen either side of him.
The relief of Sage Pathanjali, holding Lord Natarajar on his head showing his overwhelming joy of enjoying the dance darshan of the lord.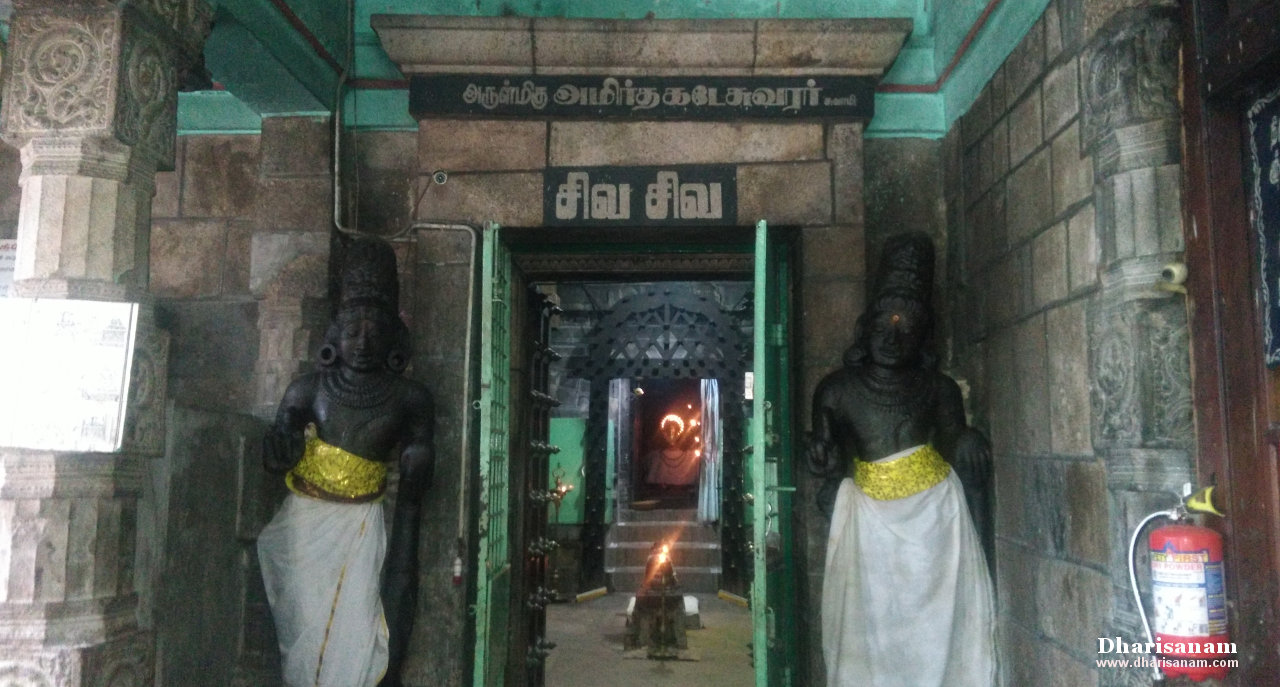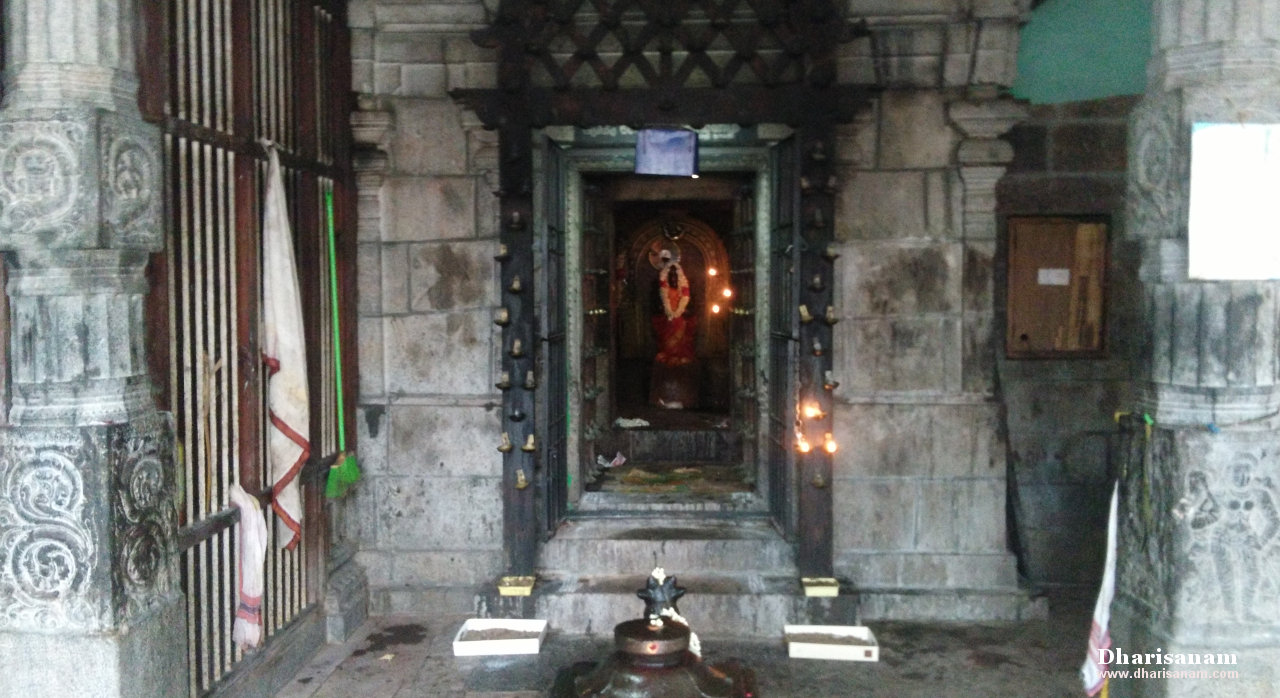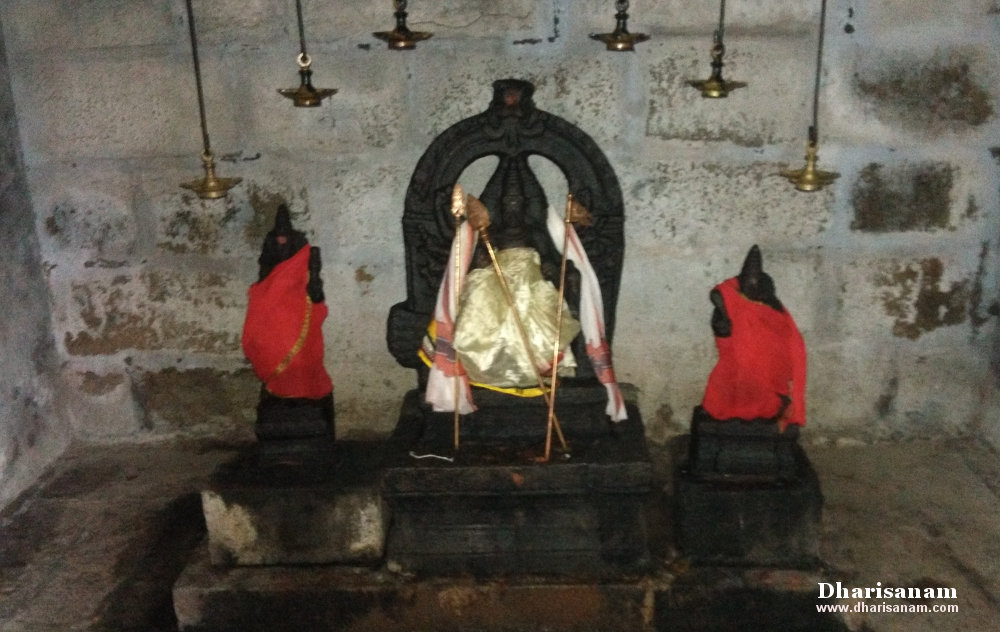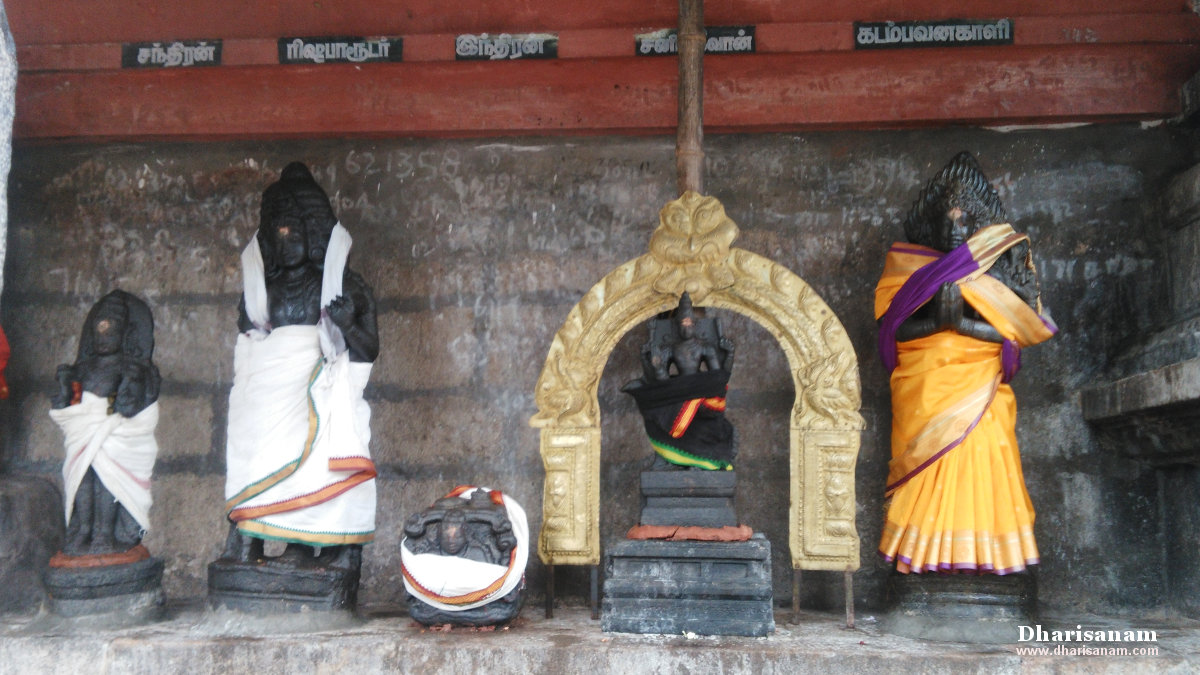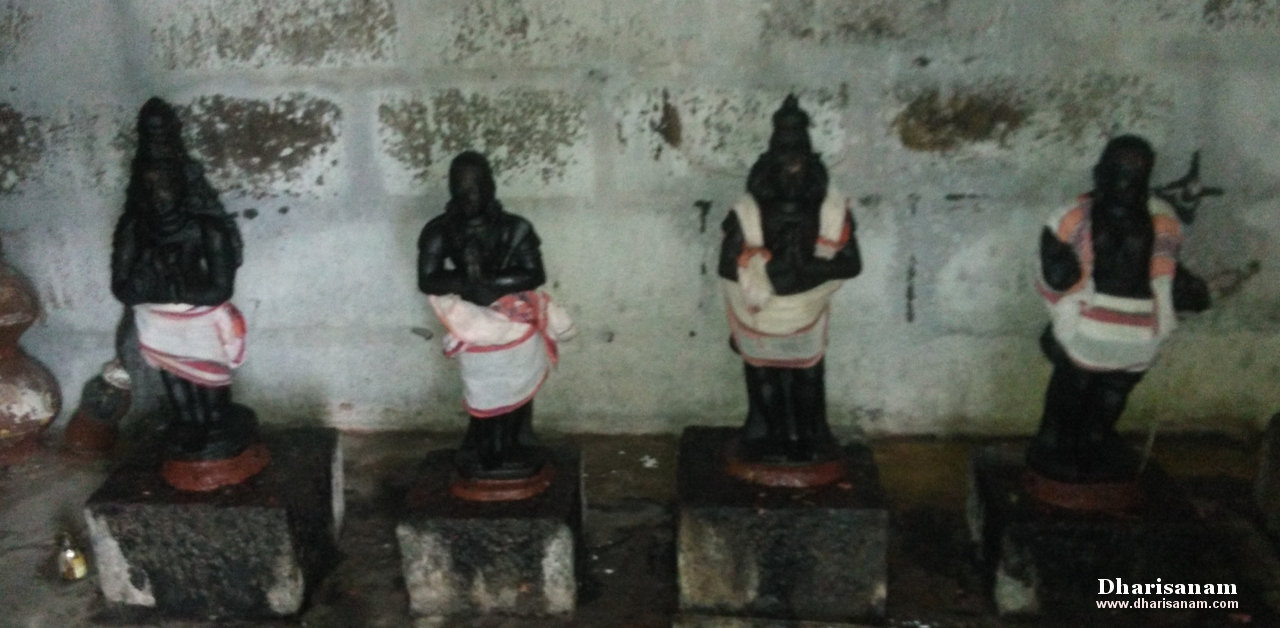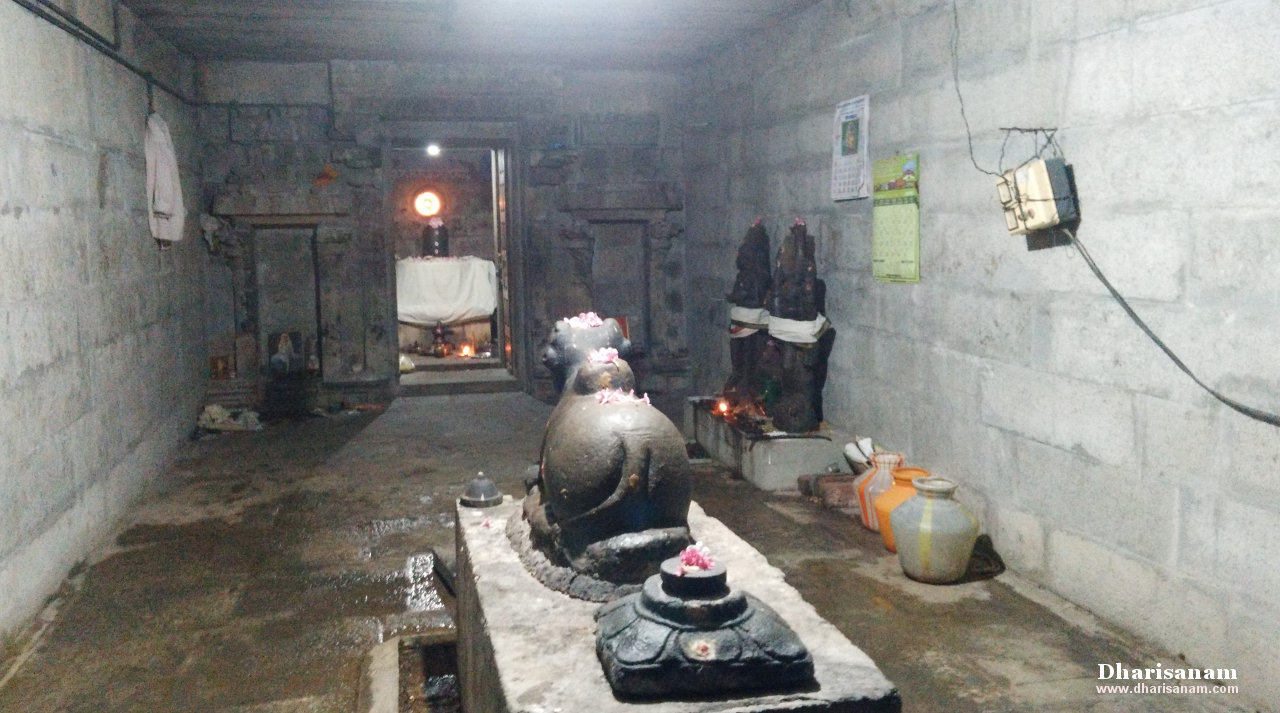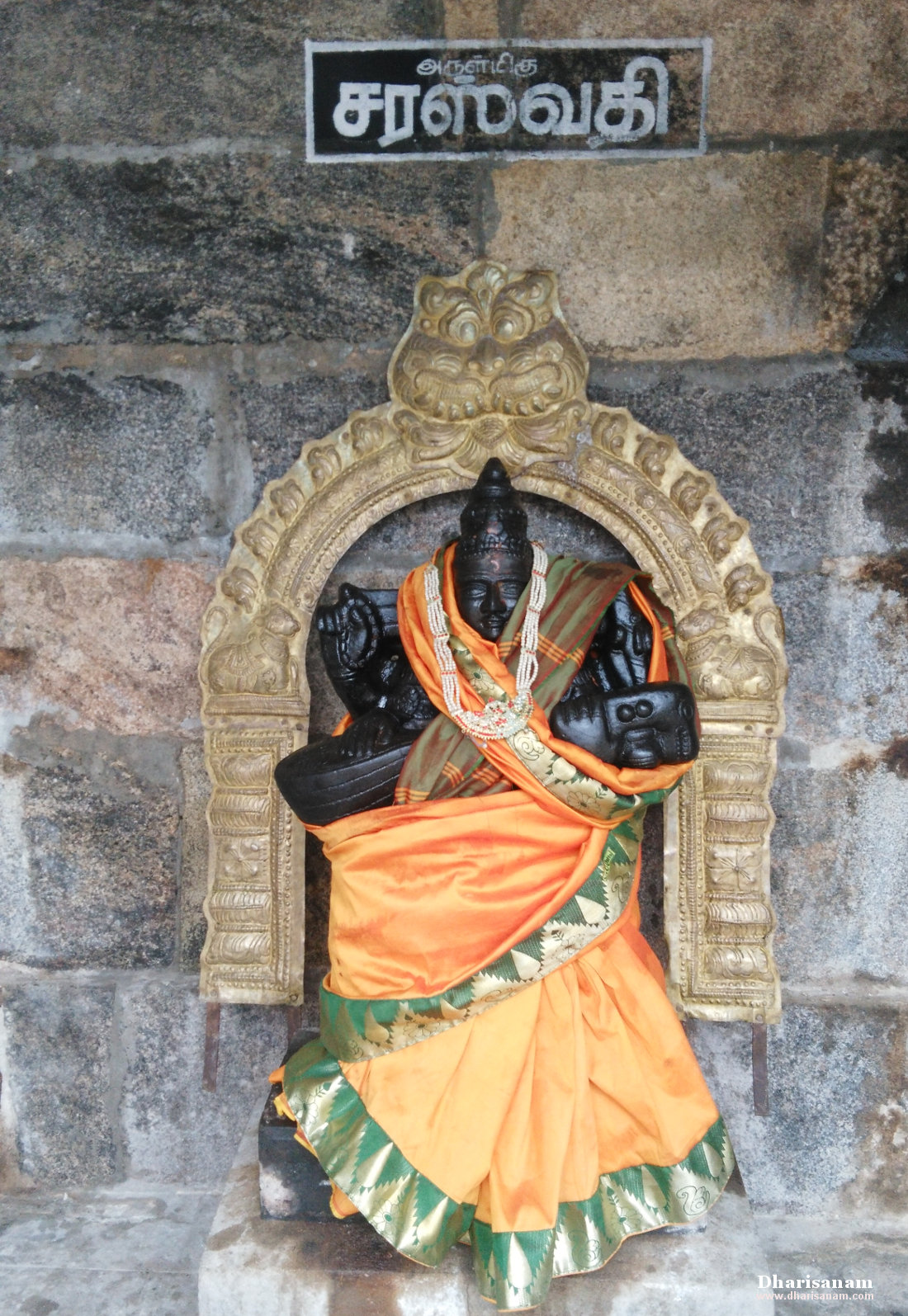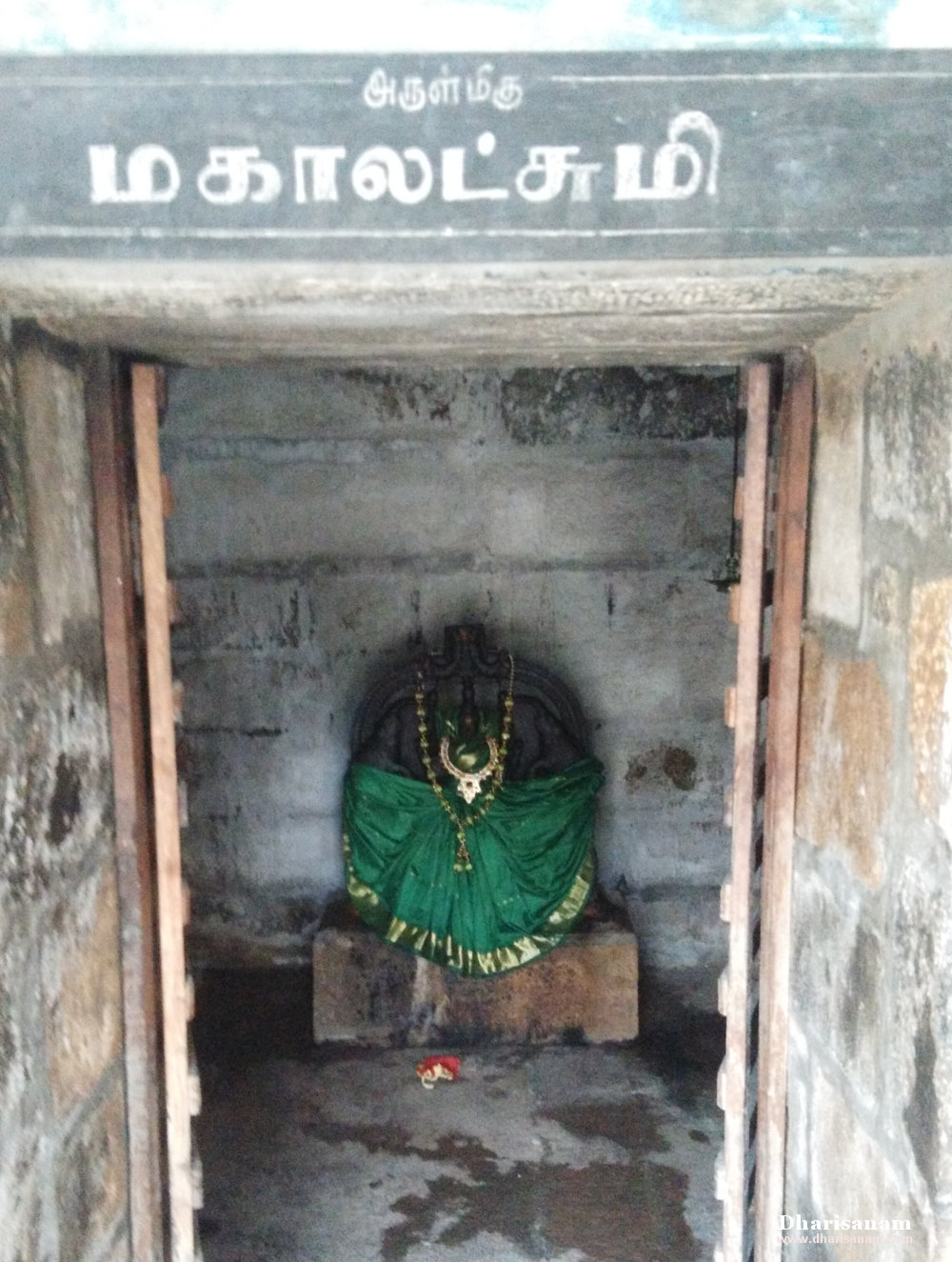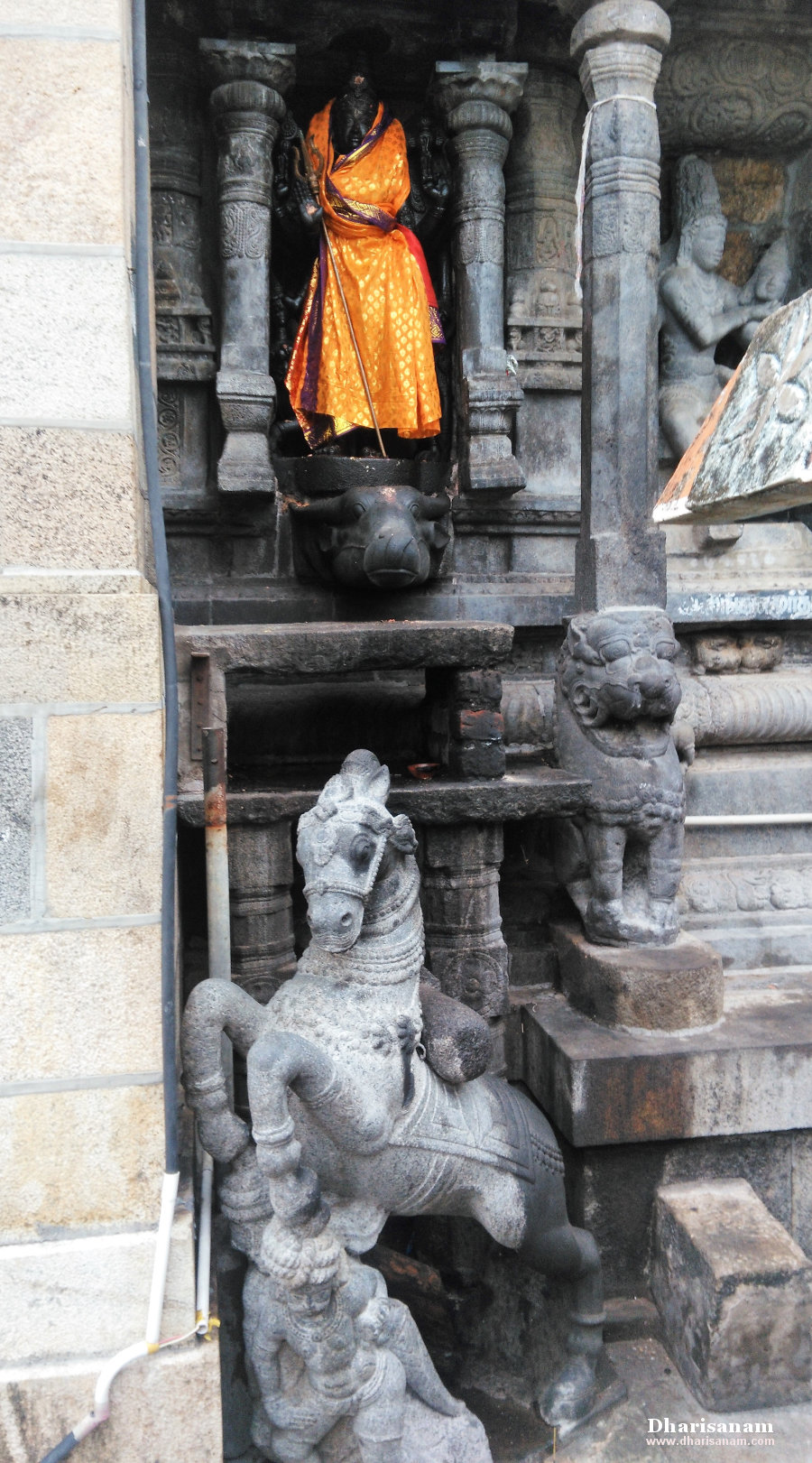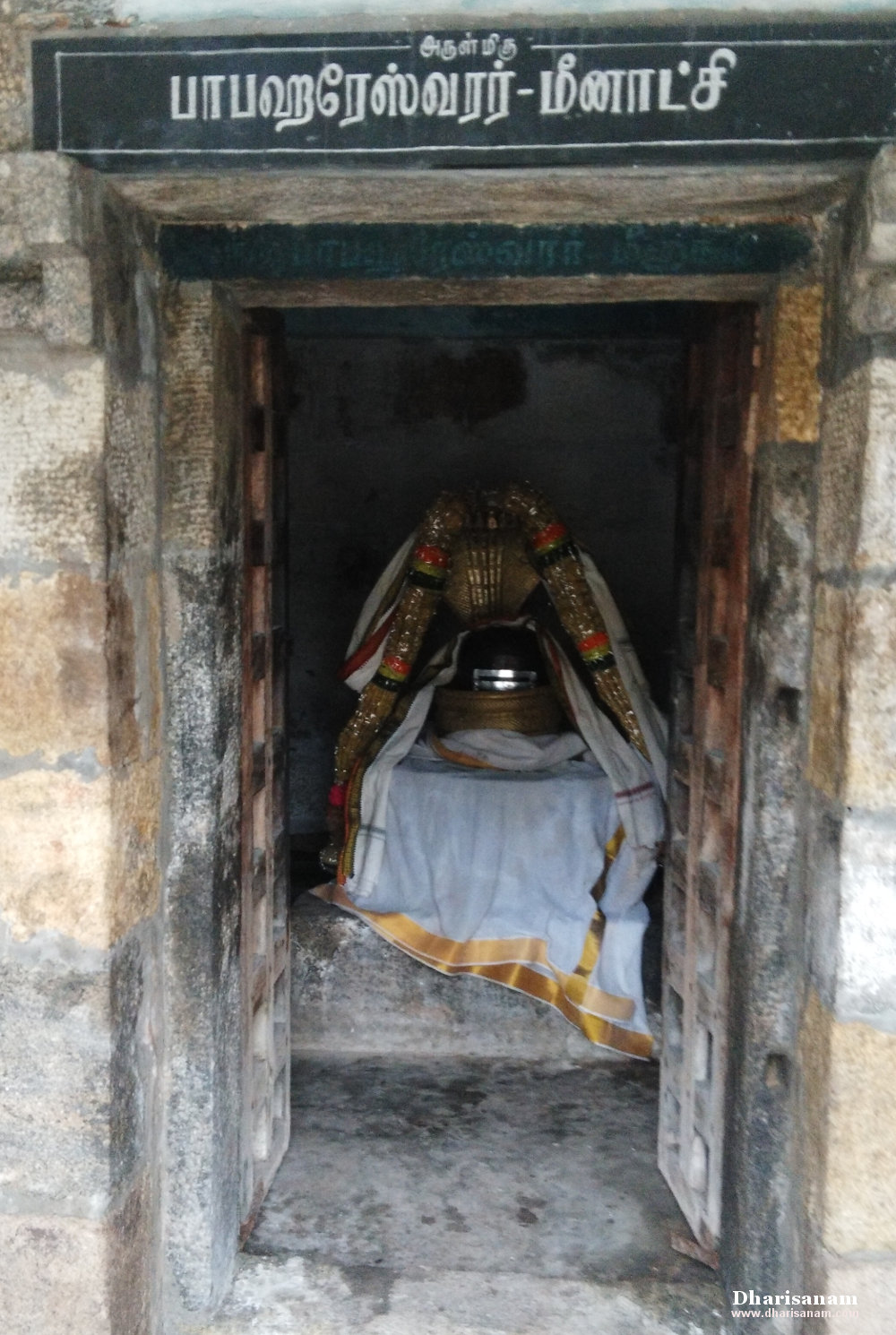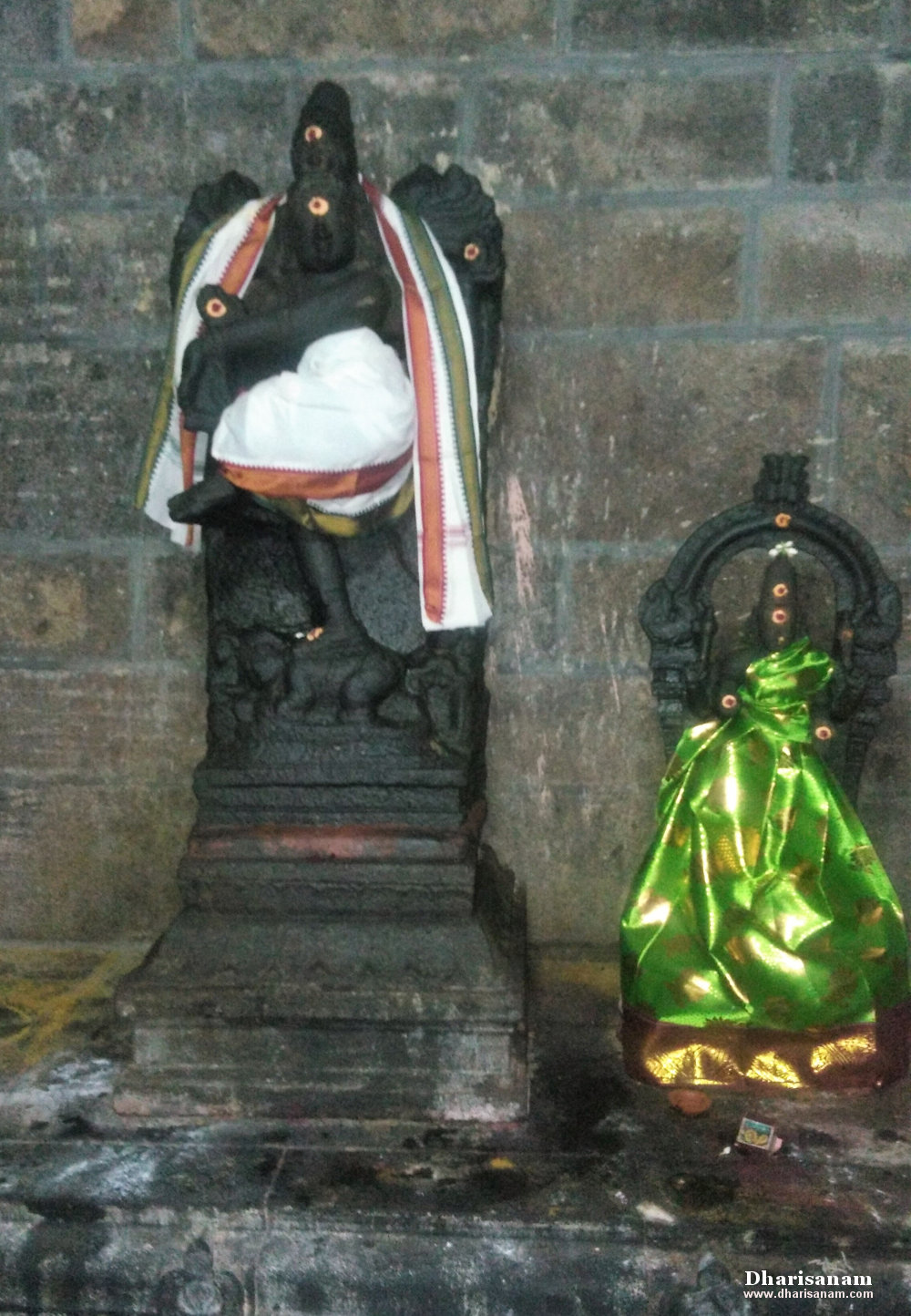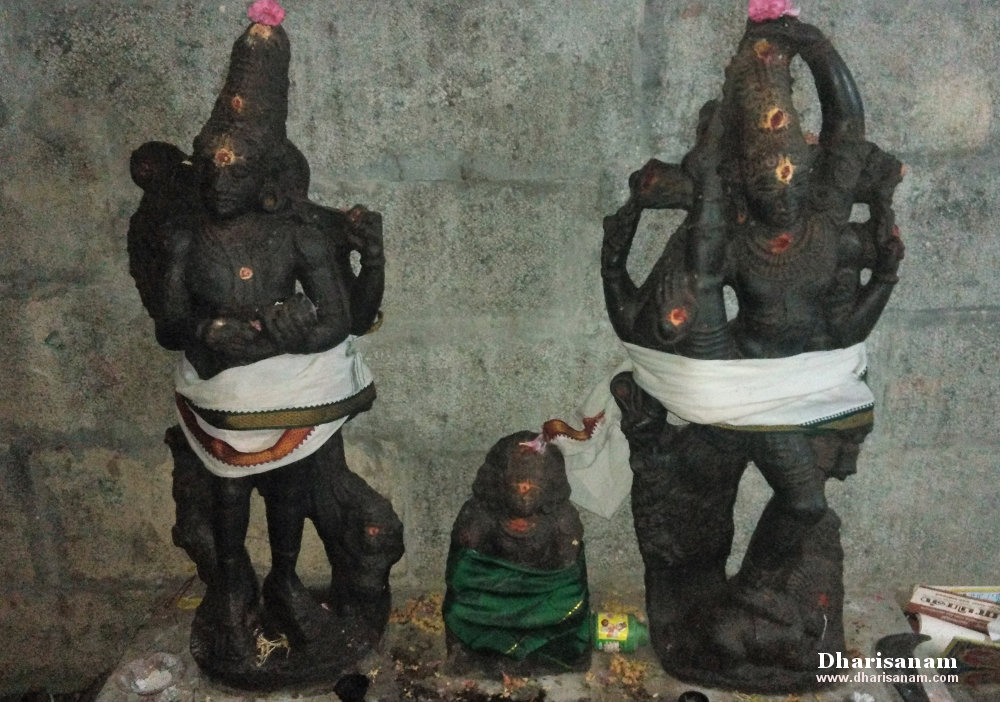 Salient Features
The entrance to sanctum sanctorum, "Gubera entrance" is protected by enchanting "Sanganidhi" and "Padumanidhi".
Lord Vinayakar gets the name "Aaravara Vinayakar" as he created great noise by pressing Indra's Rath and taking the nectar pot (Aaravaram means noisy).
Goddess Parvathy here is praised as "Sri Vidhyu Jyothi Nayaki" – "Vidya" refers to Saraswathi, "Jyothi" refers to Mahalakshmi and "Nayaki" refers to Parvathy. It is believed that she graces devotees by combining the powers of three Shakthis as Saraswathi with veena in the morning, as Mahalakshmi with elephant in the noon and as Parvathy with trident in the evening.
The invaluable treasure of this temple is a procession idol called "Sri Dasa Puja Rishaba Thandava Moorthy" - small in size depicting Lord Shiva dancing on his bull mount with his all ten arms spread and holding weapons. In the base (peeta-stage) below are Goddess Parvathi, Lord Mahavishnu, Bhairavar, Veerabadrar, Lord Vinayakar, Maharishis Narada, Brungi and Mruganda, Nandhi, Gandharvas (a group in the celestial world known for musical skills) and Boodhaganas. This idol is more than 1000 years old and is taken out for performing pooja once a fortnight during the "Pradosham" (13th day of new moon or full moon day) days between 4:30 and 6:00 PM only. Rest of the time, this idol is kept under lock and key.
The idol of Lord Dakshinamurthi looks breath-taking with a mesmerizing smile. A hole in his ear that extends to the next ear is an exquisite art of sculpture. A sculpture in tower above him depicts Lord Dakshinamurthi in 3 forms – one of them is Yoga Dakshinamoorthy seated on bull under a banyan tree with flute and veena.
Saint Thirunavukkarasar's popular hymn reminding devotees ("Adiyars") only duty is to dedicate themselves to service of lord by saying "en kadan pani seidu kidappathe..." meaning "my job is only to serve my Lord" as well as commanding Lord that his duty is to protect us only, was sung in this temple.
In their pathigams, Saint Manickavasagar and Saint Sundarar have praised lord here. Vallalar Ramalinga Adigalar worshiped lord here. Sri Pamban Swamigal and Vannachrabam Dhandabani Swamigal have also worshiped lord here and sang hymns praising this lord.
It is believed that King Rajendra Cholan-I brought a Vinayagar after the war with Ganga dynasty which is now kept in this temple in south-west corner named "Sri Aaravara Vinayakar". This Vinayakar is now linked to legend of creating great noise by pressing chariot and taking nectar pot (Amirta Kalasa) from Indra.
The idol of Goddess Durgai in koshtam is mesmerising with her "Simha Vahanam". This idol is placed on a big buffalo head, holding a "Sanku" and "Chakra". She is depicted here as Mahishsura Marthini, Simha Vahini and Vishnu Durgai.
Lord Brahma can be seen worshiping Lord Shiva with both Yama, the Lord of Death and his assistant Chitra Gupta on the other side.
Lord Saneeswarar here is seen with eagle as his mount against his usual crow mount. This is because eagle was his mount initially and King Dasaratha, father of Lord Ram, gave him the crow as mount later. Hence, Saneeswarar in this temple with eagle mount, is considered to belong to a period preceding the epic of Ramayana.
Legend says, Lord Suryan (Sun) worships Lord Shiva of this temple by directing his rays on lingam every year for three days during early sunrise from 3rd to 5th in the Tamil month of Panguni (Mar-Apr). During this time, special poojas are performed.
Saint Arunagirinadhar has sung songs in praise of Lord Murugan of this temple in his revered Thirupugazh.
There is a Shivalingam named "Sri Papahareswarar" - Devotees perform special poojas to this lord on their 60th and 80th birth anniversaries to wash away past sins.
This temple is an ornamental wonder of later Chola's architecture. Kulothunga Chola-I, himself, was an exponent in music, art and sculpting – thus, his personal involvement exhibits consummate artistic skills in every micro sculpture.
This temple is archaeological remnant of the once magnificent - Kadambur Palace of Cholas. Kadambur was once the capital of kingdom of Cholas – and this palace might have witnessed legendary events including assassination of Adithya Karikala Chola. But what remains of that palace today is just an empty ground with basement ruins.
The sanctum walls are completely filled with innumerable miniature reliefs depicting stories from Lord Shiva, life history of the 63 celebrated Saivite saints (Nayanmars), Ramayana, Krishna Leela and other divine personalities. No space is left unsculpted on Goshta wall – each relief referring to a legendary story.
Writer Kalki's magnum opus "Ponniyin Selvan", which starts on the banks of Veeranam lake mostly traverses around the Kadambur palace and its surroundings. Feature film Ponniyin Selvan PS-1 (2022) is based on the novel and thus, originating from Kadambur.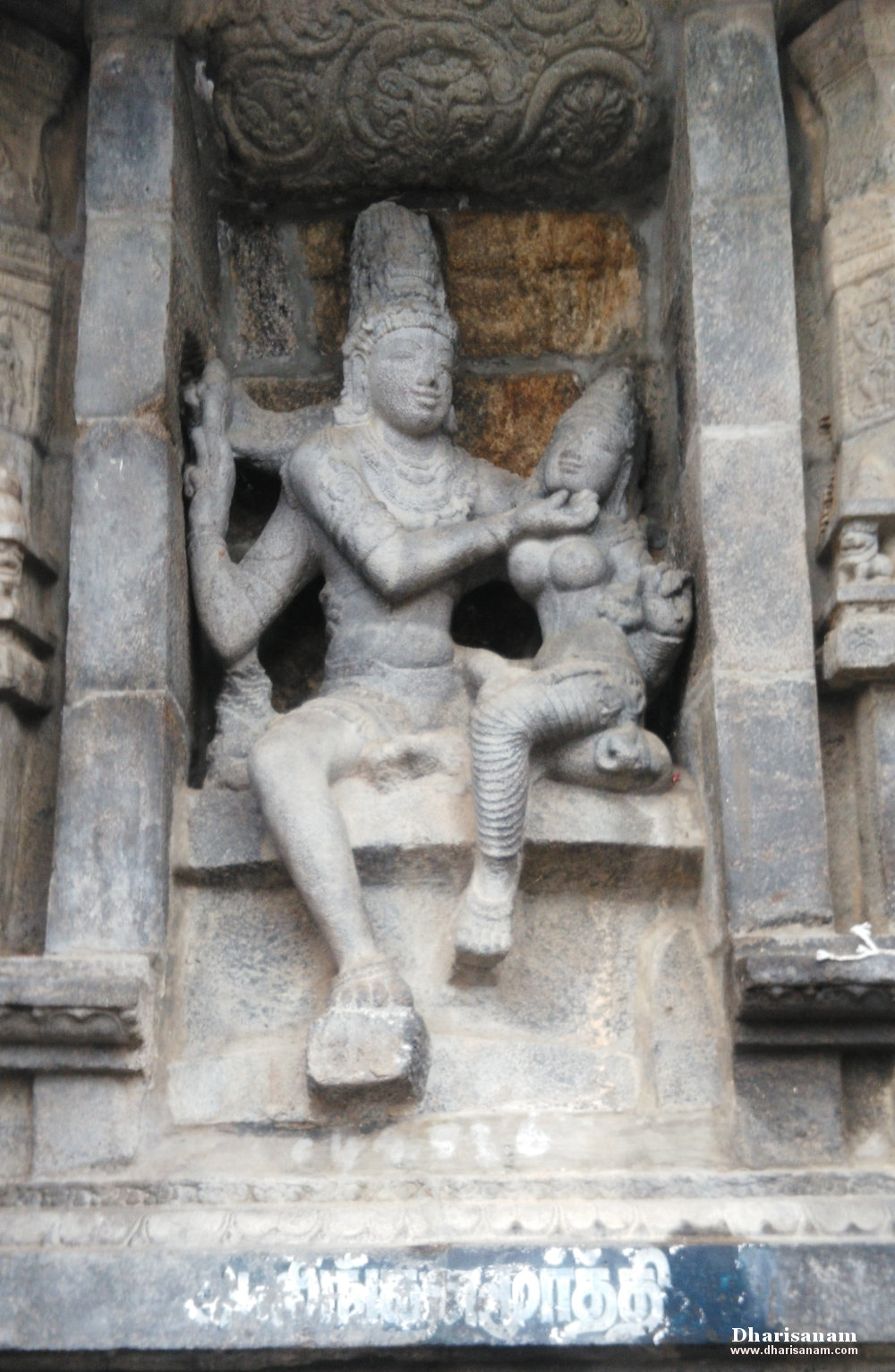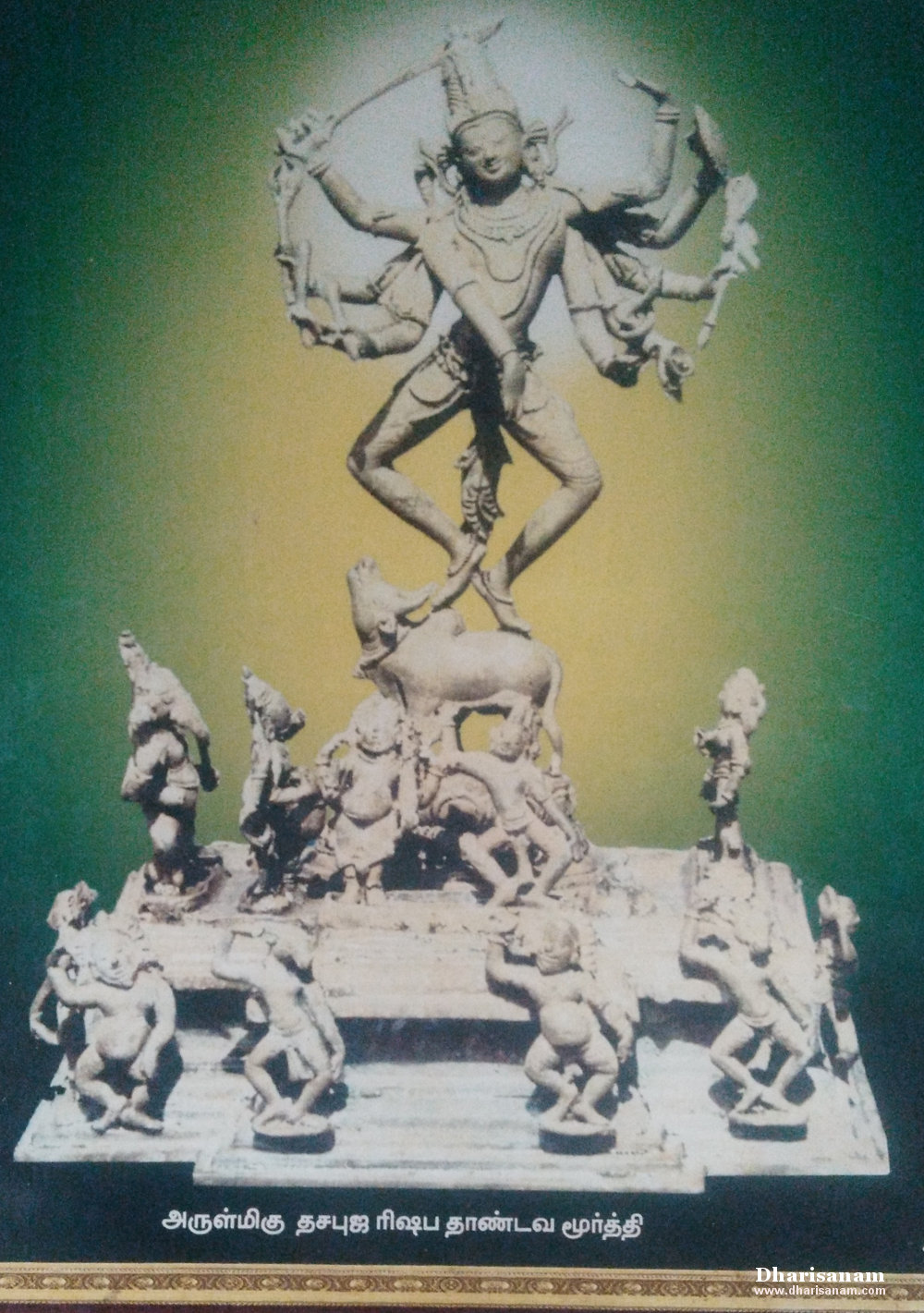 Greatness of this temple
Devotees believe that by worshiping lord here, they shall be blessed with long, healthy and prosperous life.
This is also a "Sevvai Dosha Parikara Sthalam" (Angaragan - Mars).
Sacred tree of this temple - Kadamba tree is believed to be representing "Sathaya nakshatram" (a constellation). Devotees who are born in the period of this constellation visit this temple for worship.
It is also believed that by worshiping lord of this sacred temple, devotees shall be relieved from problems caused due to adverse planetary position in their horoscope.
Important Festivals
Some of the important festivals celebrated in this temple are –
Vinayakar Chaturthi in the Tamil month of Aavani (Aug-Sept),
Annabishekam in the Tamil month of Aippasi (Oct–Nov),
Thiru Karthikai in the Tamil month of Karthikai (Nov-Dec),
Thiruvadhirai in the Tamil month of Markazhi (Dec-Jan),
Makara Sankranthi in the Tamil month of Thai (Jan-Feb) and
Shivrathri in the Tamil month of Masi (Feb-Mar).
Pradosham is observed regularly in a grand manner.
Special poojas are performed to Lord Saneeswarar on Saturdays in the Tamil month of Purattasi (September-October).
Temple Timings
From 09:00 AM to 11:00 AM and from 05:30 PM to 08:00 PM.
Temple Address
Sri Amirtha Kadeswarar Temple,
Melakkadambur,
Kattumannarkoil Taluk,
Cuddalore District,
Tamil Nadu – 608304.
Tele: +91 093456 56982.
This temple's priest can be contacted at +91- 4144 – 264 638.
This temple's Trustee Sri Vijay can be contacted at: +91- 4144 – 264 642,
98426 76797.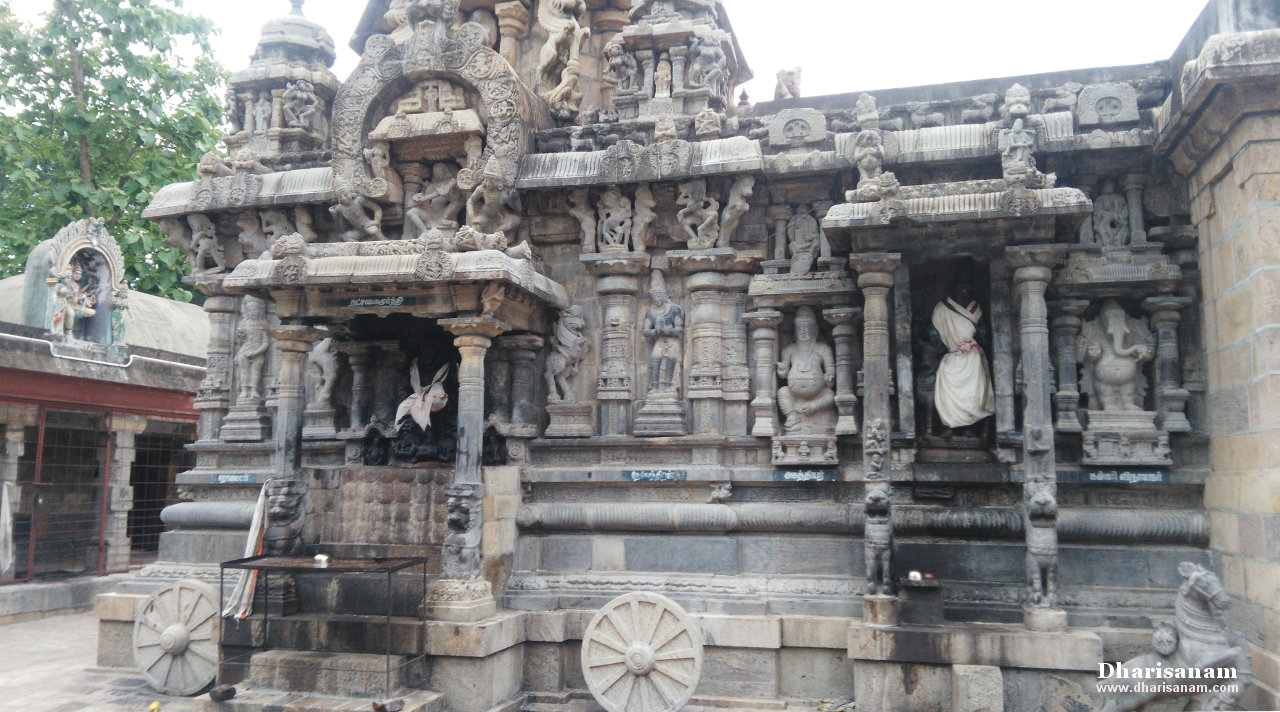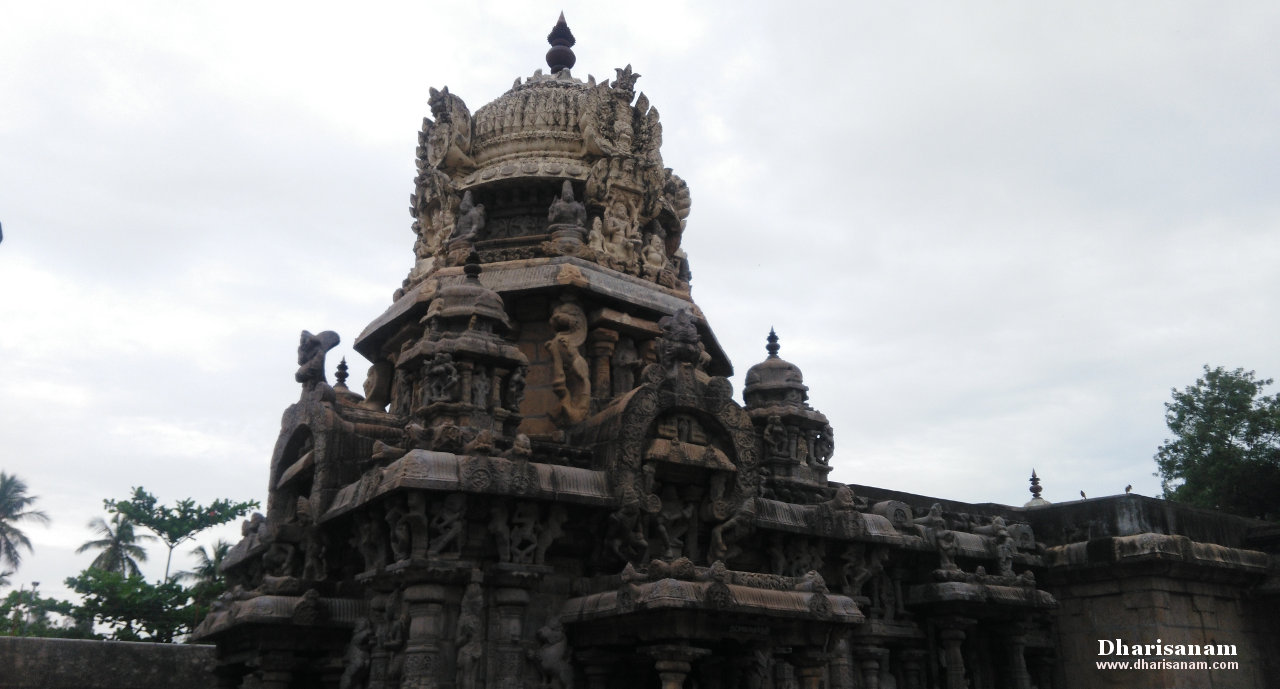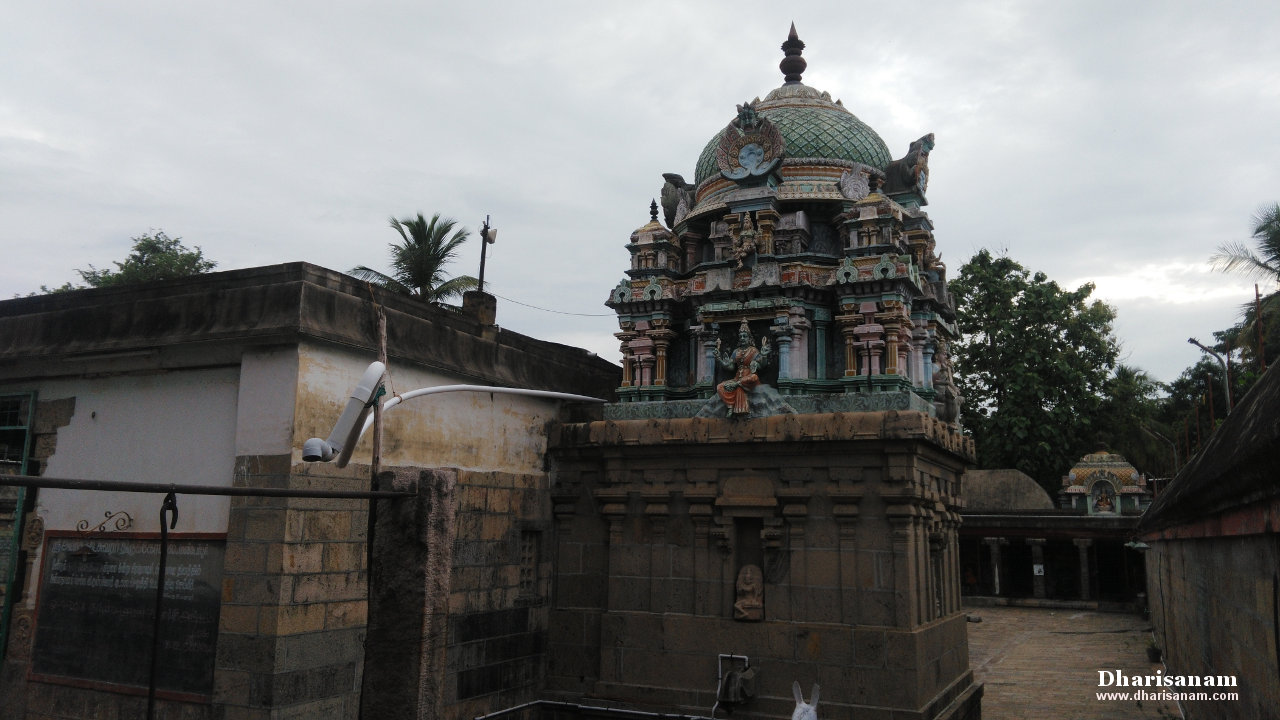 Pathigam (Hymn) with English transliteration and Tamil meaning.
Saint Thirunavukkarasar (Appar) visited this temple and sang this Pathigam.
Devotees visiting this temple should make it a practice to recite this Pathigam.
Pathigam No.5.019.
Thirunavukkarasar Pathigam ("En kadan pani seithu kidappathe")
தளருங் கோளர வத்தொடு தண்மதி
வளருங் கோல வளர்சடை யார்க்கிடம்
கிளரும் பேரிசைக் கின்னரம் பாட்டறாக்
களருங் கார்க்கடம் பூர்க்கரக் கோயிலே.
"Thaḷaruṅ kōḷara vaththoṭu thaṇmathi
vaḷaruṅ kōla vaḷarsaṭai yārkkiṭam
kiḷarum pērisaik kiṉṉaram pāṭṭaṟāk
kaḷaruṅ kārkkaṭam pūrkkarak kōyilē".
தளருகின்ற கொள்ளுதல் தப்பாத பாம்பினோடு, குளிர்ந்த பிறைமதி வளரும் அழகு வளர்கின்ற சடையாராகிய சிவபெருமானுக்கு இடம், பேரிசை கிளர்கின்ற கின்னரங்களின் பாட்டு அறாத, கரிய கடம்பு நிறைந்த ஊரில் திருக்கரக் கோயிலே.
வெலவ லான்புல னைந்தொடு வேதமும்
சொலவ லான்சுழ லுந்தடு மாற்றமும்
அலவ லான்மனை யார்ந்தமென் தோளியைக்
கலவ லான்கடம் பூர்க்கரக் கோயிலே.
"Velava lāṉpula ṉainthoṭu vēthamum
solava lāṉchuzha lunthaṭu mātṟamum
alava lāṉmaṉai yārnthameṉ thōḷiyaik
kalava lāṉkaṭam pūrkkarak kōyilē".
கடம்பூர்த் திருக்கரக் கோயிலின்கண் வீற்றிருக்கும் இறைவன் புலன் ஐந்தினை வெல்ல வல்லமை உடையவன்; வேதமும் சொல்லவல்லவன்; சுழல்கின்ற தடுமாற்றமும் நீக்க வல்லவன்: மனையார்ந்த மங்கையாகிய மென்றோளுடைய உமாதேவியாரைக் கலத்தல் வல்லவன்.
பொய்தொ ழாது புலியுரி யோன்பணி
செய்தெ ழாவெழு வார்பணி செய்தெழா
வைதெ ழாதெழு வாரவ ரெள்கநீர்
கைதொ ழாவெழு மின்கரக் கோயிலே.
"Poytho zhāthu puliyuri yōṉpaṇi
seythe zhāvezhu vārpaṇi seythezhā
vaithe zhāthezhu vārava reḷkanīr
kaitho zhāvezhu miṉkarak kōyilē".
உலகப் பொருள்களில் பற்றுச் செய்யாது. புலியின் தோலை உடுத்தோனாகிய சிவபிரான் பணியைச் செய்து, அவ்வாறு எழுவார் பணியினையும் உடன்செய்து கரக்கோயிலைக் கைதொழுது வணங்கி உயர்வீராக. வைதொழாது எழுவார் எள்ளினால் எள்ளட்டும்.
துண்ணெ னாமனத் தால்தொழு நெஞ்சமே
பண்ணி னால்முனம் பாட லதுசெய்தே
எண்ணி லாரெயில் மூன்று மெரித்தமுக்
கண்ணி னான்கடம் பூர்க்கரக் கோயிலே.
"Thuṇṇe ṉāmaṉath thālthozhu neñchamē
paṇṇi ṉālmuṉam pāṭa lathuseythē
eṇṇi lāreyil mūṉtṟu meriththamuk
kaṇṇi ṉāṉkaṭam pūrkkarak kōyilē".
நல்ல எண்ணமில்லாதாரது முப்புரம் எரித்த முக்கண்ணினானது கடம்பூர்க் கரக்கோயிலை, பண்ணினால் திருமுன்பு பாடல் பரவி அச்சமின்றி நெஞ்சமே தொழுவாயாக.
சுனையுள் நீல மலரன கண்டத்தன்
புனையும் பொன்னிறக் கொன்றை புரிசடைக்
கனையும் பைங்கழ லான்கரக் கோயிலை
நினையு முள்ளத் தவர்வினை நீங்குமே.
"Suṉaiyuḷ nīla malaraṉa kaṇṭaththaṉ
puṉaiyum poṉṉiṟak koṉtṟai purisaṭaik
kaṉaiyum paiṅkazha lāṉkarak kōyilai
niṉaiyu muḷḷath thavarviṉai nīṅkumē".
சுனையுள் பூத்த நீலமலர் போன்ற கண்டத்தனும், புனையும் பொன்னிறக் கொன்றையுடைய புரிசடையும் ஒலிக்கின்ற கழலும் உடையவனுமாகிய கரக்கோயிற் பெருமானை நினையும் உள்ளத்தவர் வினைகள் நீங்கும்.
குணங்கள் சொல்லியுங் குற்றங்கள் பேசியும்
வணங்கி வாழ்த்துவ ரன்புடை யாரெலாம்
வணங்கி வான்மலர் கொண்டடி வைகலும்
கணங்கள் போற்றிசைக் குங்கரக் கோயிலே.
"Kuṇaṅkaḷ solliyuṅ kutṟaṅkaḷ pēsiyum
vaṇaṅki vāzhththuva raṉpuṭai yārelām
vaṇaṅki vāṉmalar koṇṭaṭi vaikalum
kaṇaṅkaḷ pōtṟisaik kuṅkarak kōyilē".
அன்புடையாரெலாம் குணங்கள் சொல்லியும் குற்றங்கள் பேசியும் வணங்கி வாழ்த்துவதும், கணங்கள் வணங்கி வான்மலர் கொண்டு வைகலும் அடி போற்றிசைப்பதும் கரக்கோயில் தலத்திலாகும்.
பண்ணி னார்மறை பல்பல பூசனை
மண்ணி னார்செய்வ தன்றியும் வைகலும்
விண்ணி னார்கள் வியக்கப் படுவன
கண்ணி னார்கடம் பூர்க்கரக் கோயிலே.
"Paṇṇi ṉārmaṟai palpala pūsaṉai
maṇṇi ṉārseyva thaṉṟiyum vaikalum
viṇṇi ṉārkaḷ viyakkap paṭuvaṉa
kaṇṇi ṉārkaṭam pūrkkarak kōyilē".
திருக்கடம்பூர்க் கரக்கோயில் பண்ணினைப் பொருந்திய மறையோதிப் பல்பூசனைகளை மண்ணினுள்ளார் செய்வதன்றியும் நாள்தோறும் விண்ணினுள்ளாரும் வியக்கப்படும் பூசனைகள் செய்யக்கருதினர்.
அங்கை ஆரழ லேந்திநின் றாடலன்
மங்கை பாட மகிழ்ந்துடன் வார்சடைக்
கங்கை யானுறை யுங்கரக் கோயிலைத்
தங்கை யால்தொழு வார்வினை சாயுமே.
"Aṅkai ārazha lēntiniṉ tṟāṭalaṉ
maṅkai pāṭa makizhnthuṭaṉ vārsaṭaik
gaṅgai yāṉuṟai yuṅkarak kōyilaitg
tgaṅkai yālthozhu vārviṉai sāyumē".
உமையம்மை உடனிருந்து மகிழ்ந்து பாட அங்கையில் அழல் ஏந்தி நின்று ஆடல் புரிபவன், ஆய கங்கை யுறையும் சடையான் வீற்றிருக்கும் கரக்கோயிலைத் தம்கையால் தொழுவாருடைய வினைகள் வலியற்றுக்கெடும்.
நங்க டம்பனைப் பெற்றவள் பங்கினன்
தென்க டம்பைத் திருக்கரக் கோயிலான்
தன்க டன்னடி யேனையுந் தாங்குதல்
என்க டன்பணி செய்து கிடப்பதே.
"Naṅka ṭampaṉaip petṟavaḷ paṅkiṉaṉ
theṉka ṭampaith thirukkarak kōyilāṉ
thaṉka ṭaṉṉaṭi yēṉaiyun thāṅkuthal
eṉka ṭaṉpaṇi seythu kiṭappathē".
கடம்பமாலை சூடிய நம் முருகனைப் பெற்ற உமாதேவியினைப் பங்கில் உடையவனாகிய தென் கடம்பைத் திருக்கரக்கோயிலான் தன் கடன் அடியேன் போன்றாரைத் தாங்குதல்; என் போன்றார் கடன் பணிசெய்து தற்போதம் இன்றியே இருத்தல்.
பணங்கொள் பாற்கடல் பாம்பணை யானொடும்
மணங்க மழ்மலர்த் தாமரை யானவன்
பிணங்கும் பேரழ லெம்பெரு மாற்கிடம்
கணங்கள் போற்றிசைக் குங்கரக் கோயிலே.
"Paṇaṅkoḷ pāṟkaṭal pāmpaṇai yāṉoṭum
maṇaṅka mazhmalarth thāmarai yāṉavaṉ
piṇaṅkum pērazha lemperu māṟkiṭam
kaṇaṅkaḷ pōtṟisaik kuṅkarak kōyilē".
பாற்கடலில் கிடக்கும் படம்கொண்ட பாம்பு அணையானாகிய திருமாலும் மணம் கமழ் மலர்த்தாமரையானாகிய பிரமனும் தம்மில் மாறுபட்ட போது பேரழலாய் நிமிர்ந்த எம் பெருமானுக்கு இடம், கணங்கள் போற்றிசைக்கும் கரக்கோயிலாகும்.
வரைக்கண் நாலஞ்சு தோளுடை யான்தலை
அரைக்க வூன்றி யருள்செய்த ஈசனார்
திரைக்குந் தண்புனல் சூழ்கரக் கோயிலை
உரைக்கு முள்ளத் தவர்வினை யோயுமே.
"Varaikkaṇ nālañchu thōḷuṭai yāṉthalai
araikka vūṉtṟi yaruḷseytha īsaṉār
thiraikkun thaṇpuṉal chūzhkarak kōyilai
uraikku muḷḷath thavarviṉai yōyumē".
திருக்கயிலாயத் திருமலைக்கண் இருபது தோளுடைய இராவணன் தலைகள் அரைபடும்படி ஊன்றிப் பின்னர் அருள்புரிந்த ஈசனார் வீற்றிருக்கும், அலைவீசும் குளிர் புனல் சூழ் கரக்கோயிலைக் கூறும் உள்ளத்தவர் வினைகள் ஓயும்.