Visited on: 17th September, 2016
Location
Kiliyanur is at a distance of about 25 kms from Pondicherry on the Pondicherry to Tindivanam route. After crossing Morattandi, there is a small road on the right going to Kiliyanur village. Travel along that road for about 3 kms to reach the temple. The temple is near the village Brammadesam and at a distance of about one km from Kiliyanur bus stand.
Two more Paadal Petra Sthalam, Arisili and Irumbai Maakaalam are located very near to this place.
General Information
| | |
| --- | --- |
| Moolavar | Sri Agastheewarar |
| Ambal | Sri Akilandeswari |
| Theertham (Holy water) | Agni Theertham |
| Sthala Vriksham (Sacred Tree) | Vanni |
| Pathigam (Hymn) rendered by | Saint Thirugnanasambanthar |
This is one of the 276 Devara Padal Petra Shiva Sthalams and 33rd Shiva Sthalam in Nadu Naadu.
It is said that this is the last (276th) Paadal Petra Shiva Sthalam that has been identified so far.
Lord Shiva in this temple is a Swayambumurthi (self-manifested).
The procession idols (Urchavars) are kept somewhere else for safety reasons as they have been stolen once and later recovered.
This is a Rahu-Kedu parikara Sthalam.
There is no flag post (Kodimaram) or main tower (Rajagopuram) in this temple.
History of the Temple
This temple is around 1500 years old and was built in the Chola period. "Killi" is the surname of Chola kings and there are historical references to kings from the Chola period like King Nedungkilli and King Killivalavan. It is possible that this place's name "Kiliyanur" might have been derived from its connection to the Chola dynasty.
As per the stone inscriptions in the temple, it can be deduced that this temple was first built using bricks and later reconstructed using granite during King Paranthaka Chola-I's period.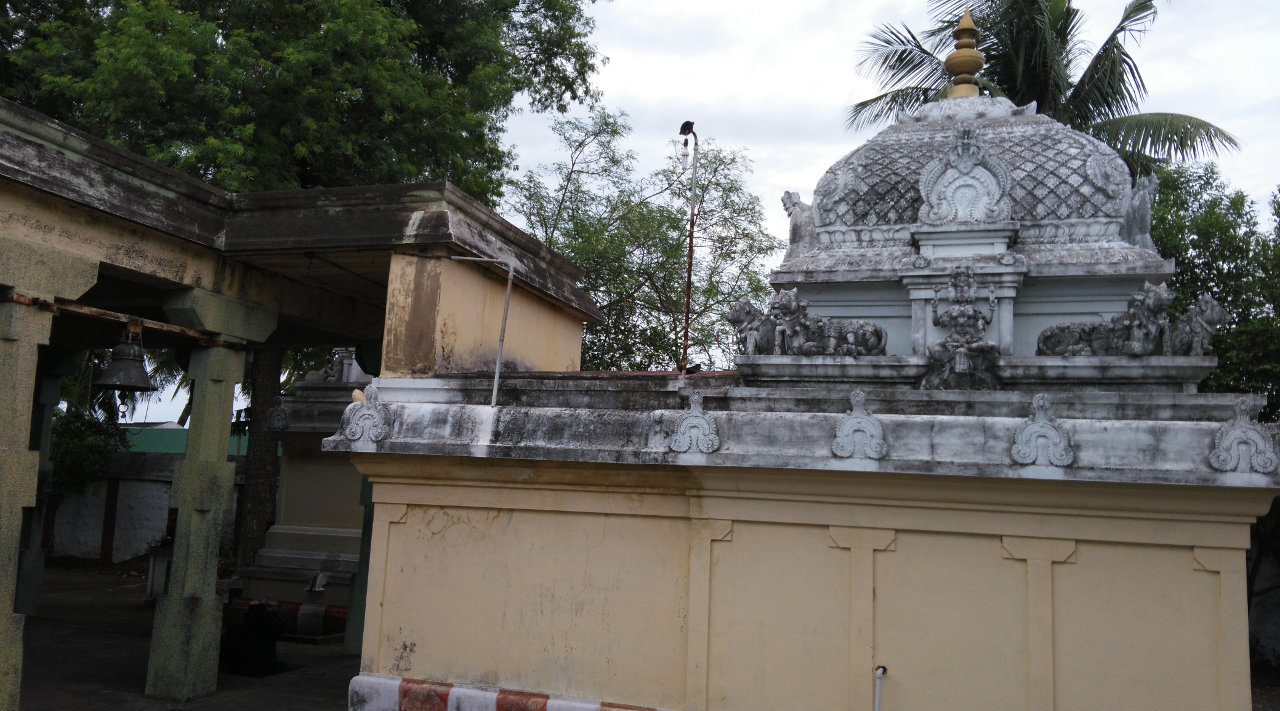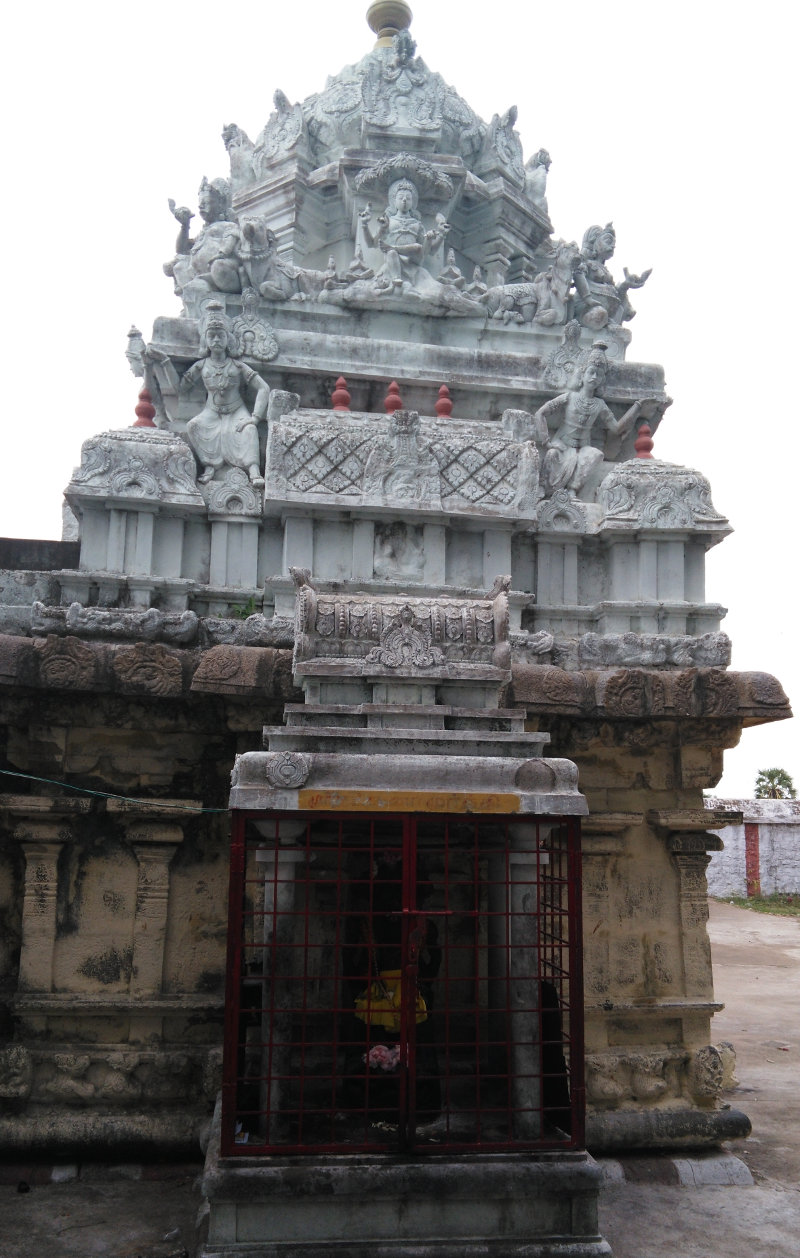 Legend
It is said that the lingam (Moolavar) was installed and worshiped by Sage Agasthiyar, so the lord is named Sri Agastheeswarar.
It is also said that Nandi Devar (the bull which serves as the mount of Lord Shiva), who is in front of Goddess Akilandeswari is performing poojas and worshiping her on Maha Shivratri days. Some inscriptions about this are also available in this temple.
Deities in the Temple
Apart from Lord Agastheewarar's shrine, there is a separate shrine for Goddess Akilandeswari. The idols of Vinayagar, Agasthiyar, Gajalakshmi, Murugan with his consorts Valli and Devasena, Kaala Bairavar, Pitchandavar, Dhakshinamoorthy, Mahavishnu, Brahma, Durgai, Navagraham, Suryan and Chandran can be seen in the corridors.
Salient Features
It is said that Sage Kalava Maharishi came to this place and stayed here for a long time with his two daughters who were suffering from some critical illness. They prayed to Lord Shiva here. Impressed by their devotion, Lord Shiva blessed the Sage's daughters and cured them of their ailments.
It is also believed that the parrot-faced Sage Sukabrahma Maharishi visited and worshipped Lord Shiva here to seek relief from his stomach ailments.
Adisheshan (the serpent on whom Sri Mahavishnu rests) is also believed to have worshipped Lord Shiva here.
Greatness of this temple
Devotees visit this temple and worship the lord here to seek remedies for obstacles in marriage proposals and to seek the lord's blessing for good education. It is also believed that worshiping Lord Shiva here will grant the boon of childbirth to childless couples.
It is a common belief that drinking the abishekam milk (milk that has been poured on the lingam) at this temple can cure illness, especially stomach ailments.
Since Adisheshan is believed to have worshipped Lord Shiva here, this temple is considered as a parikara Sthalam for Rahu-Kedu Dosham.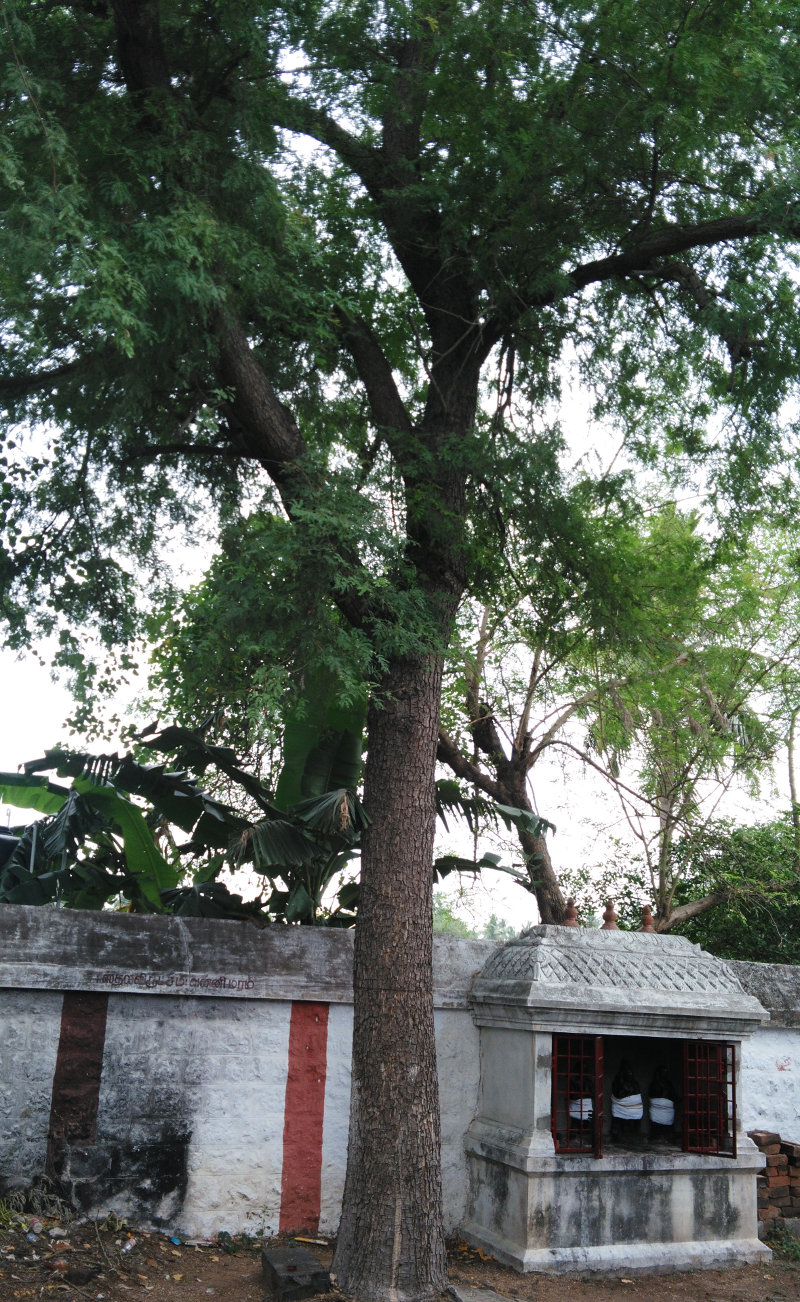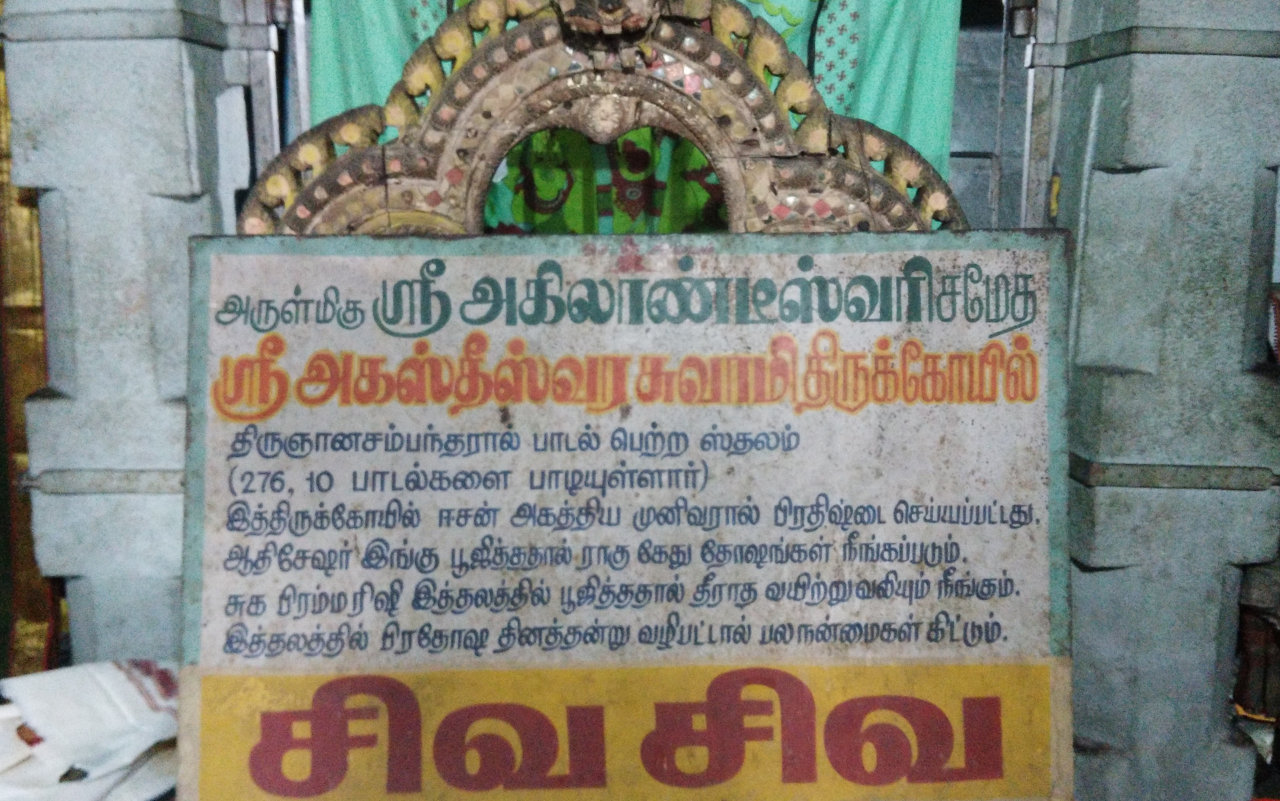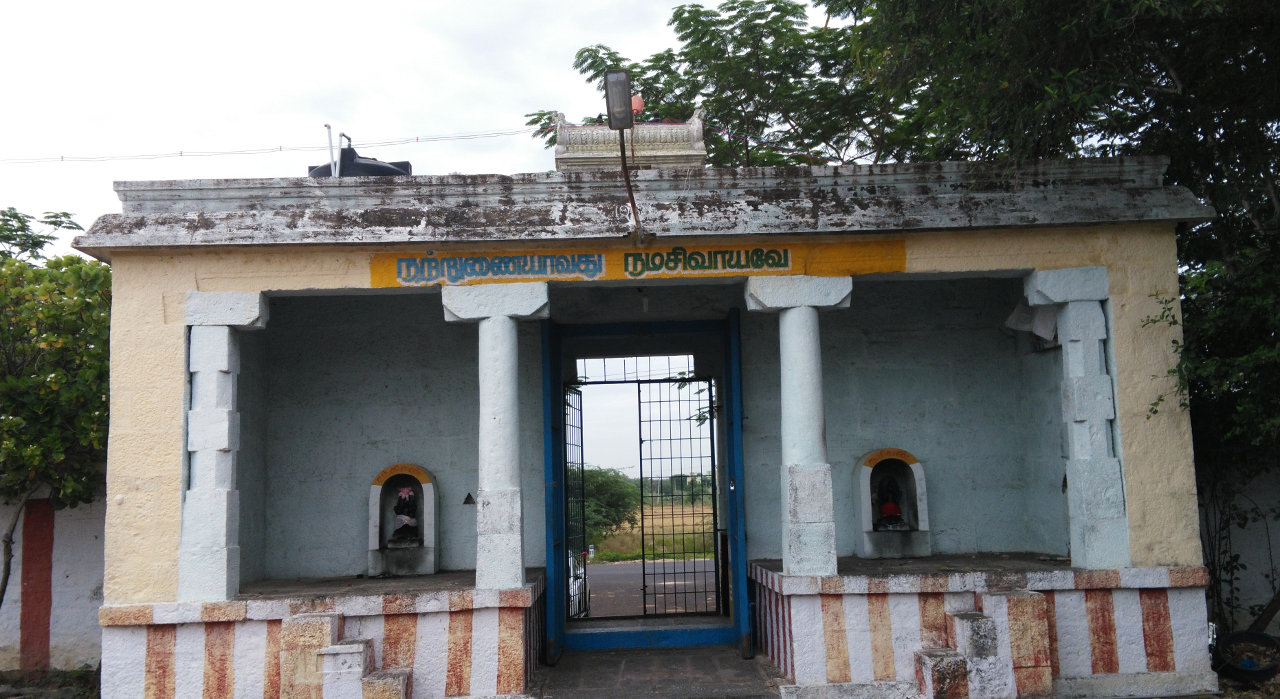 Important Festivals
Amongst others, Maha Shivratri, Annabishekam, Thiruvathirai are some of the main festivals celebrated here.
Temple Timings
From 08:00 AM to 12:00 Noon and from 05:30 PM to 07:30 PM.
Temple Address
Sri Agastheeswarar Temple,
Thiru Kiliyanur, Thindivanam Taluk,
Villupuram District, Tamil Nadu – 604001.
Tele: Sri P.Harihara Gurukkal : 09976440754.
---
Pathigam (Hymn) with English transliteration
Saint Thirugnanasambanthar visited this temple and sang this Pathigam.
Devotees visiting this temple should make it a practice to recite this Pathigam.
தார்சி றக்கும் சடைக்கணி வள்ளலின்
சீர்சி றக்கும் துணைப்பதம் உன்னுவோர்
பேர்சி றக்கும் பெருமொழி உய்வகை
ஏர்சி றக்கும் கிளியன்ன வூரனே.
"Thārsi ṟakkum saṭaikkaṇi vaḷḷaliṉ
sīrsi ṟakkum thuṇaippatam uṉṉuvōr
pērsi ṟakkum perumozhi uyvakai
ērsi ṟakkum kiḷiyaṉṉa vūraṉē".
வன்மை செய்யும் வறுமைவந் தாலுமே
தன்மை யில்லவர் சார்பிருந் தாலுமே
புன்மைக் கன்னியர் பூசலுற் றாலுமே
நன்மை யுற்ற கிளியன்ன வூரனே.
"Vaṉmai seyyum vaṟumaivan thālumē
thaṉmai yillavar sārpirun thālumē
puṉmaik kaṉṉiyar pūsaluṟ tṟālumē
naṉmai yutṟa kiḷiyaṉṉa vūraṉē".
பன்னி நின்ற பனுவல் அகத்தியன்
உன்னி நின்று உறுத்தும் சுகத்தவன்
மன்னி நாகம் முகத்தவர் ஓதலும்
முன்னில் நின்ற கிளியன்ன வூரனே.
"Paṉṉi niṉtṟa paṉuval akathiyaṉ
uṉṉi niṉtṟu uṟuthum sukathavaṉ
maṉṉi nākam mukathavar ōthalum
muṉṉil niṉtṟa kiḷiyaṉṉa vūraṉē".
அன்பர் வேண்டும் அவையளி சோதியான்
வன்பர் நெஞ்சில் மருவல்இல் லாமுதற்
துன்பந் தீர்த்துச் சுகங்கொடு கண்ணுதல்
இன்பந் தேக்குங் கிளியன்ன வூரனே.
"Aṉpar vēṇdum avaiyaḷi sōthiyāṉ
vaṉpar neñchil maruvalil lāmuthaṟ
thuṉpan thīrthuch sukaṅkodu kaṇṇuthal
iṉpan thēkkuṅg kiḷiyaṉṉa vūraṉē".
செய்யும் வண்ணஞ் சிரித்துப் புரம்மிசை
பெய்யும் வண்ணப் பெருந்தகை யானதோர்
உய்யும் வண்ணமிங் குன்னருள் நோக்கிட
மெய்யும் வண்ணக் கிளியன்ன வூரனே.
"Seyyum vaṇṇañ chirithup puram'misai
peyyum vaṇṇap perunthakai yāṉathōr
uyyum vaṇṇamiṅ kuṉṉaruḷ nōkkida
meyyum vaṇṇak kiḷiyaṉṉa vūraṉē".
எண்பெ றாவினைக் கேதுசெய் நின்னருள்
நண்பு றாப்பவம் இயற்றிடில் அந்நெறி
மண்பொ றாமுழுச் செல்வமும் மல்குமால்
புண்பொ றாதகி ளியன்ன வூரனே.
"Eṇpe ṟāviṉaik kēthusey niṉṉaruḷ
naṇpu ṟāppavam iyatṟidil anneṟi
maṇpo ṟāmuzhuch selvamum malkumāl
puṇpo ṟāthaki ḷiyaṉṉa vūraṉē".
மூவ ராயினும் முக்கண்ண நின்னருள்
மேவு றாதுவி லக்கிடற் பாலரோ
தாவு றாதுன தைந்தெழுத் துன்னிட
தேவ ராக்குங் கிளியன்ன வூரனே.
"Mūva rāyiṉum mukkaṇṇa niṉṉaruḷ
mēvu ṟāthuvi lakkiṭaṟ pālarō
thāvu ṟāthuṉa thainthezhuth thuṉṉida
thēva rākkuṅ kiḷiyaṉṉa vūraṉē".
திரம் மிகுத்த சடைமுடி யான்வரை
உரம் மிகுத்த இராவணன் கீண்டலும்
நிரம் மிகுத்து நெரித்தவன் ஓதலால்
வரம் மிகுத்த கிளியன்ன வூரனே.
"Thiram mikutha saṭaimudi yāṉvarai
uram mikutha irāvaṇaṉ kīṇṭalum
niram mikuthu nerithavaṉ ōthalāl
varam mikutha kiḷiyaṉṉa vūraṉē".
நீதி யுற்றிடும் நான்முகன் நாரணன்
பேத முற்றுப் பிரிந்தழ லாய்நிமிர்
நாதன் உற்றன நன்மலர் பாய்இருக்
கீதம் ஏற்ற கிளியன்ன வூரனே.
"Nīhi yuṟtiṭum nāṉmukaṉ nāraṇaṉ
pētha mutṟup pirinthazha lāynimir
nāthaṉ utṟaṉa naṉmalar pāyiruk
kīhtam ētṟa kiḷiyaṉṉa vūraṉē".
மங்கை யர்க்கர சோடுகு லச்சிறை
பொங்க ழற்சுரம் போக்கெனப் பூழியன்
சங்கை மாற்றிச் சமணரைத் தாழ்த்தவும்
இங்கு ரைத்த கிளியன்ன வூரனே.
"Maṅkai yarkkara sōduku lachiṟai
poṅka zhaṟsuram pōkkeṉap pūzhiyaṉ
saṅkai mātṟich samaṇaraith thāzhthavum
iṅku raitha kiḷiyaṉṉa vūraṉē".
நிறைய வாழ்கிளி யன்னவூர் ஈசனை
உறையும் ஞானசம் பந்தன்சொல் சீரினை
அறைய நின்றன பத்தும்வல் லார்க்குமே
குறையி லாது கொடுமை தவிர்வரே.
"Niṟaiya vāzhkiḷi yaṉṉavūr īsaṉai
uṟaiyum gñāṉasam panthaṉsol sīriṉai
aṟaiya niṉtṟaṉa pathumval lārkkumē
kuṟaiyi lāthu kodumai thavirvarē".