Visited on: 29th September, 2016
Location
Kudanthai Kudamukku, now popularly known as Sri Kumbeswaraswamy temple, is situated in the heart of Kumbakonam town. It is on the Chidambaram to Tanjure via Mayiladuthurai route. It is about 35 kms from Mayiladuthurai. Kumbakonam has a railway station and this temple is about 2 kms away from the station.
Other Paadal Petra Shiva Sthalams near this place are – Kudanthai Karonam, Kudanthai Keezhkottam, Thiruvalanchuzhi and Thirunageswaram.
General Information
Moolavar

Sri Adhi Kumbeswarar, Sri Amutheswarar

Ambal

Sri Mangalambigai Amman

Theertham (Holy water)

Mahamaham and Potramarai tanks and 12 more

Sthala Vriksham (Sacred Tree)

Vanni

Pathigam (Hymn) rendered by

Saint Thirugnanasambanthar,

Saint Thirunavukarasar (Appar)
This is one of the 276 Devara Paadal Petra Shiva Sthalams and 26th Shiva Sthalam on the Southern bank of the river Cauveri in Chozha Nadu (Thenkarai).
Lord Shiva in this temple is a Swayambumurthi (self-manifested).
This temple is one of the Shakti Peetas where Goddess Mangalambigai is known as Manthira Peeteswari. Lord Shiva gave away half of his strength to Goddess Parvathy and married her.
This is the first of the 51 Shakti Peetas.
Moorka Nayanar (Narchuthar), one of the 63 Nayanmars, is believed to have offered foods to devotees before attaining salvation here.T
his east facing temple has three corridors and its main tower (Rajagopuram) has 9-tiers and is at a height of 128 feet.
The last consecration ceremony (Maha Kumbabishekam) took place on 12.12.1999.
History of the Temple
Kumbakonam is situated on the banks of the river Cauvery. Cauvery and Arasalaru rivers flow in such a manner that they look like garlands adorning this place.

This temple has been in existence since the Chola times (7th century) and has been widely expanded by the Nayaks during the 15-17th century.

This temple is under the administrative control of the Hindu Religious and Charitable Endowments Department of Government of Tamil Nadu (HR & CE).

The Saptastanam temples associated with this temple are Kalayanallur, Thiru Valanchuzhi, Darasuram, Swamimalai, Kottiayur, Kumbakonam and Melaikkaveri.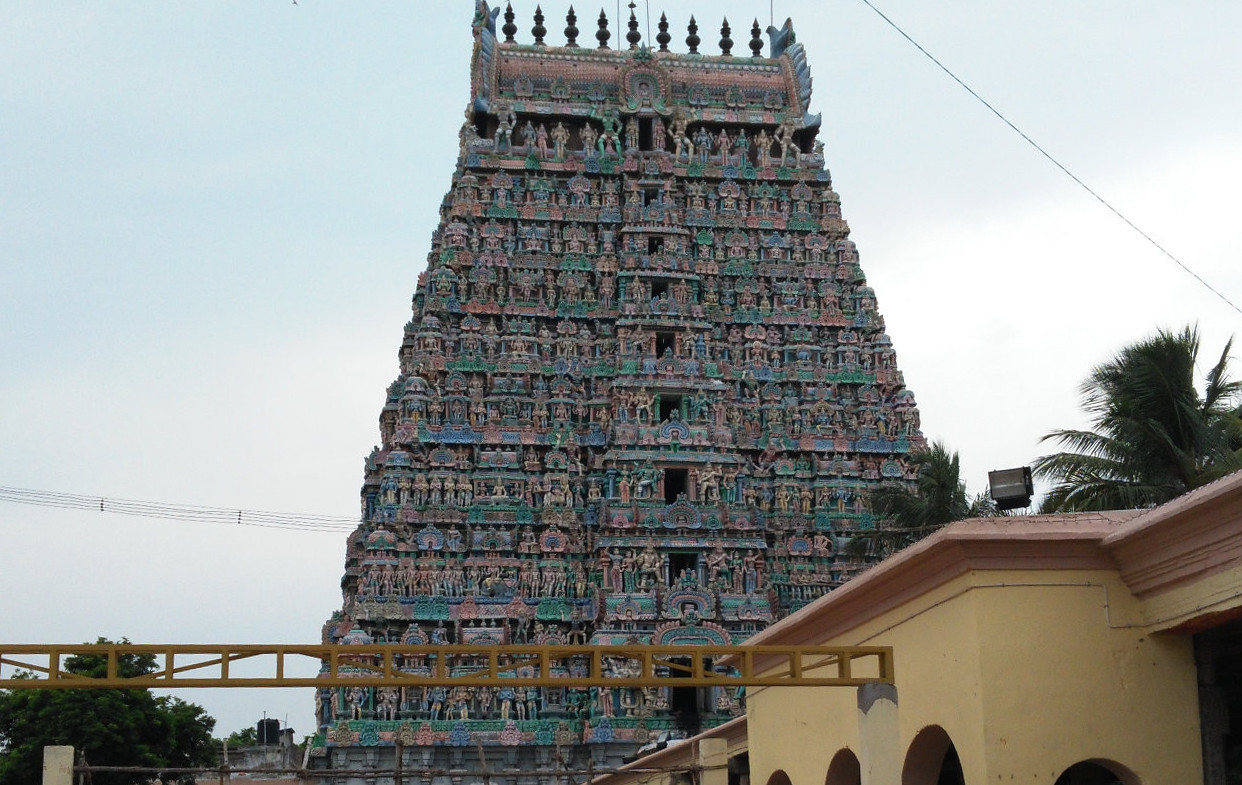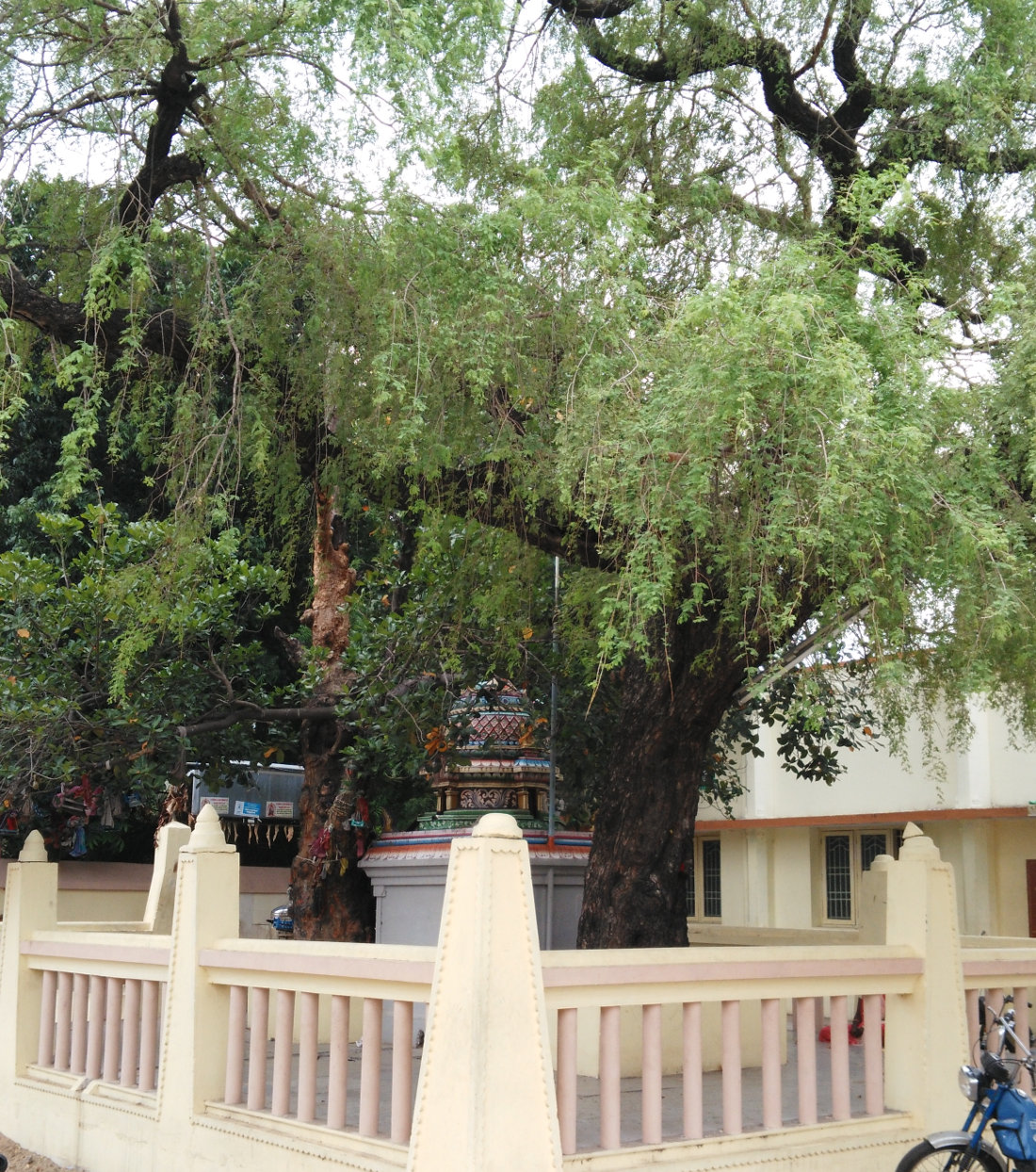 12 famous Shiva temples participate in the renowned "Mahaamaham" festival during which "Theerthavaari" happens in the Mahaamaha tank. This festival is celebrated once in 12 years in Kumbakonam. These 12 Shiva temples are:

1.Kasi Viswanathar Temple, Kumbakonam
2.Aadhi Kumbeswarar Temple, Kumbakonam
3.Someswarar Temple, Kumbakonam
4.Nageswarar (Vilvavaneswarar) Temple, Kumbakonam
5.Kalahasteeswarar Temple, Kumbakonam
6.Gauthameswarar (Upaveethanathar) Temple, Kumbakonam
7.Koteeswarar Temple, Kottaiyur
8.Amirthakalasanathar Temple, Kalayanallur
9.Bhanapureeswarar Temple, Kumbakonam
10.Abhimukeswarar Temple, Kumbakonam
11.Aathikambatta Visvanathar Temple, Kumbakonam and
12.Ekambareswarar Temple, Kumbakonam.

Simultaneously, 5 Vaishnava temples from Kumbakonam also participate in this festival. However, instead of their Theerthavaari in Mahaamaha tank, the Theerthavaari happens in the river Kaveri.
These Vaishnava temples are:
1. Sri Saarangapani temple
2. Sri Chakrapaani temple
3. Sri Ramaswami temple
4. Sri Rajagopalaswami temple and
5. Sri Aadhivaraha Perumal temple.
Legend
According to Hindu mythology, at the end of every "yuga", there is a huge flood that leads to the destruction of all living beings in the earth. This is called the "Pralayam". Lord Shiva, through Lord Brahma, arranged for the seeds of all living organisms and four Vedas and Puranas to be put in a pot ("Amutha Kalas" or Kumbham or Kudam in Tamil) filled with nectar ("amirtham"). This was decorated with flowers and cloth and a string was tied to it. This was kept on top of the Mount Kailash. When the Maha Pralayam started, it destroyed all living creatures on the earth. The Amutha Kalas also got displaced and started floating on the seas for years. Eventually when the Pralayam stopped, the Kalas settled in Kumbakonam. Then Lord Shiva took the form of a hunter (Kiratha Murthy) and split open the pot with his arrow. The life on earth started flourishing again.

It is believed that when Lord Shiva opened the pot with his arrow, the pot broke and the decorative items on it fell in various places across the earth. Each of these pieces became Shivalingams.

These places are -
1. Kumbesam – this is the place where the Amutha Kalas stayed. This is presently known as Sri Aadhi Kumbeswarar temple ("Aadhi" means "the very beginning"). It is believed that Lord Kiratha Murthy himself made a Shivalingam with the broken pieces of the Kalas by mixing nectar and sand with it. He worshiped this lingam and stayed back in this place. The Shivalingam is in the shape of the neck of a pot ("Kudamukku" in Tamil).
2. Somesam – This is the place where the Kalas's string ("Uri" / "Sikkam" in Tamil) fell. This place is presently known as Sri Someswarar temple.
3. Nagesam – This is the place where the Kalas's "vilvam" (leaf used in poojas) fell. This place is presently known as Sri Nageswarar temple.
4. Abhimugesam – This is the place where the Kalas's coconut fell. This place is presently known as Sri Abhimugeswarar temple.
5. Gautamesam – This is the place where the Kalas's sacred thread fell. This place is presently known as Sri Gautameswarar temple.
6. Kudavoil - This is the place where the Kalas's rim fell. This place is presently known as Sri Koneswarar temple at Kudavasal.
7. Kalayanallur (Saakkottai) – This is the place where the mid-portion of the Kalas fell. This place is presently known as Sri Amirthakalasa Nathar temple.
8. Bhanathurai, - This is the place where Lord Shiva broke the Kalas with his arrow. This place is presently known as Sri Bhanapureeswarar temple.
9. Maalathivanam – This is the place where the Kalas's flowers fell. This place is presently known as Sri Aathikampatta Viswanathar temple.
10. Sri Kalahastheeswarar Koil – This is the place where the Kalas's "Chandan" fell.
11. Sri Ekambareswarar temple - This is the place where the Kalas's other decorative items fell.
12. Kottaiyur Sri Koteeswarar temple - This is the place where some drops of the nectar fell.

The nectar from the Kalas is believed to have reached the Mahaamaham and Potraamarai tanks.

This nectar is also believed to have spread around an area of about 24 kms. In this radius, there are five Shiva temples which are known as "Panchakurosa Sthalams" ("pancha means five and "kurosa" is a unit of measurement used in ancient times). These temples are Thiruvidaimaruthur, Koranattu Karuppur, Thirunageswaram, Swamimalai, and Dharasuram

Anecdotally, since the Kalas (also called Kumbam) settled in this place, it gets the name of "Kumbakonam".

Other Legends
Lord Mahavishnu worshiped the lord here and was given the disc ("Chakkaram") by Lord Shiva. Hence Lord Mahavishnu is praised as Sri Chakrapaani. In a similar incident, Lord Mahavishnu was also given the bow ("Sarangam") by Lord Shiva. For this reason, Lord Mahavishnu is also praised as Sri Saarangapaani.

It is also believed that Lord Brahma, Indran, Kamadhenu, Sages Kasyaba and Hemarishi have worshiped the lord here.
Deities in the temple
Other than the shrines of Lord Shiva and Goddess Parvathy, shrines and idols of lords Vinayakar, Murugan, Gajalakshmi, 63 Nayanmars (both stone and procession idols), Natarajar, Somaskandar, Lord Kiratha Murthy, Nalvars, Virabhadrar, Saptakannikas, Visvanathar with Visalakshi, Valam Chuzhi Vinayakar, Dakshinamurthy, Brahma, Vishnu, Bhikshandavar, Annapurani, Mahalakshmi, Saraswathi, Jeshta Devi, Durgai and Chandikeswarar can be seen in the first corridor.

Lords Navaneetha Vinayakar, Sattananthar, Bhairavar, Jurahareswarar, Chandran, Suryan, Vallabha Ganapathi, Navagraham, Lakshmi Narayana Perumal, Vanni Vinayakar and Kumbha Munisiddhar can be seen in the second corridor.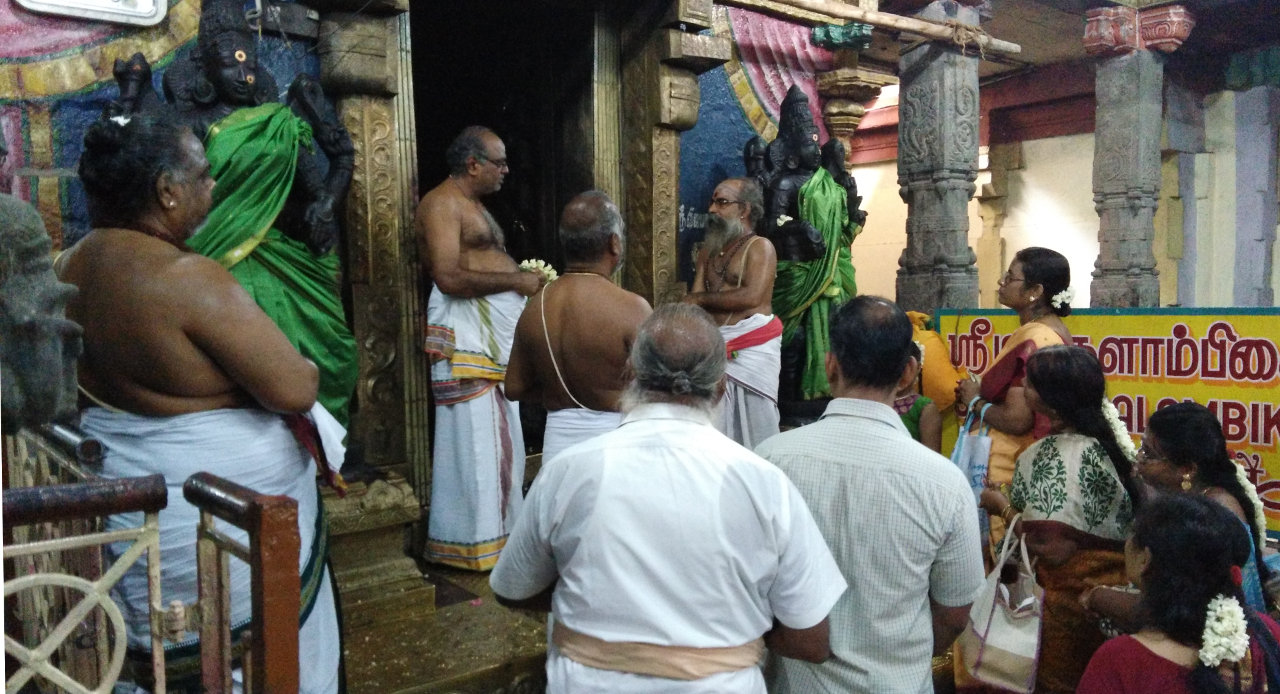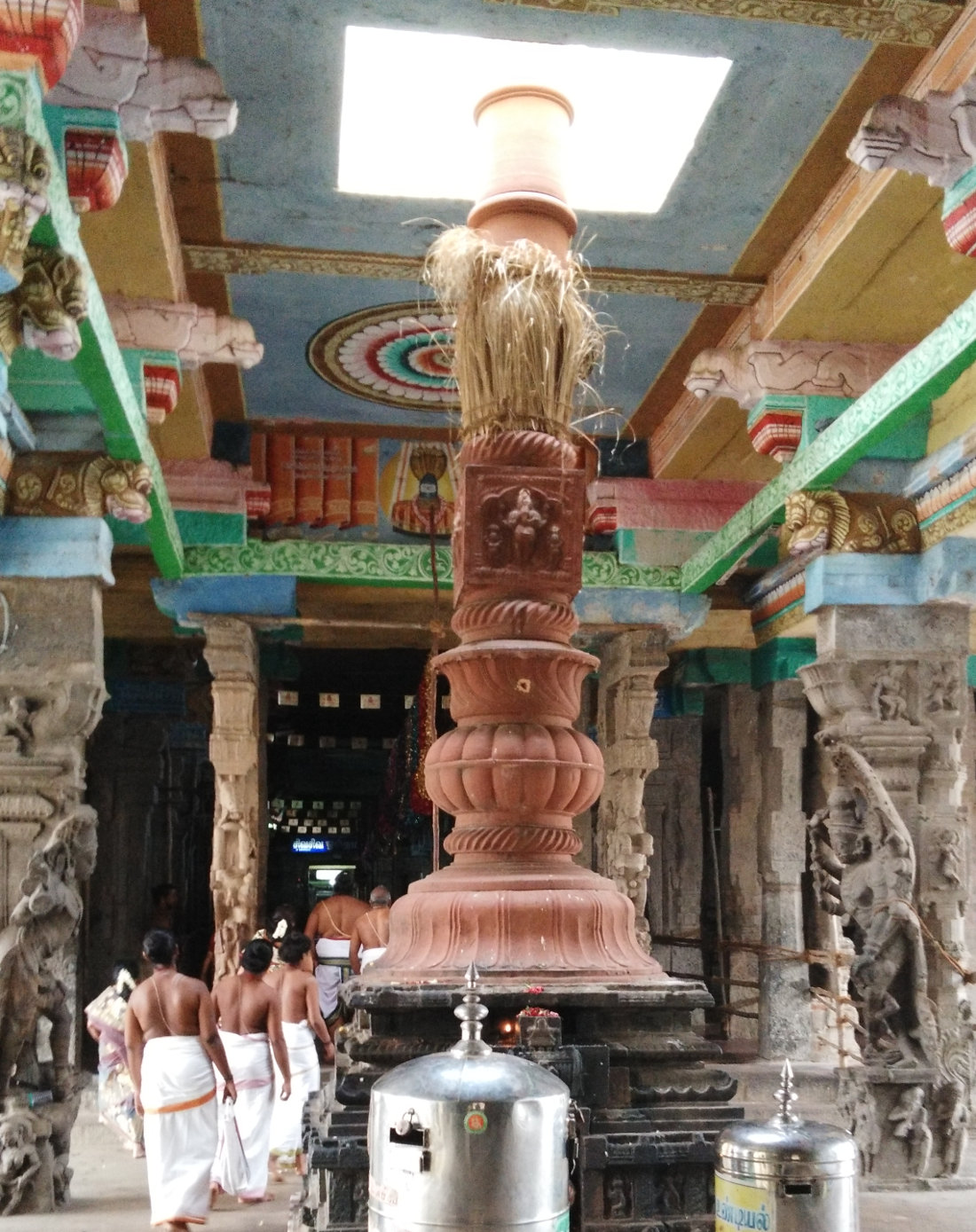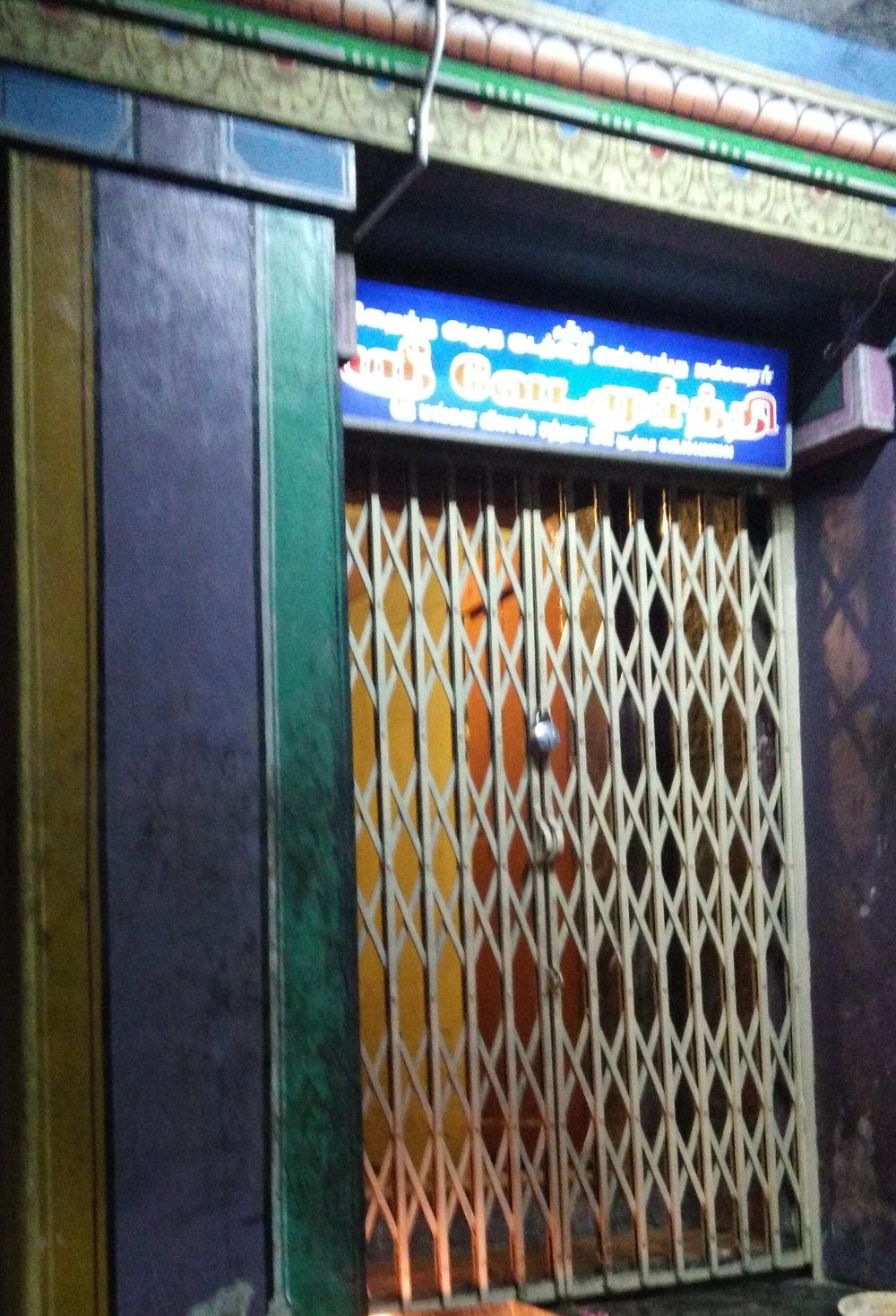 Salient Features
This temple is one of the participating temple in the Mahaamaham Theerthavaari.

There is a separate shrine for Lord Kiratha Murthy (also known as "Veta" Murthy) here. This is unique to this temple as it commemorates the legend that Lord Shiva himself reinstated life back on earth.

Since the lingam is made of sand, the abhishekam is performed only to the base (Aavudayar). Only "Punugu" (civet) is applied to the lingam once in a while. The lingam is big in size ("Mahalingam") and it is in an inclined position. It is always covered with gold sheets ("kavasam").

Lord Murugan is called Karthikeyan here. The uniqueness of this lord's idol is that he is seen with his consorts and his peacock mount. He is depicted with six faces but with only 6 hands instead of 12.

There is a popular saying in Sanskrit - Kumbakonam is more sacred than Varanasi (Kasi). A sin committed at some place can be washed away by visiting a neaby holy place. A sin committed in one of the sacred places is washed away by going on a pilgrimage to Varanasi. However, if one commits a sin in Varanasi itself, it can only be washed off in Kumbakonam. Similarly, any sinful act done at Kumbakonam is washed away there itself.

There are 14 holy water bodies (Theerthams) associated with this temple. These are-
1. Mahamaham tank,
2. Potramarai tank,
3. Varuna Theertham,
4. Kasyapa Theertham,
5. Chakkara Theertham,
6. Matanga Theertham
7. Bhagavad Theertham)
8. Mangala Theertham,
9. Naga Theertham,
10. Kura Theertham
11. Chandra Theertham,
12. SuryaTheertham,
13. Gautama Theertham and
14. Varaha Theertham.

Saint Arunagirinadhar has sang songs in praise of Lord Murugan of this temple in his revered Thirupugazh.

There is one unfinished main tower (Rajagopuram) here which is called "mottai gopuram". This is a well-known land mark of the temple.

This temple is considered to be significant for its three important attributes – Moorthy, Sthalam and Theertham - glory of Lord, sacredness of the land and the auspicious temple tank.

In this temple, there are many halls, the most notable one is the sixteen-pillared hall, also called the "Navarathiri Mandapam" (Hall of Navarathri celebration), built during the Vijayanagar period. This has all the 27 stars and 12 zodiac signs sculpted in a single stone.

Each and every tower, hall, pillar, relief, sculpture and idol here is very artistically made. There is a stone "Nagaswaram" (pipe instrument) which is quite unique.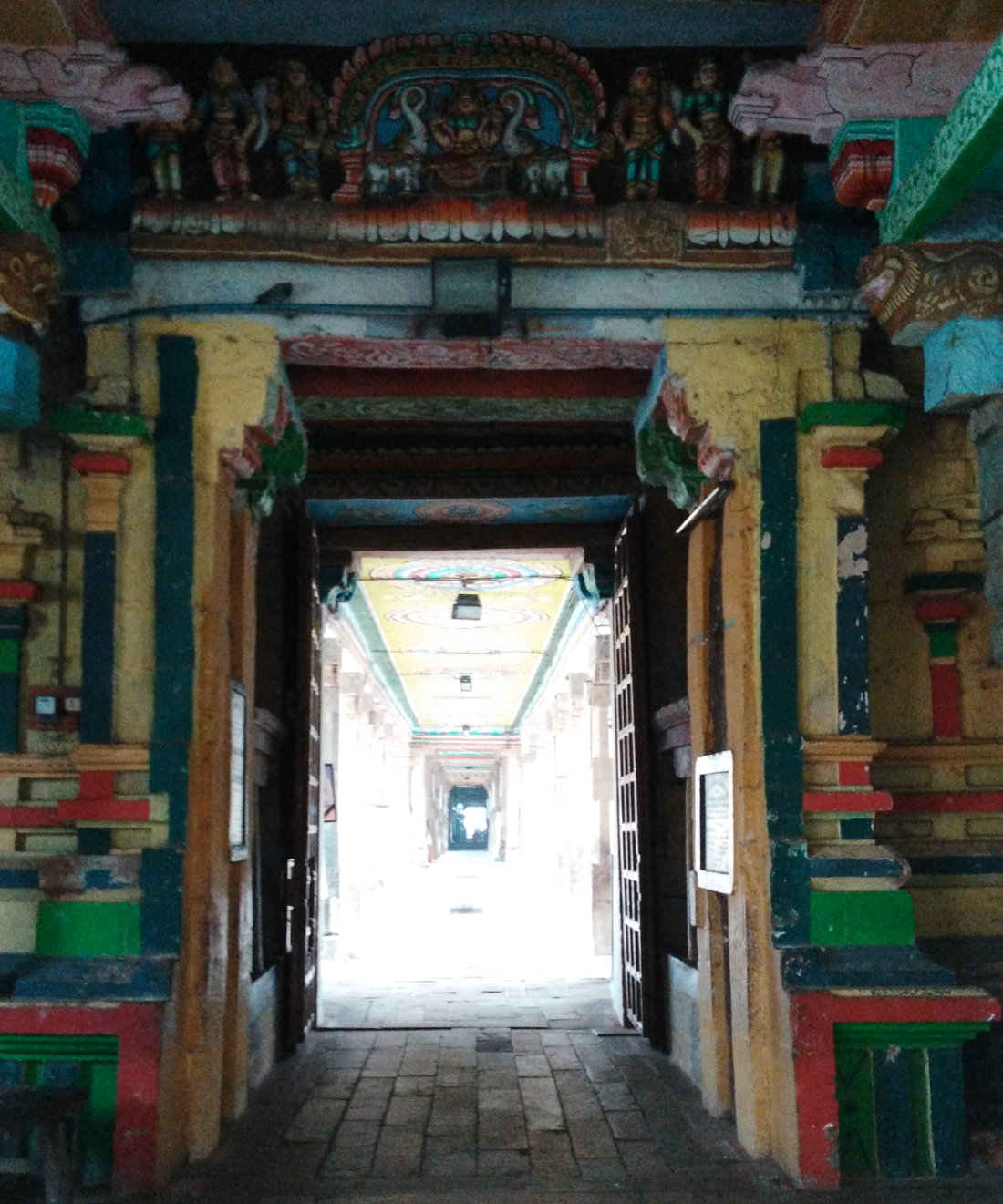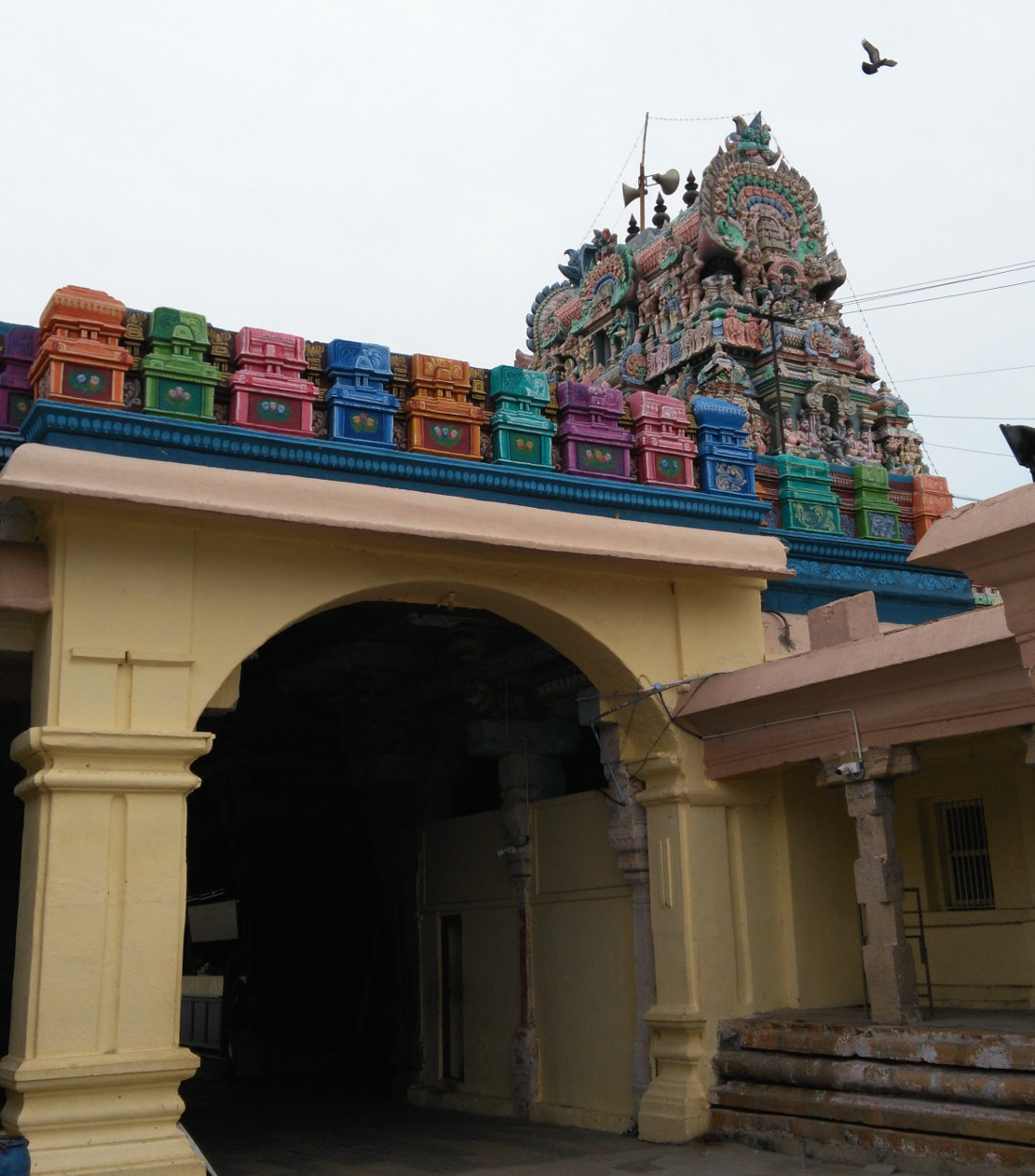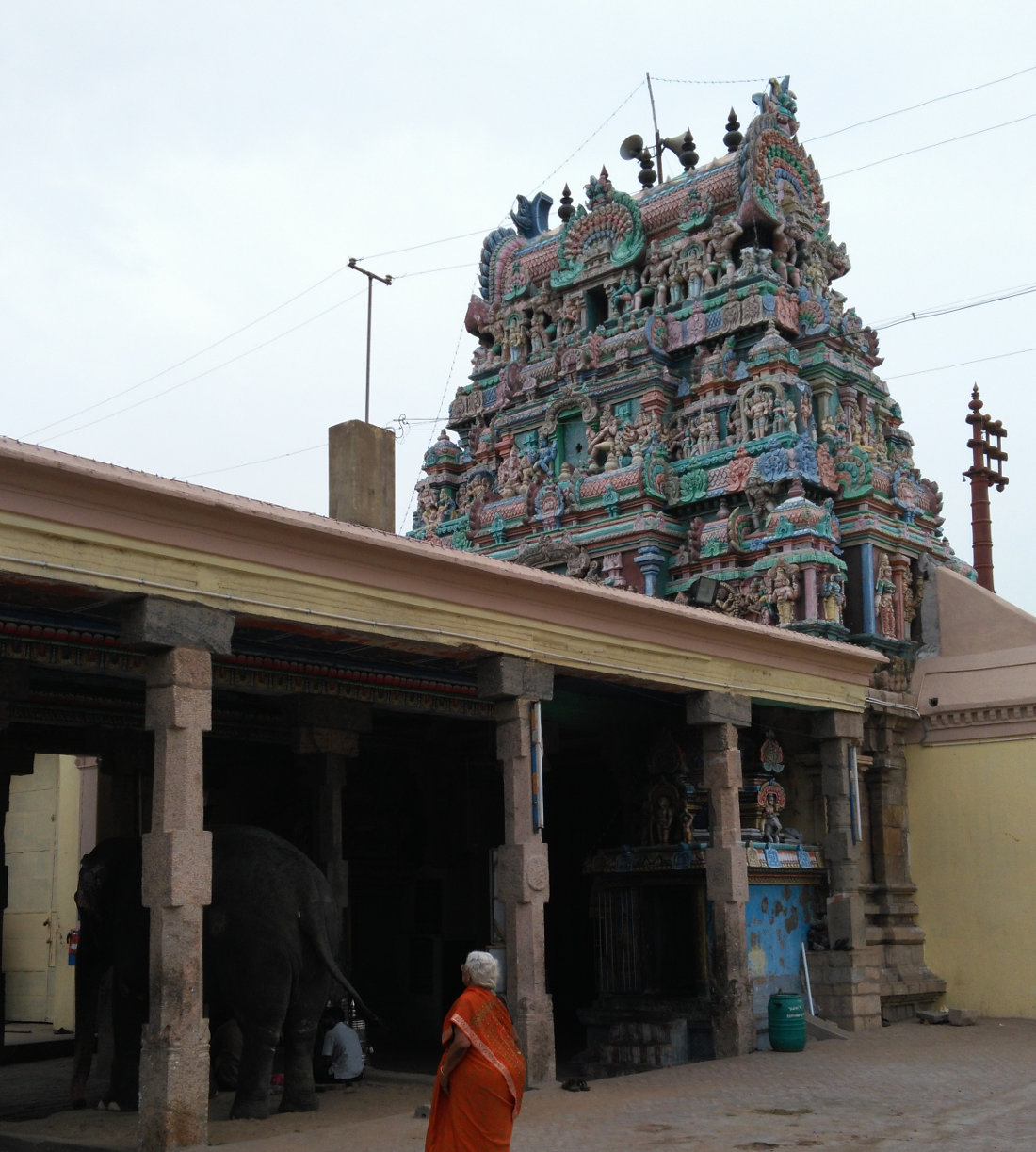 The Mahamaham festival takes place once in every twelve years during the Tamil Month of Masi (February - March), when lakhs of pilgrims from various parts of India visit Kumbakonam to take a holy dip in the sacred Mahamaham tank which is located in the heart of the town. After the dip here, devotees also take a dip in the nearby Potramarai tank and in the river Kaveri (Sakkara Padithurai bathing ghat).

The huge Mahamaha tank covers of an area of about 6 acres and it has 16 entrances. At each entrance, there is a shrine for Lord Shiva. These shrines are collectively called "Sodasa Mahalingaswamy" ("Sodasam means 16 in Tamil). The names of these 16 Shivalingams are –
1. Brahmatheertheswarar
2. Mukuntheswarar
3. Thaneswarar
4. Vrushabeswarar
5. Baneswarar
6. Koneswarar
7. Bakthikeswarar
8. Bairaveswarar
9. Agastheeswarar
10. Vyaseswarar
11. Uma Bakeswarar
12. Nirutheeswarar
13. Brahmeswarar
14. Gangathareswarar
15. Mukthi Theertheswarar
16. Kshetrabaleswarar.

Mahamaha Theertham is known as -
Brahma Theertham in "Kruthayugam"
Papanodam in "Threthayugam"
Mukthi Theertham in "Thuvabarayugam" and
Kanya Theertham in Kaliyugam.

It is believed that there are 20 wells and Theerthams inside the Mahamaha tank, these are theerthams dedicated to Indra, Agni, Naga, Thiruthi, Varuna, Vayu, Kubera, Eesanya, Brahma, Ganga, Yamuna, Godhavari, Narmada, Saraswati, kaveri, Kumari, Bayoshini, Sarayu, Kanniya and Devas.
Greatness of this temple
It is believed that there is no substitute for taking a dip here on the auspicious day of Maham (every year) and Mahamaham (once in 12 years) and worshipping the lord for absolution and relief from the sins of one's previous birth.

Devotees pray to Goddess Mangalambikai for excellence in education and to seek the boons for early marriage and child birth ("Santhana Prapthi").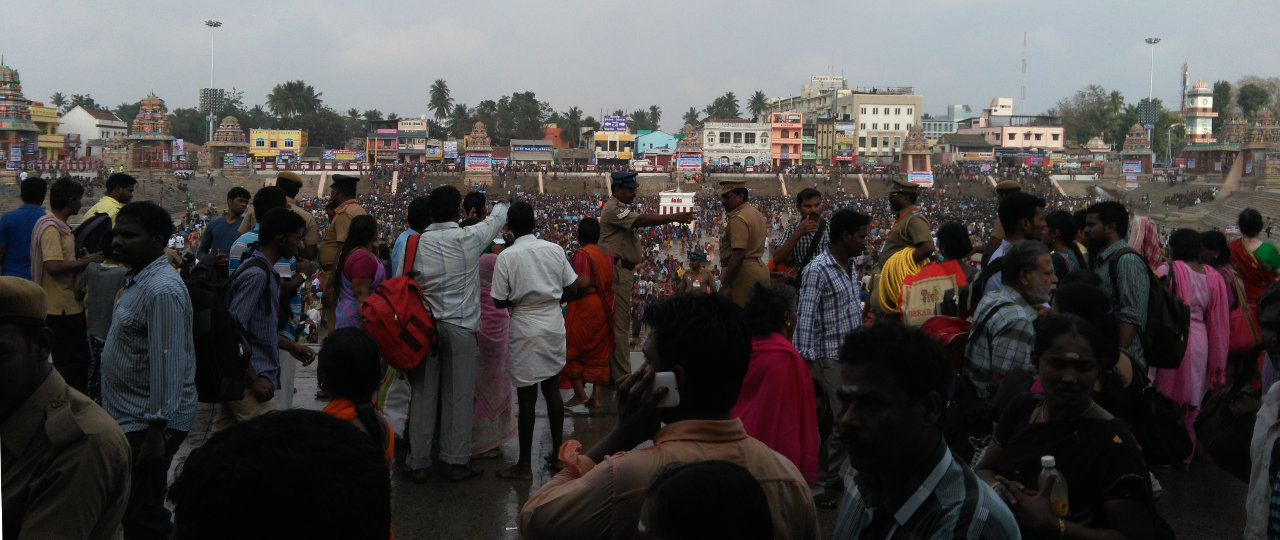 Important Festivals
"Maasi Maham" Brahmotsavam in the Tamil month of Masi (Feb-Mar) is celebrated here in a grand manner.

Almost all festivals related to Lord Shiva are celebrated in this temple.
Temple Timings
From 06.00 AM to 12.30 PM and from 04.00 PM to 08.30 PM.
Temple Address
Sri Adhi Kumbeswaraswamy Temple,
Kumbakonam Post & Taluk
Tanjure District,
Tamil Nadu – 612 001.
Tele: +91 435 242 0276.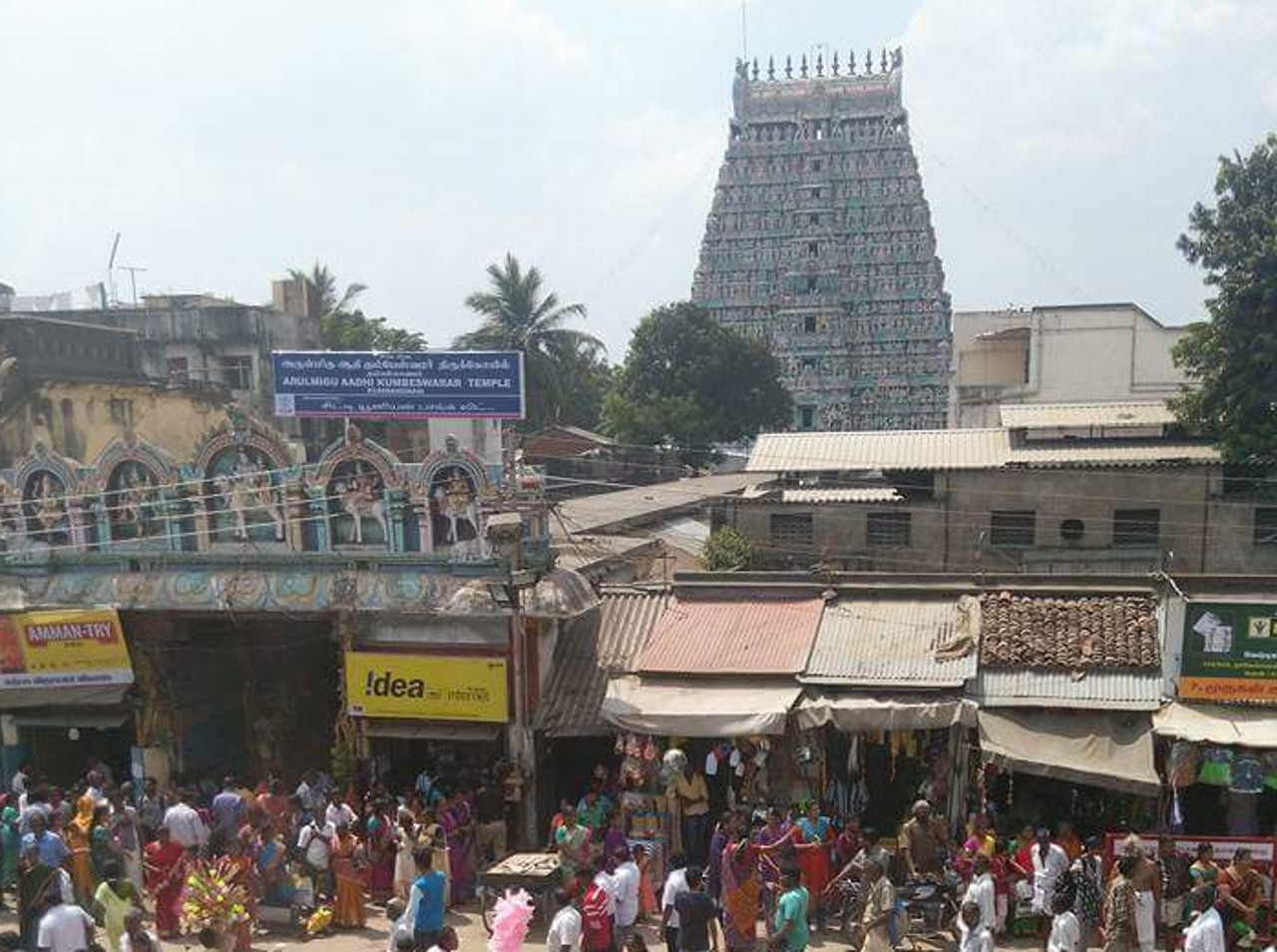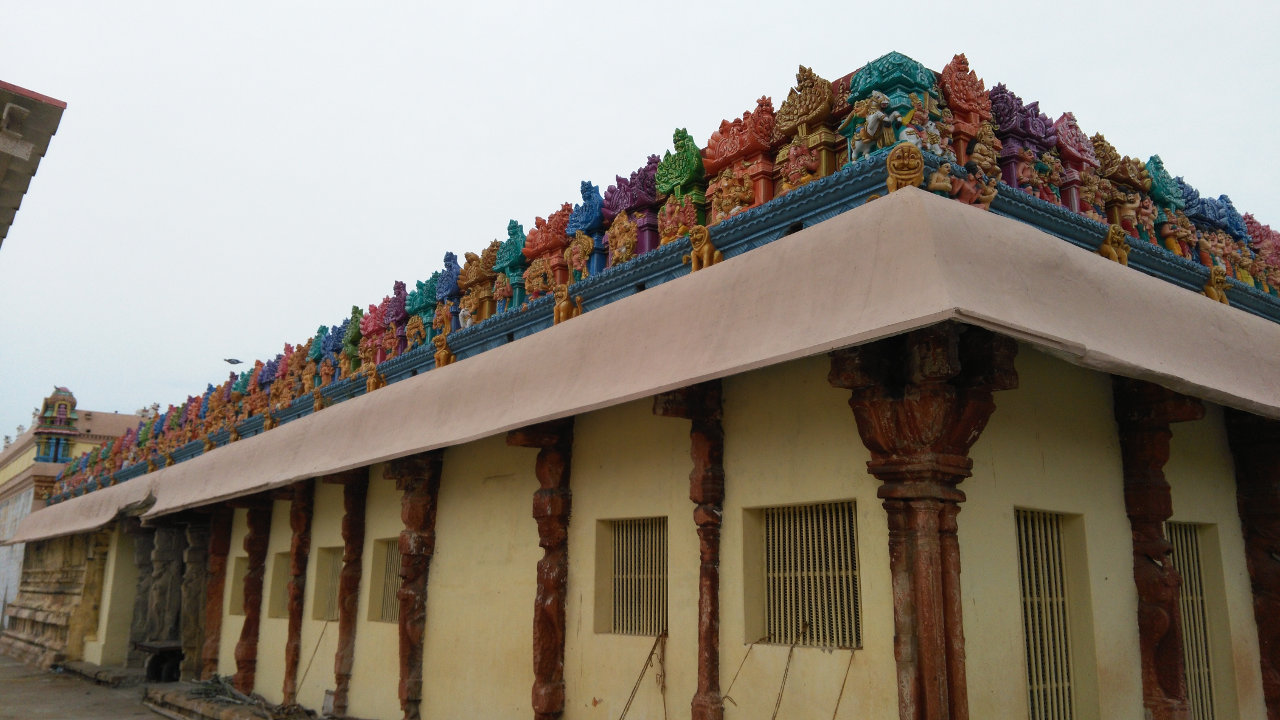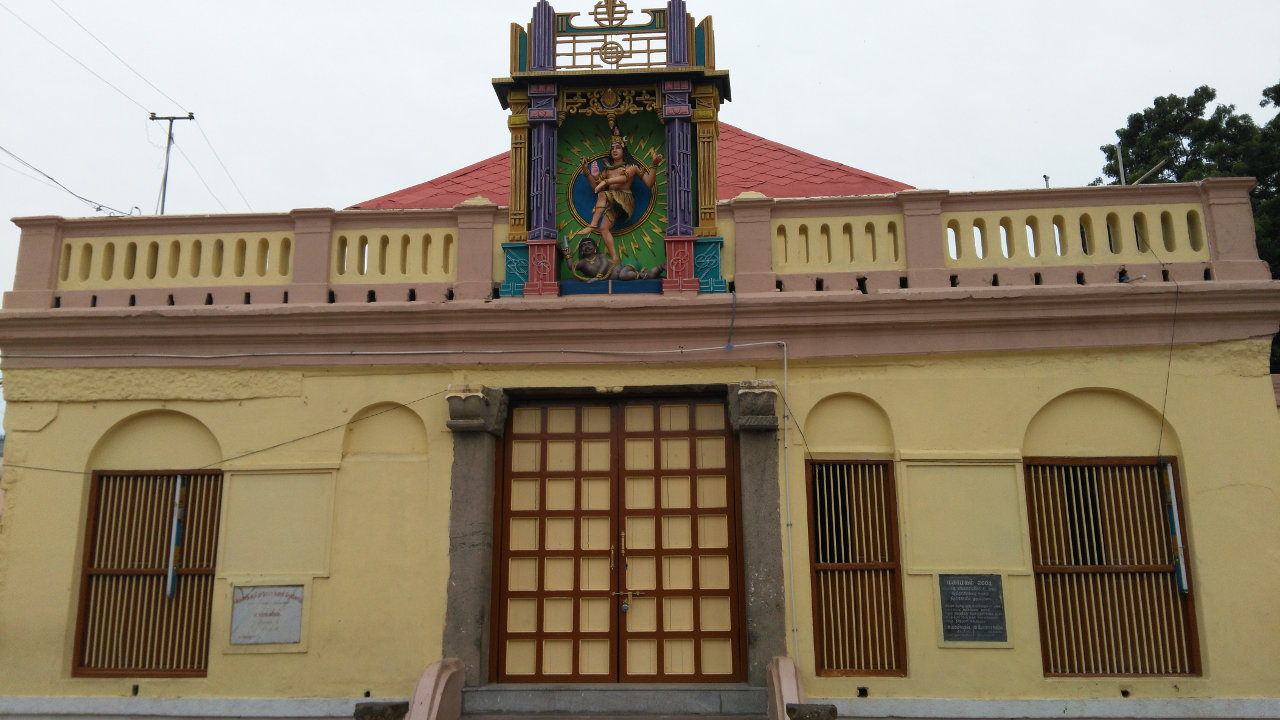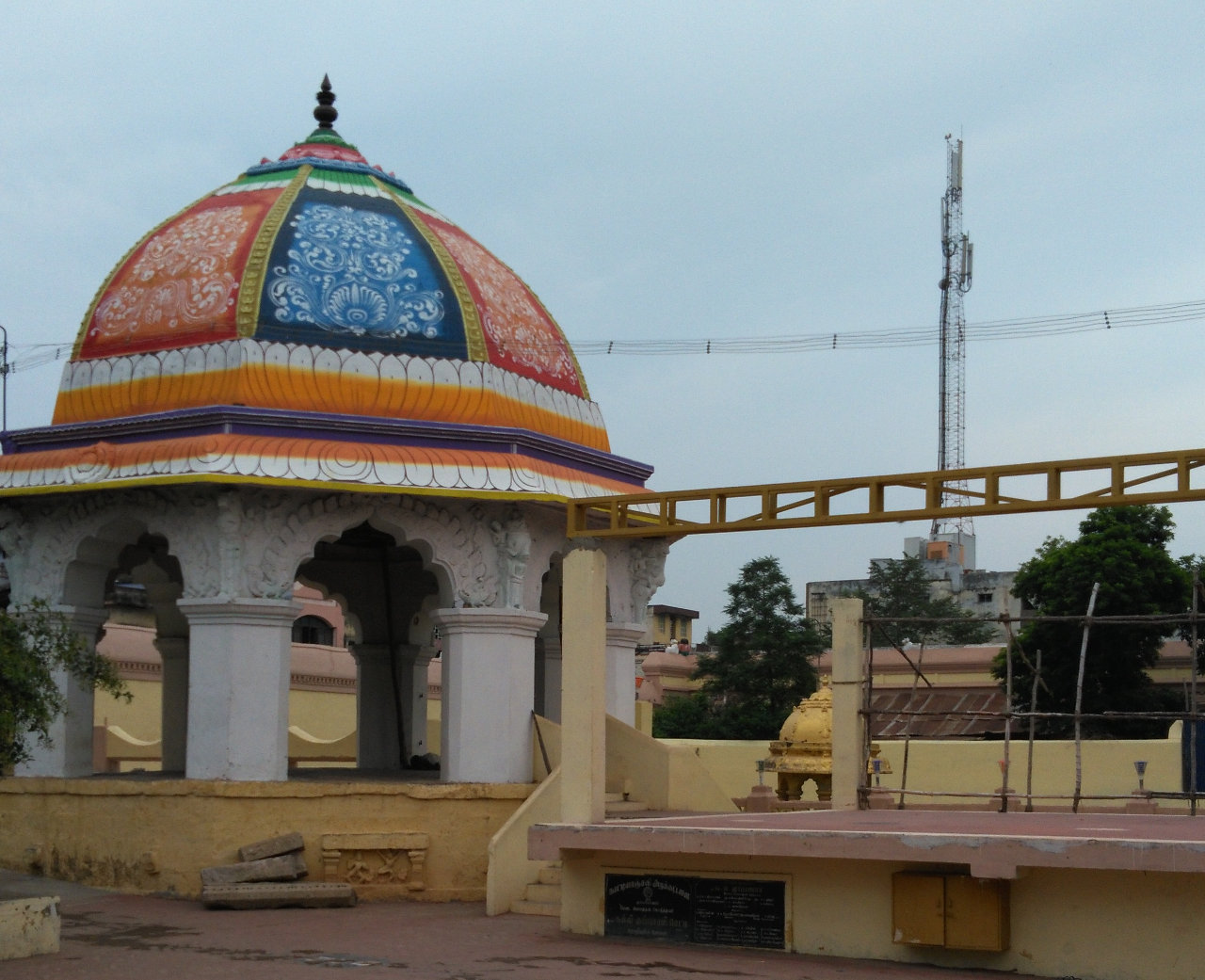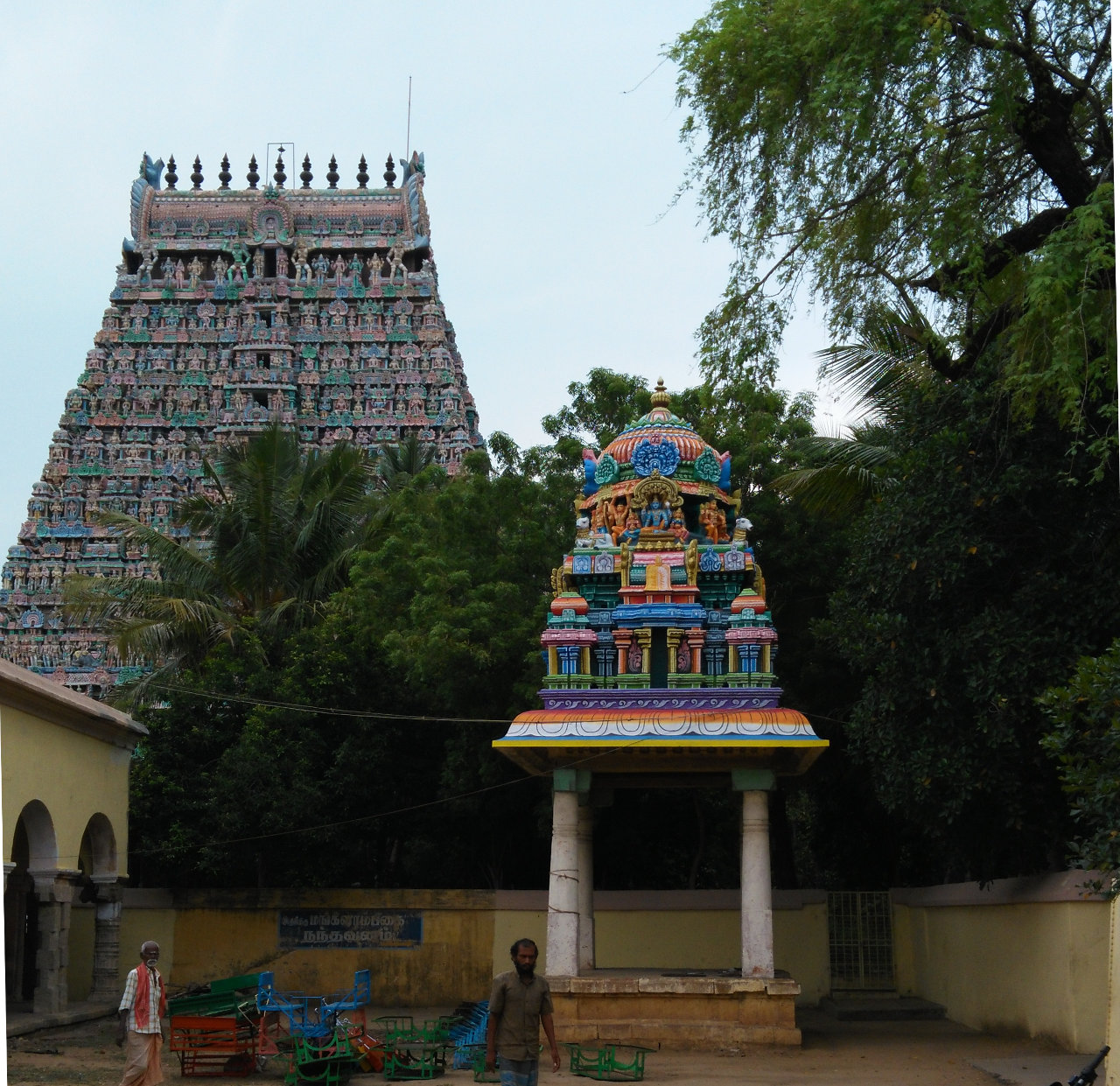 ---
Pathigam (Hymn) with English transliteration
Saint Thirugnanasambanthar visited this temple and sang this Pathigam.
Devotees visiting this temple should make it a practice to recite this Pathigam.
அரவிரி கோடனீட லணிகாவிரி யாற்றயலே
மரவிரி போதுமௌவல் மணமல்லிகை கள்ளவிழுங்
குரவிரி சோலைசூழ்ந்த குழகன்குட மூக்கிடமா
இரவிரி திங்கள்சூடி யிருந்தானவன் எம்மிறையே.
"Araviri kōṭaṉīṭa laṇikāviri yātṟayalē
maraviri pōthumauval maṇamallikai kaḷḷavizhuṅ
kuraviri chōlaichūzhntha kuzhakaṉkuṭa mūkkiṭamā
iraviri thiṅkaḷchūṭi yirunthāṉavaṉ em'miṟaiyē".
ஓத்தர வங்களோடும் ஒலிகாவிரி யார்த்தயலே
பூத்தர வங்களோடும் புகைகொண்டடி போற்றிநல்ல
கூத்தர வங்களோவாக் குழகன்குட மூக்கிடமா
ஏத்தர வங்கள்செய்ய இருந்தானவன் எம்மிறையே.
"Ōththara vaṅkaḷōṭum olikāviri yārththayalē
pūththara vaṅkaḷōṭum pukaikoṇṭaṭi pōtṟinalla
kūththara vaṅkaḷōvāk kuzhakaṉkuṭa mūkkiṭamā
ēththara vaṅkaḷseyya irunthāṉavaṉ em'miṟaiyē".
மயில்பெடை புல்கியால மணல்மேல்மட அன்னமல்கும்
பயில்பெடை வண்டுபண்செய் பழங்காவிரிப் பைம்பொழில்வாய்க்
குயில்பெடை யோடுபாட லுடையான்குட மூக்கிடமா
இயலொடு வானமேத்த இருந்தானவன் எம்மிறையே.
"Mayilpeṭai pulkiyāla maṇalmēlmaṭa aṉṉamalkum
payilpeṭai vaṇṭupaṇsey pazhaṅkāvirip paimpozhilvāyk
kuyilpeṭai yōṭupāṭa luṭaiyāṉkuṭa mūkkiṭamā
iyaloṭu vāṉamēththa irunthāṉavaṉ em'miṟaiyē".
மிக்கரை தாழவேங்கை யுரியார்த்துமை யாள்வெருவ
அக்கர வாமையேன மருப்போடவை பூண்டழகார்
கொக்கரை யோடுபாட லுடையான்குட மூக்கிடமா
எக்கரை யாருமேத்த இருந்தானவன் எம்மிறையே.
"Mikkarai thāzhavēṅkai yuriyārththumai yāḷveruva
akkara vāmaiyēṉa maruppōṭavai pūṇṭazhakār
kokkarai yōṭupāṭa luṭaiyāṉkuṭa mūkkiṭamā
ekkarai yārumēththa irunthāṉavaṉ em'miṟaiyē".
வடிவுடை வாட்டடங்கண் ணுமையஞ்சவோர் வாரணத்தைப்
பொடியணி மேனிமூட வுரிகொண்டவன் புன்சடையான்
கொடிநெடு மாடமோங்குங் குழகன்குட மூக்கிடமா
இடிபடு வானமேத்த இருந்தானவன் எம்மிறையே.
"Vaṭivuṭai vāṭṭaṭaṅkaṇ ṇumaiyañchavōr vāraṇaththaip
poṭiyaṇi mēṉimūṭa vurikoṇṭavaṉ puṉsaṭaiyāṉ
koṭineṭu māṭamōṅkuṅ kuzhakaṉkuṭa mūkkiṭamā
iṭipaṭu vāṉamēththa irunthāṉavaṉ em'miṟaiyē".
கழைவளர் கவ்வைமுத்தங் கமழ்காவிரி யாற்றயலே
தழைவளர் மாவின்நல்ல பலவின்கனி கள்தயங்குங்
குழைவளர் சோலைசூழ்ந்த குழகன்குட மூக்கிடமா
இழைவளர் மங்கையோடும் இருந்தானவன் எம்மிறையே.
"Kazhaivaḷar kavvaimuththaṅ kamazhkāviri yātṟayalē
thazhaivaḷar māviṉnalla palaviṉkaṉi kaḷthayaṅkuṅ
kuzhaivaḷar chōlaichūzhntha kuzhakaṉkuṭa mūkkiṭamā
izhaivaḷar maṅkaiyōṭum irunthāṉavaṉ em'miṟaiyē".
மலைமலி மங்கைபாகம் மகிழ்ந்தானெழில் வையமுய்யச்
சிலைமலி வெங்கணையாற் சிதைத்தான்புர மூன்றினையுங்
குலைமலி தண்பலவின் பழம்வீழ்குட மூக்கிடமா
இலைமலி சூலமேந்தி இருந்தானவன் எம்மிறையே.
"Malaimali maṅkaipākam makizhnthāṉezhil vaiyamuyyach
chilaimali veṅkaṇaiyāṟ sithaiththāṉpura mūṉtṟiṉaiyuṅ
kulaimali thaṇpalaviṉ pazhamvīzhkuṭa mūkkiṭamā
ilaimali chūlamēnthi irunthāṉavaṉ em'miṟaiyē".
நெடுமுடி பத்துடைய நிகழ்வாளரக் கன்னுடலைப்
படுமிடர் கண்டயரப் பருமால்வரைக் கீழடர்த்தான்
கொடுமடல் தங்குதெங்கு பழம்வீழ்குட மூக்கிடமா
இடுமணல் எக்கர்சூழ இருந்தானவன் எம்மிறையே.
"Neṭumuṭi paththuṭaiya nikazhvāḷarak kaṉṉuṭalaip
paṭumiṭar kaṇṭayarap parumālvaraik kīzhaṭarththāṉ
koṭumaṭal thaṅkutheṅku pazhamvīzhkuṭa mūkkiṭamā
iṭumaṇal ekkarchūzha irunthāṉavaṉ em'miṟaiyē".
ஆரெரி ஆழியானும் மலரானும் அளப்பரிய
நீரிரி புன்சடைமேல் நிரம்பாமதி சூடிநல்ல
கூரெரி யாகிநீண்ட குழகன்குட மூக்கிடமா
ஈரிரு கோவணத்தோ டிருந்தானவன் எம்மிறையே.
"Āreri āzhiyāṉum malarāṉum aḷappariya
nīriri puṉsaṭaimēl nirampāmathi chūṭinalla
kūreri yākinīṇṭa kuzhakaṉkuṭa mūkkiṭamā
īriru kōvaṇaththō ṭirunthāṉavaṉ em'miṟaiyē".
மூடிய சீவரத்தார் முதுமட்டையர் மோட்டமணர்
நாடிய தேவரெல்லாம் நயந்தேத்திய நன்னலத்தான்
கூடிய குன்றமெல்லா முடையான்குட மூக்கிடமா
ஏடலர் கொன்றைசூடி யிருந்தானவன் எம்மிறையே.
"Mūṭiya sīvaraththār muthumaṭṭaiyar mōṭṭamaṇar
nāṭiya thēvarellām nayanthēththiya naṉṉalaththāṉ
kūṭiya kuṉtṟamellā muṭaiyāṉkuṭa mūkkiṭamā
ēṭalar koṉtṟaichūṭi yirunthāṉavaṉ em'miṟaiyē".
வெண்கொடி மாடமோங்கு விறல்வெங்குரு நன்னகரான்
நண்பொடு நின்றசீரான் தமிழ்ஞானசம் பந்தனல்ல
தண்குட மூக்கமர்ந்தான் அடிசேர்தமிழ் பத்தும்வல்லார்
விண்புடை மேலுலகம் வியப்பெய்துவர் வீடெளிதே.
"Veṇkoṭi māṭamōṅku viṟalveṅkuru naṉṉakarāṉ
naṇpoṭu niṉtṟasīrāṉ thamizh gñāṉasam banthaṉalla
thaṇkuṭa mūkkamarnthāṉ aṭisērthamizh paththumvallār
viṇpuṭai mēlulakam viyappeythuvar vīṭeḷithē".