Visited on: Saturday, 17th September, 2016
Location
Thiruvamathur is located at a distance of about 8 kms from Villupuram on the Villupuram to Gingee route.
Other Devara Paadal Petra Shiva Sthalams near this temple are – Thiruvennainallur, Thiruthuraiyur, Thiruvathigai, Thirumundeecharam, T.Idaiyaru and Thirunavalur.
General Information
Moolavar
Sri Abirameswarar, Sri Azhakia Nathar
Ambal
Sri Muthambigai, Sri Azhakia Nayagi
Theertham (Holy water)
Ambalam Poompoigai (tank); Dhanda Theertham (well); Pampai/ Kadamba River
Sthala Vriksham (Sacred Tree)
Vanni tree
Pathigam (Hymn) rendered by
Saint Thirugnanasambanthar (2),
Saint Thirunavukarasar (Appar) (2),
Saint Sundaramurthy (Sundarar) (1)
This is one of the 276 Devara Paadal Petra Shiva Sthalams and 21st Shiva Sthalam in Nadu Naadu.
Lord Shiva in this temple is a Swayambumurthi (self-manifested).
Lord Shiva's idol has the impression of a hoof at the top. There are multiple rivulet markings which signify that this lord was worshiped with milk that flowed from udders of cows.
Inscribed on the chest of Goddess Muthambikai's idol here is a small piece of what looks like a snake's tail.
There are two separate temples here. Goddess Muthambikai's temple is right in front of Lord Shiva's temple.
Lord Shiva's temple has a 7-tiered main tower (Rajagopuram) with 2 corridors while the goddess's temple has a 5-tiered main tower with a single corridor.
This is one of the 44 Paadal petra sthalams where the "Moovar" (the three saints - Saint Thirugnanasambanthar, Saint Thirunavukarasar (Appar) and Saint Sundaramurthy (Sundarar) had rendered their Pathigams.
Vannacharabam Sri Dandapani Swamigal lived in this place.
The first "Kaumara Madam" was established here.
History of the Temple
Thiruvamathur is located on the banks of the Pampa river, a tributary of the Pennai river. The historical names of this place are – Gomathrupuram, Gomatheeswaram and Gomathupuram.
This temple was originally built by the Pallava rulers. Later on, the Cholas made several endowments. This is evident from the stone inscriptions available here. At a later date, Achutha Deva Pallavar is believed to have renovated this temple. There is an idol of Achutha Deva Pallavar here.
In this temple, there are stone inscriptions that document the histories of 26 kings from 955 to 1584 AD. The important kings among them are Rajaraja Cholan-I, Rajendra Cholan-I, Rajathi Rajan-I, Kulothungan-I, Vikramathithan, Sadaya Verman, Vikrama Pandian and Krishnadeva Rayar.
The stone inscriptions also reveal that a Chola king sanctioned a grant that helped several blind students learn the devaram hymns and sing them in the temples.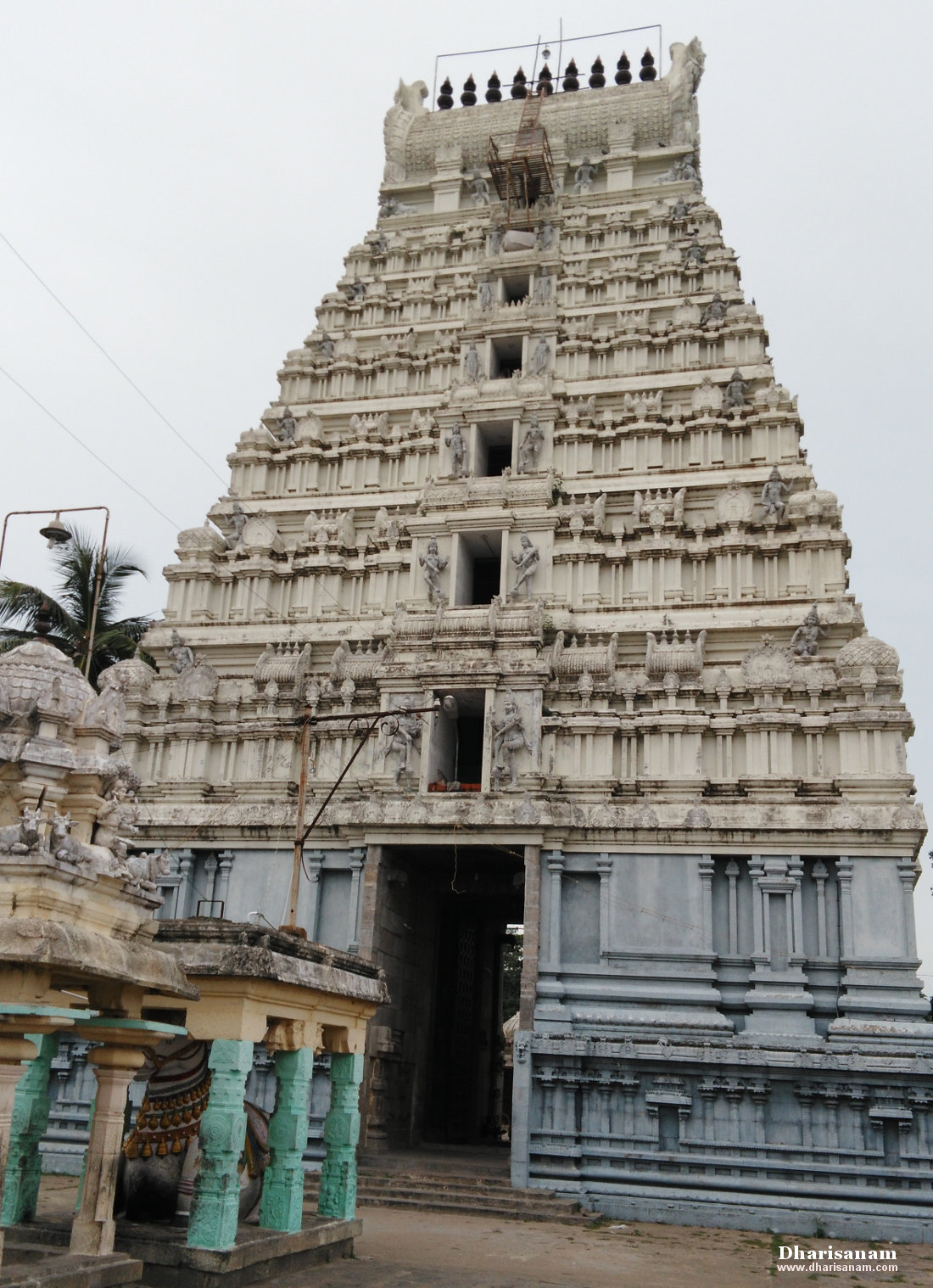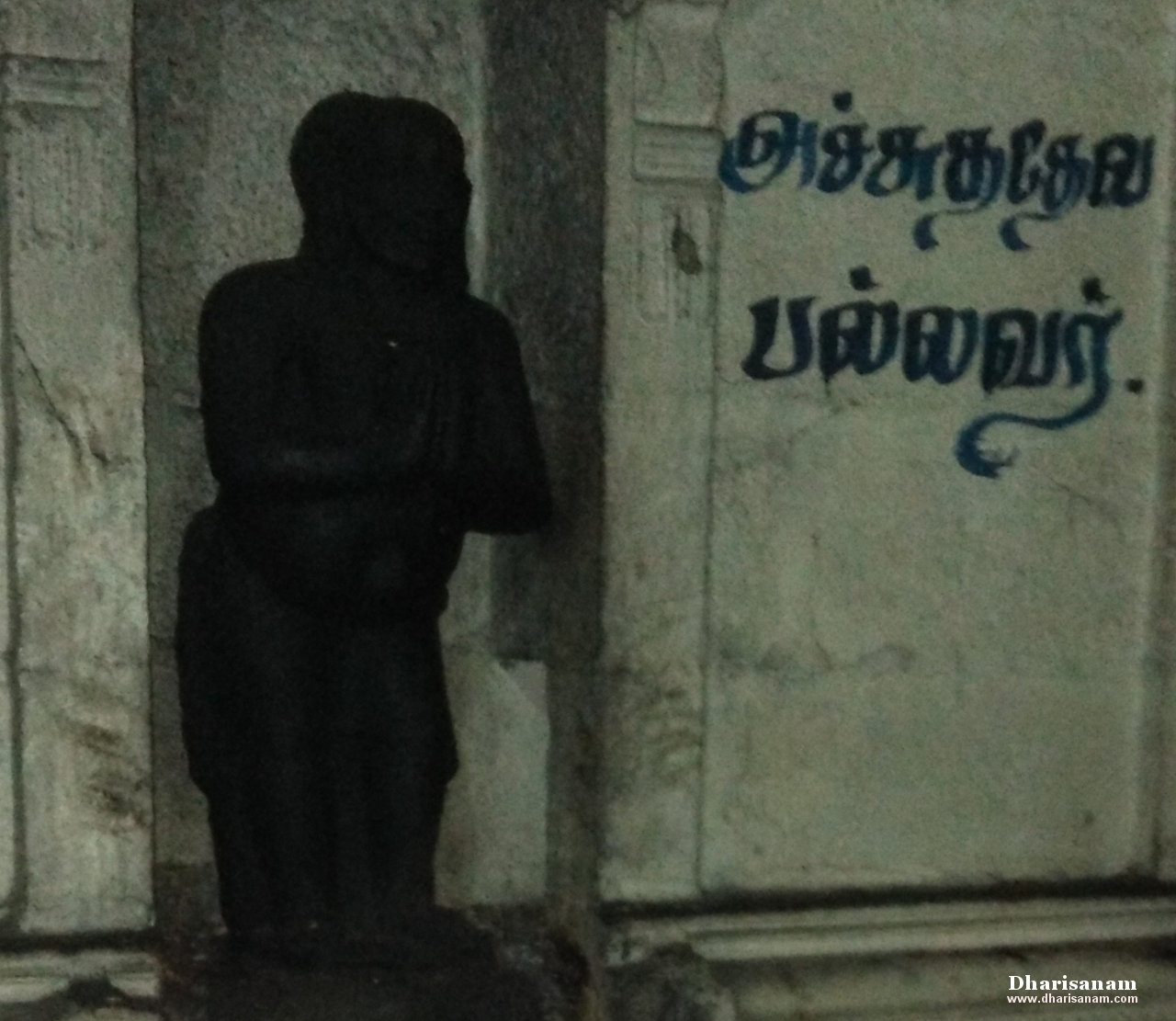 Legend
In ancient times this place was densely covered with Vanni trees. It is believed that at that time the cows did not have any horns and were frequently tormented by other wild animals. It is believed that the cows went to Nandhi (Lord Shiva's bull mount) to seek protection. Nandhi advised them to come to this place and worship the lord. Nandhi, Kamadenu (the divine cow) and other cows came to this place and worshiped the lord. Pleased with their penance, Lord Shiva blessed them with horns to protect themselves. The name of this place "Thiru Amathur" is derived from "Thiru Aa Matha Vur" - "Aa" means cow, "Matha" means mother, "Vur" means village in Tamil and "Thiru" is a respectful prefix. For this reason, this place is revered as the "parental house" of cows.
According to Hindu mythology, all gods including Lords Shiva, Mahavishnu, Brahma, Goddess Parvathi, Lakshmi and Saraswathi and all Devars reside in the body of the cow. It is believed that the divine cow, Kamadenu along with other cows worshiped the main deity here by pouring their milk on the lingam. The marks of the cow's hoof and rivulets due to the pouring of milk can be seen on the lingam.
There is a place inside Goddess Muthambikai's temple called the "Thiruvattaparai". There is a Shivalingam in Thiruvattaparai which is very famous. There is a small hall (Mandapam) called "Sathya Palakai" (literally translated as "a place to make promises") in the southwest corner. According to legend, sitting at this spot, Lord Ram alongwith Hanuman entered into an alliance with Sukrivan to fight and kill Ravana. To cleanse himself of the sins accrued by killing Ravana, Lord Ram worshiped Lord Shiva here. There is a well inside this temple called "Dhanda Theertham" which is believed to have been created by Lord Ram.
The lord's name "Sri Abhirameswarar" is derived from the believe that Lord Ram worshiped Lord Shiva here. "Abhi" means affectionately and "Eswarar" is a respectful way of referring Lord Shiva. In his hymn of this temple, Saint Thirunavukkarasar had mentioned about Lord Ram's affection towards the lord of this temple.
Even today, people who have been wrongly accused of some crime come to the "Sathya Palakai" at the "Thiru Vattaparai" and make pledges of their innocence. It is strongly believed that if someone makes a false promise at this place, they will be severely punished by the Goddess. The legend is that Goddess Muthambikai once punished a man by having him bit by a snake because he had cheated his younger brother and made a false promise at this place. To signify this event, the tail portion of a snake adorns the Goddess's chest. This can be seen during abishekam.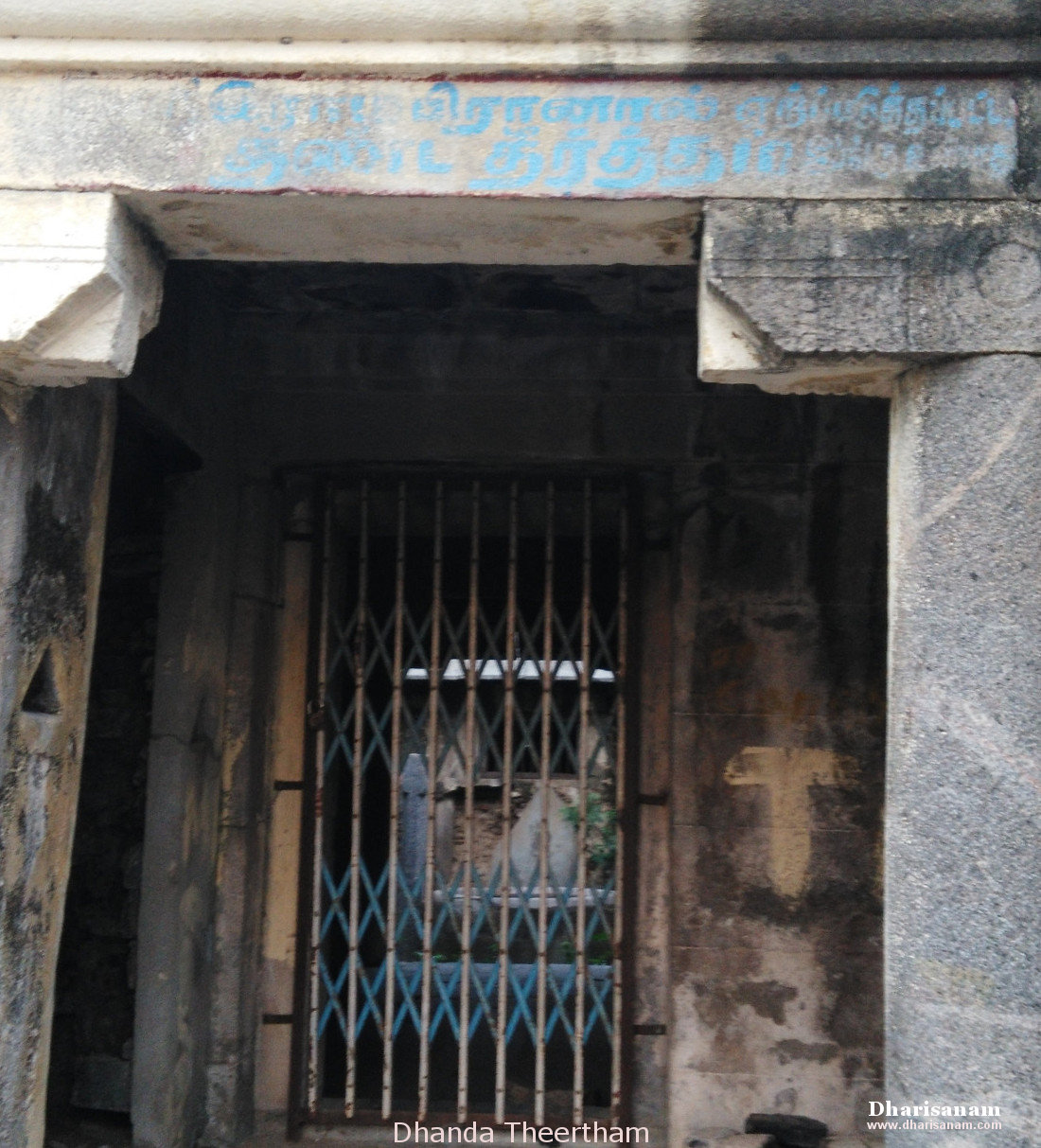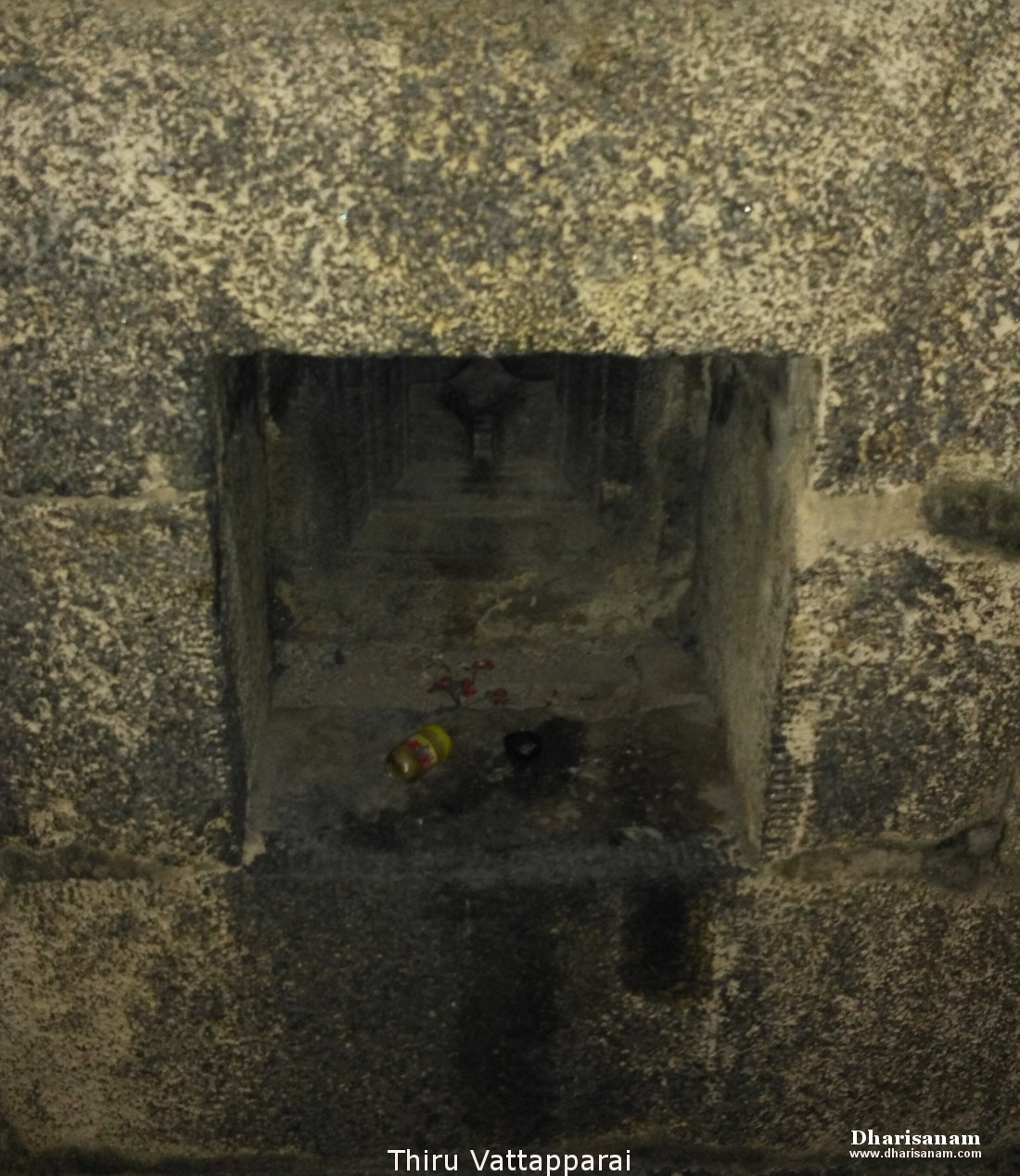 It is believed that once Sage Brungi Muni went to Kailash to worship Lord Shiva but found that the lord was with Goddess Parvathi. The sage was such an ardant devotee of Lord Shiva that he refused to worship anyone else. So, he took the form of a fly and went around Lord Shiva and worshiped him. When Goddess Parvathi came to know that the sage had ignored her, she cursed him. Her curse turned the sage into a tree. The sage realized his mistake and worshiped both of them and sought pardon. It is believed that he performed penance in this temple and got absolution. The Vanni tree, which is the sacred tree of this temple, signifies the fact that sage Brungi was turned into a tree by Goddess Parvathy's curse.
It is also believed that Lord Murugan worshiped Lord Shiva and Goddess Parvathi here and was blessed with the "Vel" (spear) before going to fight with demon Surapadman.
Another legend associated with this temple is that of poets Ilam Surya and Mudu Surya (Ilam means junior and Mudu means senior in Tamil). One of them was blind and the other was lame. They travelled from one town to another singing the glory of Lord Shiva. While singing about the lord of this temple, "Thiruvamathur Kalambakam", they made a small mistake – they said that this temple is on the western side of the river Pampa although it is on the eastern side. Some of the people who had assembled in the temple started teasing them. The lord came to their rescue and caused a heavy downpour. It rained so much that the river changed its course overnight. When the people reassembled the temple the next day, there was no need for the poets to correct their verse – the temple was now on the western side of the river.
It is believed that Goddess Parvathy, Vinayakar, Murugan, sages Agasthiyar, Vashistar, Durvasar, Brungi, Parasarar, viswamithar, Veda Vyasar, Roma Rishi, Narathar, Mathanga Muni, Ashta Vasus, Nandhi and Kamadenu have worshiped the lord here. Also, Lord Ram, Sita, Lakshman and Hanuman have worshiped Lord Shiva here.
Deities in the Temple
Lord Shiva, a Swayambumurthy, is facing east and Goddess Muthambikai is facing west. There is a "Sri Chakra" in the goddess's shrine is believed to have been installed by Sri Adi Sankara.
Other than the shrines of Lord Shiva and Goddess Parvathy, shrines and idols of lords Sidhi Vinayakar, Murugan, Sivapujai Vinayakar, Natarajar, Dakshinamurthy, Lingodhbavar, Brahma, Durga, Bikshandavar, Sahasralingam, Lord Ram, Goddess Lakshmi, Sapthamadhakkal, Naalvar, 63 Nayanmars, Chandikeswarar, Bhairavar and the Navagraham can be seen in the corridors.
The corridor also houses the "Ashta lingams". The eight lingams that constitutes the Ashta lingams are - Sri Abirameswarar (main deity), Esanya Lingeswarar, Kasi Viswanathar, Arunachaleswarar, Kubera Lingam, Vayu Lingam, Hanuman Lingam and Sattanathar.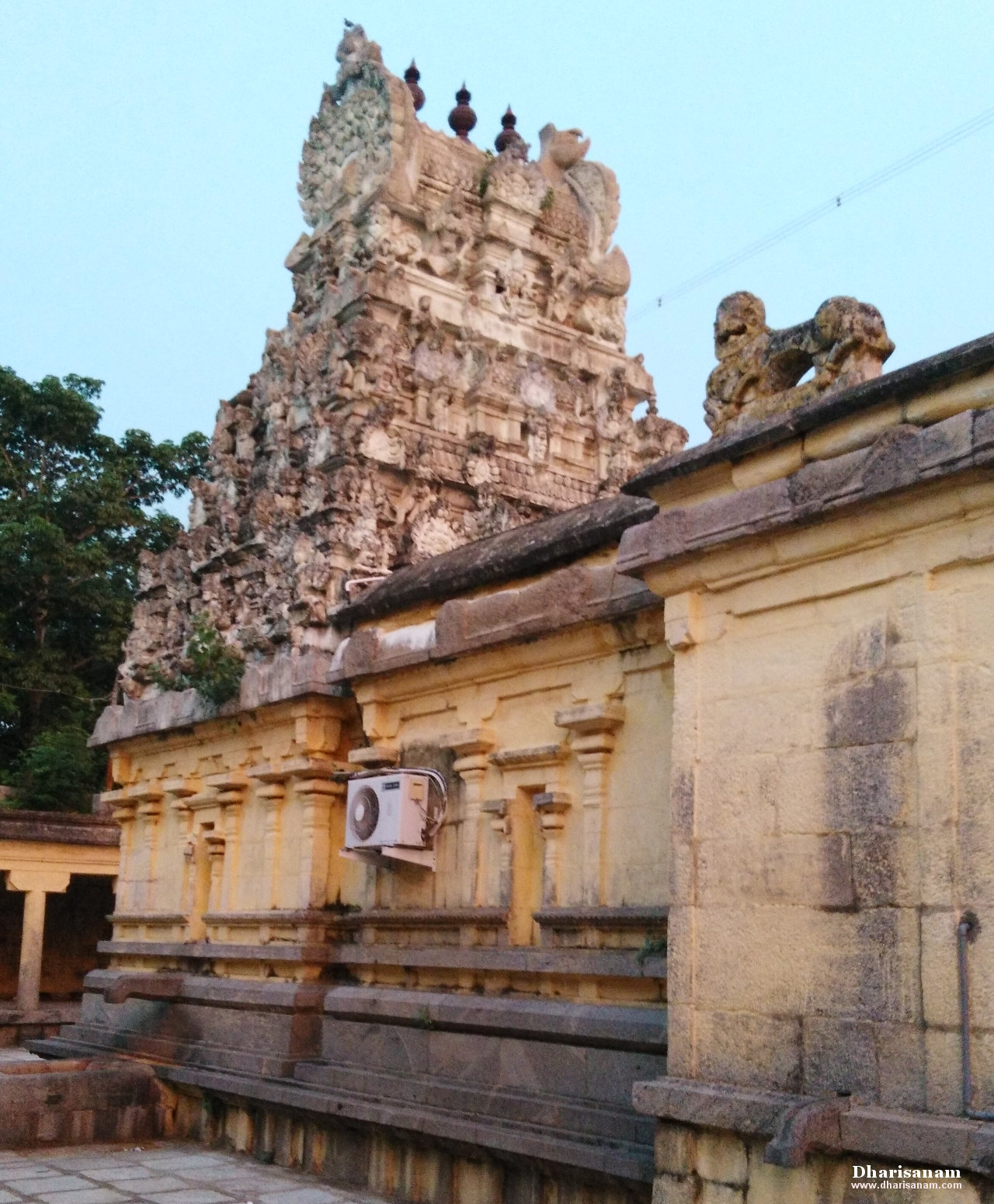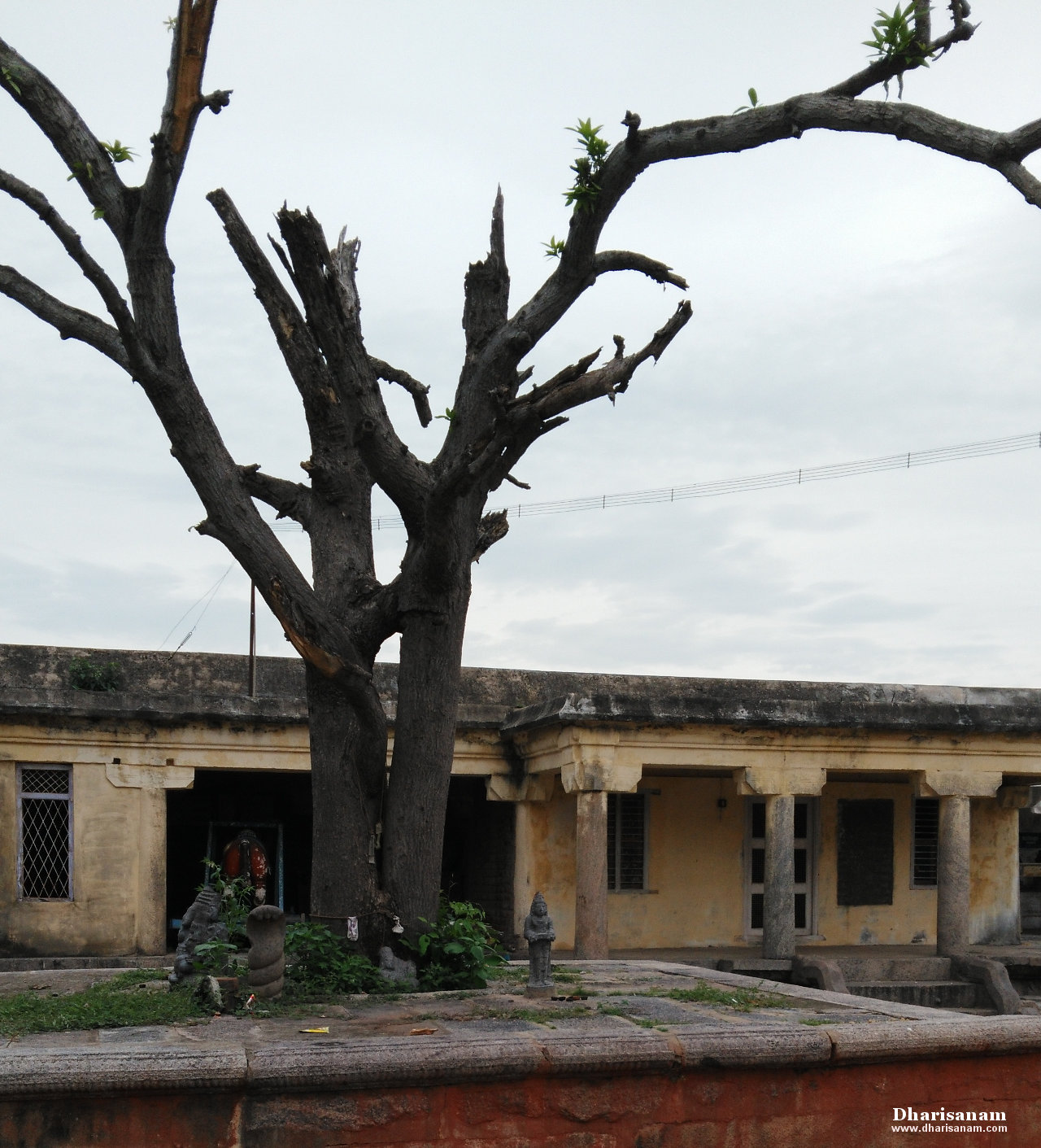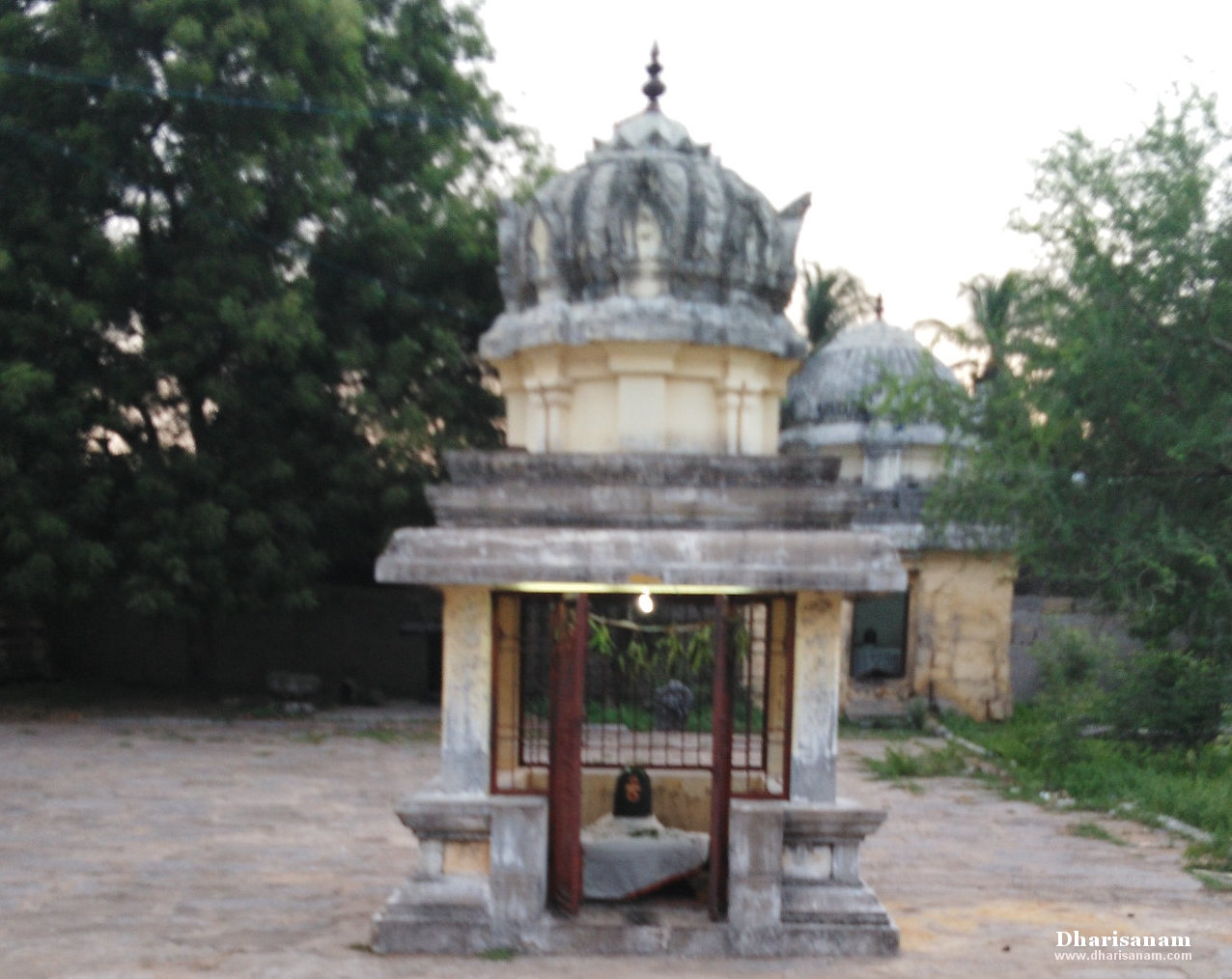 Salient Features
This temple is considered to be significant for its three important attributes – Murthy, Sthalam and Theertham - glory of Lord, sacredness of the land and the auspicious temple tank.
There are beautiful reliefs of Lords Brahma, Vishnu and Shiva on one stone, "Shiva Pujai Vinayakar" on another stone and Lord Ram, Sita and Hanuman on another single stone.
The idol of Nandhi is housed inside a pit. This pit is filled with water during periods of drought in the hope that it will bring rain.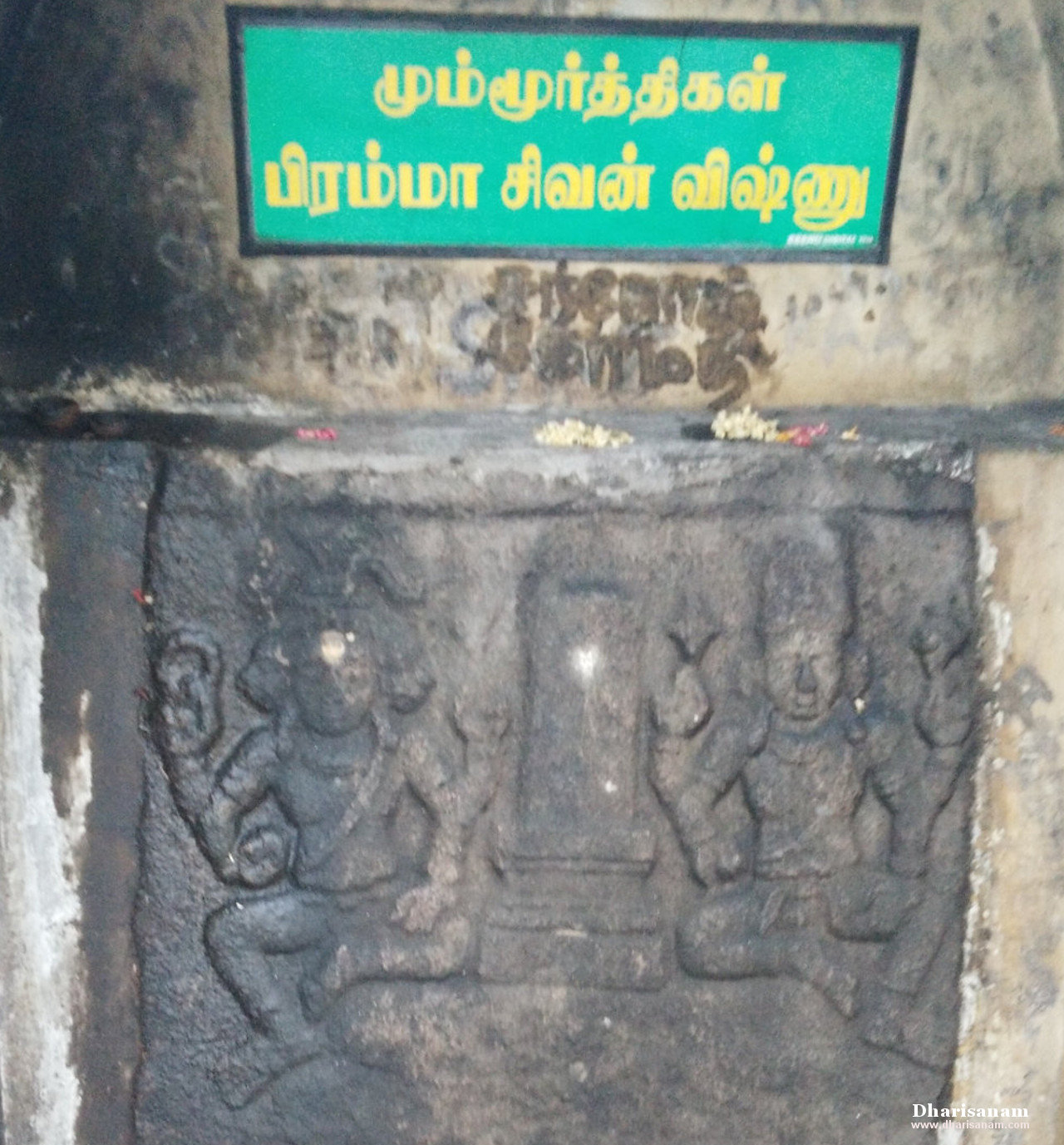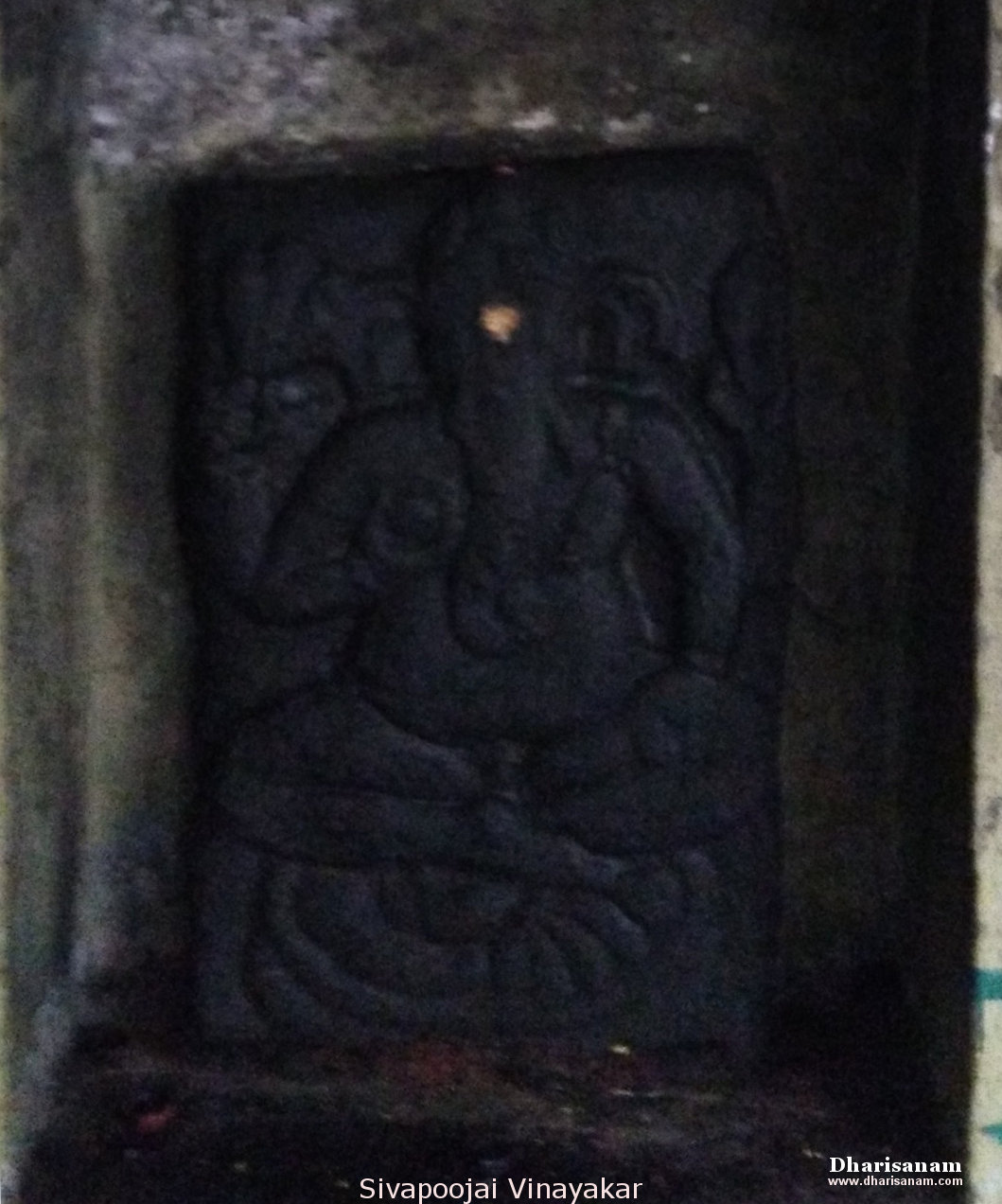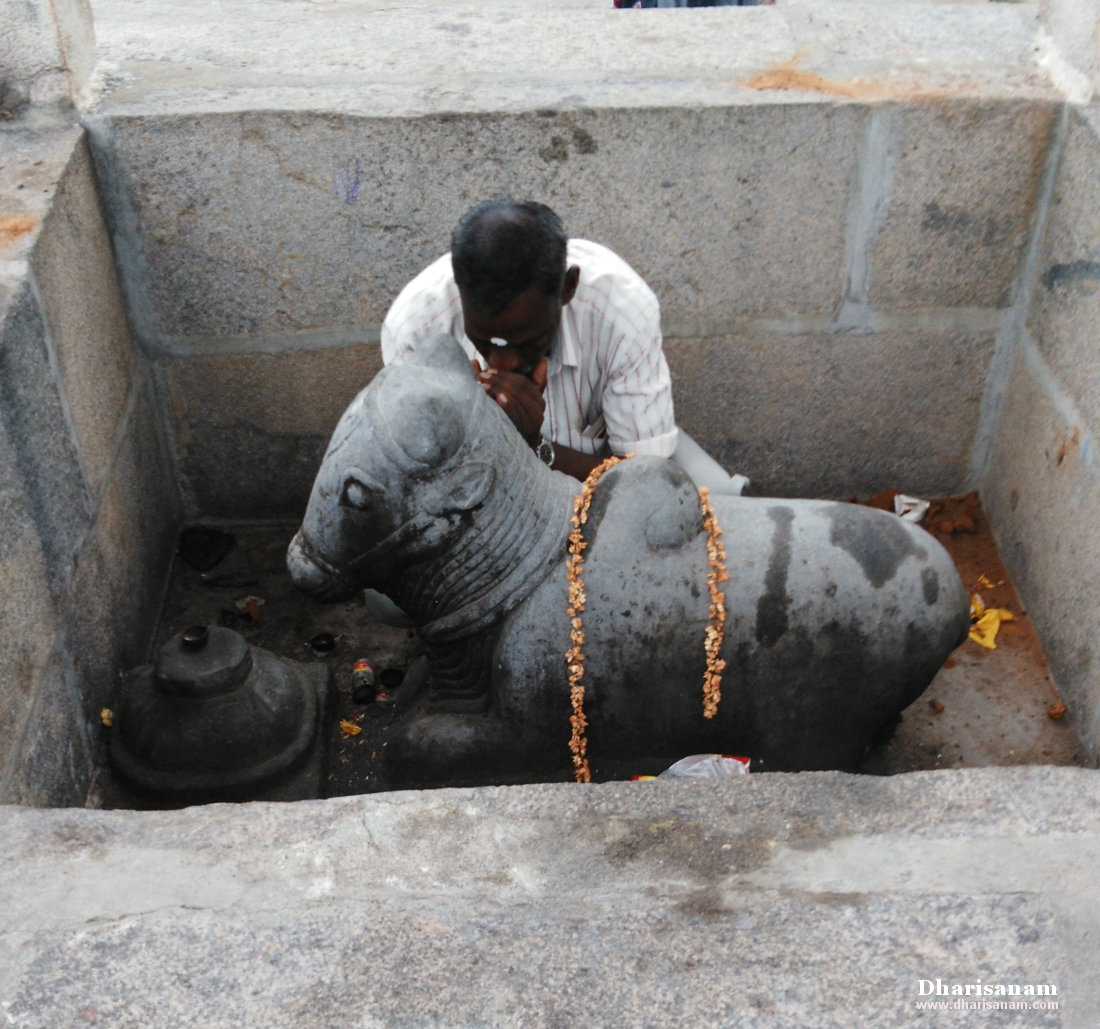 Saint Arunagirinadhar has sang songs in praise of Lord Murugan of this temple in his revered Thirupugazh.
The famous poet Vannacharabam Sri Dandapani Swamigal (1839-1898), although born in Thirunelveli, spent the later part of his life in this place. He was a strict follower of the principles of Ahimsa and a staunch devotee of Lord Murugan. He visited many temples in the entire Tamil region, including Sri Lanka. He visited about 222 temples and rendered his songs. His contribution is as valuable as that of the Devara Moovars and Saint Arunagirinathar. He also wrote the "Thiruvamathur Sthalapuranam".
He set up a mutt, "Kaumara Mutt" here and spent most of his time in spreading the glory of Lord Murugan. This Kaumara Mutt is said to be the first Kaumara Mutt in the world. He is considered to be the reincarnation of Saint Arunagirininathar. It is believed that in his lifetime he wrote about one lakh poems. His final resting place ("Samathi") can be seen inside the mutt.
Greatness of this Temple
The shrines of Lord Shiva and the Goddess Parvathi are on either side of the road and are facing each other. There is a hole in the compound walls of the two temples through which the lord and goddess can see each other. Couples come to this place and worship the lord in the hope that marital discord will be removed and their relationships will improve.

People pray to Goddess Muthambikai for removal of obstacles in their marriage proposals. Those seeking "santhana prapthi" (child boon) can pray to the Goddess here.
Important Festivals
10-day Brahmotsavam in the Tamil month of Panguni (Mar-Apr) is an important festival celebrated here.
Other important festivals celebrated in this temple are –
Shivrathri in the Tamil month of Masi (Feb-Mar),
Aadi Pooram in the Tamil month of Aadi (July-Aug),
Vinayakar Chaturthi in the Tamil month of Aavani (Aug-Sept),
Navrathri in the Tamil month of Purattasi (Sept-Oct) and
Annabishekam in the Tamil month of Aippasi (Oct–Nov).
Pradosham is also observed regularly.
Temple Timings
From 06:30 AM to 12:00 Noon and 05:00 PM to 08:30 PM.
Temple Address
Sri Abirameswarar Temple,
Thiruvamathur Post,
Villupuram Taluk and District,
Tamil Nadu-605 402.
Tele: +91- 4146-223 379, 98430 66252.
This temple priests Shri Arunachala Gurukkal and Shri. A Mahesh Gurukkal can be contacted at +91 - 4146 223319, 98420 22544, 99768 87652.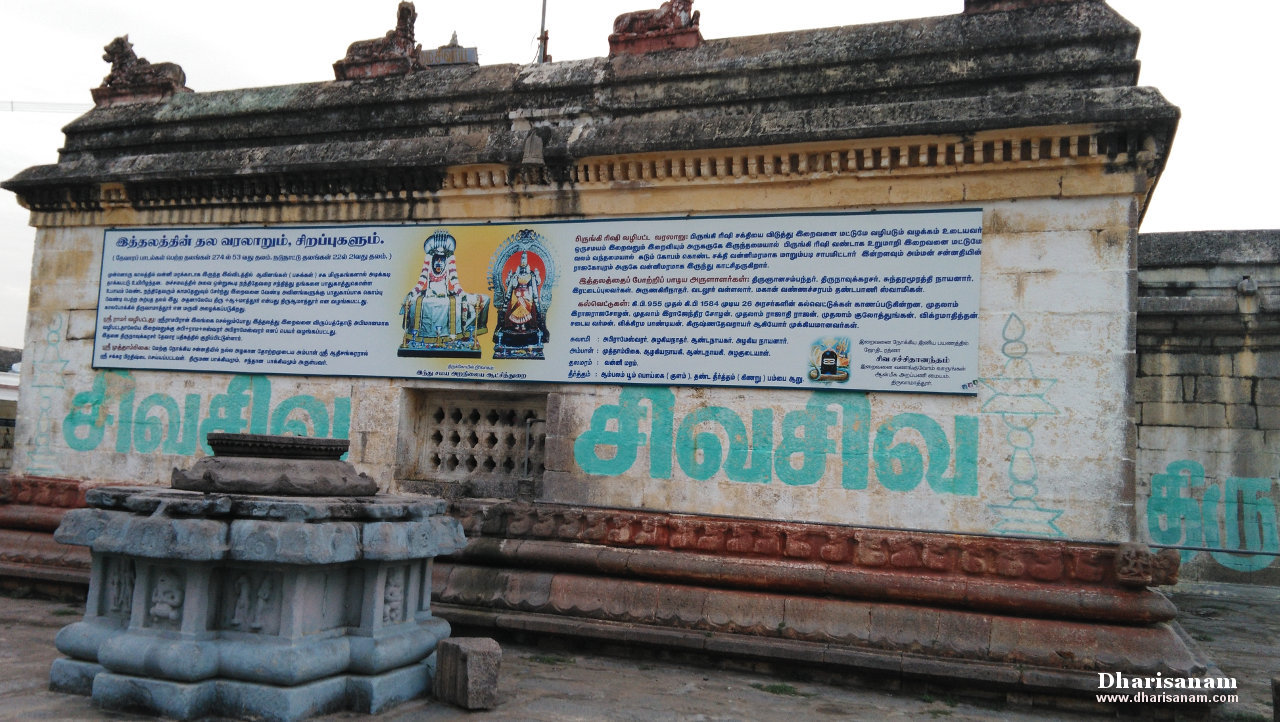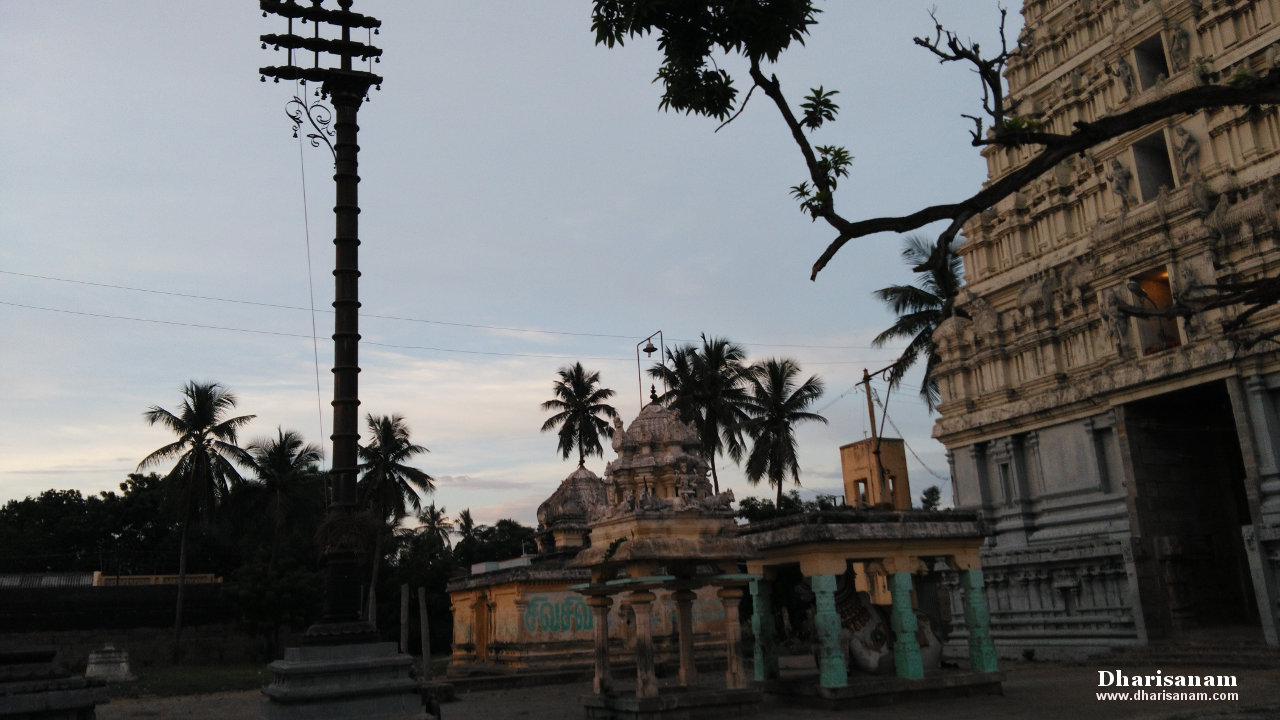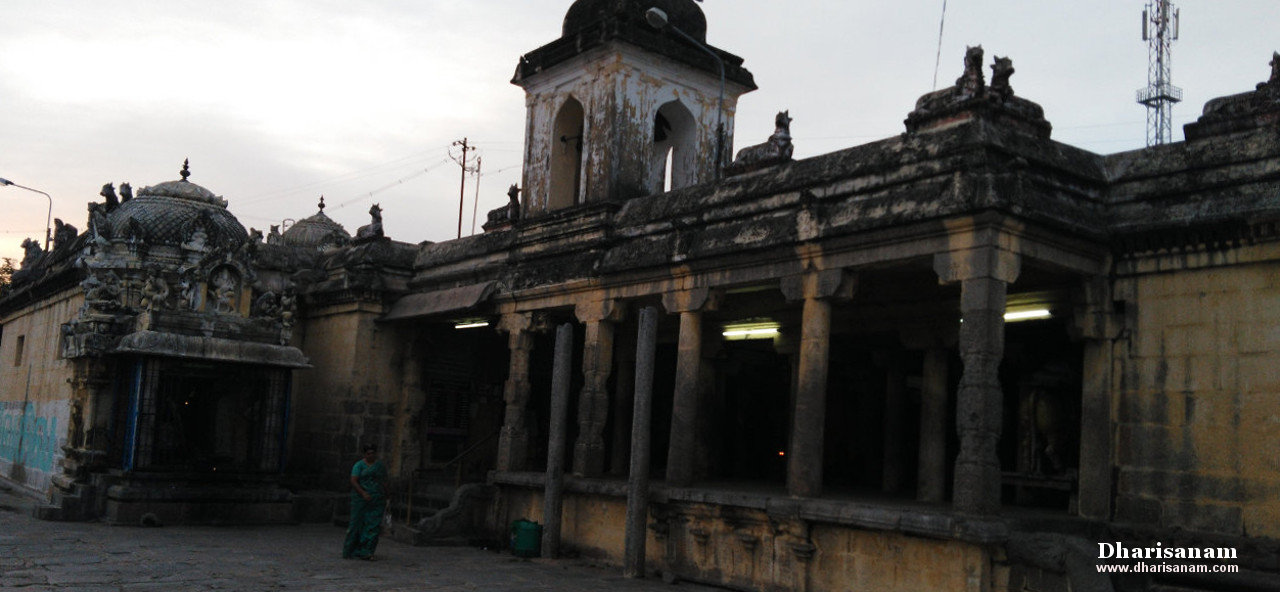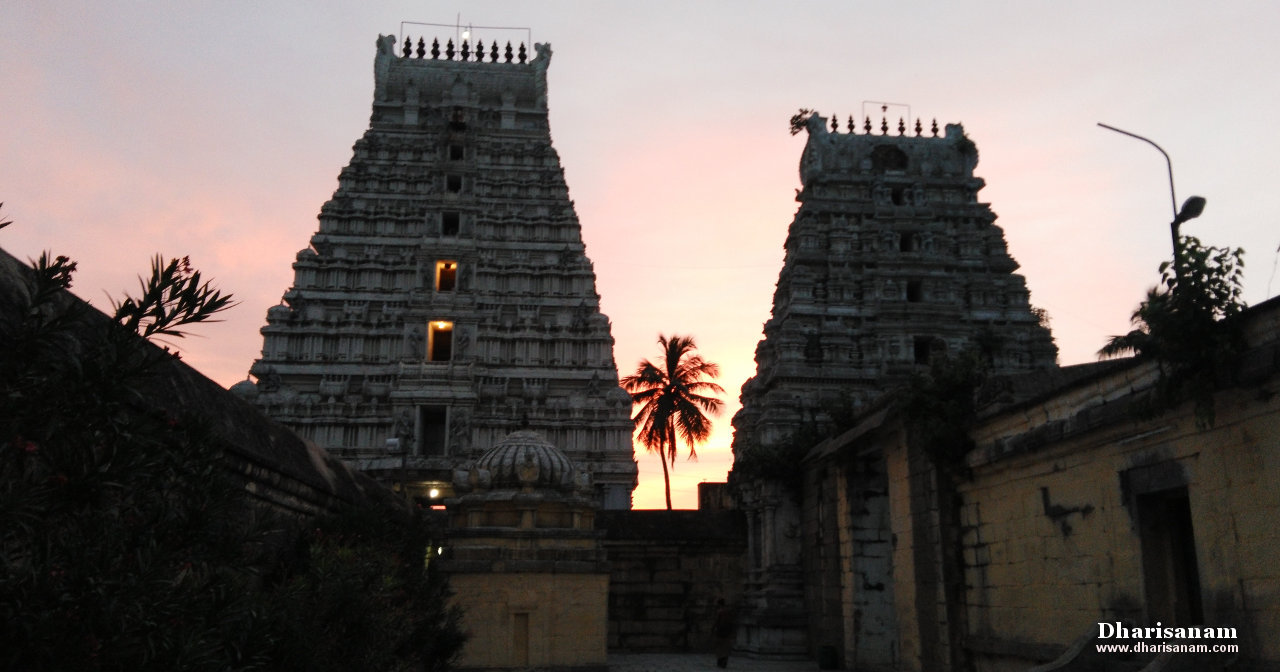 ---
Pathigam (Hymn) with English transliteration and Tamil meaning.
Saint Thirugnanasambanthar visited this temple and sang this Pathigam.
Devotees visiting this temple should make it a practice to recite this Pathigam.
துன்னம்பெய் கோவணமுந் தோலு முடையாடை
பின்னஞ் சடைமேலோர் பிள்ளை மதிசூடி
அன்னஞ்சேர் தண்கானல் ஆமாத்தூர் அம்மான்றன்
பொன்னங் கழல்பரவாப் பொக்கமும் பொக்கமே.
"Thuṉṉampey kōvaṇamun thōlu muṭaiyāṭai
piṉṉañ chaṭaimēlōr piḷḷai mathisūṭi
aṉṉañchēr thaṇkāṉal āmāthūr am'māṉtṟaṉ
poṉṉaṅ kazhalparavāp pokkamum pokkamē".
தைத்தல் அமைந்த கோவணத்தை உடையாகவும், யானைத் தோலைமேல் ஆடையாகவும் கொண்டு பின்னிய சடைமீது இளம்பிறையைச் சூடி, அன்னங்கள் வாழும் குளிர்ந்த சோலைகளைக் கொண்டுள்ள திருஆமாத்தூரில் விளங்கும் இறைவனின் பொன் போன்ற அழகிய திருவடிகளைப் பரவாதவர் பொலிவு பொலிவாகுமா?
கைம்மாவின் தோல்போர்த்த காபாலி வானுலகில்
மும்மா மதிலெய்தான் முக்கணான் பேர்பாடி
அம்மா மலர்ச்சோலை ஆமாத்தூர் அம்மான்எம்
பெம்மானென் றேத்தாதார் பேயரிற் பேயரே.
"Kaim'māviṉ thōlpōrtha kāpāli vāṉulakil
mum'mā mathileythāṉ mukkaṇāṉ pērpāṭi
am'mā malarchōlai āmāthūr am'māṉem
pem'māṉeṉ tṟēthāthār pēyariṟ pēyarē".
யானைத் தோலைப் போர்த்துள்ள காபாலியும், வானுலகில் திரிந்து இடம் விளைத்த முப்புரங்களை எய்தழித்தவனும், முக்கண்ணனும் ஆகிய சிவபிரானின் புகழைப்பாடி அழகிய பெரிய மலர்கள் நிறைந்த சோலைகள் சூழ்ந்த ஆமாத்தூர் அம்மானே எம் தலைவன் என்று ஏத்தாதார் பேயர்களினும் பேயராவர்.
பாம்பரைச் சாத்தியோர் பண்டரங்கன் விண்டதோர்
தேம்பல் இளமதியஞ் சூடிய சென்னியான்
ஆம்பலம் பூம்பொய்கை ஆமாத்தூர் அம்மான்றன்
சாம்பல் அகலத்தார் சார்பல்லாற் சார்பிலமே.
"Pāmparaich chāthiyōr paṇṭaraṅkaṉ viṇṭathōr
thēmpal iḷamathiyañ chūṭiya cheṉṉiyāṉ
āmpalam pūmpoykai āmāthūr am'māṉtṟaṉ
sāmpal akalathār sārpallāṟ sārpilamē".
பாம்பை இடையில் கட்டியவன். ஒப்பற்ற பாண்டரங்கம் என்னும் திருக்கூத்தை ஆடியவன். வாய்பிளந்து மெலிந்ததோர் இளமதியைச் சூடிய சென்னியன். ஆம்பல் பூக்கள் மலர்ந்த பொய்கைகளை உடைய ஆமாத்தூரில் எழுந்தருளியவன். சாம்பல் பூசிய மார்பினனாய அப்பெருமானின் அடியவர்களின் சார்பு அல்லால் பிறிதொரு சார்பு நமக்கு இல்லை.
கோணாகப் பேரல்குற் கோல்வளைக்கை மாதராள்
பூணாகம் பாகமாப் புல்கி யவளோடும்
ஆணாகங் காதல்செய் ஆமாத்தூர் அம்மானைக்
காணாத கண்ணெல்லாங் காணாத கண்களே.
"Kōṇākap pēralkuṟ kōlvaḷaikkai mātharāḷ
pūṇākam pākamāp pulki yavaḷōṭum
āṇākaṅ kāthalsey āmāthūr am'māṉaik
kāṇātha kaṇṇellāṅ kāṇātha kaṇkaḷē".
வலிய நாகத்தின் படம் போன்ற பெரிய அல்குலையும், திரண்ட வளையல்கள் அணிந்த கைகளையும் உடைய பார்வதி தேவியின் அணிகலன்கள் அணிந்த திருமேனியைத் தனது இடப்பாகமாகக் கொண்டு அவ்வம்மையோடு ஆண் உடலோடு விளங்கும் தான் காதல் செய்து மகிழும் ஆமாத்தூர் அம்மானைக் காணாத கண்கள் எல்லாம் குருட்டுக் கண்களேயாகும்.
பாடல் நெறிநின்றான் பைங்கொன்றைத் தண்டாரே
சூடல் நெறிநின்றான் சூலஞ்சேர் கையினான்
ஆடல் நெறிநின்றான் ஆமாத்தூர் அம்மான்றன்
வேட நெறிநில்லா வேடமும் வேடமே.
"Pāṭal neṟiniṉtṟāṉ paiṅkoṉtṟaith thaṇṭārē
chūṭal neṟinitṉṟāṉ chūlañchēr kaiyiṉāṉ
āṭal neṟiniṉtṟāṉ āmāthūr am'māṉtṟaṉ
vēṭa neṟinillā vēṭamum vēṭamē".
பாடும் நெறி நிற்பவனும், பசிய தண்மையான கொன்றை மாலையைச் சூடும் இயல்பினனும், சூலம் பொருந்திய கையினனும் ஆடும் நெறி நிற்போனும் ஆகிய ஆமாத்தூர் அம்மான் கொண்டருளிய மெய்வேடங்களாகிய மார்க்கங்களைப் பின்பற்றாதார் மேற்கொள்ளும் வேடங்கள் பொய்யாகும்.
சாமவரை வில்லாகச் சந்தித்த வெங்கணையால்
காவல் மதிலெய்தான் கண்ணுடை நெற்றியான்
யாவருஞ் சென்றேத்தும் ஆமாத்தூர் அம்மானத்
தேவர் தலைவணங்குந் தேவர்க்குந் தேவனே.
"Sāmavarai villākach chanthitha veṅkaṇaiyāl
kāval mathileythāṉ kaṇṇuṭai netṟiyāṉ
yāvaruñ cheṉtṟēthum āmāthūr am'māṉath
thēvar thalaivaṇaṅkun thēvarkkun thēvaṉē".
பொன்மயமான மேருமலையை வில்லாகக் கொண்டு அதன்கண் பொருந்திய கொடியகணையால் காவலை உடைய மும்மதில்களை எய்து அழித்தவனும், நெற்றிக்கண்ணனும் எல்லோரும் சென்று வணங்கிப் போற்றும் ஆமாத்தூர் அம்மானும் ஆகிய சிவபிரான் தேவர்கள் தலை வணங்கும் இந்திரனுக்கும் தேவன் ஆவன்.
மாறாத வெங்கூற்றை மாற்றி மலைமகளை
வேறாக நில்லாத வேடமே காட்டினான்
ஆறாத தீயாடி ஆமாத்தூர் அம்மானைக்
கூறாத நாவெல்லாங் கூறாத நாக்களே.
"Māṟātha veṅkūtṟai mātṟi malaimakaḷai
vēṟāka nillātha vēṭamē kāṭṭiṉāṉ
āṟātha thīyāṭi āmāthūr am'māṉaik
kūṟātha nāvellāṅ kūṟātha nākkaḷē".
யாவராலும் ஒழிக்கப் படாத கூற்றுவனை ஒழித்து, மலைமகளைத் தனித்து வேறாக நில்லாது தன் திருமேனியிலேயே ஒரு பாதியை அளித்து மாதொரு பாகன் என்ற வடிவத்தைக் காட்டியவனும், ஆறாத தீயில் நின்று ஆடுபவனும் ஆகிய ஆமாத்தூர் இறைவன் புகழைக் கூறாத நாக்குடையவர் நாவிருந்தும் ஊமையர் எனக் கருதப்படுவர்.
தாளால் அரக்கன்தோள் சாய்த்த தலைமகன்றன்
நாள்ஆ திரையென்றே நம்பன்றன் நாமத்தால்
ஆளானார் சென்றேத்தும் ஆமாத்தூர் அம்மானைக்
கேளாச் செவியெல்லாங் கேளாச் செவிகளே.
"Thāḷāl arakkaṉthōḷ sāytha thalaimakaṉtṟaṉ
nāḷā thiraiyeṉtṟē nampaṉtṟaṉ nāmathāl
āḷāṉār seṉtṟēthum āmāthūr am'māṉaik
kēḷāch cheviyellāṅ kēḷāch chevikaḷē".
தோல்வி உறாத இராவணனின் தோள் வலிமையை அழித்த தலைவனாகிய சிவபெருமானுக்கு உகந்த நாள் திருவாதிரையாகும் எனக்கருதித் தங்கள் விருப்புக்கு உரியவனாகிய, அடியவர் சென்று வழிபடும் ஆமாத்தூர் அம்மான் புகழைக் கேளாச்செவிகள் எல்லாம் செவிட்டுச் செவிகள் ஆகும்.
புள்ளுங் கமலமுங் கைக்கொண்டார் தாமிருவர்
உள்ளும் அவன்பெருமை ஒப்பளக்குந் தன்மையதே
அள்ளல் விளைகழனி ஆமாத்தூர் அம்மான்எம்
வள்ளல் கழல்பரவா வாழ்க்கையும் வாழ்க்கையே.
"Puḷḷuṅ kamalamuṅ kaikkoṇṭār thāmiruvar
uḷḷum avaṉperumai oppaḷakkun thaṉmaiyathē
aḷḷal viḷaikazhaṉi āmāthūr am'māṉem
vaḷḷal kazhalparavā vāzhkkaiyum vāzhkkaiyē".
கருடப்பறவை தாமரை ஆகியவற்றை இடமாகக் கொண்ட திருமால் பிரமன் ஆகிய இருவரால் தியானிக்கப்படும் சிவபிரானது பெருமை அளவிடற்கு உரியதோ? சேறாக இருந்து நெற்பயிர் விளைக்கும் கழனிகள் சூழ்ந்த ஆமாத்தூர் அம்மானாகிய எம் வள்ளலின் திருவடிகளை வணங்காத வாழ்க்கையும் வாழ்க்கை யாமோ?
பிச்சை பிறர்பெய்யப் பின்சாரக் கோசாரக்
கொச்சை புலால்நாற ஈருரிவை போர்த்துகந்தான்
அச்சந்தன் மாதேவிக் கீந்தான்றன் ஆமாத்தூர்
நிச்சல் நினையாதார் நெஞ்சமும் நெஞ்சமே.
"Pichai piṟarpeyyap piṉsārak kōchārak
kochai pulālnāṟa īrurivai pōrthukanthāṉ
achanthaṉ māthēvik kīnthāṉtṟaṉ āmāthūr
nichal niṉaiyāthār neñchamum neñchamē".
மகளிர் பிச்சையிட்டுப் பின்னே வர, தன்தலைமைத்தன்மை கெடாதபடி, உமையம்மை அஞ்ச இழிவான புலால் மணம் வீசும் யானைத் தோலைப் போர்த்து அழியாது மகிழ்ந்தவனாகிய சிவபிரானது ஆமாத்தூரை நாள்தோறும் நினையாதார் நெஞ்சம் நெஞ்சாகுமா?
ஆட லரவசைத்த ஆமாத்தூர் அம்மானைக்
கோட லிரும்புறவிற் கொச்சை வயத்தலைவன்
நாட லரியசீர் ஞானசம் பந்தன்றன்
பாட லிவைவல்லார்க் கில்லையாம் பாவமே.
"Āṭa laravasaitha āmāthūr am'māṉaik
kōṭa lirumpuṟaviṟ kochai vayathalaivaṉ
nāṭa lariyasīr gñāṉasam banthaṉtṟaṉ
pāṭa livaivallārk killaiyām pāvamē".
படம் விரித்து ஆடும் பாம்பை இடையில் கட்டிய ஆமாத்தூர் அம்மானைக் காந்தள் மலரும் கரிய காடுகளைக் கொண்ட கொச்சைவயம் என்னும் சீகாழிப் பதிக்குத் தலைவனாகிய நாடற்கு அரிய புகழை உடைய ஞானசம்பந்தன் பாடியருளிய இப்பாடல்களை வல்லவர்க்குப் பாவம் இல்லை.