Visited on: 12th August, 2017.
Location
Auduthurai is located at a distance of about 3 kms from Thiruvidaimarudhur and 13 kms from Kumbakonam on the Kumbakonam to Mayiladuthurai route. From Mayiladuthurai it is about 20 kms. Auduthurai has a railway station and the temple is one kilometre away from it.
Other Paadal Petra Shiva Sthalams near this place are – Thiruneelakkudi, Thiruvavaduthurai, Thirukkozhambam, Therizhanthur, Kuthalam, Thirumanancheri, Velvikkudi, Ethirkolpadi, Thiruvidaimaruthur and Mayiladuthurai.
General Information
| | |
| --- | --- |
| Moolavar | Sri Aabathsakayeswarar |
| Ambal | Sri Pavalakkodi Ammai, Sri Vandar Karumenkuzhal Mangai |
| Theertham (Holy water) | Sakaya Theertham, Surya Theertham |
| Sthala Vriksham (Sacred Tree) | Pavazha Malli tree |
| Pathigam (Hymn) rendered by | Saint Thirugnanasambanthar and Saint Thirunavukarasar (Appar) |
This is one of the 276 Devara Paadal Petra Shiva Sthalams and 31 Shiva Sthalam on the Southern bank of the river Cauveri in Chozha Nadu (Thenkarai).
Lord Shiva in this temple is a Swayambumurthi (self-manifested).
This east facing temple has a 3-tiered main tower (Rajagopuram) and it has two corridors.
The last consecration ceremony (Kumbabishekam) took place on 21.04.2000 and prior to that on 28.04.1955.
History of the Temple
This ancient temple is located on the southern banks of the river Cauveri.
There are 15 stone inscriptions available in this temple out of which 13 are related to the period of Chola dynasty and 2 are from the period of Pandya dynasty.
This temple was renovated and built using granite by queen Chembian Maadevi, the wife of Chola king Kantarathithyan.
The historical names of this place are Thiraimur Nadu, Boobalakulavalli and Thirukkurangaduthurai.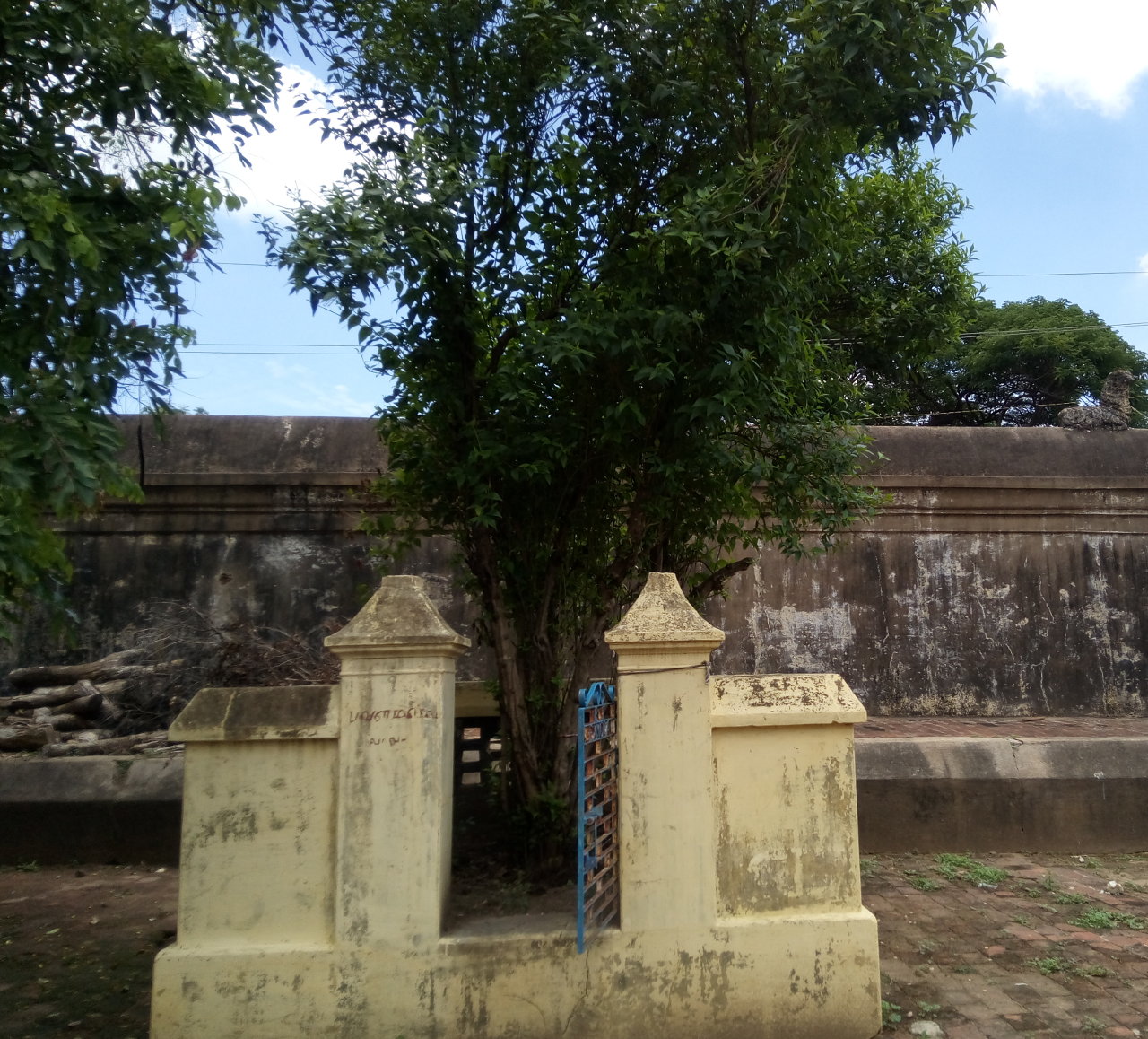 Legend
It is believed that Lord Ram, while searching for Sita, came here with Hanuman and Sugreev and worshiped the lord here.
There are two places by the name of "Kurangaduthurai". At these two places, Lord Shiva is believed to have been worshiped by two monkeys ("kurangu" in Tamil) from Ramayana – Sugreev and Vaali.
This place is called "Then Kurangaduthurai" since it is located on the southern side of the river Cauvery. It is believed that Sugreevan worshiped the Lord Shiva here. The other Kurangaduthurai is called as "Vada Kurangaduthurai" as it is located on the northern side of the river Cauvery and Vaali is believed to have worshiped Lord Shiva there.
It is believed that at this place Lord Shiva rescued Sugreev from a fight with his brother Vaali. Unable to defeat Vaali, Sugreev prayed to Lord Shiva for help and the lord changed him to the form of an "Annaparavai" (a mythological bird) and he changed Sukreev's wife to a "Parijada" tree (a variety of jasmine). The lord further hid Sukreev by camouflaging him with the Parijada tree such that Vaali could not find him. Since Lord Shiva helped Sugreev here, he is praised as "Sri Aabathsakayeswarar" (meaning one who helped a person in danger).
Another legend associated with this temple is that of a pregnant lady who was saved by the lord. The lady who was from the nearby village of Thirumangalakkudi was a staunch Shiva devotee and would regularly visits this temple. One day after she completed her worship, she could not return to her village as there was heavy rain and the river was flooded. In the meantime, she also developed pain and prayed to the lord for help. The lord took the form of a lady physician and performed the delivery in time.
Another legend is that of Saint Harathathar who borne in a Vaishnav family in Kanchanur, a nearby village, but later became an ardent Lord Shiva devotee. He used to visit 7 Shiva temples (Kanchanur, Thirukkodikka, Thiruvalankadu, Thiruvavaduthuri, Aduthurai, Thirumangalakkudi and Thirumanthurai) every day before taking his dinner. One day when he left this temple, there was heavy rain and in the darkness, he was unable to find the way back to his village. It is believed that Lord Shiva came in the guise of a brahmin and took him home.
It is believed that on the request of Sage Agasthiar and other rishis, Lord Shiva granted his cosmic dance performance to them here. Hence this place is also known as Natarajapuram. Sage Agasthiar also installed and worshiped lord "Sorna Bairavar" here.
It is also believed that Hanuman worshiped the lord here and got relieved from a curse by Sage Narada. Hanuman is believed to have regained his art of singing.
Deities in the temple
Other than the shrines of Lord Shiva and Goddess Parvathy, shrines and idols of lords Muththa Vinayakar, Murugn with his consorts, Natarajar with Sivakami, Somaskandar, Nalvar, Vayumurthy, Mahaganapathy and Kasi Vinayakar;
Sukreev, Abathsakayeswarar and Pavalakkodiyammai;
Vanalingam, Kasi Viswanathar with Visalakshi;
Narthana Ganapathy, Agasthiyar, Dakshinamurthy, Lingothbavar, Brahma, Vishnu, Durgai, Gajalakshmi, Indralingam, Kuberalingam, Chandikeswarar, Chandikeswari, Suryan, Chandran and Navagraham can be seen in the corridors.
In the hall next to Natarajar's shrine, there is separate shrines for Saneeswarar, Bhanalingam, Saint Harathathar and Sorna Akarshana Bairavar.
There are also some reliefs that depict Karaikkal Ammaiyar worshiping lord Aabathsakayeswarar and Queen Chembian Madevi worshiping lord Aabathsakayeswarar.
In the Navagraham, all the other idols are facing Suryan.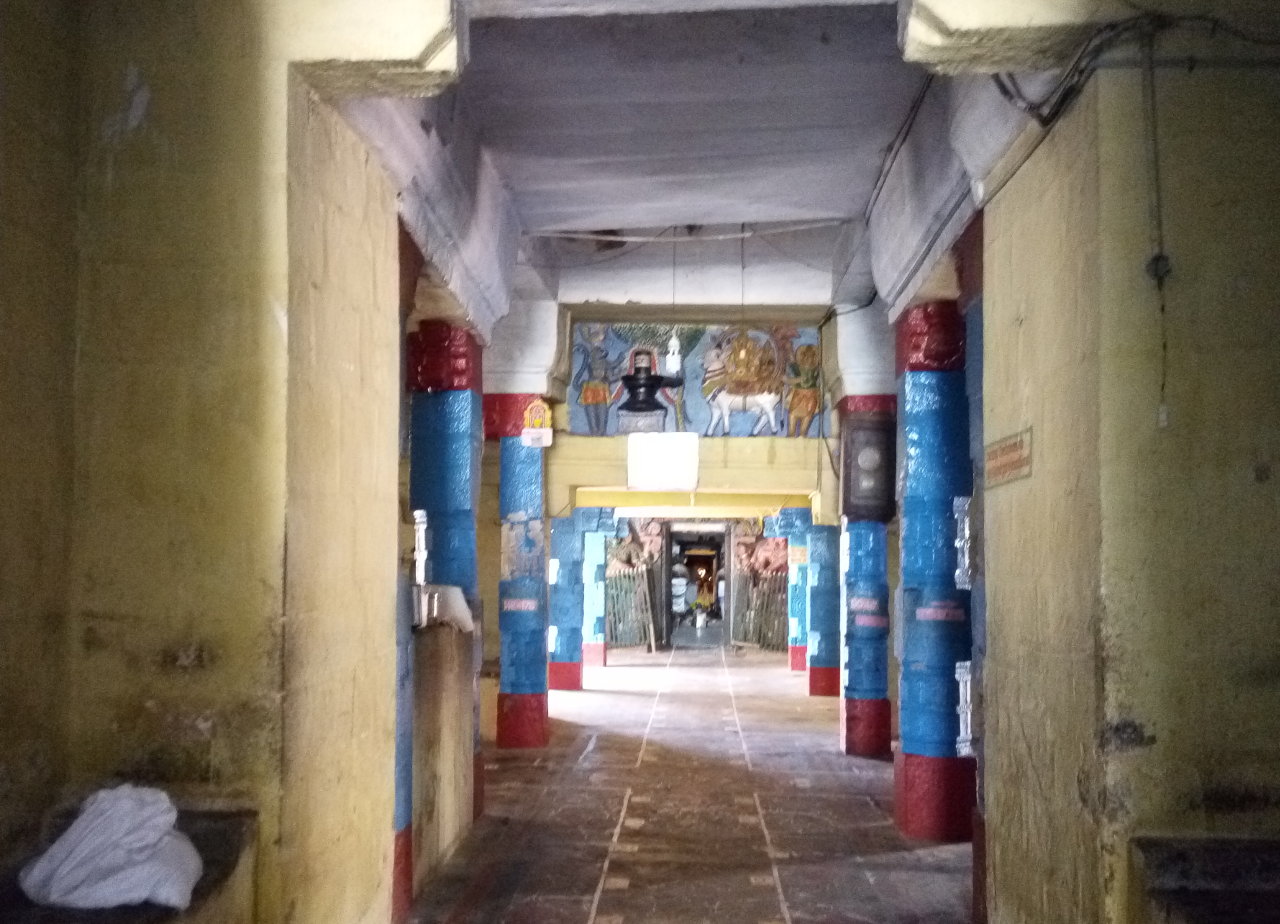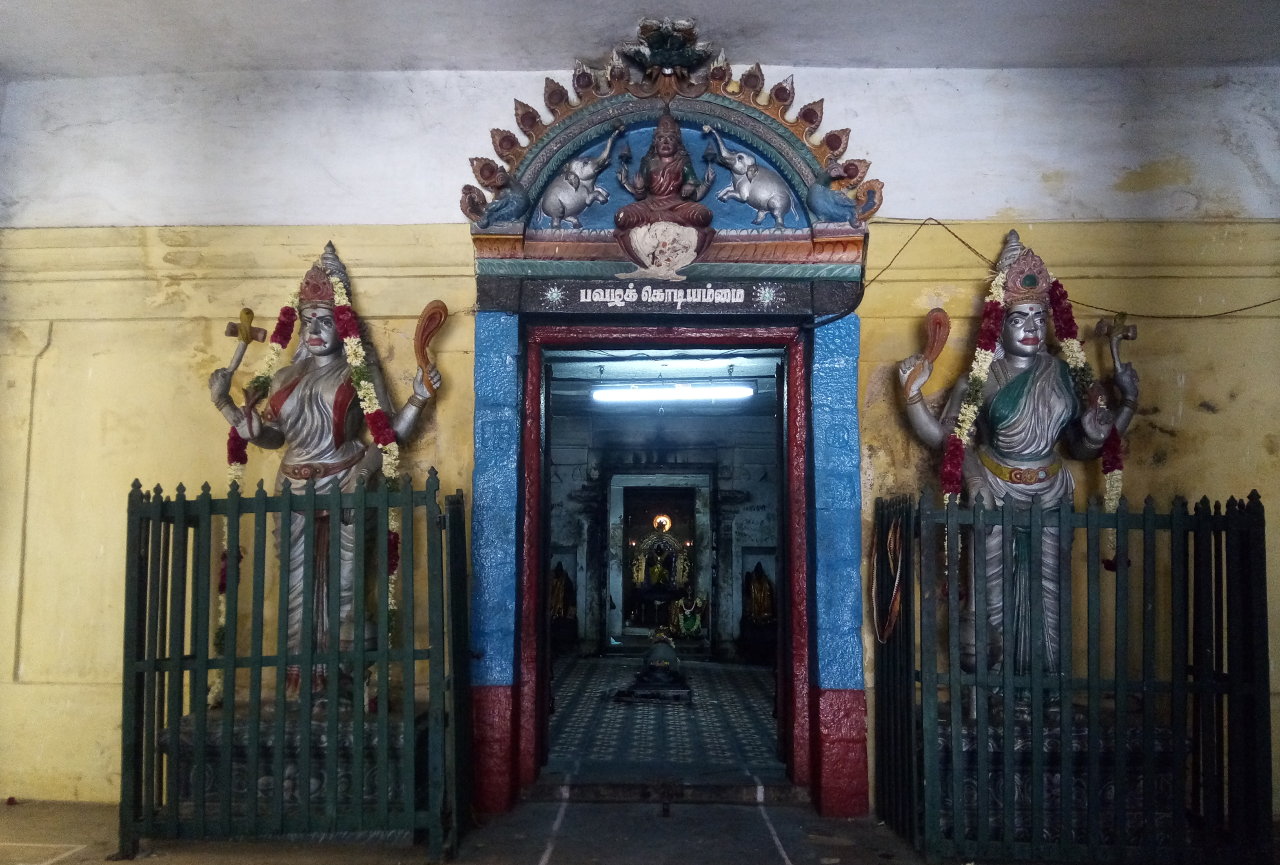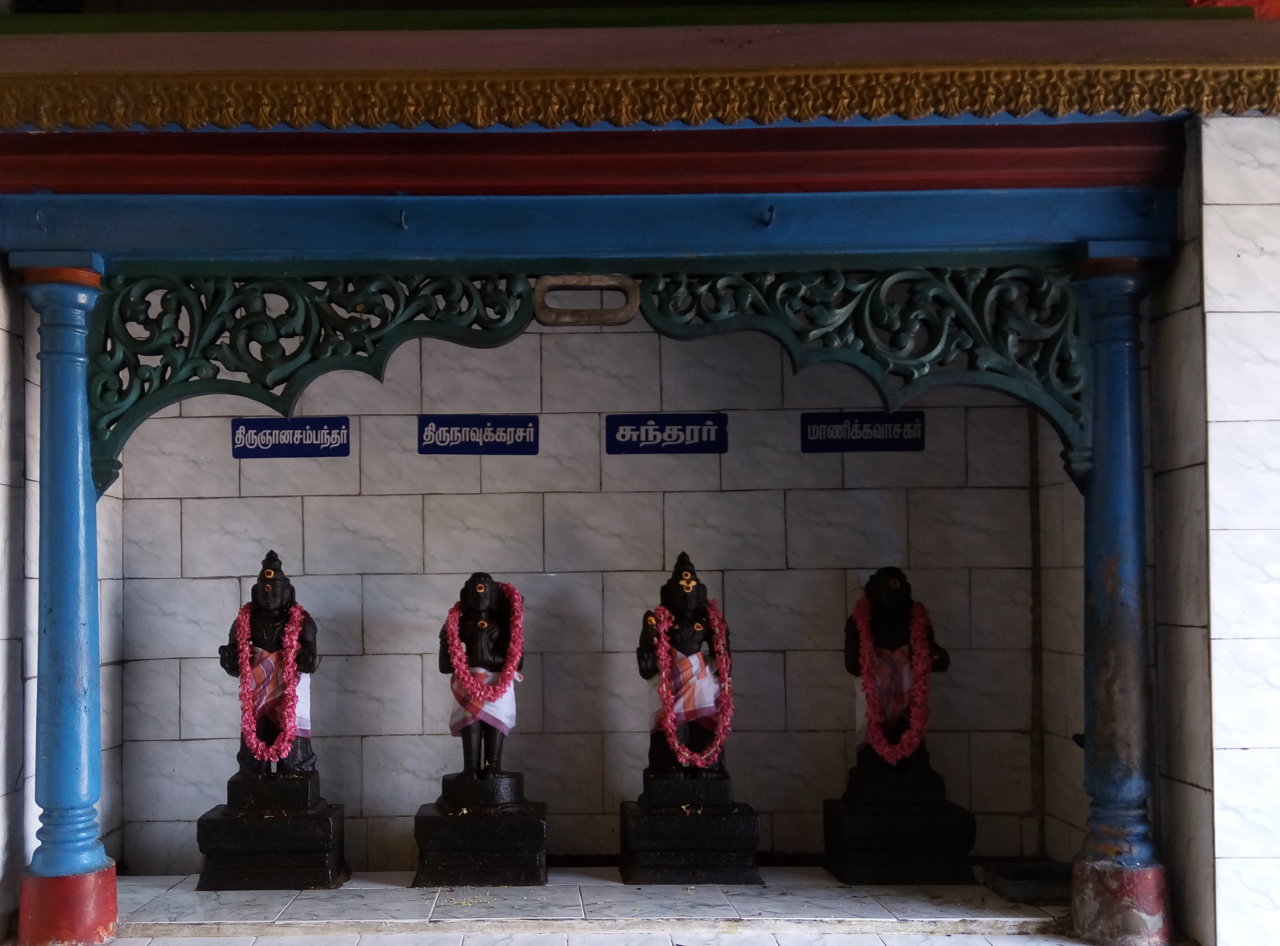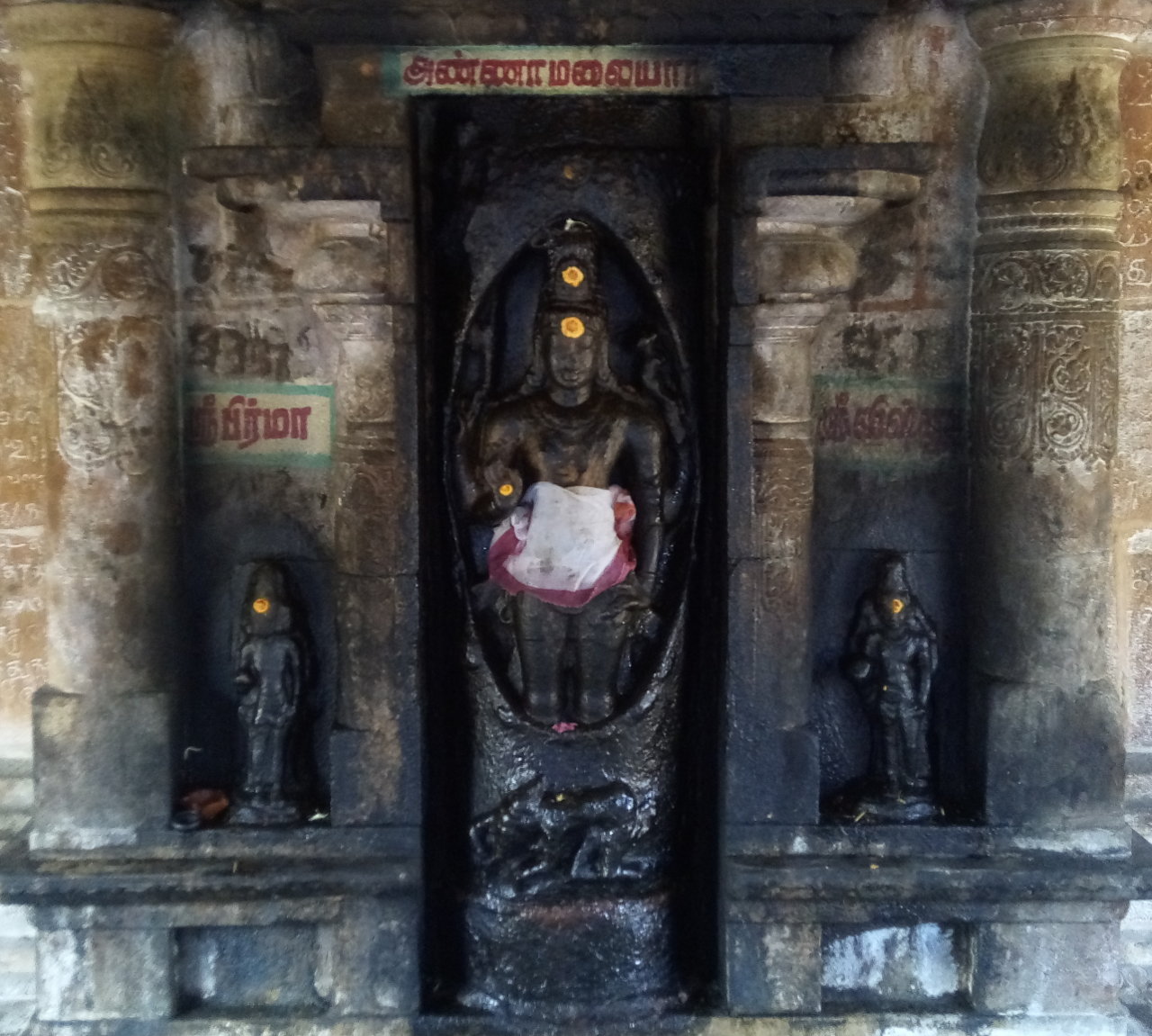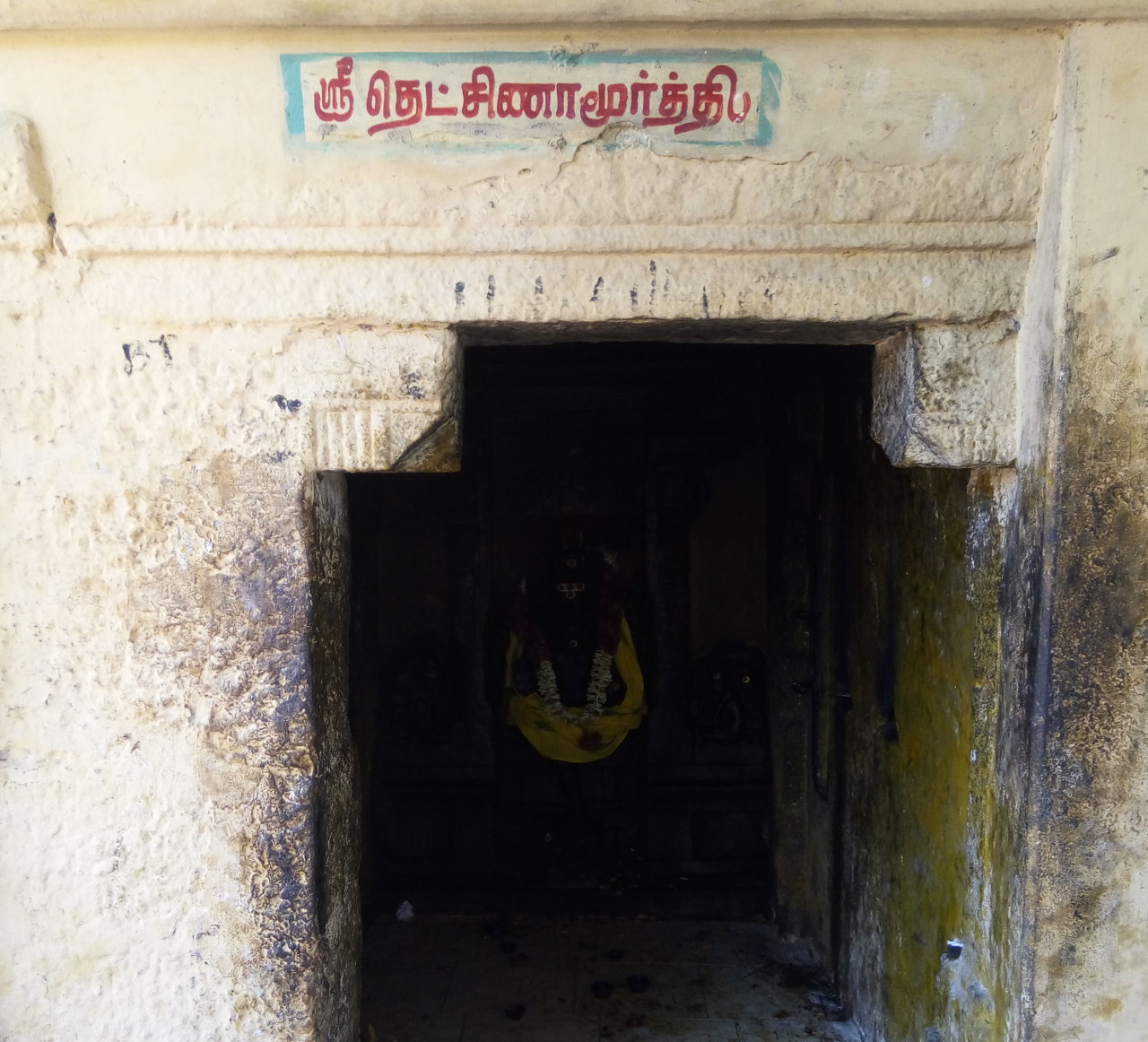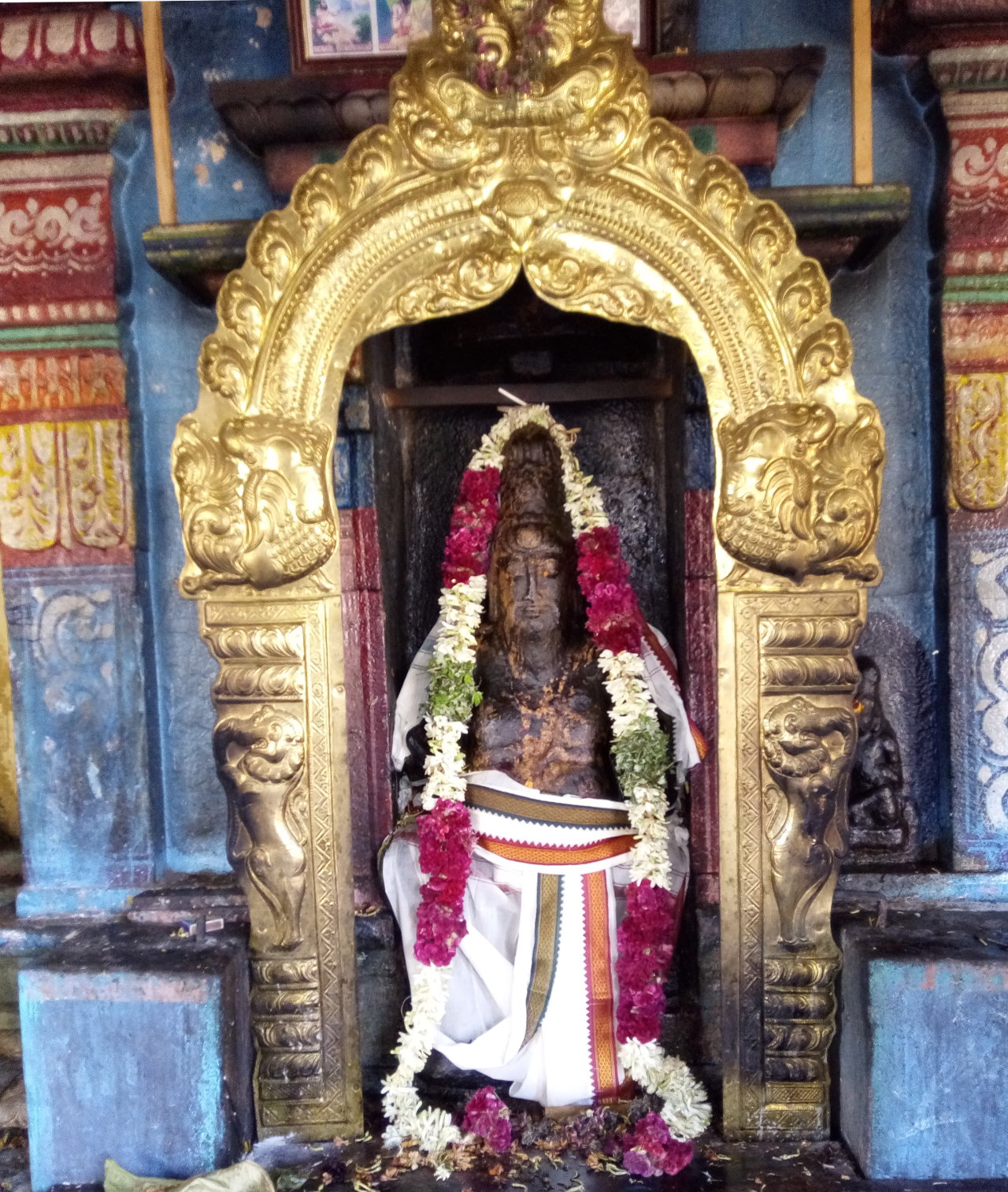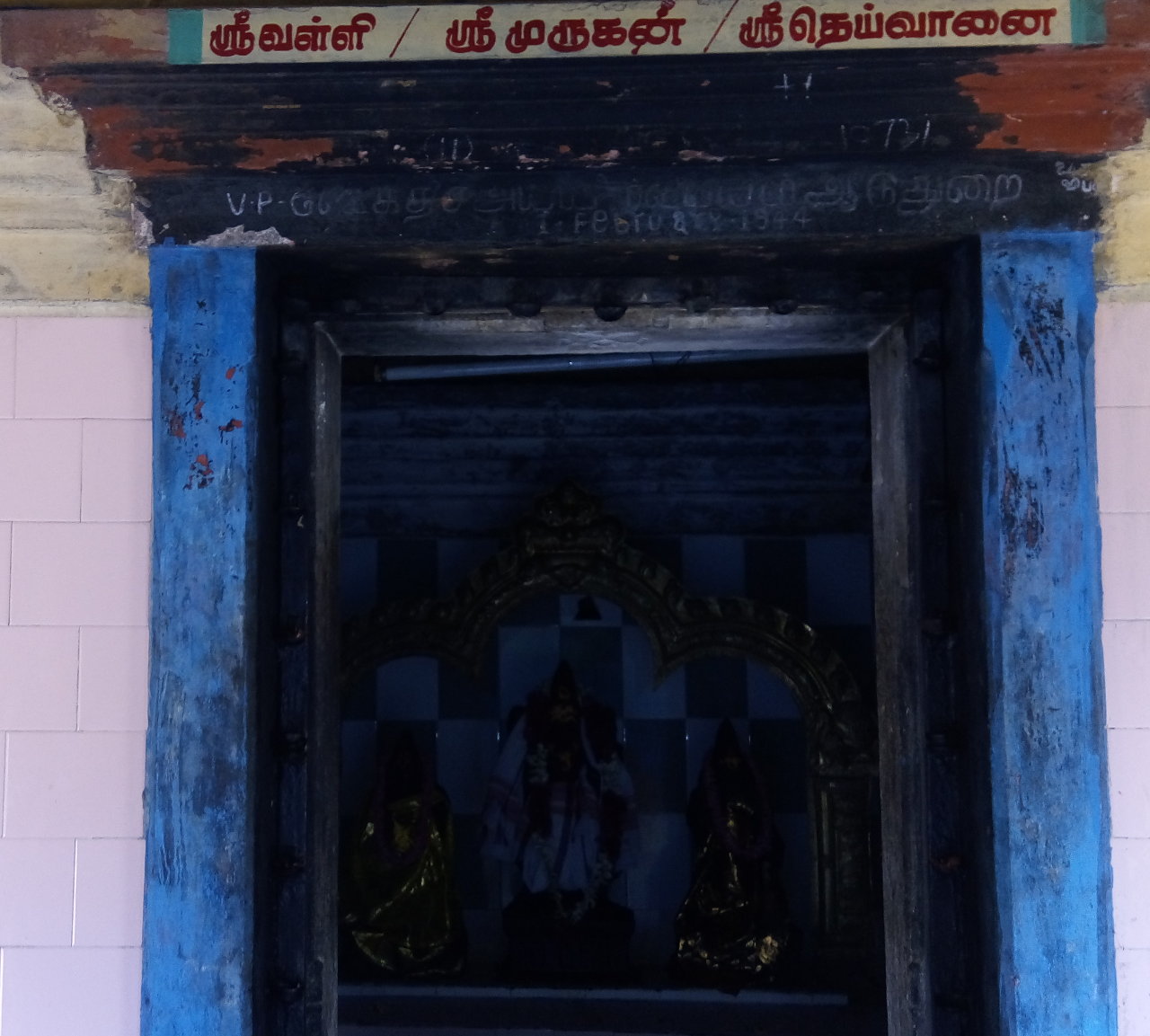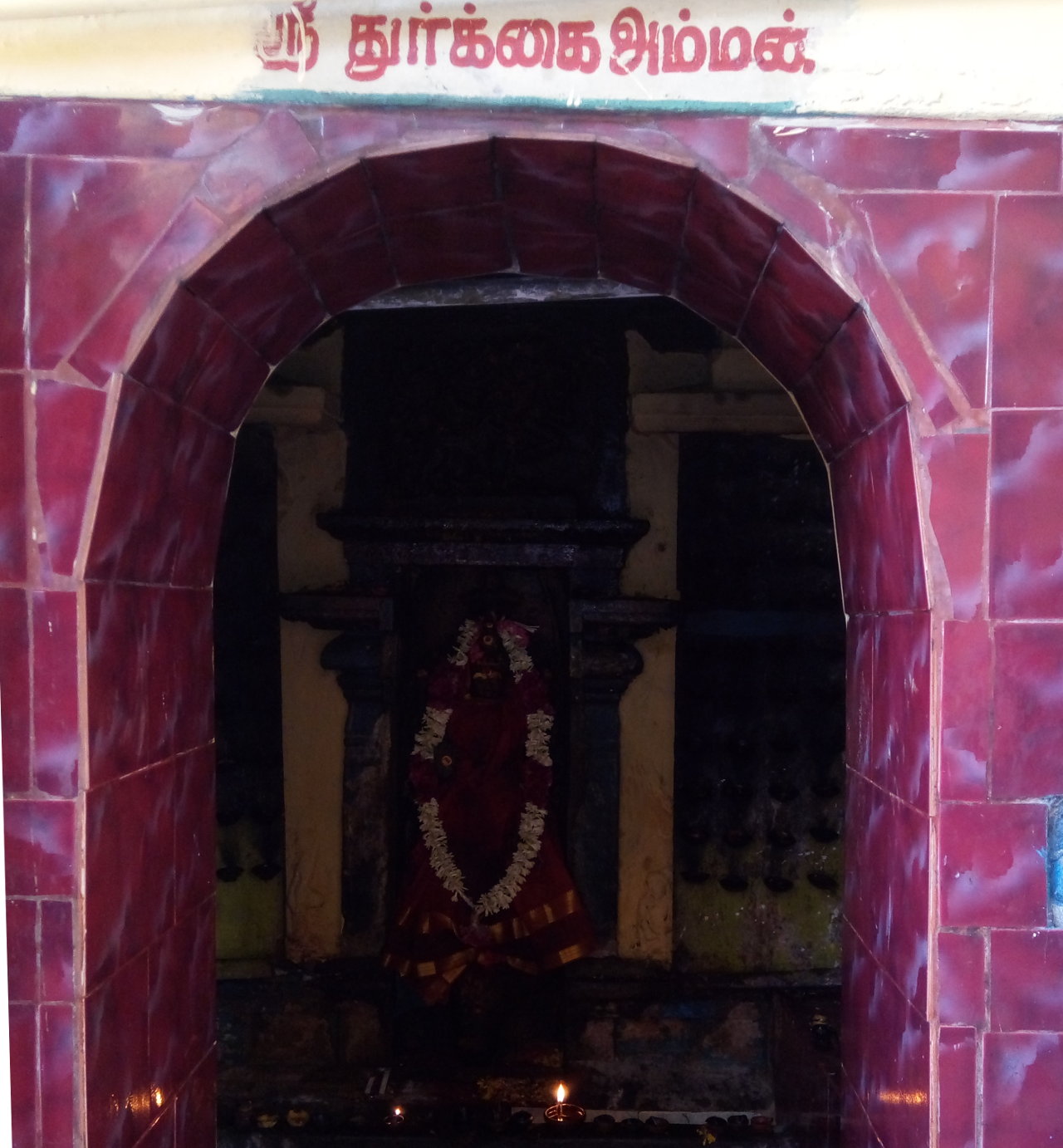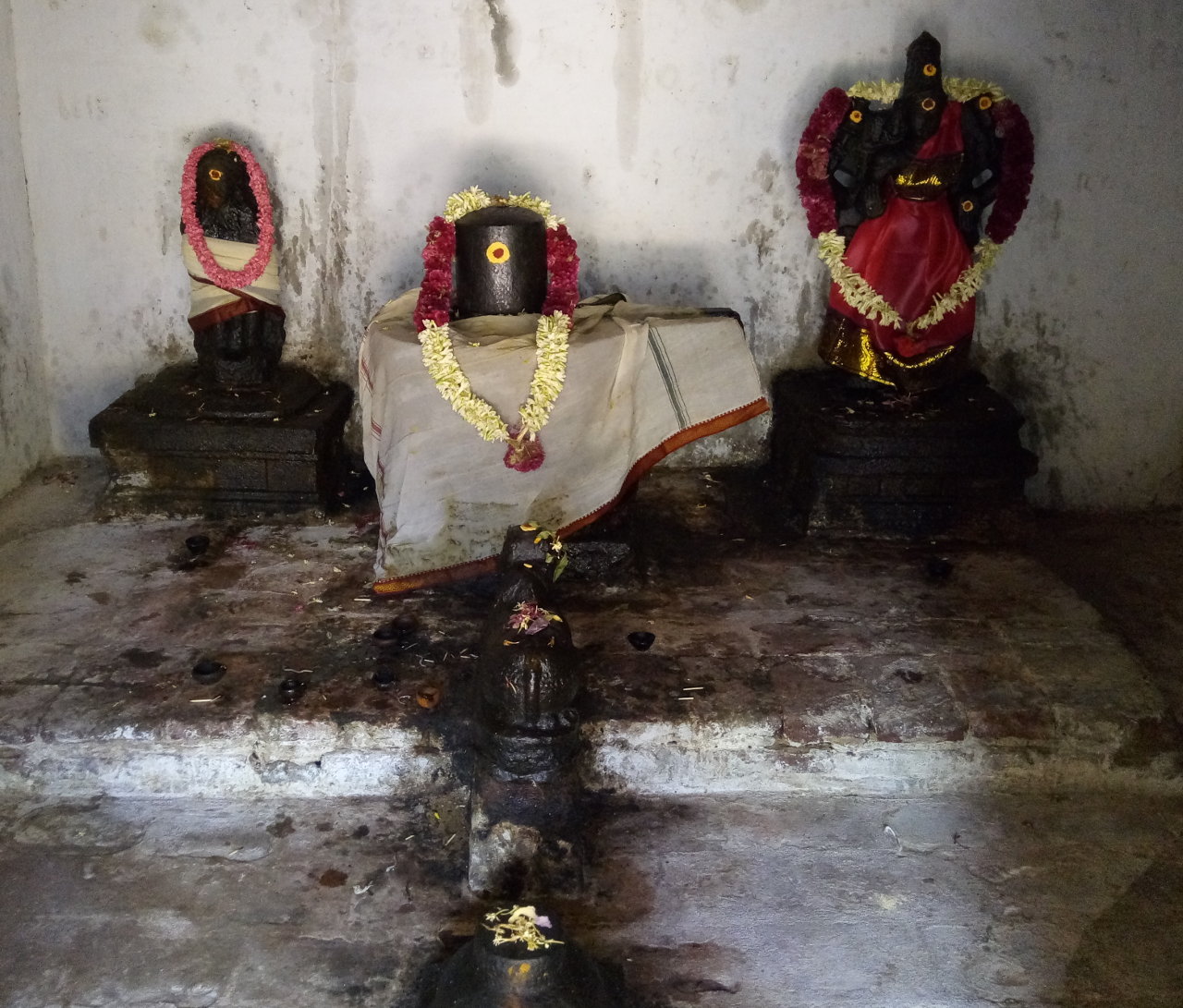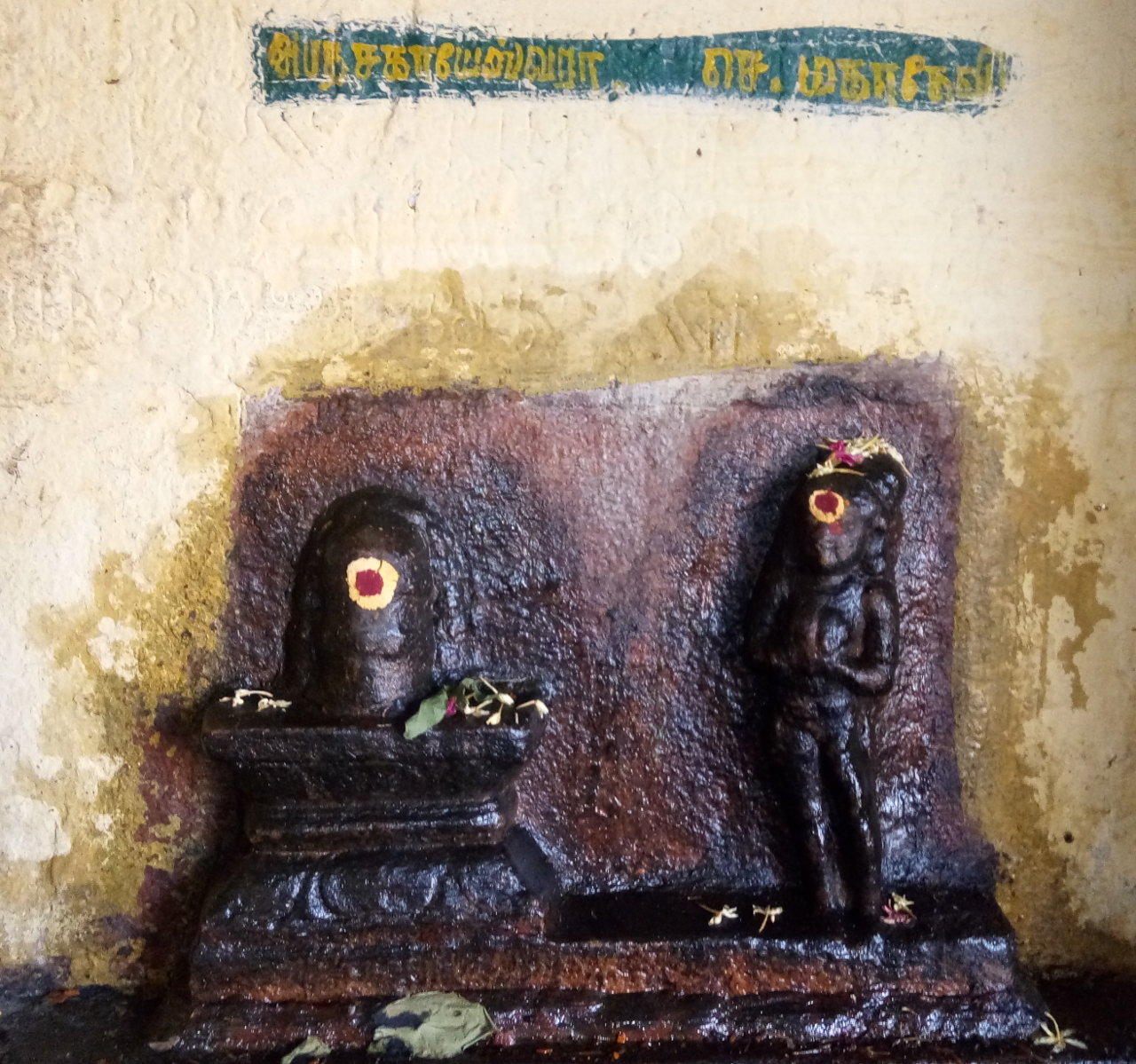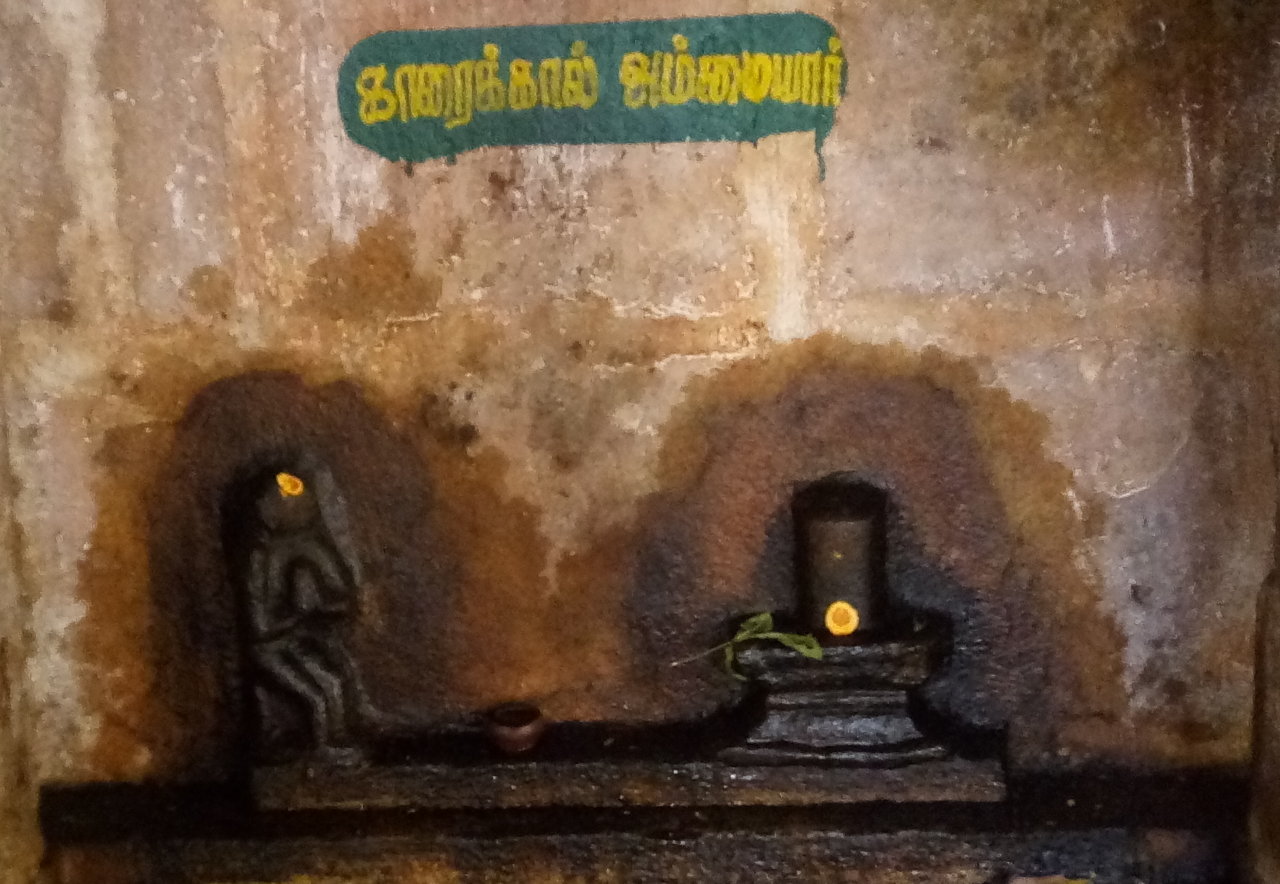 Salient Features
A beautiful sculpture depicting the sthala purana of Sukreev worshiping the lord, Lord Shiva changing Sukreev's form to an "Annaparavai" and Sukreev's wife to a "Parijada" tree can be seen here.
The sanctum sanctorum is in the form of semi-circular tank (akazhi in Tamil).
All the stone sculptures in this temple are exquisitely carved. The idols of Sri Natarajar, Gangadharar, Vishnu Durgai, Pitchadanar, Bairavar are especially beautiful.
It is believed that Lord Suryan (Sun) worships Lord Shiva of this temple by directing his rays on the lingam for three days in the Tamil month of Chithirai 5 to 7 (April).
There is a hall named "Appar Arangam" in which the temple festivals are performed.
Saint Arunagirinadhar has sang songs in praise of Lord Murugan of this temple in his revered Thirupugazh.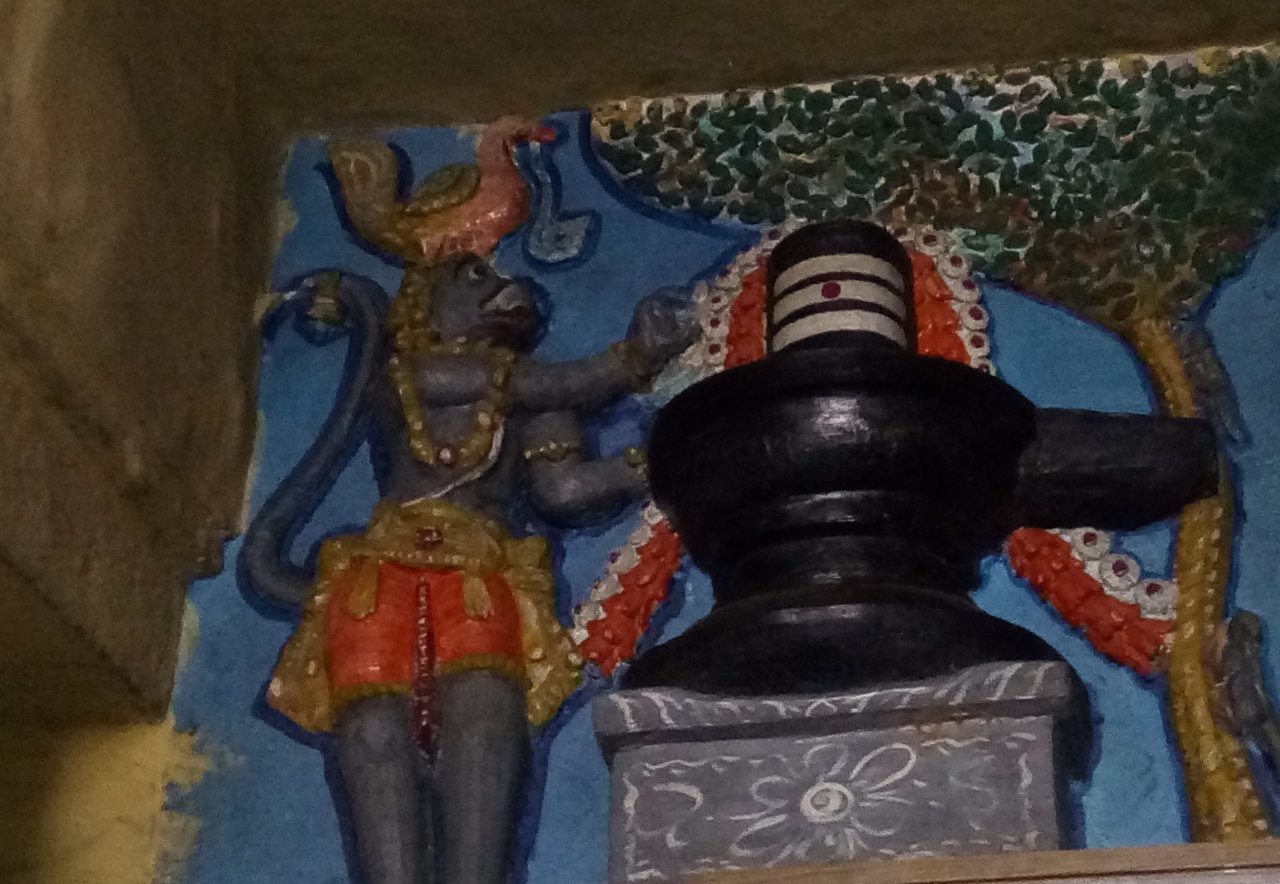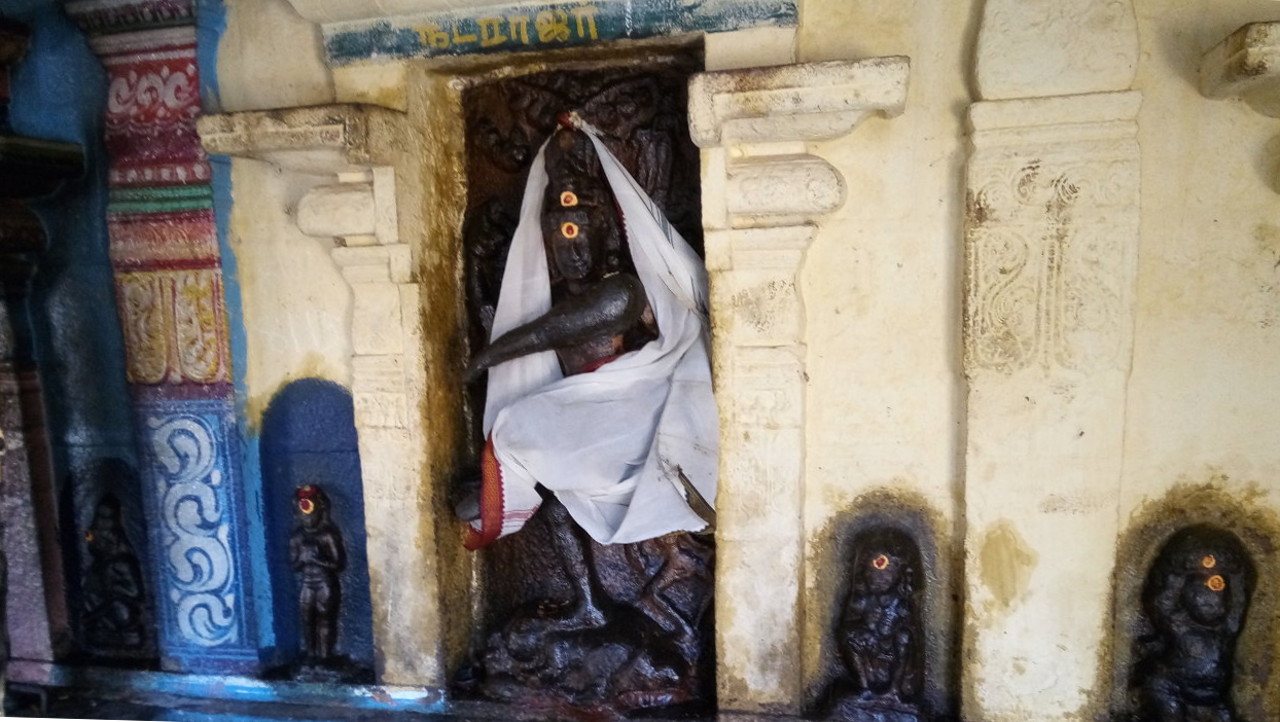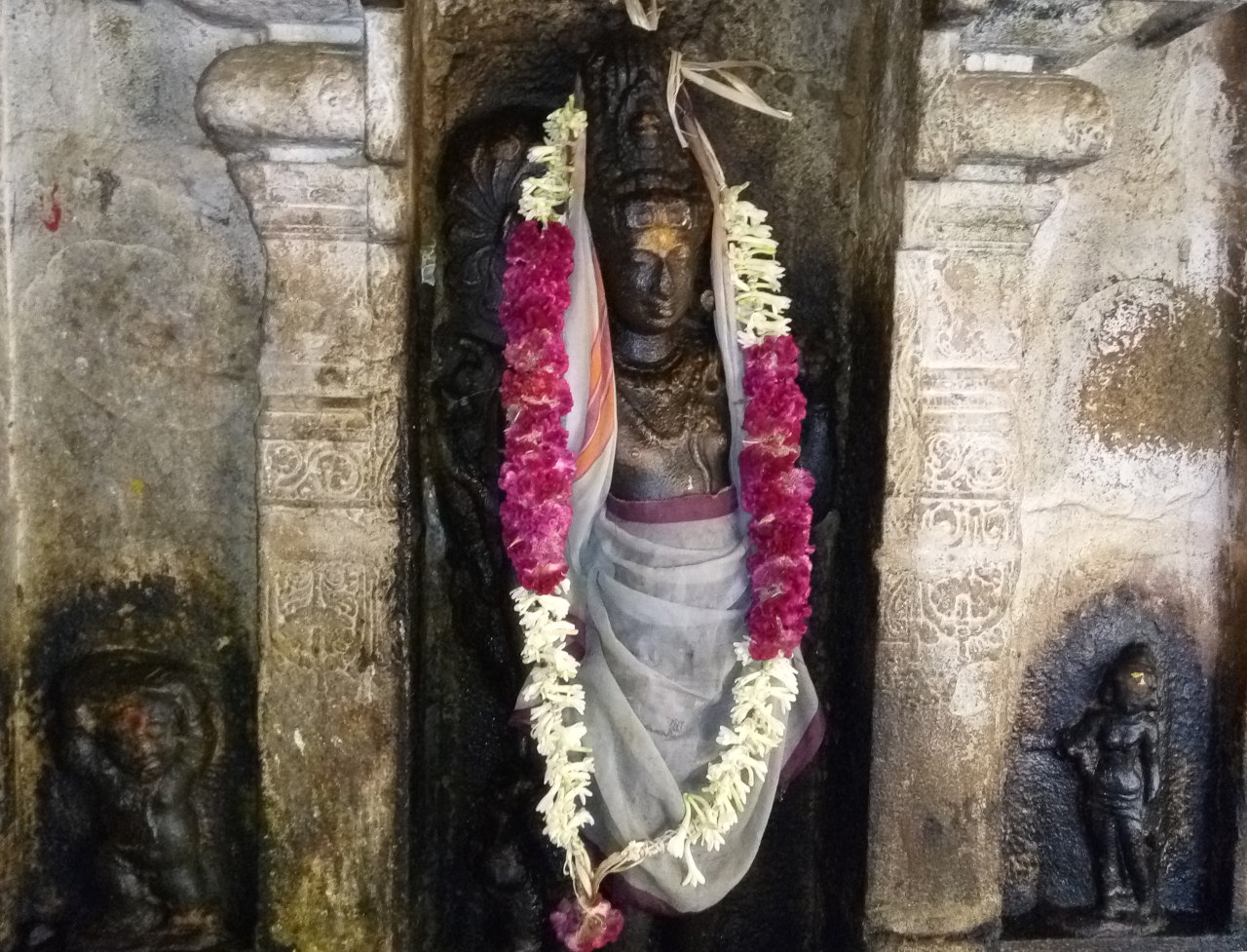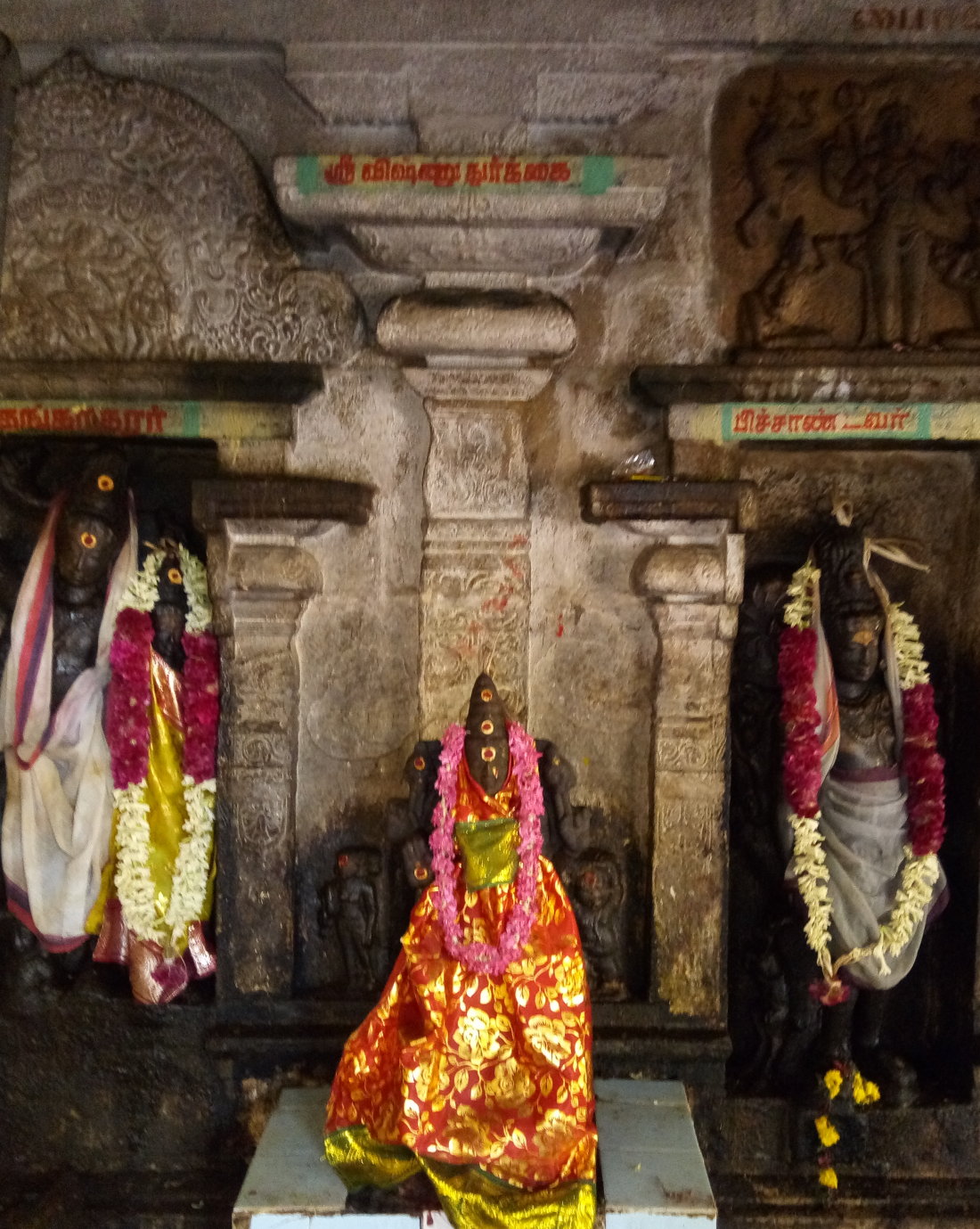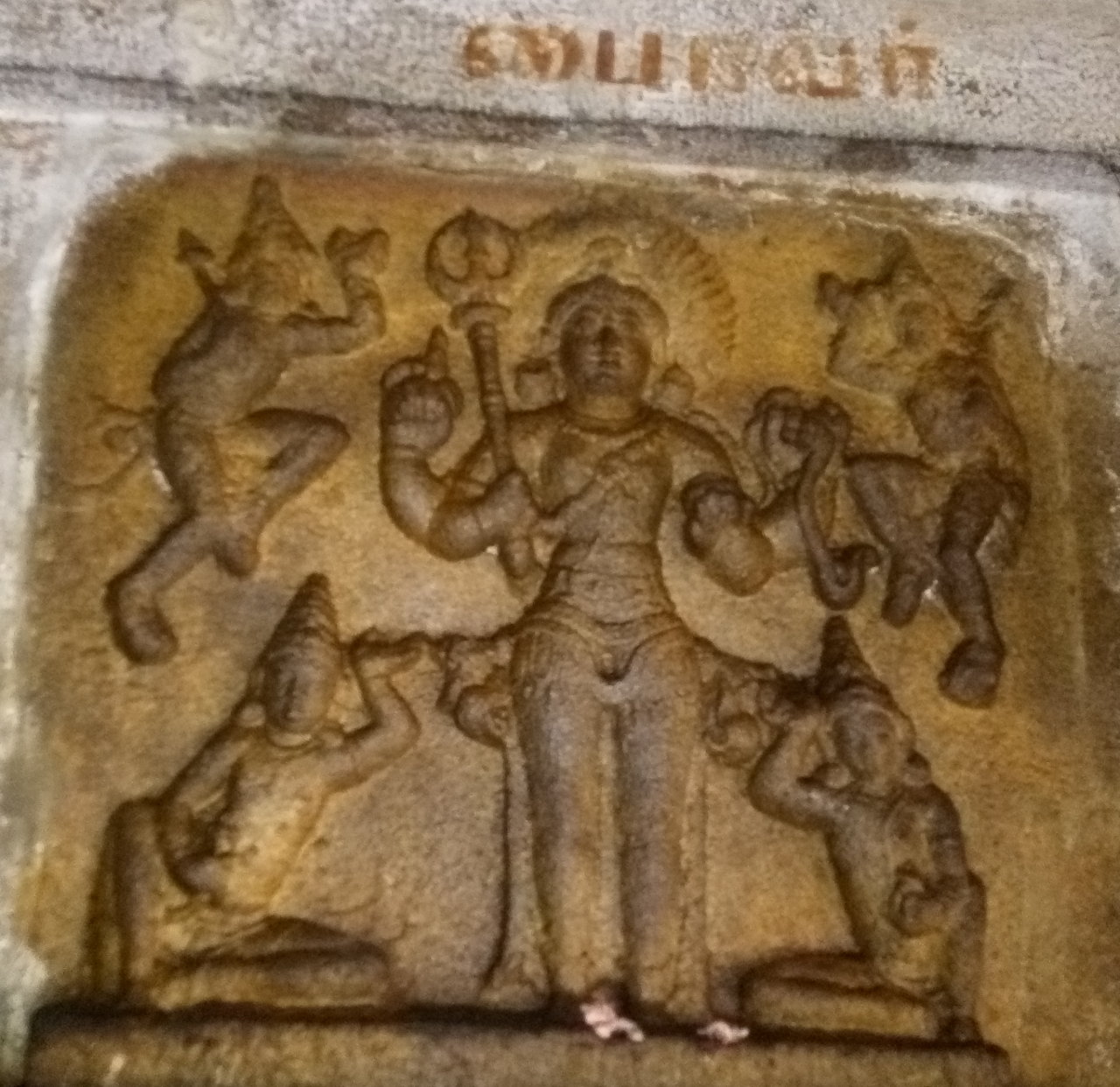 Greatness of this temple
It is believed that offering sandalwood oil to Saint Agasthiar's idol on full moon day would fulfil one's wishes.
It is also believed by devotees that by worshiping Lord Suryan and Saneeswaran here, the strained relationship between father and son would get better.
Devotees also worship Lord Shiva of this temple for prosperity and wisdom.
Important Festivals
Some of the important festivals celebrated in this temple are –
Vinayakar Chaturthi in the Tamil month of Aavani (Aug-Sept);
Annabishekam in the Tamil month of Aippasi (Oct – Nov);
Thiruvadhirai in the Tamil month of Markazhi (Dec-Jan); and
Maha Shivrathri in the Tamil month of Masi (Feb-Mar).
Pradosham is also observed regularly.
Temple Timings
From 07.00 AM to 12.00 Noon and 04.30 PM to 08.30 PM.
Temple Address
Sri Aabathsakayeswarar Temple,
Aduthurai Post,
Thiruvidaimaruthur Taluk,
Tanjure District,
Tamil Nadu – 612101.
Tel: +94434 63119, 94424 25809.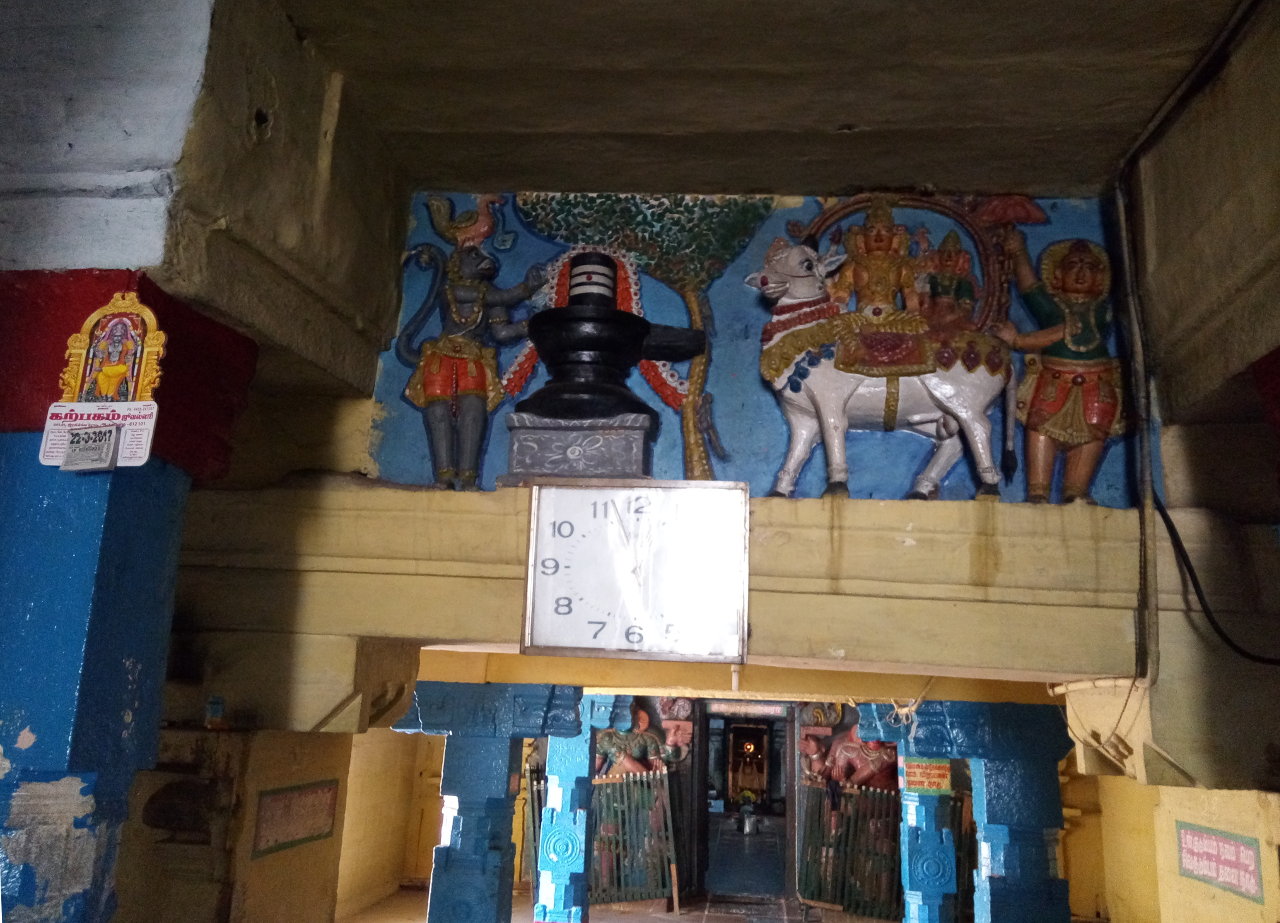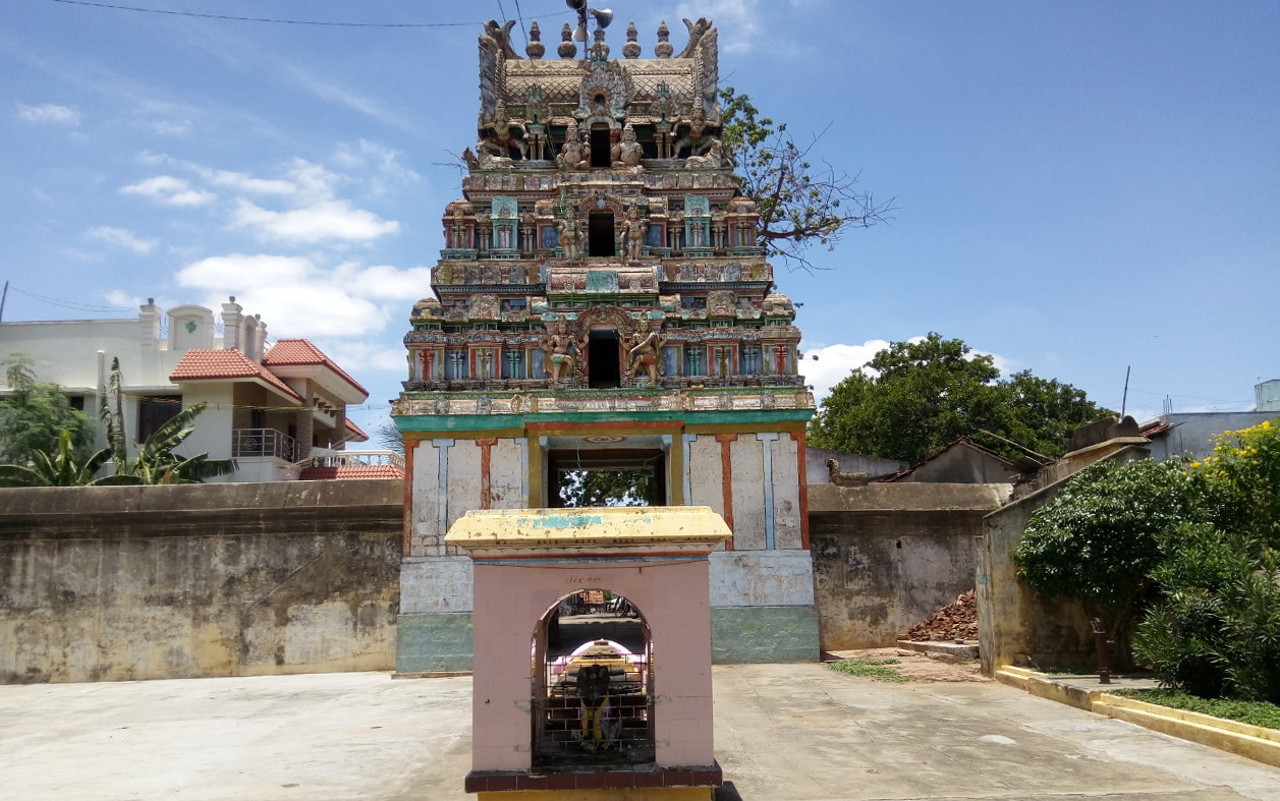 ---
Pathigam (Hymn) with English transliteration
Saint Thirugnanasambanthar visited this temple and sang this Pathigam.
Devotees visiting this temple should make it a practice to recite this Pathigam.
பரவக் கெடும்வல் வினைபா ரிடஞ்சூழ
இரவிற் புறங்காட் டிடைநின் றெரியாடி
அரவச் சடையந் தணன்மேய அழகார்
குரவப் பொழில்சூழ் குரங்கா டுதுறையே.
"Paravak keṭumval viṉaipā riṭañchūzha
iraviṟ puṟaṅkāṭ ṭiṭainiṉ tṟeriyāṭi
aravach chaṭaiyan thaṇaṉmēya azhakār
kuravap pozhilchūzh kuraṅkā ṭuthuṟaiyē".
விண்டார் புரமூன்று மெரித்த விமலன்
இண்டார் புறங்காட் டிடைநின் றெரியாடி
வண்டார் கருமென் குழல்மங் கையொர்பாகம்
கொண்டான் நகர்போல் குரங்கா டுதுறையே.
"Viṇṭār puramūṉtṟu meriththa vimalaṉ
iṇṭār puṟaṅkāṭ ṭiṭainiṉ tṟeriyāṭi
vaṇṭār karumeṉ kuzhalmaṅ kaiyorpākam
koṇṭāṉ nakarpōl kuraṅkā ṭuthuṟaiyē".
நிறைவில் புறங்காட் டிடைநே ரிழையோடும்
இறைவில் லெரியான் மழுவேந் திநின்றாடி
மறையின் னொலிவா னவர்தா னவரேத்தும்
குறைவில் லவனூர் குரங்கா டுதுறையே.
"Niṟaivil puṟaṅkāṭ ṭiṭainē rizhaiyōṭum
iṟaivil leriyāṉ mazhuvēn thiniṉtṟāṭi
maṟaiyiṉ ṉolivā ṉavarthā ṉavarēththum
kuṟaivil lavaṉūr kuraṅkā ṭuthuṟaiyē".
விழிக்குந் நுதன்மே லொருவெண் பிறைசூடித்
தெழிக்கும் புறங்காட் டிடைசேர்ந் தெரியாடிப்
பழிக்கும் பரிசே பலிதேர்ந் தவனூர்பொன்
கொழிக்கும் புனல்சூழ் குரங்கா டுதுறையே.
"Vizhikkun nuthaṉmē loruveṇ piṟaichūṭith
thezhikkum puṟaṅkāṭ ṭiṭaisērn theriyāṭip
pazhikkum parisē palithērn thavaṉūrpoṉ
kozhikkum puṉalchūzh kuraṅkā ṭuthuṟaiyē".
நீறார் தருமே னியன்நெற் றியொர்கண்ணன்
ஏறார் கொடியெம் மிறையீண் டெரியாடி
ஆறார் சடையந் தணன்ஆ யிழையாளோர்
கூறான் நகர்போல் குரங்கா டுதுறையே.
"Nīṟār tharumē ṉiyaṉnet ṟiyorkaṇṇaṉ
ēṟār koṭiyem miṟaiyīṇ ṭeriyāṭi
āṟār chaṭaiyan thaṇaṉā yizhaiyāḷōr
kūṟāṉ nakarpōl kuraṅkā ṭuthuṟaiyē".
நளிரும் மலர்க்கொன் றையுநா றுகரந்தைத்
துளிருஞ் சுலவிச் சுடுகாட் டெரியாடி
மிளிரும் மரவார்த் தவன்மே வியகோயில்
குளிரும் புனல்சூழ் குரங்கா டுதுறையே.
"Naḷirum malarkkoṉ ṟaiyunā ṟukaranthaith
thuḷiruñ sulavich chuṭukāṭ ṭeriyāṭi
miḷirum maravārth thavaṉmē viyakōyil
kuḷirum puṉalchūzh kuraṅkā ṭuthuṟaiyē".
பழகும் வினைதீர்ப் பவன்பார்ப் பதியோடும்
முழவம் குழல்மொந்தை முழங் கெரியாடும்
அழகன் னயில்மூ விலைவேல் வலனேந்துங்
குழகன் நகர்போல் குரங்கா டுதுறையே.
"Pazhakum viṉaithīrp pavaṉpārp pathiyōṭum
muzhavam kuzhalmonthai muzhaṅ keriyāṭum
azhakaṉ ṉayilmū vilaivēl valaṉēnthuṅ
kuzhakaṉ nakarpōl kuraṅkā ṭuthuṟaiyē".
வரையார்த் தெடுத்தவ் வரக்கன் வலியொல்க
நிரையார் விரலால் நெரித்திட் டவனூராம்
கரையார்ந் திழிகா விரிக்கோ லக்கரைமேல்
குரையார் பொழில்சூழ் குரங்கா டுதுறையே.
"Varaiyārth theṭuththav varakkaṉ valiyolka
niraiyār viralāl neriththiṭ ṭavaṉūrām
karaiyārn thizhikā virikkō lakkaraimēl
kuraiyār pozhilchūzh kuraṅkā ṭuthuṟaiyē".
நெடியா னொடுநான் முகனுந் நினைவொண்ணாப்
படியா கியபண் டங்கனின் றெரியாடி
செடியார் தலையேந் தியசெங்கண் வெள்ளேற்றின்
கொடியான் நகர்போல் குரங்கா டுதுறையே.
"Neṭiyā ṉoṭunāṉ mukaṉun niṉaivoṇṇāp
paṭiyā kiyapaṇ ṭaṅkaṉiṉ tṟeriyāṭi
seṭiyār thalaiyēn thiyaseṅkaṇ veḷḷētṟiṉ
koṭiyāṉ nakarpōl kuraṅkā ṭuthuṟaiyē".
துவரா டையர்வே டமலாச் சமண்கையர்
கவர்வாய் மொழிகா தல்செய்யா தவனூராம்
நவையார் மணிபொன் அகில்சந் தனமுந்திக்
குவையார் கரைசேர் குரங்கா டுதுறையே.
"Tuvarā ṭaiyarvē ṭamalāch samaṇkaiyar
kavarvāy mozhikā thalseyyā thavaṉūrām
navaiyār maṇipoṉ akilsan thaṉamunthik
kuvaiyār karaisēr kuraṅkā ṭuthuṟaiyē".
நல்லார் பயில்கா ழியுள்ஞா னசம்பந்தன்
கொல்லே றுடையான் குரங்கா டுதுறைமேல்
சொல்லார் தமிழ்மாலை பத்துந் தொழுதேத்த
வல்லா ரவர்வா னவரோ டுறைவாரே.
"Nallār payilkā zhiyuḷgñā ṉasambanthaṉ
kollē ṟuṭaiyāṉ kuraṅkā ṭuthuṟaimēl
sollār thamizhmālai paththun thozhuthēththa
vallā ravarvā ṉavarō ṭuṟaivārē".