Visited on: 30th September, 2017.
Location
Alangudi is situated at a distance of about 17 kms from Kumbakonam on the Kumbakonam to Mannargudi (Via Needamangalam) route. It is about 6 kms from Mannargudi. Nearest railway station is Needamangalam which is about 6 kms.
Other Devara Paadal Petra Shiva Sthalams near this temple are - Arathai Perumbazhi (Arithuvara Mangalam), Aval Ival Nallur and Koil Venni.
General Information
| | |
| --- | --- |
| Moolavar | Sri Aabathsakaayeswarar, Sri Kasi Aranyeswarar |
| Ambal | Sri Umayammai, Sri Elavaar Kuzhaliammai |
| Theertham (Holy water) | Brahma Theertham, Amirtha Pushkarani and 13 other Theerthams. |
| Sthala Vriksham (Sacred Tree) | Poolai plant |
| Pathigam (Hymn) rendered by | Saint Thirugnanasambanthar-1 |
This is one of the 276 Devara Paadal Petra Shiva Sthalams and 98th Shiva Sthalam on the Southern bank of the river Cauveri in Chozha Nadu (Thenkarai).
Lord Shiva in this temple is a Swayambumurthi (self-manifested).
This is a famous "parihara sthalam" for those suffering from the adverse effects of planet Guru.
This is one of the 9 Navagraha Sthalams and is associated with Guru (Jupiter).
This east facing temple has two corridors and its main tower (Rajagopuram) has 5-tiers.
The last consecration ceremony (Maha Kumbabishekam) took place on 11.06.2009.
History of the Temple
According to legend, in ancient times, this region was densely covered with "Poolai" plants. However, now there is not even a single plant left here.
As the sacred tree (Sthala Viruksham) of this temple is the black poolai plant, this place gets the name Thiru Irumpoolai.
The historical names of this place are Kasi Aaranyam, Thiru Irumboolai and Alangudi.
The temple is surrounded by "Amirtha Pushkarani", one of its Theerthams. It adorns the temple like a garland ("Akazhi" in Tamil).
This temple is under the administrative control of the Hindu Religious and Charitable Endowments Department of Government of Tamil Nadu (HR&CE).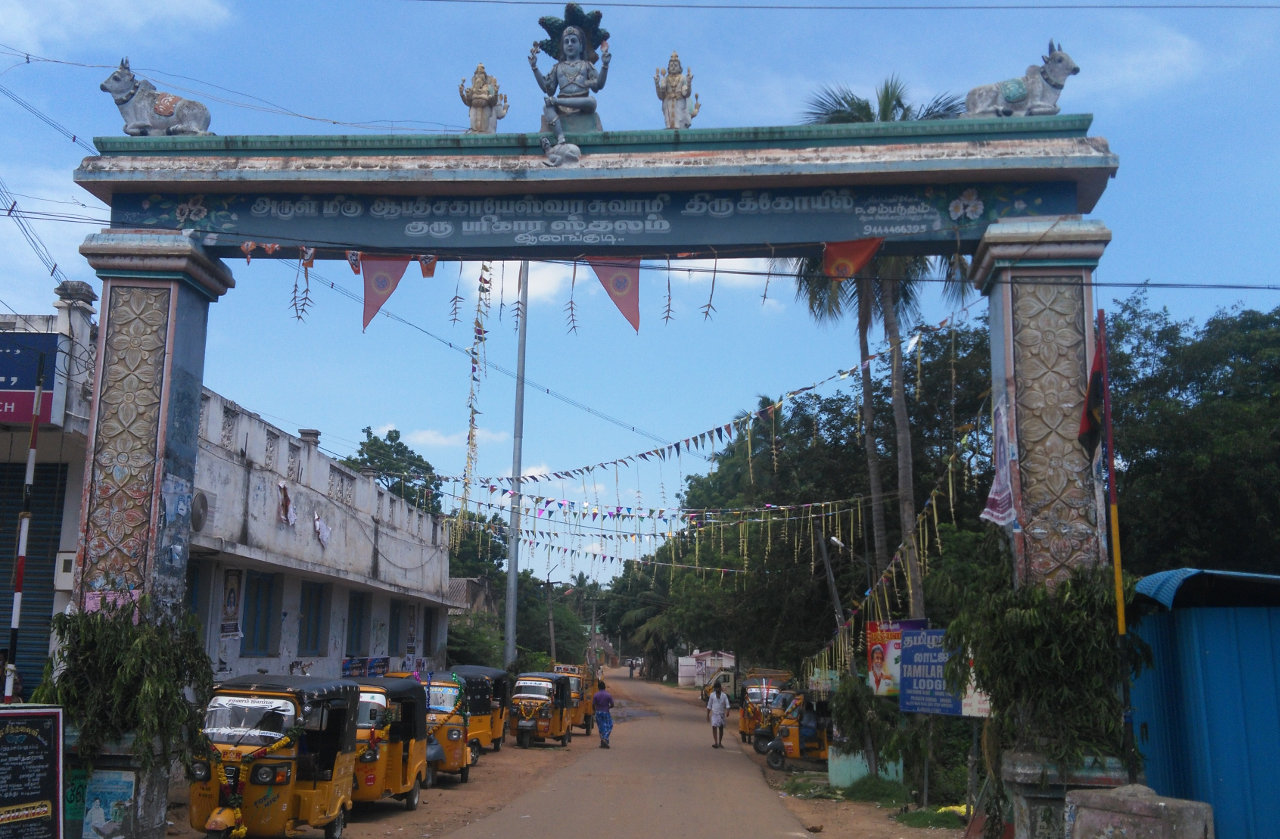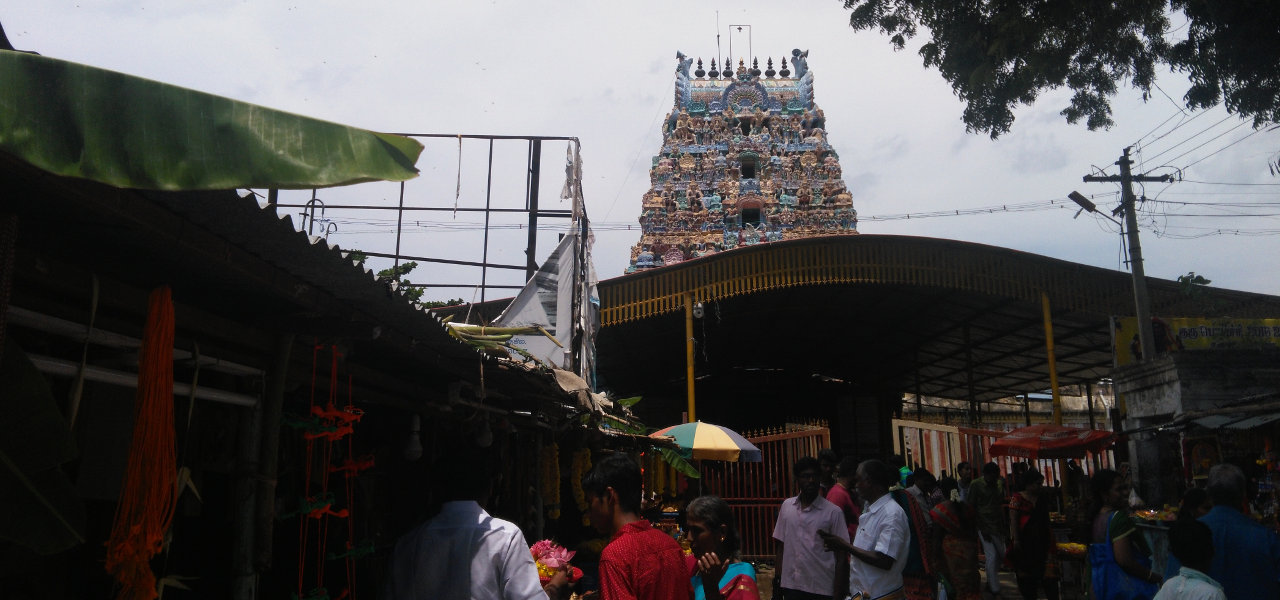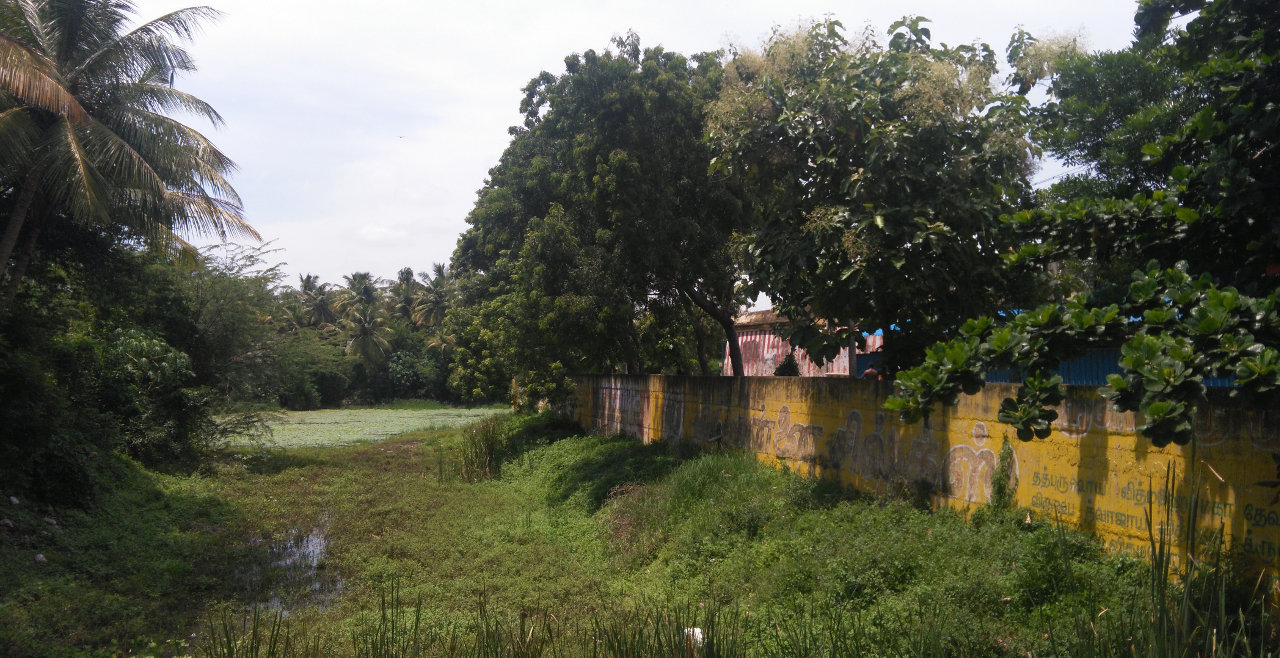 There are five Devara Paadal Petra Shiva Sthalams at different places in the Thanjavur, Kumbakonam and Thiruvarur regions which are revered as "Pancha Aranya Sthalams". Alangudi is one among them. "Pancha" means five and "Aranyam / Vanam" means forest in Tamil. In ancient times, these regions were densely forested. These five temples are –
1. Sri Mullaivananathar Temple at Thirukkarukavur with "Mullai" forest (vanam);
2. Sri Satchi Nathar Temple at Avalivanallur with "Paadhiri" forest (vanam);
3. Sri Paathaaleswarar Temple at Thiru Aradaipperumpazhi (Haridwara Mangalam) with "Vanni" forest (vanam);
4. Sri Aapathsahayeswarar Temple at Thiru Irumpoolai (Alangudi) with "Poolai" forest (vanam); and
5. Sri Vilvavaneswarar Temple at Thirukkollampudur with "Vilva" forest (vanam).
Worshiping the lord at these five temples in a single day is considered to be auspicious. These temples should be visited in the order given above at the following times - early morning, morning, noon, evening and night respectively. It is also believed that Saint Thirugnanasambanthar worshiped Lord Shiva at these temples in this order.
Legend
When the Devas were churning the "Thirupparkadal" to extract nectar from it, they fell under the adverse effect of the poison. It is believed that Lord Shiva, as Dakshinamoorthy, then imparted the knowledge of Vedas to the Devas to save them. The lord is also believed to have absorbed all the poison ("Alakala Visham"). Hence, he is praised as "Sri Aabathsahayeswarar" (one who protects those in trouble). The village also gets the name Alangudi.
Lord Dakshinamoorthy, also known as "Thenmuga Kadavul", who imparted the supreme knowledge to the sages and the celestial gods, is regarded as the "Guru" (teacher). Lord Dakshinamurthy can be seen on the south facing wall of the sanctum sanctorum ("Koshtam") of every Shiva temple.
Guru is originally seen as the preceptor of the Navagraham in the fifth place. However, in this temple, Lord Dakshinamurthy is regarded as planet Guru (Brahaspathi - Viyazhan in Tamil) which is very unique.
Lord Vinayakar here is praised as "Kalangaamal Kaatha Vinayakar". He gets this name because when Saint Sundarar was caught in the floods while coming to Alangudi, Lord Shiva himself came to his rescue in a boat and Lord Vinayaka protected the boat from capsizing. Kalangaamal Kaatha Vinayakar can be loosely translated as "Vinayakar who protected the boat from capsizing".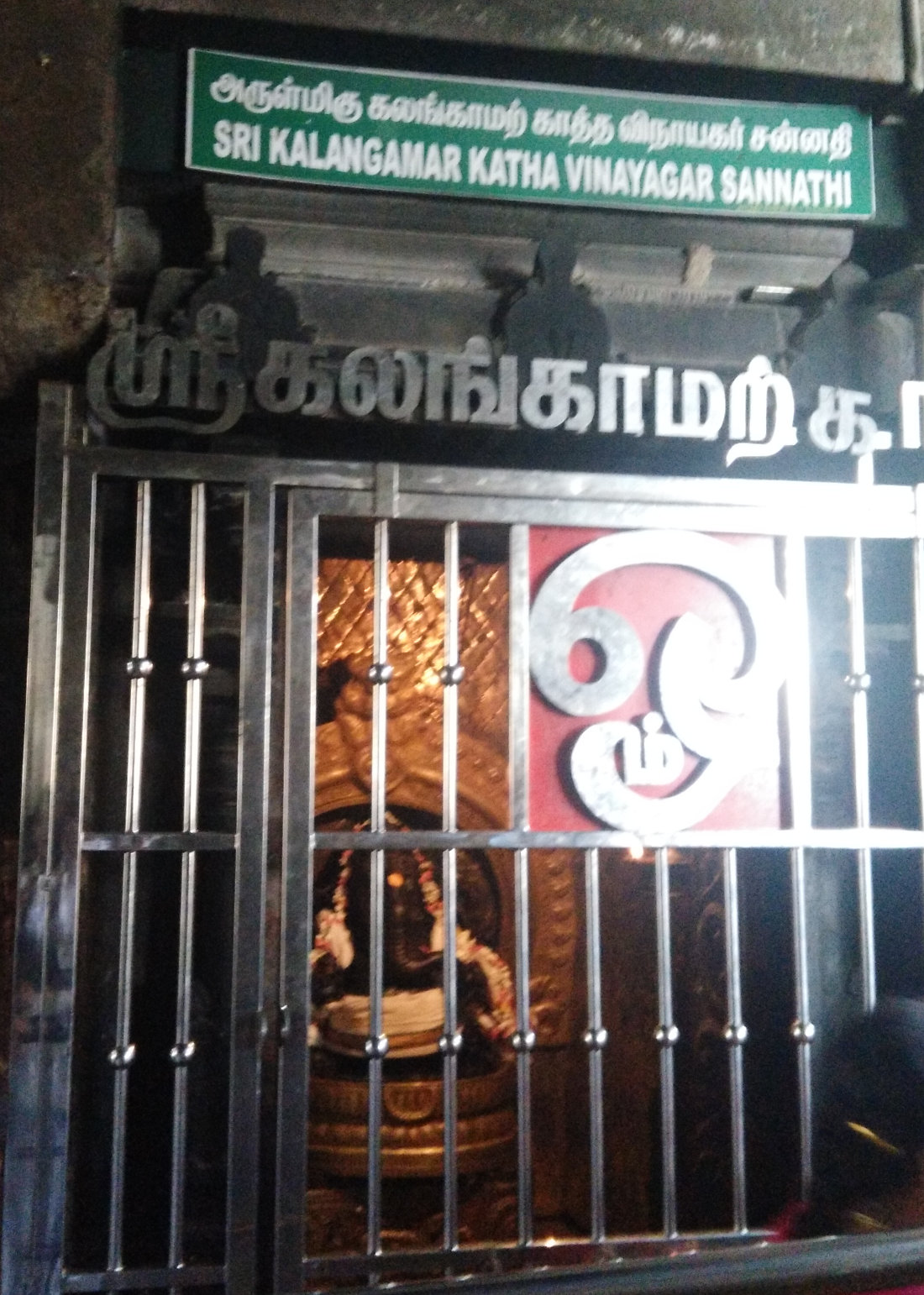 Another legend associated with this temple is that of Amuthohar, a minister of the Chola King Musukunda Chakravarthy who ruled from Thiruvarur. It is believed that this minister built this temple. The king asked him to share the benefits ("Punniyam" in Tamil) that he had accrued by building this temple. The minister refused to do so. Angered by his reply, the king ordered his guards to behead the minister. When he was beheaded, Amuthohar's name was echoed all around. Then the king realised his mistake and worshiped the lord here to seek relief from his "Brahmahathi Dosham" that he accrued by killing his minister.
The idol of Saint Sundaramurthy Nayanar here shows scars of smallpox. The idol is small and appears to be a little bit damaged. The legend is that once this idol along with few other such idols of the saint were taken to Thiruvarur by the Chola king Easan for a celebration. The king wanted to keep the idol of Alangudi in Thiruvarur itself as he was very attracted by it. However, it is believed that, a priest brought this idol back to Alangudi. He wrapped the idol in a cloth and tricked the security guards by telling them that it was a child suffering from smallpox. Surprisingly, when the priest unfolded the idol after reaching Alangudi temple, he found that the idol had scars on it.
Other Legends
Goddess Mahalakshmi worshiped the lord here and was blessed with "Santhana Prapthi".
It is believed that Goddess Parvathi had performed penance here before marrying Lord Shiva. There is a village near this temple by the name of "Thirumana Mangalam" ("Thirumanam" means wedding in Tamil). To witness the wedding, lords Mahavishnu, Brahma, Indra, Lakshmi, Ashtathik Balakas, Iyanar and Veerabathrar had visited this place. It is also believed that they have installed separate lingams here and worshiped Lord Shiva.
Saint Sundaramurthy Nayanar worshiped Lord Dakshinamurthy here and received "Panchatchara Upadesam".
Adi Sankarar also worshiped Lord Dakshinamurthy here and received "Maha Vaakiya Upadesam".
It is believed that Veerapathrar, Sage Kasyaba, Sage Viswamitrar, King Musukunda and King Suvasanan have worshipped Lord Shiva here.
Deities in the temple
Other than the shrines of Lord Shiva and Goddess Parvathy, shrines and idols of Vinayakar, Murugan with his consorts, Natarajar with Sivakami, Somaskandar, Suryan, Chandran, Saint Sundarar, Kasi Viswanathar with Visalakshi, Saptha lingams (Suriyeswarar, Someswarar, Gurumeswarar, Somanathar, Sabtharishinathar, Vishnunathar and Brahmeswarar), Sri Varadaraja Perumal with Sridevi, Nalvar, Suryan, Chandran, Saneeswarar, Bairavar, Sapthamathas, Nagars, Sages Viswamitrar and Agasthiyar can be seen in the corridors.
In the "koshtam" (place surrounding the sanctum sanctorum), idols of Vinayakar, Guru Dakshinamurthy, Lingothbavar, Brahma, Durgai and Chandikeswarar can be seen.
Lord Dakshinamoorthy's shrine is housed outside the main sanctum. The procession idol of Dakshinamurthy graces along with four Sanakathi rishis.
There is also an idol of Dakshan, father of Goddess Parvathi, who is depicted as having the head of a goat.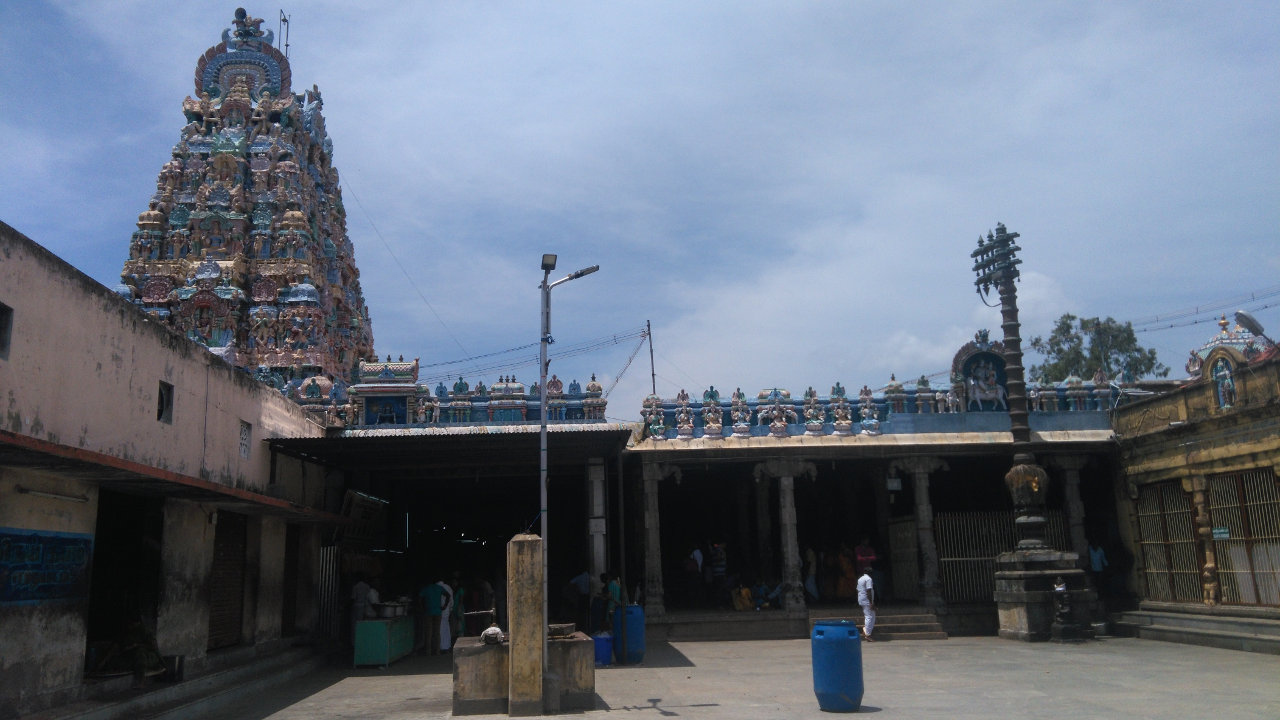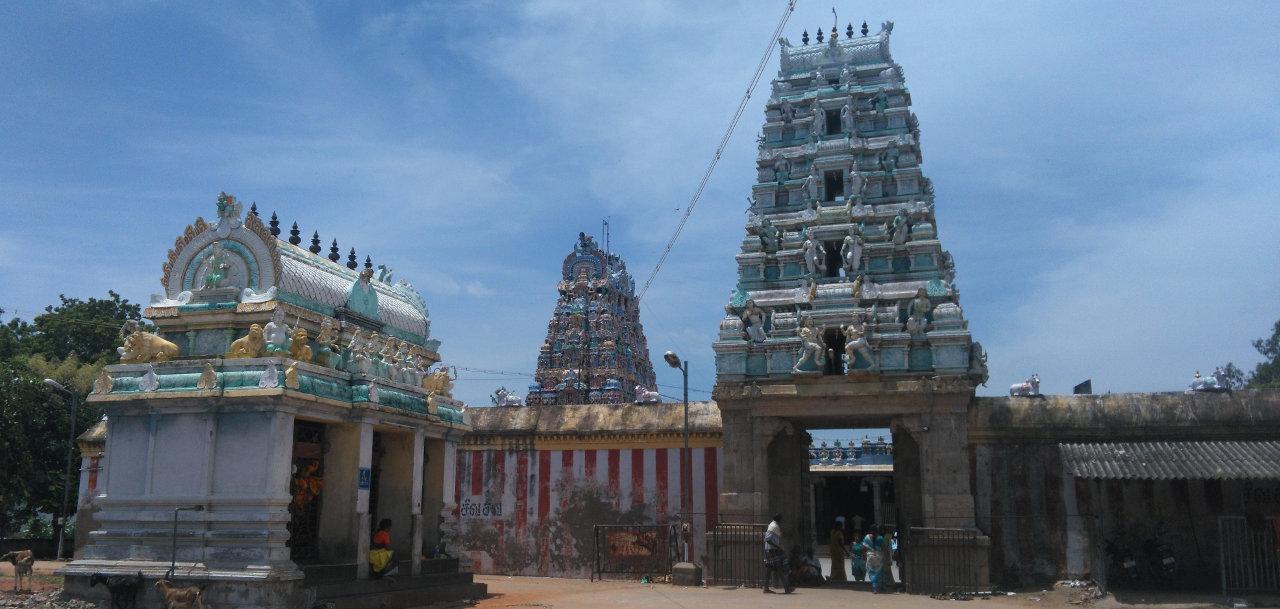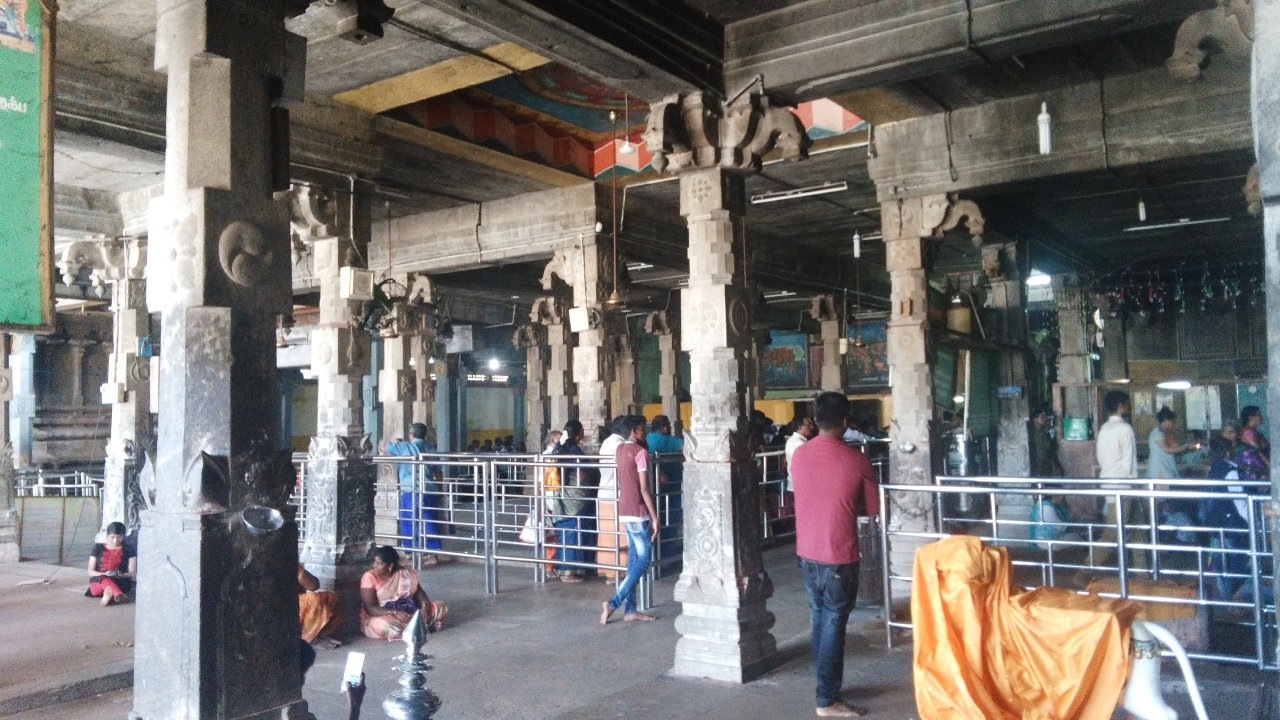 Salient Features
The temple attracts lakhs of devotees during the transit of Jupiter ("Guru Peyarchi" in Tamil) from one zodiac sign to another zodiac sign every year.
This is the only temple where Lord Dakshinamurthy is taken in a car procession.
Also, Thursdays are considered to be very auspicious to worship Lord Guru. Every Thursday, a large number of devotees visit this temple for worship.
Friday (Sukravar) is attributed to the worship of Goddess Parvathi. There is a separate shrine for Goddess Parvathi here in the name of "Sri Sukravara Ambigai".
Worshiping the lord here in the evening is considered to be auspicious.
There is a separate shrine here for Nagars (Serpent). Devotees perform poojas to get relief from "Naga dosham". It is believed that in this village no one has ever died of a snake bite.
It is believed that devotees should worship Sage Agasthiyar first and then Lord Murugan. By doing so, it is believed that devotees will be relieved from the adverse effects of all evil spirits.
The idol of Saint Sundaramurthy Nayanar, in front of Lord Somaskandar here is very beautiful.
It is believed that Thiruvidaimaruthur Sri Mahalingaswamy temple has 9 subsidiary / associated temples ("Parivara sthalams"). Alangudi is one among them. These 9 temples are –
Thiruvalanchuzhi – Vinayakar,
Swamimalai – Murugan,
Alaangudi – Dakshinamurthy,
Thiruvavaduthurai – Nandhi,
Suriyanarkoil – Navagrham,
Thiruvappadi – Chandikeswarar,
Chidambaram – Natarajar,
Sirkazhi – Bairavar and
Thiruvarur – Somaskandar.
This temple is considered to be significant for its three important attributes – Moorthy, Sthalam and Theertham - glory of Lord, sacredness of the land and the auspicious temple tank.
Greatness of this temple
Worshiping Lord Dakshinamurthy on Guru Peyarchi day (transition day) is considered very auspicious. Lakhs of devotees throng this temple on this day to seek relief from all kind of "doshas".
Important Festivals
Some of the major festivals celebrated in this temple are -
"Guru Peyarchi" day (Transit day of planet Jupiter from one zodiac sign to the next),
Chithirai Poornima day (full moon day) in the Tamil month of Chithirai (April-May),
Thai Poosam in the Tamil month of Thai (Jan-Feb),
Panguni Uthiram in the Tamil month of Panguni (March-April) and Car festival for Lord Dakshinamurthy.
Pradosham is also observed regularly.
Temple Timings
From 06:00 AM to 12:30 PM and from 04:00 PM to 08:30 PM.
Temple Address
Sri Aabathsakaayeswarar Temple,
Aalangudi Post
Valangaiman Taluk,
Thiruvarur District,
Tamil Nadu – 612 801.
Tele: 04374 269407.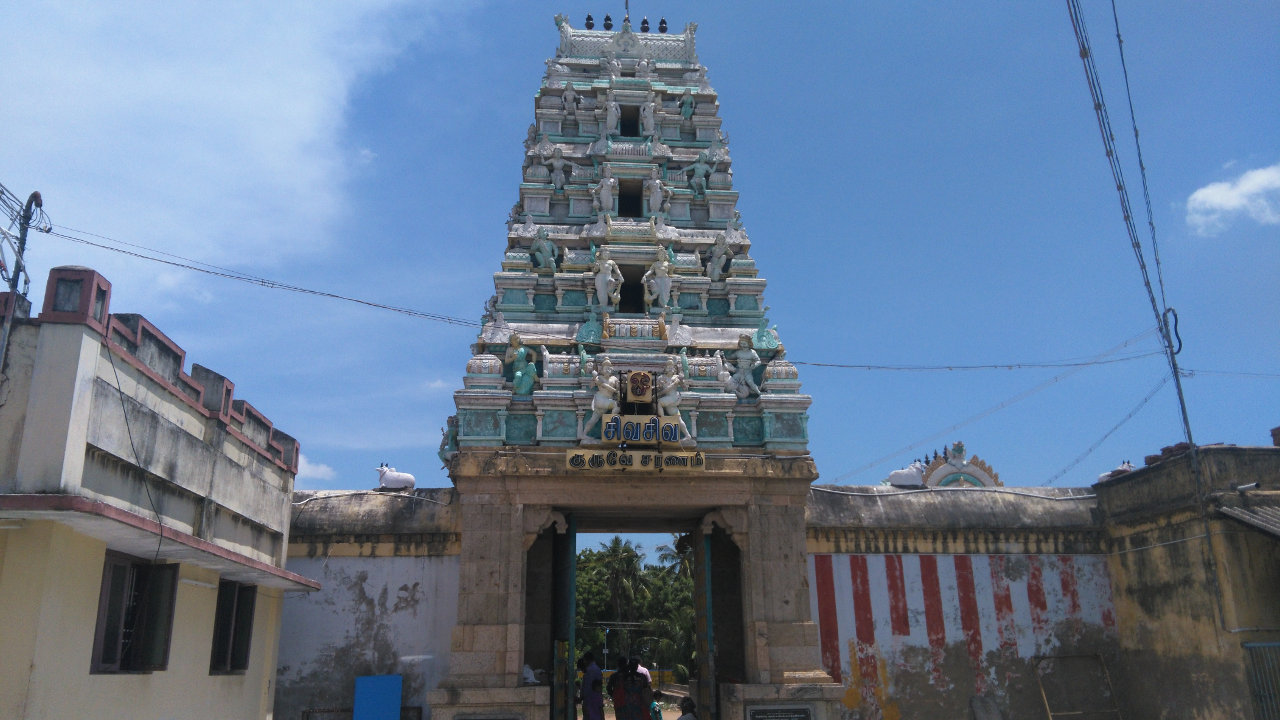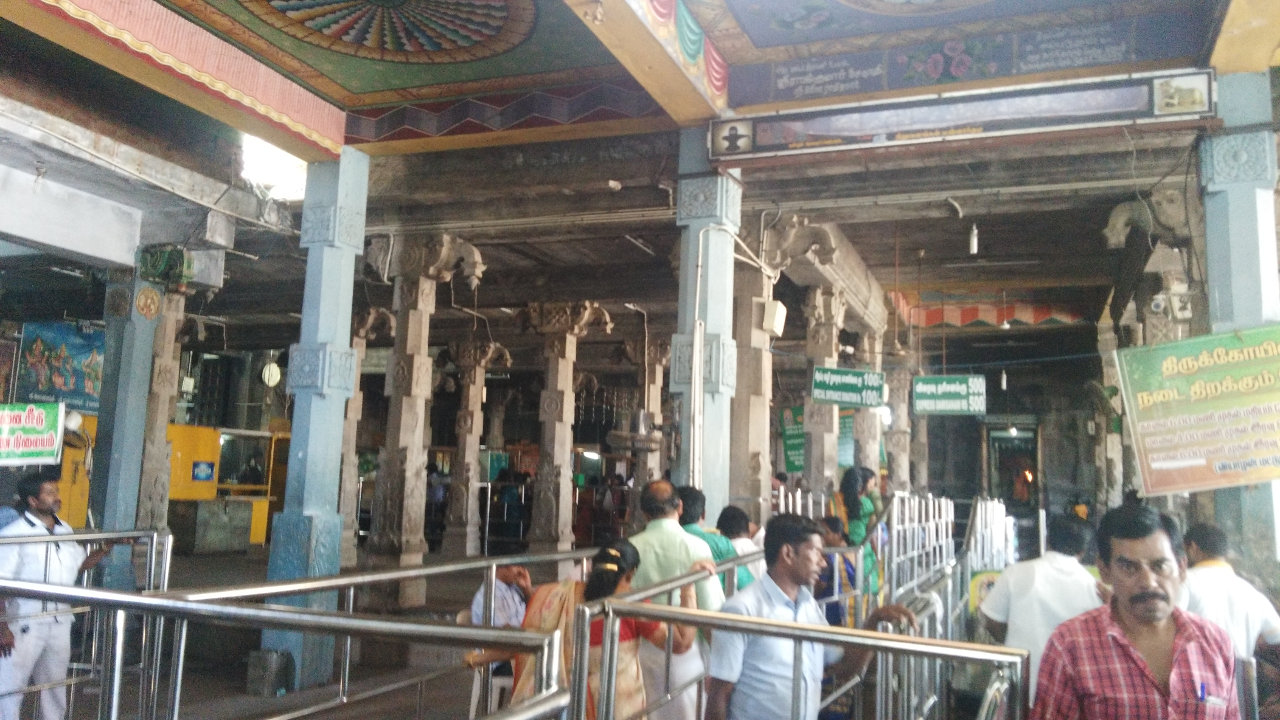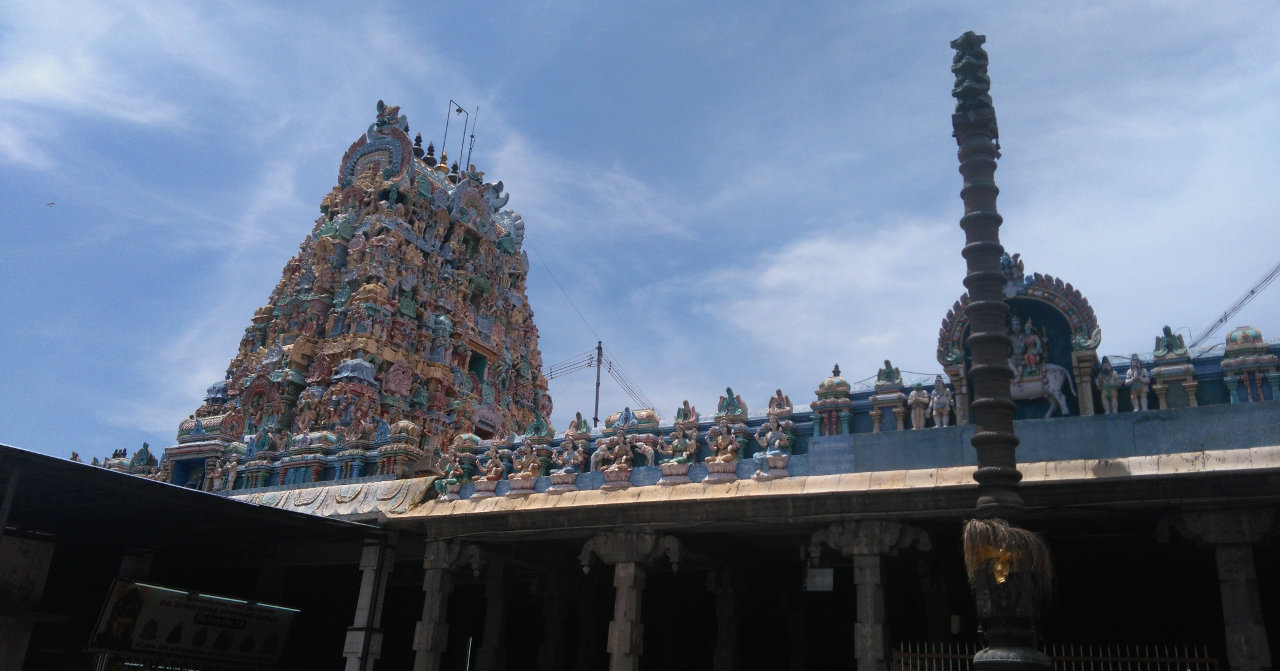 ---
Pathigam (Hymn) with English transliteration
Saint Thirugnanasambanthar visited this temple and sang this Pathigam.
Devotees visiting this temple should make it a practice to recite this Pathigam.
Pathigam No.2.036
சீரார் கழலே தொழுவீ ரிதுசெப்பீர்
வாரார் முலைமங் கையொடும் முடனாகி
ஏரா ரிரும்பூ ளையிடங் கொண்டஈசன்
காரார் கடல்நஞ் சமுதுண் டகருத்தே.
"Sīrār kazhalē thozhuvī rithuseppīr
vārār mulaimaṅ kaiyoṭum mudaṉāki
ērā rirumpū ḷaiyiṭaṅ koṇṭa'īsaṉ
kārār kadalnañ chamuthuṇ ṭakaruththē".
சீர் பொருந்திய இறைவன் திருவடிகளையே பணியும் அடியவர்களே! கச்சணிந்த தனங்களைக் கொண்ட உமையம்மையோடும் உடனாய் அழகிய இரும்பூளையை இடமாகக் கொண்டுறையும் ஈசன் கரிய கடலில் எழுந்த நஞ்சினை அமுதாக உண்டதற்குக் காரணம் யாதோ? இதனைச் சொல்வீராக.
தொழலார் கழலே தொழுதொண் டர்கள்சொல்லீர்
குழலார் மொழிக்கோல் வளையோ டுடனாகி
எழிலா ரிரும்பூ ளையிடங் கொண்டஈசன்
கழல்தான் கரிகா னிடையா டுகருத்தே.
"Thozhalār kazhalē thozhuthoṇ ṭarkaḷsollīr
kuzhalār mozhikkōl vaḷaiyō ṭuṭaṉāki
ezhilā rirumpū ḷaiyiṭaṅ koṇṭa'īsaṉ
kazhalthāṉ karikā ṉiṭaiyā ṭukaruththē".
வணங்குதற்குரிய திருவடிகளையே தொழும் தொண்டர்களே! வேய்ங்குழல் போன்ற இனிய மொழியையும் திரண்ட வளையல்களையும் உடைய அம்மையோடு உடனாய் அழகிய இரும்பூளையை இடமாகக் கொண்டுள்ள ஈசன் தன் திருவடிகளால் கரிந்த சுடுகாட்டில் ஆடுதற்குக் காரணம் யாதோ? சொல்வீராக.
அன்பா லடிகை தொழுவீ ரறியீரே
மின்போல் மருங்குல் மடவா ளொடுமேவி
இன்பா யிரும்பூ ளை யிடங் கொண்டஈசன்
பொன்போற் சடையிற் புனல்வைத் தபொருளே.
"Aṉpā laṭikai thozhuvī raṟiyīrē
miṉpōl maruṅkul maṭavā ḷodumēvi
iṉpā yirumpū ḷai yiṭaṅ koṇṭa'īsaṉ
poṉpōṟ saṭaiyiṟ puṉalvaith thaporule".
அன்பால் இறைவன் திருவடிகளைக் கைகளால் தொழும் அடியவர்களே! மின்னல் போன்ற இடையினை உடைய உமைமடவாளோடு கூடி மகிழ்வாய் இரும்பூளையை இடமாகக் கொண்டுறையும் ஈசன் பொன் போன்ற தன் சடைமீது கங்கையை வைத்துள்ளதன் கருத்து யாது? அறிவீர்களோ!
நச்சித் தொழுவீர் கள்நமக் கிதுசொல்லீர்
கச்சிப் பொலிகா மக்கொடி யுடன்கூடி
இச்சித் திரும்பூ ளையிடங் கொண்ட ஈசன்
உச்சித் தலையிற் பலிகொண் டுழலூணே.
"Nachchith thozhuvīr kaḷnamak kithusollīr
kachchip polikā makkoṭi yuṭaṉkūṭi
ichchith thirumpū ḷaiyiṭaṅ koṇṭa īsaṉ
uchchith thalaiyiṟ palikoṇ ṭuzhalūṇē".
சிவபிரானை விரும்பித்தொழும் அடியவர்களே! காஞ்சி மாநகரில் கோயில் கொண்டு விளங்கும் காமாட்சியாகிய வல்லிக்கொடியுடன் கூடி இச்சை கொண்டு இரும்பூளையை இடமாகக் கொண்டுள்ள ஈசன் தலையோட்டில் பலியேற்று உணவின் பொருட்டு உழலக் காரணம் யாதோ? நமக்குக் கூறுவீராக.
சுற்றார்ந் தடியே தொழுவீ ரிதுசொல்லீர்
நற்றாழ் குழல்நங் கையொடும் முடனாகி
எற்றே யிரும்பூ ளையிடங் கொண்டஈசன்
புற்றா டரவோ டென்புபூண் டபொருளே.
"Sutṟārn thaṭiyē thozhuvī rithusollīr
natṟāzh kuzhalnaṅ kaiyoṭum muṭaṉāki
etṟē yirumpū ḷaiyiṭaṅ koṇṭa'īsaṉ
putṟā ṭaravō ṭeṉpupūṇ ṭaporuḷē".
சூழ்ந்தும், நிறைந்தும், சிவபிரான் திருவடிகளையே தொழும் அன்பர்களே! அழகியதாய்த் தொங்குகின்ற கூந்தலை உடைய உமையம்மையோடும் உடனாய் இரும்பூளையை இடமாகக் கொண்டுள்ள ஈசன் புற்றில் வாழும் ஆடுகின்ற பாம்பையும் எலும்பையும் அணிகலனாகப் பூண்டுள்ளதன் காரணம் யாதோ? சொல்வீராக.
தோடார் மலர்தூய்த் தொழுதொண்டர் கள்சொல்லீர்
சேடார் குழற்சே யிழையோ டுடனாகி
ஈடா யிரும்பூ ளையிடங் கொண்டஈசன்
காடார் கடுவே டுவனா னகருத்தே.
"Thōdār malarthūyth thozhuthoṇdar kaḷsollīr
sēdār kuzhaṟsē yizhaiyō ṭuṭaṉāki
īṭā yirumpū ḷaiyiṭaṅ koṇṭa'īsaṉ
kādār kaduvē duvaṉā ṉakaruththē".
இதழ் நிறைந்த மலர்களைத் தூவித்தொழும் தொண்டர்களே! திரண்ட கூந்தலையும் செவ்விய அணிகலன்களையும் கொண்டுள்ள அம்மையோடும் உடனாய், பெருமையோடு இரும்பூளையில் உறையும் ஈசன் காட்டில் வாழும் கடுமையான வேடனாய் வந்தது ஏனோ? சொல்வீராக.
ஒருக்கும் மனத்தன் பருள்ளீ ரிதுசொல்லீர்
பருக்கைம் மதவே ழமுரித் துமையோடும்
இருக்கை யிரும்பூ ளையிடங் கொண்டஈசன்
அரக்கன் உரந்தீர்த் தருளாக் கியவாறே.
"Orukkum maṉaththaṉ paruḷḷī rithusollīr
parukkaim mathavē zhamurith thumaiyōṭum
irukkai yirumpū ḷaiyiṭaṅ koṇṭa'īsaṉ
arakkaṉ uranthīrth tharuḷāk kiyavāṟē".
ஒருமைப்பாடு கொண்ட மனத்தினராகிய அன்பர் கூட்டத்தைச் சார்ந்த அடியவர்களே! நீண்ட கையையும் மதத்தையும் உடைய யானையை உரித்து உமையம்மையோடு இரும்பூளையை இடமாகக் கொண்ட ஈசன் இராவணனின் வலிமையை அழித்துப் பின் அருள் செய்தது ஏனோ? சொல்வீராக.
துயரா யினநீங் கித்தொழுந் தொண்டர்சொல்லீர்
கயலார் கருங்கண் ணியொடும் முடனாகி
இயல்பா யிரும்பூ ளையிடங் கொண்டஈசன்
முயல்வா ரிருவர்க் கெரியா கியமொய்ம்பே.
"Thuyarā yiṉanīṅ kiththozhun thoṇṭarsollīr
kayalār karuṅkaṇ ṇiyoṭum muṭaṉāki
iyalpā yirumpū ḷaiyiṭaṅ koṇṭa'īsaṉ
muyalvā riruvark keriyā kiyamoympē".
துன்பம் நீங்கித் தொழும் தொண்டர்களே! கயல் போன்ற கரிய கண்ணினளாகிய அம்மையோடும் உடனாய் இயல்பான இடமாக இரும்பூளையைக் கொண்டுறையும் ஈசன் காணமுயன்ற திருமால், பிரமர்க்கு அரியனாய் எரியுருவில் நின்ற ஆற்றல் எத்தகையதோ? சொல்வீராக.
துணைநன் மலர்தூய்த் தொழுந்தொண் டர்கள்சொல்லீர்
பணைமென் முலைப்பார்ப் பதியோ டுடனாகி
இணையில் லிரும்பூ ளையிடங் கொண்டஈசன்
அணைவில் சமண்சாக் கியமாக் கியவாறே.
"Thuṇainaṉ malarthūyth thozhunthoṇ ṭarkaḷsollīr
paṇaimeṉ mulaippārp pathiyō ṭuṭaṉāki
iṇaiyil lirumpū ḷaiyiṭaṅ koṇṭa'īsaṉ
aṇaivil samaṇchāk kiyamāk kiyavāṟē".
திருவடிக்கு ஒப்புடைய மலர்களைத்தூவித் தொழும் தொண்டர்களே! பருத்த தனபாரங்களைக் கொண்டுள்ள பார்வதி தேவியோடு உடனாய் இணையற்ற தலமான இரும்பூளையை இடமாகக் கொண்டுள்ள ஈசன், அணைந்து வழிபடுதல் இல்லாத சமணபௌத்த மதங்களைப் படைத்தது ஏனோ? கூறுவீராக.
எந்தை யிரும்பூ ளையிடங் கொண்ட ஈசன்
சந்தம் பயில்சண் பையுண்ஞான சம்பந்தன்
செந்தண் தமிழ்செப் பியபத் திவைவல்லார்
பந்தம் மறுத்தோங் குவர்பான் மையினாலே.
"Enthai yirumpū ḷaiyiṭaṅ koṇṭa īsaṉ
santham payilsaṇ paiyuṇñāṉa sambanthaṉ
senthaṇ thamizhsep piyapath thivaivallār
pantham maṟuththōṅ kuvarpāṉ maiyiṉālē".
எம் தந்தையும் இரும்பூளையை இடமாகக் கொண்டுள்ள ஈசனும் ஆகிய பெருமானை வதங்களை உணர்ந்த சண்பைப் பதிக்குரிய ஞானசம்பந்தன் செவ்விய தண்டமிழால் செப்பிய இப்பதிகப்பாடல்கள் பத்தையும் ஓத வல்லவர் மலபந்தம் நீங்கி உயர்ந்த தன்மையைப் பெறுவர்.