Visited on: 24th March, 2018.
Location
Anniyur (Ponnur) is located at a distance of about 9 kms from Mayiladuthurai. From Mayiladuthurai, travel to Mappadukai (5 kms) on the Kallanai-Mayiladuthurai -Poompuhar route and then take the diversion road to Ponnur (4 kms). Anniyur is on the bus route ffrom Mayiladuthurai to Manalmedu (via Kaali).
Other Paadal Petra Shiva Sthalams near this place are –
Vaitheeswaran Koil, Kurumanakkudi, Thiruppunkur, Thiru Karuppariyalur, Thiru Kurakkukka, Thiru Vazhkoliputhur, Thiru Kurukkai, Needur, Thirumanancheri, Thiru Velvikudi, Thiru Ethirkolpadi, Mayiladuthurai, Thiru Nintriyur, Thiru Nani Palli and Thiru Kadaimudi.
General Information
Moolavar

Sri Aabathsakayeswarar, Sri Vrikcharanyeswarar

Ambal

Sri Bragan Nayaki, Sri Periya Nayaki

Theertham (Holy water)

Varuna Theertham/ Agni Theertham

Sthala Vriksham (Sacred Tree)

Lemon tree

Pathigam (Hymn) rendered by

Saint Thirugnanasambanthar-1,
Saint Thirunavukarasar (Appar)-1

This is one of the 276 Devara Paadal Petra Shiva Sthalams and 22nd Shiva Sthalam on the northern bank of the river Cauvery in Chozha Nadu (Vadakarai).
Lord Shiva in this temple is a Swayambumurthi (self-manifested).
This east facing temple's main tower is not tiered. In place of the Gopuram, there is a beautiful sculpture depicting Lord Shiva and Goddess Parvathy.
This temple has a single corridor and there is no flag post (dwajasthambam) here.
History of the Temple
The historical names of this place are Vigusaranyam, Bhaskara Kshetram and Anniyur. However, now this village is called as Ponnur.
As per "Akanaanuru", a text from the Sangam period, a local king called Anni lived here. This place might have been named after him.
This temple is under the administrative control of the Hindu Religious and Charitable Endowments Department of Government of Tamil Nadu (HR&CE).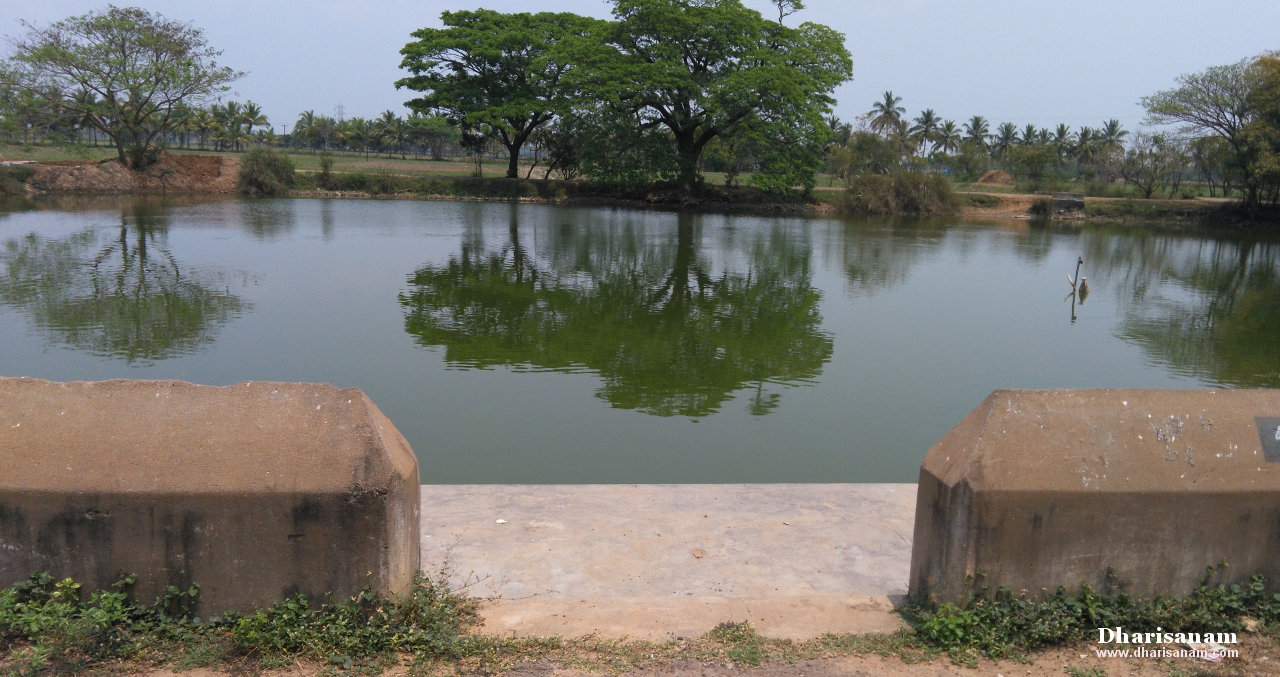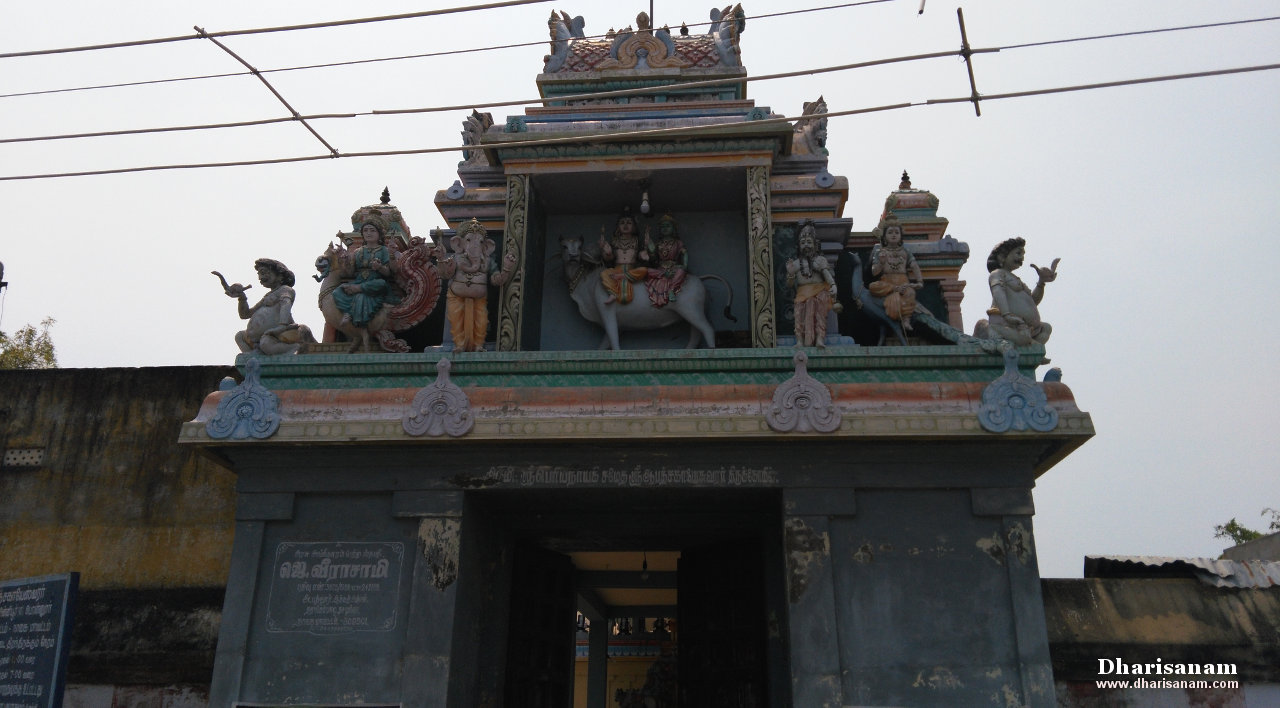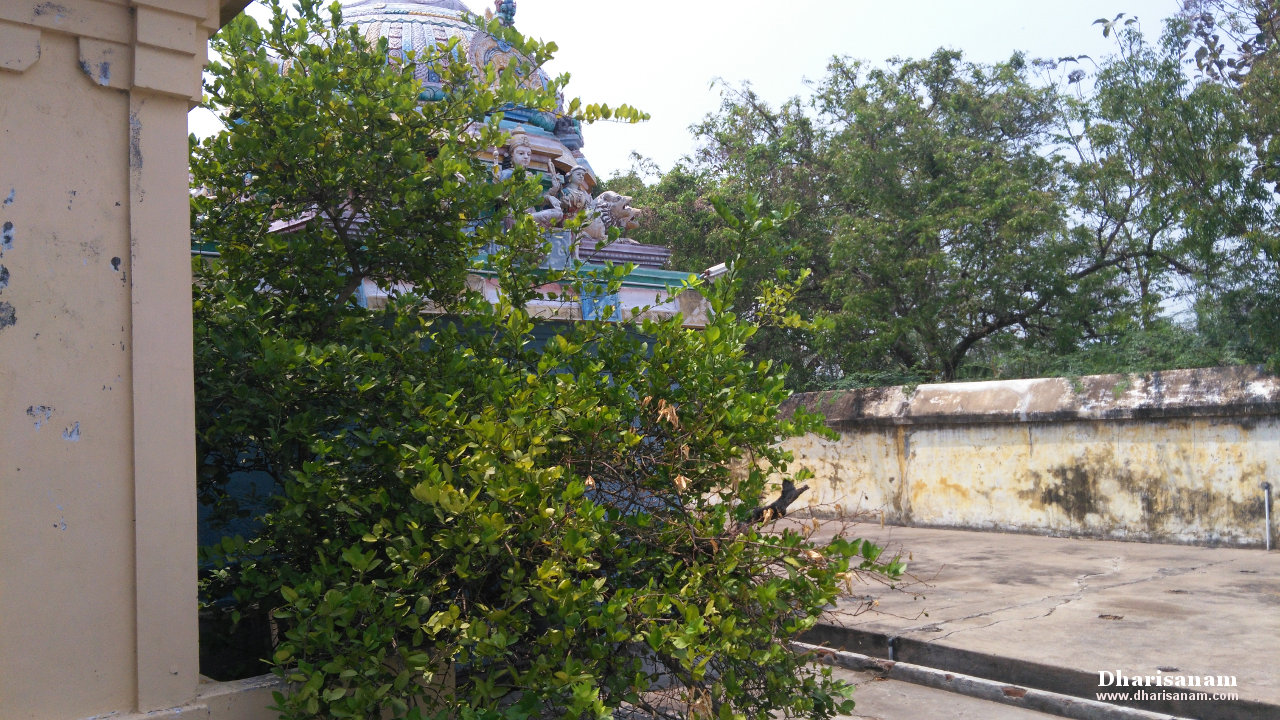 Legend
According to legend, Agni was punished by Lord Veerabadhrar for his participation in the yagna performed by Dakshan. To seek relief from this sin, Agni visited many Shiva temples. Anniyur is one of them. He created a tank here and worshiped the lord. This tank is known as Agni Theertham. Lord Shiva is believed to have given dharshan to Agni under the Sthala Vriksham of this temple (lemon tree). Hence the lord is praised here as "Sri Vrikcharanyeswarar" and "Sri Agneeswarar".
Another legend associated with this temple is that of king Harishchandra. The king was facing some hardships and in order to seek relief he visited various Shiva temples. During his pilgrimage, he also visited this temple and worshiped Lord Shiva. It is believed that Lord Shiva blessed him and helped him to overcome the difficulties. Hence the lord is also praised here as "Sri Aabathsakayeswarar" (in Tamil, "Aabathsakayar" means the lord who comes to the rescue of those facing difficulties).
Manmathan (Kaaman) is believed to have been killed by Lord Shiva in Kurukkai, a nearby place. In this place, he was restored back to his physical form after his wife Rathi prayed to Lord Shiva. Hence, Lord Shiva here is also praised as "Sri Ratheeswarar".
It is believed that Lord Suryan visited this temple and worshiped the lord to seek relief from a curse by Rathi.
A brahmin called Banu was afflicted with leprosy. He visited many Shiva temples seeking a cure for his illness. He visited this place and worshiped the lord after taking a dip in this temple's Theertham. It is believed that he was cured of his illness.
It is also believed that Varunan (the god of rain) and the Pandavas have visited this place and worshiped the lord. Since Pandavas worshiped the lord here, the lord is also praised as "Sri Pandaveswarar".
Deities in the temple
Other than the shrines of Lord Shiva and Goddess Parvathy, shrines and idols of Siddhi Vinayakar, Murugan, Punugeeswarar, Mahalakshmi, Visalakshi, Chandrasekarar, Natarajar, Saneeswarar, Nagar, Suryan, Bairavar and Navagraham can be seen in the hall and the corridors.
In the "koshtam" (place surrounding the sanctum sanctorum), idols of Vinayakar, Dakshinamurthy, Lingothbavar, Durgai and Chandikeswarar can be seen. There are two idols of Dakshinamurthy placed side by side in this temple.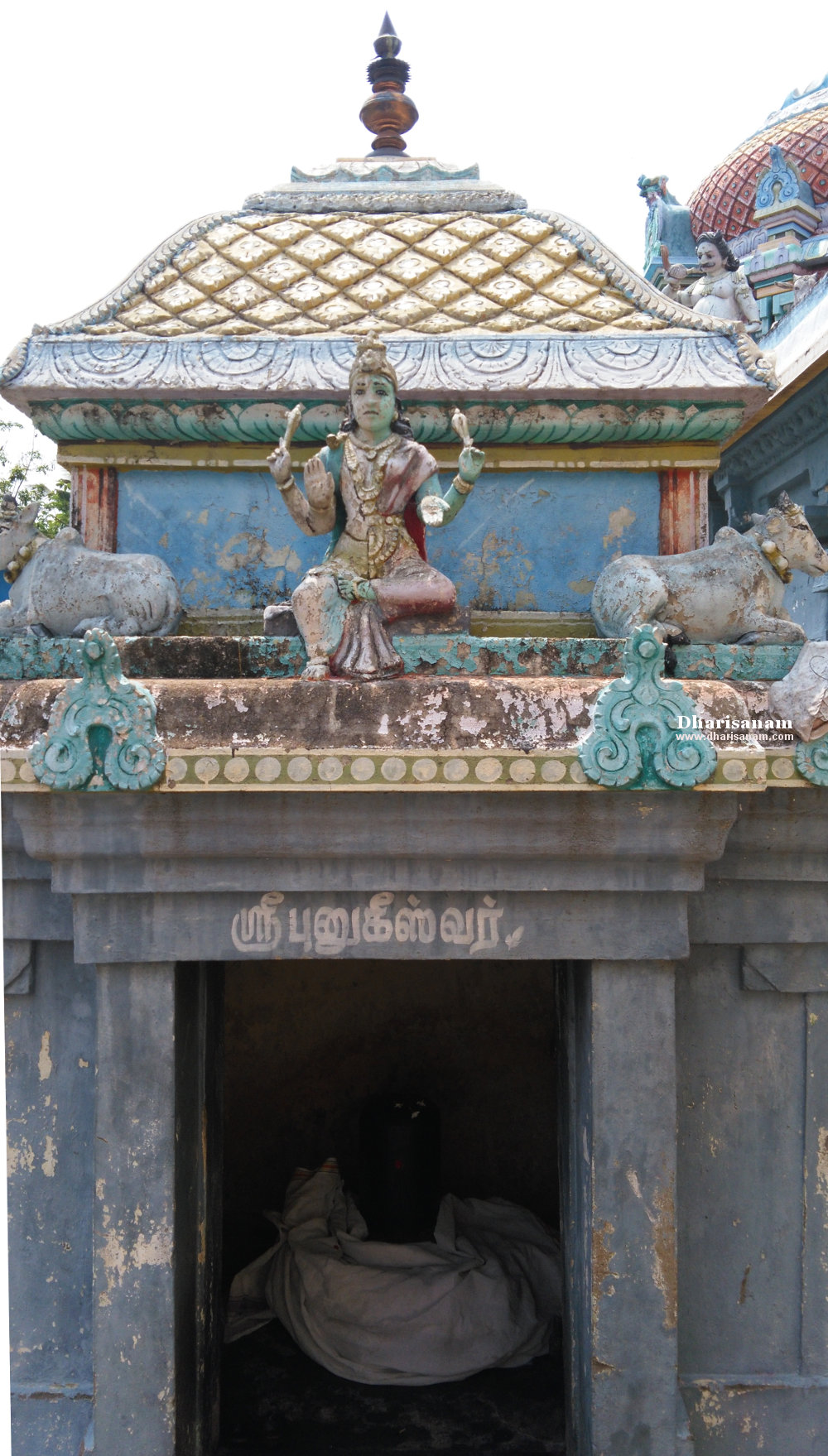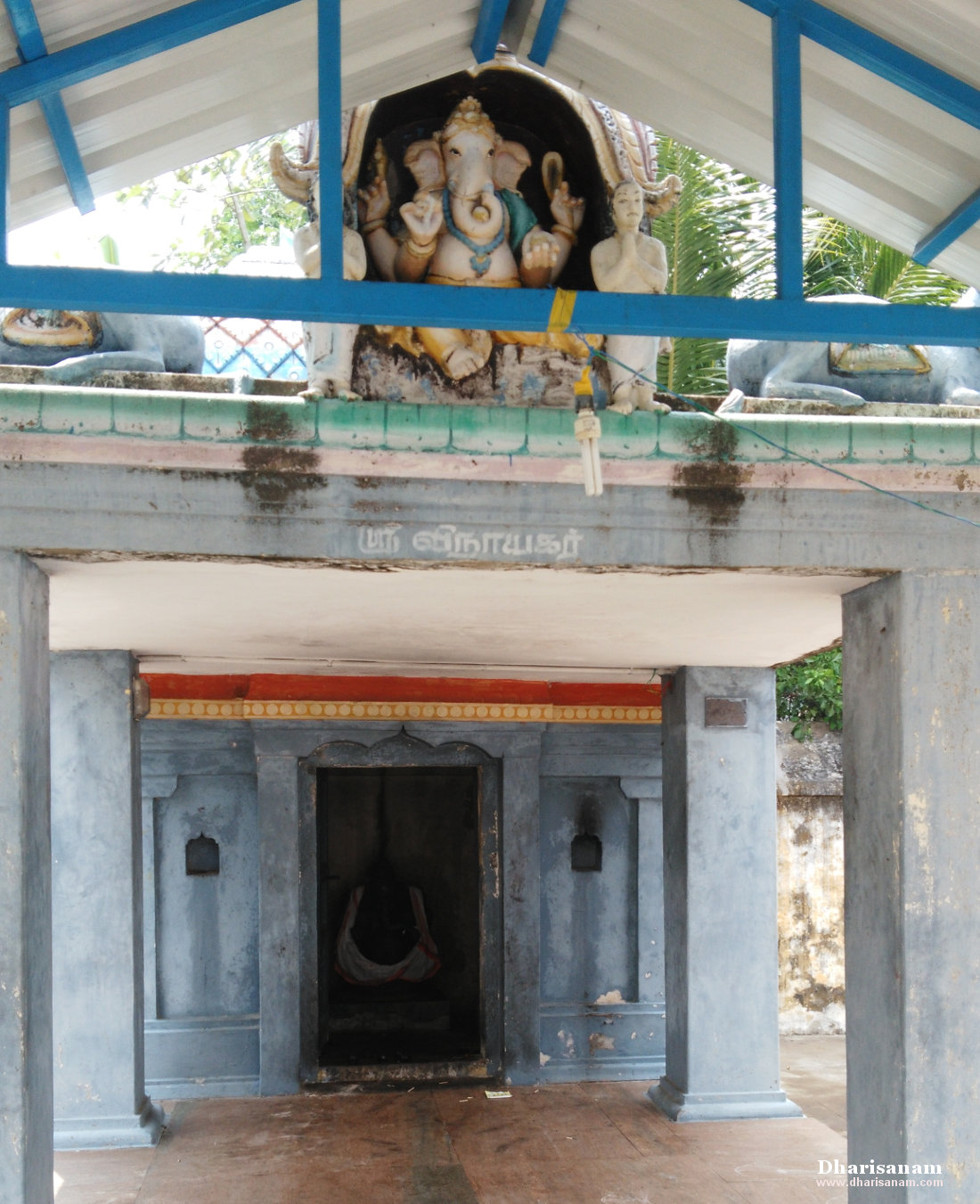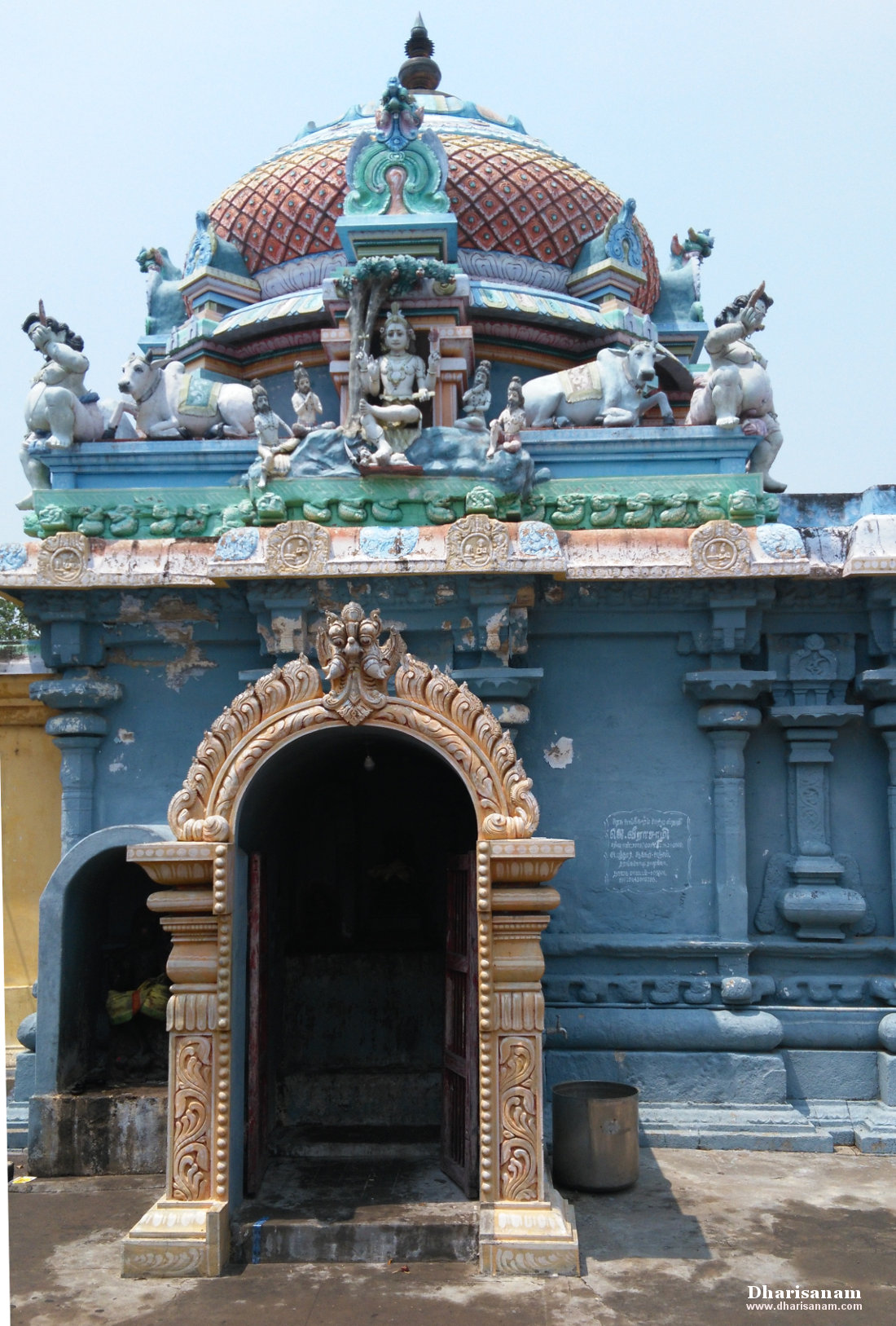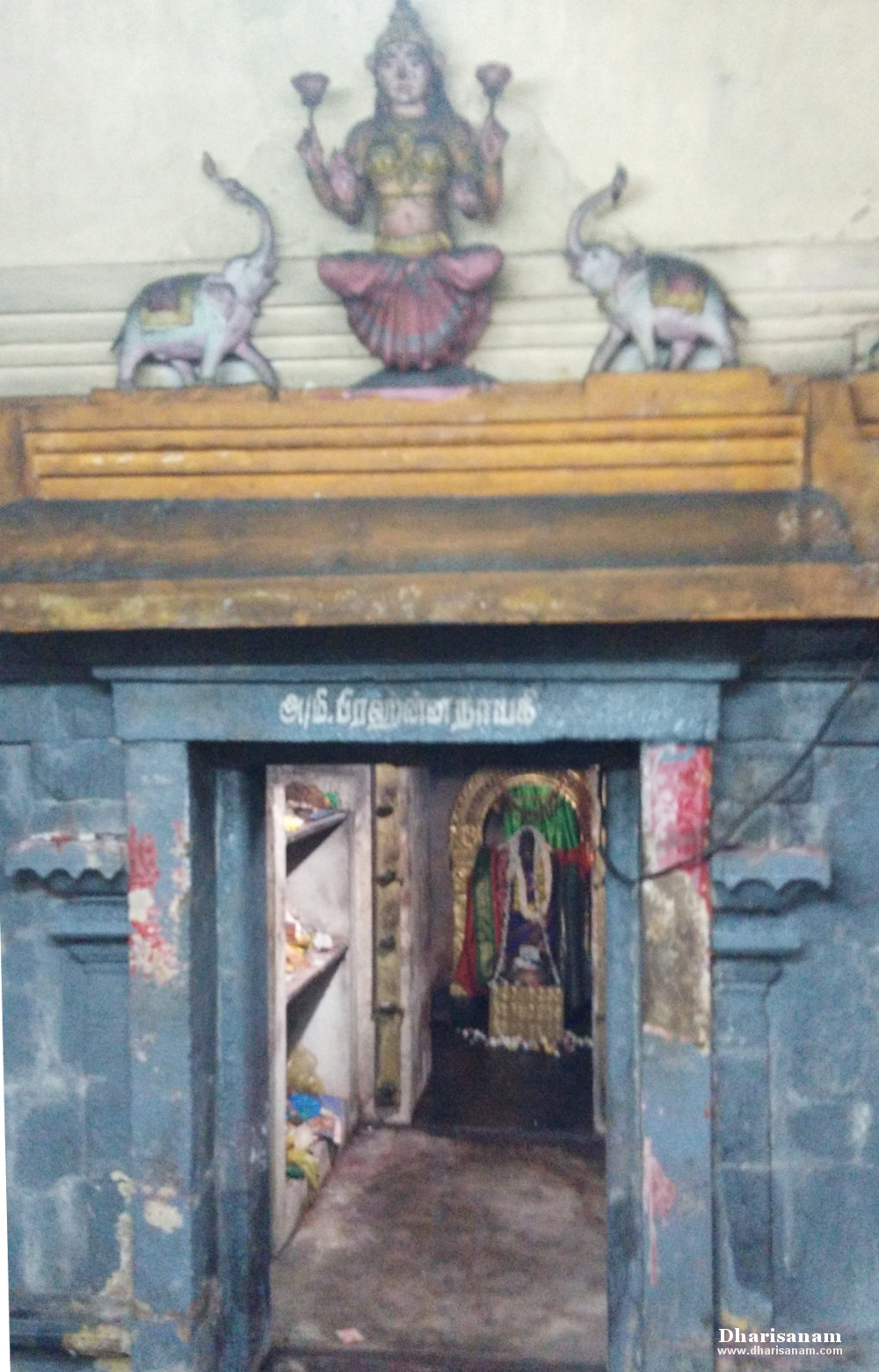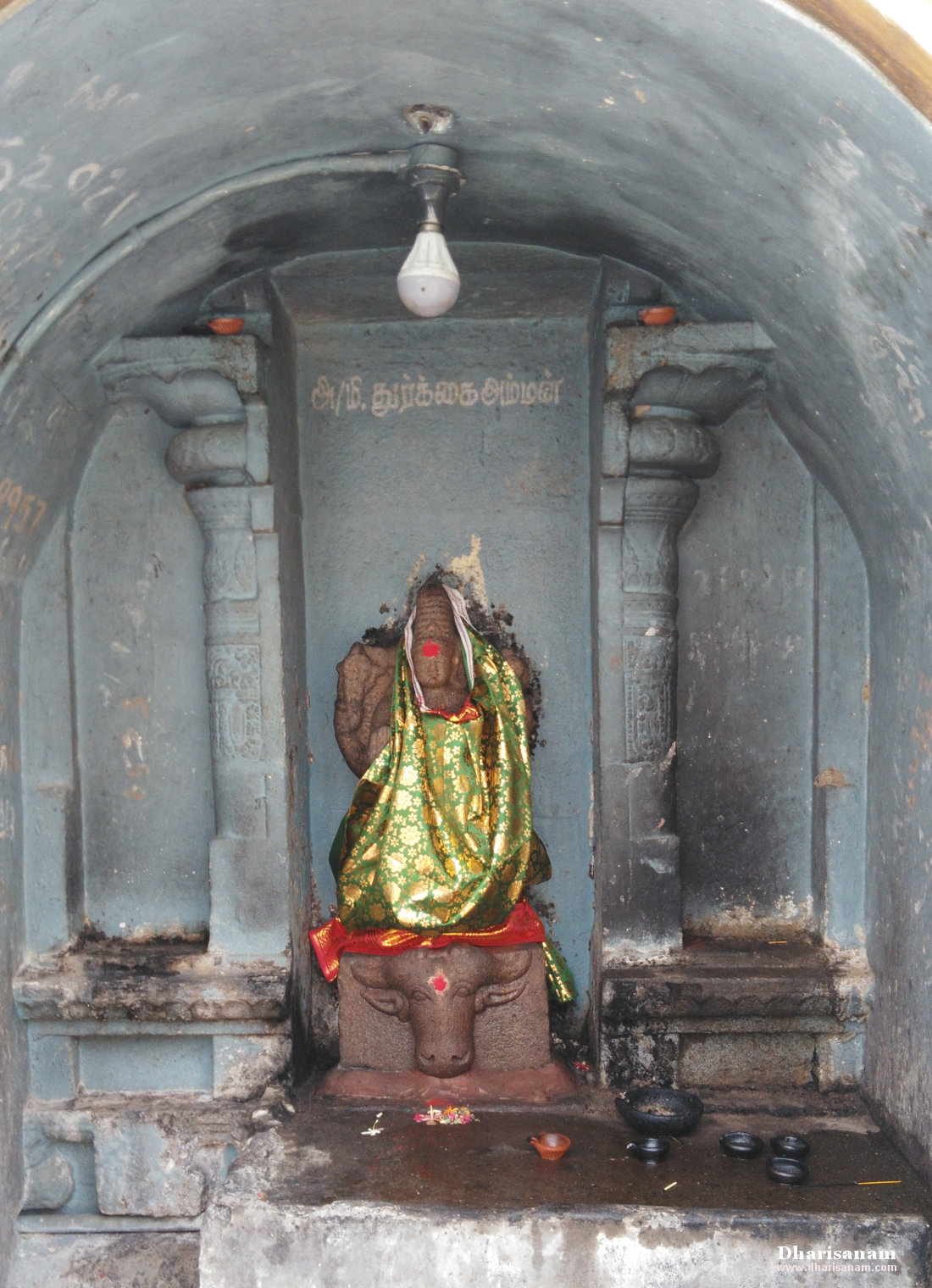 Salient Features
There is a Shivalingam called "Sri Aadhimoola Lingam" in the corridor. This represents the lord who gave darshan to Agni.
The idol of Lord Murugan depicts him with his earrings. This is quite unique.
It is believed that Lord Suryan (Sun) worships Lord Shiva of this temple by directing his rays on the lingam every year for five days (from 26th to 30th) in the Tamil month of Panguni (Mar-Apr). Hence this place is referred to as "Bhaskara Sthalam" ("Bhaskara" means sun).

The event of Rathi, wife of Manmathan, worshiping Lord Shiva here is observed in the Tamil month of Karthikai (Nov-Dec). Special pujas are performed during that time.
Lemon tree is the Sthala Viruksham of this temple. Hence this place is called as "Vigusaranyam" and the lord is praised as "Sri Vigusaranyeswarar".
The holy water, Agni Theertham (tank) is just opposite to the temple and it is also known as Kamasaras, Surya Pushkarani and Varuna Theertham.
Beautiful sculptures depicting Agni, Suryan and Varunan can be seen at the top of the second entrance.
Greatness of this temple
Those facing any kind of difficulties in their lives can worship the lord here.
Important Festivals
Some of the important festivals celebrated in the temple are –
Vaikasi Visakam in the Tamil month of Vaikasi (May-June),
Aadi Pooram in the Tamil month of Aadi (July-Aug),
Vinayakar Chaturthi in the Tamil month of Aavani (Aug-Sept),
Annabishekam in the Tamil month of Aippasi (Oct–Nov),
Thiru Karthikai in the Tamil month of Karthikai (Nov-Dec),
Makara Sankranthi in the Tamil month of Thai (Jan-Feb), and
Maha Shivrathri in the Tamil month of Masi (Feb-Mar).
Pradosham is also observed regularly.
Temple Timings
From 07.30 AM to 11.00 AM and from 04.30 PM to 07.00 PM.
Temple Address
Sri Abathsahayeswarar Temple,
Anniyur (Ponnur) Post,
Mappadukai Via,
Mayiladuthurai Taluk,
Nagapattinam District,
Tamil Nadu – 609203.
Tele: 04364-235002, and 250755.

The temple priest Sri Ravi Gurukkal can be contacted at 97867 66995.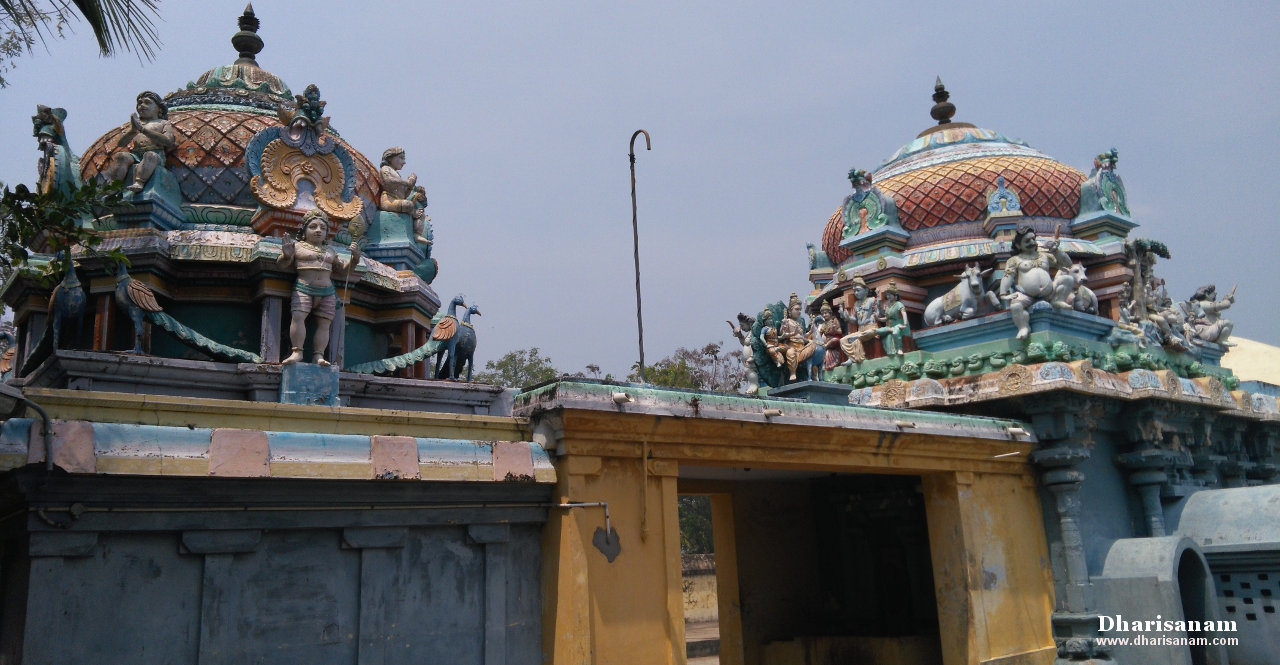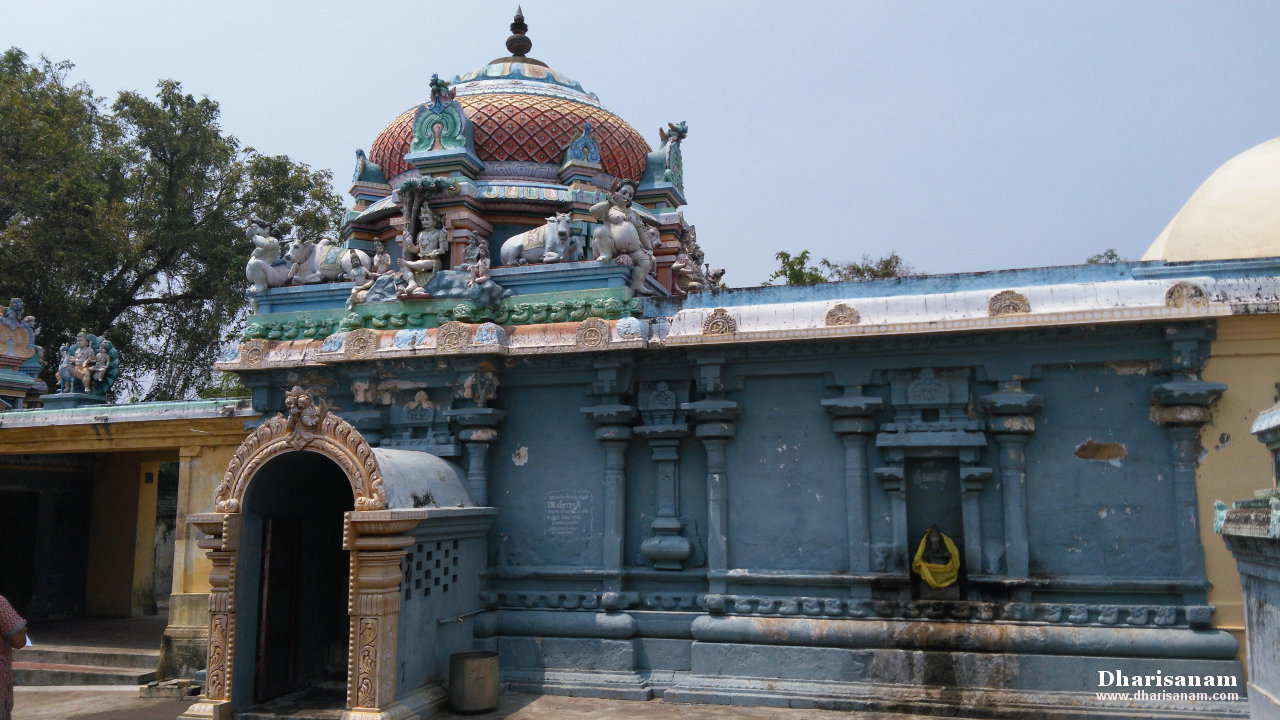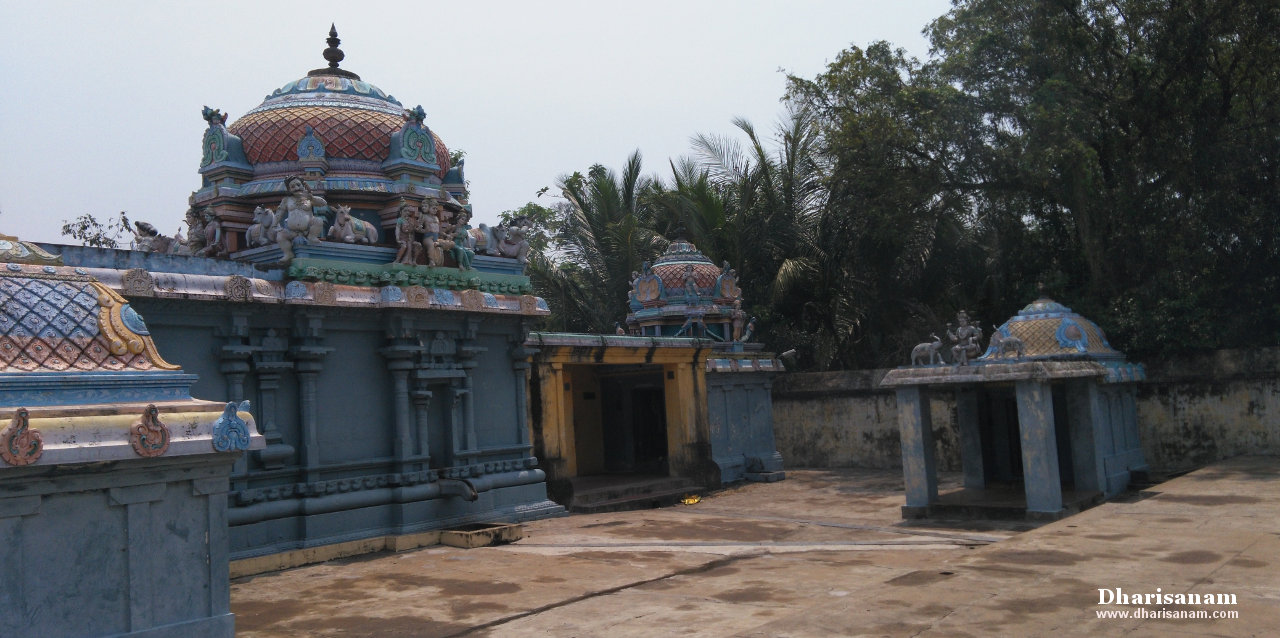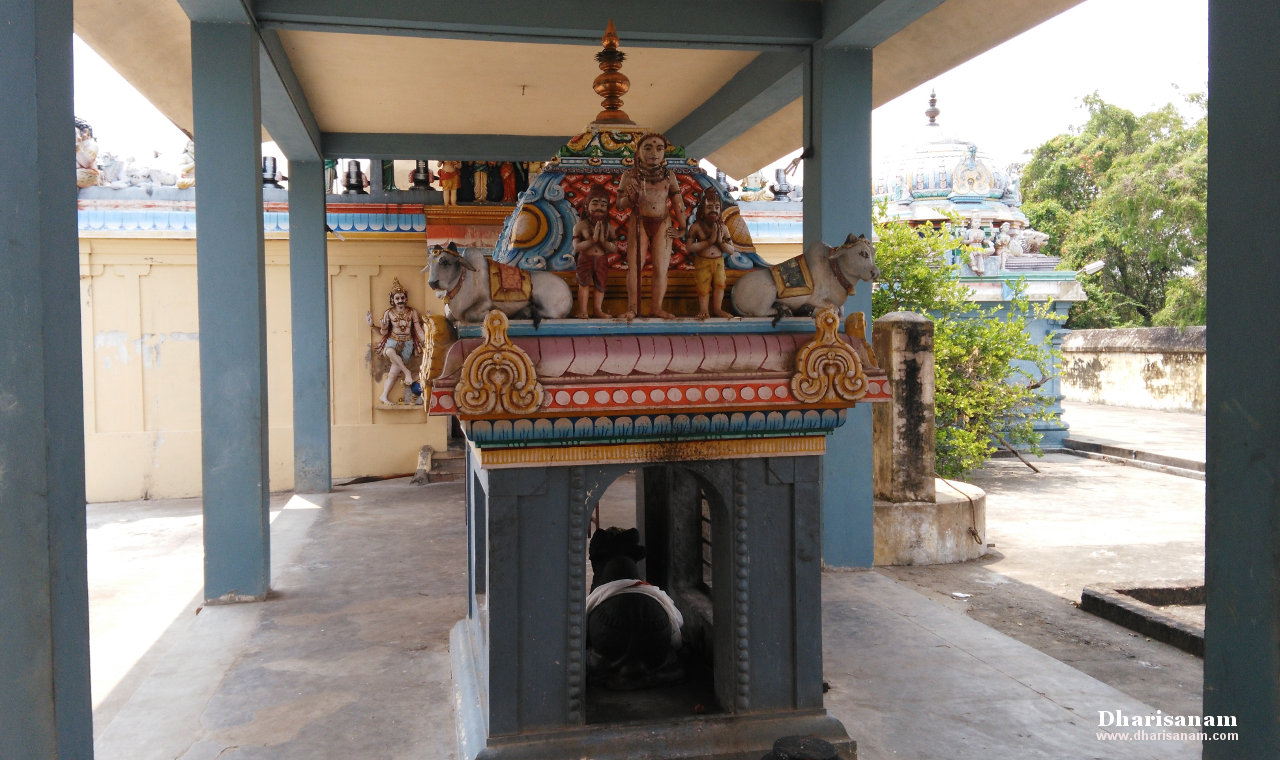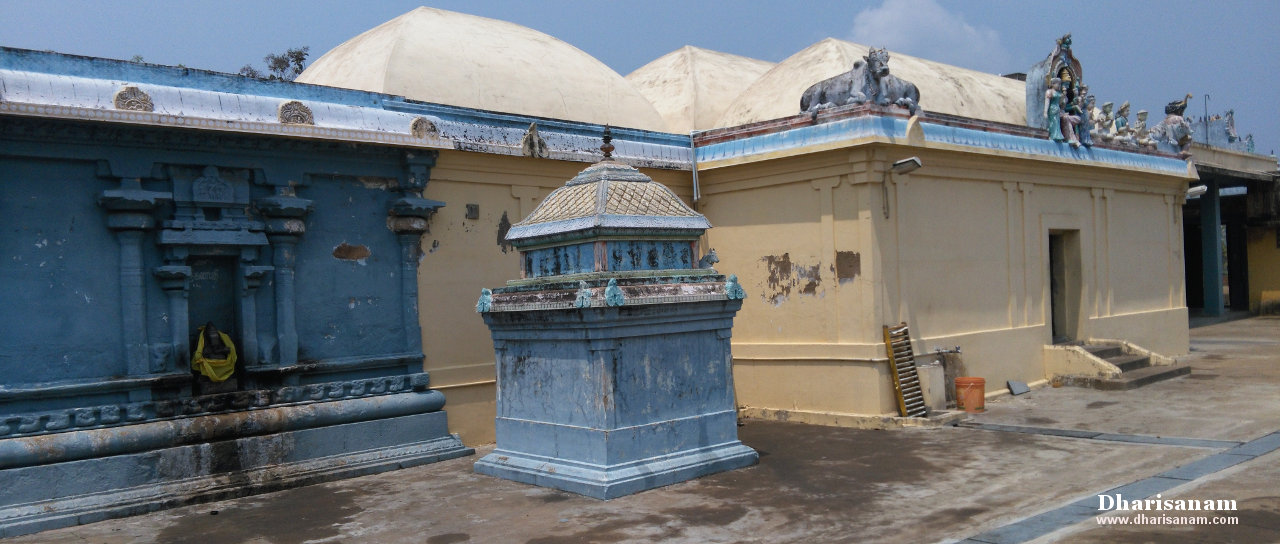 ---
Pathigam (Hymn) with English transliteration
Saint Thirunavukkarasar (Appar) visited this temple and sang this Pathigam.
Devotees visiting this temple should make it a practice to recite this Pathigam.
பாற லைத்த படுவெண் டலையினன்
நீற லைத்தசெம் மேனியன் நேரிழை
கூற லைத்தமெய் கோளர வாட்டிய
ஆற லைத்த சடைஅன்னி யூரரே.
"Pāṟa laiththa paṭuveṇ ṭalaiyiṉaṉ
nīṟa laiththasem mēṉiyaṉ nērizhai
kūṟa laiththamey kōḷara vāṭṭiya
āṟa laiththa saṭai'aṉṉi yūrarē".
பண்டொத் தமொழி யாளையோர் பாகமாய்
இண்டைச் செஞ்சடை யன்னிருள் சேர்ந்ததோர்
கண்டத் தன்கரி யின்னுரி போர்த்தவன்
அண்டத் தப்புறத் தான்அன்னி யூரரே.
"Paṇṭoth thamozhi yāḷaiyōr pākamāy
iṇṭaich cheñchaṭai yaṉṉiruḷ sērnthathōr
kaṇṭath thaṉkari yiṉṉuri pōrththavaṉ
aṇṭath thappuṟath thāṉaṉṉi yūrarē".
பரவி நாளும் பணிந்தவர் தம்வினை
துரவை யாகத் துடைப்பவர் தம்மிடங்
குரவம் நாறுங் குழலுமை கூறராய்
அரவ மாட்டுவர் போல்அன்னி யூரரே.
"Paravi nāḷum paṇinthavar thamviṉai
thuravai yākath thuṭaippavar tham'miṭaṅ
kuravam nāṟuṅ kuzhalumai kūṟarāy
arava māṭṭuvar pōlaṉṉi yūrarē".
வேத கீதர்விண் ணோர்க்கும் உயர்ந்தவர்
சோதி வெண்பிறை துன்று சடைக்கணி
நாதர் நீதியி னாலடி யார்தமக்
காதி யாகிநின் றார்அன்னி யூரரே.
"Vētha kītharviṇ ṇōrkkum uyarnthavar
chōthi veṇpiṟai thuṉtṟu saṭaikkaṇi
nāthar nīthiyi ṉālaṭi yārthamak
kāthi yākiniṉ tṟār'aṉṉi yūrarē".
எம்பி ரான்இமை யோர்கள் தமக்கெலாம்
இன்ப ராகி இருந்தவெம் மீசனார்
துன்ப வல்வினை போகத் தொழுமவர்க்
கன்ப ராகிநின் றார்அன்னி யூரரே.
"Empi rāṉimai yōrkaḷ thamakkelām
iṉpa rāki irunthavem mīsaṉār
thuṉpa valviṉai pōkath thozhumavark
kaṉpa rākiniṉ tṟār'aṉṉi yūrarē".
வெந்த நீறுமெய் பூசுநன் மேனியர்
கந்த மாமலர் சூடுங் கருத்தினர்
சிந்தை யார்சிவ னார்செய்ய தீவண்ணர்
அந்த ணாளர்கண் டீர்அன்னி யூரரே.
"ventha nīṟumey pūsunaṉ mēṉiyar
kantha māmalar chūṭuṅ karuththiṉar
sinthai yārsiva ṉārseyya thīvaṇṇar
antha ṇāḷarkaṇ ṭīr'aṉṉi yūrarē".
ஊனை யார்தலை யிற்பலி கொண்டுழல்
வானை வானவர் தாங்கள் வணங்கவே
தேனை யார்குழ லாளையோர் பாகமா
ஆனை யீருரி யார்அன்னி யூரரே.
"Ūṉai yārthalai yiṟpali koṇṭuzhal
vāṉai vāṉavar thāṅkaḷ vaṇaṅkavē
thēṉai yārkuzha lāḷaiyōr pākamā
āṉai yīruri yār'aṉṉi yūrarē".
காலை போய்ப்பலி தேர்வர் கண்ணார்நெற்றி
மேலை வானவர் வந்து விரும்பிய
சோலை சூழ்புறங் காடரங் காகவே
ஆலின் கீழறத் தார்அன்னி யூரரே.
"Kālai pōyppali thērvar kaṇṇārnetṟi
mēlai vāṉavar vanthu virumpiya
chōlai chūzhpuṟaṅ kāṭaraṅ kākavē
āliṉ kīzhaṟath thār'aṉṉi yūrarē".
எரிகொள் மேனியர் என்பணிந் தின்பராய்த்
திரியு மூவெயில் தீயெழச் செற்றவர்
கரிய மாலொடு நான்முகன் காண்பதற்
கரிய ராகிநின் றார்அன்னி யூரரே.
"Erikoḷ mēṉiyar eṉpaṇin thiṉparāyth
thiriyu mūveyil thīyezhach chetṟavar
kariya māloṭu nāṉmukaṉ kāṇpathaṟ
kariya rākiniṉ tṟār'aṉṉi yūrarē".
வஞ்ச ரக்கன் கரமுஞ் சிரத்தொடும்
அஞ்சு மஞ்சுமோ ராறுநான் கும்மிறப்
பஞ்சின் மெல்விர லாலடர்த் தாயிழை
அஞ்ச லஞ்சலென் றார்அன்னி யூரரே.
"Vañcha rakkaṉ karamuñ chiraththoṭum
añchu mañchumō rāṟunāṉ kum'miṟap
pañchiṉ melvira lālaṭarth thāyizhai
añcha lañchaleṉ tṟār'aṉṉi yūrarē".