Visited on: November 1, 2015
Location
40 kms from Erode and 25 kms from Karur. Kodumudi has a railway station on Trichy to Erode route. Nearest airport is at Coimbatore and Trichy both are at a distance of about 110 kms.
General Information
Moolavar

Sri Magudeswarar / Sri Kodumudinathar

Ambal

Sri Vadivudainayaki/ Sri Panmozhiyalammai

Theertham (Holy water)

Kaveri, Bharathwaja Theertham, Brahma Threertham and Deva Theertham

Sthala Vriksham (Sacred Tree)

Vanni Tree

Pathigam (Hymn) rendered by

Saint Thirugnanasambanthar
Saint Thirunavukarasar (Appar)
Saint Sundaramurthy (Sundarar)

This is one of the 276 Thevara Paadal Petra Sthalams and 6th Shiva Sthalam in Kongu Nadu.
This is a famous Sthalam for performing rituals to satiate one's ancestors.
This is also a Parikara Sthalam for Naga Dhosham.
Moovar Paadal Petra Sthalam.
History of the Temple
The temple is situated on the banks of the river Kaveri. There are three adjacent temples inside the same premises for Lords Shiva, Vishnu and Brahma.
All the three towers are east facing.
The temple has epigraphs from the time period of King Sundarapandiyan Kesari's rule.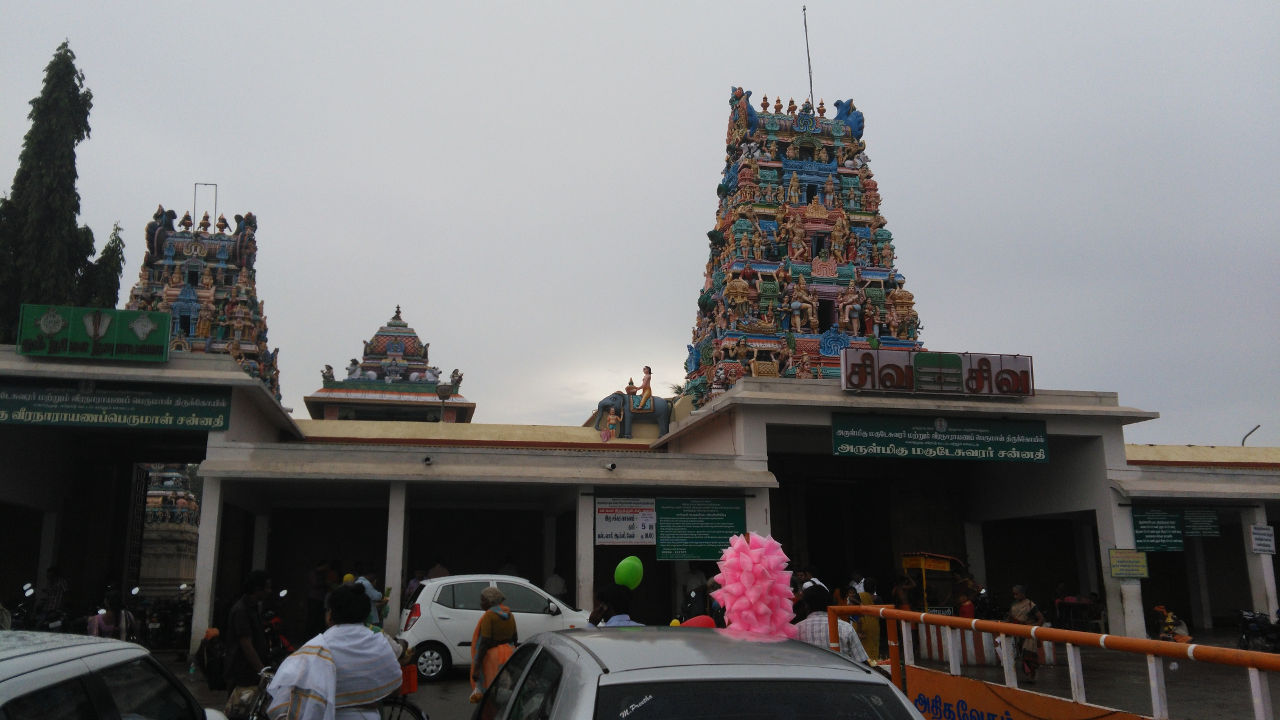 Legend
According to the legend there was a competition between Adiseshan (the serpent on whom Sri Mahavishnu rests) and Vayu (Lord of the Winds) to determine who is stronger. Lord Indiran prescribed certain rules to conduct the competition. They put Mount Meru at the centre and it was held tightly by Adiseshan, Vayu blew the wind with all his might to push Adiseshan. In the ensuing struggle, Meru's peak (Magudam) split into 5 pieces and fell in five different places.
It is believed that the pieces came down as 5 different gem stones – Red Corel at Thiruvannamalai, Ruby (Manickam) at Rathinagiri (Thiruvatpokki), Emerald (Maragatham) at Engoimalai, Sapphire (Neelam) at Pothigaimalai and Diamond at Kodumudi. As per legend the Diamond that feel at Kodumudi became the Swayambulingam (self-manifested lingam) and the rest of the stones became hills. Since the origin of the lingam is from the Meru, the lord is called Magudeswarar.
It is also believed that Sage Agasthiyar installed and worshiped the idol of Lord Shiva and his finger prints can be seen on the deity.
It is also believed that Kodumudi is the place where Lord Shiva performed a dance for Sage Bharadwajar.
It is also said that both these sages were blessed with Lord Shiva's wedding darshan here.